Today I Have Become A Red Fish 😂
Some of you may know why the laughing face in the title and you are right 😂.
Those of you, who are new to the chain, may not know that we have several ranking systems, one of which is based on the number of VESTS you own.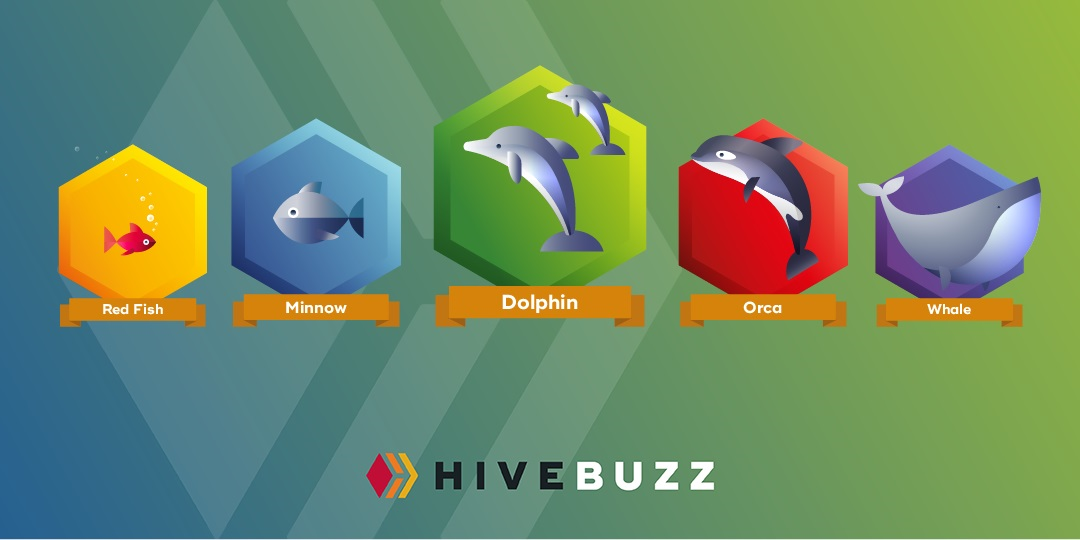 source
VESTS is the blockchain internal representation of your Hive Power. source
@hivebuzz is tracking the data and you can check your rankings accessing this link https://hivebuzz.me. Columns are sortable, so by clicking on what you are interested in on the top row, you can find your ranking.
It's a cool toy to play with as you can not only see your position among other users, but you can also see where you can improve, like increasing engagement for example.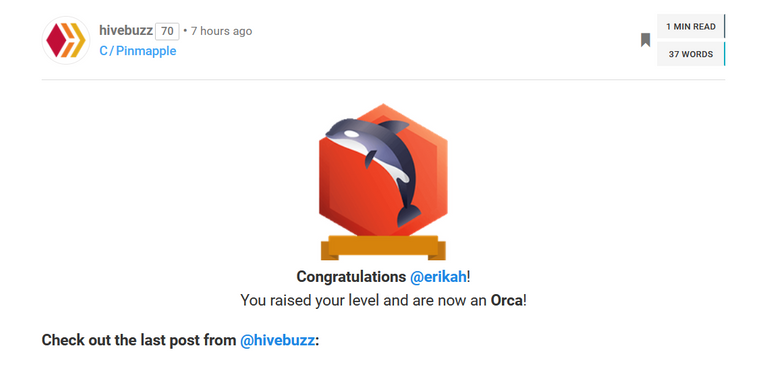 source
This morning I got a comment from @hivebuzz, letting me know I have raised my level and have become an orca. So the laugh was because the older users know a red fish means the very first level on Hive, between 0 and 999 999 VESTS, which means less than 548 HP. I said I have become a red fish because the symbol shows an orca with a red background, but the orca is not red and not even a fish 😂
What A Journey
Basically the name of the fish matters less, what matters is the journey that led to this level and what I am doing with those VESTS.
Looking back after four and a half years, what a journey! I remember when I was at the beginning, what it felt like to see others with higher reputation and bigger stake. (Yeah, back in those days reputation mattered a lot.) I don't think I knew about these levels before I became a red fish or a minnow, I can't even remember. But I know I was thinking it's going to take forever to become a dolphin as that was around 5471 HP.
This was the year when HiveFest was held in Poland (2019 I think, or 2018?). I remember an ex friend of mine wanted to go to HiveFest and said the tickets would cost more for him as he has just become a dolphin. I wasn't a dolphin back then.
I was wrong to think getting to dolphin level would take forever as that day came faster than I thought back then. Then I didn't care about these levels anymore as the next level was orca, which is 10 times more than dolphin, 54707 HP or between 100 000 000 and 999 999 999 VESTS.
The truth is, I'm not chasing these levels as it's more important what you do on the chain with your stake and how you utilize those funds you have in your wallet. You can have 54.7k tokens in your wallet and be a proud orca, while wasting your stake by doing nothing at all, or you can use your stake to curate, reward good content, support projects and help others to grow. So getting to a certain level alone means nothing.
I remember before I become a dolphin, there were two leagues, one for red fish and the other for minnows, both based on weekly achievements. The main idea was to grow your account by powering up your earnings and the top users were rewarded each week. Those leagues are not active anymore, which is a shame as those were not only motivating but were also teaching people what stake means and how important it is.
Then there was another initiative once, called 10k Minnow, run by @steevc. I was also part of it and our job was to identify, contact and help users who were close to become a minnow to get there. It wasn't an easy job as even though there was support offered, quite many did not understand why the need to power up or what were the advantages.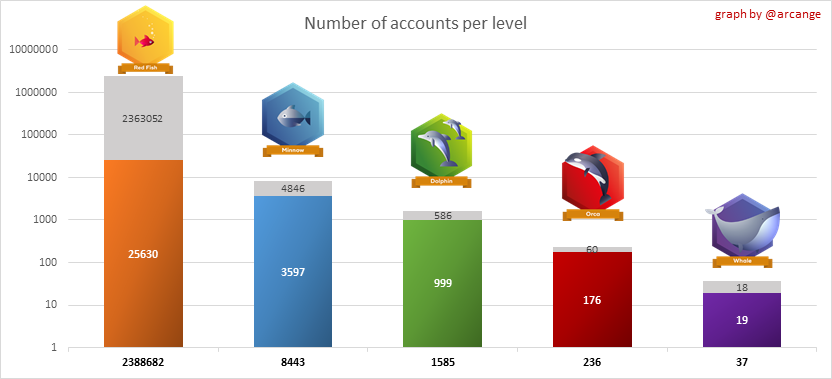 Number of users according to their Hive Power
@arcange-en has some statistics that shows the distribution, number of accounts per level.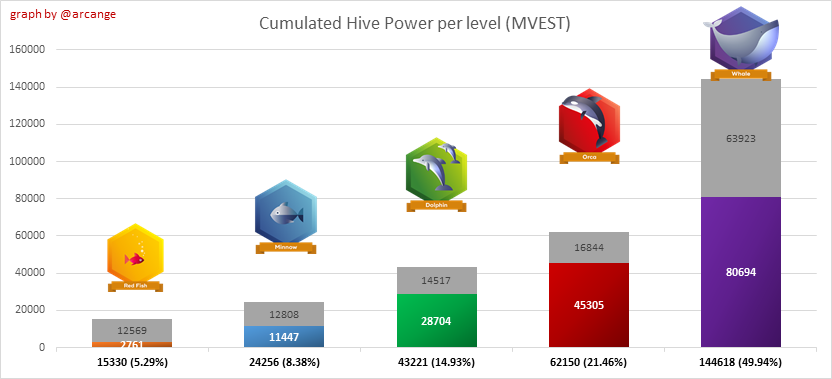 Distribution of Hive Power cumulated per account level
What Now?
For me this is a nice milestone and today I'm happy to get this badge, but in fact nothing changes. I'm not going to power down my stake as this is a long time investment for me. I'm taking some profits from my payouts, but my stake is here to stay.
Hive has a huge potential. Even though our chain is two years old, we're still at the very beginning. This is the time to accumulate and build for the future. We have so many earning possibilities that I can't even count them on one hand. You can earn a decent passive income that can make your life much more easier in the near future. I hope new users can see that and drop the scalp mentality many are coming here with.
Posted Using LeoFinance Beta
---
---