Upgrading My Laptop, Or Upgrading My Headache?

To start at the beginning, it has come the time to upgrade my toys. Last week my mouse decided to give up on me. I bought it at the same time as my laptop as it's easier for me to work with a mouse.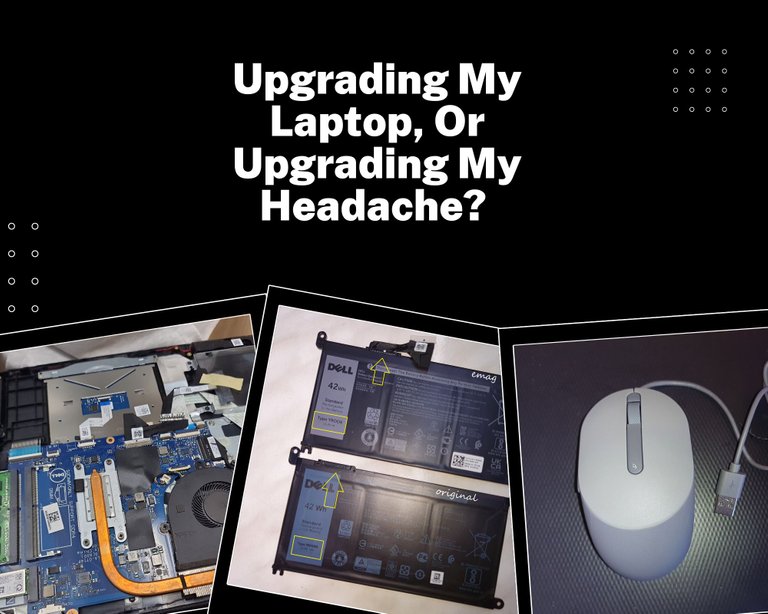 I didn't go for the most expensive one available on the market, but as I still love quality, I chose a HP, which served me well for 3 years, including travels as well.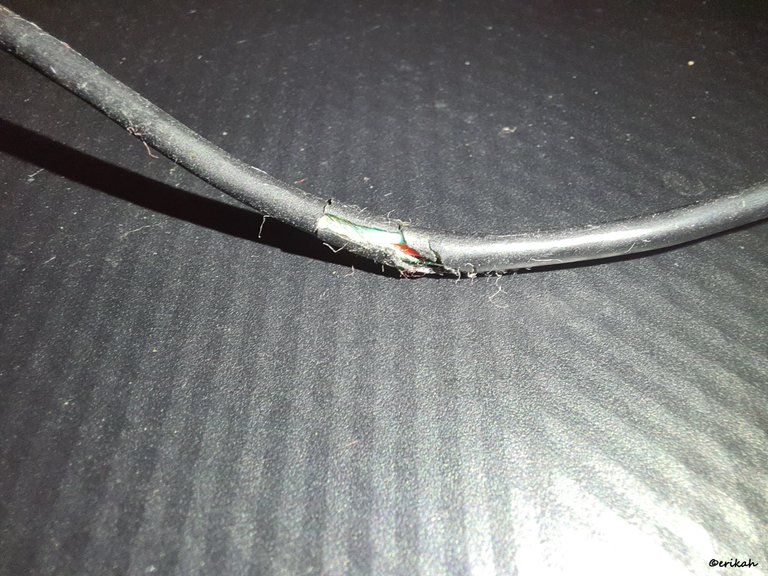 But as nothing lasts forever, this is what the cable looked like last week. Even though I took good care of it, it still happened. Now most of you would say that's an easy fix as some tape would resolve the problem, but that's only damage control and will not fix it. I have a wireless one as well, but don't really like it, plus changing batteries all the time is neither convenient, nor cheap and as it happens with everything in life, batteries give up on you when you need them the most and you can't go buy new ones as you're in the middle of nowhere.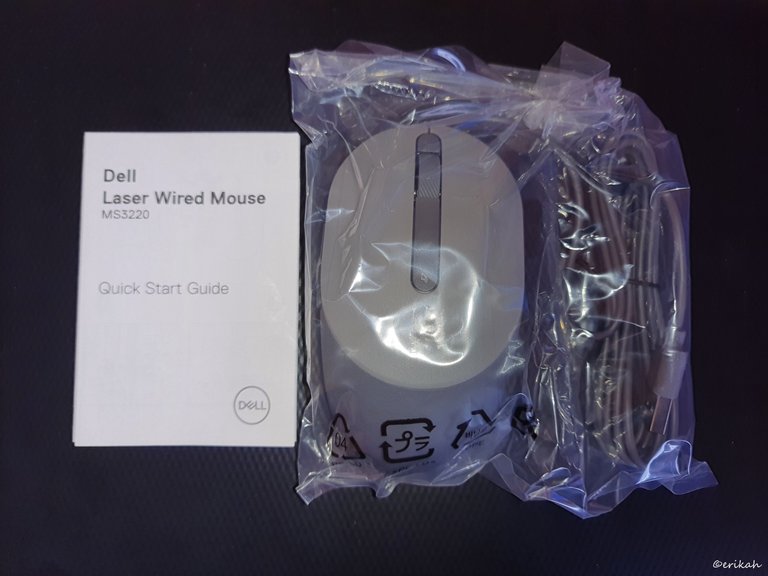 Friday was Black Friday, so I went to the mall to buy a new mouse and ended up picking this one.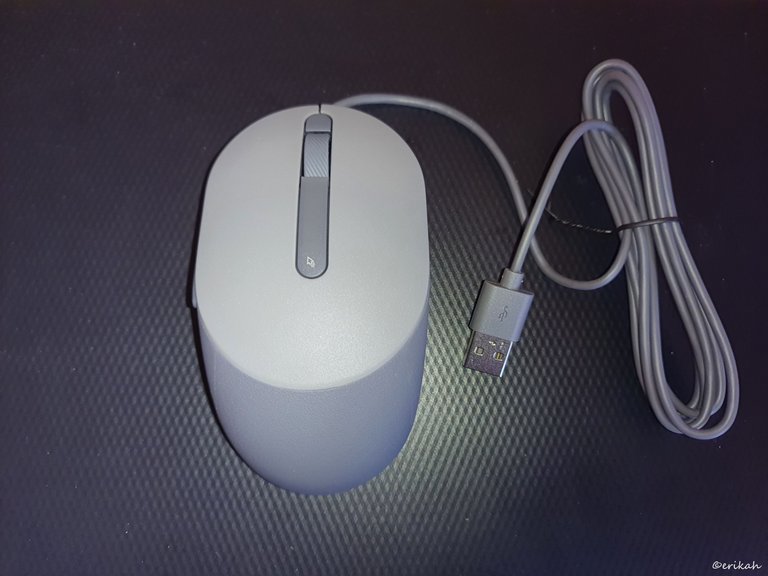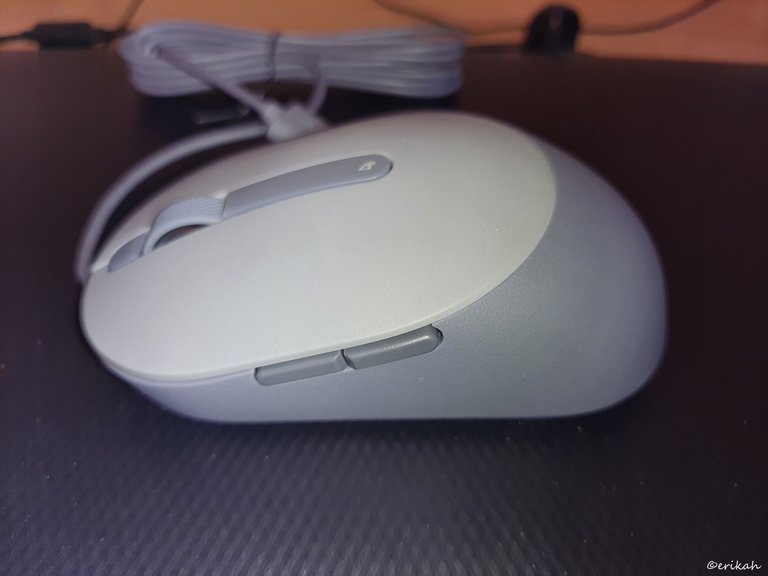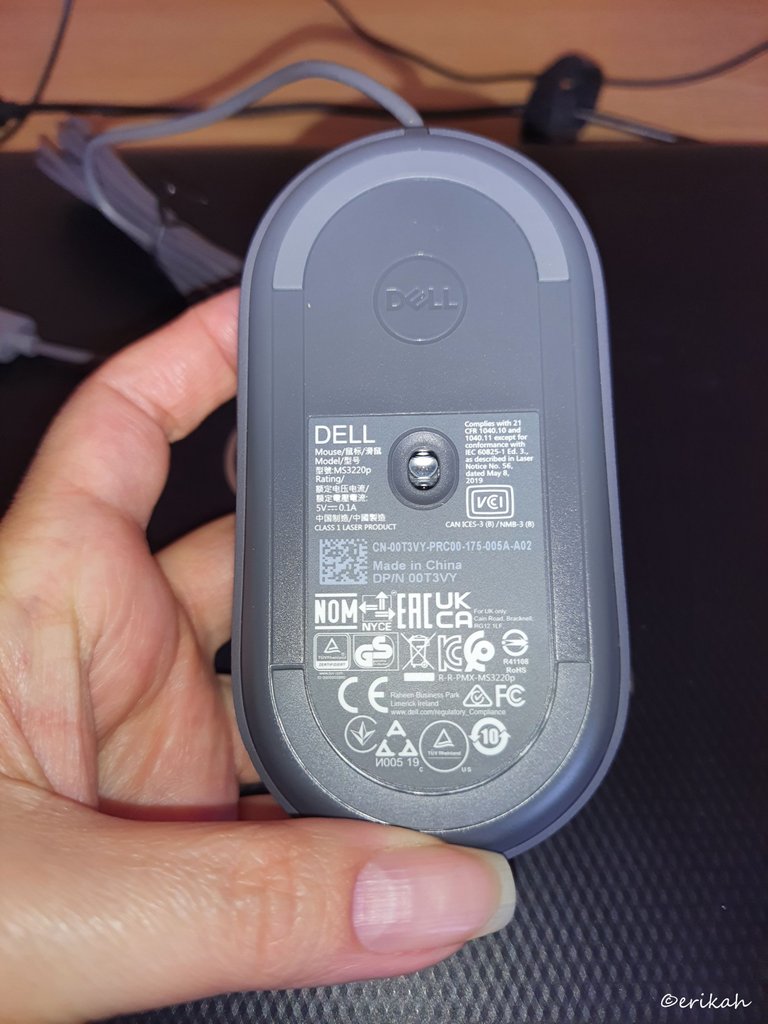 It's a simple Dell MS3220, 3200 DPI mouse, with two fast side buttons, very easy to use and also nice at touch. It was around 8 euro, which, compared to the new, wireless, chargeable ones was a bargain. The only thing I don't like about it is the cable, which is too long, but one can't have it all.
Next thing I've been planning to change, is the battery of my laptop. I bought my laptop 3 years ago, three hears and two months have passed since then to be precise. It's a Dell Inspiron 15 3584 and was brand new as when it comes to electronics, I only buy new ones. I am very satisfied with it, can't say a bad word about it, but after 3 years, the battery does not last for more than 30 minutes.
Friday being Black Friday, I thought it was a good occasion to order the desired piece as I got 14% discount. I placed the order on Friday morning, paid online and got the parcel Saturday afternoon. They were really fast and I appreciate that.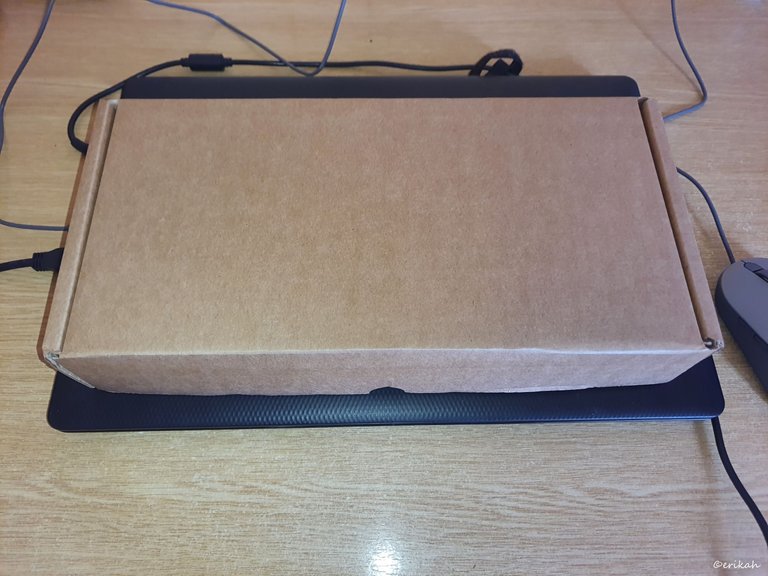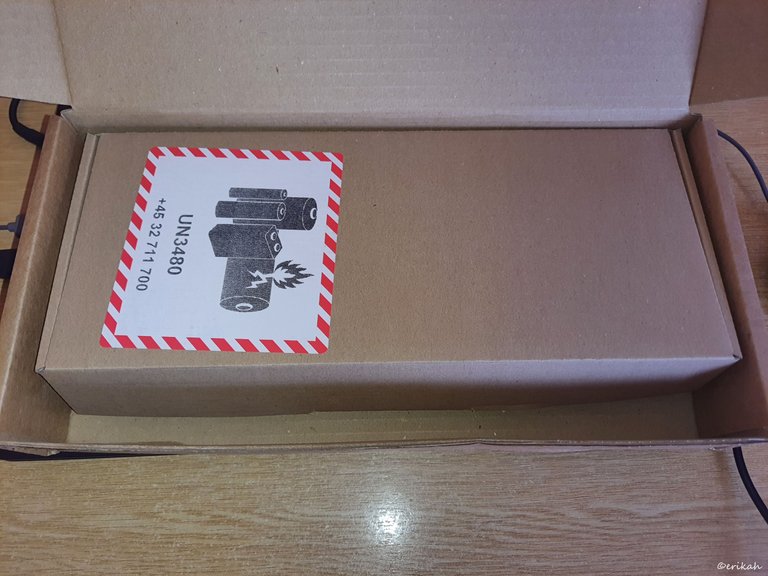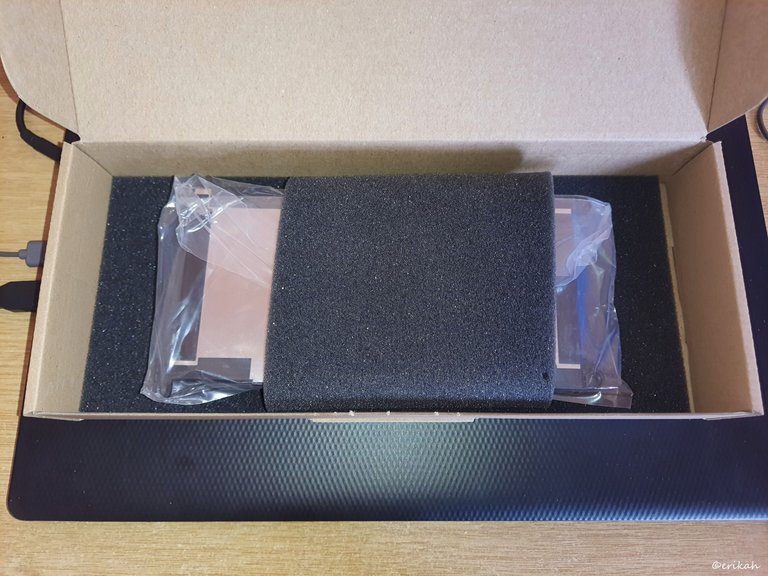 The product came in a plastic bag, inside there were two boxes and the battery was covered with a foam like material as protection from any shock, which I appreciate as safety always comes first.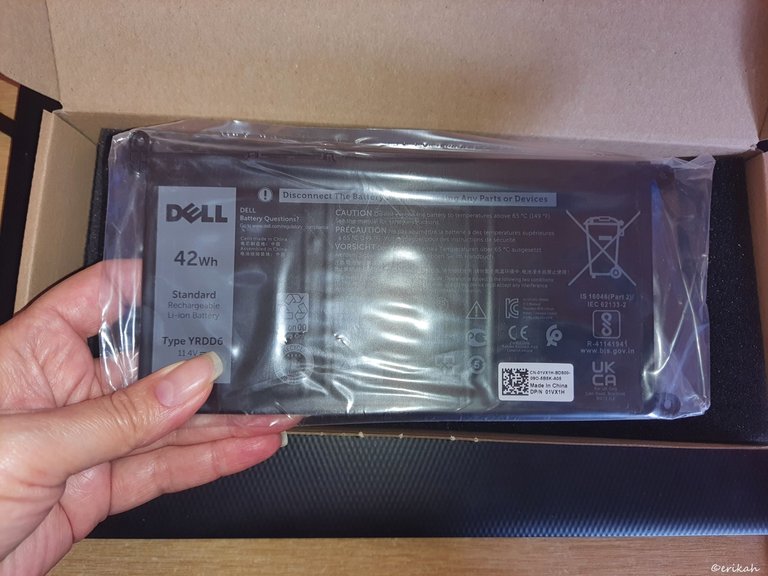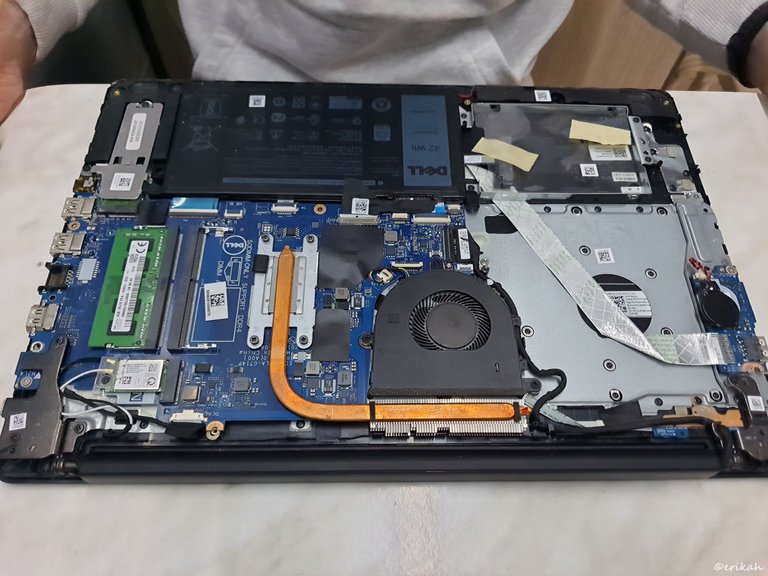 This is my laptop without the back cover and my happy moment, enjoying the thought that I'll have a new battery soon.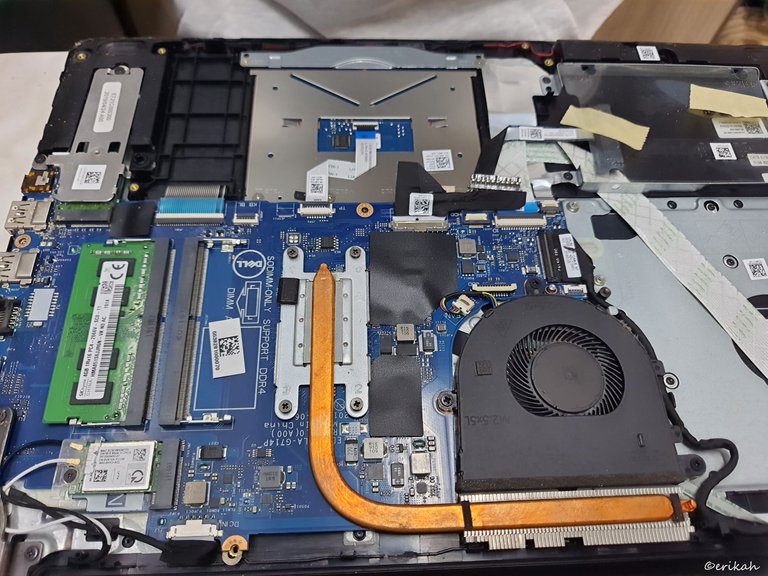 Old battery taken out.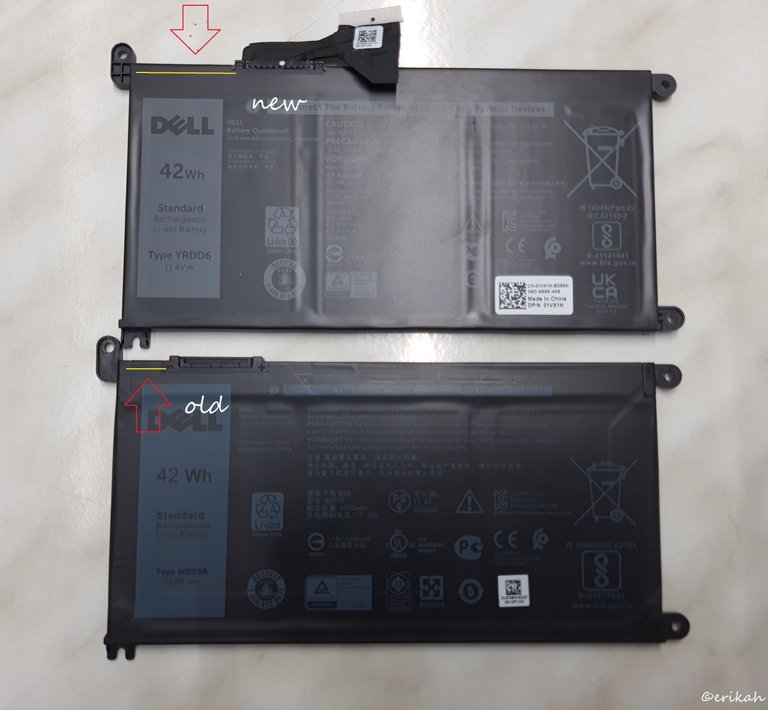 Upgrading My Headache?
And this is where the headache started. The size of the battery is right, the model that I ordered is right as the product description said it's for 3584, but the plug on the new battery is placed 1.5 or 2 cm to the right. The plug doesn't have a long cable to let you connect it. The so called cable is that black thing you see connected to the battery on the top.
So we (me and my tech guy) looked around on the internet to see where can we find one that fits and after few minutes of search we found one, that based on the store description was not recommended for the type of laptop I have, but seemed to fit. After checking the code at the TYPE section, we saw it was the same type.
So basically this is how much you can trust sellers these days. I ordered based on the type of laptop I have, trusted them that they know what they are selling and here I am, with a battery that does not fit.
My tech guy is working for a refurbishing company and he says many laptops have the same components inside and only the size of the screen differs, so the description of the product lists a bunch of laptop types for which the battery is recommended, which is fine, but listing types that don't fit is not cool, especially if you're on the receiving end, like me.
Solution
Last night was too late to deal with this as I don't like to make hasty decisions when I'm tired, so first thing this morning was to send the battery back. Thank God, with easybox it took just a few clicks to fill out the form, indicate the problem, get a code for the box and in 30 minutes the battery was already in the easybox.
Then after an hour or so, I got a call from the seller, letting me know they got the notification of return and was asking me for the service tag. I was on the move, so I told the guy I'll call back in an hour, which I did. I gave him the service tag and offered him to send a photo with the two products to see what's the difference between the two and why the battery didn't fit.
He called me back in a bit, confirming that indeed there's a problem, the battery sent to me was not the right one. He says technical description coming for Dell indicates battery Type YRDD6 for Dell Inspiron 3584, but it is visible with the naked eye that this type does not fit.
The seller then gave me the link to the right battery type. What is interesting in this is that the new product I was given is recommended for other laptop types, not mine, but fits mine.
At the end I asked the guy to correct the product description on the website, to prevent others from buying it and he said that's the next thing he's going to do. 👏
Conclusion
Even though I had to make two trips to the easybox and still don't have a battery (yet), to replace the old one, I'm quite amazed about how things happened with this order. We're used to rude customer support personnel and a lot more headache that we have to face if something goes wrong with the order. But not this time. I couldn't have asked for more polite and helpful customer support. The guy has even given me the link to the right product, which saved me from more headache.
Hive saved me once again 😁. I started taking photos for my post, then it turned out the evidence I gathered served me to provide details for the seller and also saved me from looking dumb. (Yeah, the world thinks women are stupid when it comes to tech.)
Hopefully in a max two days I'll have the new battery and installed too. Fingers crossed.
Lesson To Learn
If you want to order a new piece for your laptop, first take out the old one, see the code and order based on that, not based on what the seller says. They could be wrong too.

If you're a newbie, you may want to check out these guides:

---
---