Visiting The Week-End Leisure Park And The Open Air Exhibition
It's kind of funny what I'm doing as any normal person would go to a leisure park like this during the beach season, not in September, when there's like 10C outside and just about to rain, but hey, it's me 😁 The advantage of going to the leisure park in September is that you're the only lunatic there, there's no crowd and you can take the photo you want, without being angry with those standing in the way. Not to mention the entry is free. Not something to neglect as the fee is 4euro 😂 Ok, this was another joke.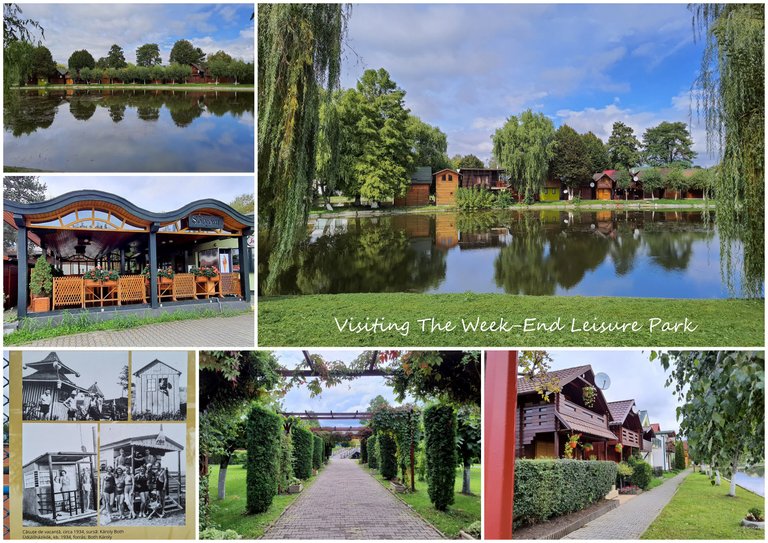 The reason I visited this Week-End Leisure Park in Targu Mures is because I've heard there's an open air exhibition, presenting the past of the place. The beauty of this is you can compare the past (the photos you see exhibited), which the actual scene that exists today.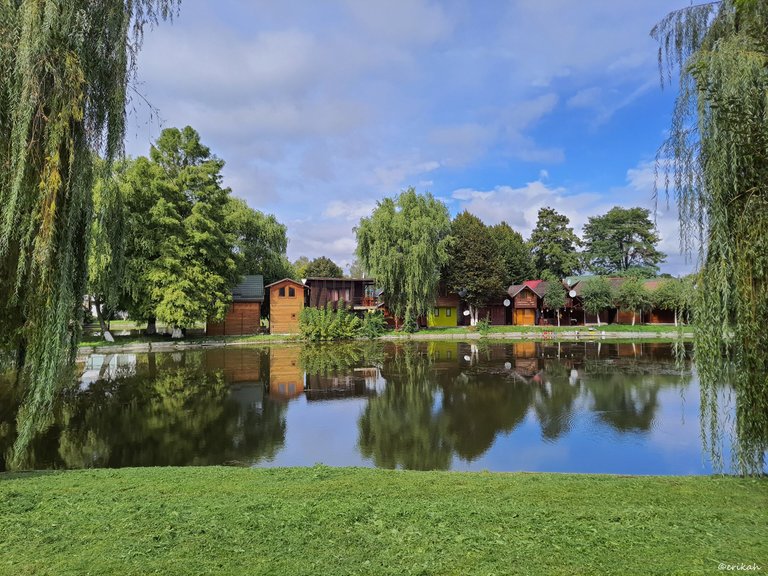 The leisure park is surrounded by water, it's a canal for boating. You can rent a boat and row till you reach the Mures river, if the flood gates are open.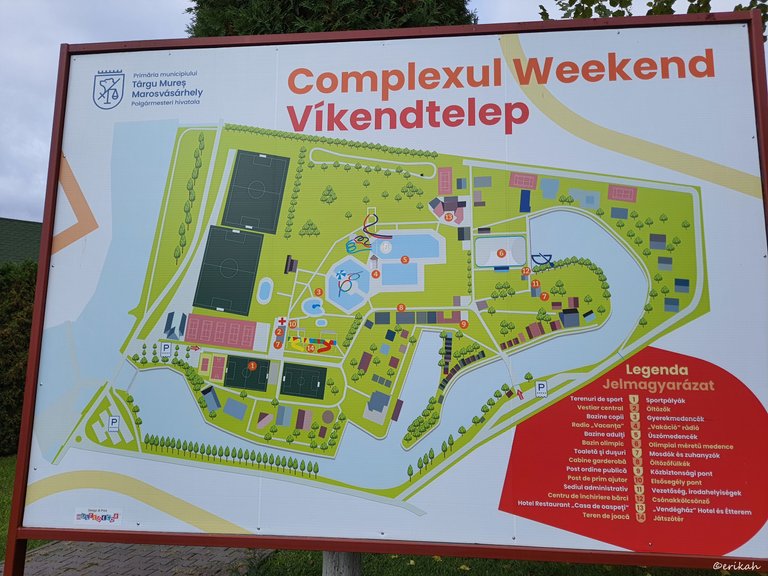 This is the map of the park. It's not a huge place, but it's not small either. I started my walk at the red arrow, where is the front entrance.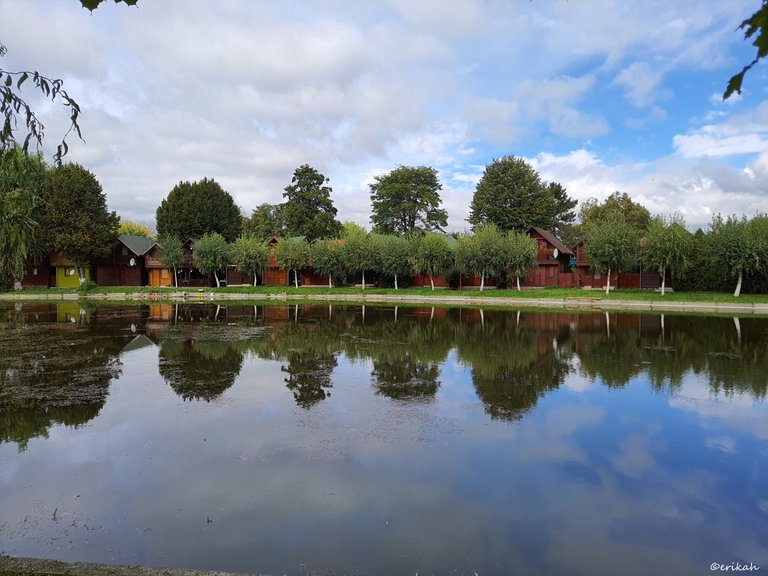 Outside the beach season, everything seems calm there. Nature is given back to whom it belongs. Birds are happy to roam around freely, without being disturbed.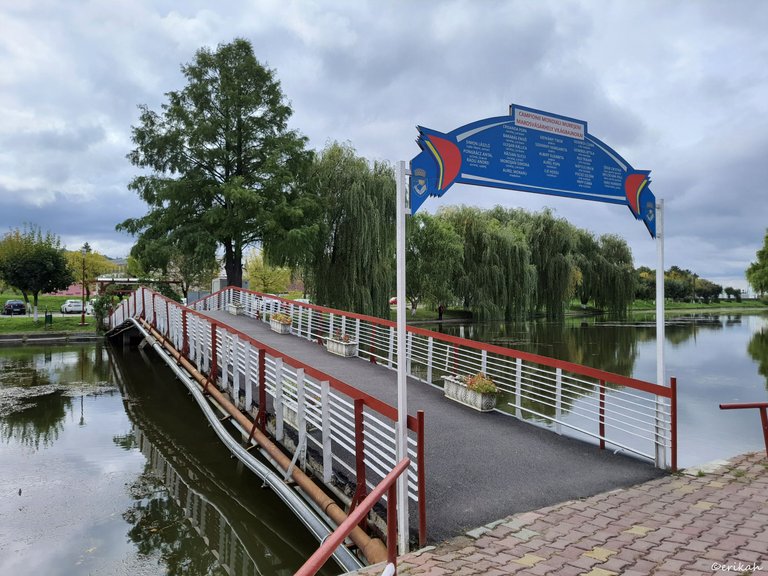 There's a bridge over the canal, that you cross at the entrance.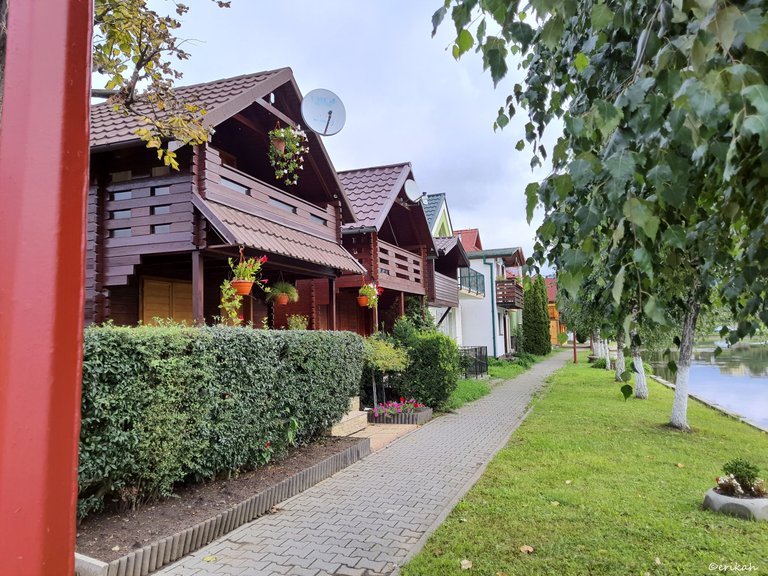 Once you cross the bridge, you see these wooden cabins, that can worth gold during the beach season, but I was thinking how cool it could be now, when there's so quiet there. The best time to rest. Longing for peace and quiet means I'm dead tired, I admit.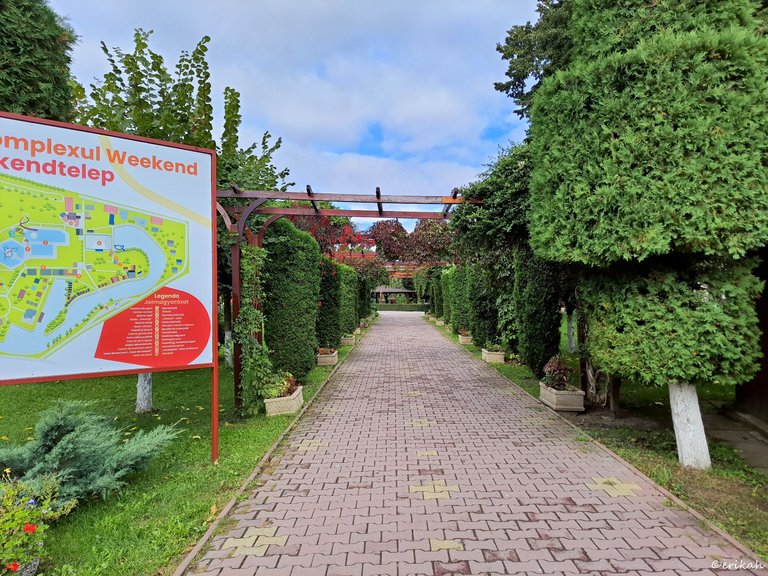 During summer, this path is packed with people in swimming suit.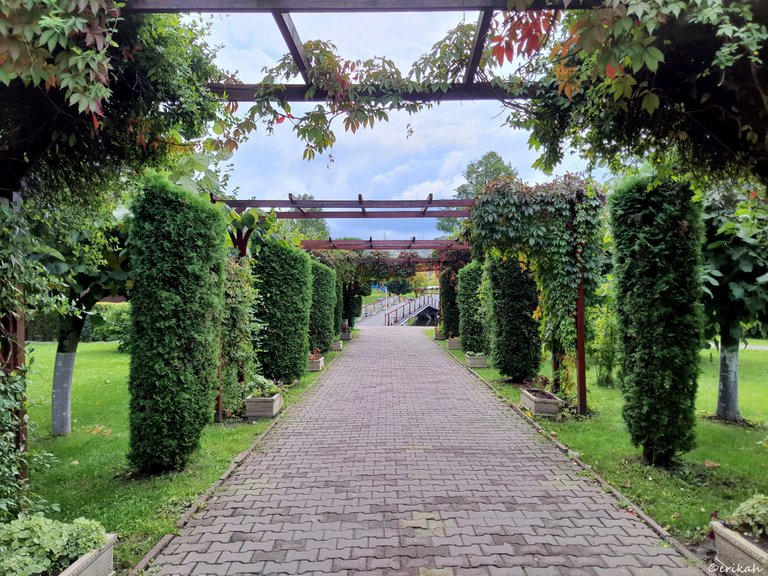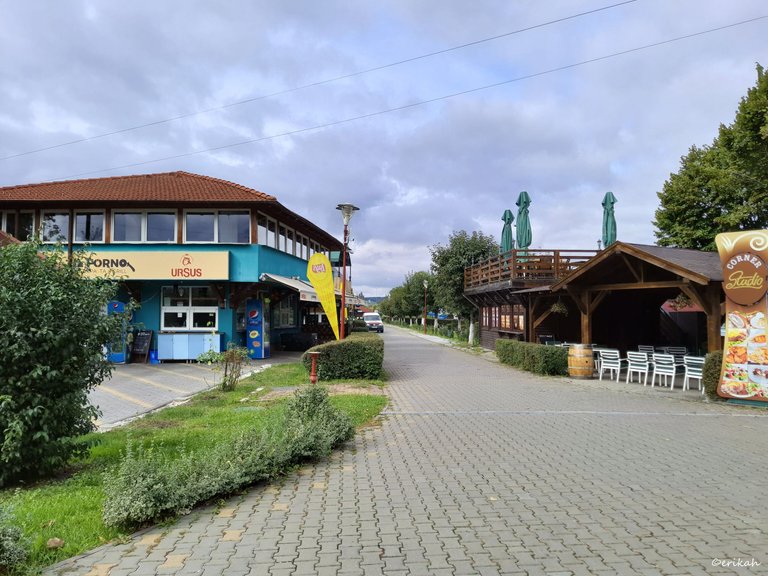 This is where the fun begin. The whole place is full or terraces, restaurants, bars and clubs.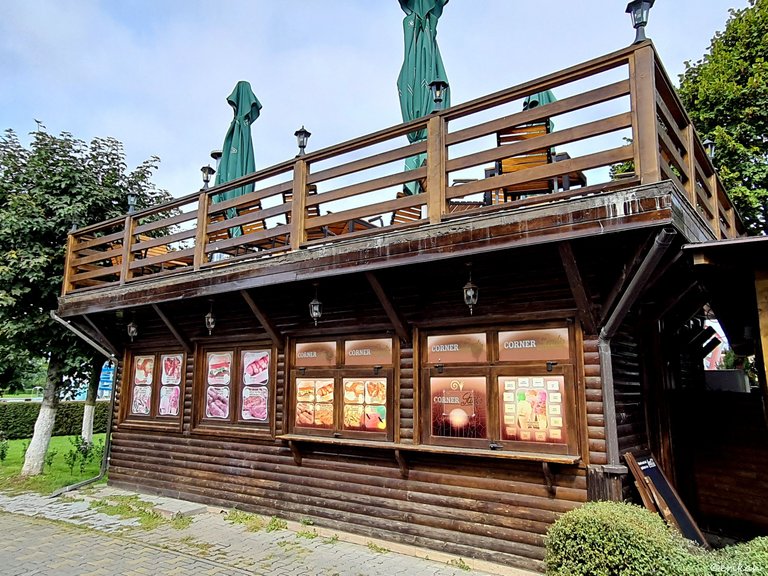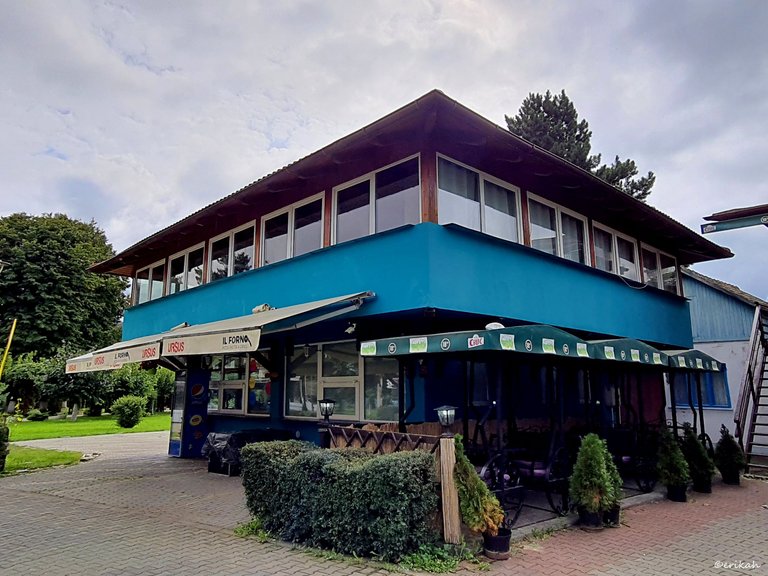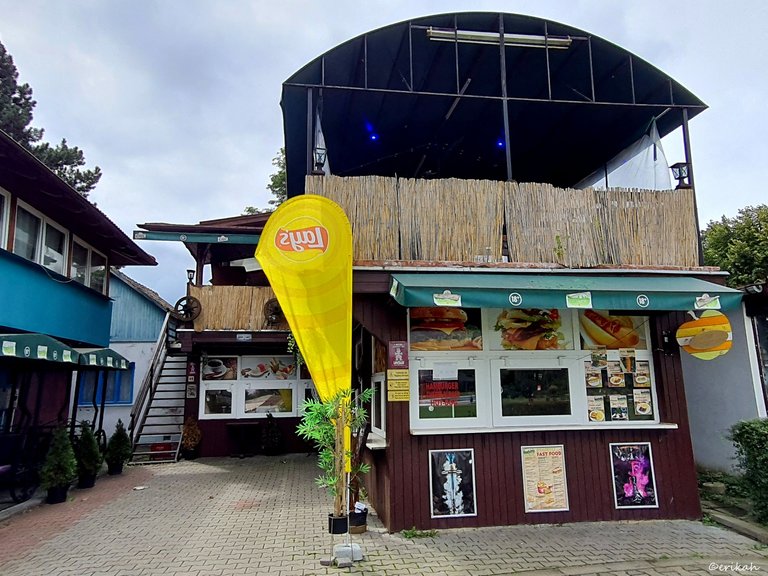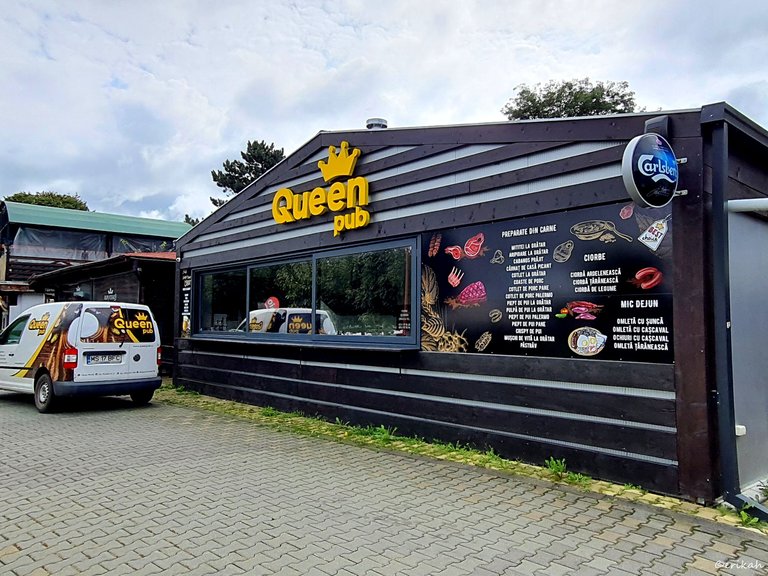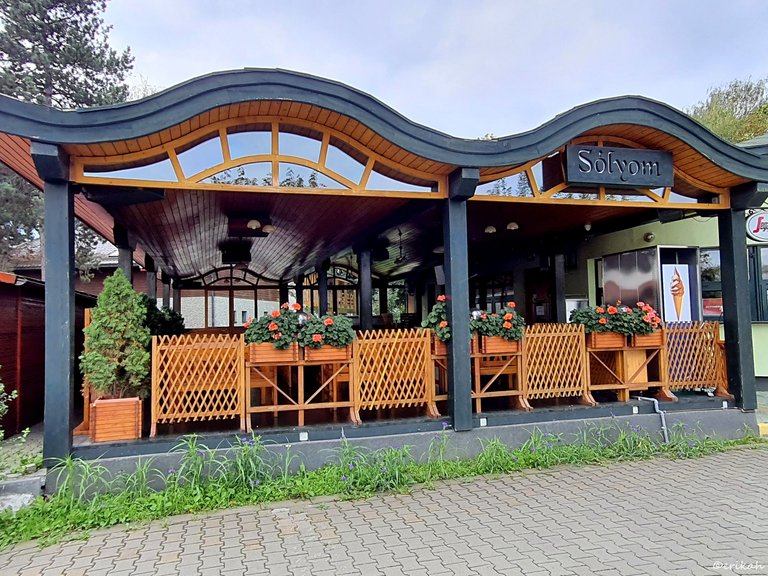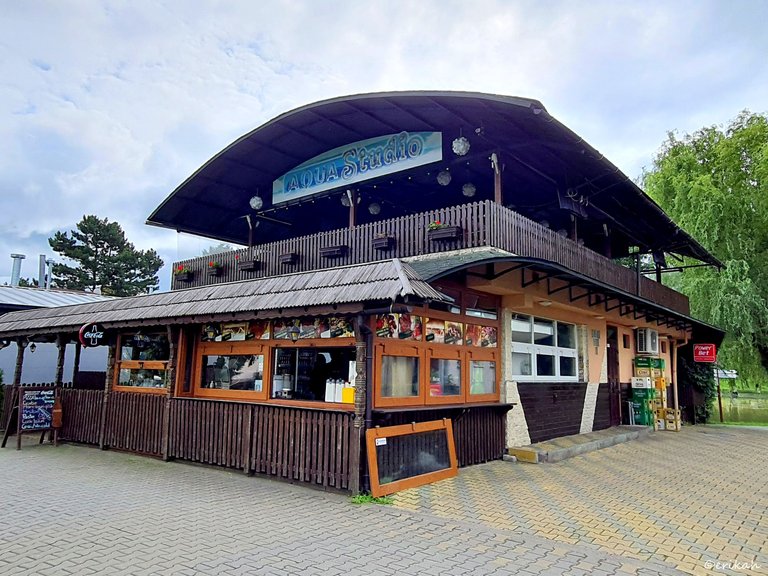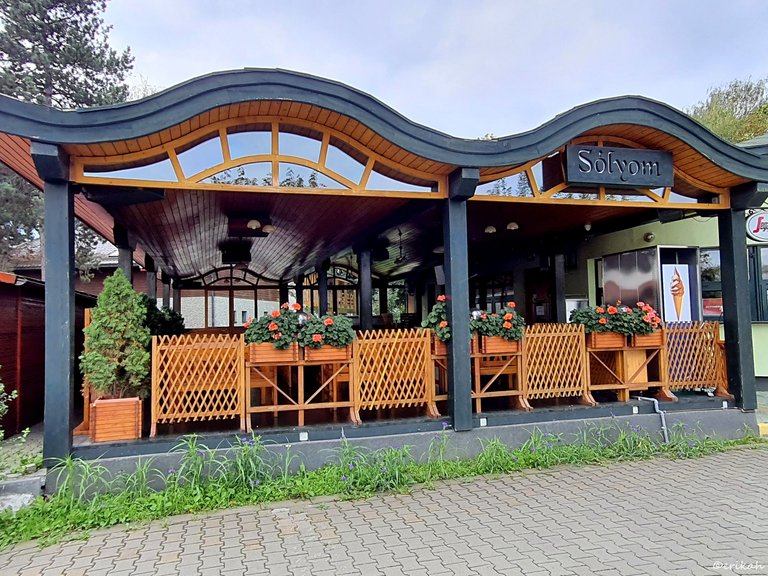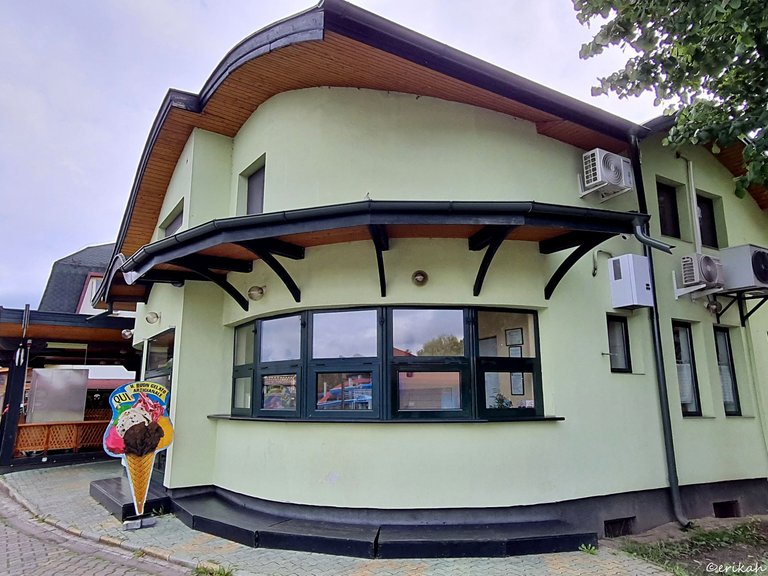 This was the place where, despite the weather, I said I want an ice cream. If you don't know Italian, on the ice cream ways: "Qui, il buon gelato artigianale", which translated to English means "Here, good artisan ice cream". The place was closed, so there was no ice cream for me 😦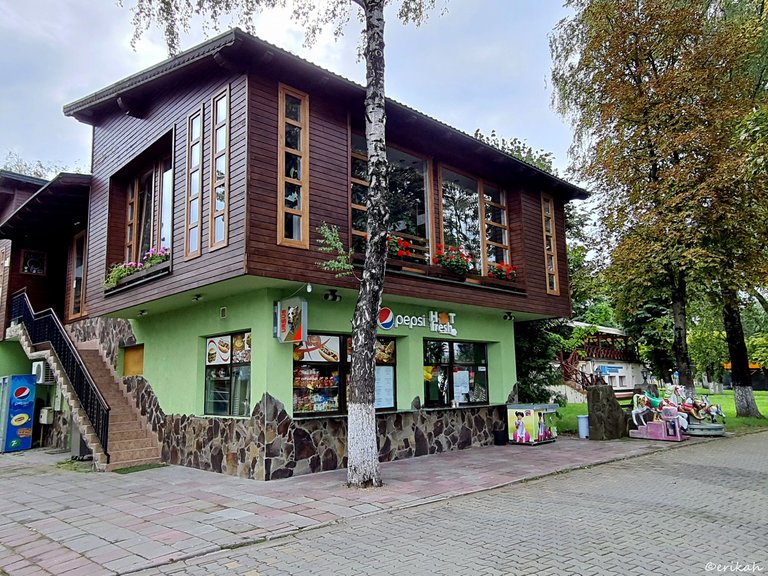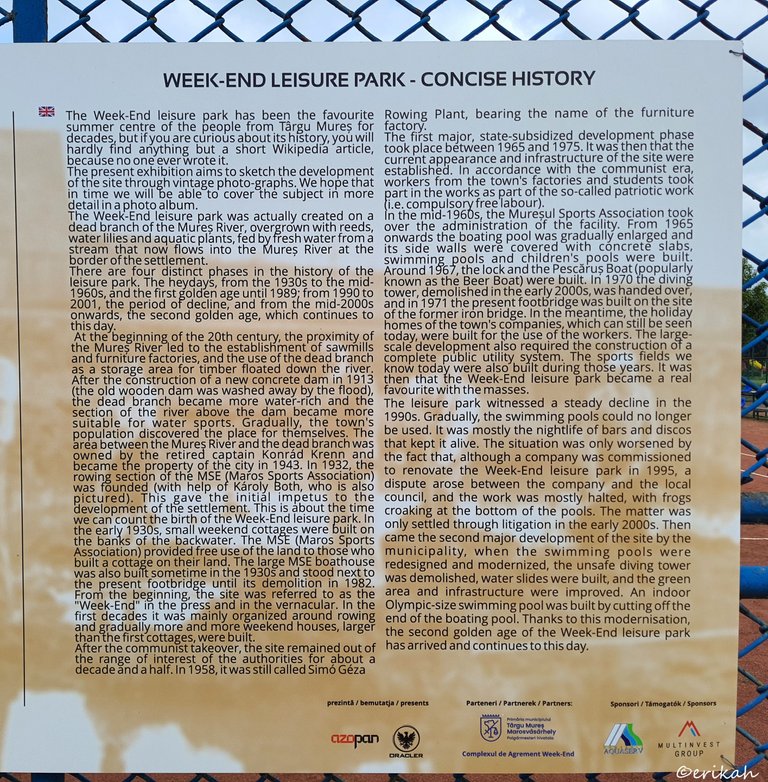 This is where the purpose of my visit starts. There is an open air exhibition going on, as I have mentioned in the beginning of my post. To my surprise, the description was in 3 languages, making my job much more easier as I don't have to translate everything to you. So here you can read about the history of the place. To be honest, reading it was a surprise to me too as I did not know a lot about the place.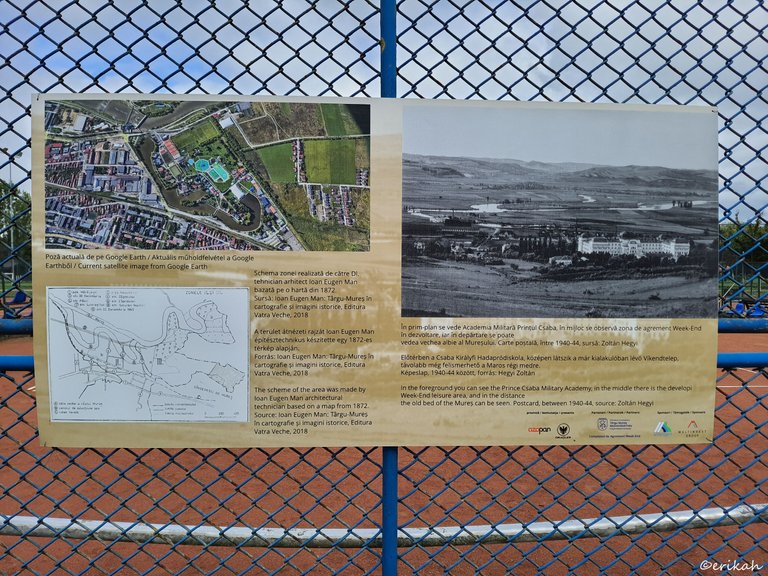 These cards were placed on the fence surrounding one of the tennis courts.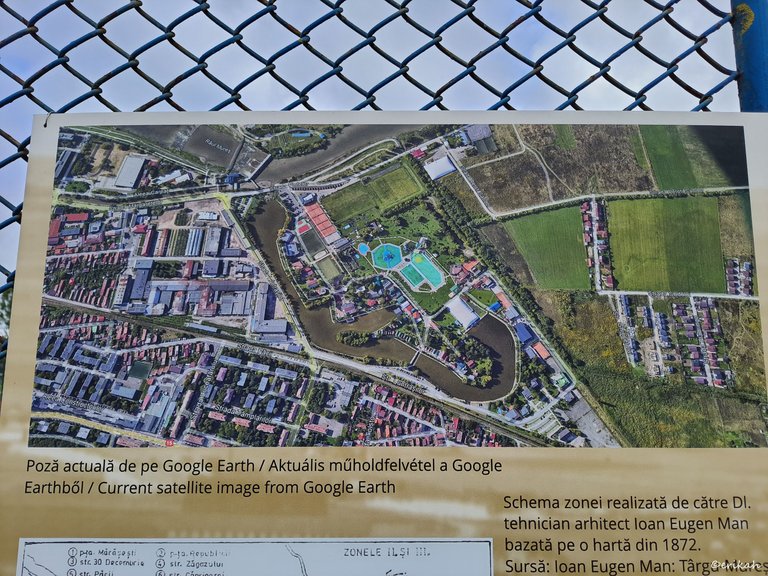 I'm glad they have though about posting this Google satellite image as it's clearly visible how big the place is.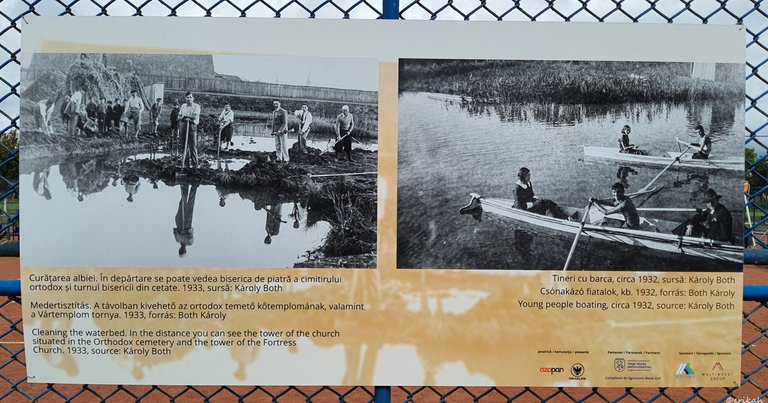 For the past week I've been posting about castles, exhibitions, museums, all bringing back the past. This is another walk back in the past as it walks you through the process of transformation of the place. These photos are testifying about what the place looked like in 1932.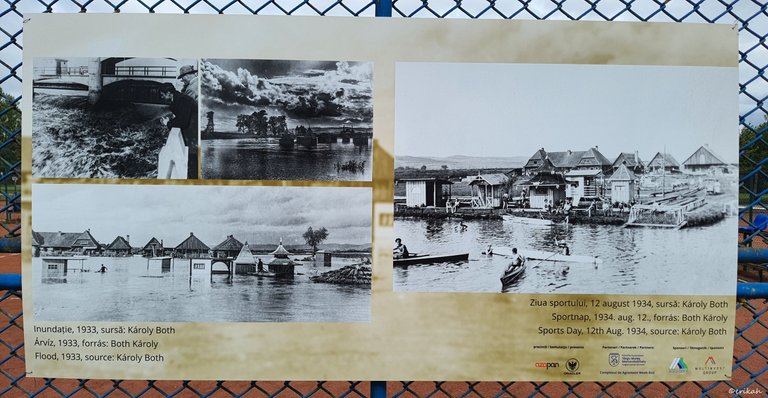 Turns out there was a flood in 1933, that did some damage for sure.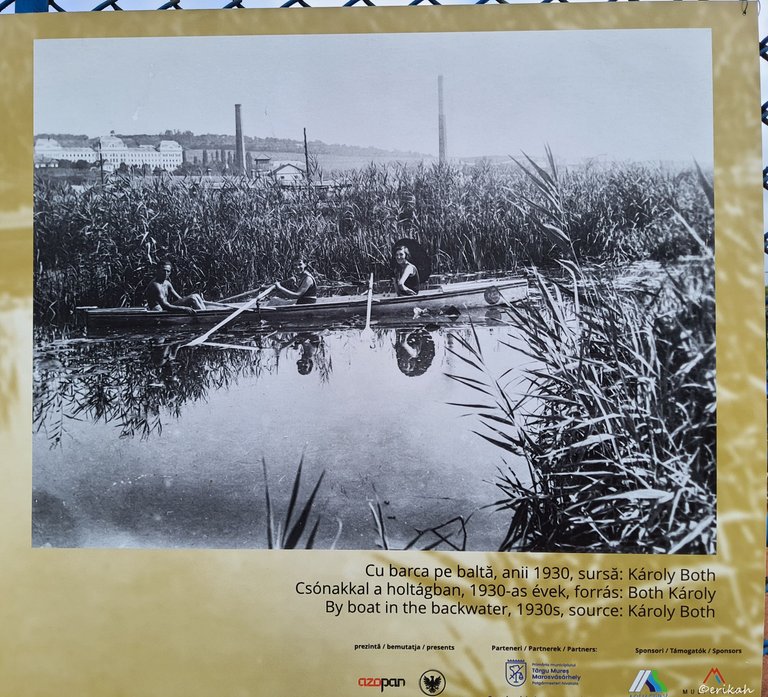 I was standing in front of the photos, knowing how the place looks today and was thinking how difficult it must have been rowing in those conditions. You had to be careful not to get in trouble with nature.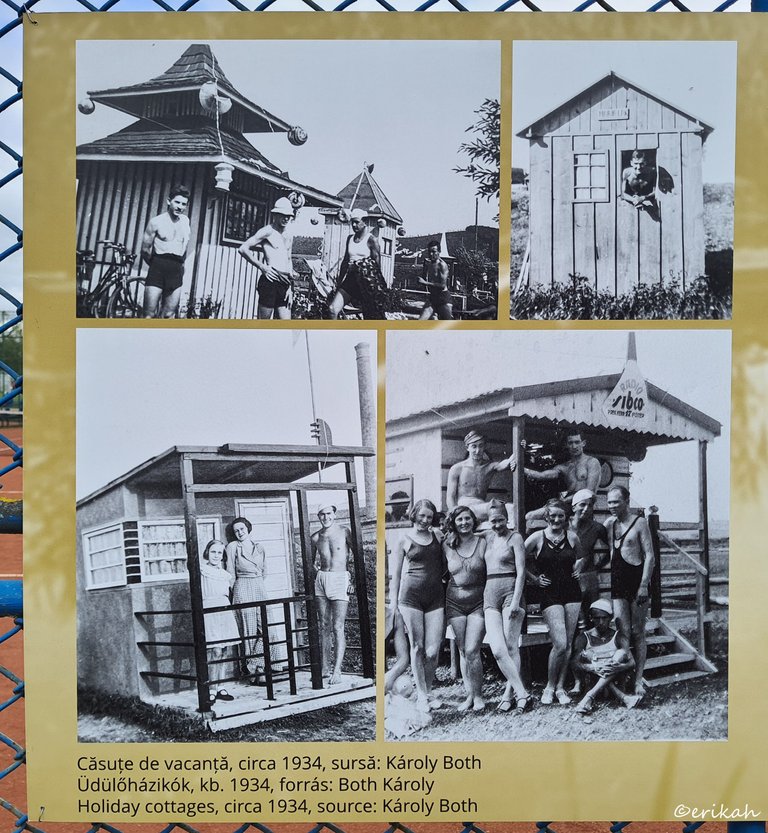 These vacation cabins looks pretty simple and today I could not imagine using one. Maybe as a changing room or storage, wile you're sunbathing and bathing, but that's all. Also, look at those swimming suits :)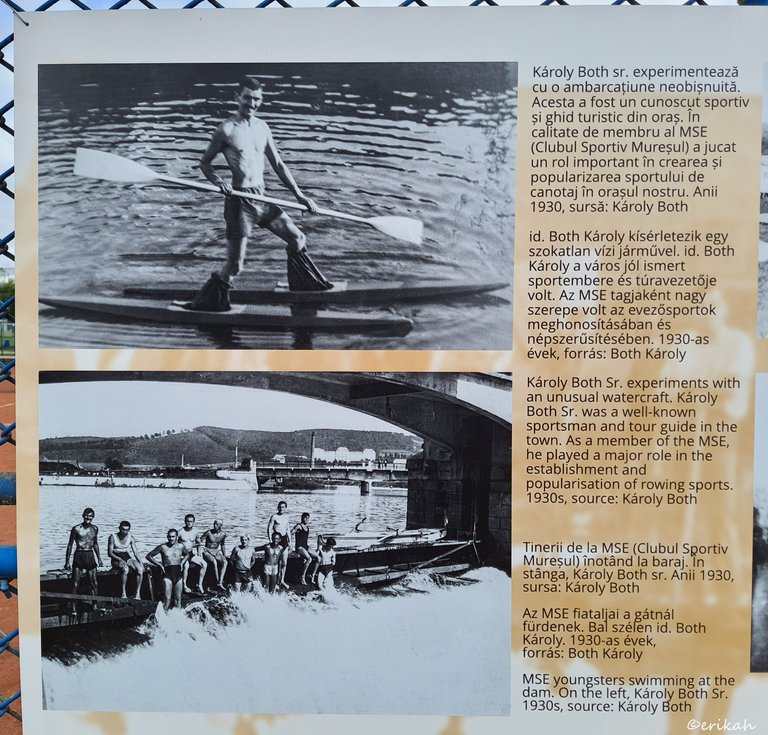 What is interesting to note here is the first photo. Look at that watercraft. I've never seen such a thing, but it's interesting.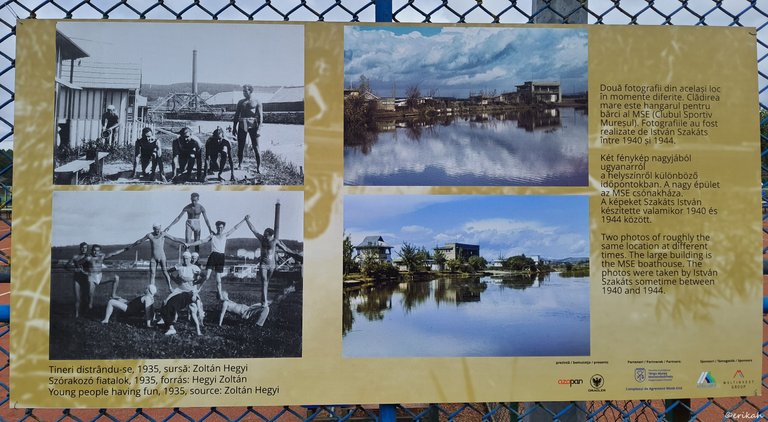 Having fun in 1935 meant a totally different thing than it means today.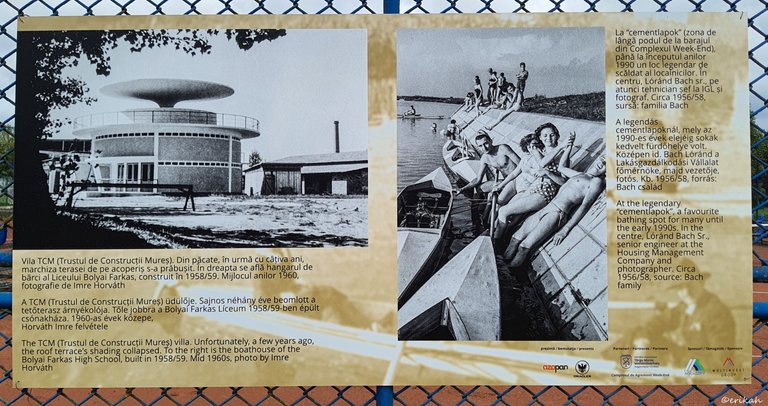 After reading what it says about the building, I thought why not play a game, so I went to see if the building is still standing.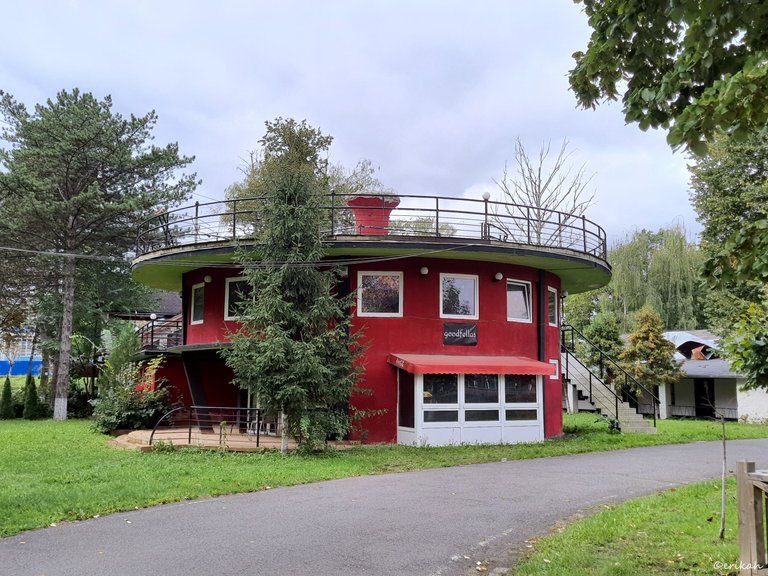 Damn, it looks like I took the photo from the same angle! How about that! And I am only realizing it now, when I'm writing the post. The roof is gone, but the building still has a nice shape.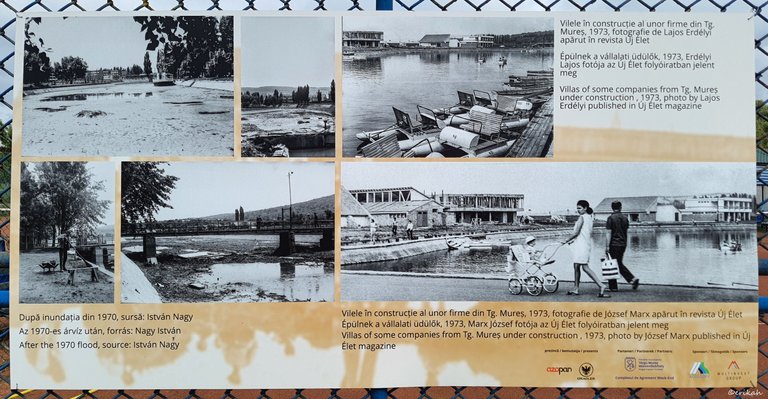 These photos are from 1970 and 1973, when the construction of the villas began. These were all state owned as back in communism there was no private property. Citizens had the right to one home and that was all.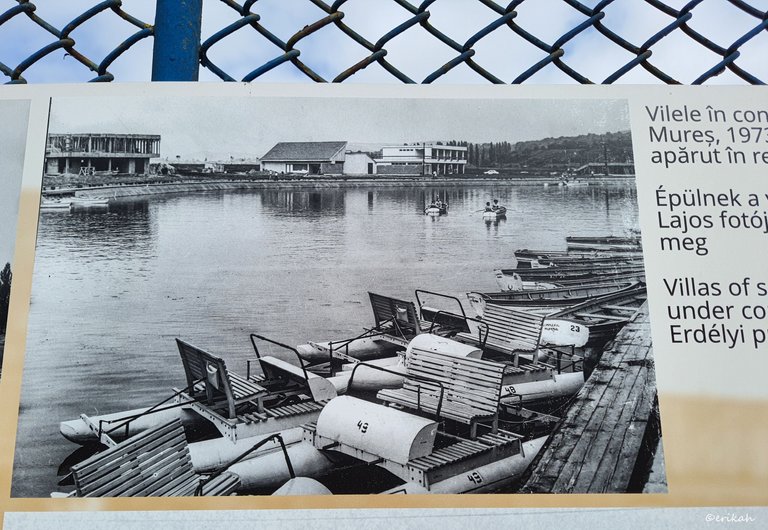 These photo is interesting. I don't know what's the name of these things, we have similar ones these days, but compared to these ... well, there's a bit of difference :) Have you ever seen such a "toy"?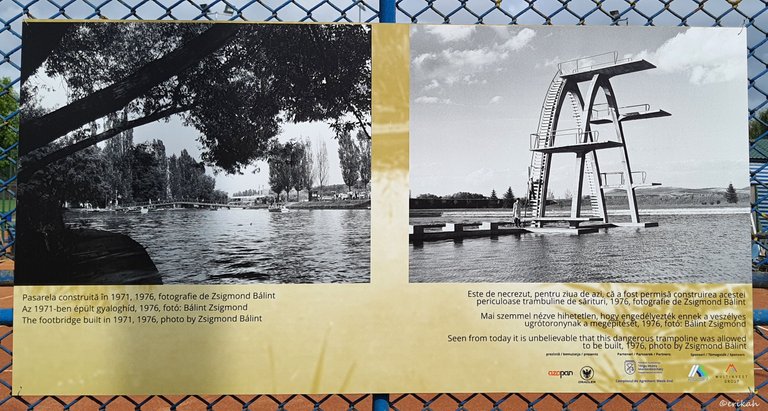 There was a trampoline, built in 1975. The top level was 10m high. This trampoline was accessible to everyone and I've hears stories about how many accidents happened because of carelessness, ignorance and stupidity. People have dies here. Falling flat from 10m high is like falling on a concrete surface and how many don't know that.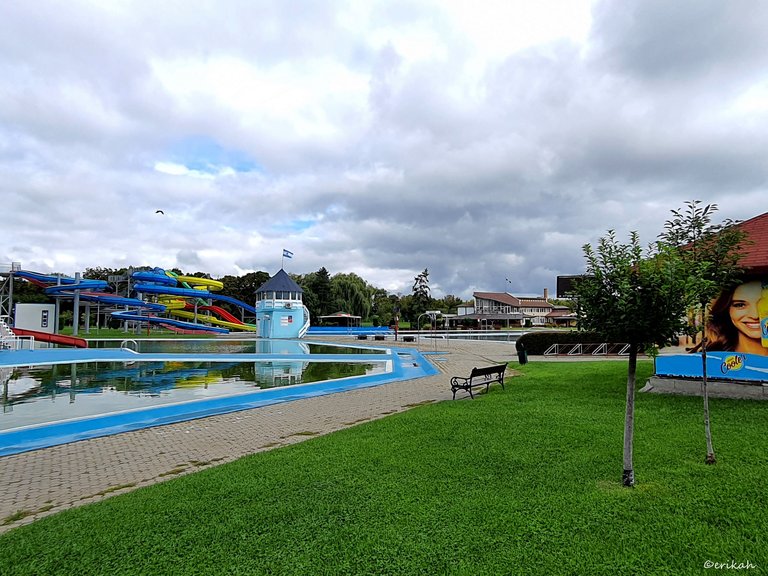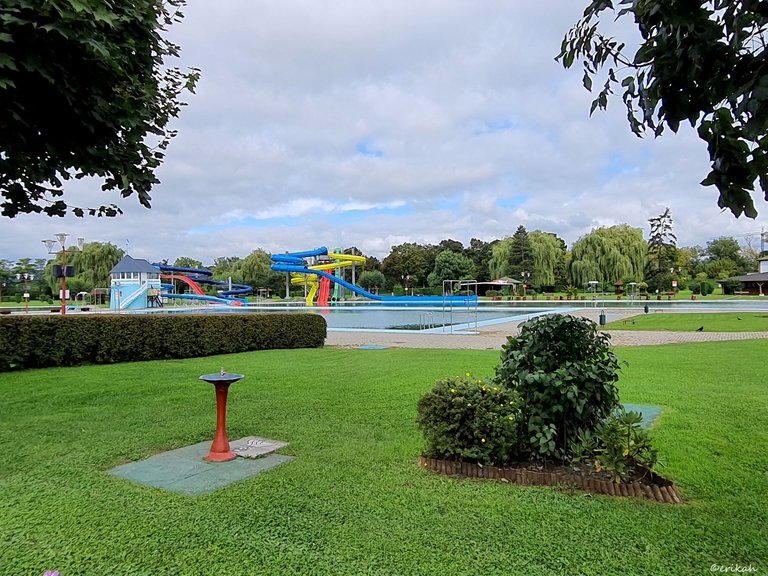 Today there's no trampoline.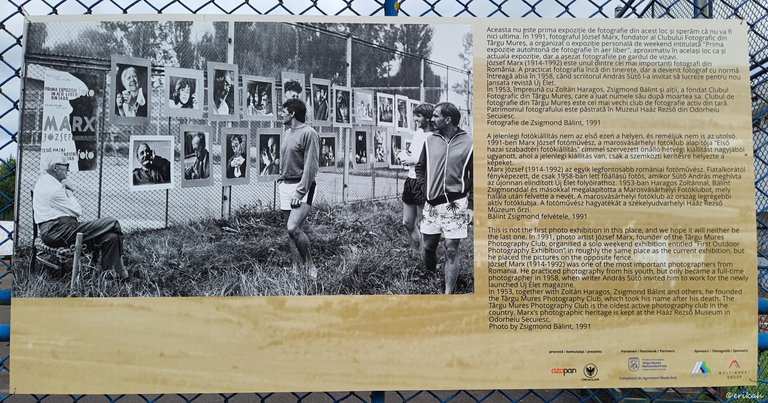 As the card says, turns out this is not the first exhibition there and they say they hope it's not the last one either. There was another one in 1991, when the photos of a well known local photographer, József Marx were displayed.
Seeing these photos made me realize how good of an idea has this exhibition been. It's free, accessible and educative. Everyone passing by can see it and learn.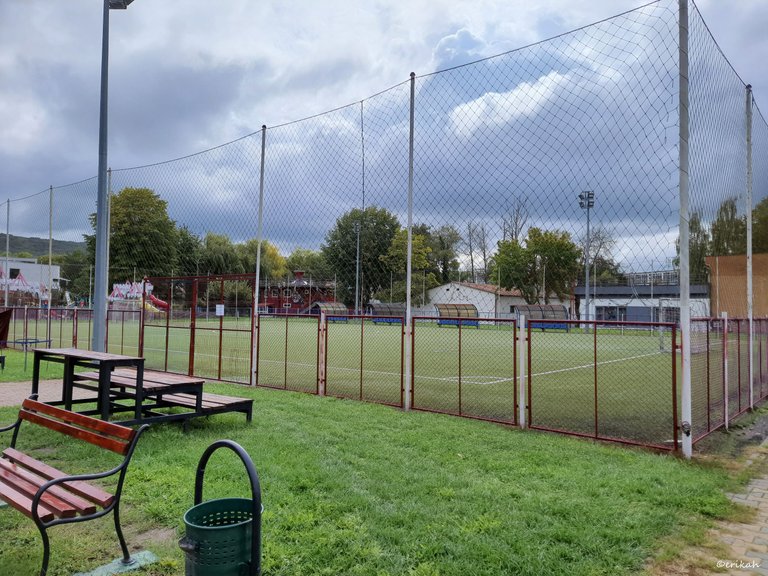 I took a few shots about one of the football fields.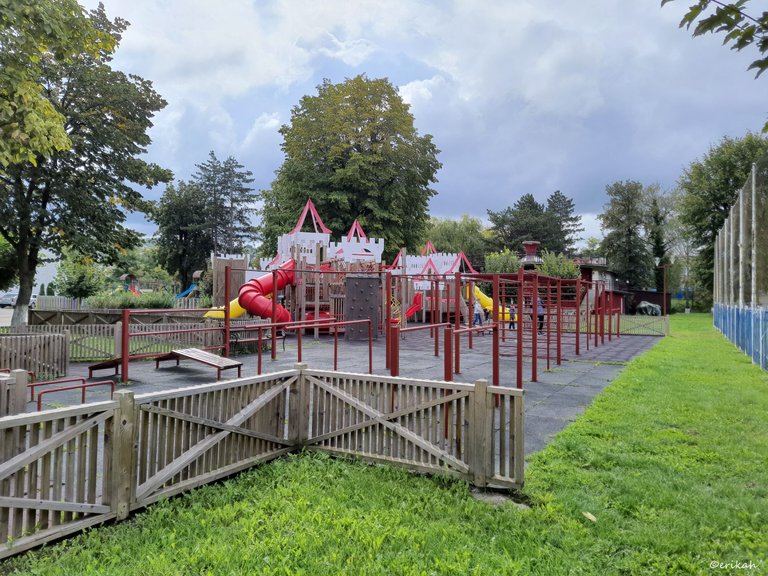 There are several playgrounds as well.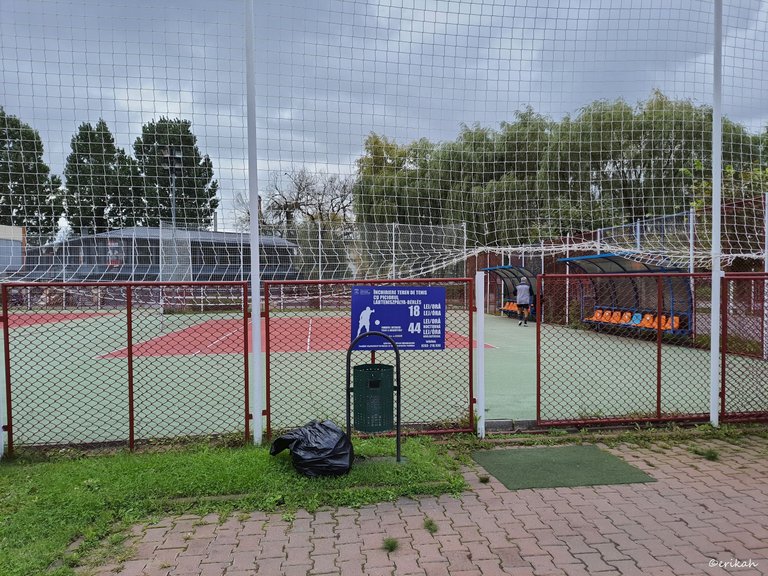 There are a couple of foot tennis field as well, that can be rented out, day and night.
It was nice to see the history of the place on photos and have learnt a lot.

If you're a newbie, you may want to check out these guides:

---
---