Some Thoughts on Monetizing Social Media Contents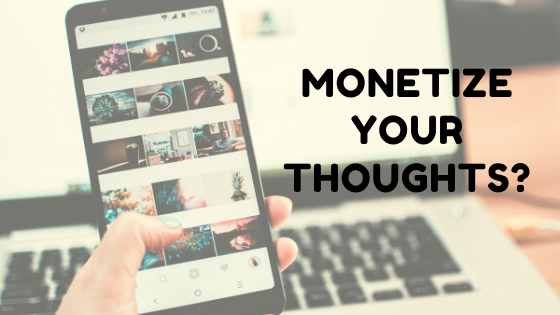 Monetization
We all know that monetizing your content in mainstream social media takes time, lots of following, consistency, great content (nor not, lol), and the works. And oh, maybe create content that goes viral and that would direct traffic to your page. Even after that, you still have to reach the required metrics to be able to monetize your page.
Here at Hive, and Leo Finance, of course, we are lucky to be able to monetize our content even without reaching a particular subscriber count or minutes of viewed content (for YT). Well, not everyone gets high rewards, but with consistency and quality (subjective), monetization is highly possible here at Hive.
Stuck in Traditional Media
You and I will agree that we still have lots of friends and family who are actively sharing their content for free in traditional social media. As for myself, I very rarely post through these media since 2017 when I learned about Steemit. My posts there, if ever I would, are links of my Hive Blog, or 3speak videos for example.
Anyway, I'm happy here. They're happy getting reactions there, fair world.
But No.
It's not fair that they are stuck in these traditional media where they are not getting anything for those reacts and shares.
Enter Noise.Cash
I can't get them to blog here on Hive, so when I got a chance to try https://noise.cash a few days ago, I shared the link to a few of my family, cousins mainly. I showed them how to do it, even my actual BCH wallet balance from just a day of posting there in hopes of at least inspiring them to try the site.
Maybe it was overwhelming for them (hey, Hive and crypto is much, much more) and after a few exchanges of messages, they still didn't register. Gosh, what stubborn relatives I have! Haha.
They'd rather have "Gems".
From yesterday, another social media has exploded in my feeds. It is called Lyka App. From what I know, it is so far only available in the Philippines.
It is also a platform where you can share photos and videos and earn "gems" reacts.
Apparently, some Filipino celebrities are already there and the hype happening now is because an actress and famous youtuber recently posted a video of herself buying a Ford Expedition using her Lyka gems! The car costs over Php 3.7 million (over $77,000).
They said one gem is valued at Php 1, and you can withdraw it once you reach 3,000 gems. There are also merchants accepting Lyka gems as method of payment. I've personally haven't tried the app, and don't plan to at the moment. I have too much on my plate and another platform is too much for me already. LOL.
And yeah, my dear cousins (and a looot more) are apparently more inclined to earn gems who knows when they will be able to convert into cash, as opposed to some BCH that's instantly available in their wallets that could be converted into fiat "with just a slide". I just jokingly advised them to ask the famous YouTuber to give them a shout out so maybe they can build the following fast. 😁
Thoughts
Okay, given the fact that we also don't know until when we will get "free tips" at Noise.cash, still the site is fairly new and it might as well be wise to "take some" while it lasts.
The same way, I also don't know how Lyka will fare in the future so who am I to judge. If they feel comfortable there and deem their time fit to earning some precious gems, then so be it.
What is apparent is that there are now other social media platform options and if people are more inclined to give out their content for free, then... I hope they find a better way to get value from their chosen media.
How about you? Thoughts?
Cheers!
Arlyn
Posted Using LeoFinance Beta
Image Credit: Canva
---
---