Dunk or Junk? You Decide :)
Before we get to the what's on the image above, let me tell you a little about my day.
So, last night was somewhat crazy because I got in a fight with my girl, so this morning was all occupied with us continuing that fight :)
I had this song stuck in my head actually, here's a bit of the lyrics:
"balling on a court, oh my God I can Dunk, snap a flick of my junk, my dick is trending on Twitter, fuck!"
Anyone here heard of it?
Well the title is "freaky Friday" by Lil Dicky ft Chris Brown (mad song actually)
I never actually knew why that shit was just all up in my head today, I was just repeatedly singing those verses.
Now I just figured out, and fuck it's actually Friday and all these may sound freaky :)
I was lurking, while lurking, I stumbled on a certain user's wallet of which I will not mention!
I discovered a token there called "Dunk" and am like wft?
Dunk or junk? And my brain was like: you decide :)
I remember when I bought my first pob, it was really cheap then, lol, I bought 600 then, just after I saw a post from @trumpman (sorry for the tag tho) speaking of the coin in a shitty way of which I found entertaining. I hopped over to Hive Engine market to read a bit about the coin or token, call it whatever am old. I checked the supply, just 21 million, and am like, cool. Then I bought it. As crazy as it sounds, I never really gave a fuck about the description, just the supply. But also, I was worried about how much tokens I can distribute per vote, and boom, I landed here before y'all came around. I wasn't always active but @calumam was always here, engaging as hell when this place was more like a graveyard, haha, I watched everything through @espandor abandoned account :) just kidding, still got some LIST token there in case you write about e-commerce, I'll come around.
Introducing DUNK, new GEM?
I'd say it could be whatever we make of it
It's fresh, still anticipating some informations about the project. I don't even know who the runners are, lol. But here's why I bought in.
I love sports, but sportstalksocial.com failed so far, maybe there'd be some revival, fingers crossed, but if another project lunches on Hive focused on all sports, then we can kiss it bye bye.
However, https://dunksocial.io isn't a generic community! And it also isn't for all sports! Only basket ball, so if you ain't know shit about basketball but you wanna earn some DUNK, pick up your damn phone and make Google your best bud :)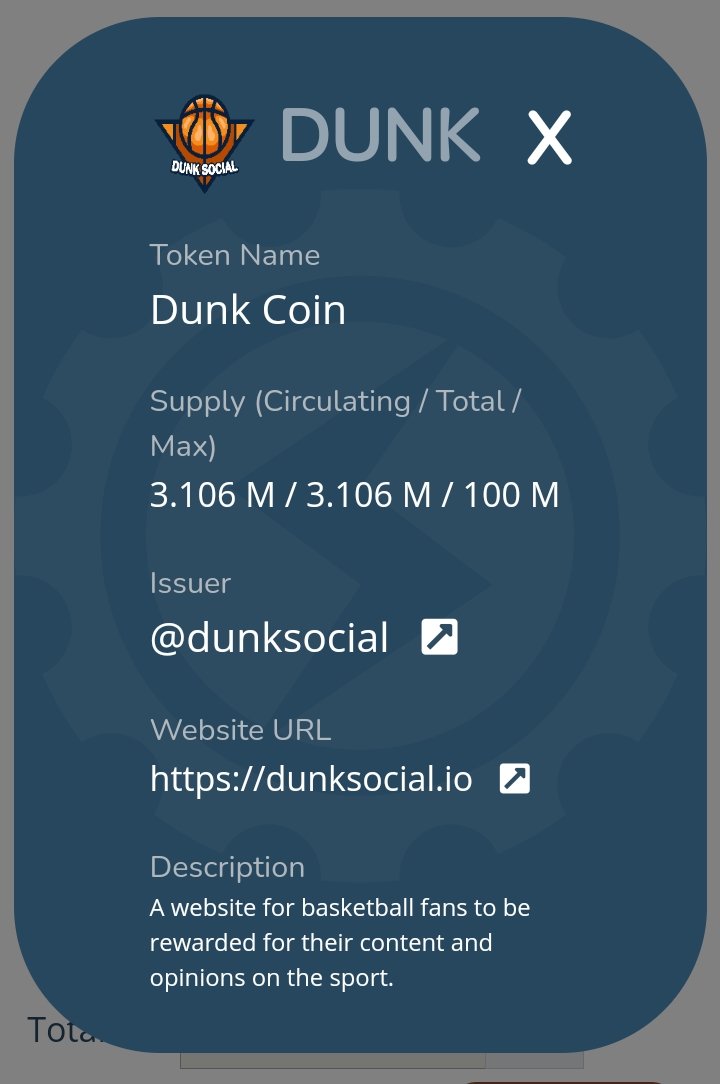 Just 100 million tokens, low cap enough?
Specific focused community, safe enough?
HOW about This :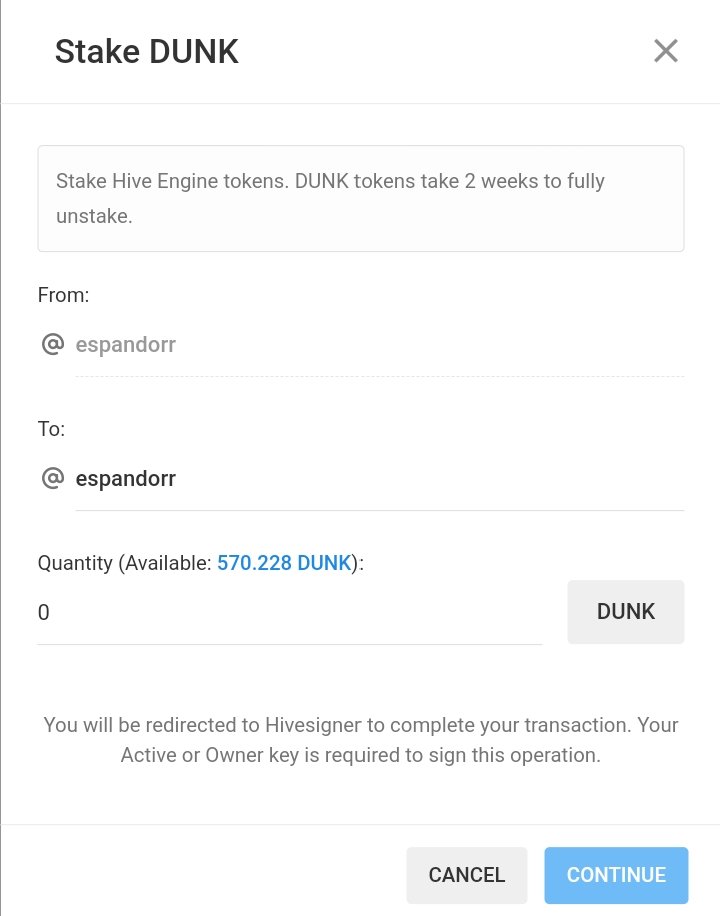 Two weeks and everything is down :D
This is called putting trust in investors hands. Everyone can decide if to grow his stake or power down and sell. This is where it's gonna out shine Hive that takes 13 weeks but remains too volatile for its all time spoken potentials.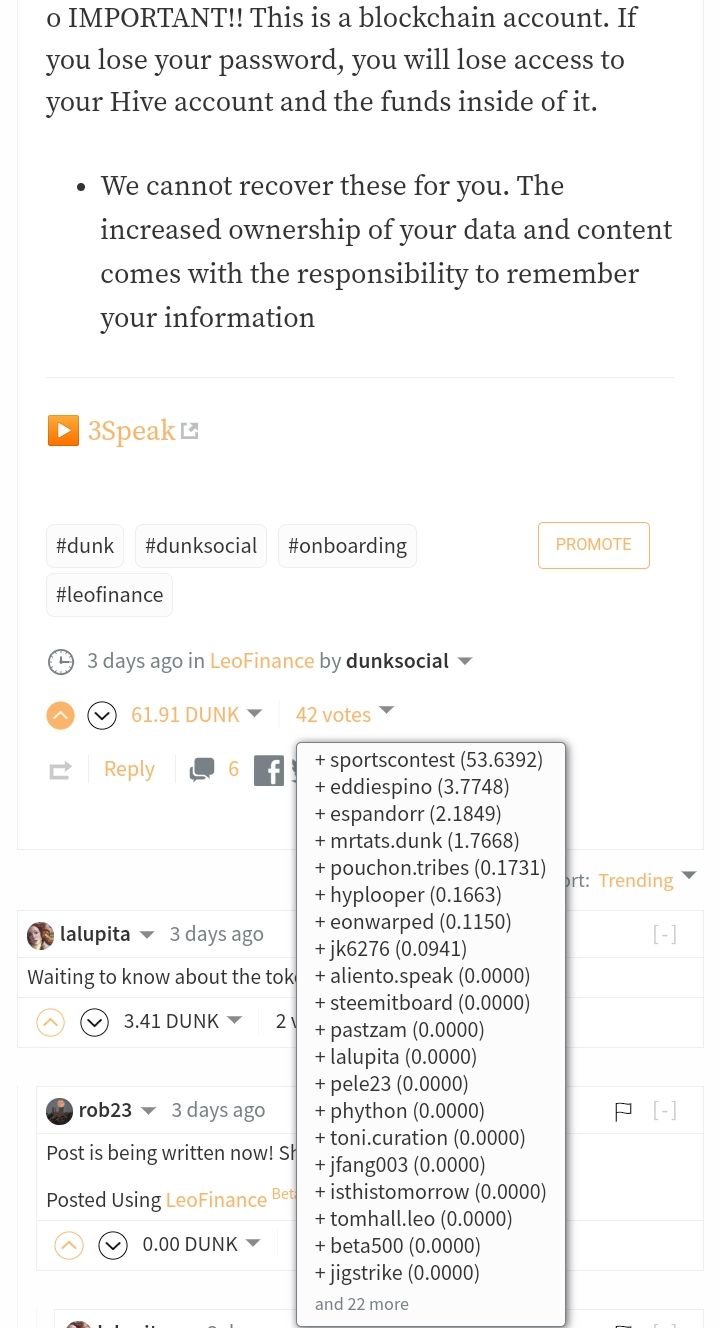 I did a bit of testing. Turns out with just 570 Duck staked, I could distribute 2+ dunk per 100% vote OK, that's cool. I increase the number of tokens staked, now ama go vote something else and see.
There was some sort of airdrop or random distribution of tokens, but I didn't get any, well sad, I had to buy mine :)
It's left for you to either get RICH or REKT
BYE HOES :)
---
Posted via proofofbrain.io
---
---