Manualidades: Collar de girasoles con abalorios || Crafts: Beaded Sunflower Necklace 🌻♥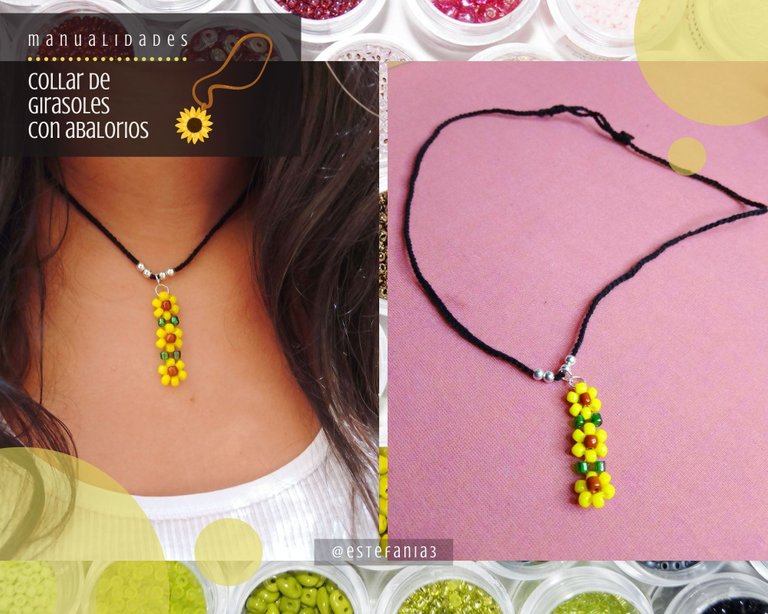 ¡Hola Chicos!
En la mercancía que estoy creando para la venta de artesanías y bisutería tengo pensado incluir varios collares. Ayer por fin me animé a hacer el primero, siguiendo la misma temática de flores que he trabajado en las otras piezas.
En esta ocasión se trata de un collar hecho con un dije de 3 girasoles, algunos balines en color plateado para hacer de complemento y la base del collar es una cadena tejida a crochet con el mismo hilo negro que les mostré hace varios días.
Sí, es posible hacer un cordón para hacer collares si tejemos una cadena y ajustamos muy bien cada punto. Lleva su trabajo pero vale la pena.
El tiempo de creación del collar es menos de una hora si nos lo proponemos (y no nos distraemos con nada). Tengo pensado hacer otros con los mismos colores y varias para hacer otras flores.
Me gustó tanto como quedó que aún lo tengo puesto y me lo voy a quedar, ya que desde hace tiempo quería uno para usar a diario.
Al mismo tiempo es una buena manera de promocionarlos.
Ahora si, les cuento como he creado este collar y los materiales que necesitan para hacerlo.
Hey guys!
In the merchandise that I am creating for the sale of crafts and jewelry I plan to include several necklaces. Yesterday I finally decided to make the first one, following the same flower theme that I have worked on in the other pieces.
This time it is a necklace made with a pendant of 3 sunflowers, some silver pellets to make a complement and the base of the necklace is a crocheted chain with the same black thread that I showed you several days ago.
Yes, it is possible to make a cord to make necklaces if we weave a chain and adjust each point very well. It takes your work but it's worth it.
The time to create the necklace is less than an hour if we put our minds to it (and we don't get distracted by anything). I plan to make others with the same colors and several to make other flowers.
I liked how it turned out so much that I still have it on and I'm going to keep it, since I've wanted one for daily use for a long time.
At the same time it is a good way to promote them.
Now, I tell you how I created this necklace and the materials you need to make it.

M A T E R I A L E S || M A T E R I A L S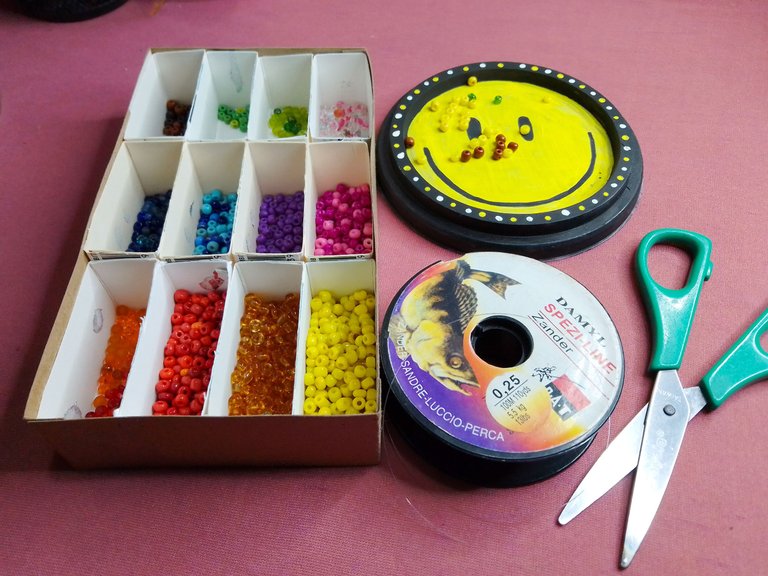 Hilo para crochet de color negro
Aguja de crochet
18 chaquirones amarillos
4 chaquirones verdes
3 chaquirones marrones
4 balines plateados
2 argollas plateadas
30 centímetros de nylon
Black crochet yarn
Crochet hook
18 yellow beads
4 green beads
3 brown beads
4 silver pellets
2 silver hoops
30 centimeters of nylon

P R O C E S O || P R O C E S S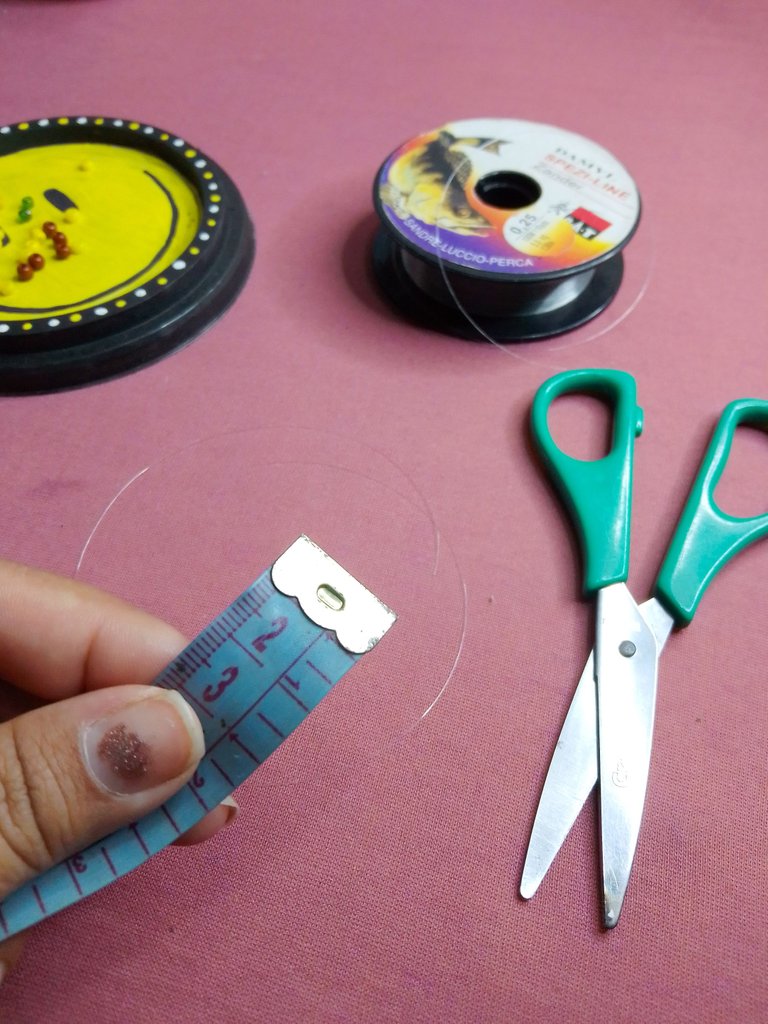 Con una cinta métrica medimos 30 centímetros de nylon transparente.
With a tape measure we measure 30 centimeters of transparent nylon.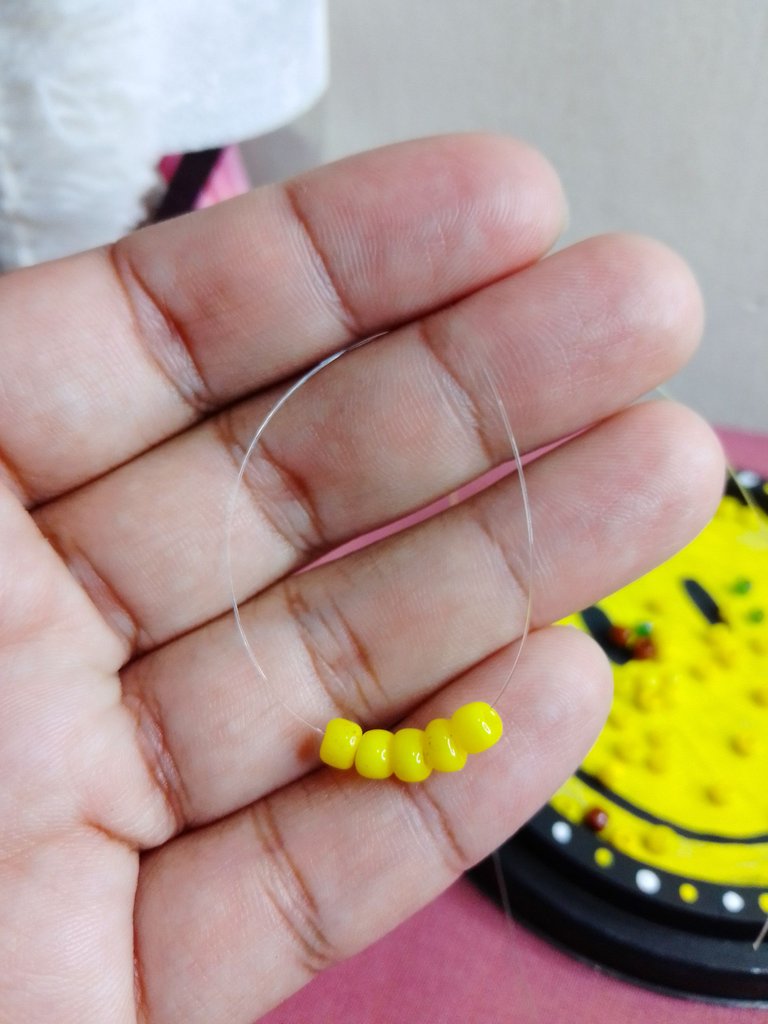 Introducimos 5 chaquirones amarillos en el nylon. Luego un chaquiron marrón pasando ambos extremos del hilo por su interior.
We introduce 5 yellow beads in the nylon. Then a brown chaquiron passing both ends of the thread through its interior.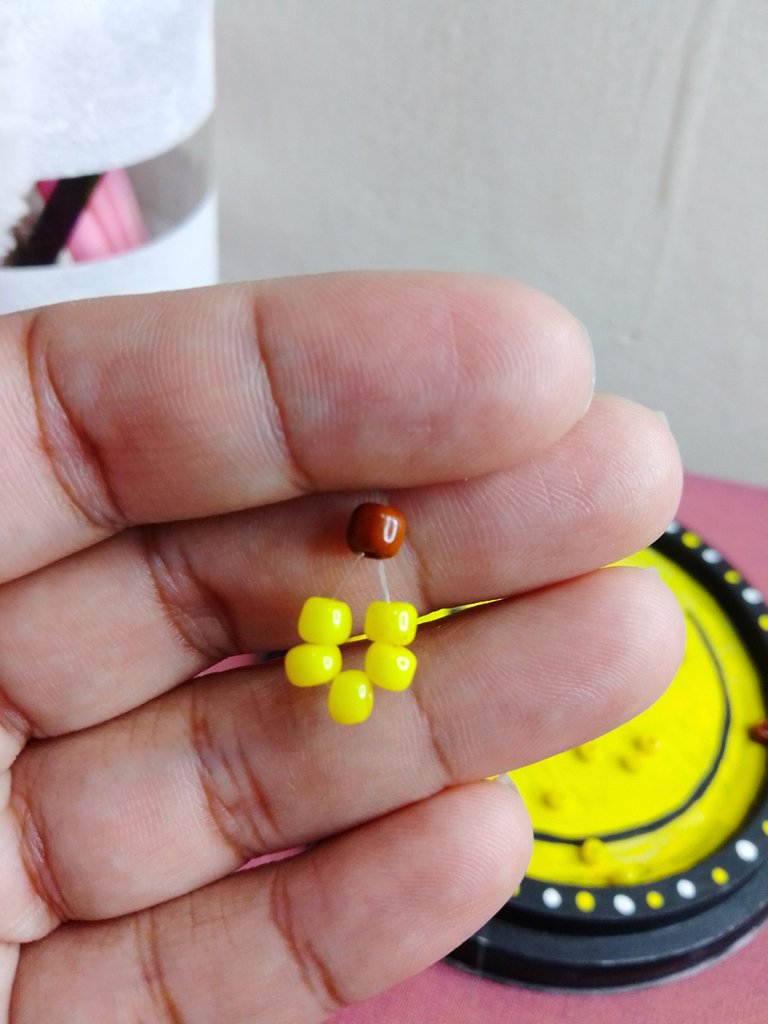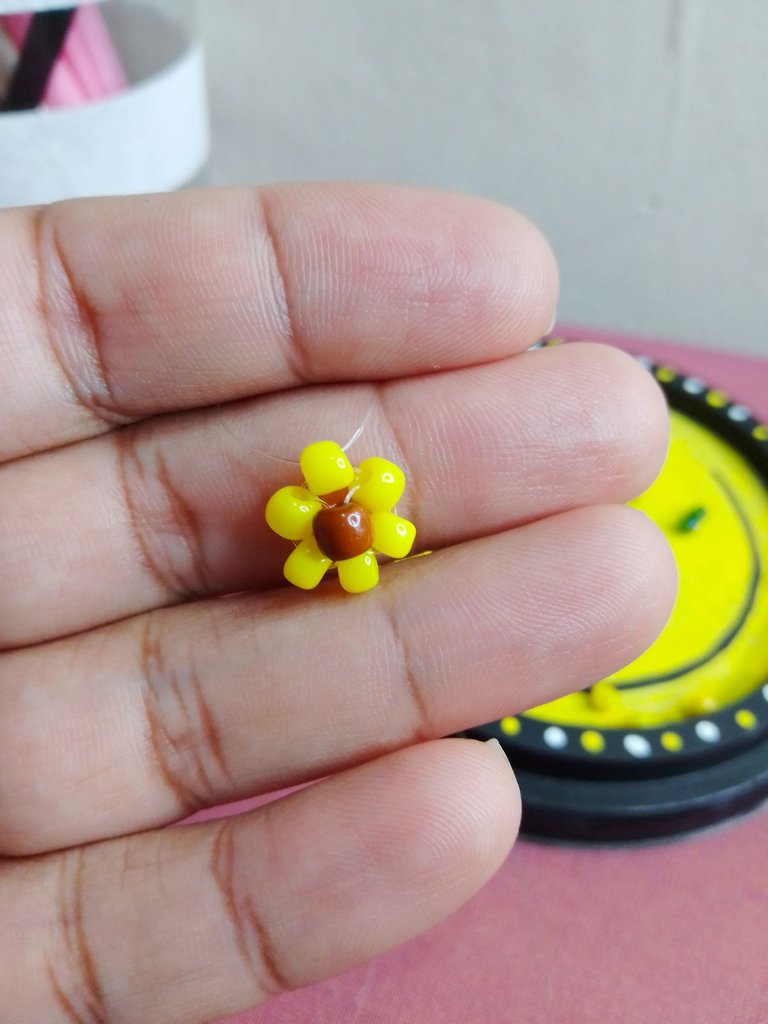 Colocamos los hilos hacia abajo, los pasamos por ambos costados del abalorio amarillo del centro y los introducimos en el interior de los dos abalorios de los costados, siguiendo el orden que llevan los hilos.
Para finalizar vamos a agregar un último abalorio amarillo interceptando los extremos en su interior, tal y como se muestra en la segunda imagen.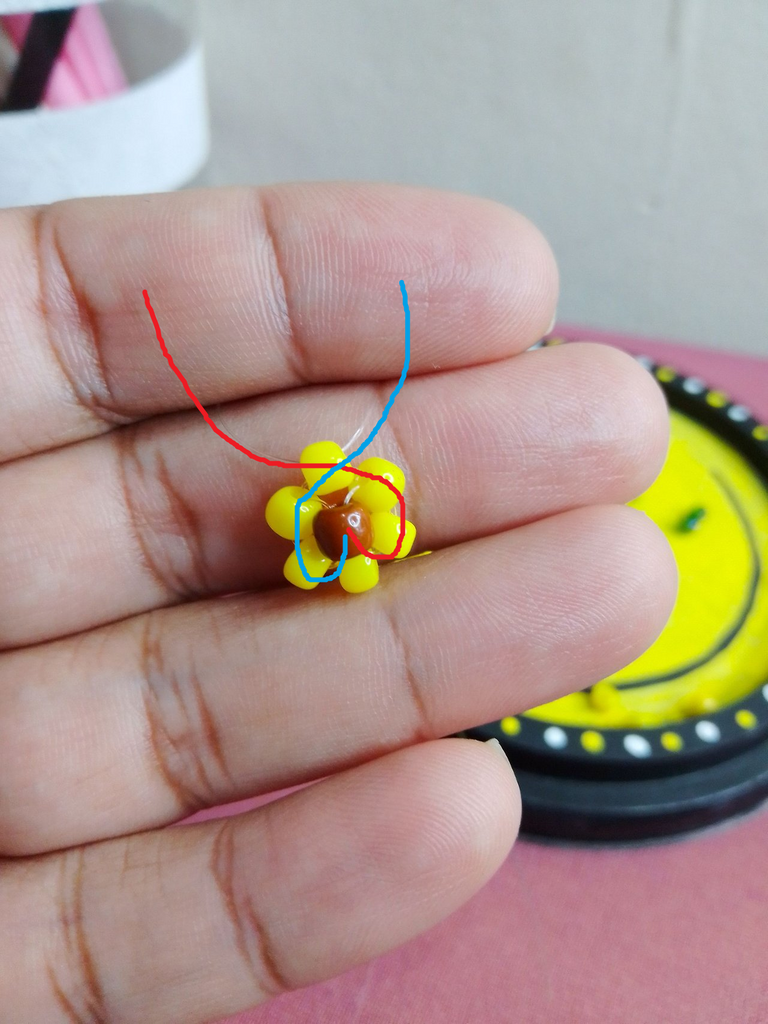 We place the threads downwards, pass them through both sides of the yellow bead in the center and insert them inside the two beads on the sides, following the order of the threads.
To finish we are going to add a last yellow bead intersecting the ends inside, as shown in the second image.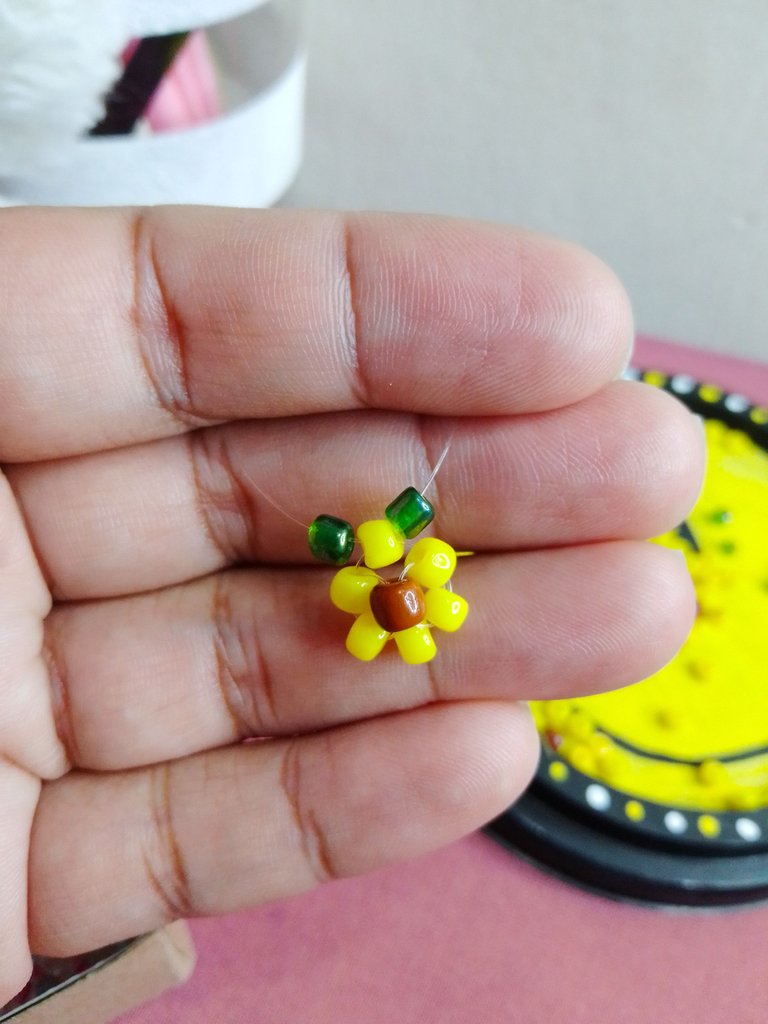 Agregamos dos abalorios verdes, uno a cada lado y luego para iniciar la siguiente flor colocamos uno amarillo interceptando los extremos del nylon en su interior. Repetimos los pasos de la flor anterior hasta lograr un total de 3 flores.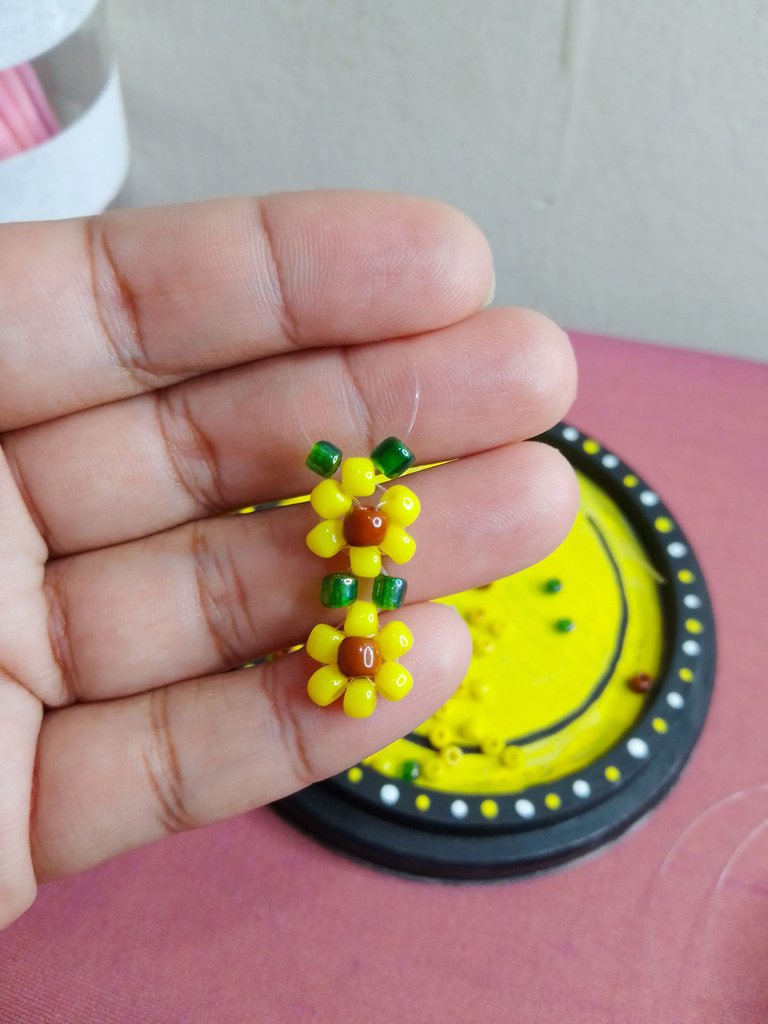 We add two green beads, one on each side and then to start the next flower we place a yellow one intercepting the ends of the nylon inside. We repeat the steps of the previous flower until we achieve a total of 3 flowers.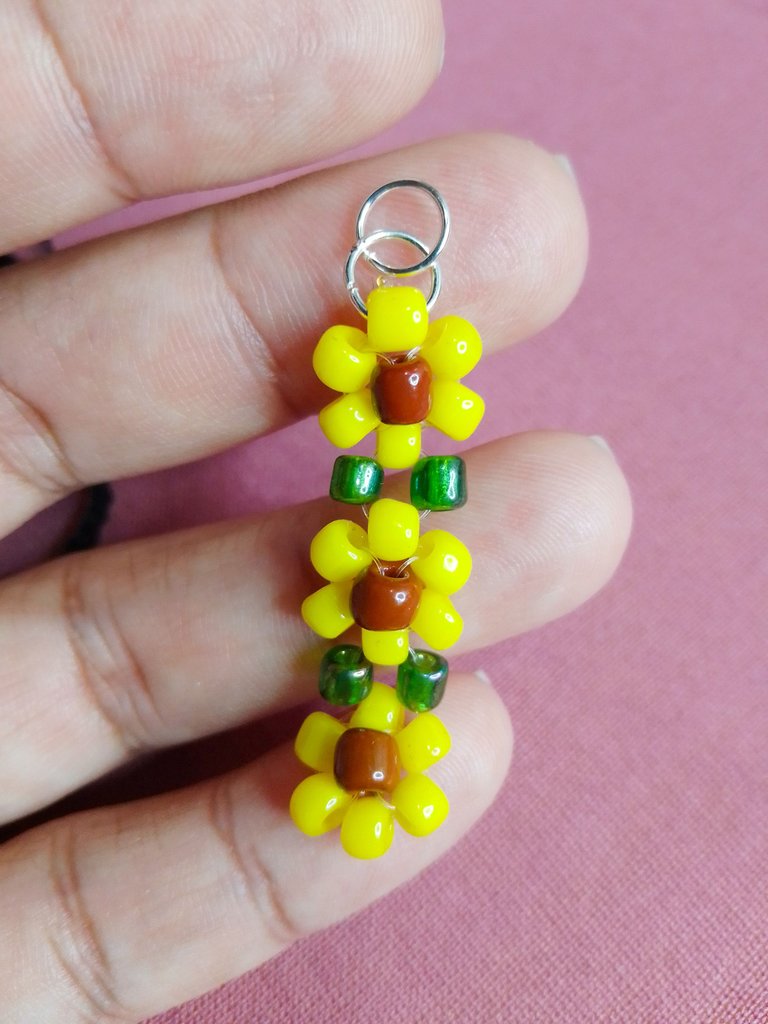 Hacemos un nudo, procurando que quede en la parte trasera del dije y colocamos las dos argollas plateadas, una en el interior del abalorio amarillo de la parte superior y la otra que sea la que irá sujetada al collar.
We make a knot, making sure that it is at the back of the pendant, and we place the two silver rings, one inside the yellow bead at the top and the other that is the one that will be attached to the necklace.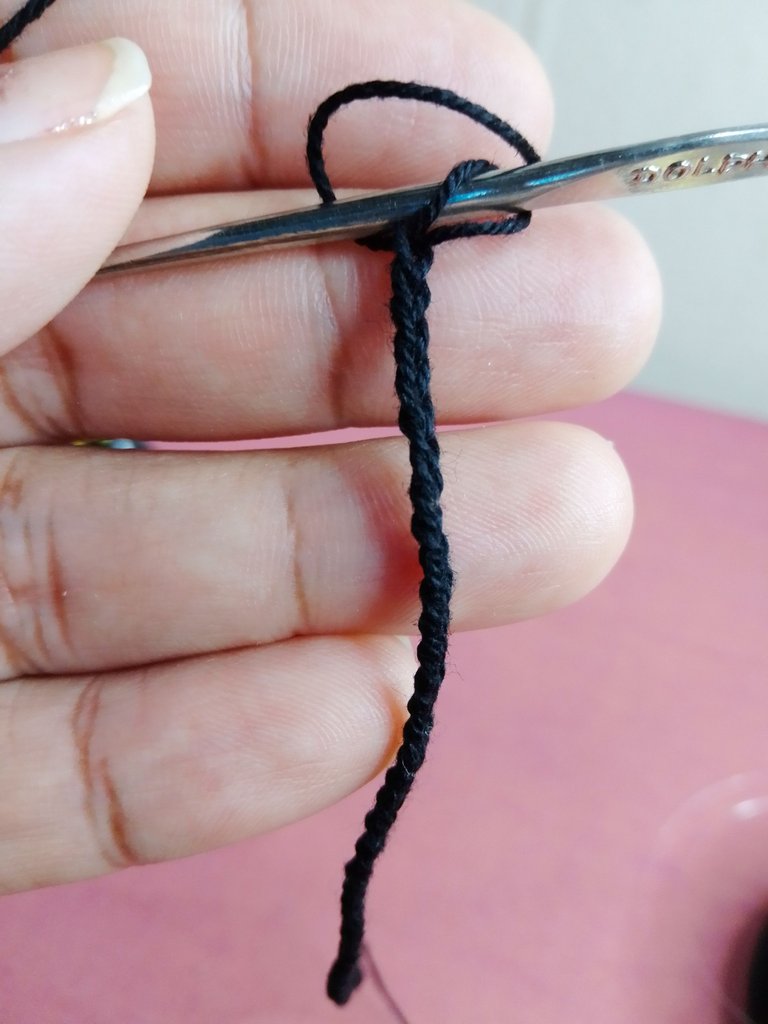 Para la base del collar tejí con hilo negro una cadeneta de unos 45 centímetros de largo.
En ella introduje dos balines plateados, el dije y los otros dos balines restantes.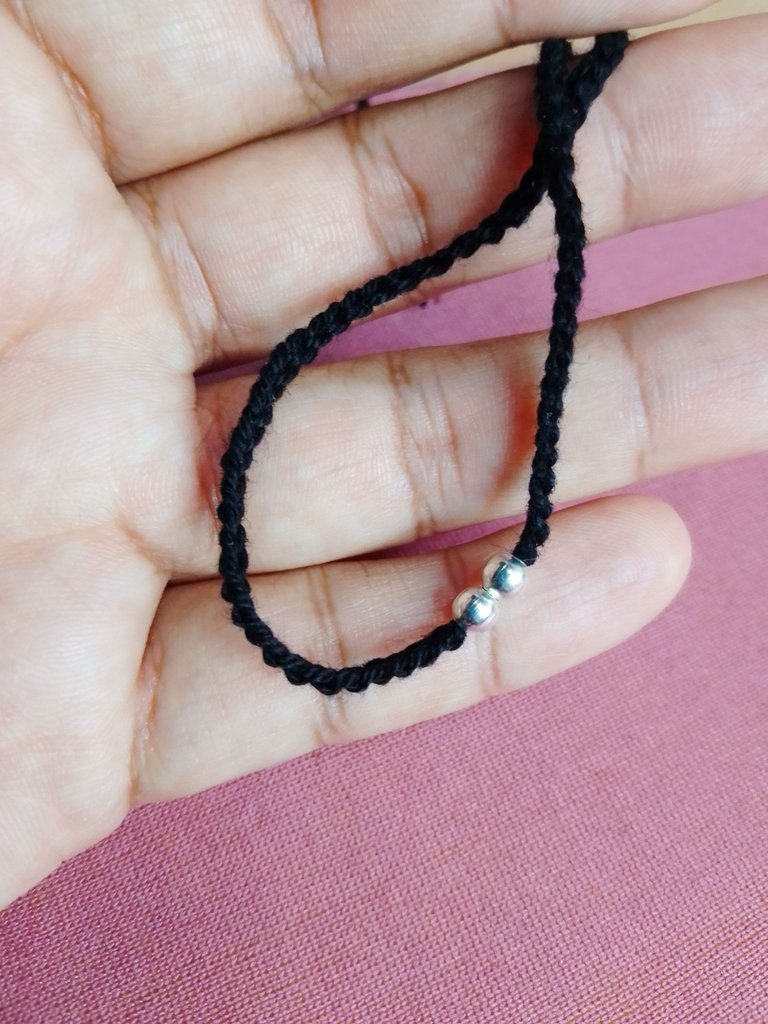 For the base of the necklace I knitted a chain about 45 centimeters long with black thread.
In it I introduced two silver pellets, the pendant and the other two remaining pellets.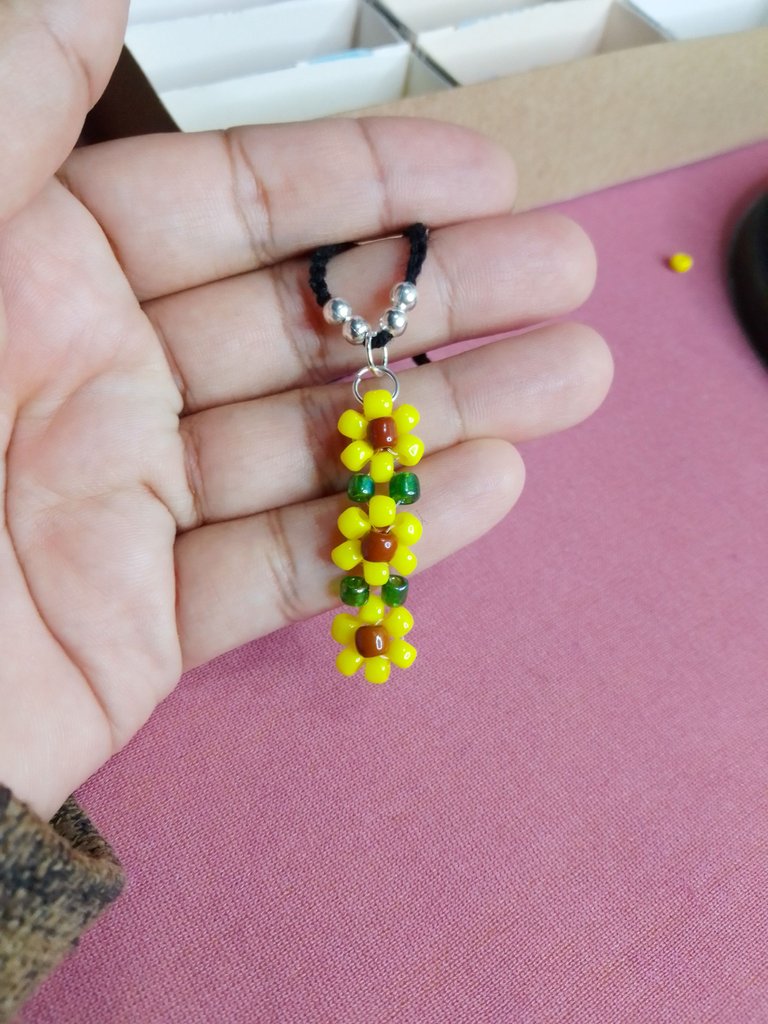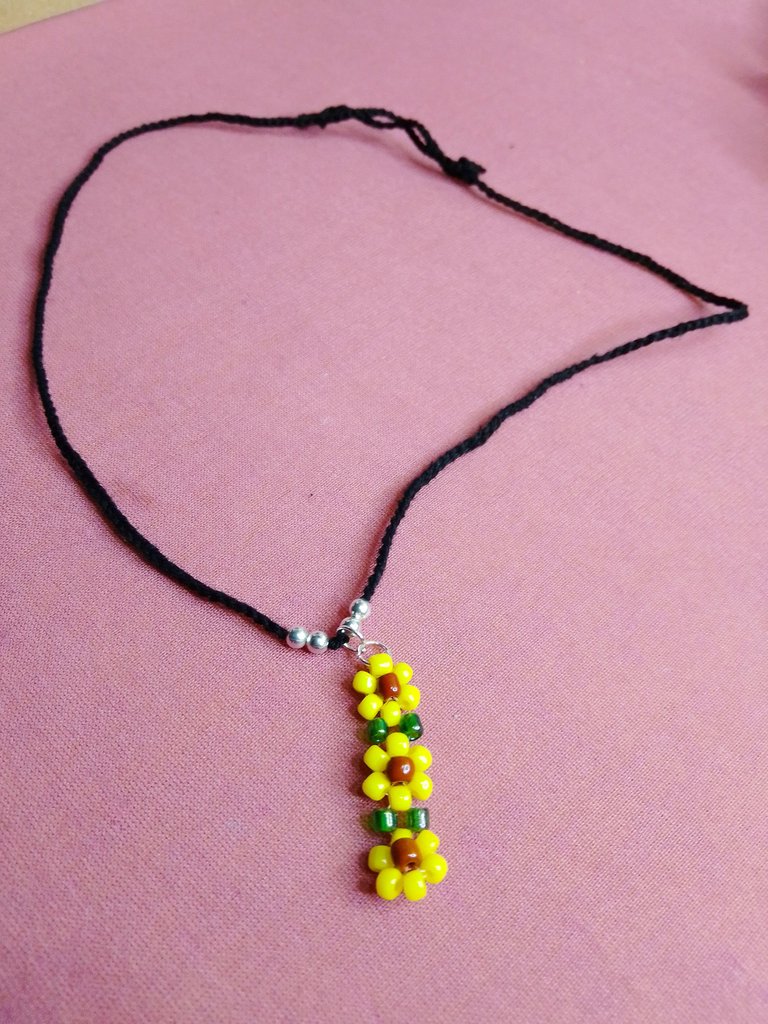 Con los extremos del cordón hice dos nudos para que quedara ajustable y así quedó terminado el collar.
Una manera linda de llenarnos de color. Espero les haya gustado la propuesta y la practiquen en casa . ♥
With the ends of the cord I made two knots to make it adjustable and thus the necklace was finished.
A nice way to fill us with color. I hope you liked the proposal and practice it at home. ♥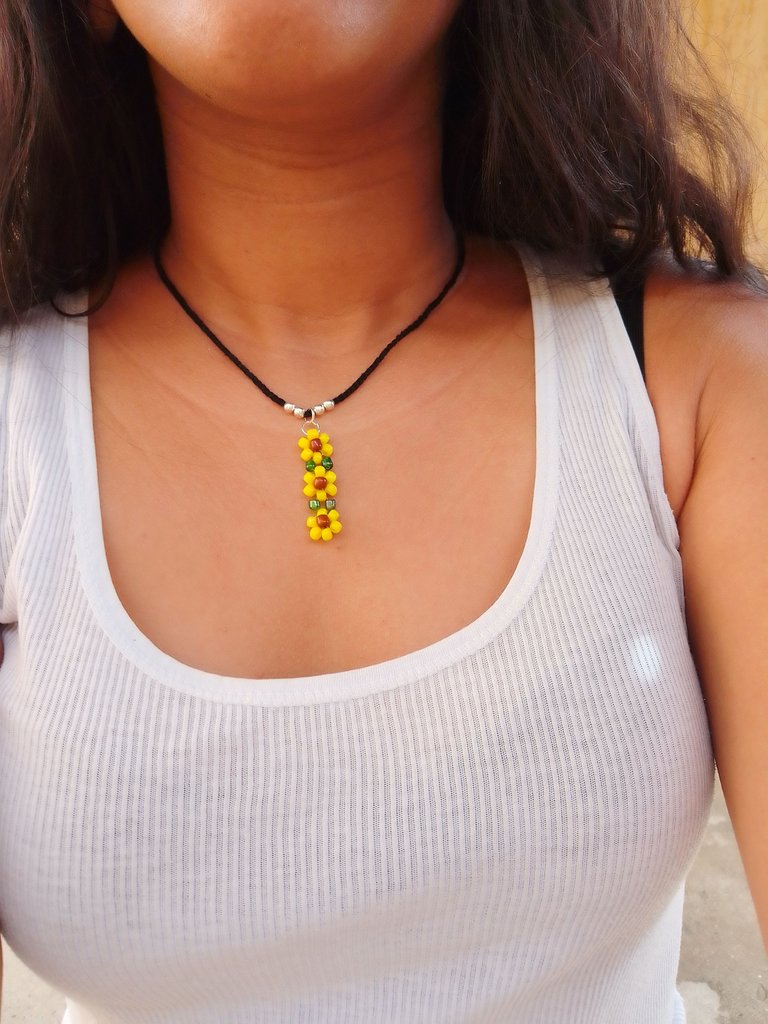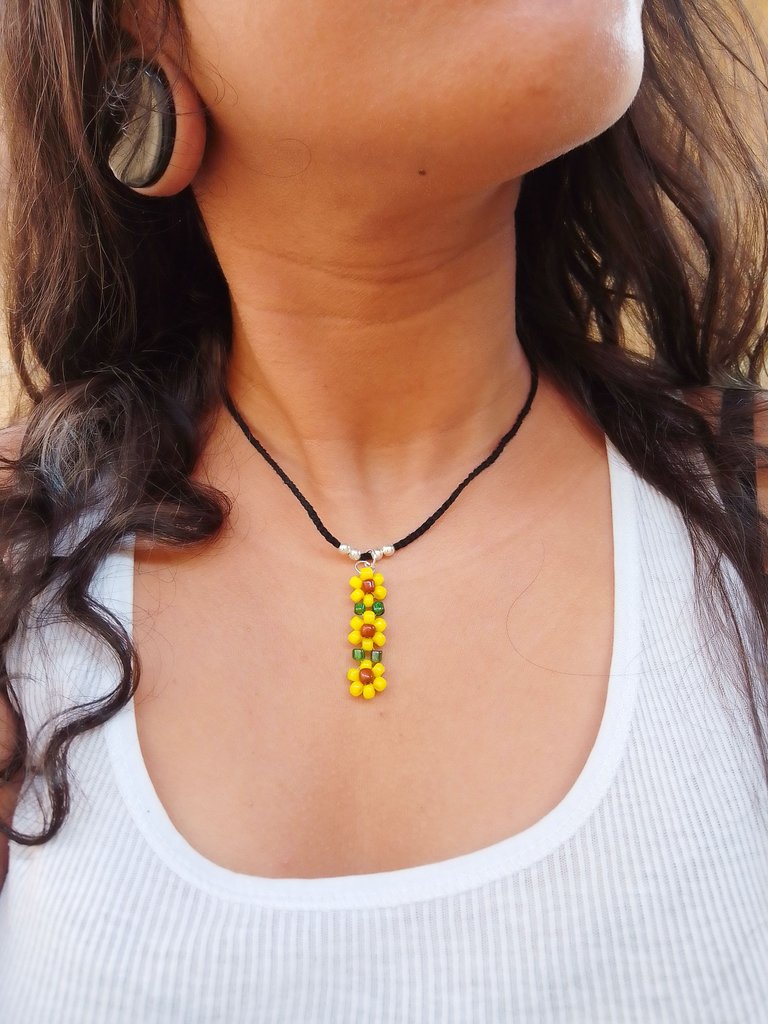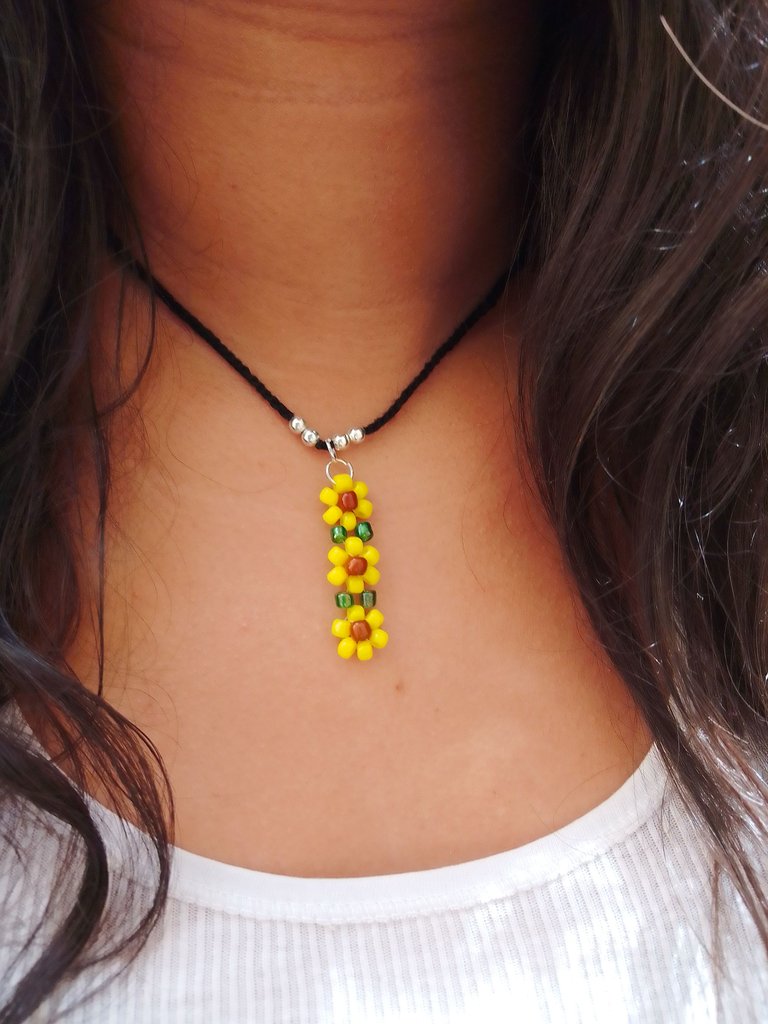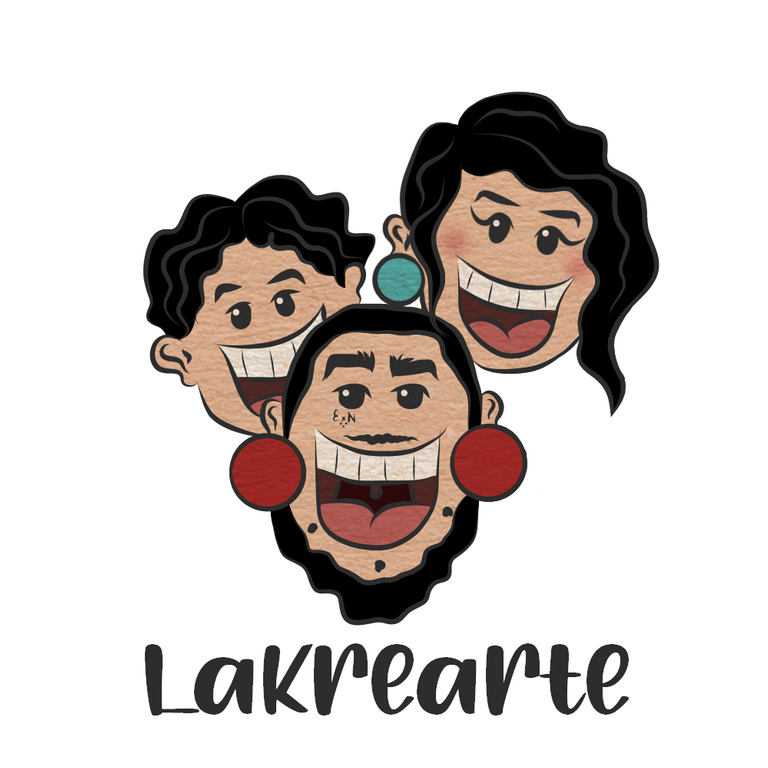 ¡Gracias por leer, comentar y votar mi contenido!
Espero haya sido de tu agrado y provecho.
Un gran abrazo a todos, y nos leemos en un próximo post
• Lakrearte en Hive •

Att: Estefania Garcia ♥

Imágenes y separadores de mi autoría
Portada editada en Canva
Fotografías tomadas con un Moto E7i power
Texto traducido en Google ImTranslate v.14.19
---
---