Manualidades: Vaso Personalizado con Diseño de Patilla (Sandía) ||Crafts: Personalized Cup with Watermelon Design ♥🍉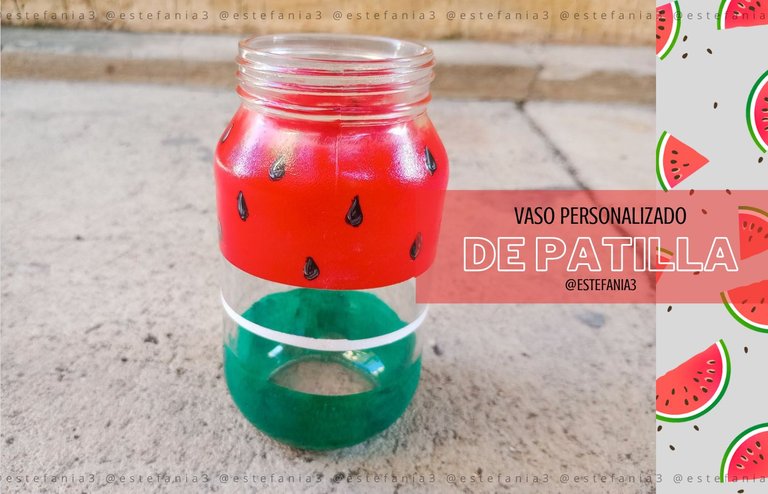 ¡Hola Chicos!
Hace algunas semanas estuve compartiendo con ustedes la elaboración de unos vasos personalizados para nuestro uso en casa.
Ya me tenía cansada el ruido visual que ocasionaban los vasos de diferentes colores y tamaños (se han ido perdiendo, rompiendo y han quedado como los muppets).
Es cuando nace la idea de hacer varios vasos con frascos de vidrio que tenía guardados para una ocasión así, y el que les presento hoy es el tercero de esta serie.
El primero que hice fue uno con diseño de animal print en tonos morados, este era para mí.
Al segundo le pinté un montón muñequitos, todos amontonados y con expresiones diferentes. Este era para mi hijo.
Ahí pausé el proyecto hasta ahora. Hice este pensando en mi esposo, ya que su fruta favorita es la sandia, o patilla como le decimos en Venezuela.
Ya hemos estado usando los primeros dos vasos, aunque todavía tengo algunos de los viejos por ahí rondando, así que me urge terminar con este proyecto para guardarlos.
Hey guys!
A few weeks ago I was sharing with you the elaboration of some personalized glasses for our use at home.
I was already tired of the visual noise caused by the glasses of different colors and sizes (they have been losing, breaking and have been like the muppets).
That is when the idea of ​​making several glasses with glass jars that I had saved for such an occasion was born, and the one that I present to you today is the third in this series.
The first one I made was one with animal print design in shades of purple, this one was for me.
To second I painted a lot of dolls, all piled up and with different expressions. This was for my son.
There I paused the project until now. I made this thinking of my husband, since his favorite fruit is watermelon, or watermelon as we call it in Venezuela.
We've already been using the first two cups, although I still have some of the old ones lying around, so I really need to finish this project to save them.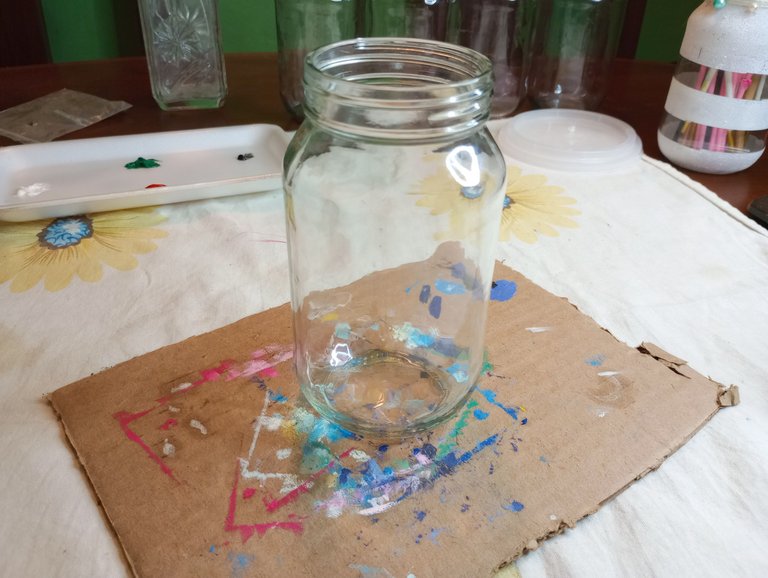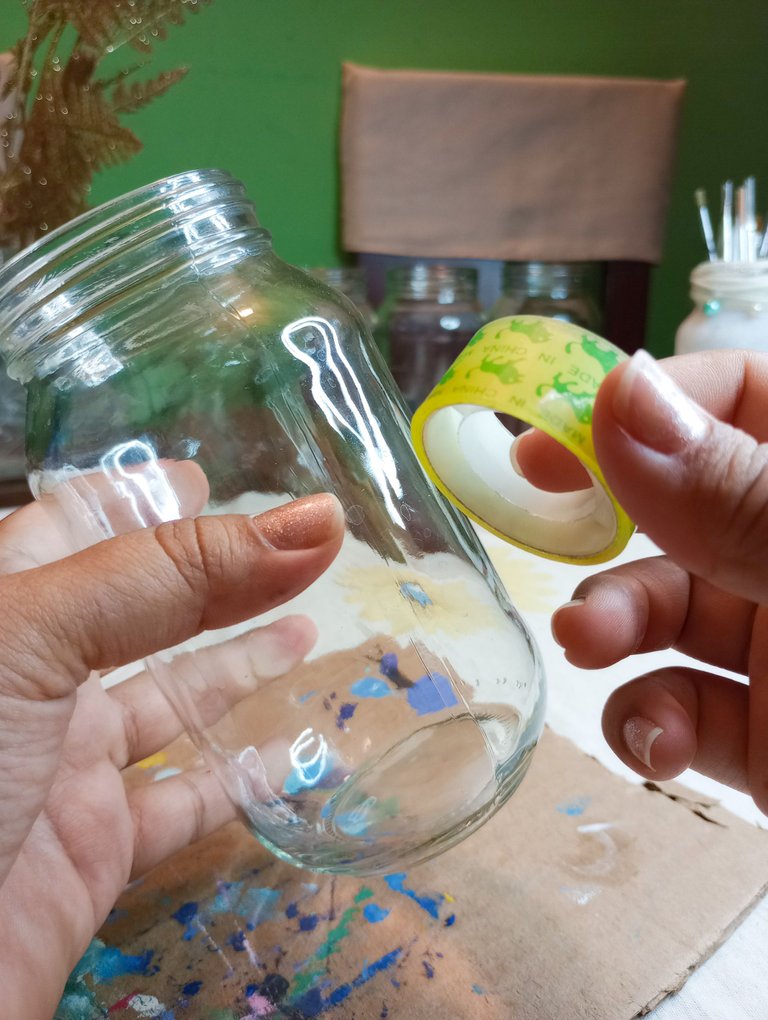 Para comenzar, tomé el frasco de vidrio el cual lave y sequé muy bien antes de pintarlo.
Pensé en un diseño que jugara con los "espacios en blanco", por lo que pegué dos franjas de cinta adhesiva, dejando un pequeño espacio de separación entre ellas.
En la parte de abajo iría la pintura verde, en el espacio una franja muy delgada de color blanco y el resto en rojo.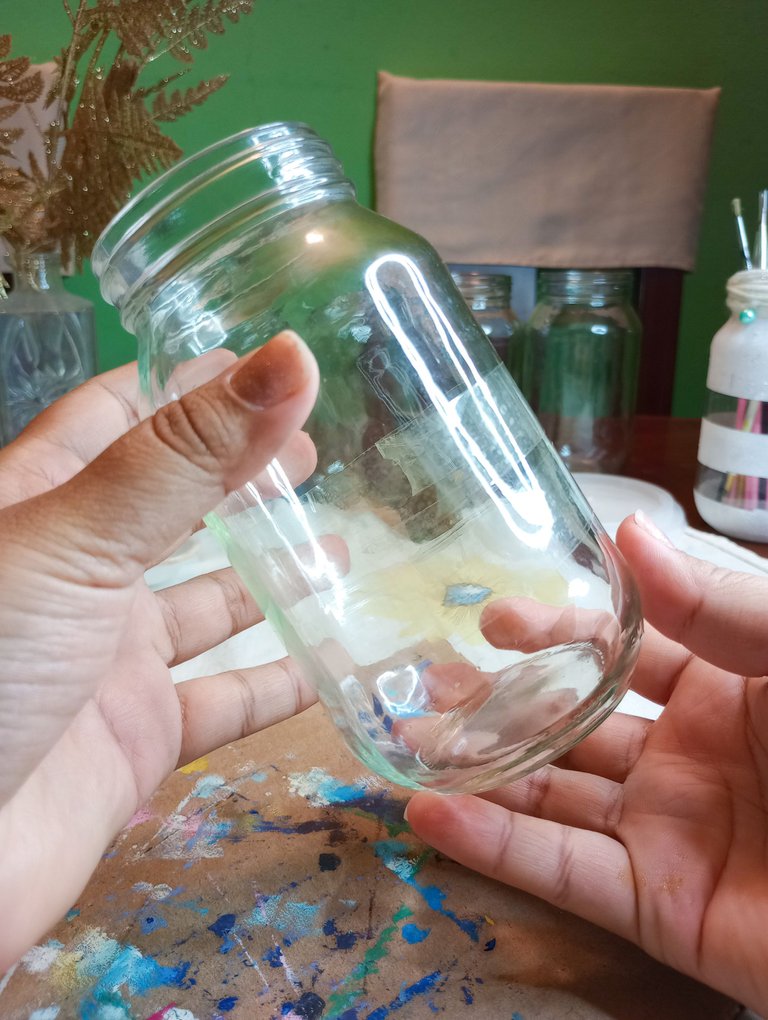 To start, I took the glass jar which I washed and dried very well before painting it.
I thought of a design that would play with 'white space', so I stuck two strips of masking tape, leaving a small gap between them.
In the lower part the green paint would go, in the space a very thin strip of white color and the rest in red.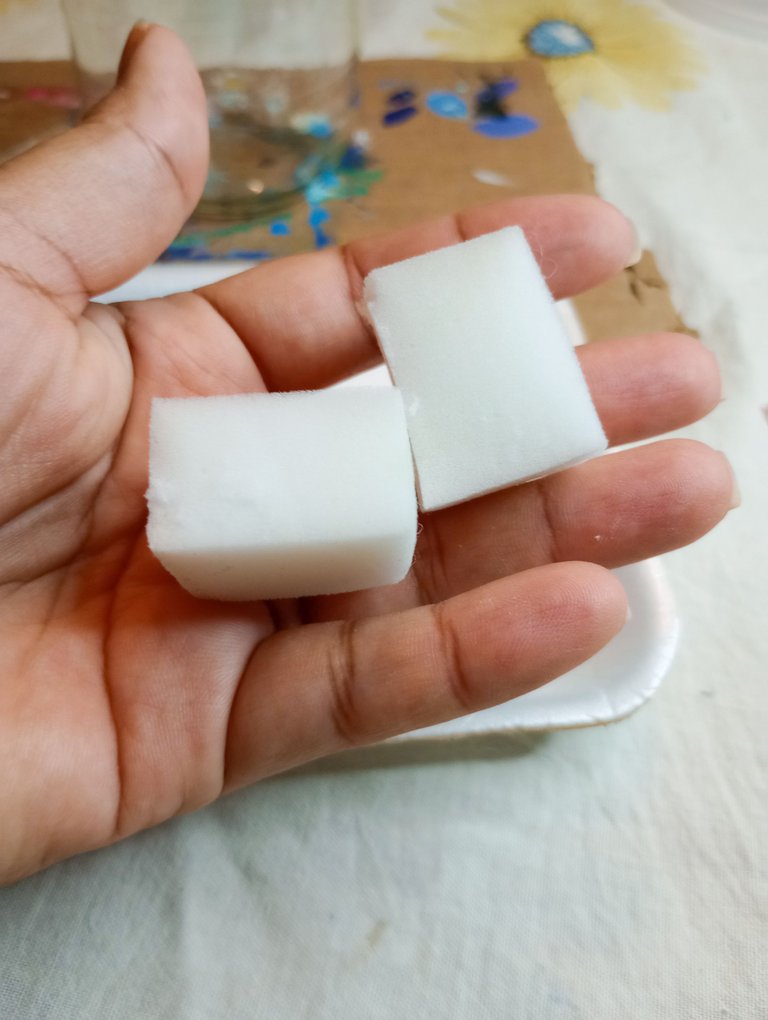 Para pintar cada sección corté pequeños cubos de esponja. Como la superficie del frasco es muy lisa, si se pinta con pincel no quedaría pareja la pintura.
Como pinturas utilicé óleos, que al secarse queda bien fijada a la superficie, y no hay riesgo que se dañe el diseño.
Demora un par de días en secar, pero vale la pena la espera.
To paint each section I cut small sponge cubes. As the surface of the bottle is very smooth, if you paint with a brush the paint would not be even.
As paints I used oils, which when dry are well fixed to the surface, and there is no risk of damaging the design.
It takes a couple of days to dry, but it's worth the wait.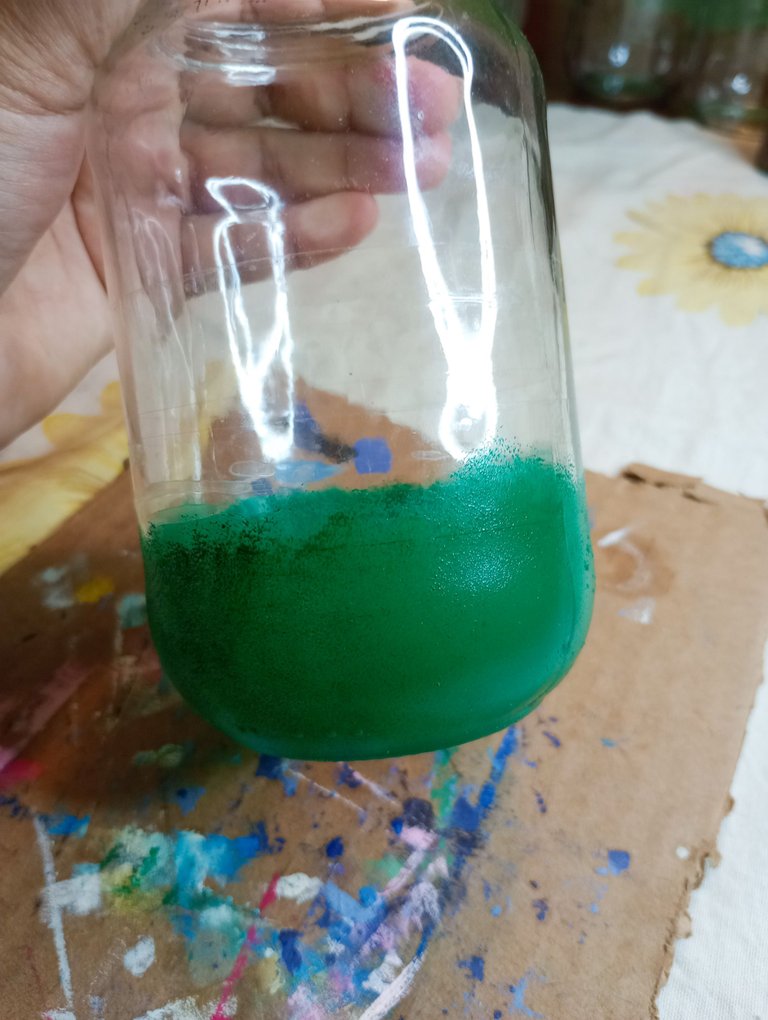 Comencé pintando la sección de color verde, luego la blanca y por ultimo la de color rojo. En la parte hice toques ligeros con la esponja para que hiciera una especie de degradado.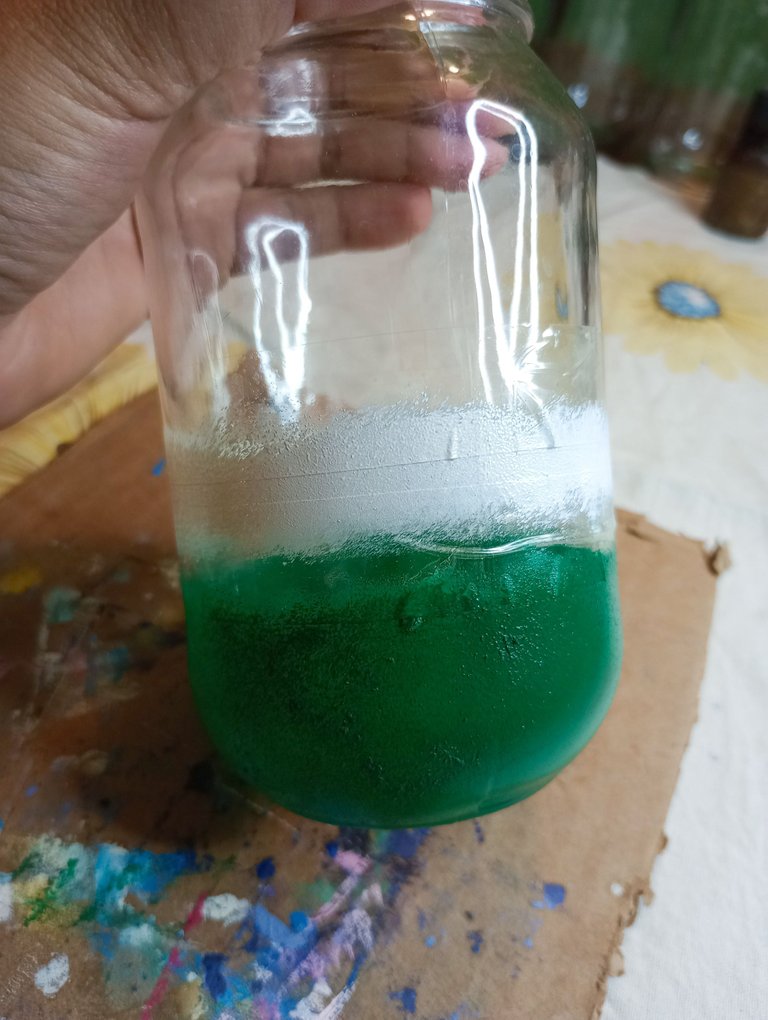 I started painting the green section, then the white one and finally the red one. In the part I made light touches with the sponge so that it made a kind of gradient.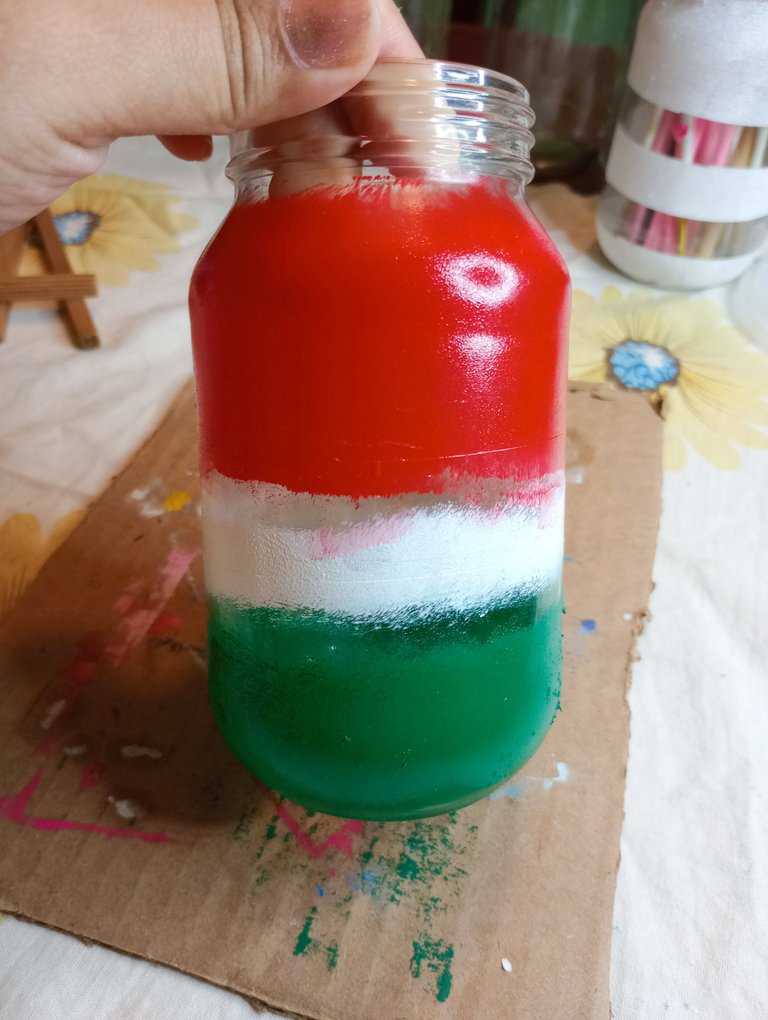 Para aplicar cada color se van haciendo toques con la pintura sobre la superficie del frasco, tiendo cuidado de cubrir todo muy bien y de no manchar las otras secciones.
To apply each color, dabs the paint on the surface of the bottle, taking care to cover everything very well and not to stain the other sections.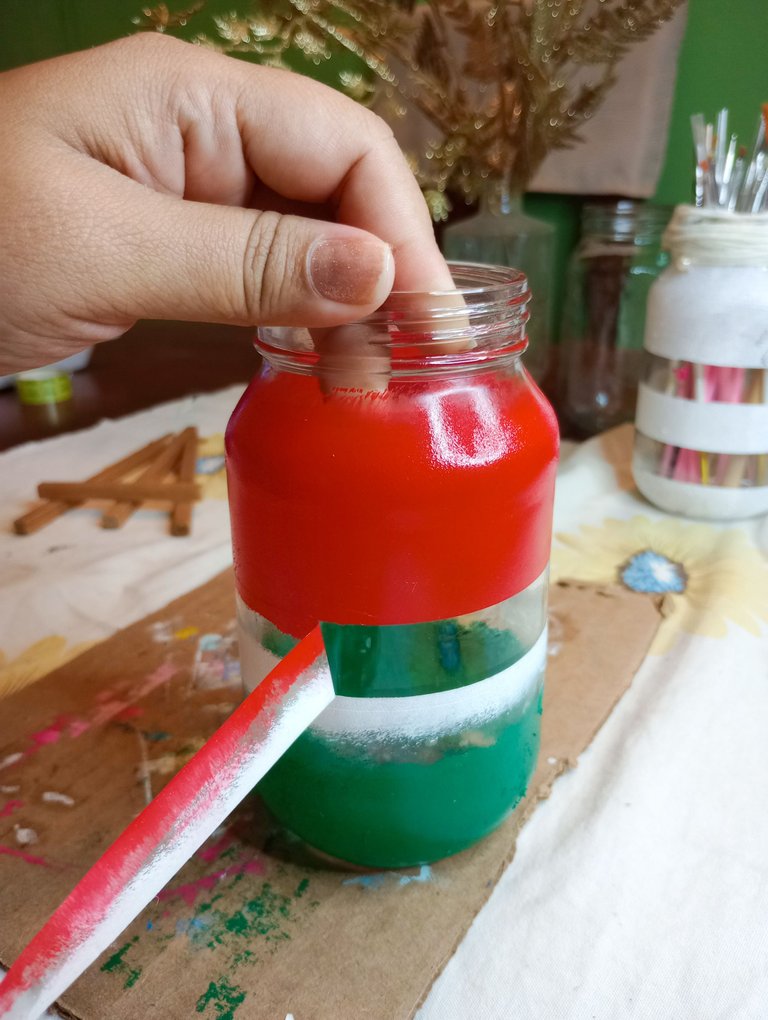 Ahora con mucho cuidado retiré la cinta adhesiva. Esta parte me gusta mucho porque revelamos el diseño que se logró al colocar estas cintas.
Hay que tener mucho cuidado para no arruinar el diseño. Recuerden que los óleos son pinturas que demoran tiempo en secar.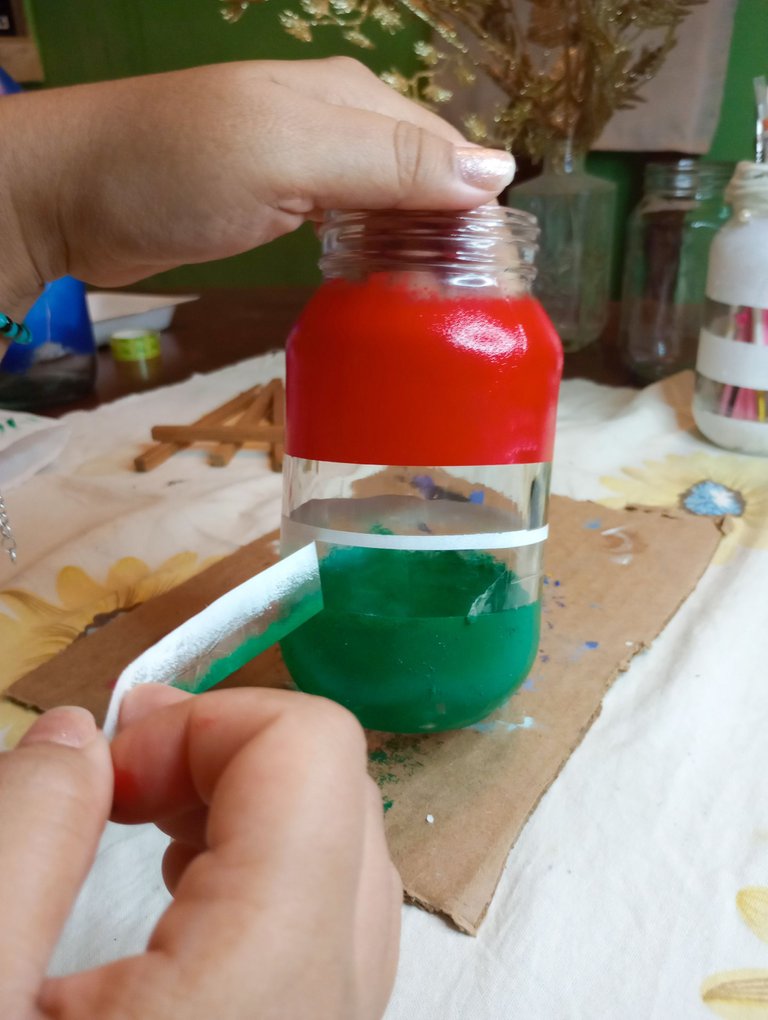 Now I carefully removed the tape. I really like this part because we reveal the design that was achieved by placing these tapes.
You have to be very careful not to ruin the design. Remember that oils are paints that take time to dry.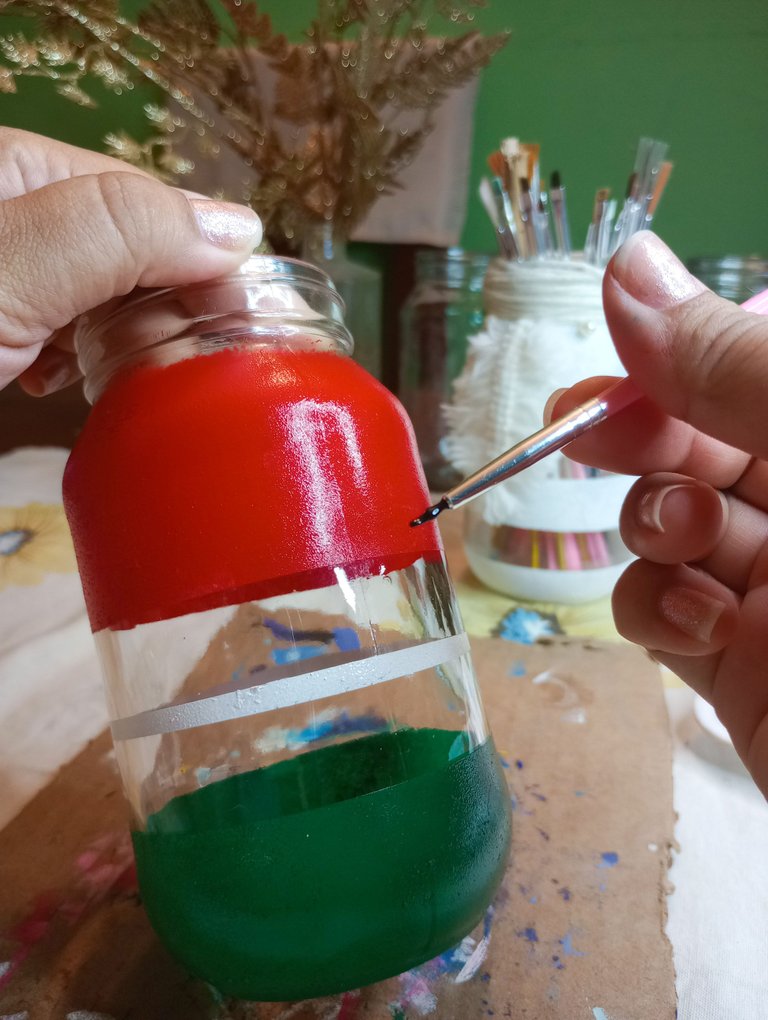 Ahora con pintura negra y un pincel muy fino pinté las semillas, haciendo un patrón con ellas.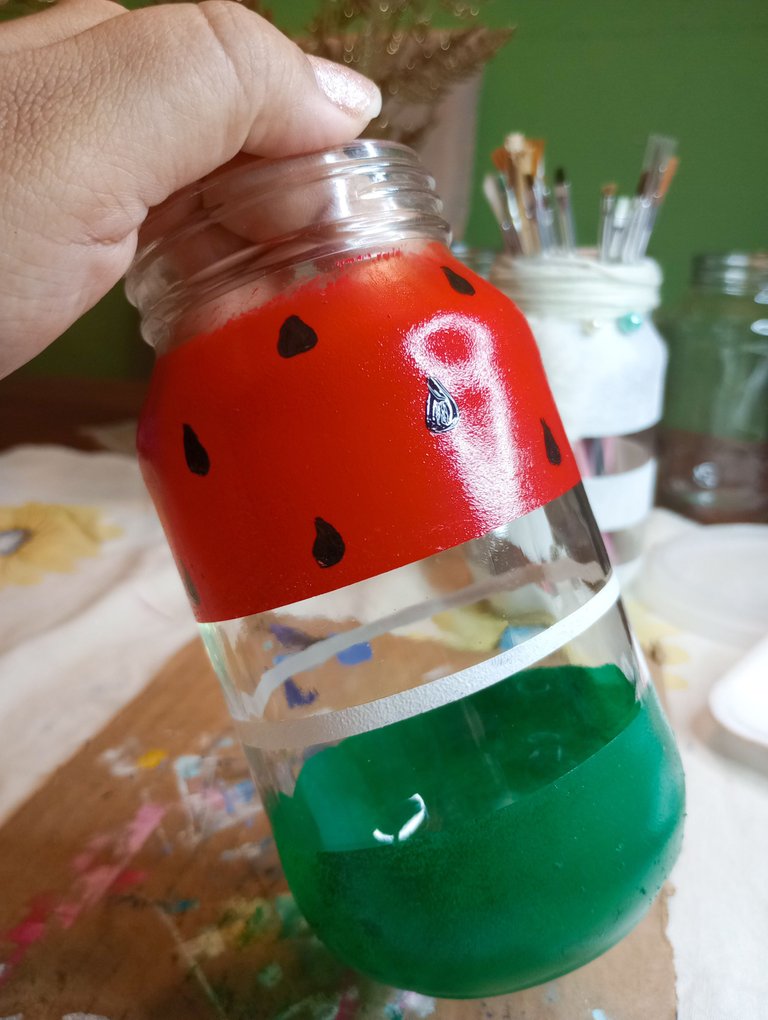 Now with black paint and a very fine brush I painted the seeds, making a pattern with them.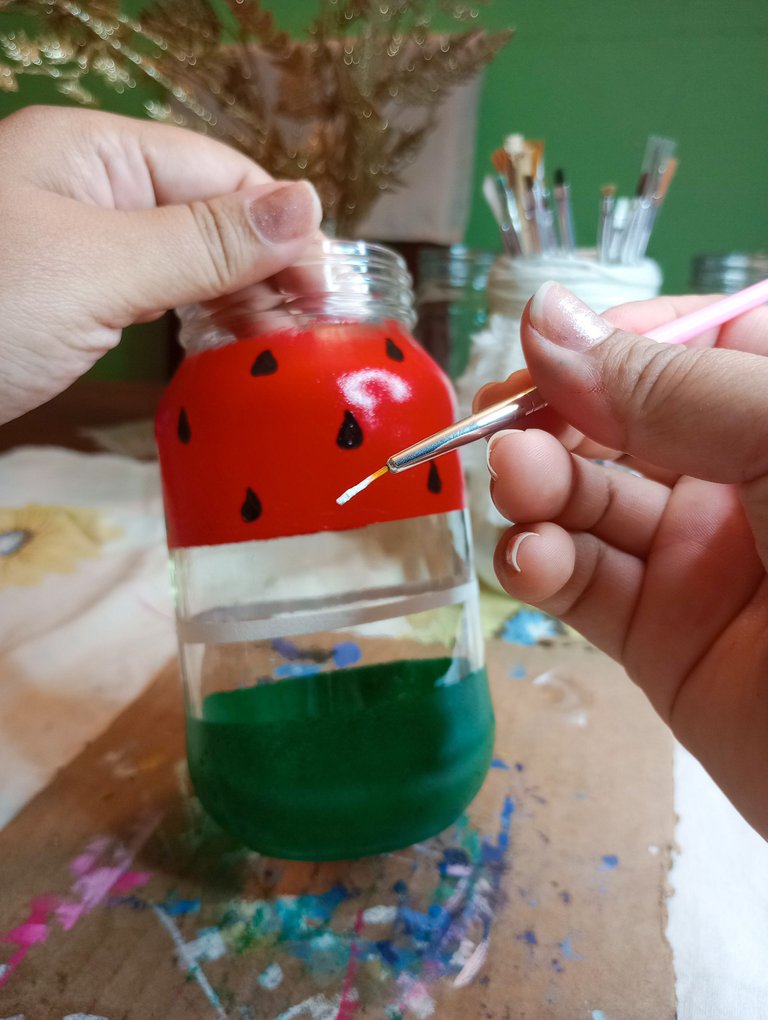 Luego con pintura blanca hice los detalles a cada una de las semillas.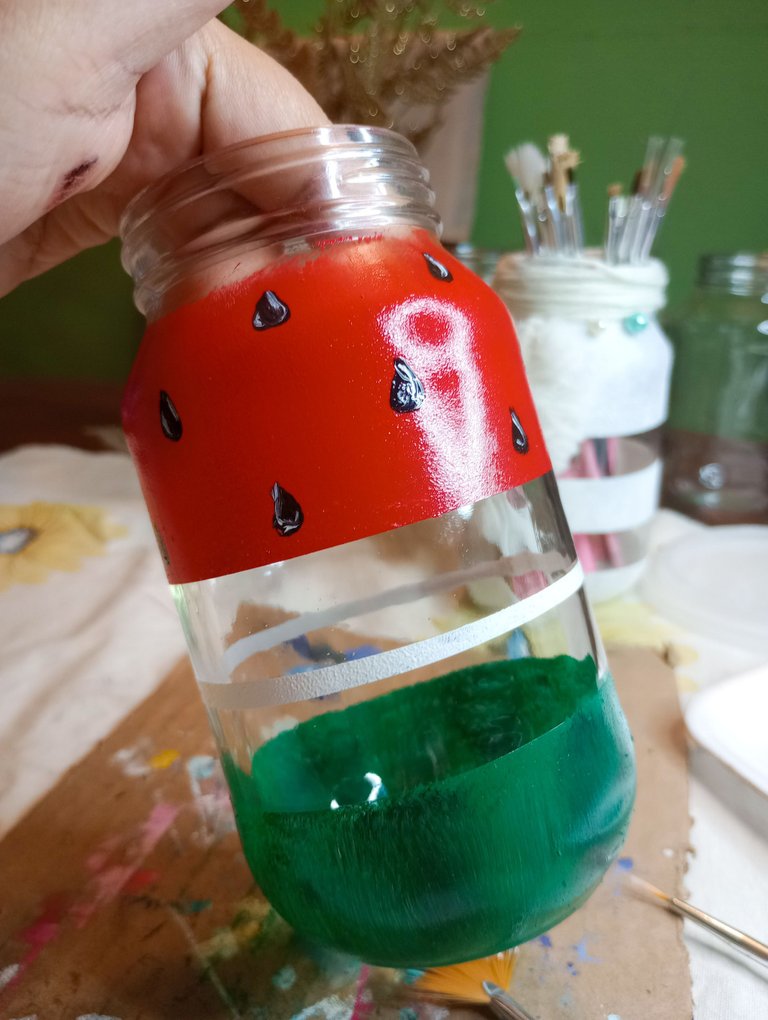 Then with white paint I made the details to each of the seeds.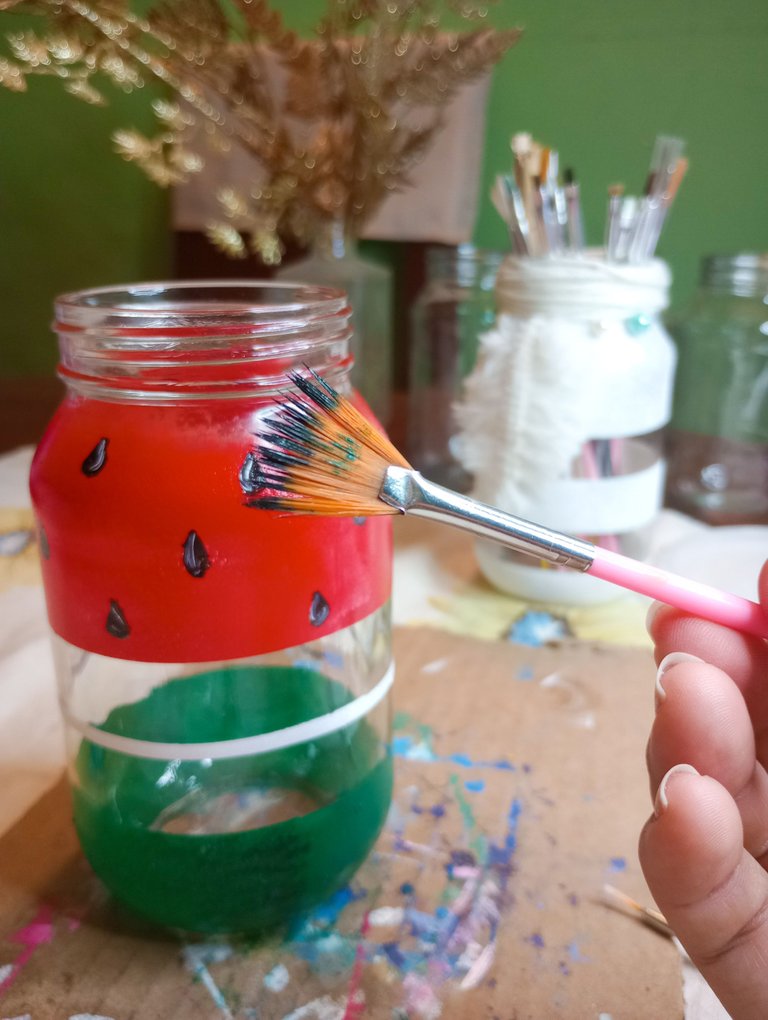 Con un pincel con cerdas abiertas y pintura verde oscuro, hice detalles en la sección verde para darle textura a la concha de la sandia.
Y para finalizar agregué de igual forma algunos detalles en color blanco.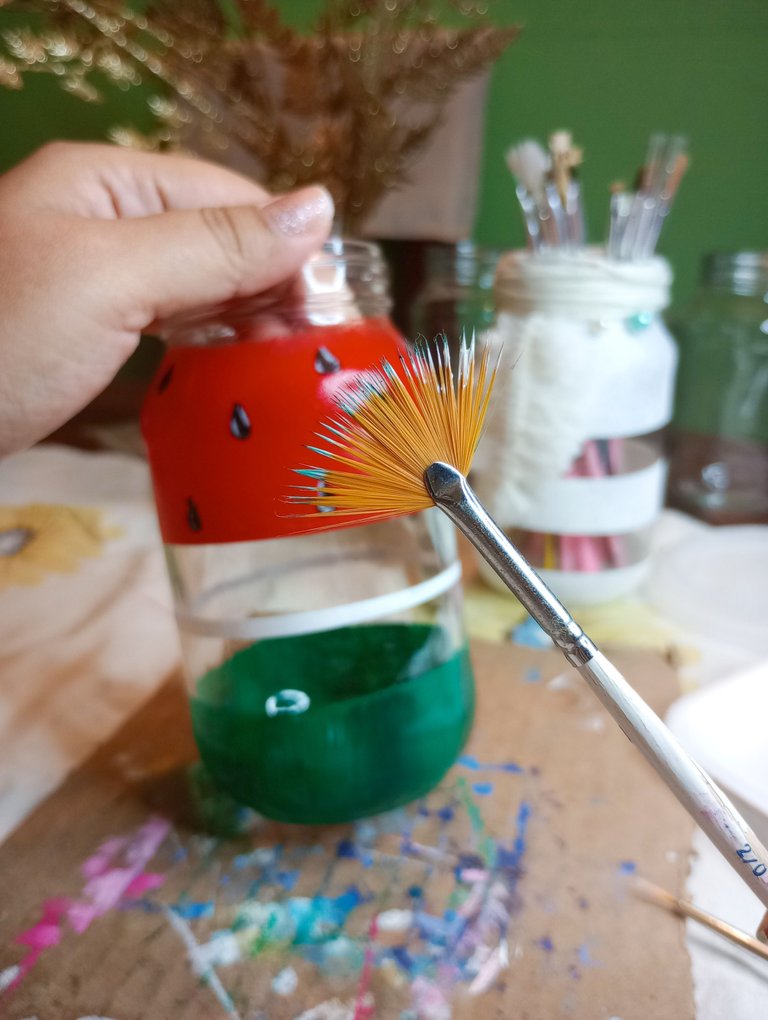 Using a splayed bristle brush and dark green paint, I detailed the green section to give the watermelon shell texture.
And to finish I also added some details in white.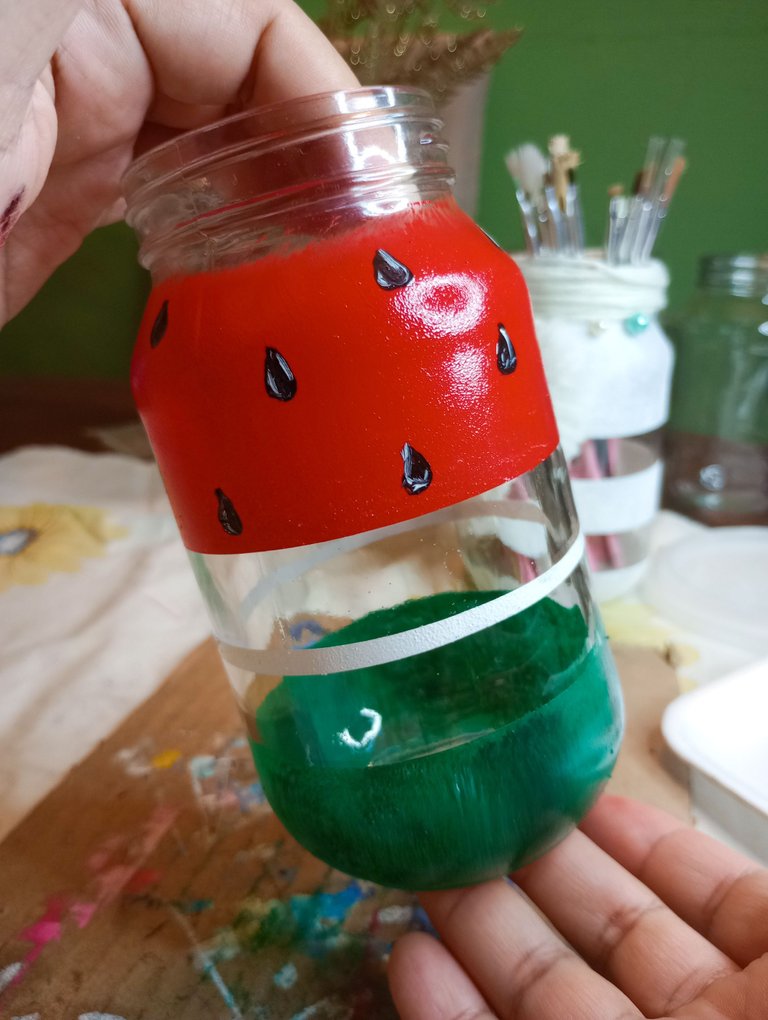 Así quedó entonces el valor personalizado con diseño de sandía. Solo resta esperar algunos días para que la pintura seque por completo y podremos agregarlo a nuestra nueva colección de vasos personalizados.
Espero les haya gustado la propuesta. Disfruté mucho el hacerla ♥
This is how the personalized value with a watermelon design remained. It only remains to wait a few days for the paint to dry completely and we can add it to our new collection of personalized glasses.
I hope you liked the proposal. I really enjoyed doing it ♥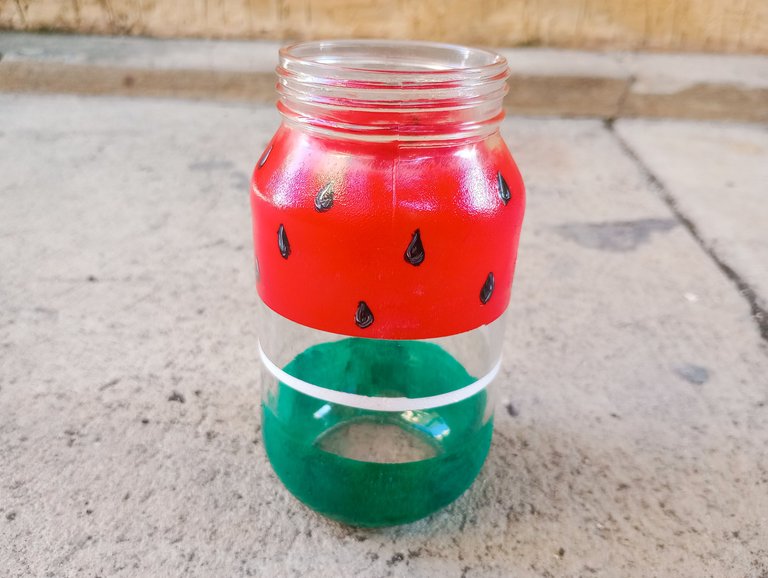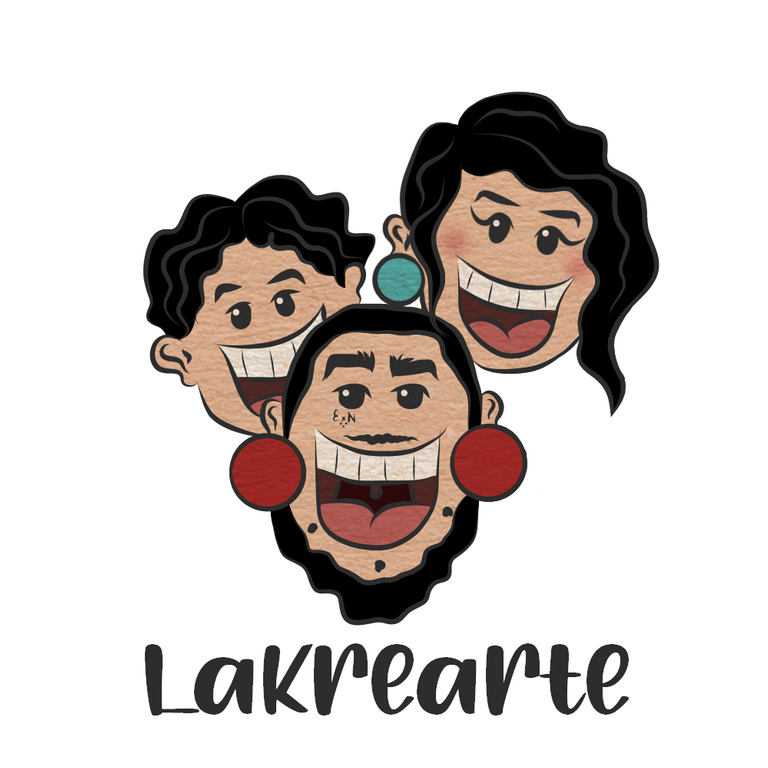 ¡Gracias por leer, comentar y votar mi contenido!
Espero haya sido de tu agrado y provecho.
Un gran abrazo a todos, y nos leemos en un próximo post
• Lakrearte en Hive •

Att: Estefania Garcia ♥

Imágenes y separadores de mi autoría
Portada editada en Canva
Gif creados en la app Gifcreator
Fotografías tomadas con un Moto G31
Texto traducido en Google ImTranslate v.14.19
---
---