[ESP/ENG] Visiting the park of the four elements
¿Alguien más ama la navidad tanto como yo y visitar los lugares decorados al estilo decembrino? Bueno, hoy vengo a contarte sobre mi paseo de este miércoles. Como ya algunos saben, estoy residenciada en Medellín, una ciudad que me ha llenado de cosas bonitas y que me tiene bastante enamorada. Estar en Medellín un diciembre, es una de las experiencias más bonitas que se puede vivir, aunque para ser honesta esta es mi segunda navidad aquí.
Does anyone else love Christmas as much as I do and visit places decorated in the December style? Well, today I come to tell you about my walk this Wednesday. As some already know, I live in Medellín, a city that has filled me with beautiful things and that I am quite in love with. Being in Medellín in December is one of the most beautiful experiences you can have, although to be honest this is my second Christmas here.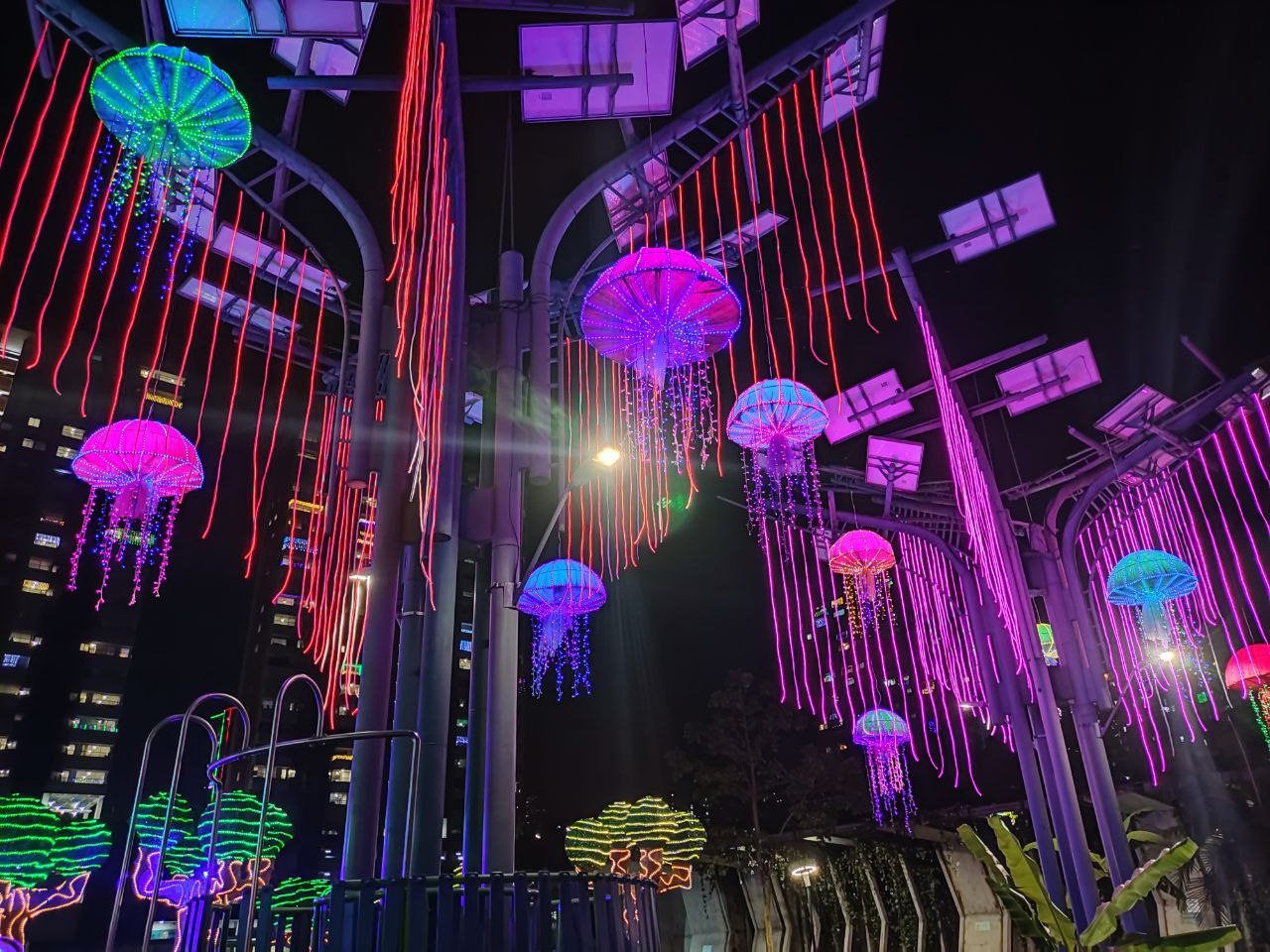 Mis días entre lunes a viernes no son tan divertidos, ya que todos estan trabajando y yo estoy en casa ayudando lo más que puedo, mientras sigo en espera de mi permiso de trabajo. Sin embargo, ayer se nos ocurrió la idea de salir a caminar un rato al parque de los cuatro elementos y también el parque de sabaneta para poder disfrutar de este último sin tanta gente, puesto que la ultima vez fué casi imposible caminar, hacerse fotos y poder observar toda la decoración.
My days between Monday to Friday are not so much fun, since everyone is working and I am at home helping as much as I can, while I am still waiting for my work permit. However, yesterday we came up with the idea of going for a walk to the Parque de los Cuatro Elementos and also the Parque de Sabaneta to be able to enjoy the latter without so many people, since the last time it was almost impossible to walk, take pictures and to be able to observe all the decoration.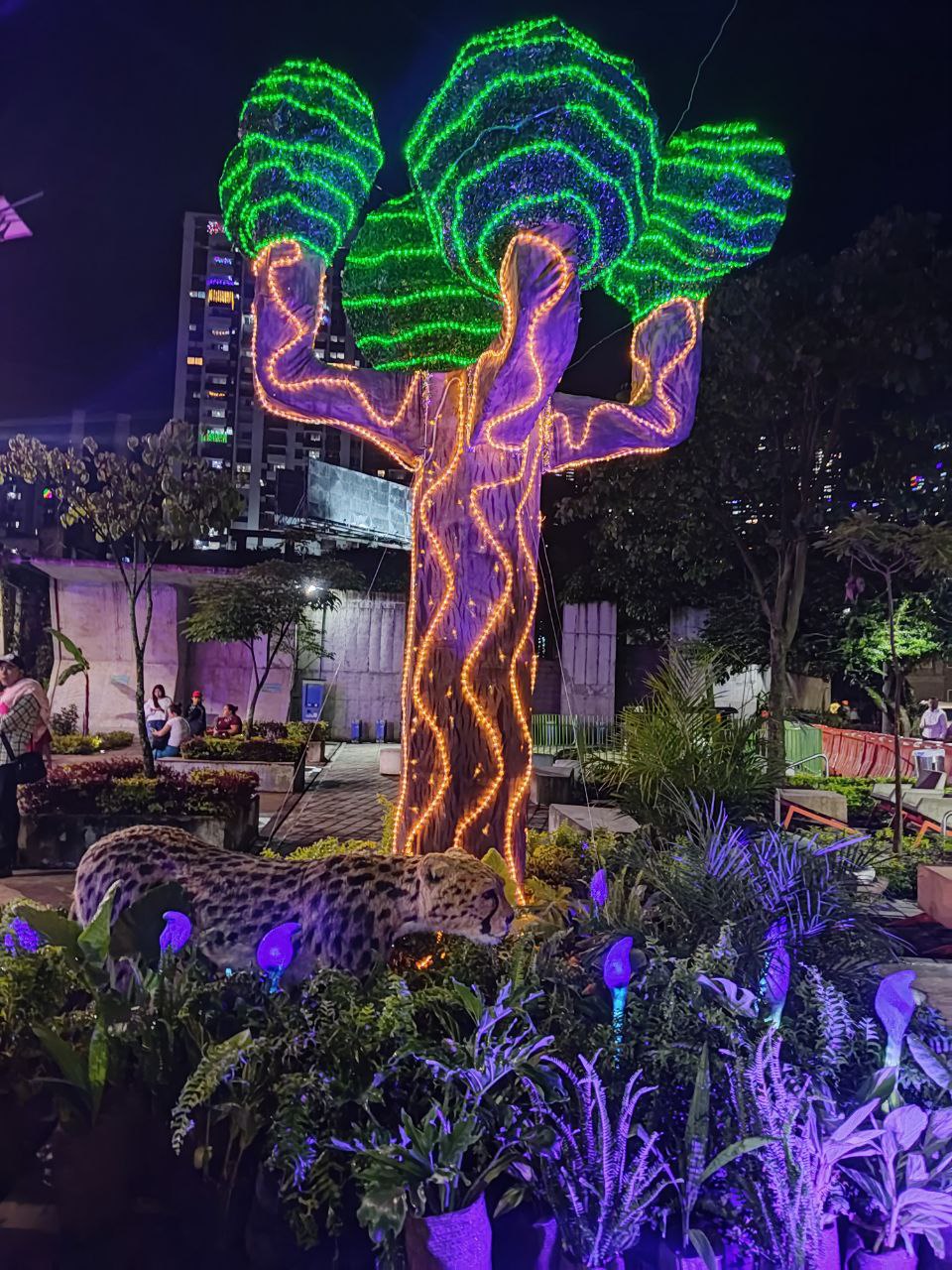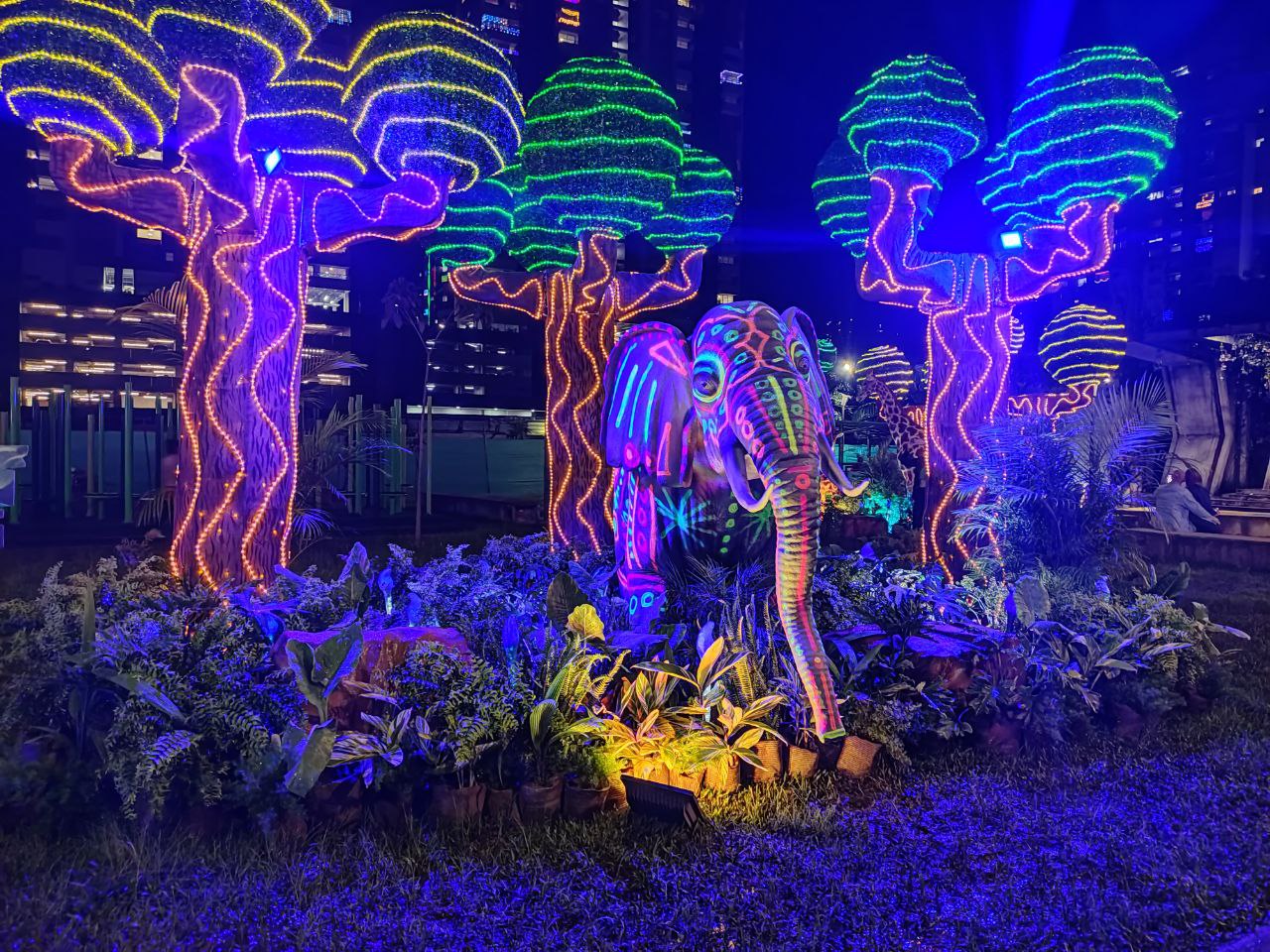 Algo curioso es que la navidad pasada, viviamos mucho más cerca del parque de los cuatro elementos en Sabaneta, así que podiamos escuchar la musica navideña que ponen en este parque todas las noches y todos los días. Para ser sincera, era un poco molesto porque la música es hasta tarde y nos costaba un poco dormir para poder madrugar e ir al siguiente día al trabajo. Ahora, vivimos más lejos y ya no escuchamos la música pero me parece que le fa un toque tan lindo para disfrutar en familia aquí.
Something curious is that last Christmas, we lived much closer to the park of the four elements in Sabaneta, so we could listen to the Christmas music that they play in this park every night and every day. To be honest, it was a bit annoying because the music plays until late and it was hard for us to sleep so we could get up early and go to work the next day. Now, we live further away and we don't listen to the music anymore but I think it gives it such a nice touch to enjoy with the family here.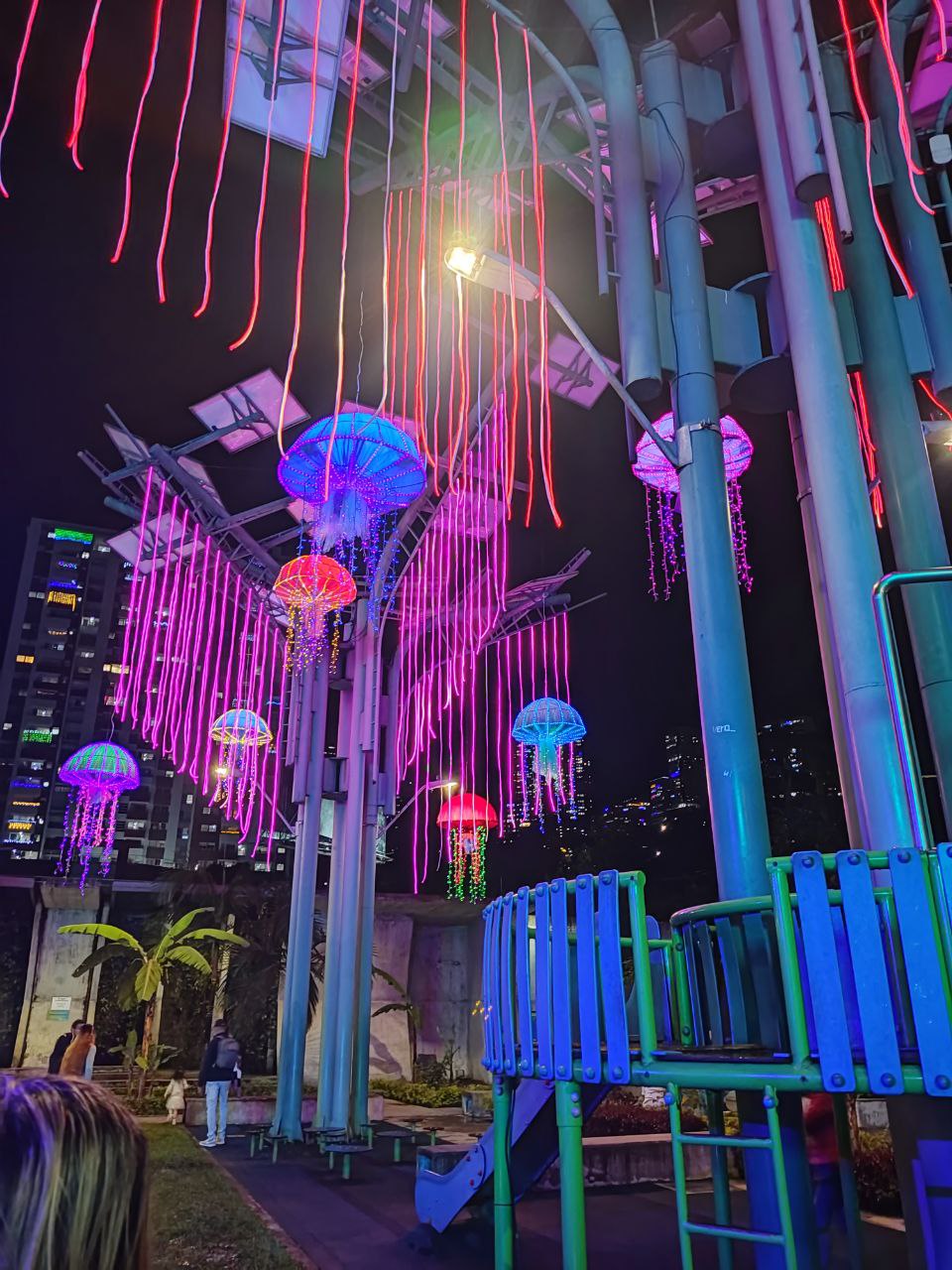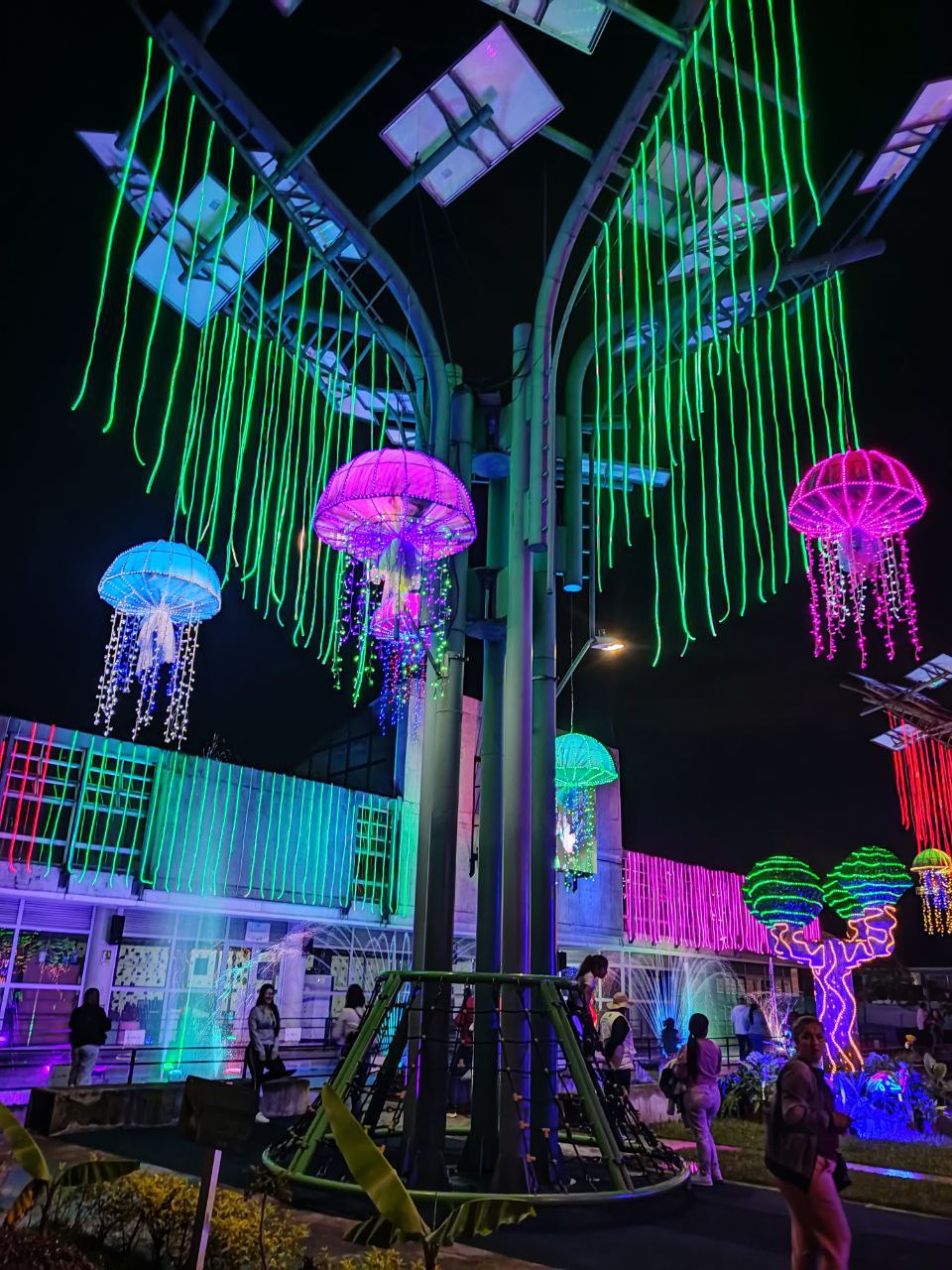 José fué mi acompañante, aprovechamos de hacernos algunas fotos y ver la decoración. Es un buen lugar donde pueden disfrutar los niños y la familia entero y frente a él tienen restaurantes y heladerías por si desean. La decoración en este parque es también inspirado en la pelicula de encanto, definitivamente fué una buena elección, cada año es mucho más sorprende la decoración en estos parques ubicados en Sabaneta.
José was my companion, we took advantage of taking some photos and seeing the decoration. It is a good place where children and the whole family can enjoy and in front of it they have restaurants and ice cream parlors if they wish. The decoration in this park is also inspired by the enchantment movie, it was definitely a good choice, every year the decoration in these parks located in Sabaneta is much more surprising.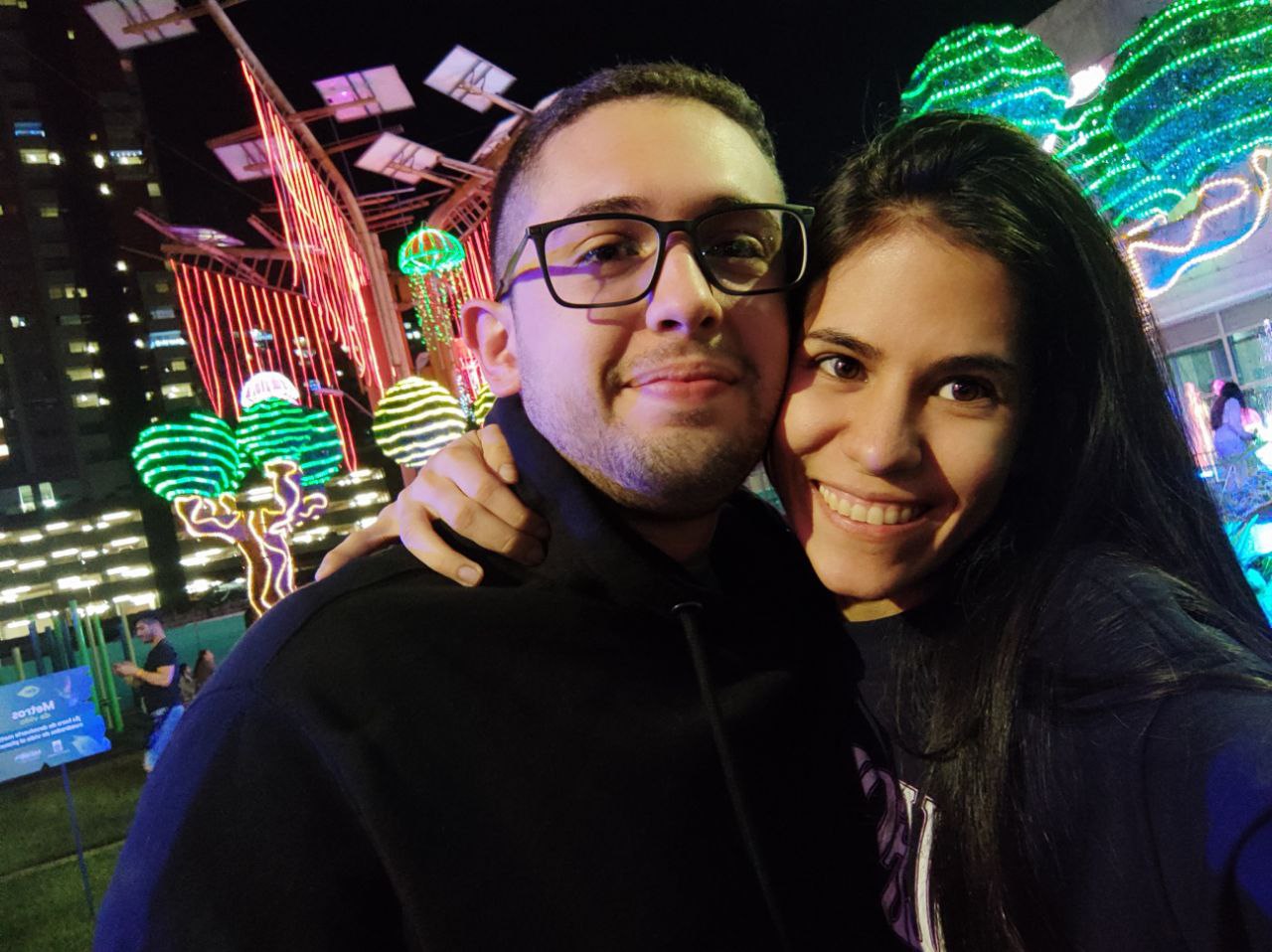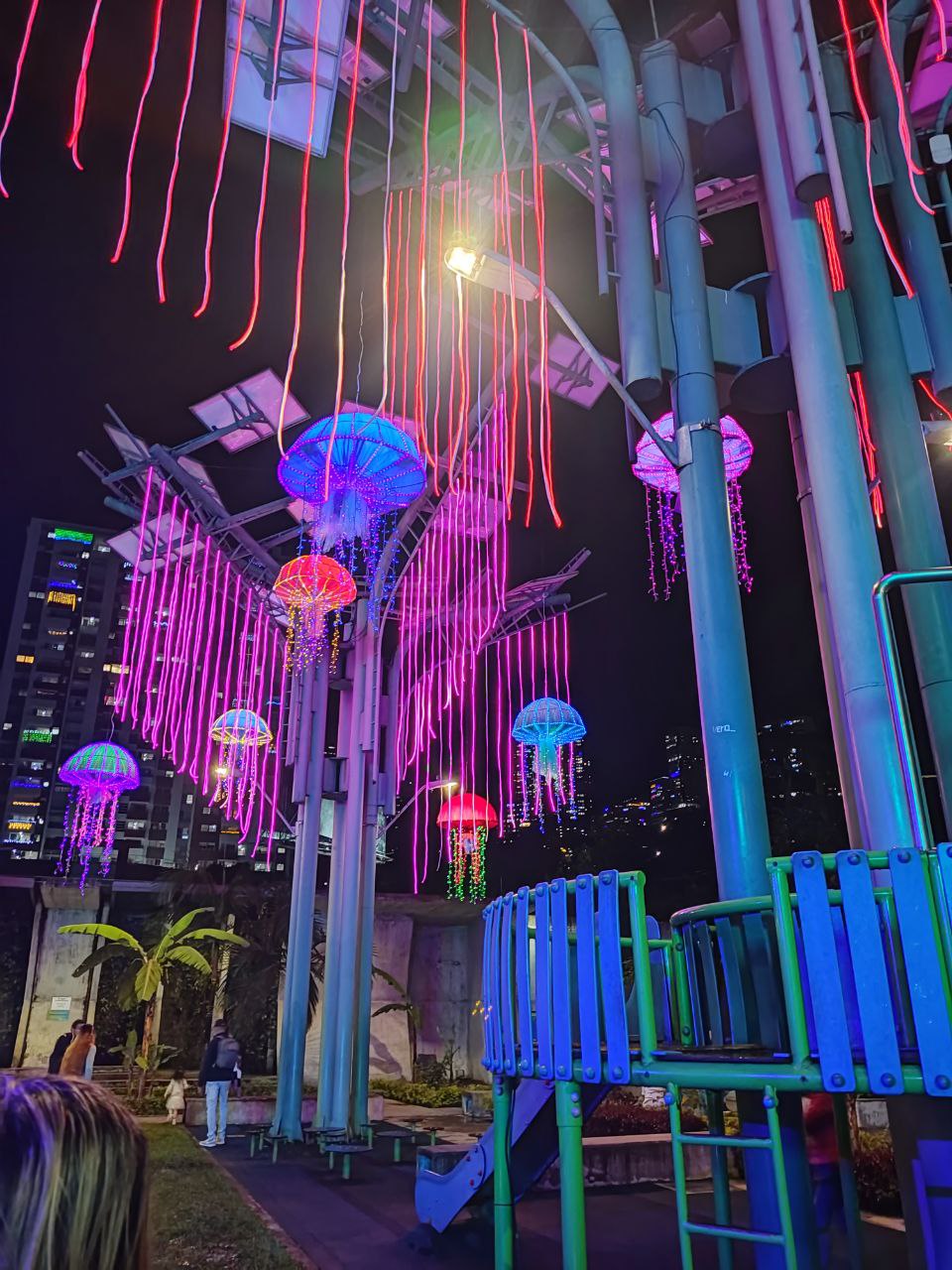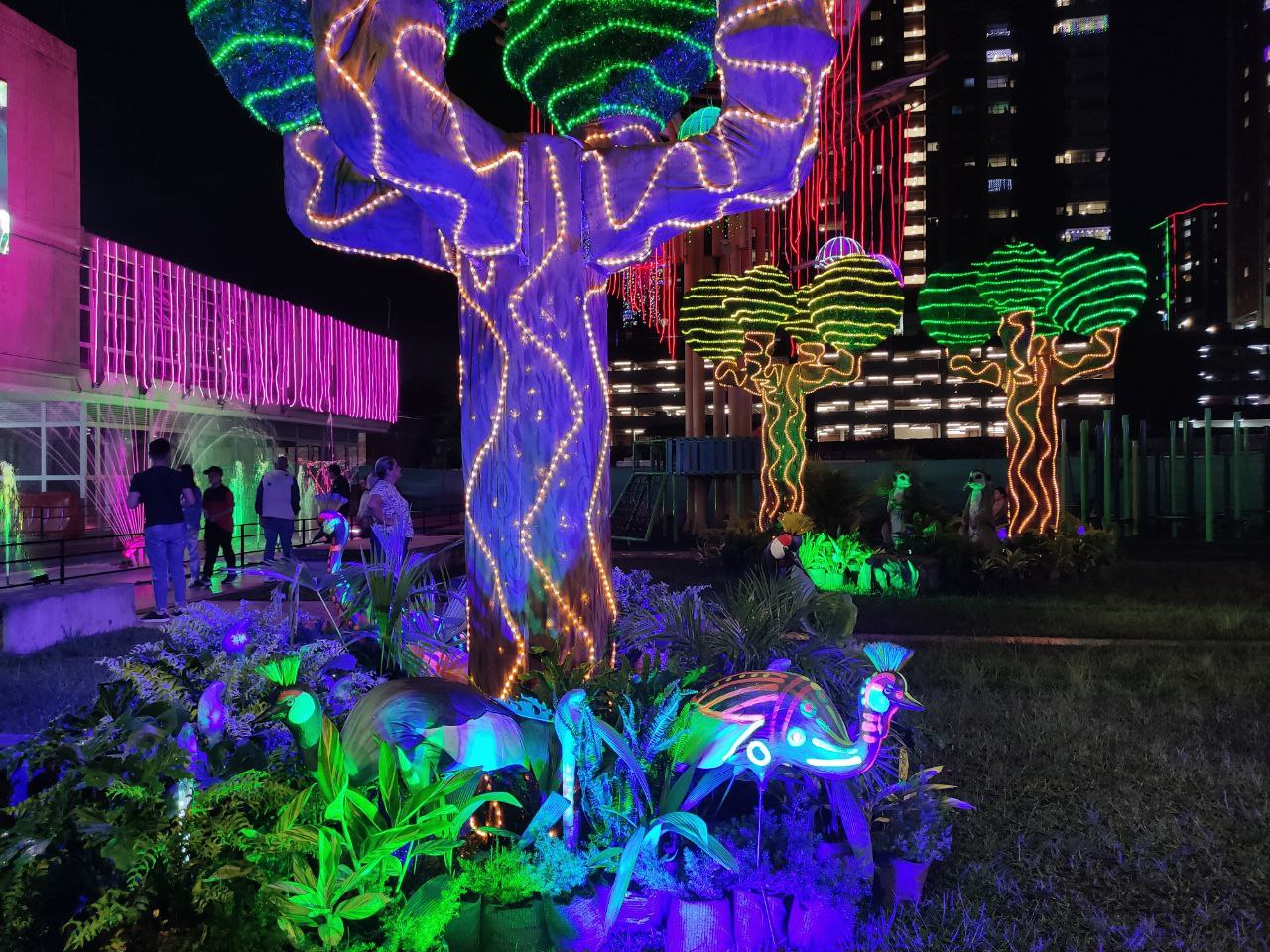 Nosotros no comimos nada ayer porque salimos justo después de cenar. Sin embargo, hay una gran heladería cerca que es una buena opción para los niños. Para los adultos la parrilla que venden se ve increible también. El parque de los 4 elementos es pequeño pero mu bonito, además de la musica, la decoración y el ambiente, hay una fuente muy linda que fluye al ritmo de la música.
We didn't eat anything yesterday because we left right after dinner. However, there is a great ice cream shop nearby that is a good option for children. For adults, the grill they sell looks incredible too. The park of the 4 elements is small but very beautiful, in addition to the music, the decoration and the atmosphere, there is a very nice fountain that flows to the rhythm of the music.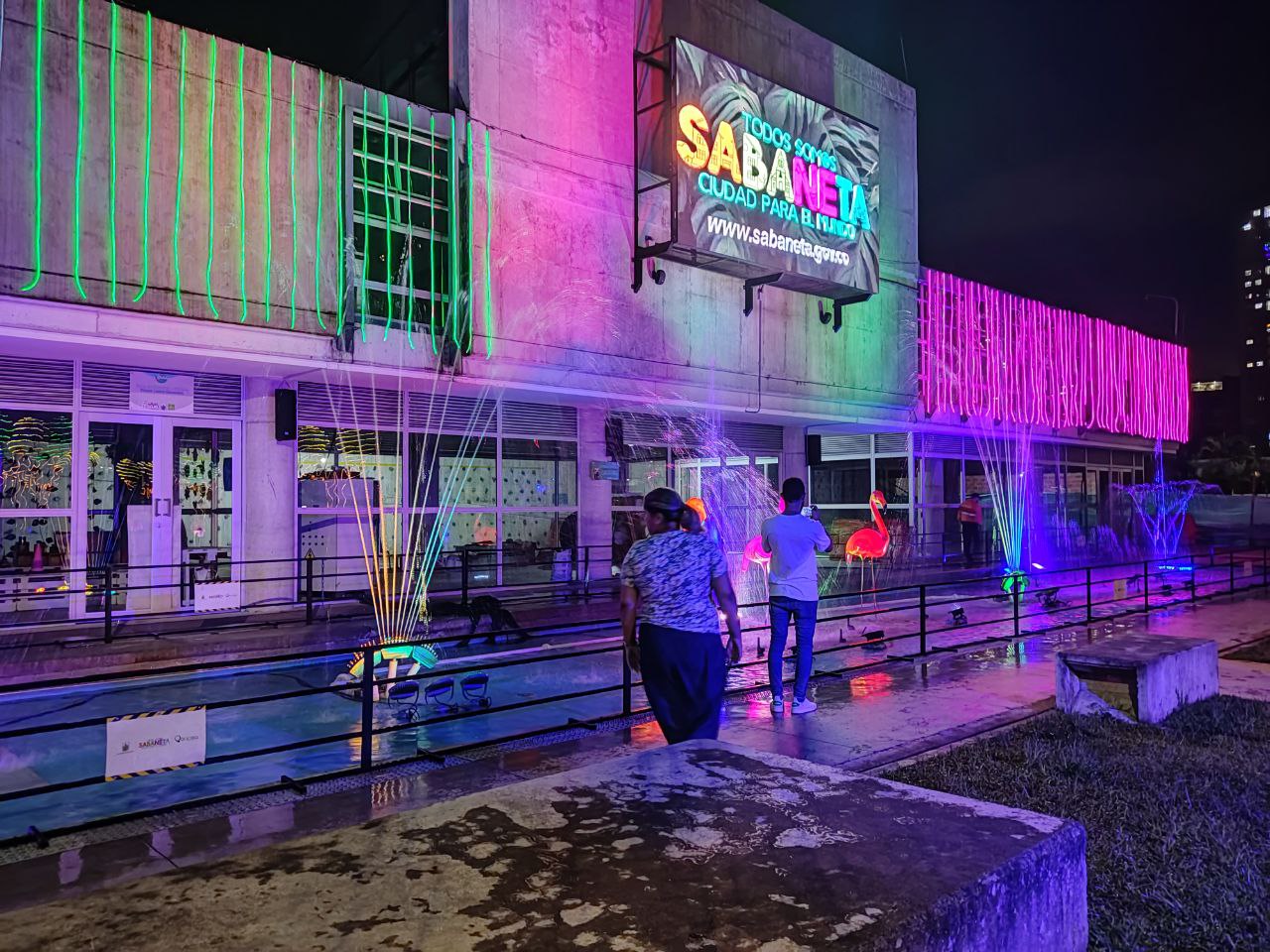 Continuamos nuestro camino y llegamos al parque de sabaneta a ver la decoración completa y descubrimos aún más animales que no habiamos visto la ultima vez que vinimos aquí. Todo lo que buscas lo encuentras en este parque, además encuentros puestos donde venden muchas cosas que puedan gustarte. Una de las cosas que más disfruto aquí es el increible clima que hace, es tan fresco como mi ciudad en San Cristóbal.
We continue on our way and arrive at the Sabaneta park to see the complete decoration and discover even more animals that we had not seen the last time we came here. You will find everything you are looking for in this park, as well as meeting stalls where they sell many things that you might like. One of the things I enjoy the most here is the incredible weather, it is as cool as my city in San Cristóbal.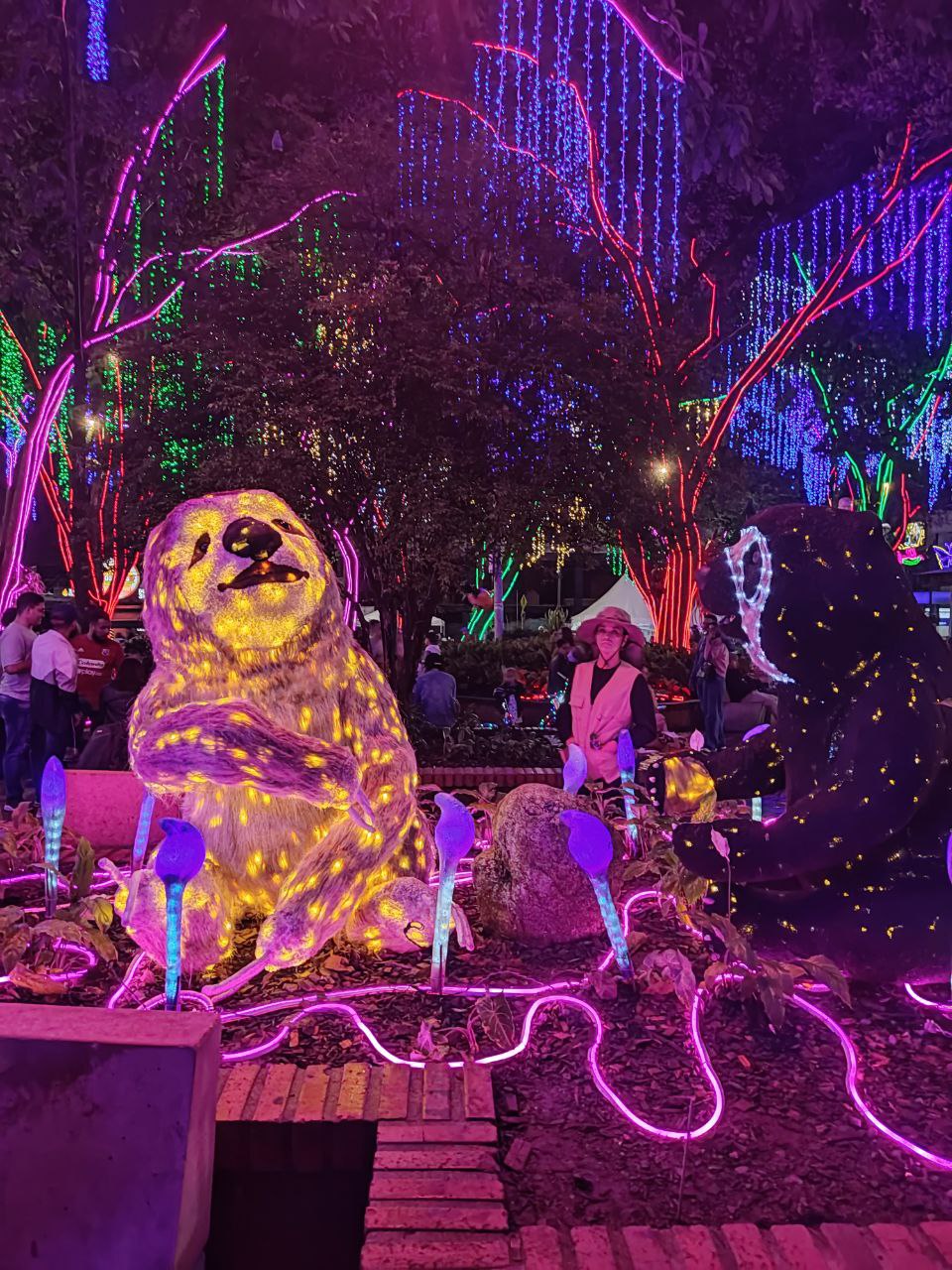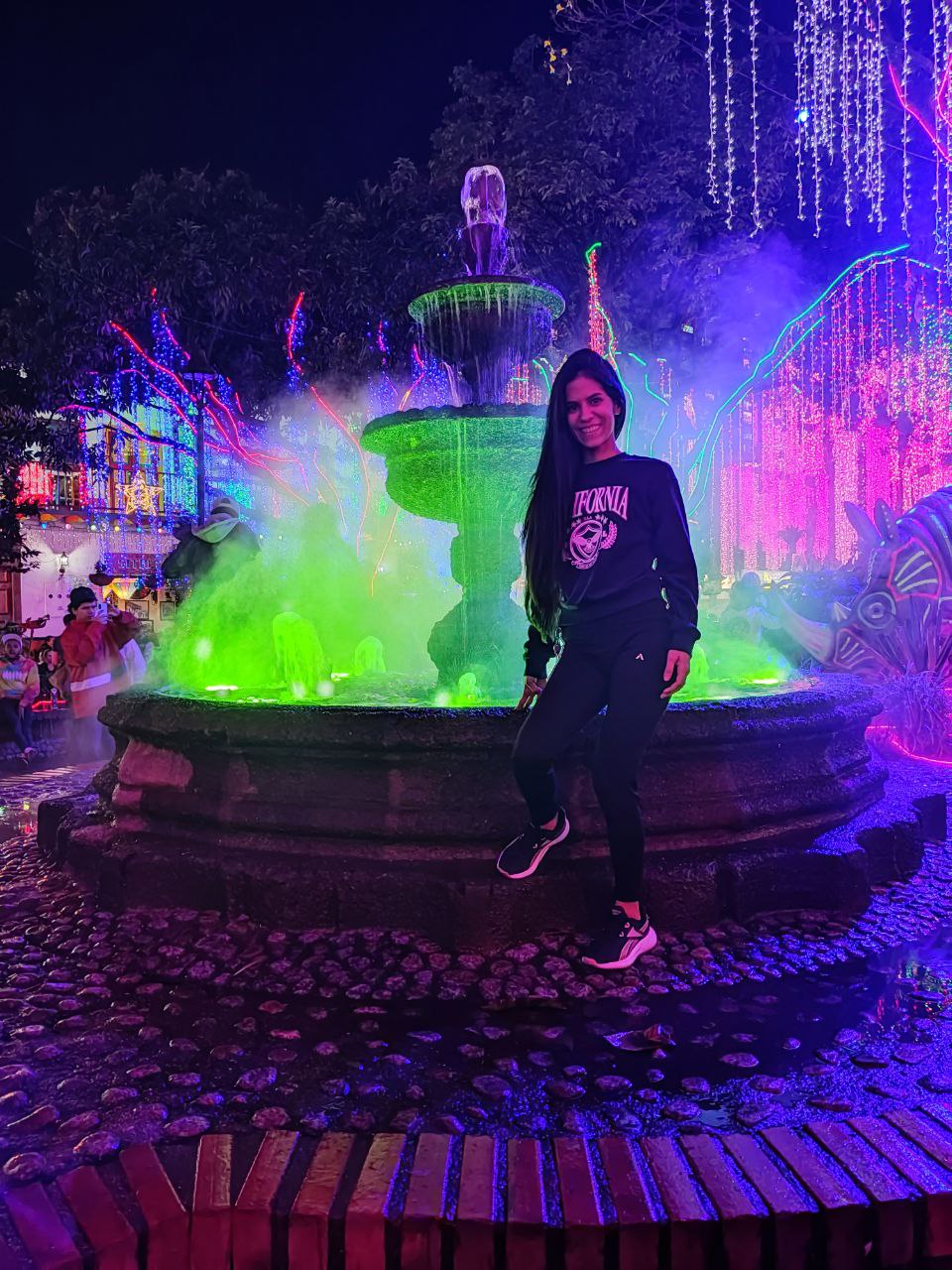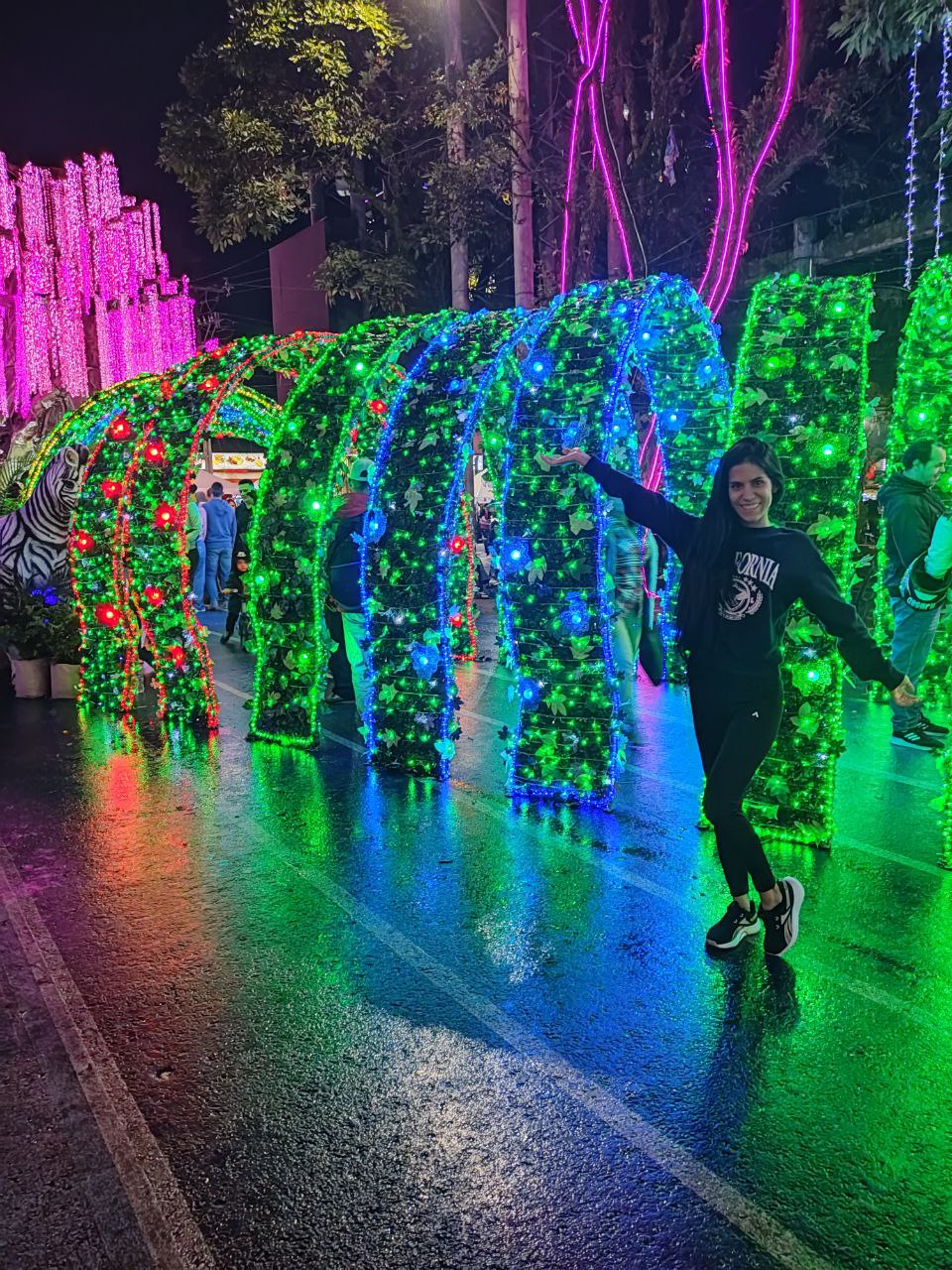 Yo me fuí bien abrigada y definitivamente fué necesario. La próxima vez que vaya al parque espero comer una pizza en domino's pizza que también está muy cerca. Gracias por leerme, espero que les haya gustado y espero seguirles mostrando lugares tan increibles como este. Saludos!
I left well wrapped up and it was definitely necessary. The next time I go to the park I hope to have a pizza at Domino's pizza which is also very close. Thanks for reading, I hope you liked it and I hope to continue showing you places as incredible as this one. Cheers!
Todas las fotos fueron tomadas con un Xiaomi Poco X3 Pro // All the photos were taken with a Xioami Poco X3 Pro
---
---