Boredom free life
Hello everyone 💞. It's the weekend again, hope you are having a wonderful day, welcome back to my blog and to the hive Learners weekly contest. With the topic "boredom"
I don't think there has been time in my life that I have been bored oo, I'm one person that is as busy as the word busy. If not school work, house chores, my lovely mum won't even let me. My worst distraction and gist partners are my siblings. Those creatures can gist and act comedy for Africa. They take away all my boredom.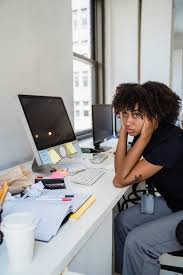 Source
Boredom to me is nothing, if I'm not at home then I'm in school, and hive has given me something to do all the time that I'm less busy, I don't joke with my spare time it for blogging, if I'm not on my laptop blogging then I'm watching Netflix movies, I don't have time to feel sad about anything, I mean anything even if while I'm sleeping I do play blues music in the house to enhance my sleep well 🤣🤣 so with all of this I don't have time for boredom.
But there was a time in my life I had this experience, I was not into hive then, during covid time I travel to the village then I was stock there without my family only me in my compound, life was terrible, like I was just there no constant light so sometimes my phone will be off and no music no someone to gist with, I don't really know much people of my peers in the village, some of my friends will just come around during the day and in the night I will just be left alone.
How did I survive?
I had to call my parents. They waybilled my laptop and my power bank and headset, then my dad sent me money so I just ran the generator as I like, I will use the opportunity and charge all my stuff. Another thing is that because of the generator some of my friends started to come by night to charge their phones. And when I go I just watch my movie and listen to my blues music. This was how I got rid of boredom, that was the first and last time I missed my mom and my siblings so badly. But thank God for music. It was my inspiration and comfort.
Another thing that keeps me away from boredom is splinterlands play2earn game, this game I just so fun and interesting, not just about they fun ok, it a play to earn game so when I'm less busy especially in the night, I will just stay in my room and have fun playing the splinterlands battle challenge game sometimes I do laugh out loud 😂, forgetting it night my mom will have to come and check up on. This is one the things I do to keep myself busy and earn as well.
Some people are always bored. I think the reason why they are is because they are not outspoken, they are not jovial so they find it difficult to interact with others, some can stay indoors a whole day without coming outside so boredom is bound to set in. So in order to get rid of boredom, get yourself busy, laugh, and interact with people, play games, watch movies, listen to music,just do what makes you feel good. Eat and sleep.
Thanks so much for reading my post please feel free to comment on the comment box upvote and do well to stop by next time thanks.
This post was inspired by the hive Learners weekly prompt.
---
---