I prefer reading through the internet
Hello everyone 💞,
Welcome to my blog, hope you are good. It another beautiful edition of the hive Learners weekly contest and the topic for today is really an interesting one, which we need to also share our view, I believe everyone is a reader, we read either for knowledge or for pleasure, but whatever is the case, we all read and we have an experience to share.
The world we now live in is digital, and everything we do tends to be digital and this makes everything easily accessible. Each day new brand and more easier way to read, last week I visited my friend, he was using his flat screen television to read, it was really interesting and to see how life is now easy to live.
People are different and the choice also is different, I love reading via laptops and smartphones while some see it as a distraction to them.
Why do I love reading Ebooks rather than paperbacks?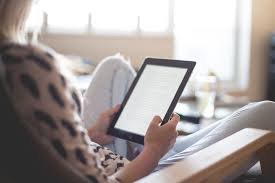 My reasons for choosing online reading, I don't really focus when reading paperback, sleep will take me onware, I do feel bad when I wake up to see myself sleeping when reading, I don't know if am the only one that sleep while reading paperback, it boring reading Frome paperback, just you and the book, to me it a boring way of reading thank God for technology who has brought light to life.
I love reading on the internet, there are most textbooks we don't find in the library, because government or school management, I don't know can't provide it for the students to use while reading, but with the help of internet you can have access to those books.download them in your to your phone laptop and read at your convenience, I don't remember the last time I visited the library because I have access to any book for study in my laptop.
Listening to video class makes reading more interesting. There are things the lecturers will teach and because of the limited time and the crowd of people you may not really understand, but after the class I do download the video to that particular topic and listen to it very well, and can replay till I understand it. People say they get distracted while reading through the internet, well when you download a book on the internet while reading you off your data so that you won't receive messages.
There are lot of free book you can read on the internet some you don't even need to download them, I remember during covid time, after movies reading novels was the second thing I normally do to keep myself busy, I read books from light reader, there you get lot of interesting novels to read some for free while some you download.
The Internet is good for fast readers, researchers and bloggers like us, even students need the internet for research work and project.
Thanks for reading my post please feel free to comment on the comment box and do well to stop by next time thanks 😘
---
---