SPLINTERLANDS PLAY2EARN GAME IS FOR ALL (Both novice and expert)
Another beautiful day full of Hope and lot of opportunities to earn from either fun or social activities. Tracing back to some months ago when I heard of the splinterlands play2earn game from a friend's post, I was glad when I realized that in splinterlands you can earn NFTs freely just by participating in the play2earn game.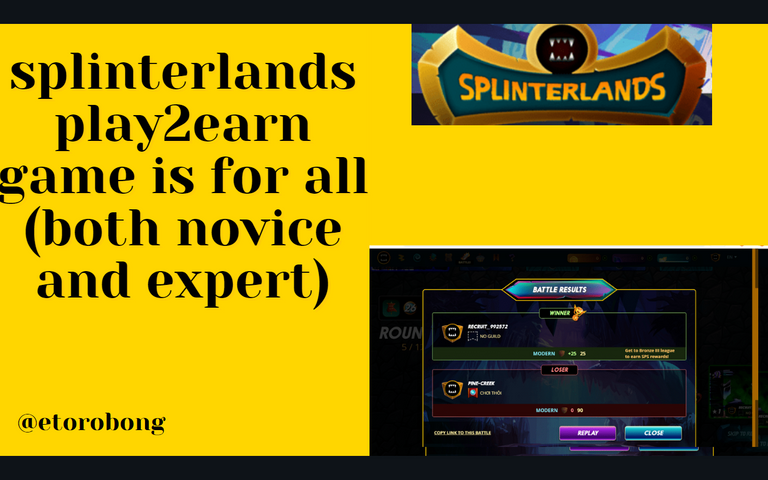 Advancement from a crypto Novice to a Paid Learner.
I was a novice some months ago when I joined the splinterlands community, the struggle was much due to the fact that I naturally don't have passion for games, so trying to understand the play2earn game world was a little bit difficult for me to pave through. How my consistency and stepping on my engagement daily has paid me lot and I have lot of experience full with good lesson learnt.
GameFi all available to everyone within the splinterlands ecosystem. Why this statement, from my own experience I have gotten the privilege to explore, learn and have fun while earning.
Splinterlands game is Free-to-Play
Splinterlands as a game Is termed as the next generation of collectible card games, which allows it's players to collect cards, trade cards, and battle as well it is free although with just one option which is paying $10 for spellbook. It has a guide and rules for the game.
I have been activity playing splinterlands games for a while now, and paying cards though I'm still yet to pay $10 for the spell book but I have earn over $200 just be being a novice, you can just be a novice like me , share thought about the game like me and from there you can move to making investment in the game asset, in teams of buying and staking SPS tokens, GLX token and buying packs which is really profitable.
You earn a free Deck of Cards just for Gameplay
For one to be actively playing the splinterlands games the Battle required setting up your monster correctly with their different abilities and standing position with which you are sure to win and earn free Dec.
Without a doubt you will agree with me that Splinterlands is the Best P2E Card Game ever, I don't know if there is any other farm yet to be like splinterlands but I have not come across it maybe till then.
So much ago we were asked to vote splinterlands as the best card game and as the best Mobile game category, I don't hesitate because indeed splinterlands offers the best game and interesting cards for battle, the farm is fun I bet you if you are playing it for the very first time you will be amazed how the battle field looks like, the game is fast as long as you have good network connection, will splinterlands your asset are Save I can say it boldly because I have my asset with them and they are save, Another outstanding thing about splinterlands games is it's a free-to play and it for everyone but novice and expert.
Join Splinterlands Now!!
Thank you once again for always stopping by my blog, special thanks to all the creators and developers on Hive and Thanks he splinterlands team.
I am @etorobong. Let's meet and greet.
Twitter: @etorobong32
---
---