talent and hard work are good blend for success

it is believed that any talent a man has will definitely make a way for him. but just being talented is not a guarantee to success, because having talent and being hardworking is a two different thing. someone can be talented and not hardworking while someone can also be hardworking but not talented.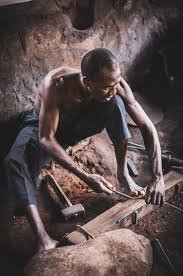 for me I will go for the hard work because I think any person can be successful if the person is hardworking. talent is just an inborn gift, and everyone have it except for those who have not discover it yet but the truth is everyone has it in them , and one of the good thing about talent is that people who have discovers it and are making a living from it. but the truth reminds you cant be just successfully only with just your talent without hard work.
hard work beget success
for me am naturally gifted with the nice voice and the singing ability, which means I can naturally sing without stress but, just sing is not enough for me to sail through as a singer I needed to known more about music and how to compose a song and also pen it down and score it.
i did not just stop there i needed to learn how to play the piano, so i had to enroll for a music class where I was taught on how to play the piano.
where I am today in my music carrier is as a result of hard work yes I knew how to sing but I was just limited to singing it was after I went to training that was how I knew how to compose song, I can play the right key with the piano for the song and can also arrange them well.my talent was not just enough for me to survive in music I need to work hard to see my talent really make a meaning.
there are lot of us out there with talent but if you really what to make it out of your talent you need to work hard, your talent is an added advantage for you.
my blogging ability here on hive is not a talent but the result you see here is just the hard work I have but, I know there are people who are gifted on writing, but I was not fortunate enough to be one of them so how do I survive in a field am not talented in hardwork is the key to my success here I disciplined myself to be consistent in engaging the platform that how I have been able to make it here. I know am not really good or should I say an expert but I have been determine to get there some days. With consistency and hard work.
I have been constantly playing the #splinterlands play2earn game lately, this is something I did not know how to do as a matter of fact game was not my thing but when I came across the splinterlands gaming community I made a decision to learn and it has been a wonderful and interesting experience this is something I was not even good at but today I have developed passion for the game it takes just determination to be successful in life.
so if you admire a good life full of luxuries you need to be hard working there is not two ways about it.
---
---