Celebrate EID Mubarak in Taipei, Taiwan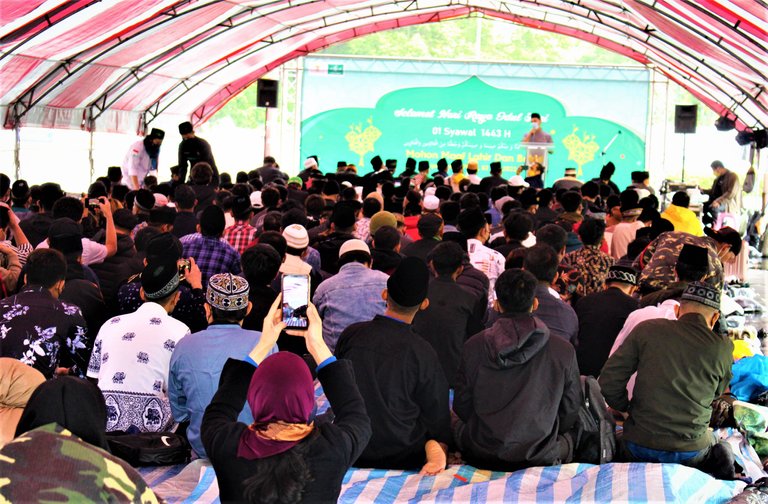 ---
---
Today is the 3rd day of Eid Al-Fitr 1 Syawal 1443 H, where all Muslims around the world celebrate Eid prayer in congregation celebrating the day of victory, after one month of fasting, holding back thirst, hunger and staying away from all His prohibitions and increasing good deeds.
This year is my 10th Eid in Taiwan, as well as my 3rd Eid in the midst of a pandemic. Where the current condition of Taiwan, is not doing well. Initially, the Taipei Grand Mosque, which is the oldest mosque in Taiwan, will perform Eid prayers on Monday, which coincides with 1 Syawal.
---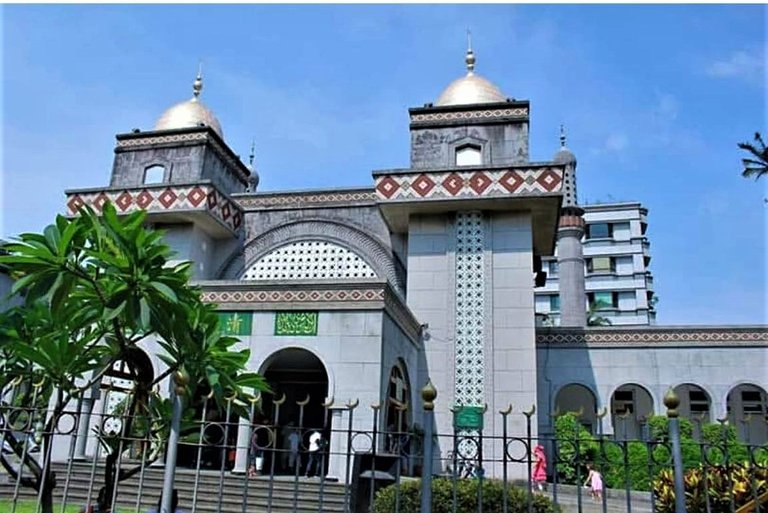 Taipei Mosque: actually I'll prayer here. But Taiwan's government closed, because of Outbreak COVID-19
---
Due to local transmission cases soaring, up to 15000 people, so the prayer schedule was canceled. The mosque was closed to the public, to prevent new clusters of spreading. Fortunately, there are still Eid prayer activities held by Taipei Travel Plaza, which are held in several waves.
The rainy weather, in the midst of the COVID-19 epidemic, did not dampen my enthusiasm from work to Taipei city. Even though you have to get the last batch of Eid prayers, which is 09.10-09.30 Taiwan time. Because from work I have to take a bus first, then change trains to Taipei Station.
---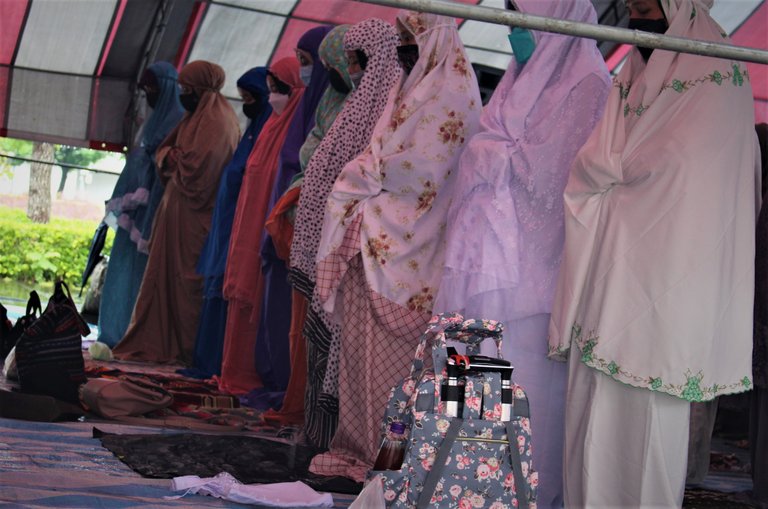 ---
---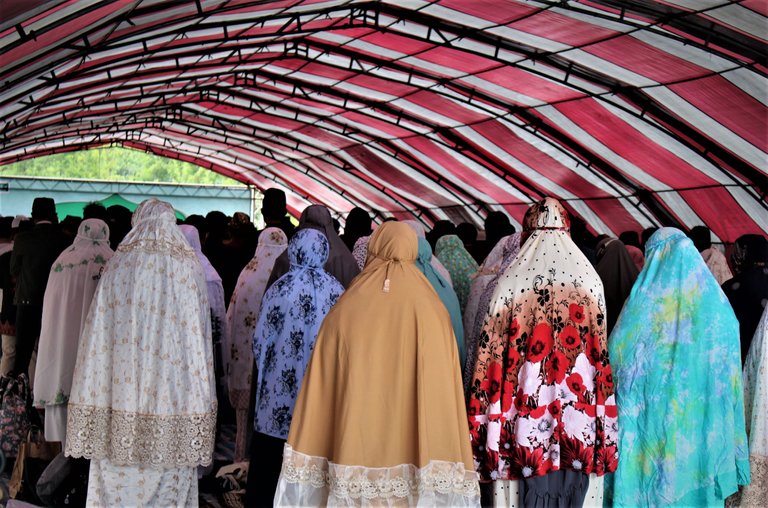 EID Al-Fitri Prayer in the last session at 9.10-9.30 am, Taiwan
---
Cold weather, gusting winds and rain colored that morning, you could see the colorful umbrellas brought by fellow migrant workers to prevent life from going to those who had already prayed and left the Taipei Travel Plaza location. In this last wave, there were not too many worshipers. I sat in the back row with my other colleagues.
After praying I rushed to the Indonesian street area to buy Indonesian food to give a taste of "Homeland Cuisine" in the Eid atmosphere. As soon as possible I left the prayer location, to avoid queues and groups of friends who bought food sold around the prayer location.
---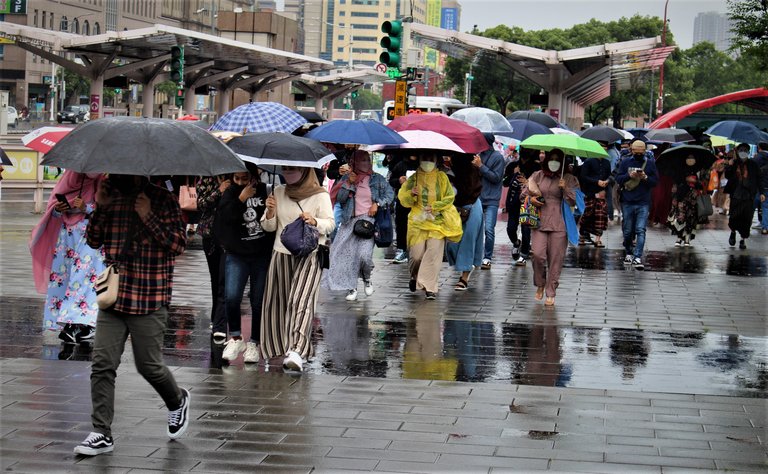 Heavy rain and windy do not damp our spirit to pray
---
To treat my longing for mother's cooking and the atmosphere of Eid in my hometown, I bought gado-gado, bakwan and fried tempeh at the "Dapur Nusantara Bakso Asli Malang".
When I arrived at the location, the atmosphere of the restaurant was already crowded with Indonesian citizens celebrating Eid. Incidentally, Monday fell on Red Day, the anniversary of World Labor Day, so factory workers had a day off.
---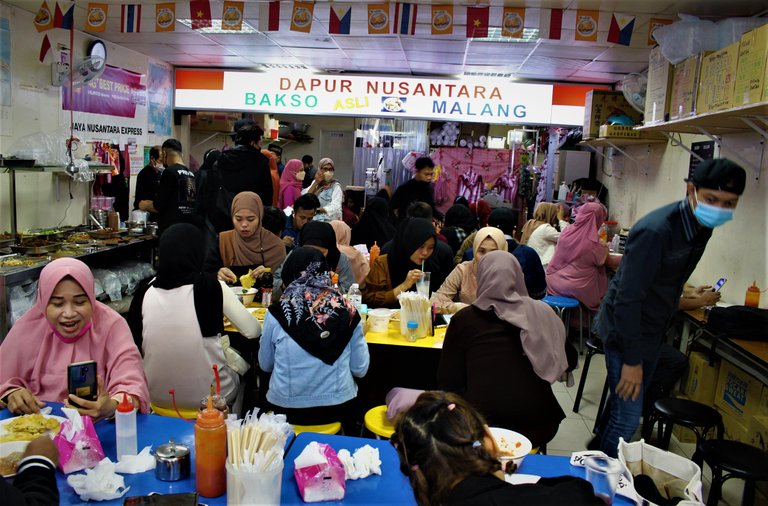 Indonesian's shop
---
---
Takbir's voice echoes from the music playing in the shop, giving a thick atmosphere during Eid. Gathering with friends, enjoying Indonesian dishes, and listening to the sound of takbir, is a way to enjoy and feel as if you are returning to your hometown.
However, it's not like I have time to go out longer, because I have to go home soon to prepare lunch for my grandmother and employer. Because they didn't give me the day off.
---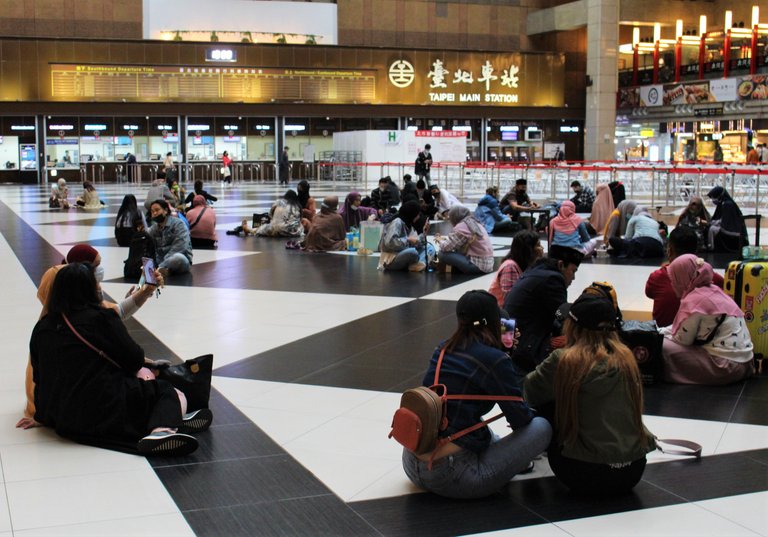 Taipei Main Station"s hall: place where Indonesian workers gather, that day very quite
---
---
After ordering gado-gado, taking two fried tempeh and bakwan and paying it to the cashier, I left the Indonesian shop and headed home. Even though it is limited, I am very happy to be given permission to go out to attend the Eid prayer 1 Shawwal 1443 H, this year.
Hopefully this will be my last Eid in another country. Next year I will be able to celebrate it together in Indonesia with my son and family.
---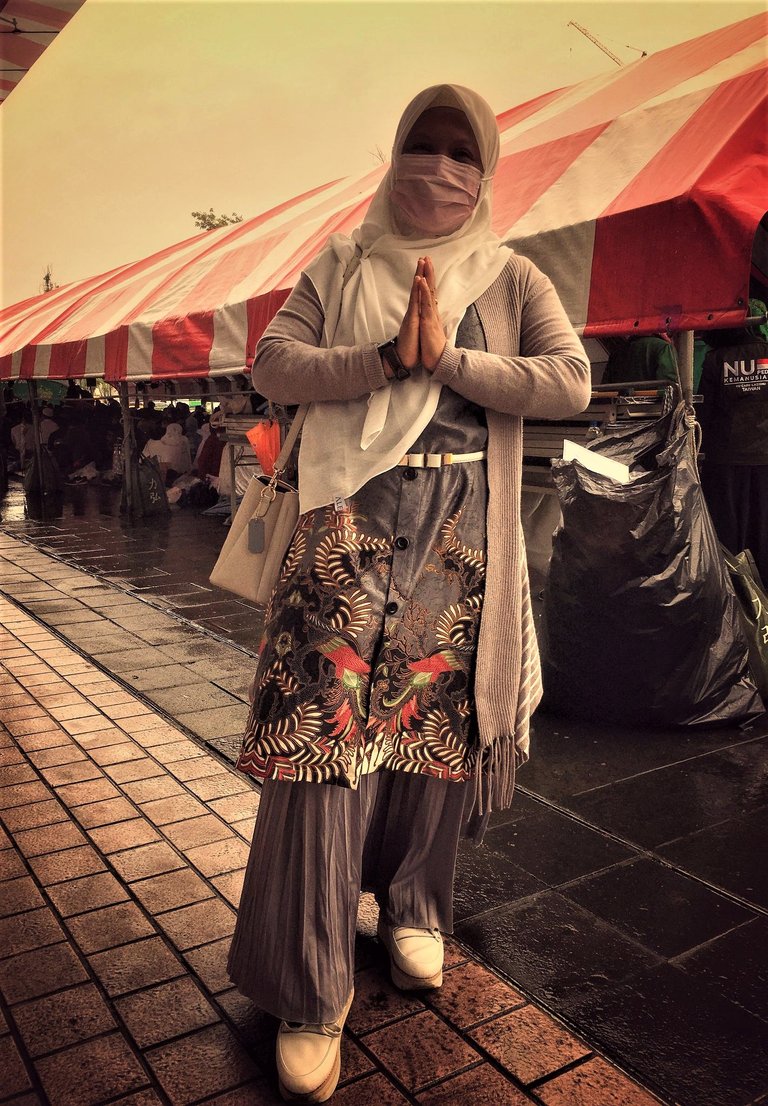 Happy EID Mubarak
---
Eid al-Fitr during a pandemic, is not only a moment for forgiveness. However, maturity and patience also hold back longing for family back home.
---
That's all my story celebrated EID Mubarak in Taipei, Taiwan. Thanks for stopping and reading. I am very happy to be able to share my story, experience and photography about my life as an Indonesian in Taiwan. See you in the next post. May we all always be given health and prosperity always.
---
Best Regards
@ettydiallova
---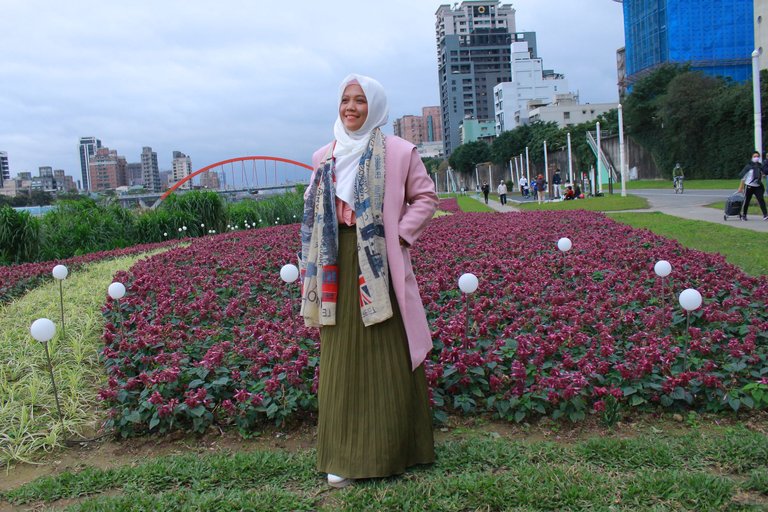 About Author
Welcome to Etty's Small Corner Hive Blog. She is an Indonesian who currently working and studying in Taiwan. Writing is her passion and managed to carve the achievement. Her writings that won in Taiwan Literature Award for Migrants (TLAM) 2017 with the title "RED" adopted to Movie and displayed on Taiwan TV by 2020.
She won an essay competition race with the theme of education at the Indonesian economic trade office, Taipei in 2019. and won two awards and two trophies in TLAM 2020. The first champion of the Essai migrant workers of Taiwan by 2021. Her solo book was published in 2015. She is also a writer in an Indonesian language redaction in Taiwan.
---
---
---
---
---