#EDUKASYON: Why I Am Jealous Of Students Having the First Day of Class?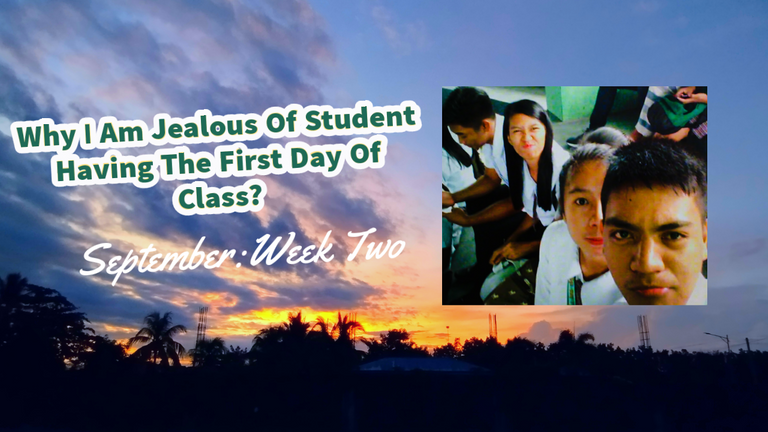 Thinking about the first day of school makes me mixed emotions of happiness and sadness. Happy for after years, they are now having face-to-face class, sad because I did plan that this September 2022 I shall come back to school, but things happened abruptly. Maybe I need to wait a little bit of time and again preparations.
But I will not be emotional for this blog; I have to be a more positive and rational thinker, for things happen for a reason.
Back to school, as a small child like me back those days, every first day of school, we were so much excited. We were not rich, but in my elementary days, my parent made sure that every first day of school, we needed to be in attire where it was a complete set and brand new, from a uniform and the shoes, bags, notebooks, and everything inside even the pen and pencils are needed to complete. I am comfortable with what I look like, even though my fathers will have a salary advance to have the uniform and things I need.
The first day of the school changed as the years passed. Grade one to six meant I was excited to be with my friends and the gang I knew from kindergarten, for we were living in a small community.
Comes the High School, takes the pressure. My friends in Elementary doesn't have a guarantee we could be met again or that we would be in the same class anymore. We need an adjustment for everything. Funny it was, but I did prepare myself if some people would bully in High School, and I ended up becoming one. But I am more on the decent side.
And college was more challenging, especially on the first day of being a freshman. I met different faces—the look of a severe and masculine nerd and everything. I don't know where I belong, but I stay silent on the first day. I am shy indeed. Then came my sophomore days, where things became more and more as I witnessed everything. Third year and as seniors, we don't play along on the first day. We have been absent—Peer-pressure and the idea that we just knew what to do. The teacher won't start the class because we are still incomplete; some are still preparing their dormitories.
The first day of class was classic as we met different professors and what they wished to have; I remembered how people were trembling in the front when the professors called them. College was yet some are still shy talked to act, well it's acceptable for we don't know yet what will happen in the first day of school, and some have a trauma.
The first day of school, first impressions.
Not to be judgmental, but on the first day of school, we could be all reminded of what we have done before. We looked at our classmate's faces, giving them our first impressions. Some look for intelligent people, and maybe they could be situated together. Other looks for some with a stunning personality and becomes a crush, and additional just pointing out whom they need to be avoided. Looking at the faces builds something. It might be a reminder or command to move.
They are looking for intelligent people. These are the person who has the vibe of becoming a top. They are the silent type of people. I have the impression that those who are quiet and attentive listeners love to listen to everything the teacher is about to say. State and friends of intelligent people have a lot of benefits, right?
Others look for inspiration, the new cutie guy or girl in the class. These people have charismatic personalities, the class celebrity—the good-looking as the center of attention.
And the one you need to avoid, I guessed we all knew they were the bullies. I was a person whom much liked to prevent rather than give and provoke peaceful life on the first day of school.
Why Am I Jealous Of Students Having the First Day of Class?
Because I did picture myself as one of the new students again, I finished my bachelor's degree last 2019 and got my Professional License the same year. Still, it feels like I like more stressed by myself in the book environment. So maybe I shall have my master's degree or another course to apply. I kept within myself that I had a plan to go back to school. Now I want that be the one who will finish my fees and allowance and becomes independent.
In my blogging career last 2021, I made sure I had some spare when I got rewarded and converted it to stable coin. When volatile is not friendly, I still have the start of my studying plans. And I have, I accumulated 40,000 pesos or $800 at that time could save my first-semester tuition, but destiny played the role of entertainment.
My sister needs finance, and my uncle is sick. No brainer, give it all to them.
I have no regrets about giving my future school funds. It is my choice, and it's the best decision.
For now, I shall enjoy blogging and studying on my own, and I have a dream that is why I blog. I picture myself in my future, where I work, look in a laboratory, and document things on a blog.
This is also to remind me that the first day of school never ends, it might not be now, but near future, I also come back and have the best.
For those students having the first month of face-to-face class this September, make this your motivation. Some people also wish to have that position, yet they cannot have it now but still wish they could. Don't waste the opportunity given to you.
Ber-months as not only for cold winds but also for a new beginning for future professionals. Good luck, everyone.
Photo presented owned by @eunoia101
---
---