Filipino's Celebration For Upcoming All Souls Day.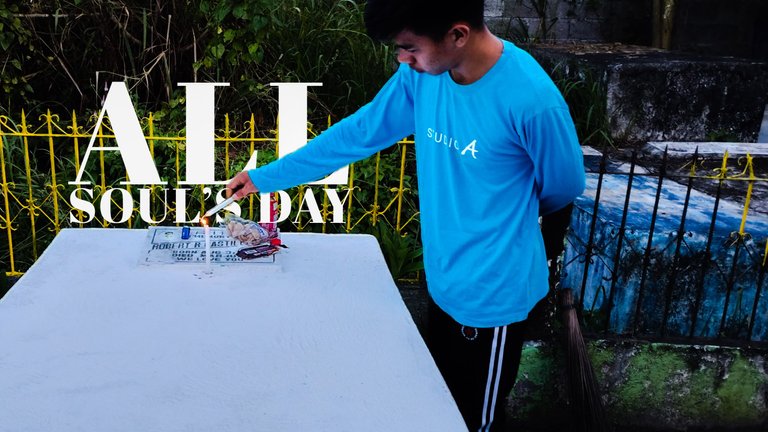 `

Last weekend and these coming weekdays, indeed, the cemetery was all busy. We will be again celebrating 'All Saint Day' and "All Souls Day", a long weekend starting this October 31- November 2, which allows the loved one to visit their family graveyard and pays respect. The Filipino family ties and culture present importance to loves ones.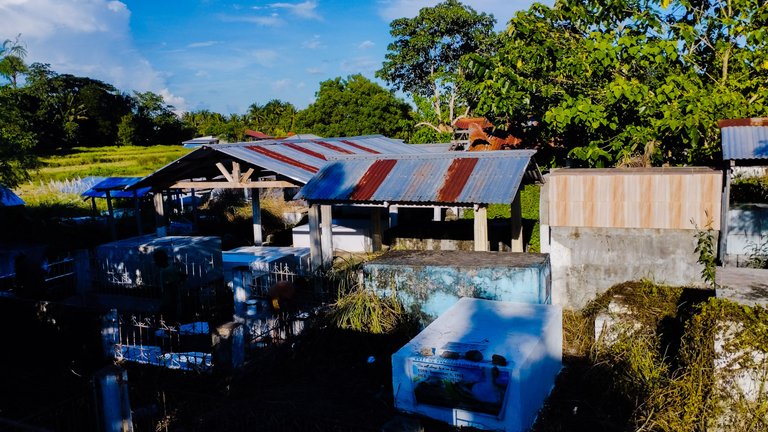 In the celebration, people will have plans for the upcoming November 1. Not all religious sectors celebrate this festive, yet concerning our loved ones, we also give them once a time of year. We prepared flowers, candles, food, the malagkit rice cake or biko, and all the sticky rice products. Filipino oldies believe in padasal in all soul days. It's a prayer vigil, some have "atang" or offering of the soul in their respective homes, and most importantly, November 1 and 2 also become a family occasion. At this family get-together, the household from somewhere will come and visit the grave as a whole.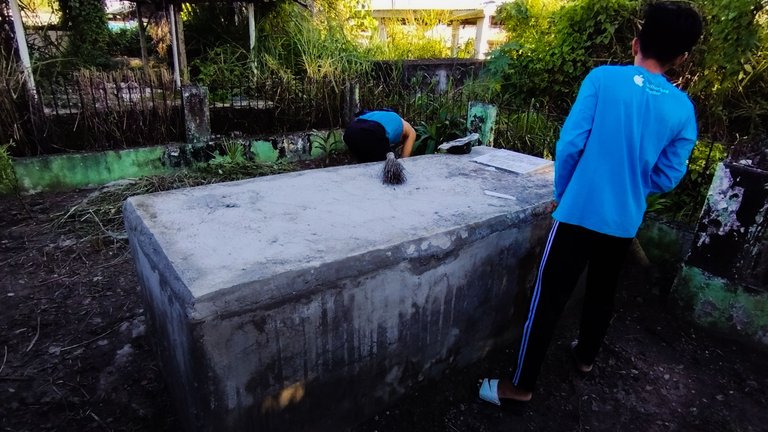 As we get ready for the celebration, we also need to clean up and prepare the graveyard of our fellow deceased family members. We had free time last weekend, and we were tasked to paint the cemetery of our uncle. For the past 30 years, it was the first time that one of our family members had been gone. We now owned some portion of the cemetery, an expected space we would have as a family home. As it will go to years, surely we will be humble, clean it up and make it appealing. We don't want that it's just a cemetery. We hope this will also feel at home, especially from time to time we visit them.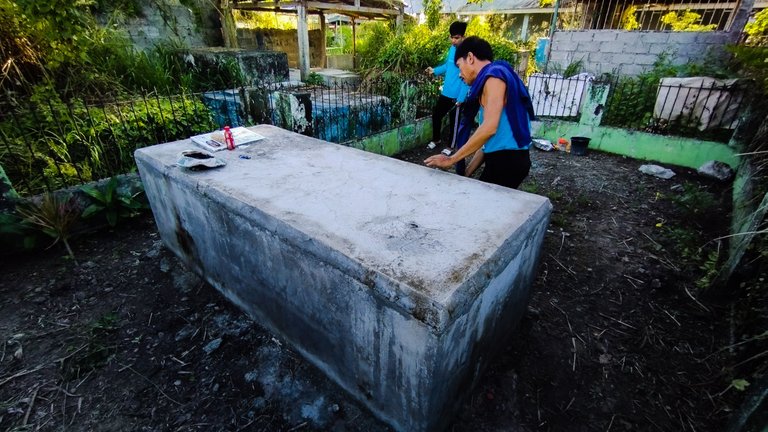 Once a month, my cousin, whose father was in the grave, will clean up the weeds. "Nong, mapan ta agdalos", which translates as "Older brother, let clean up", is a simple text message, and we will go at precisely 3 PM. At that time, the sunlight already shaded the huge tree, which made the spot not exposed to the sun.
At first, it was scheduled to be painted last Friday afternoon, but he was in his fourth year of college, so it was expected that it was not easy to go home. We rescheduled it for the next day, somehow morning, Saturday, yet things again come to busyness. He must attend a youth committee meeting, which was rescheduled for 3 PM last Saturday. I said it's okay; I am still free.
First, this morning, my aunt and uncle said they were clean up some weeds already. They also visited their child's graveyard and saw that my uncle's home was not that tidy as some weeds were growing widely. So, it's been easy for us to start the painting jobs. We all just prayed the rains wouldn't destroy the pigment colour of the types of cement.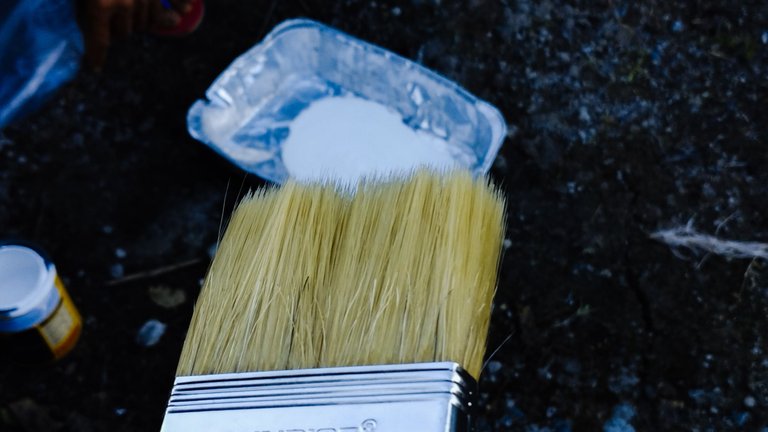 We don't mix it up; we just give it a row ready from the cans. We prepared two cans of one litter white pigment as a primer. We expected that at least this coming weekend, we will repaint it more. We want to have more lasting quality over meagre budgets.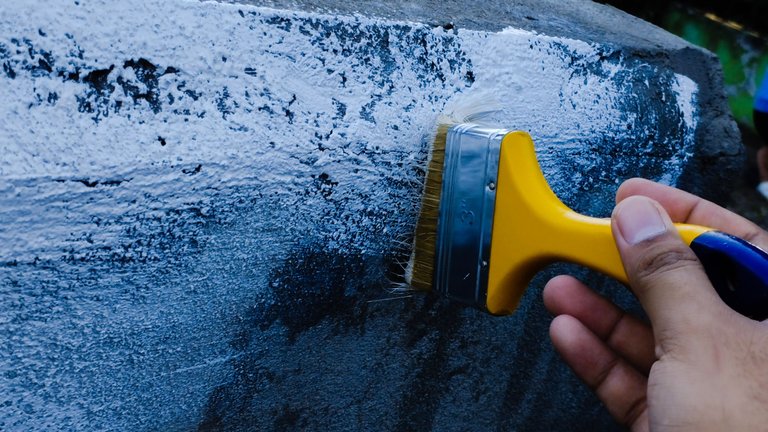 Holding the brush and giving some stroke to the cement. Kind of a challenge, for it, was my first time painting. We have decided to clean up and make some marble tiles and prepare the construction of the place, yet something is more critical coming, maybe next year, as my aunt says. We will start renovating the area just like a place of homes.
We did plan that this would be a private lodge soon; the best part is that it was in the last row of the cemetery; it was so remote over the first area. Soon enough, we will make it a room.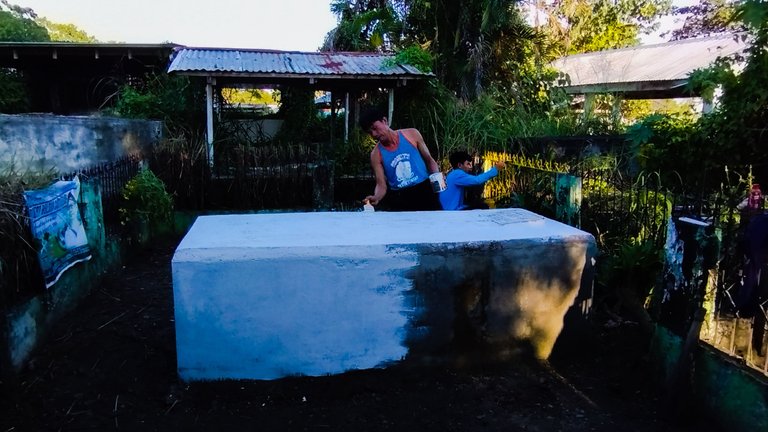 We started painting the block with the color white and discussed things while doing it, even joking. We all knew how perfectionist my uncle was. He wanted that his work even lasts for long hours better than making a shortcut that would make it not so good looks.
My uncle, the one in the photo, is a joker-type guy. You cannot resist to laughed when he is on your side. He even jokes like talking to my uncle's graveyard. I cannot do that, and I am just silent when I go to the cemetery. I don't want to talk. Well, the cemetery is a resting place, as they say, it was.
This is just preparation. We finished the job at 5:30 in the afternoon, so the clouds and lights faded. We decided to call it a day and continue to the other area that wasn't yet painted.
Some might be curious if it was a public cemetery, yet the space seemed private. We pay for the lot area. And it's normal as it was in the fence, so people shall not bring anything inside without permission. Like other cemeteries, it seems overcrowded to another side. But of course, something could be done more smartly.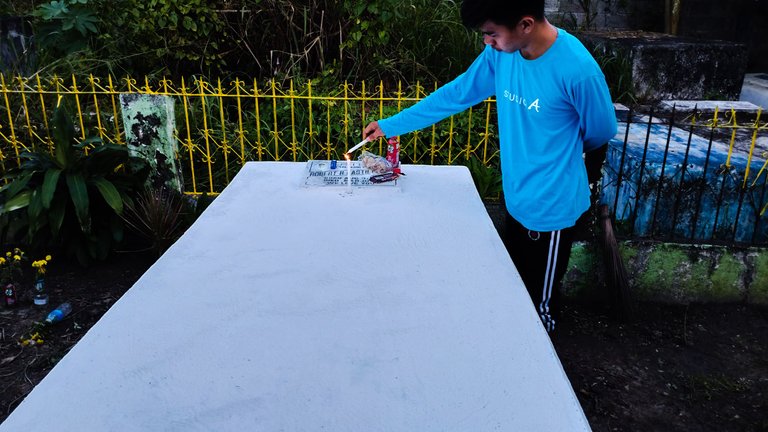 We don't celebrate Halloween or are busy preparing our costumes and home decoration; November 1 was different for us. We were preparing for some festive and respect for the soul. As this coming weekday, surely more busyness to come, preparing for food and gathering.
How about you? How do you guys celebrate November 1?
`

Be part of the hiveph Community | Stay Update through our discord channel.
Let's help build each other!
`
ALL PHOTOS BELONG TO @eunoia101
| | Hi, eunoia101 is a Farmer, Registered Agriculturist, Agronomist, Farm Technician, Mushroom Cultivator, Entrepreneur, and soon Researcher. Suppose your problems or queries are in any of the fields, don't feel hesitant to comment. We will try to resolve that. Upvote and reblog are highly appreciated. | |
| --- | --- | --- |
---
---