[WE 119] What Happened When Boy-Besties Been Hurts Feelings?
This weekend I made content and tried to add a topic in the given prompt "This weekend my best friend hurt my feelings and I …" made me remind the friendship we have had with my boy bestie for six years now, from a shy man and cannot be talked guy, a gangster and bully, the smart boy, and the gamblers. That's what I have, my boy besties. We have different pasts but we want the same future as college freshmen, to survive the life of college life.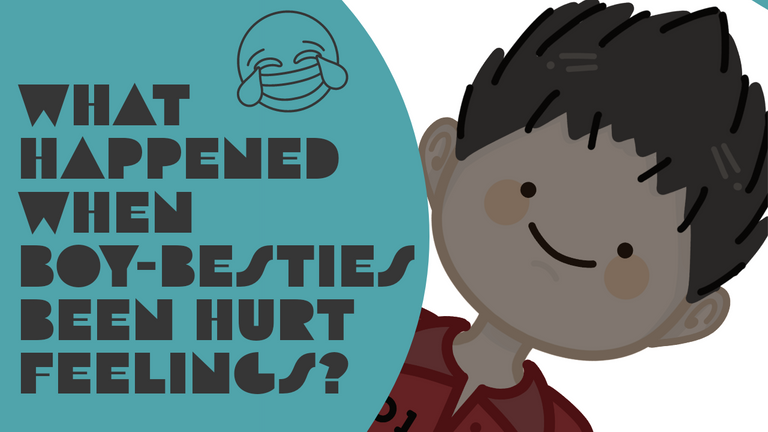 I met them in my college as a freshman and until now we still bond with each other. Unlike before when we have face-to-face and hurt each other physically and feelings, now we just hang along in social media group chats. We still are friends as we were before, but some people ask especially girls, what happened when boys have a misunderstanding? I will tell you a story about how boys besties handled these things.
We were 6 guys in the gang and added one queen, a lady who will be the referee. But not every time, of course, she was there, but I have these best friend feelings, we bond more often for we lived under the same roof, eating In the same dine, and wash in everything. We share everything. But there will be a time when he hurts my feelings and sometimes, I am the one who made to hurt. Just vice-versa.
When we feel irritated, we found ourselves distrustful, or we look at each other with bad views. There will be the time that we fight about everything, the food, time, and some points ladies (but just once I guessed, no one wins). We were both busted, we just laughed at each other in the end.
IF MY BEST FRIEND HURT MY FEELINGS AND I JUST BE SILENT.
He already knew he made something wrong when I am silent, we could still have the same routines every day, wake up at the same hours, drink coffee, and even bathe as we made daily, but when he feels I am silent he will always look back what was happened.
But the thing is that we don't and never say sorry, maybe that's a secret of our long-lasting brotherhood, never say sorry, and don't be sorry.
When my best friend hurt my feelings or I was the one who did, we never say sorry to each other. We don't explain why did that or how we did that, we have to punch each other. Wrestling… always happened when someone made the silent mood swing, one best thing is to provoke more.
If my best friend knew I was in the bad mood he will make sure to make it worse, when I hate him he will make sure that I will hate him more.
Calling me then irritates me, maybe I am cute being irritated (just kidding).
He gets that idea from me alone, that is what I often do to them, when I knew they hate me I will make sure they will hate me more. This was the unusual bond we had as boy besties. We were not in drama as we cried, we were in the mood to comfort each other, but we show our sincerity when one will try to place their hand on one shoulder, that's the way how we say sorry to our mates, we don't say it verbally. That was in the bro-code 101 anyways haha.
IF I HURT MY BEST FRIEND'S FEELINGS I ALWAYS GIVE THEM A SILENT APOLOGY
Nothing is perfect, I also admit that sometimes and most of the time I was the one who hurts their feelings but what I did is that I made sure I will share my gesture of apology. When I knew I did something wrong like I didn't do the task that was for me, I didn't wash the dishes in my schedule and I made terrible things, I am the one who will run towards them, saying things that I knew will smile at him. Still, there was no word sorry, we don't believe that we will be sorry to each other, lol.
Saying stories about my brother's crush and everything. This made most of their mood go up. Or I am the one that will pay for the dinner, which cost my allowance but I needed that to gain my brother's smile.
But when I said we don't say sorry, doesn't really mean we are not that sorry. I guessed we were just comfortable with each other, we don't need to verbally say that we are truly one. That was the best thing that happened in the cloud of brotherhoods, that how was the boy besties.
IF OTHERS HURT MY BEST FRIEND'S FEELINGS, I WILL BE HURT TOO.
Seems like there was no drama in boy besties but there is a lot. One thing that bonds us together is that when he hurt, I was also hurt. I don't want to see him sick and he also does the same. For years we have been in the same room we have seen each other ups and downs, and we have seen each other in good and bad conditions.
Especially break-ups and break-downs. When my best friend first breaks up I have seen him smiling at me yet I could feel the pain, that's the drama that made me realize that the bond between us too was so much harder than others.
We don't care about the bad and hurting feelings, when one of our pals is in trouble surely, we will be attacked. When someone needs to help the bad image is washed out.
When my best friend hurt my feelings, just the second there will be no hurt anymore.
This weekend made me again miss my bros, the ones that made my college life meaningful and packed with advantages. I have this happy feeling while writing my entry for this week of the WEEKEND ENGAMENENT. Reminds that I am gifted with friends, who it's been proven how genuine they are toward me.
If you have a best friend and you both got in hurt feelings, remind yourself of the happy memories you two were with, over just one thing that will tear you both apart. Thanks, you and see you again next week for WEEKEND ENGAGEMENT, thank you.
Cover Photo made possible with Adobe Application
---
---