Watch Us Defile a Pair of Louboutins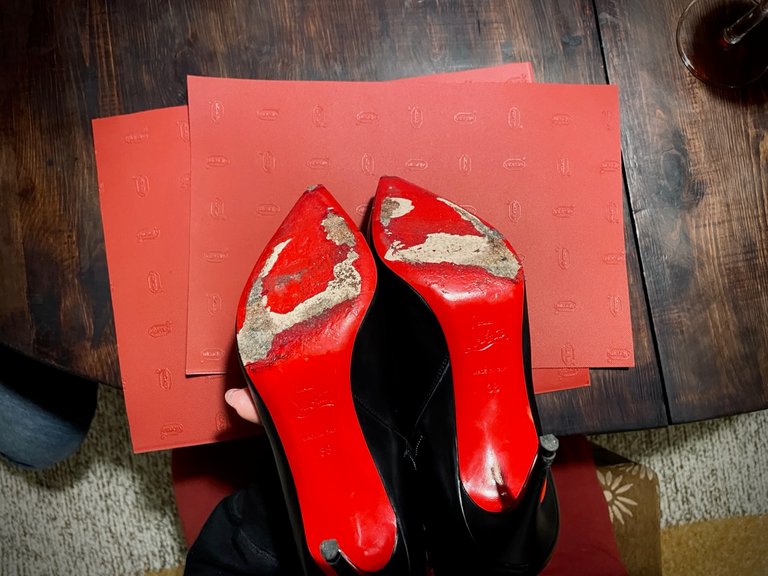 Join along to see two amateurs play cobblers and try to repair a pair of expensive designer heels.
Fair warning, this is going to be a long post.


I've had this pair of Louboutin So Kate ankle boots for a couple years and I've only worn them a few times but the soles are already in critical condition. Lacquered red leather bottoms are not really meant to be used anywhere else than inside, but of course I've worn these booties on gravel and asphalt and it shows. The pointed toe is very delicate and the leather sole is already eaten through so it's more than necessary to fix and protect them now before it gets worse. There are a number of things you can do for soles like these, like paint again or resole with leather, but in my opinion a thin rubber sole is the best compromise for both look and usability.
Quite a while ago I went to a cobbler to ask if they have the red Vibram rubber half soles and he told me they only come in black and brown. Could have told him he can order the red ones from the same place he gets the black ones from but he clearly wasn't the man that I would let work on my Louboutins. I did some research and found a couple qualified looking cobblers in Hellsinki that can do nice work on designer heels but I'm rarely there and I wasn't too keen on sending in my shoes so I just forgot about it for a time.
I love watching shoe repair videos on Youtube and I've seen plenty of rubber half soles installed to Louboutins and it didn't look like an impossible thing to do at home. Both me and my man are pretty decent at many different kinds of handicrafts though neither has worked on shoes but the hell with it, let's see if we can do it ourselves. I ordered both 1mm and 1.8mm Vibram rubber soles to see which one would be better, and we went with the 1mm one.
Let us begin: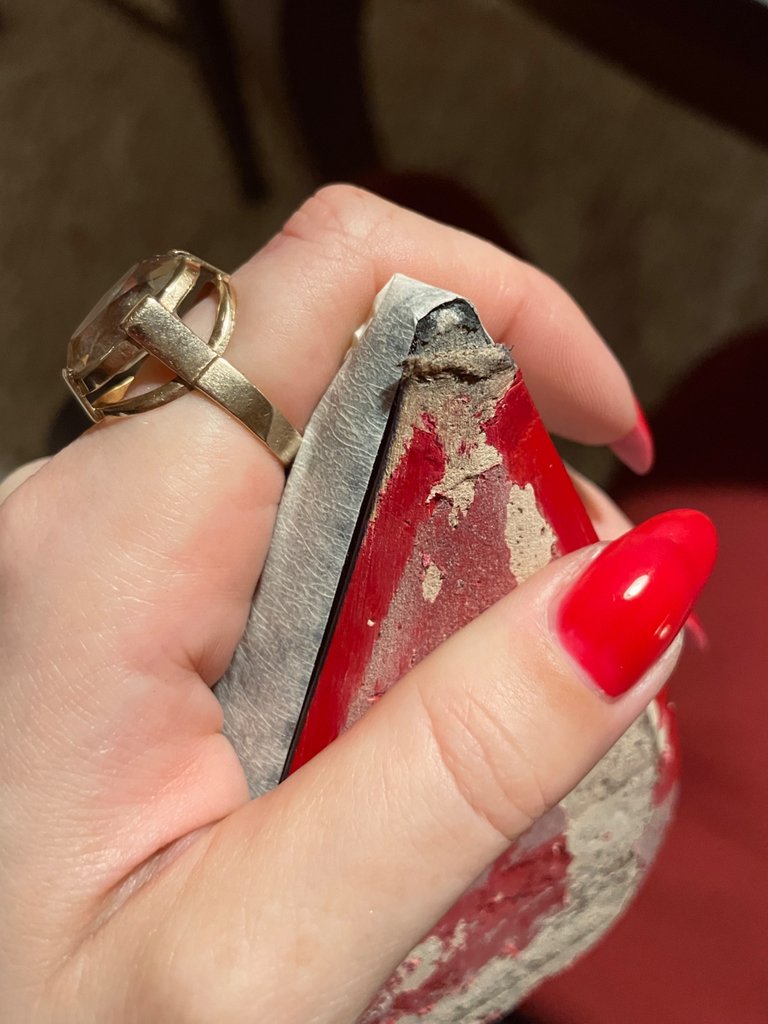 First order of business was to tape off the shoes to protect the uppers from these unqualified and unsteady hands.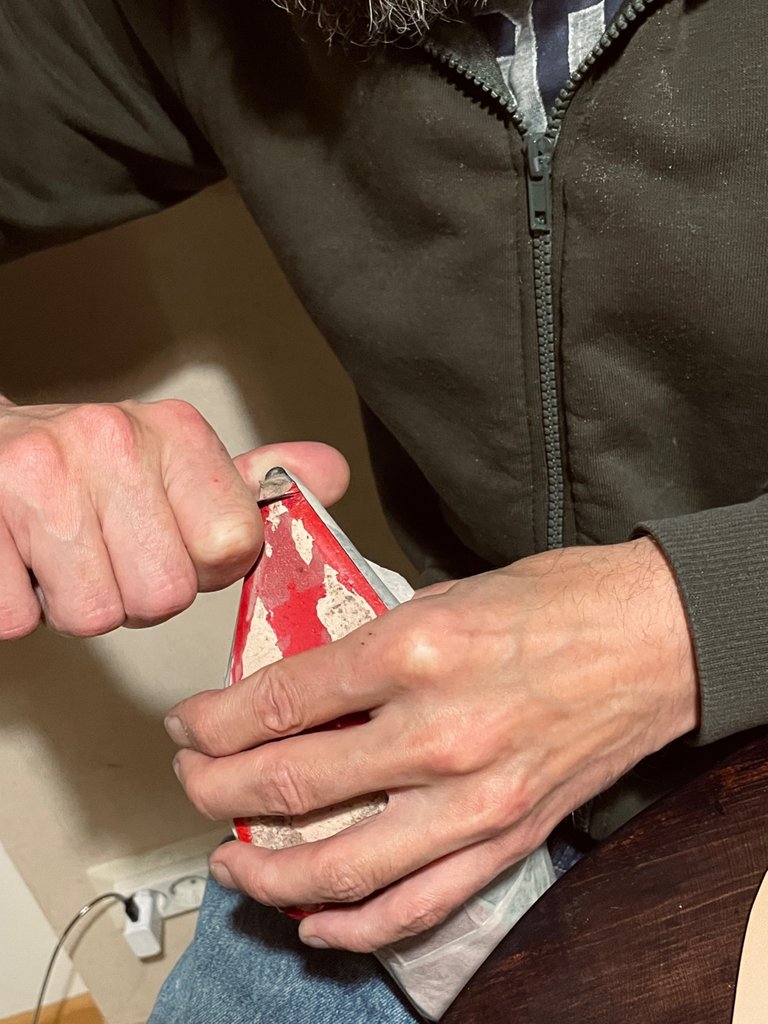 Next up we needed to fix the toes where the sole was already a goner. The man happened to have some leftover leather from a knife project so he took off the worn out piece plus some extra and glued in new pieces roughly the right shape and size.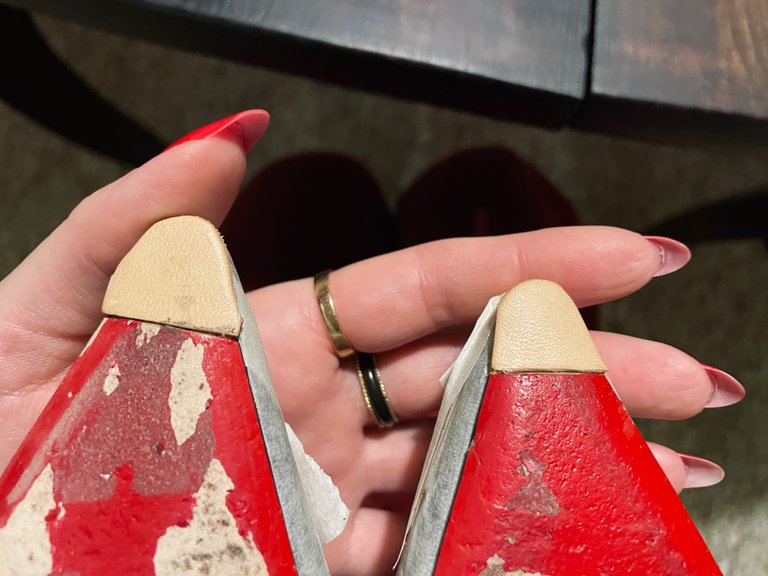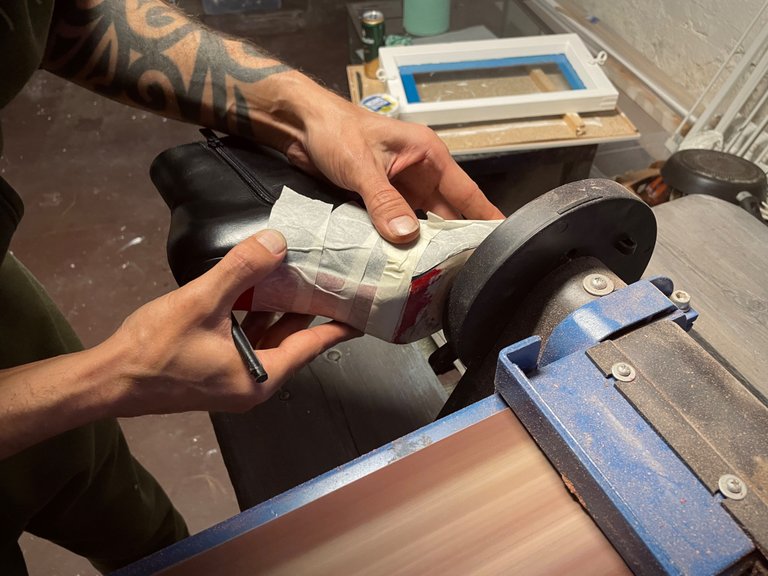 Now comes the scary part of firing up the band sander and going ham on the soles. We had to be really careful, especially on the edge where the seam would be.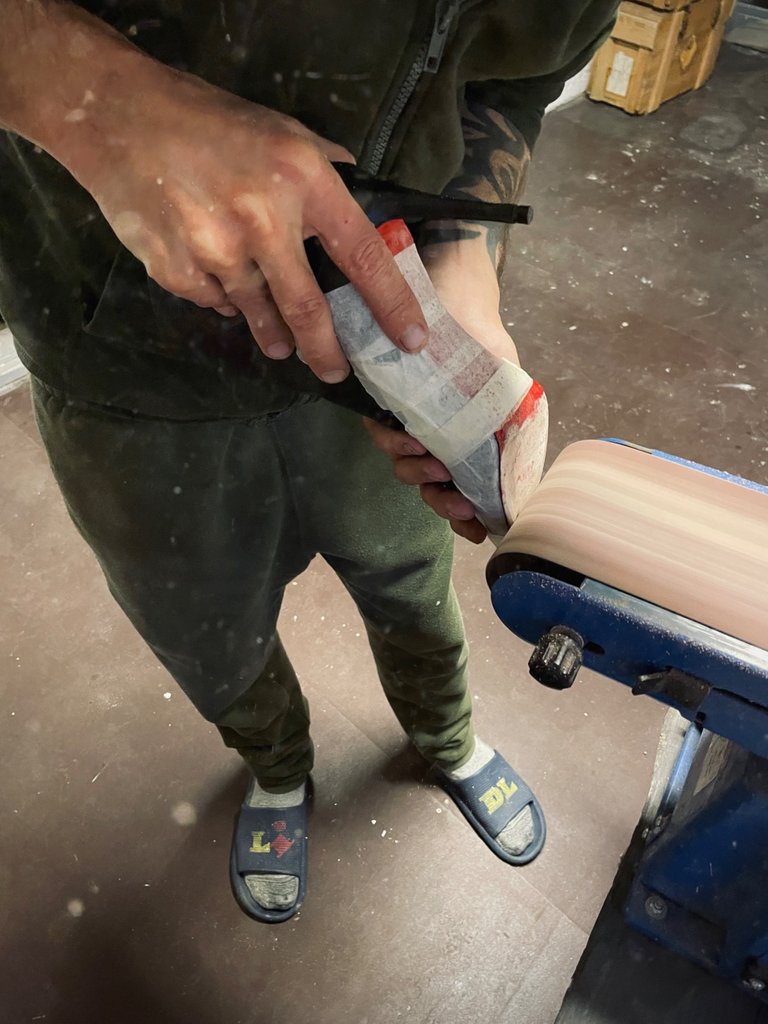 Marvelling the contrast between LIDL sandals and my Louboutins.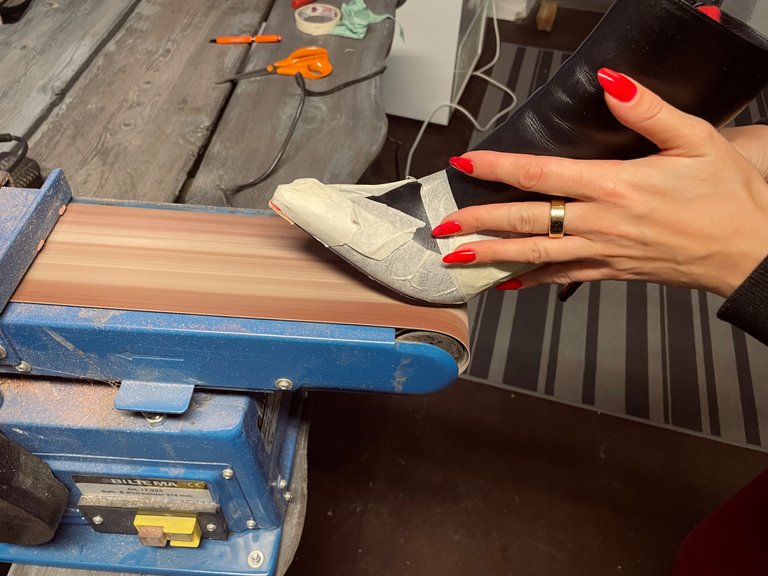 We took turns sanding and finessing the sole to get rid of the old lacquer and gently thin out and even the leather. I took a bit more off on the seam with the edge of the sander so the rubber would sit flush and the edge wouldn't catch on anything.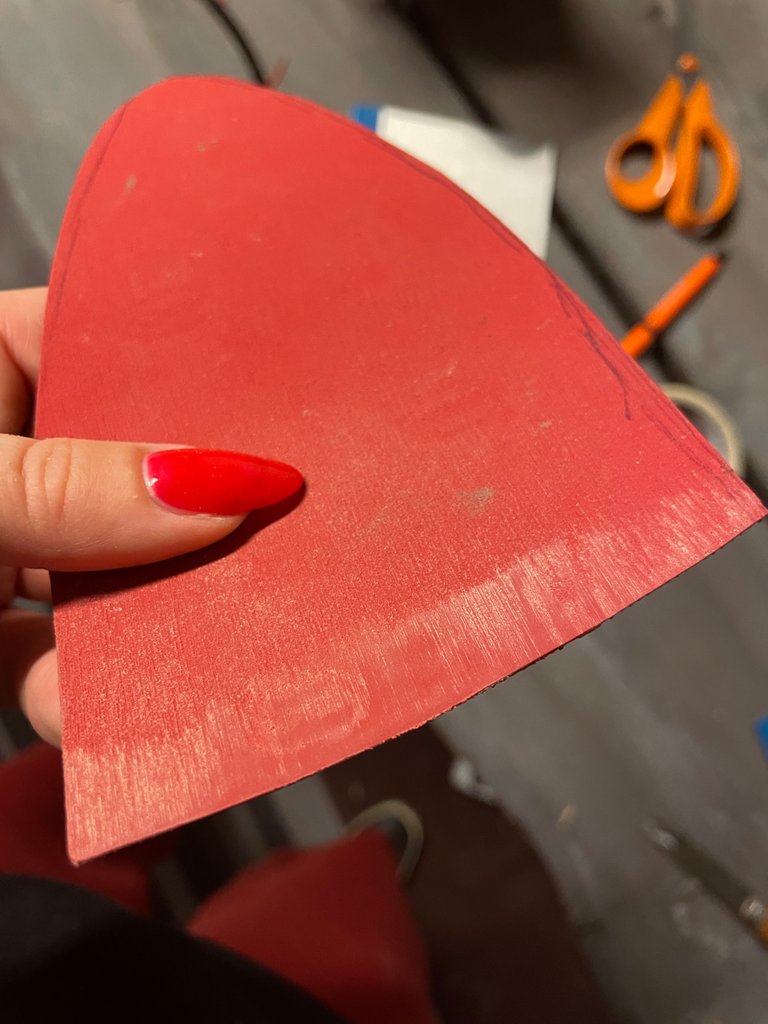 I cut up rough oversize pieces of the rubber and also sanded the edge off a little bit.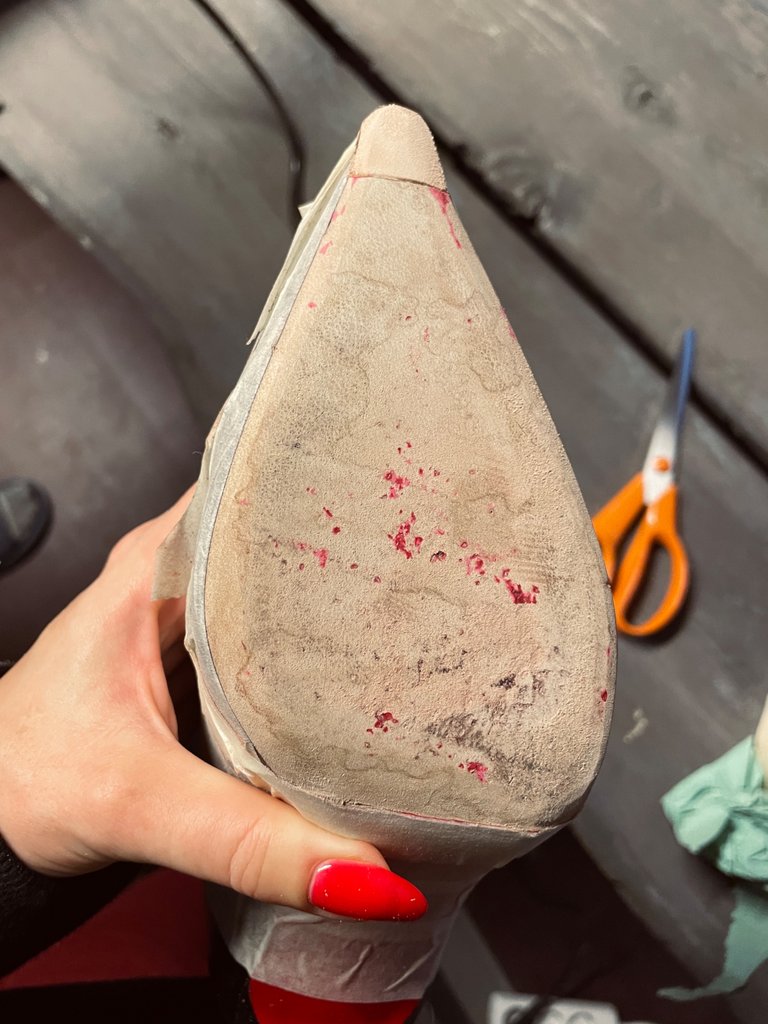 Here's one of the soles sanded and ready to be cleaned. There is a bit of red and small dents from gravel but we didn't want to take out too much of the leather and compromise the integrity of the construction.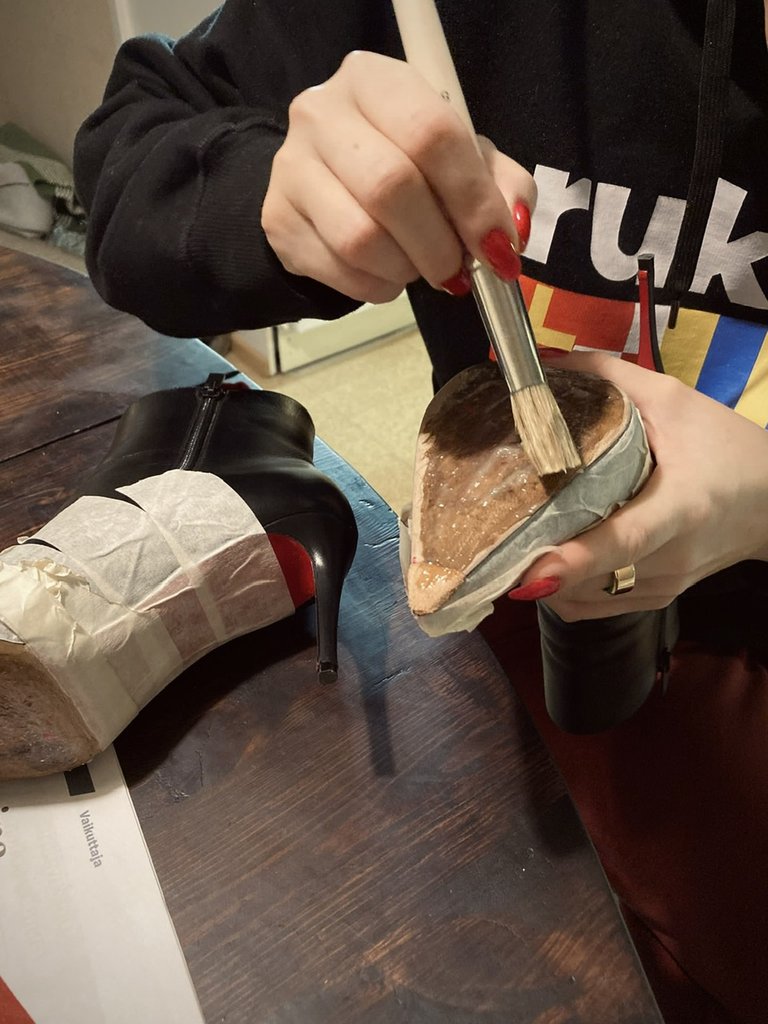 I cleaned the soles with alcohol and then it was time to glue in the rubber. We applied contact adhesive to both the soles of the shoes and rubber pieces. We let them dry for a bit and then heated up the rubber with a hairdryer so it would be more pliable.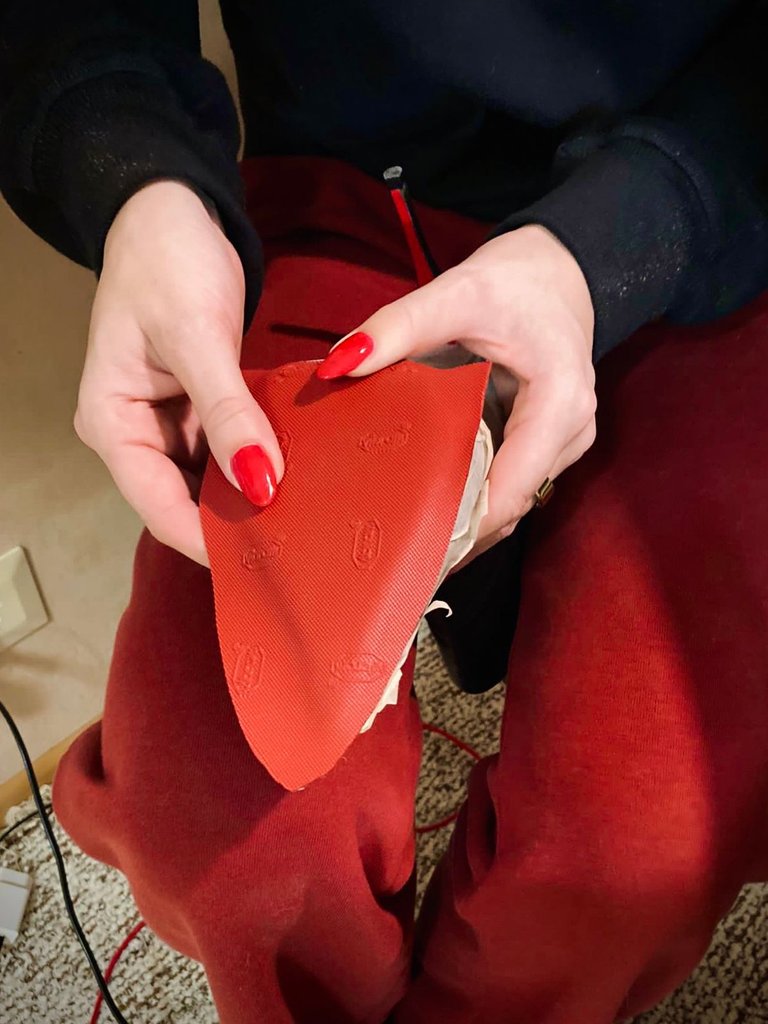 I did the glueing because then it would be on me if I ruined my own shoes by getting this part wrong. Hindsight, I should have taken off the tape from the bottom so I could have seen the edge better because I ended up glueing the other one a millimetre off, showing clean leather that I then had to paint over with nailpolish. Not a big deal but it's something I can do better next time.
We then spend a while really pushing the soles in hard and rubbing the edges to make sure there is really good contact. I also walked around in these for a bit.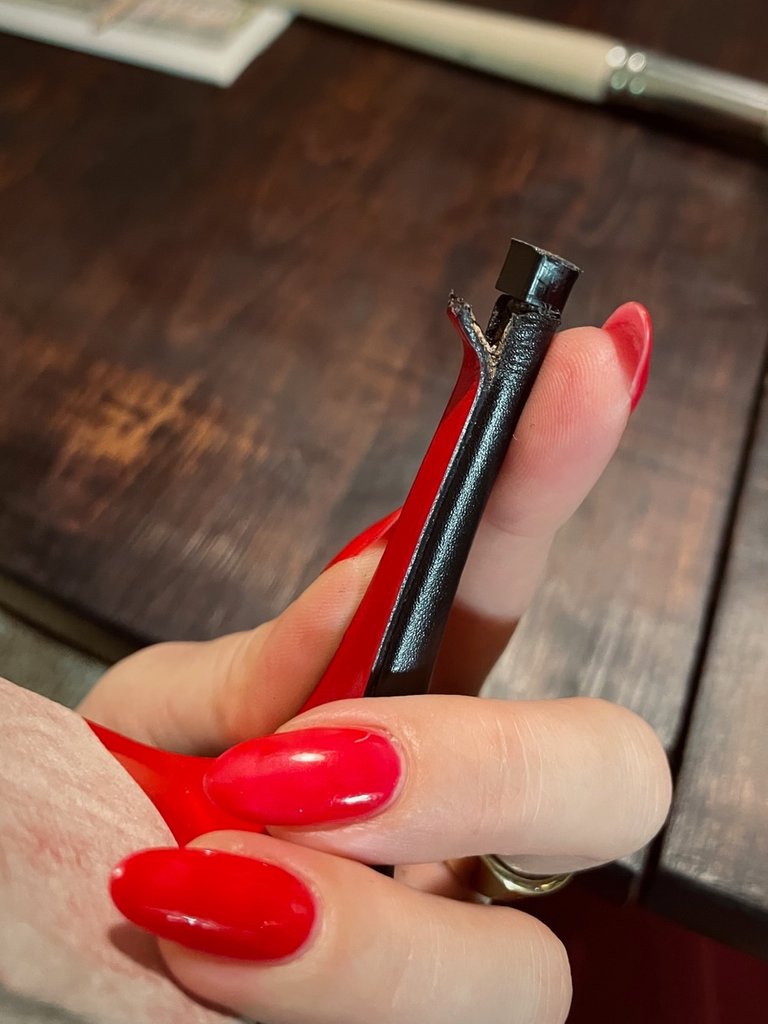 The contact adhesive stays put really well fast even though it's still curing for maybe a day or so. This allowed us to keep on working on the shoes without much waiting. While I was at it, I also glued the leather on the heel where it had lifted off.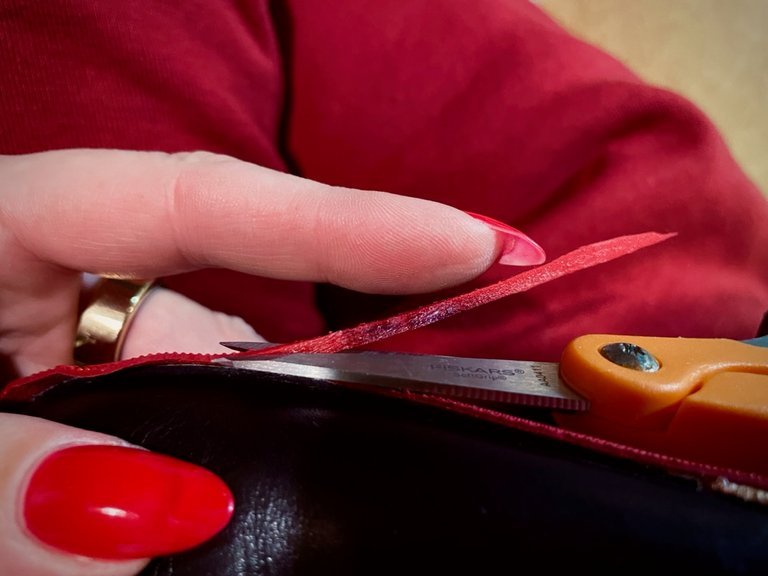 When I felt like the glue had adhered pretty well already, I cut off the overhanging edge of the rubber as closely as I could. At this point the shoes were starting to look pretty good already.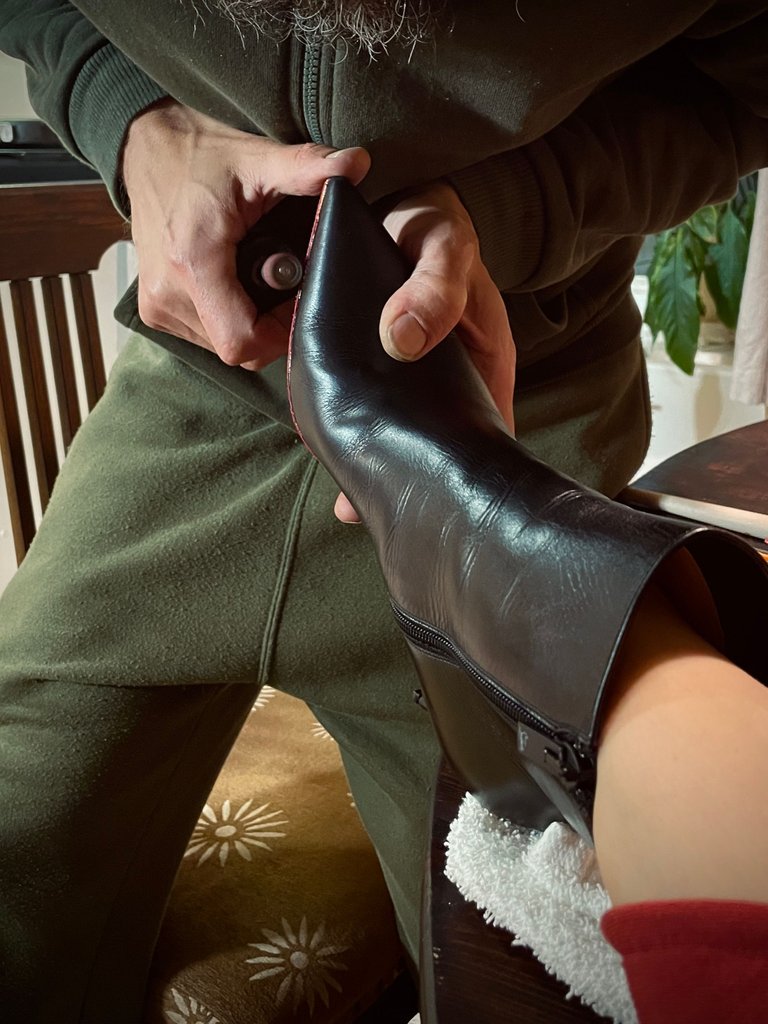 I graciously let the man do all the finishing touches because he's better with things like this. He used a Dremel and a couple different files to really finesse the edges and smooth away any roughness. Then when he was happy with that he painted the edges black to blend in with the original sole.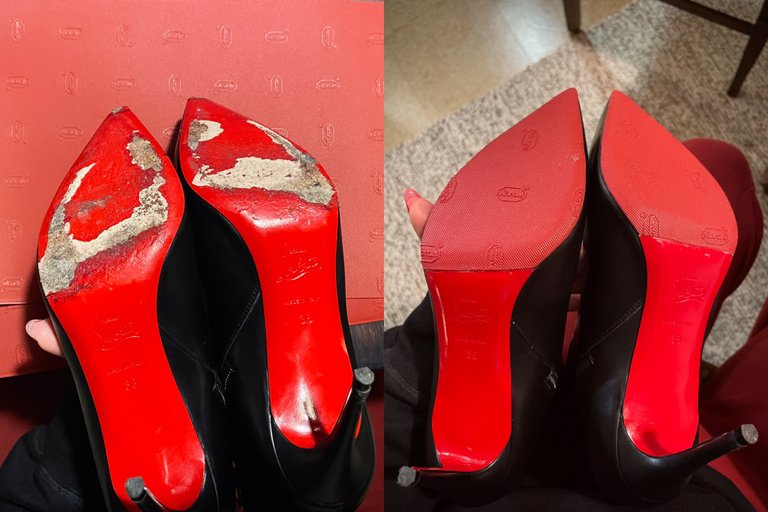 And we are done, here is the before and after!
I'm so proud of us and I can't wait for the next time we go to the city and I can stomp around comfortably in the newly repaired pair. I spend 50 Euros on these materials but of course have leftovers for maybe three pairs more, it would have cost about the same amount or maybe a bit more because the toes needed work too, for a cobbler to do the repair, but we are DIY people.
Time will tell if we did a great job but I believe we did and I'm pretty sure we are going to do this again after I manage to get my hands on the red Casali mirror soles so we can put them on my fancier pairs of Louboutin pumps. I can now also buy some worn out secondhand designer heels on the cheap and we can repair them ourselves if the uppers are in nice condition. Hurrah!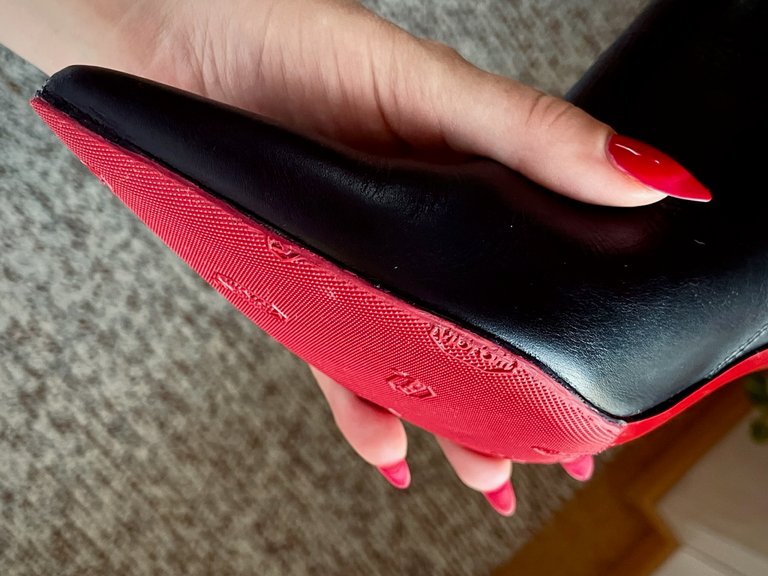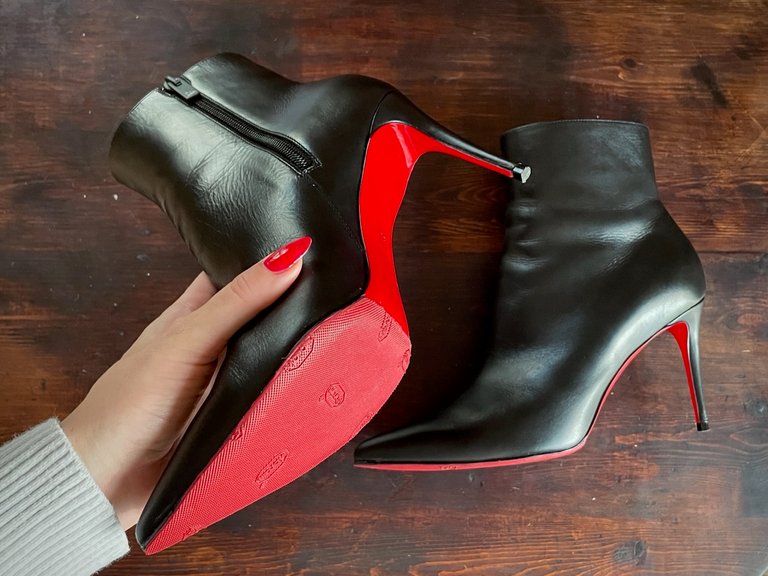 What do you think of our handiwork?
---
---