Cinnabar moth before and after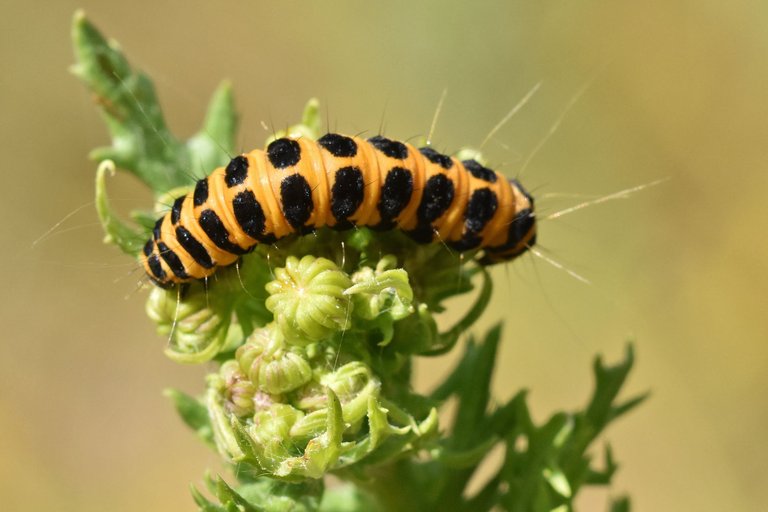 The first thing you see are naked plant stems. From a distance it looks like a dead zone with the sticks and hardly any leaves on them.
You get close and and you are surrounded by hundreds of hungry, orange monsters. They don't care it's hot. They need to eat.
Everything.
Top to bottom.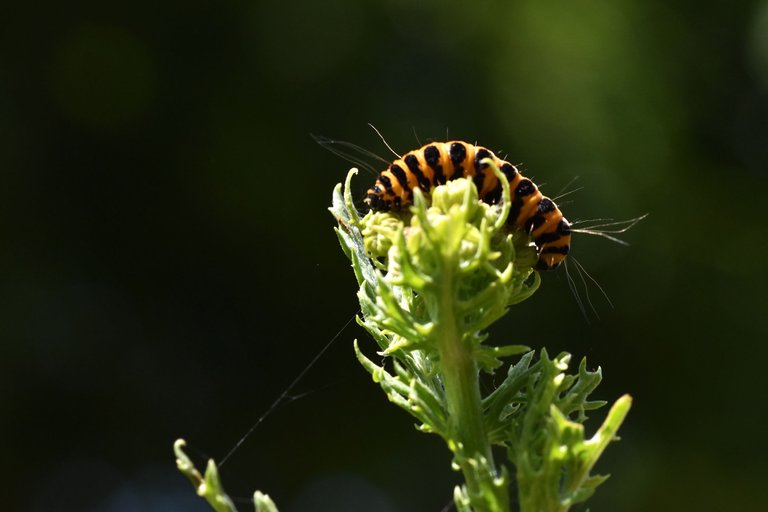 I couldn't identify the plants they feed on myself. They were completely butchered and I didn't even know what to look for. But Google is smart and Google says they feed on ragwort so bee it :).
Their pretty yellow-orange stripes are a warning sign (as many bright colours in nature) for birdies not to eat them. As they eat the plant they also consume a toxic substance that later will also stay in the body of the moth. You can read more about them Wikipedia.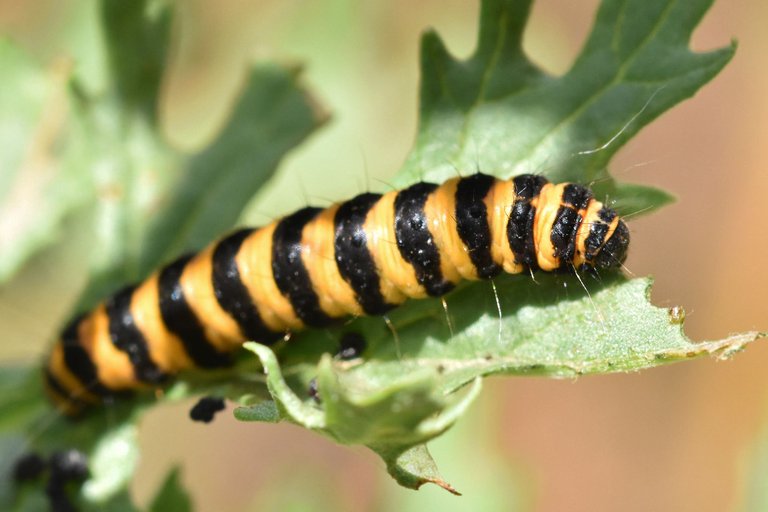 And as they devour leaf after leaf and the plant is slowly killed, they grow...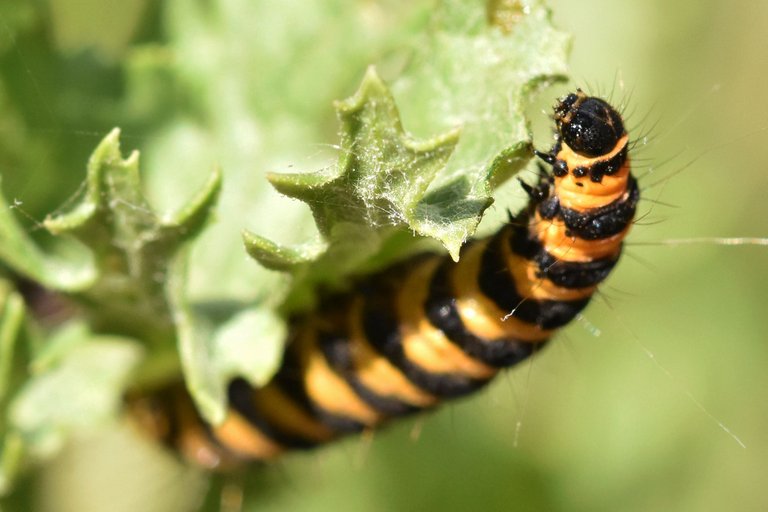 ... to turn to this pretty thing.
The Cinnabar Moth.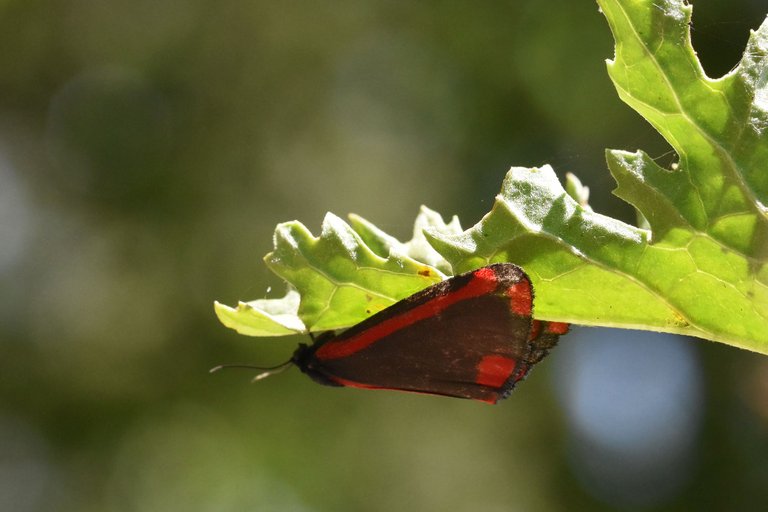 And this is also something I had to learn only after I came back home and started to check what in a world I photographed. I had no idea that the caterpillars and the moth that I found some meters away on a different plant and hiding from the sun are basically the same.
The black part stayed, but the yellow turned to amazing, intensive red.
And I generally do no like moths or butterflies (except two: Skippers and Hummingbird hawk-moth), but they do look great on photos and I do admire them this way.
There is so many different types around and often moths have much prettier patterns on their wings than butterflies that one can get easily confused. Something simple I learned a while ago when I tried to ID another moth I got is to watch how they fold their wings: moths fold them flat. Butterflies fold them vertically.
Tadaa!
You're welcome :)
Of course there is many more differences, but this seems the easiest.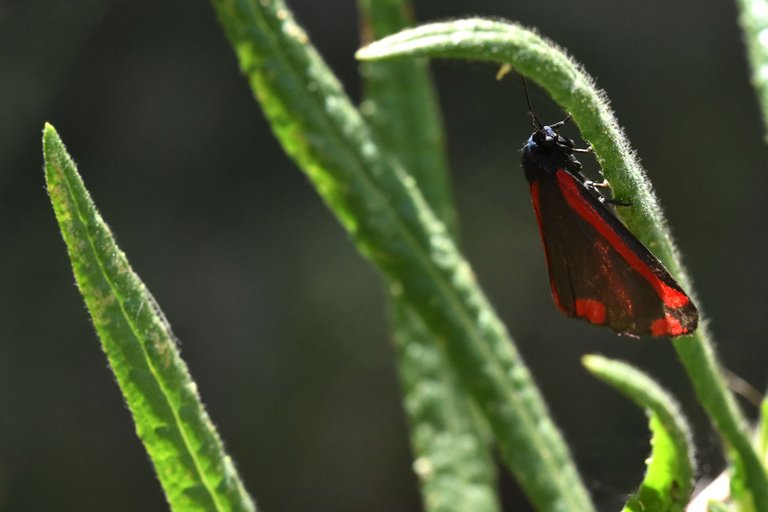 Look at that underside.
Like a cloak of an evil magician.
Really nice!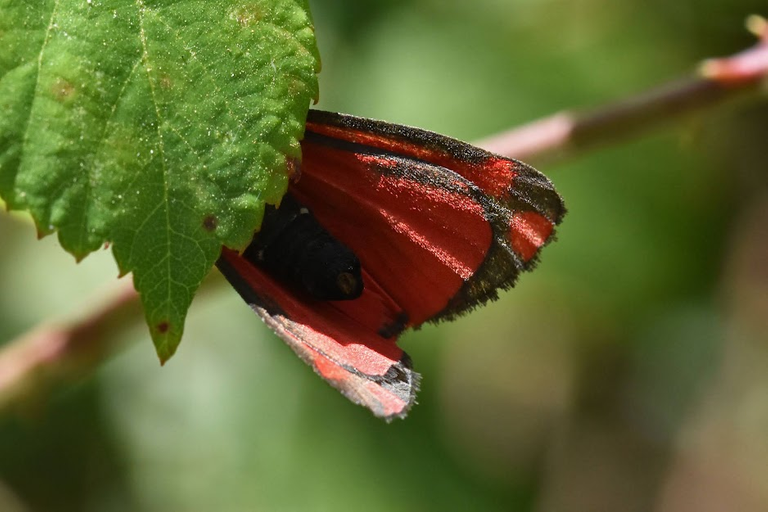 »«
Shot with Nikon D5500 + Sigma 105mm lens
All photos and text are my own.

---
---