👜Linda Cartera de tela a rayas. 👜 Nice striped fabric bag.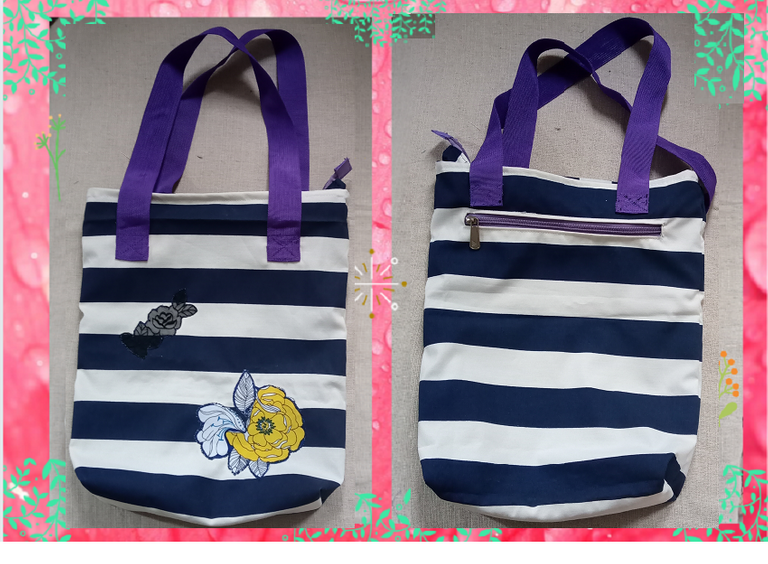 Hola queridos hivers, creativos de la costura gente de esta bella comunidad como siempre saludandoles esperando esten muy bien saludables y disfrutando cada dia.
Hello dear hivers, creative sewing people from this beautiful community as always greeting you hoping you are very healthy and enjoying every day.
Nuevamente estoy por aqui, aunque estuve ausentes unas semanas por problemas de salud, con alergias, sin poder coser, pero ya estoy mucho mejor Gracias a Dios. Ahora con mucho animos de seguir publicando.
I'm here again, although I was absent for a few weeks due to health problems, allergies, unable to sew, but now I'm much better, Thank God. Now with much encouragement to continue publishing.
En esta oportunidad les voy a enseñar como hice una linda cartera de uso diario, para ocasiones muy casuales, está combinada con muchos colores, pero el resultado es genial.
In this opportunity I am going to show you how I made a beautiful bag for daily use, for very casual occasions, it is combined with many colors, but the result is great.
El forro de esta cartera es de otra cartera que habia reciclado, y como vi que todavia estaba en buenas condiciones, la use, igual que las tiras para el asa.
The lining of this bag is from another bag that I had recycled, and since I saw that it was still in good condition, I used it, as well as the straps for the handle.
Mis materiales:
Tela de gabardina a rayas.
Tela de forro.
Dos cierres.
Tirantes.
Tela con flores.
My materials:
Striped gabardine fabric.
lining fabric
Two closures.
Suspenders.
Fabric with flowers.
Empiezo con las medidas de ancho y largo del tamaño deseado, de ancho 34cm, y largo 40cm, esta tela la corte con las rayas en horizontal.
Dos tiras de largo 38cm y ancho 7cm, en estas va el cierre, con las rayas en vertical.
I start with the width and length measurements of the desired size, width 34cm, and length 40cm, I cut this fabric with the stripes horizontally.
Two strips of length 38cm and width 7cm, in these goes the closure, with vertical stripes.
Ya cortado este rectangulo, ubico para pegar el cierre en la parte de atras, desde arriba dejando 6cm y de los lados, igual 6cm, donde quedara el cierre.
Coloco la tela de forro en la parte de atras pero enfrentado los derecho de la tela y marco las medidas para la abertura haciendo un rectangulo, luego de coser corto y volteo la tela, y coloco el cierre.
Once this rectangle has been cut, I place it to glue the closure on the back, from the top leaving 6cm and from the sides, equal 6cm, where the closure will remain.
I place the lining fabric on the back but facing the right sides of the fabric and mark the measurements for the opening making a rectangle, after sewing short and turning the fabric over, and I place the zipper.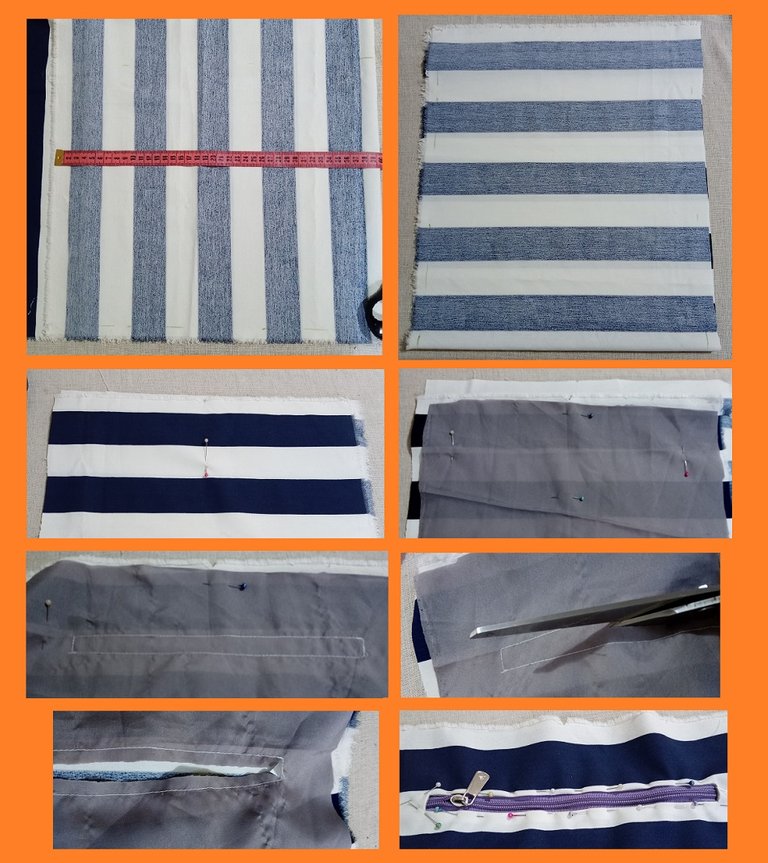 Despues de pegar el cierre, paso la costura alrededor del forro que va formar parte del bolsillo que estara por dentro.
After gluing the closure, I pass the seam around the lining that will be part of the pocket that will be inside.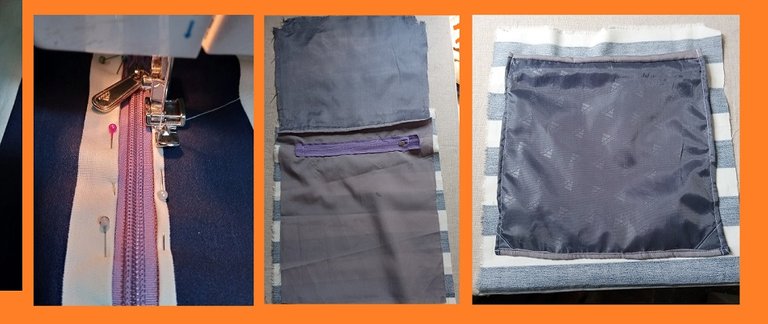 La tela estampada saque una flor y le pegue por debajo la tela de pelon con pega, que se coloca en las telas cuando se hace cuellos y puños de camisa, con el fin de darle mas firmeza a esta aplicación, este se coloca con la plancha ya que contiene pega.
Take a flower out of the printed fabric and glue the hairline fabric underneath, which is placed on the fabrics when making shirt collars and cuffs, in order to give this application more firmness, it is placed with the iron as it contains glue.
Saco a la medida la figura de la flor y la coloco en la parte del frente de la cartera, prensadola con alfileres, luego voy cosiendo en la maquina con el zig-zag, muy pegadito, por todo el borde.
I take out the figure of the flower to measure and place it on the front of the bag, pressing it with pins, then I sew on the machine with the zig-zag, very close, all around the edge.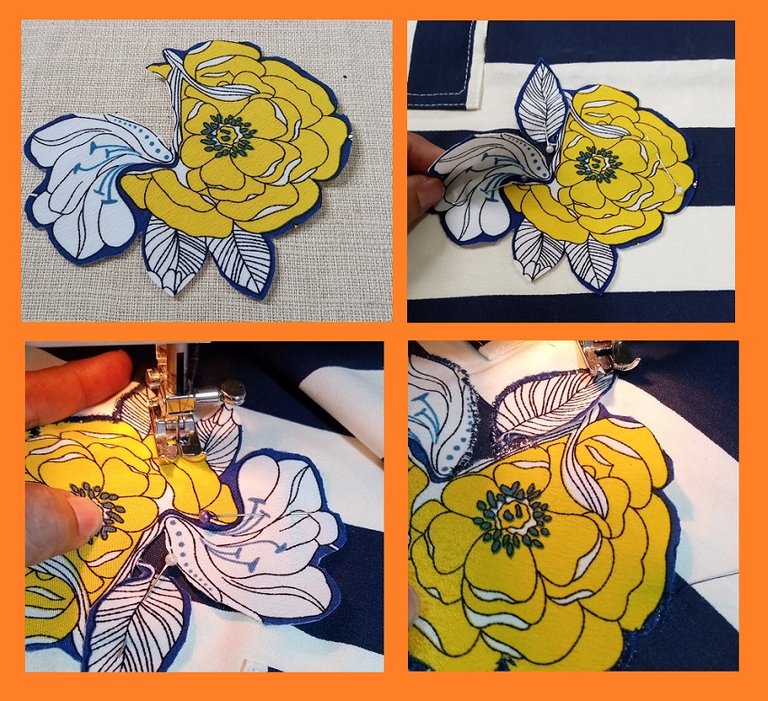 Ahora ubico bien los tirantes o asas, y los coso en cada lado, del frente y atras de la cartera. Esto lo hago antes de cerrar la cartera.
Now I place the straps or handles well, and sew them on each side, front and back of the bag. I do this before closing the wallet.

Una vez teniendo esta parte lista, procedo a pegar el cierre y luego termino de cerrar todo la cartera.
Cosiendo por separado el forro y la tela de rayas.
En la parte inferior le hago una costura en cada esquina que es la base de la cartera.
Cuando coloco el cierre, junto con la tela de forro y dejo una abertura para poder voltear la cartera.
Once I have this part ready, I proceed to glue the closure and then I finish closing the entire bag.
Separately sewing the lining and the striped fabric.
At the bottom I make a seam in each corner that is the base of the bag.
When I place the closure, along with the lining fabric and leave an opening to be able to turn the bag.
En la parte del cierre le hago una sobre costura que quedara como un doblez en la parte superior de la cartera.
In the part of the closure I make an overseam that will be like a fold at the top of the bag.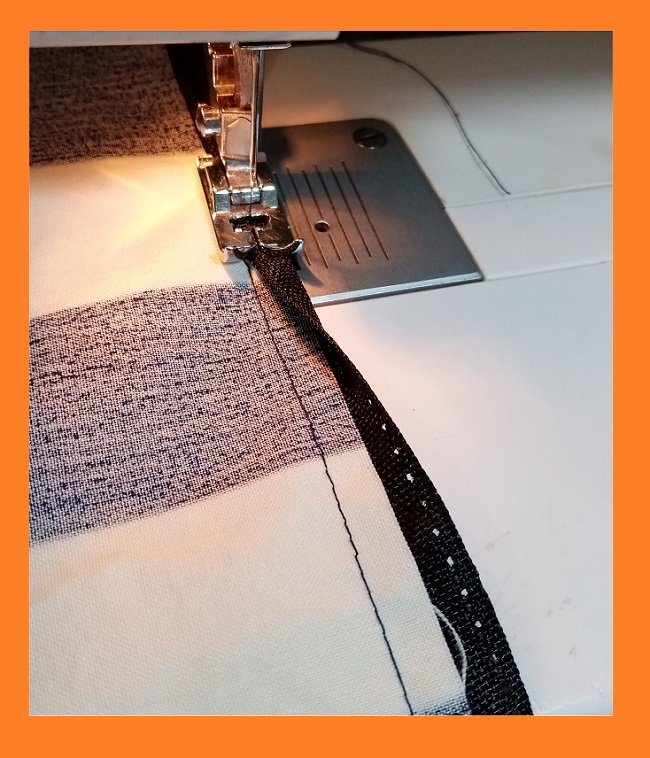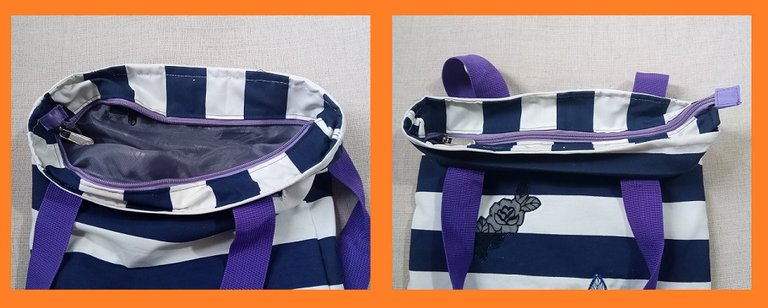 Y asi [email protected] quedó terminada esta bella cartera a rayas con asas de color morado. Aqui los colores no importan, ya que hoy en dia hay muchos diseños y variedad de gustos, pero me gusto el resultado.
And so, friends, this beautiful striped bag with purple handles was finished. Here the colors do not matter, since today there are many designs and a variety of tastes, but I liked the result.
Espero les haya gustado este diseño; hasta la proxima publicación, chau!
I hope you liked this design; Until the next post, bye!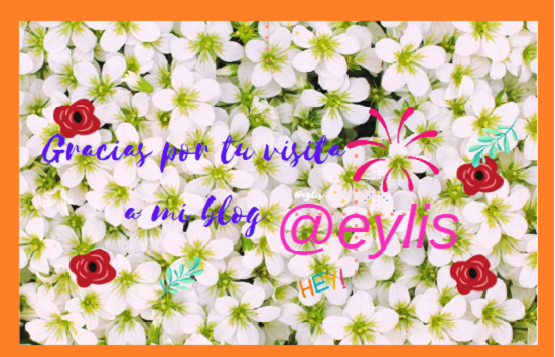 Las fotos son de mi autoria, con mi celular Tecno Spark go.
Traductor deepl.
Diseño canva.
The photos are my own, with my Tecno Spark go cell phone.
Translator deepl.
Canva design.
---
---