Ambulance (Review) - Exploits, intrigue and action at every minute [EN/ES]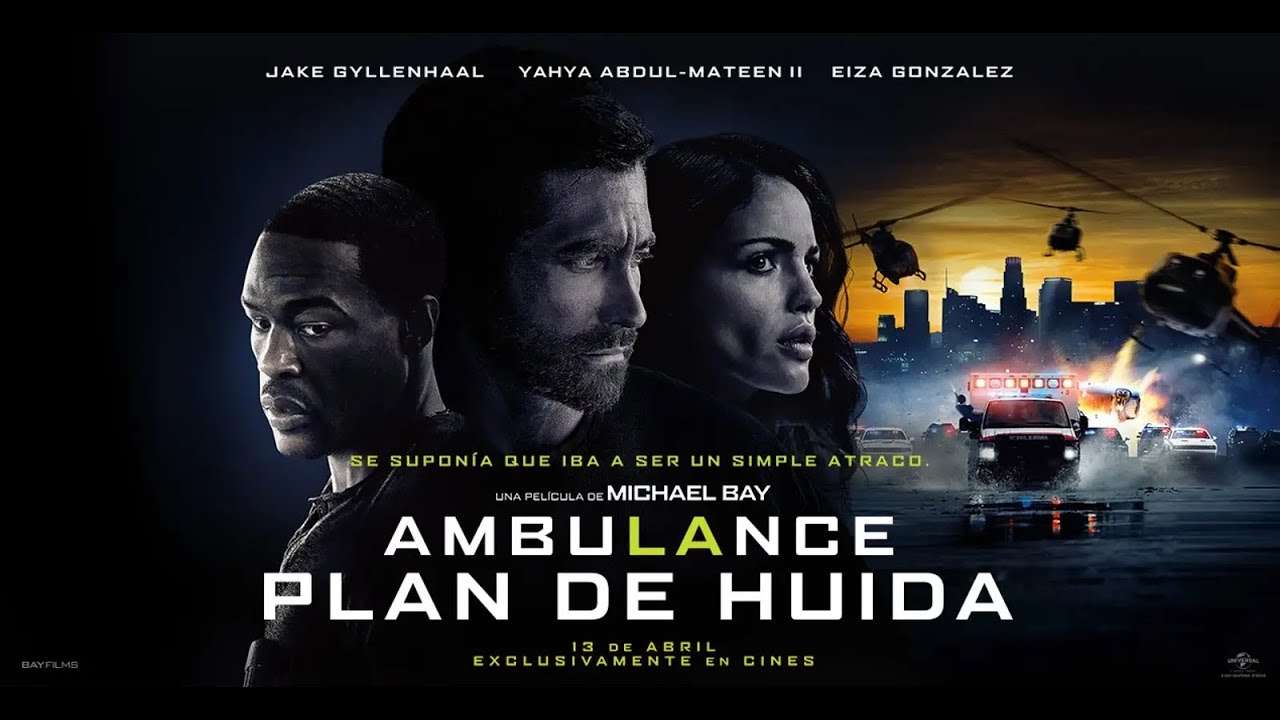 Source
---
Have you ever wondered if it would happen in real life what happens in GTA? That is, in terms of impressive robberies, such as for example the bank robbery mission, where a big robbery with a big loot is planned. Since I play GTA I have always thought if something like that can happen in real life and although it has happened and in fact in those real events is what these games are inspired by. But one movie heist that closely resembles those in GTA even in terms of the masks they put on is the Michael Bay movie Ambulance. A movie they practically lifted from GTA haha, since as I mentioned all the mechanics are identical.
And although lately I was watching movies that weren't only about extreme and glorified violence, since I was focusing on indie, romantic or anime movies. But yesterday as it was Sunday and after tidying up the whole house with my wife in the monthly cleanings. I wanted to watch one of these Hollywood action movies, where the only thing you see is shooting and killing at every scene. And the best recommendation I got was Michael bay's Ambulance, an epic movie released earlier this year that is not just your typical heist and shootout movie, but also involves more like loyalty and family emotions.
¿Te has preguntado alguna vez si pasara en la vida real lo que ocurre en el GTA? Es decir, en cuanto a los robos impresionantes, como por ejemplo la misión de robo al banco, donde se planifica un gran robo con un gran botín. Desde que juego GTA siempre he pensado si algo así puede ocurrir en la vida real y aunque si ha pasado y de hecho en esos sucesos reales es que se inspiran estos juegos. Pero un robo de una película que se asemeja mucho a los de GTA incluso en cuanto a las máscaras que se ponen es el de la película de Michael Bay Ambulance. Una película que prácticamente sacaron del GTA jaja, ya que como mencione todas las mecánicas son idénticas.
Y aunque últimamente estaba viendo películas que no fueran únicamente de violencia extrema y glorificada, ya que estaba enfocándome en películas indie, románticas o anime. Pero el día de ayer como era domingo y luego de haber ordenado toda la casa con mi esposa en las limpiezas mensuales. Quise ver una de estas películas de acción de Hollywood, donde lo único que se ve son disparos y muertes a cada escena. Y la mejor recomendación que conseguí fue la de Michael bay Ambulance, una película épica lanzada en este mismo año que no solo es la típica película de robos y disparos, tambien se ve envuelto más como la lealtad y las emociones familiares.
---
The movie starts with Will Sharp (Yahya Abdul-Mateen II) who is in deep trouble, he, although he is a Marine who has gained a purple heart, cannot help his wife with an experimental medical treatment, as she is suffering from a rare type of cancer and since it is experimental it is not covered by military insurance. So Will must raise $230K so his wife can get better. And since he can't get a bank loan, he turns to his brother Danny Sharp (Jake Gyllenhaal) to borrow money, but since Danny is a criminal the only thing he can offer his brother is a job they are about to do with his gang.
A robbery of the federal bank of Los Angeles, where the loot is $32 million and promises to give him more than enough money for the treatment of his wife, Will hesitates a lot as he does not want to get involved in that kind of work, but after much thought decides to take a rifle and go with the gang to rob the federal bank. Everything goes very well, they manage to enter the bank and subdue all the staff, but everything starts to go wrong when a rookie cop enters the plot, as he wants to conquer a bank employee so he enters just when Danny's bank is robbing which makes them change the plans when the cops realize that they are robbing the bank, so now 6 men must face all the police of the angels, as well as special forces.
La película comienza con Will Sharp (Yahya Abdul-Mateen II) que está metido en un grave problema, él, aunque es un Marine que ha ganado un corazón purpura, no puede ayudar a su esposa con un tratamiento médico experimental, ya que sufre un extraño tipo de cáncer y como es experimental no lo cubre el seguro militar. Por lo que Will debe reunir$230K para que su esposa pueda ponerse mejor. Y como no consigue un préstamo bancario, recurre a su hermano Danny Sharp (Jake Gyllenhaal) para pedirle dinero prestado, pero como Danny es un criminal lo único que puede ofrecerle a su hermano es un trabajo que están a punto de hacer con su banda.
Un atraco al banco federal de los ángeles, donde el botín es de $32 millones y le promete darle más que el dinero suficiente para el tratamiento de su esposa, Will duda mucho ya que no quiere involucrarse en esa clase de trabajos, pero después de tanto pensarlo decide tomar un rifle e ir con la banda a asaltar el banco federal. Toda marcha muy bien, logran entrar al banco y someter a todo el personal, pero todo empieza a salir mal cuando un policía novato entra en la trama, ya que quiere conquistar a una empleada del banco así que entra justo cuando la banca de Danny está asaltando lo cual hace que cambien los planes cuando los policías se dan cuenta de que están asaltando el banco, así que ahora 6 hombres deben enfrentarse a toda la policía de los ángeles, así como a las fuerzas especiales.
At the same time this happens also comes on the scene the other protagonist, a paramedic named Cam (Eiza Gonzalez) who has an impeccable career trying to help people while they get to the hospital, and while on a break talking to his ambulance partner, they hear some shots and hear on the radio that someone is calling for help, so they get into the ambulance and go to the federal bank. Suddenly they are surrounded and one by one the members of Danny's gang die, leaving only him and his brother Will, so they decide to hijack an ambulance to get out of the bank, but will they manage to get rid of the police? what other challenges will they face on the way? if you want to know more I invite you to see this excellent film by Michael Bay, which has impeccable performances.
Al mismo tiempo que pasa esto tambien sale en escena la otra protagonista, una paramédico llamada Cam (Eiza González) que tiene una carrera impecable tratando de ayudar a personas mientras llegan al hospital, y mientras en un descanso habla con su compañero de ambulancia, escuchan unos disparos y oyen por la radio que alguien pide ayuda, así que se suben a la ambulancia y van hasta el banco federal. De pronto se ven rodeados y uno a uno los miembros de la banda de Danny mueren, quedando únicamente el con su hermano Will, así que deciden secuestrar una ambulancia para poder salir del banco, ¿pero lograran librarse de la policía? que otros retos enfrentaran en el camino? si quieres saber más te invito a ver esta excelente película de Michael Bay, que cuenta con unas actuaciones impecables.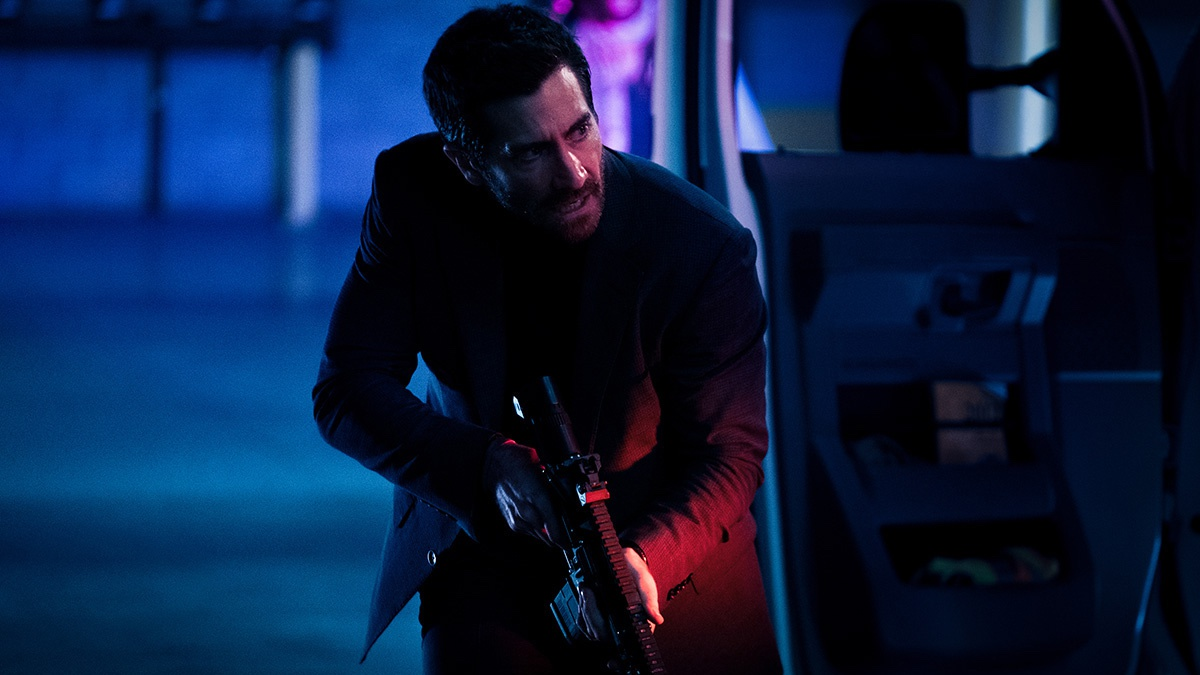 ---
But maybe when you read this you will say. "oh what another heist movie gone wrong ". But no this movie really plays with your mind, it is an epic chase through the streets of Los Angeles, plus in the ambulance they have a wounded man and besides running away from the police they have to try to save the wounded man, so every minute everything gets more complicated, but what I like most about Ambulance, are the plot twists, they are quite acceptable and merge very well with the plot. Of course it is easy to believe that a man who is ex-military with money problems and a medical emergency has to resort to crime, but that is something common even in our country, where military or police are now criminals or plans as they are called in Venezuela, and in Mexico we also see some of that.
Now if we talk about the performances of the characters, I can say that I was very surprised, for example, Jake Gyllenhaal does excellent as Danny Sharp, a man with a business of trafficking and robberies that he must maintain, to which everything is going well, but he also has money problems and has the police investigating him. Danny acts quite well, as a crazy psychotic bank robber who doesn't mind leaving his own family behind to save his own skin or even kill his way out of trouble. It reminded me a lot of the performance this actor had in Nightcrawler, it's very similar only in Ambulance he has a rifle and wants a lot of money.
Pero tal vez al leer esto dirás. "oh vaya otra película de atracos que salen mal". Pero no está película realmente juega con tu mente, es una persecución épica por las calles de los ángeles, además que en la ambulancia tienen a un herido y además de huir a toda marcha de la policía tienen que tratar de salvar al herido, así que a cada minuto todo se complica aún más, pero lo que más me gusta de Ambulance, son los giros argumentales que hace, son bastante aceptables y se fusionan muy bien con la trama. Claro resulta fácil de creer que un hombre que es exmilitar con problemas de dinero y una emergencia médica tenga que recurrir al crimen, pero eso es algo habitual incluso en nuestro país, donde militares o policías son ahora criminales o planes como se les llama en Venezuela, y en México tambien vemos algo de eso.
Ahora si hablamos de las actuaciones de los personajes, puedo decir que me sorprendieron mucho, por ejemplo, Jake Gyllenhaal lo hace excelente como Danny Sharp, un hombre con un negocio de tráfico y robos que debe mantener, al que todo le va bien, pero tambien tiene problemas de dinero y tiene a la policía investigándolo. Danny actúa bastante bien, como un loco psicótico ladrón de bancos que no le importa dejar a su propia familia atrás con tal de salvarse el pellejo o tambien de matar por salir de los problemas. me recordó mucho a la actuación que este actor tuvo en Nightcrawler, es algo muy similar solo que en Ambulance tiene un rifle y quiere mucho dinero.
---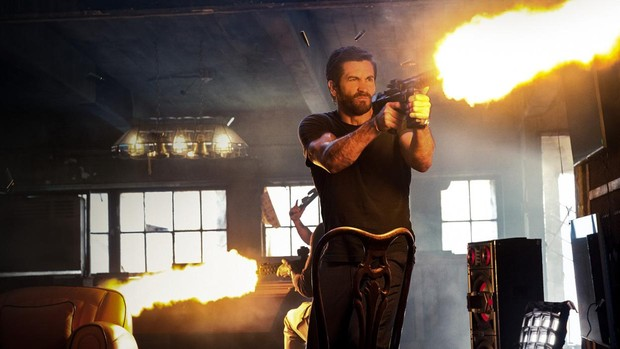 source
---
Eiza Gonzalez also did quite well, I think it is a pretty good diversification of this actress, for example it is very similar to her role in the film Cut Throat City, where she also plays a serious and intriguing role, in this movie Ambulance Eiza plays with strong emotions, for example she has witnessed hundreds of accidents where she has to assist people, but she never gets involved, but being in an ambulance with two criminals and an injured person that she must save at all costs makes her get too involved with what she fears, developing feelings for someone who possibly dies.
Yahya Abdul-Mateen II is an actor I knew little about, only that he is the villain of Aquaman, Black Manta and that he has participated as Morpheus in the new Matrix. But his performance here is very convincing, a man desperate for his wife and young son, he looks for an easy way out and when everything gets complicated he doesn't go crazy like his brother Danny, but rather takes the reins and tries to make amends, in fact, he doesn't kill any cop, although he has the opportunity to do so. And he always wants to try not to leave anyone behind.
Eiza González tambien lo hizo bastante bien, creo que es una diversificación bastante buena de esta actriz, por ejemplo es muy parecido a su papel en la cinta Cut Throat City, donde tambien hace un papel serio e intrigante, en esta película Ambulance Eiza juega con las emociones fuertes, por ejemplo ella ha presenciado cientos de accidentes donde tiene que asistir a las personas, pero nunca se involucra, pero el estar en una ambulancia con dos criminales y un herido al que debe salvar a toda costa hace que se involucre demasiado con lo que ella teme, desarrollar sentimientos por alguien que posiblemente muera.
Yahya Abdul-Mateen II un actor del que sabia poco, solamente que es el villano de Aquaman, Manta Negra y que ha participado como Morfeo en la nueva de matrix. Pero su actuación aquí convence mucho, un hombre desesperado por su esposa y su pequeño hijo, busca una salida fácil y cuando todo se complica no se vuelve loco como su hermano Danny, sino que más bien toma las riendas y trata de enmendar errores, de hecho, no mata a ningún policía, aunque tiene la oportunidad de hacerlo. Y siempre quiere tratar de no dejar a nadie detrás.
---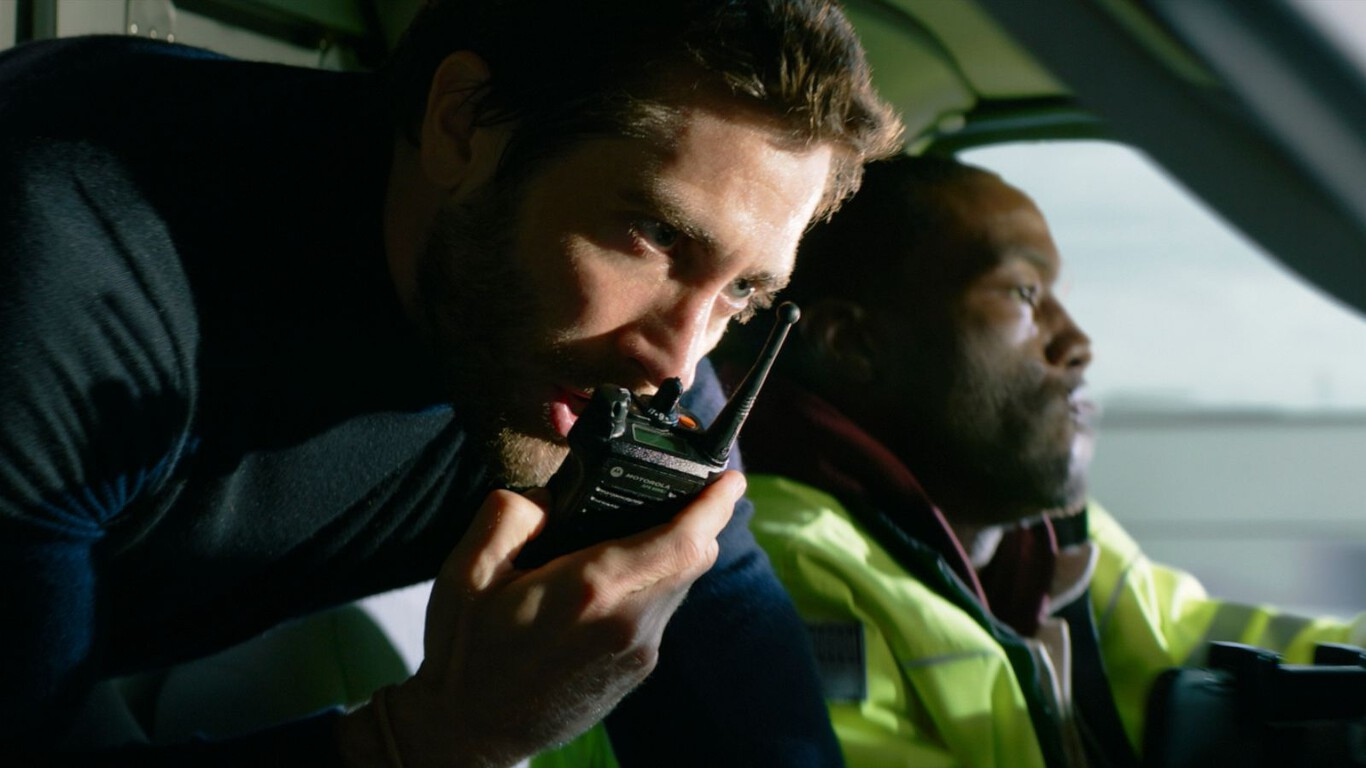 source
---
Now the plot has lots and lots of action, plus the quality and image and effects that are characteristic of Michael Bay are all over the place, it reminds me a lot of the first 3 Transformers movies, which were iconic and the camera effects and explosions are similar. Also, the sentimental emotion of the movie is very reminiscent of the BadBoys movies, Armageddon among others that are also Michael Bay's hits.
In conclusion, there are many reasons why you should see this movie, because besides having a good director behind it, good actors, a gripping plot and excellent plot twists, it has iconic action and explosions haha, and of course if you like GTA and want to see how it would be in real life this is the right movie, so you know the recommendation for the next movie night. If you have already seen it let me know your opinion about it, and if not let me know what you think, thank you very much for reading, see you in a next coaction.
Ahora la trama tiene mucha pero mucha acción, además la calidad e imagen y efectos que son característicos de Michael Bay están por todos lados, me recuerda mucho a las 3 primeras películas de Transformers, que fueron icónicas y los efectos de cámara y explosiones son similares. Además, la emoción sentimental de la película recuerda mucho a las películas de BadBoys, Armagedón entre otras que tambien son éxito de Michael Bay.
En conclusión, son muchas las razones por las cuales debes ver esta película, ya que además de tener a un buen director detrás, buenos actores, una trama atrapante y con giros argumentales excelentes, tiene acción y explosiones icónicas jaja, y claro si te gusta el GTA y quieres ver como seria en la vida real esta es la película indicada, así que ya sabes la recomendación para la próxima noche de películas. Si ya la has visto hazme saber tu opinión sobre ella, y si no usando la veas hazme saber que te parecido, muchas gracias por leer, nos vemos en una próxima coacción.
---

---
---