BOOK REVIEW - Casa de Luxo: Rumah Para Hantu ("House of Ghosts" in English) - Volume 1 👻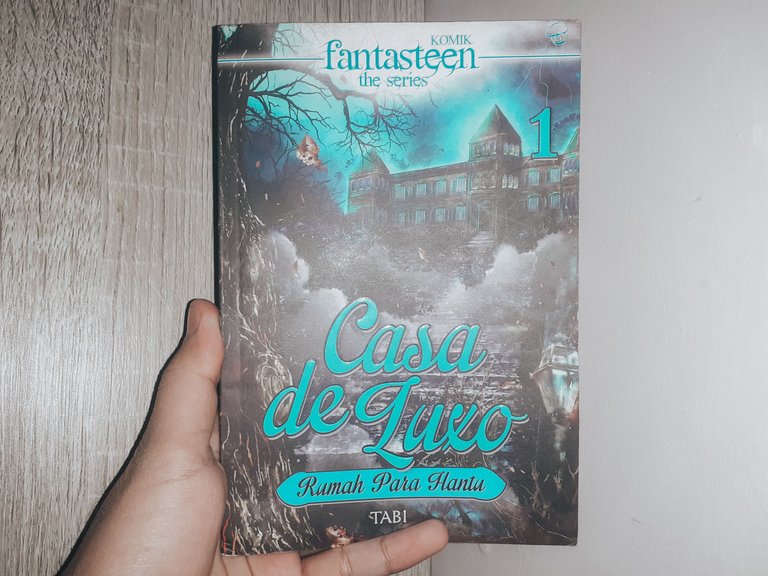 ---
I want to review a book, the book is called "Casa de Luxo: Rumah Para Hantu ("House of Ghosts" in English) - Volume 1". Casa de Luxo: Rumah Para Hantu is a teen fantasy comic series from Indonesia. Even though there are ghosts, the story is friendly, in the sense that the story is not a ghost story with killings or a ghost story with jumping scares (at least from volume 1 that I have read, I conclude that).
I searched on Google Yranslate for the meaning of Casa de Luxo, it turned out that Casa de Luxo is Portuguese, which means luxury house.
---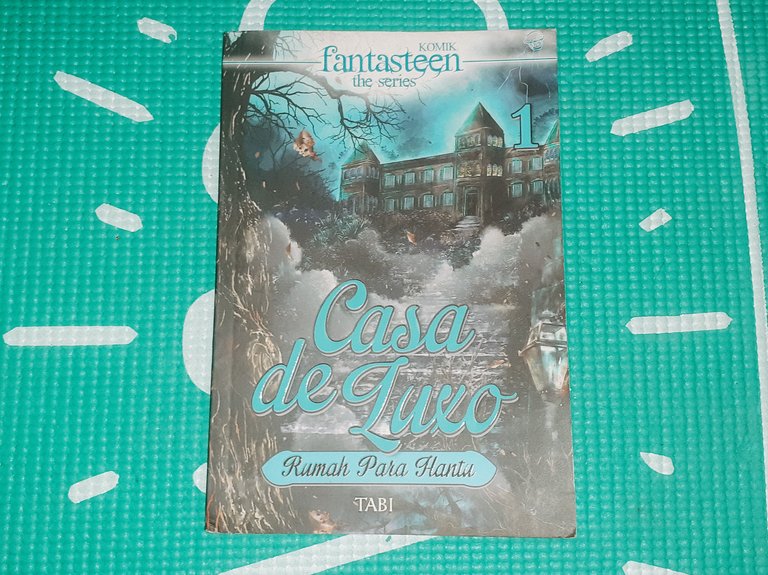 Fantasteen The Series: Casa De Luxo: Rumah Para Hantu - Volume 1
Published by Muffin Graphics (PT Mizan Pustaka)
Story: TABI
Art: TABI
Cover illustration: TABI
Editor: Rony Amdani
Cover and content design: Dens
Proofreader: Syifa
Cover layout and content settings: Abdul & Dens
100 pages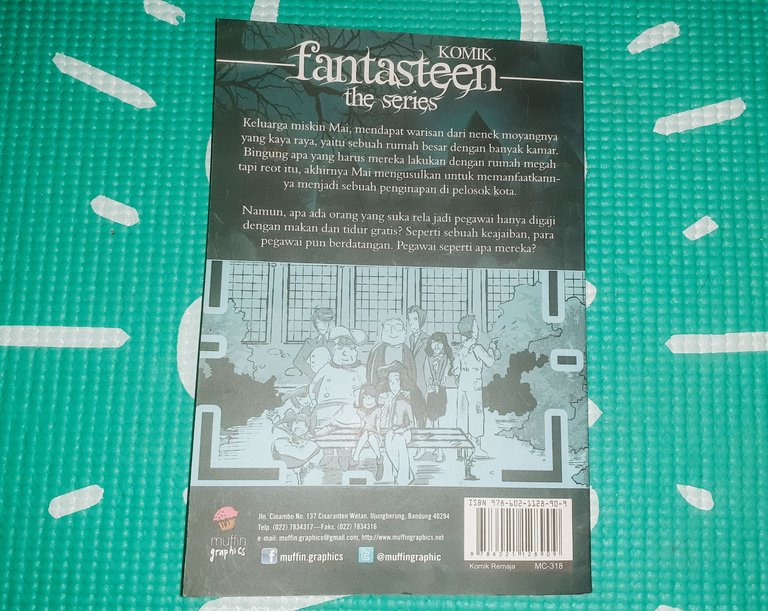 ---
SYNOPSIS:
● Mai's poor family, inherited from their rich ancestors, a large house with many rooms. Confused as to what they should do with the magnificent but shabby house, Mai finally proposes to use it as an inn in a remote part of the city.
However, is there anyone who voluntarily becomes an employee and is only paid with free food and sleep? Like a miracle, the employees arrived. What kind of employees are they? ●
SINOPSIS:
● Keluarga miskin Mai, mendapat warisan dari nenek moyangnya yang kaya raya, yaitu sebuah rumah besar dengan banyak kamar. Bingung apa yang harus mereka lakukan dengan rumah megah tapi reot itu, akhirnya Mai mengusulkan untuk memanfaatkannya menjadi sebuah penginapan di pelosok kota.
Namun, apa ada orang yang suka rela jadi pegawai hanya digaji dengan makan dan tidur gratis? Seperti sebuah keajaiban, para pegawai pun berdatangan. Pegawai seperti apa mereka? ●
---
This volume contains 5 chapters:
• Chapter 01 - Rumah Baru ("New House" in English)
• Chapter 02 - Tenggelam ("Sink" in English)
• Chapter 03 - Keceriaan Bersama ("Fun Together" in English)
• Chapter 04 - Berbagi Kesulitan ("Sharing Difficulties" in English)
• Chapter 05 - Tamu Pertama ("First Guest" in English)
---
In Chapter 01. Mai and her family arrived at a new house, the house is very big and there are many rooms. Finally they decided to make the house as an inn. Finally they have employees. What's interesting, the words in the heart of an old man (who later became a chef at the inn) about Mai when Mai touched him, namely "This child can not only see, but can also touch figure...." From there, I can guess what the old man really is. The name of the inn is Casa de Luxo. Mai and her family took a picture with the employees, the photo turned out to be only Mai and her family, without the employees. You can guess what they (the employees) really are, right?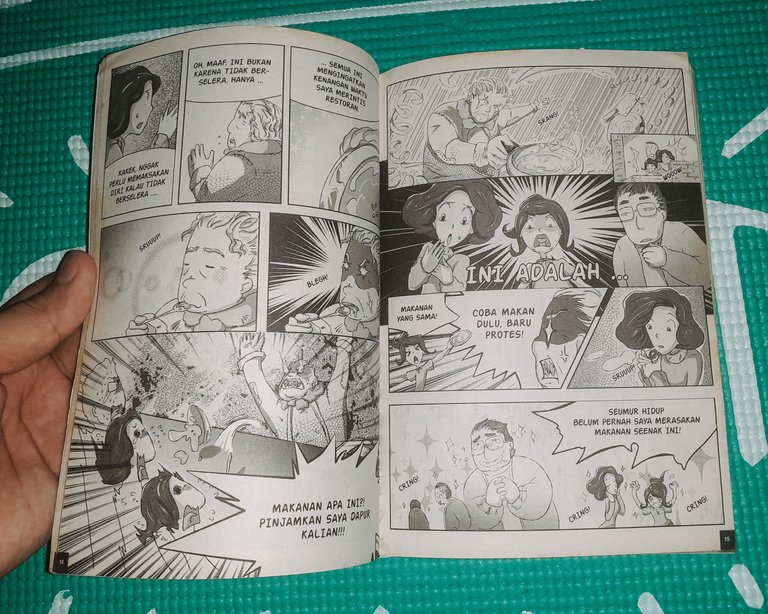 ---
In Chapter 02. It seems that Mai and Erwin (one of the employees) had a relationship in the past, Mai doesn't remember.
---
In Chapter 03. More about the relationship/closeness of the characters. The last sentence of this chapter, "Casa de Luxo, this hotel (inn) will always welcome you, although not all of them actually exist." 👻👻👻
---
In Chapter 04. This chapter focuses on Theo (he seems to be Casa de Luxo's gardener), who is individualistic, he rarely talks. In this chapter, he is having a difficulty, but not sharing that difficulty with others, Mai and the others help him to deal with his difficultiy.
---
In Chapter 05. In this chapter, comes the first guest (a family) of Casa de Luxo.
---
My assessment of the arts:
In my opinion, the arts can't be called good when compared to most Japanese comics (manga).
Another assessment:
I don't like the comic text font a bit.
---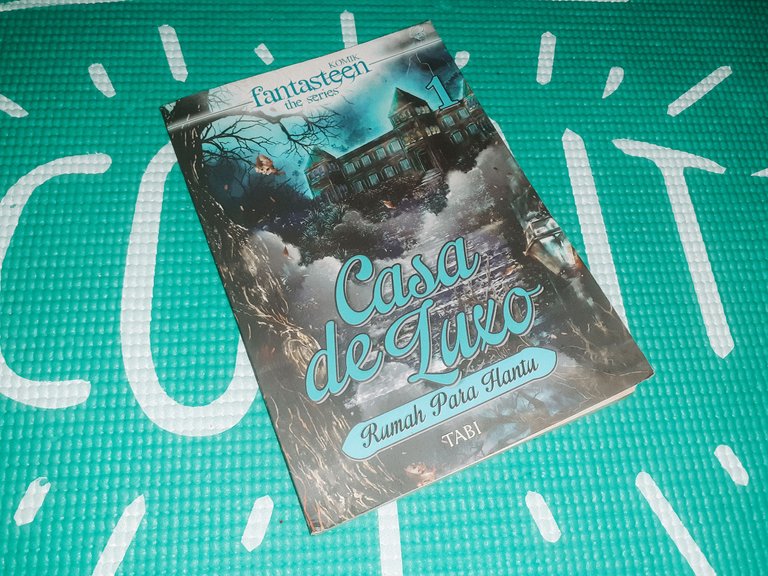 ---
I'll read the next volumes. Things that make me curious: how was Mai and Erwin's relationship in the past?, why do ghosts want to work there (Casa de Luxo)?
---
Thank you for seeing this post. See my other posts too...
---
About the author of this post: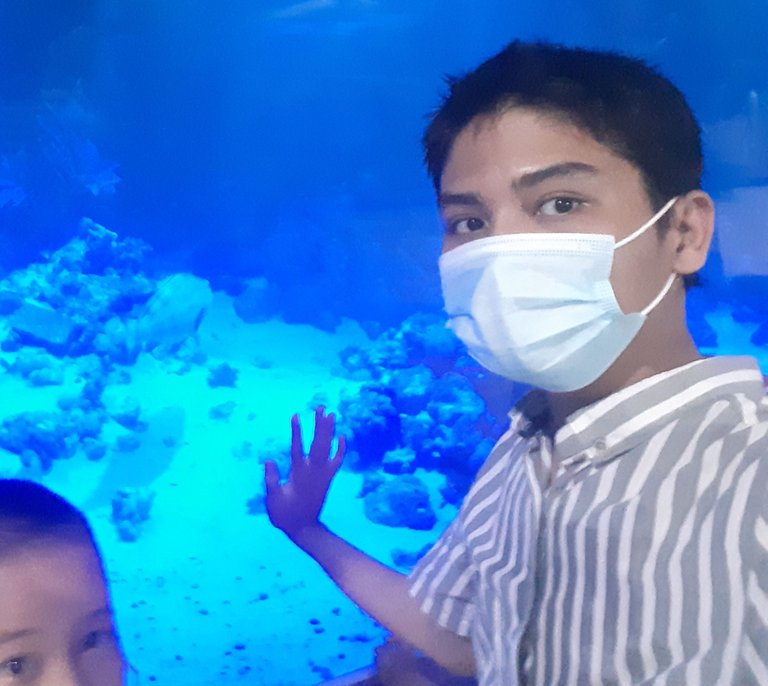 My name is Faisal Hanafi, I live in Medan, Indonesia. I am a student at a college in my city. My hobby is reading books. I have hundreds of books. There are comics, novels, and others. My favorite comics are The Promised Neverland, Detektif Conan, Bleach. I also watch some movies anime. I joined Hive starting from 2021. At Hive, I write about food, books and more. My cooking ability went up because of Hive.
---
---