Book Review: SUKU PENUNGGANG LAYANG-LAYANG ("The Tribe of Kite Riders" in English) by Tere Liye... A Very Big Book
---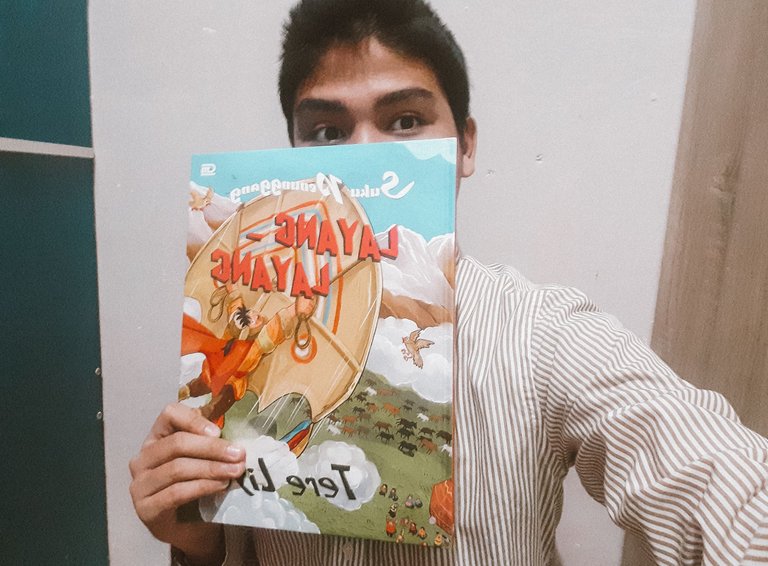 ---
---
The title of the book I'm reviewing in this post: Suku Penunggang Layang-layang ("The Tribe of Kite Riders" in English)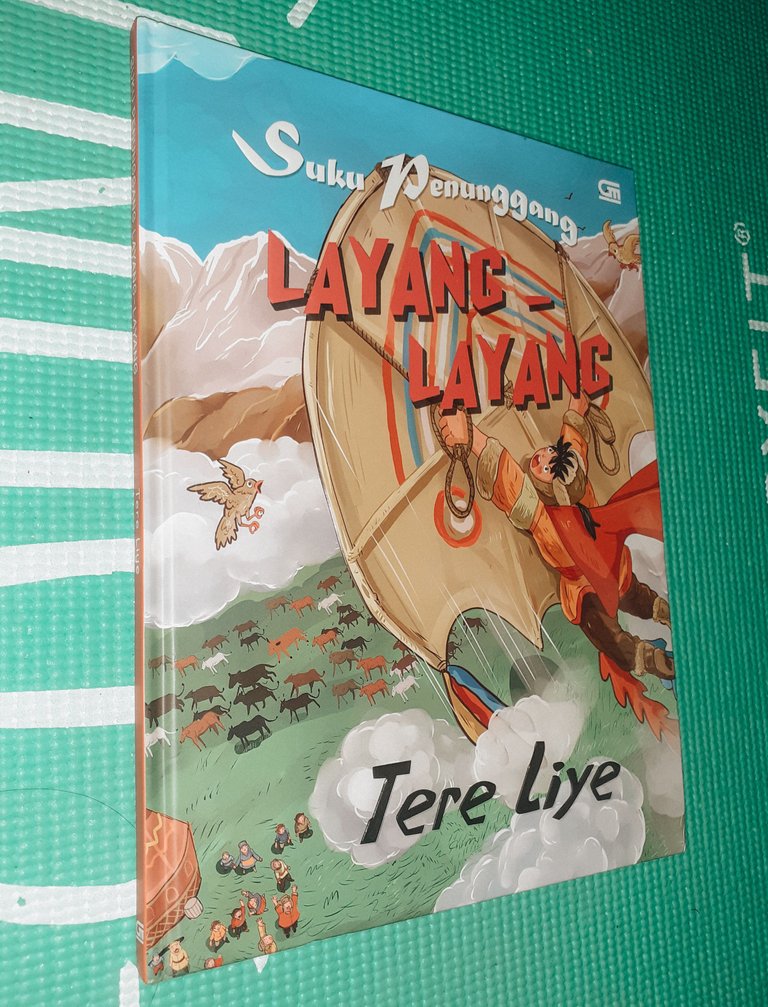 ---
This book is by Tere Liye. Tere Liye is a very popular writer from Indonesia. He authored dozens of books. Among them are the series "Bumi", the series "Anak Mamak", Hafalan Shalat Delisa, Rembulan Tenggelam di Wajahmu. Among his books, there are several children's books. To my knowledge, there are four children's books written by him that have been physically published, one of which is the book I am reviewing, namely Suku Penunggang Layang-layang.
---
SYNOPSIS:
■ Tetukong is the son of a cattle herder. Just on his 12th birthday, he had to pass a very important test for his tribe. What's that? Kite riding! Wow, their tribe is great. They do not herd cattle in the usual way, but by riding a large kite. Unfortunately, Tetukong has a secret that makes it difficult for him to pass the test. But he longed to be able to fly in the air, ride a kite, with his friends.
Did Tetukong succeed? Enjoy reading story about conquering fear. It's okay to be afraid, as long as we keep moving forward. Trying to figure out how to fix it. ■
SINOPSIS:
Tetukong adalah anak penggembala ternak. Persis pada ulang tahunnya yang ke-12, ia harus melewati ujian yang penting sekali bagi sukunya. Apa itu? Menunggang layang-layang! Wah, suku mereka hebat sekali. Mereka tidak menggiring ternak dengan cara biasa, melainkan dengan menaiki layang-layang besar. Sayangnya, Tetukong punya rahasia yang membuatnya kesulitan melewati ujian tersebut. Tapi ia ingin sekali bisa terbang di udara, menaiki layang-layang, bersama teman-temannya.
Apakah Tetukong berhasil? Selamat membaca kisah tentang menaklukkan rasa takut. Sungguh tidak apa merasa takut, asal kita terus melangkah maju. Mencoba mencari cara mengatasinya.
---
Front cover: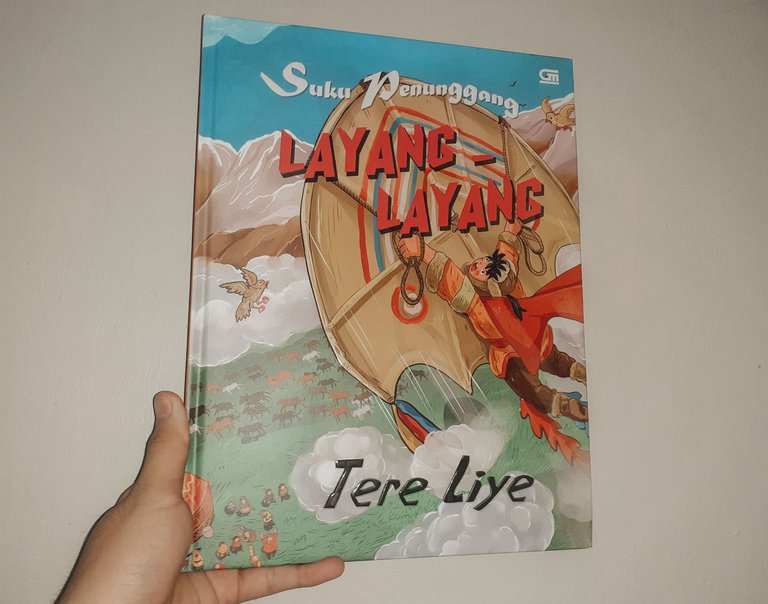 Back cover: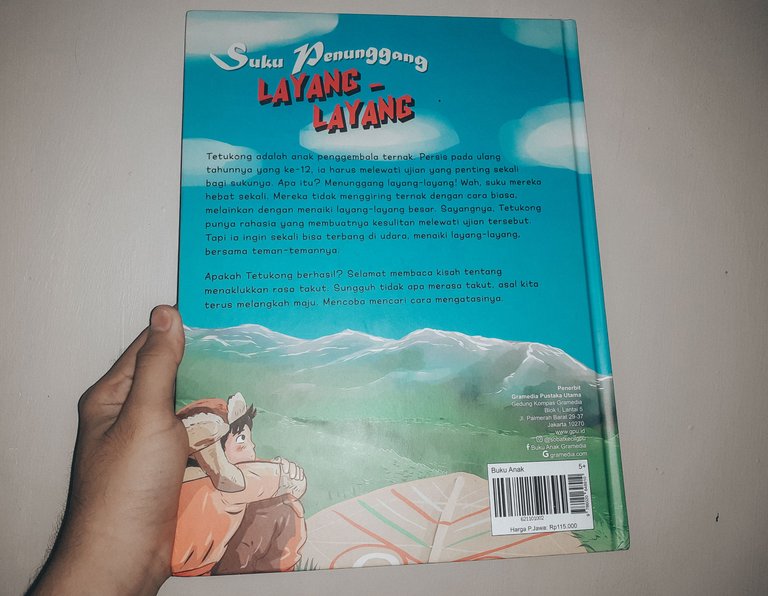 Spine: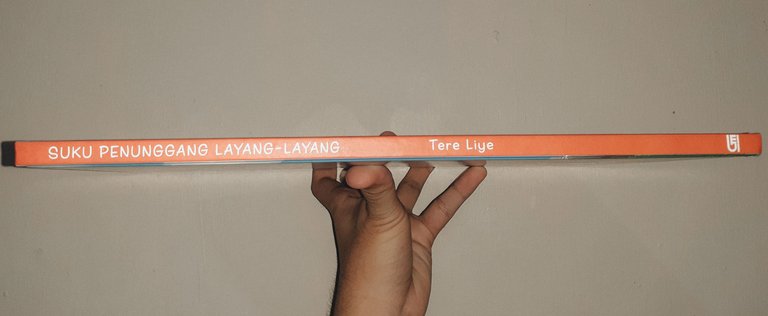 ---
This book is very well printed. The print quality is excellent. The size of the book is very high (30cm (height of the book apart from the cover)). This book is full color. It is a short story book accompanied by illustrations by Indra Bayu. This book is published by Gramedia Pustaka Utama Publisher (I think it is the biggest book publisher in Indonesia). This book contains 72 pages.
The type of cover is hard cover. The paper quality of the contents of the book is very good. If I may rate the book, printing quality-wise, I'd give the book a 10/10.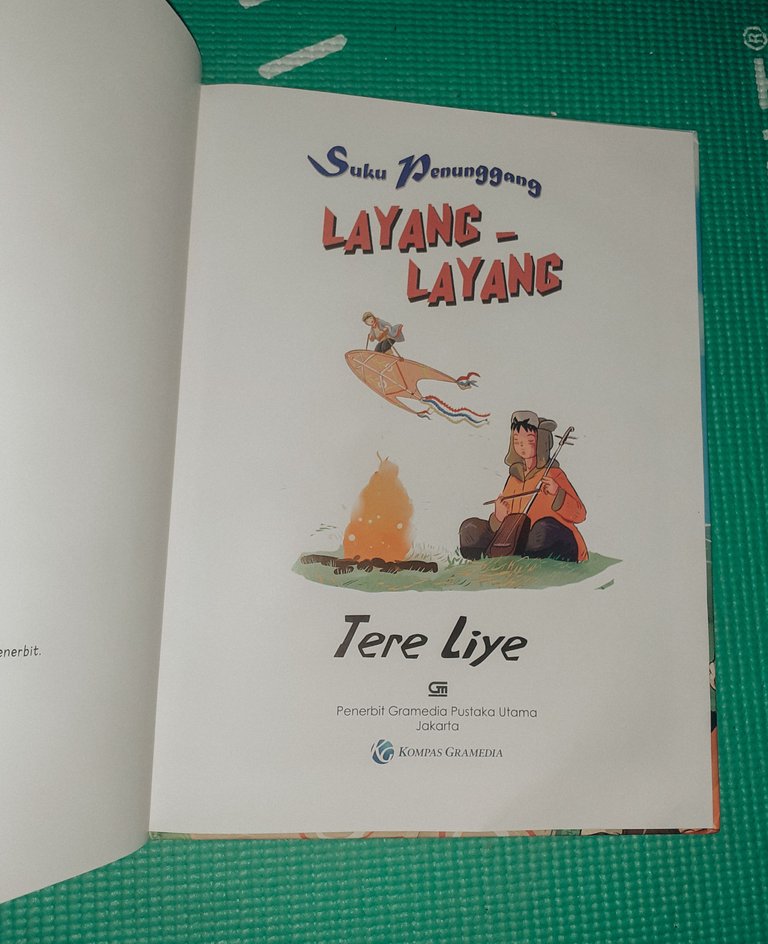 ---
Tetukong is a child in a unique cattle herding tribe. They don't herd cattle on horses, they use kites, ride them, fly up there, go round and round making sure thousands of cattle are safe.
Tetukong had to undergo kite-riding test at the age of exactly twelve. The kite he rode during the test was very large, no less than three meters wide, made of clay bamboo blades and sturdy animal skin.
Tetukong failed the exam on the first day. Even on the seventh day he failed. What made him fail? Find out for yourself.
---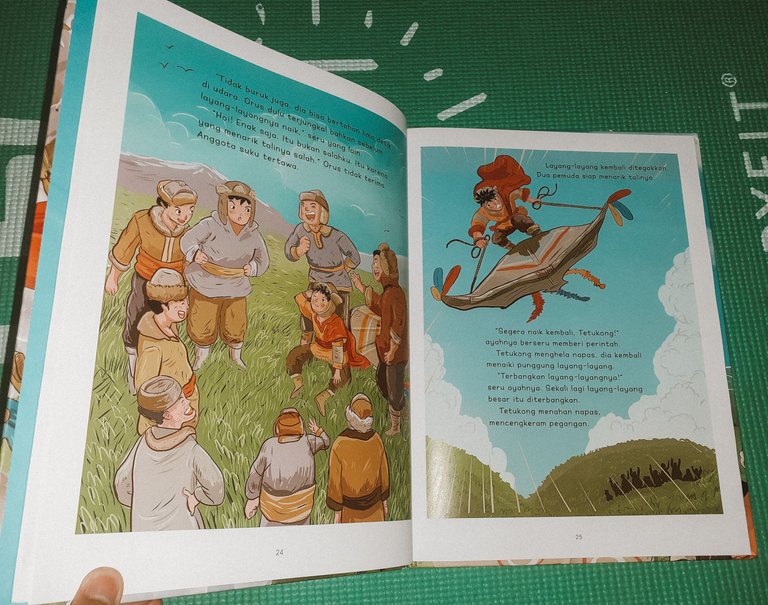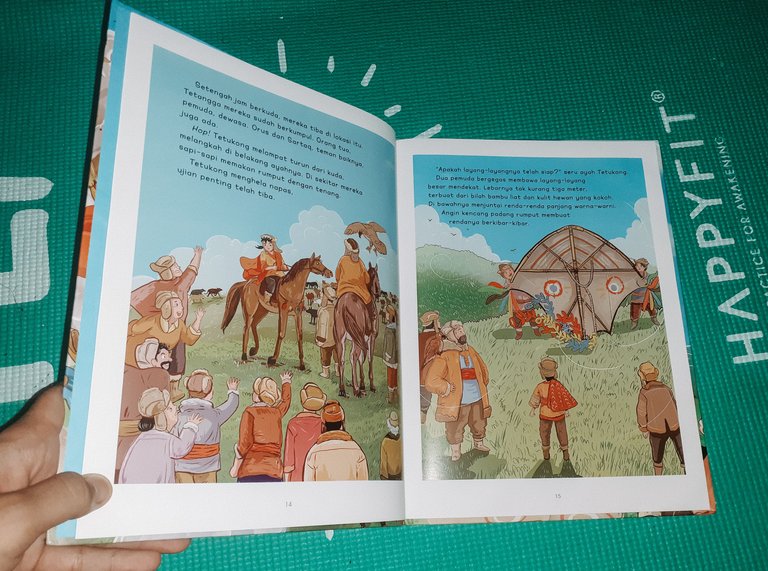 The illustrations are good in my opinion.
---
MORAL MESSAGE:
Must be brave, must be able to overcome fear
---
Thank you for seeing this post. See my other posts too...
---
About the author of this post: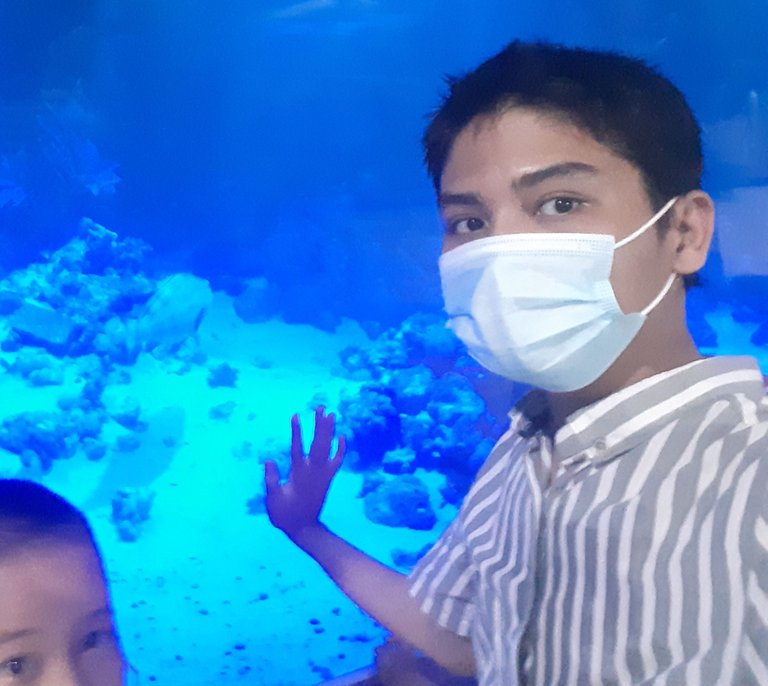 My name is Faisal Hanafi, I live in Medan, Indonesia. I am a student at a college in my city. My hobby is reading books. I have hundreds of books. There are comics, novels, and others. My favorite comics are The Promised Neverland, Detektif Conan, Bleach. I also watch some movies anime. I joined Hive starting from 2021. At Hive, I write about food, books and more. My cooking ability went up because of Hive.
---
---