Cowboy // Dating chronicles

The date was plan, I got to the place first and took a seat, she is someone I haven't seen before, we met on social media and it seems we aligned our interests to become lovers, so it was our date at the restaurant in town.
I walked into the restaurant in my 70's fela pants, I wore my brown hat like a cowboy, this is the only dress code I admire so much, so I was waiting for her, a minute passed and I got a call that she was closed.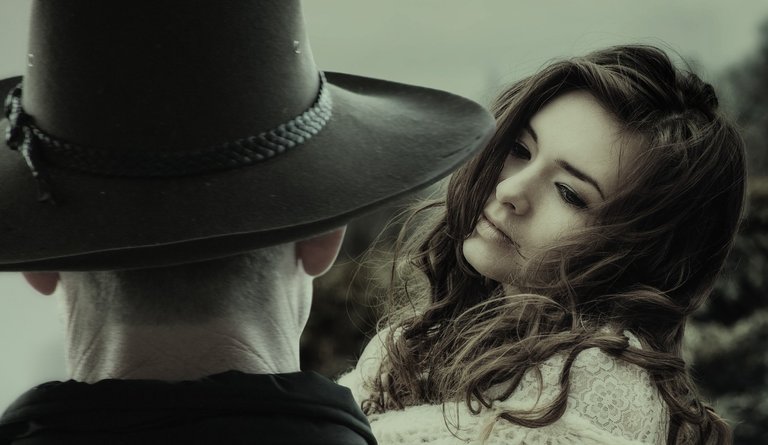 Image source
I settled into my attire and sat down very tight, I asked for a ice cream, the waitress brought it and as she was about to leave, she matched my big flannel trousers that crossed everywhere around the table.
I'm sorry, sir," she said, "you look like you're new in town.
I replied with a nod of my head.
People were looking at me, wondering where I could have come from, I started to put my shoulder up, when I realised that all eyes were on me, because I thought they were admiring my style of dress, and then my heart's desire came, as soon as I saw her, I majestically picked up my cowboy hat and placed it on my head.
I wanted to look good, my heart desires enter the restaurant and take a seat, I greeted her, as a sign that I am the one sitting there, but she ignored my greeting instead paying attention to her phone, as she put it on call.
Mine rang, I walked towards her and bowed with my kind of greeting gesture, she looks at me from head to toe, in my big 1970's fela trousers, I noticed her looking at my face, she saw my cowboy hat and turned her face away, I was devastated by her actions.
She wants to leave, I was starting to think, if we were acting out a drama, "I'm not interested anymore" this is the statement she made, I was confused how is that?
My heart desires open up that she does not want to date a cowboy, how can I dress like that in this 21st century, she does not know the cost of my Big Fela trousers, Canopy brown hat and big white waterproof shirt, that in the 1970s, this was the only fashion style clapping on board, I tried to calm her down and she furiously put my hands down and wants to leave, she matched my Big Fela trousers and fell to the ground.
Shouting that she had broken her ankle, I tried to lift her up and ducked my head to the ground, my brown cowboy hat fell on her face, it was as if we had been invited into the dining room to perform for the crowd.
What I heard were sounds of camera click, click, chap. I tried to wear my heart desires up and my sparkly diamond necklace sparkle, she didn't want her face to show with a cowboy like me on camera, so she tucked her face under my big trouser leg and hid her face.
Jason, did you bring me here to disgrace me, I didn't know what disgracing me was or what, it's how I live, in my world we wear big clothes, we don't know what time it is, our lifestyle is like that of the supersonic.
The security man came up to me, and asked me to stop disgracing the beautiful lady, he took her away, but I was no problem, I was just looking for her to give me time to explain where I come from and how we do things there.
I watched my heart's desires being taken away by a man who had skinny legs like a butterfly, but I was big and huge inside my 70's clothes, I wonder why she didn't see the handsome in me.
The date was a mess for me, so many people wanted a picture with me including the kids, they called me, the 1970's cowboy, I didn't give a shit about their actions, however, I was just concentrating on why my heart desires would leave me without our proposed date.
I felt bad because it was time for me to leave, I asked for the bill but the restaurant manager refused to take the money from me, she said, _my entertainment alone was enough for them to pay me even extra money, it broke my heart, money was not on my mind at the time.
The restaurant manager asked me, if I would dress like that to go to her restaurant other times, I turned her down and went on my way, my 1970's dresses are all I have, I don't want to know what they wear in their world.
This post is a submission to the Paritae blogging competition "Dating Chronicles". Thank you.
---
---