DESPUES DE MUCHO TIEMPO -:- AFTER A LONG TIME📖 ✏️
Hola
#HIVERS
espero estén bien. Soy nuevo en esta comunidad y este es el primer post que hago con relación a los temas que maneja HOLOS&LOTUS. Entre a HIVE para dar a conocer mi arte pero dado el caso que ya no cuento con mi tableta grafica para seguir con mi arte digital, decidí no cruzar los brazos y publicar en esta comunidad recomendada por mi amiga
@berlissanoja
. Escribir redactar o plasmar los pensamientos y los latidos del corazón también es un ARTE, Por eso empezare este nuevo año con todas las fuerzas y las energías para alcanzar los nuevos objetivos!!!
Hello
#HIVERS
I hope you are well. I'm new to this community and this is the first post I'm making regarding the issues that HOLOS&LOTUS handles. I entered HIVE to make my art known but given the fact that I no longer have my graphic tablet to continue with my digital art, I decided not to cross my arms and publish in this community recommended by my friend
@berlissanoja
. Writing, editing or capturing thoughts and heartbeats is also an ART, That's why I will start this new year with all the strength and energy to achieve new goals!!!
---
Por eso es una alegría para mi presentarles a ustedes este post que lleva por titulo: DESPUES DE MUCHO TIEMPO
That is why it is a joy for me to present to you this post titled: AFTER A LONG TIME.
---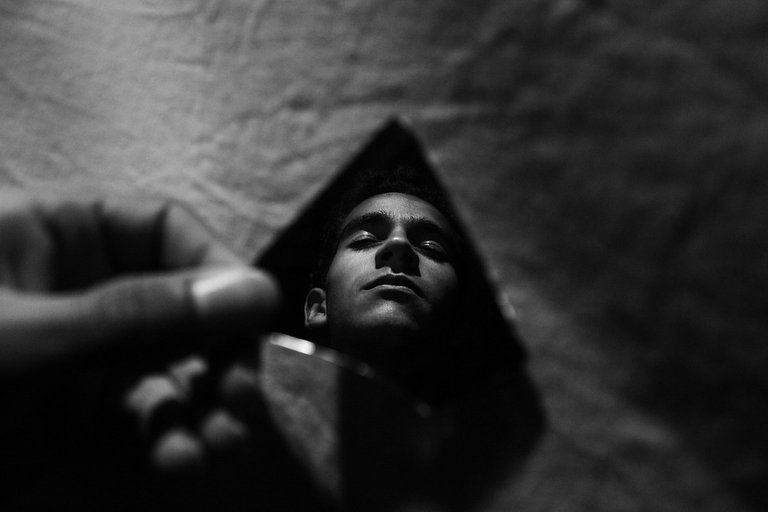 ---
Imagen tomada de pixabay.com
Image taken from pixabay.com
---
DIRECT LINK 🚀
https://pixabay.com/es/photos/espejo-hombre-oscuridad-tristeza-3864155/
---
Hoy, después de mucho tiempo conversé con la persona al otro lado del espejo...
Luego de estar mirándonos fijamente y en silencio el uno al otro durante un par de minutos, uno de los dos decidió hablar. Fue una charla sumamente corta, de esas platicas incómodas que tienes con alguien a quien acabas de conocer, una charla de esas dónde no sabes bien que preguntar y mucho menos que responder, pero que indiscutiblemente no quieres dejar pasar porque no sabes si volverá a ocurrir. No duró mucho, sin embargo, aunque fue breve, sirvió para trazar un nuevo camino en nuestra relación.
Hablamos entre otras cosas sobre el miedo tan profundo que sentíamos el uno por el otro, sobre la carga tan pesada que hemos llevado durante años intentando complacernos mutuamente, y sobre lo exigente que resulta tratar de cumplir con las expectativas que nos hemos impuesto durante años. Nos costó aceptar lo equivocados que estábamos, pero, ¿Saben qué? Gracias a eso ahora siento que esa mirada tan fría ya no me quema, que esa voz acusadora ya no hace eco en mi mente, que la vergüenza y la indiferencia que sentíamos finalmente ha cesado, y lo que antes parecía una guerra entre nosotros se ha convertido en una tregua indefinida.
Hoy después de mucho tiempo conversé con la persona al otro lado del espejo... Y aunque nos llevó un buen tiempo, ya empezamos a ser amigos.
Today, after a long time I had a conversation with the person on the other side of the mirror....
After staring at each other in silence for a couple of minutes, one of us decided to talk. It was a very short talk, one of those awkward conversations you have with someone you just met, one of those conversations where you don't know what to ask and even less what to answer, but you definitely don't want to let it go because you don't know if it will happen again. It didn't last long, however, although it was brief, it served to trace a new path in our relationship.
We talked among other things about the deep-seated fear we felt for each other, about the heavy burden we've carried for years trying to please each other, and about how demanding it is to try to live up to the expectations we've set for ourselves over the years. It took us a while to accept how wrong we were, but, you know what, thanks to that I now feel that that cold stare no longer burns me, that accusing voice no longer echoes in my mind, that the shame and indifference we felt has finally ceased, and what once seemed like a war between us has become an indefinite truce.
Today after a long time I conversed with the person on the other side of the mirror.... And although it took us quite a while, we have already started to become friends.
---
INTROSPECCIÓN: Observación que una persona hace de su propia conciencia o de sus estados de ánimo para reflexionar sobre ellos.
INTROSPECTION: A person's observation of his or her own consciousness or states of mind in order to reflect on them.
---
Espero les halla gustado este post y les de un motivo de reflexión para este nuevo y hermoso año lleno de desafíos pero también de bendiciones.
I hope you liked this post and that it gives you a reason to reflect for this new and beautiful year full of challenges but also of blessings.
---
---
DESPUES DE MUCHO TIEMPO -:- AFTER A LONG TIME
---

---
Síganme en mis redes sociales
Follow me on my social networks
---
TWITTER --- GHOSTMARKET ---- INSTAGRAM
---
---