Bronze TOP BATTLES studies #18 + Delegation + Giveaway

Watching great players
If you want to make the most out of your Splinterlands collection, you have to play it yourself and win! That's what's going to make the most bang for your buck. But if you want to win, you have to study the game, otherwise you'll do nothing but waste your time, all while not earning as much as you could.
That's what we're doing in Bronze TOP BATTLES Studies: we analyze three battles from the highest MMR players, learn their strategies and try improving upon them. That's how we're going to become great players that make more money. We begin after our giveaways!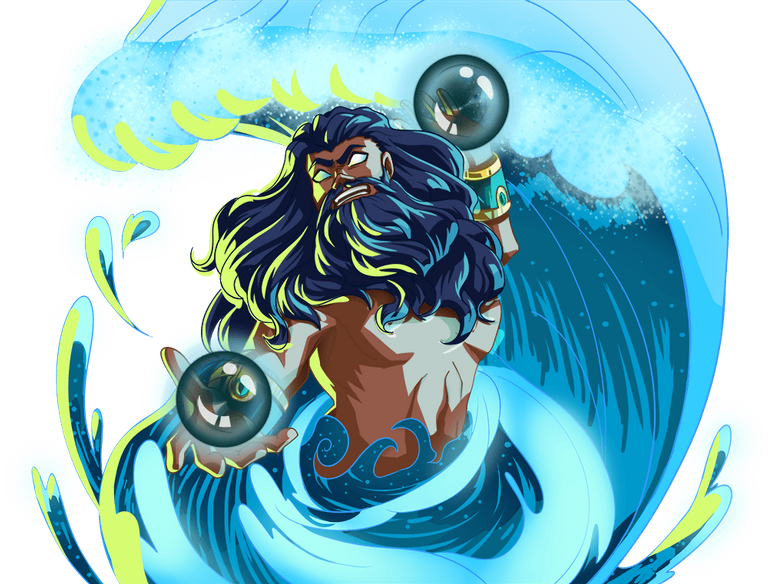 Djinn Oshannus delegation
The most upvoted comment by value in this post wins a regular foil Djinn Oshannus for the rest of the season! This is only valid until my next post is up, so participate as soon as possible.
Random common card giveaway
Additionally, a random comment is awarded a common card, which is sent to your account before my next post is created. This is only valid until my next post is up, so participate as soon as possible.
Winners from my last post
Thank you for participating and I hope you join again!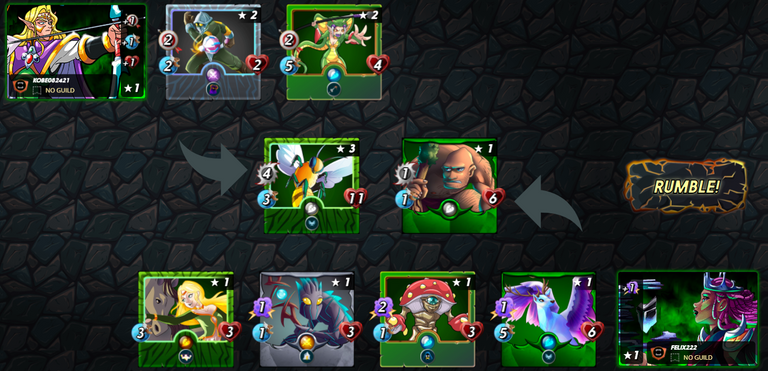 @felix222 is top 8 on the bronze leaderboard, and he proves he's worthy of that position in this match. Using a level 1 Obsidian, felix outclasses a Rennyn team through impressive team building.
For only three mana, Hill Giant protects the front, his health slightly boosted by Epona, which guards the backline. I'm continuously amazed with how Hill Giant slowly becomes a staple despite not even having any abilities of its own. His stats are just too cost efficient!
Of course, Hill Giant isn't trustworthy enough to guard the frontline until the end of battle, so felix used Regal Peryton to cover for him in case he died. It's a very nice choice, since Regal Peryton has good health and speed. A mix of offensive and defense in the same card for not too much mana.
Overall, Felix's picks were spot on, specially considering all monsters used were only level 1.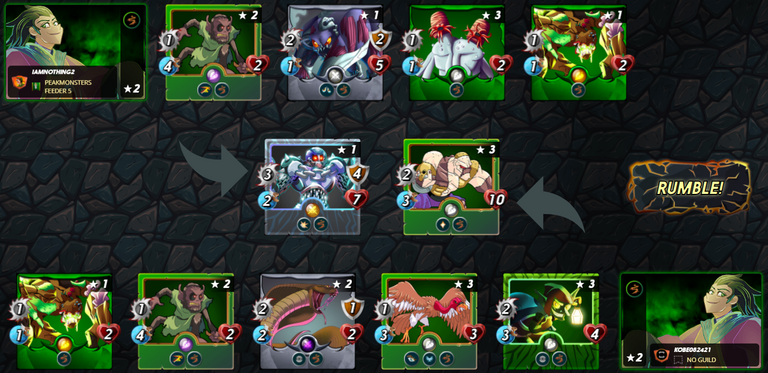 That's an incredible strategy! In this Up Close & Personal match, @iamnothing2 completely ignores offense. By using Mylor Crowling's Thorns ability buff and a few stallers, enemy sneak attackers die from their own punches. This kills all of @kobe082421's aggression.
But how do they win, if not by attacking? This strategy's cornerstone is Chain Golem paired with Disintegrator. Attackers with 2 or 1 damage deal 0 damage to Chain Golem because they're debuffed from Disintegrator. That's Flesh Golem's case.
Yet, Flesh Golem still takes 5 damage per turn. 3 from Chain Golem's attacks and 2 from its Thorns. Taking more damage than it can heal, Flesh Golem ends up dying, while Chain Golem remains steady and strong.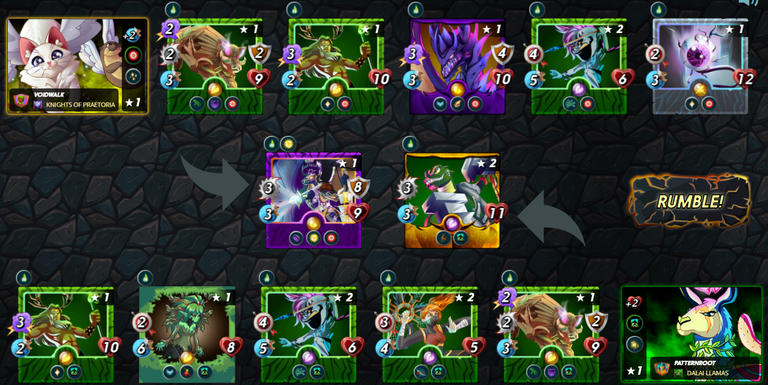 You'd think a Llama would be at a huge advantage having Cleanse in a Noxious Fumes match, and honestly, I'd agree with you. If a good frontliner were used. In this case, @patternroot doesn't use a proper tank.
Grund might look the part because of his 11 health, but upon closer inspection, he's really not! Never use Grund as a tank. Use something with Shield, Void, armor stats, heal, etc. Anything that a tank has, Grund doesn't.
Of course, @voidwalk did many things right in other aspects too, since his backline sustains itself. Kron and Cornealus never die to poison damage, while @patternroot only has Kron.
Chaos Dragon might not sustain itself, but it surely has a lot of health and damage. That's a vastly superior pick over Spirit of the Forest. All in all, @voidwalk's team was much more compatible with that match's rules and mana cap.

Image sources: https://splinterlands.com/ and https://ecency.com/post/@nane-qts/free-splinterlands-graphic-resources-20
---
---