Bronze TOP BATTLES studies #2
Watching great players
If you want to make the most out of your Splinterlands collection, you have to play it yourself and win! That's what's going to make the most bang for your buck. But if you want to win, you have to study the game, otherwise you'll do nothing but waste your time, all while not earning as much as you could.
That's what we're doing in Bronze TOP BATTLES Studies: we analyze three battles from the highest MMR players, learn their strategies and try improving upon them. That's how we're going to become great players that make more money. Let's begin.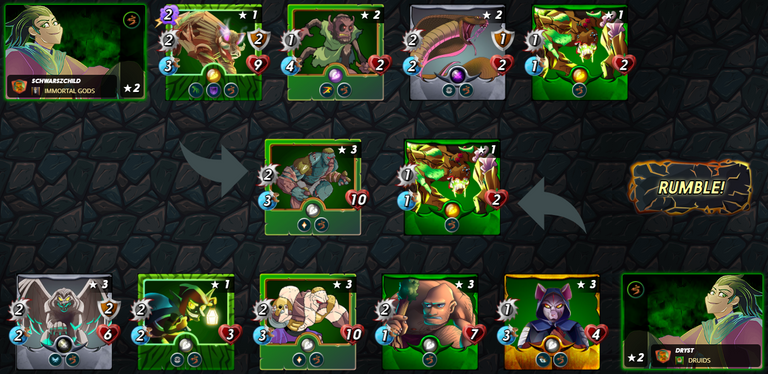 @dyst's steam is a mess overall. Feels like they're too reliant on their amazing summoner which provides the Thorns ability to all their monsters. The problem is how @schwarszchild also uses that summoner, but over a much stronger team.
Oaken Behemoth was an obvious game changer - thorns for days because of their super high health, but most importantly, they deal a grand total of 4 damage, thanks to its extra magic attack.
Monsters with reach that also deal magic damage are really strong under the Up Close & Personal rule set. Another examples of cards like this include Untamed's War Chaang and the much older Red Dragon promo card.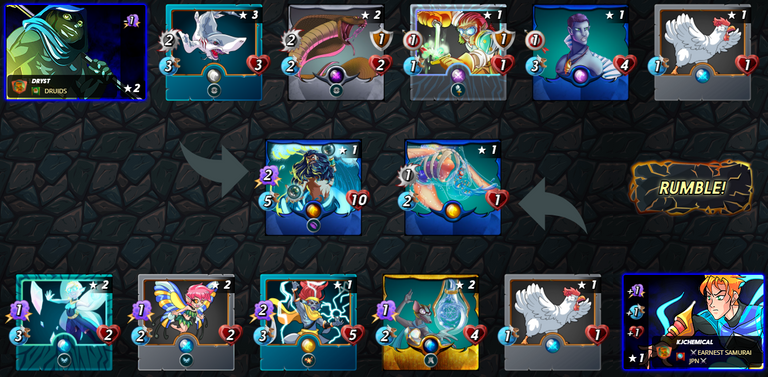 In this battle, @dryst tries to predict their opponent's strategy, and they're just incredibly successful. @kjchemical wanted to go all out on magic attacks, but @dryst chooses Bortus and Djinn Oshannus.
Reducing damage from the entire enemy team, Djinn Oshannus ends up taking only one damage per round, from Ruler of the Seas. He survives against everything else without even flinching, as Ice Pixie, Venari Wavesmith and Enchanted Pixie deal no more than zero damage.
What gave away which strategy @kjchemical would use? Has @dryst become familiarized enough with other leaderboard opponents to a point they'll often correctly predict what will be on the other side of the board? That's impressive.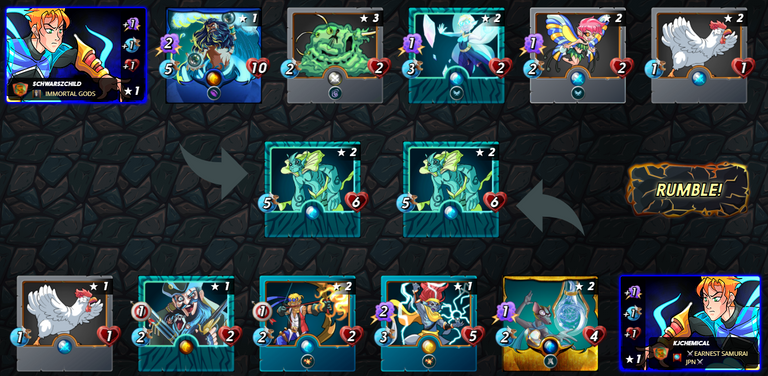 There he is again: Djinn Oshannus yet again pulls the rug under @kjchemical's feet. Despite currently being printed as a reward card, this legendary has proven itself in Novice, Bronze and even Champion's league.
Despite not running Bortus like @dryst did, @schwarszchild's Djinn Oshannus is barely affected by magic attacks. Taking only 3 damages per round lets him stay alive for a long time, while his own team decimates Venari Wavesmith and all other glass cannons.
It's worth noting that in Bronze league, Djinn Oshannus is good in position 2, because blast damage is getting nullified by his Void ability. That's not the case in Diamond+ league where he's best used as the main frontliner, but as we can see, the meta changes radically between leagues.

Image sources: https://splinterlands.com/ and https://ecency.com/post/@nane-qts/free-splinterlands-graphic-resources-20
---
---