Splinterlands Player Picks - @bluhat

How well are you doing?
@bluhat is part of Bronze League's top player leaderboard. They make the most out of your their Splinterlands collection! But is he playing well enough? It's up for us to decide in this player analysis. Maybe we'll teach, maybe we'll learn. It's probably going to be a lot of both!
That's what we're doing in Splinterlands Player Picks! We analyze how a single player has been doing lately, choosing three of their most interesting battles. That's how we improve their game at the same time we boost our own. Let's begin.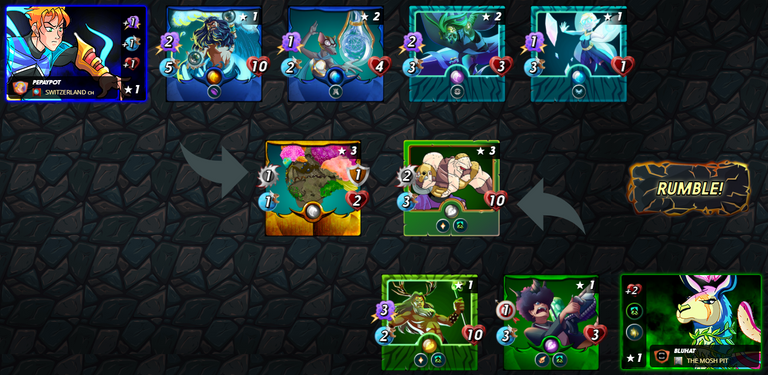 First thing we notice is how @bluhat is using flesh golem paired with Kron. This is a bad idea because their team lacks damage. You'd think it's acceptable because Flesh Golem would sustain itself for a long time, but then you have to look at the alternatives.
We're looking to replace both Flesh Golem and Acid Shooter, but specially Acid Shooter. He's 2 mana with scattershot. He's not doing anything! Even as a staller, he's less useful than @pepaypot's Hardy Stonefish.
Counting mana from both Flesh Golem and Acid shooter, we have 8 mana to use by leaving them out. Of course, the first monster that comes to mine is Failed Summoner. For 2 mana, he'd magic reflect a lot of damage while holding his own for a couple of turns.
6 mana left... Epona stacks nicely with Llamma's health boost, further increasing Failed Summoner's utility. Fungus Fiend is 0 mana, offering 5 health combined with Llamma and Epona.
We still have two spots on our team and 5 mana. We need more damage in case our opponent's tank is healing itself, but it has to be physical, in case they've got the void ability. However, we shouldn't attack the actual tank, because that's not where Llama's lies.
Instead, we're choosing Uraeus and Halfling alchemist. A card with 2 damage that backstabs the opponent's backline, combined with a card that stops their tank from dealing too much damage, since we're not actively trying to kill it.
Our final lineup would be Fungus Fiend, Failed Summoner, Epona, Uraeus, Halfling Alchemist and finally Kron.
PS: Acid shooter is Rennyn material only.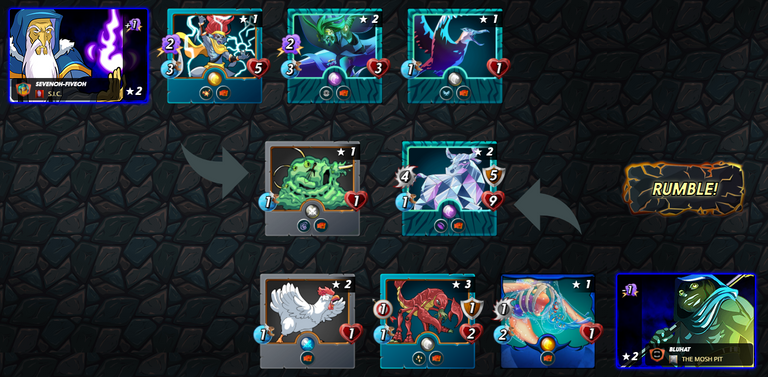 I hadn't seen Torhilo the Frozen in a battle in a long time. Using him as a frontliner in this battle was a very good choice, because Earth and Water are the strongest splinters, but Earth was disabled for this match.
Knowing their opponent would likely turn to magic as their main strategy, Torhilo would last for a really long time in battle, slowly but surely annihilating the enemy team, even if he actually had a few missed attacks.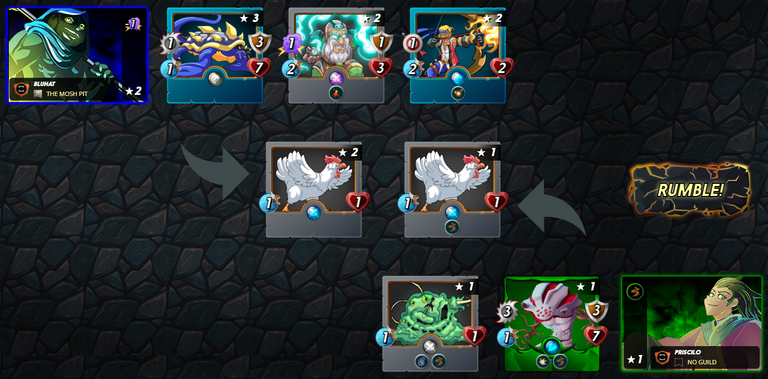 Oh, yes, the good old "a big tank is all it takes". If you don't want to use your own, that's fine, but you absolutely need to bring a monster with 2 magic damage. That's the only way you're going to penetrate their armor and shield abilities.
Magic sphinx instead of Dwarven Wizard and Pirate Archer would have been great, but Coral Wraith and yet another 1 mana stalling monster would have been better!
Just so you know, you couldn't keep the same strategy by just picking Halfling Alchemist instead of Pirate Archer. It wouldn't even have given you an extra round. Spineback Turtle would die in the same turn regardless.
Also, torrent fiend would help stalling a lot!

Image sources: https://splinterlands.com/ and https://ecency.com/post/@nane-qts/free-splinterlands-graphic-resources-20
---
---