El diente flojo [ESP-ENG] The loose tooth

Un diente flojo dio fama de pensador al personaje de un cuento que se tardaba en responder cuando le preguntaban y un jardinero con una cierta disminución mental alcanzó un puesto como consejero, pues todas sus respuestas se relacionaban con las plantas y la vida del jardín que cuido y hábito toda su vida.
El hablaba de las plantas, sus flores y hojas, hasta de las raíces, pero sus interlocutores lo tomaban como una especie de parábola llena de simbolismo y sabiduría.
Dos cuentos que se confunden en mi memoria por los muchos años transcurridos desde que los leí y/o los vi representados en la televisión. El Jardinero recuerdo haberlo leído, pues recuerdo una escena bastante escabrosa que estoy seguro, muy seguro, de que no salió en la pantalla chica.
¿Y a cuento de que vienen estos comentarios?
Pues la verdad por delante siempre, a que hoy fui al odontólogo a que me extrajera un diente flojo que me causó gran molestia durante el día domingo y sin ir tan lejos el pasado viernes andaba yo aconsejando a alguien que fuera al dentista sin falta, para que no sufriera el fin de semana. En mi caso la extracción era inevitable, pues padezco de una enfermedad periodontal, que dicen ni tiene causa conocida, ni tratamiento, por lo que las piezas se van aflojando de una en una y aveces de dos en dos hasta caerse todas. La mayoría se fueron sin dolor y era mi pensamiento que la causa era el hábito de fumar, pero según la Doctora no. Se desconocen las causas y en este caso, no se si por tratarse de un colmillo, el constante bailoteo terminó provocando un intenso dolor y molestia que me quito el apetito, pero por temor al dolor no me atreví a arrancarlo yo mismo.
Preferí el dolor del pinchazo en la encía y el desembolso de los honorarios correspondientes y ahora ya de buen humor les pude contar la experiencia que es posible se repita, pues aún me quedan dos y nunca se sabe si saldrán con o sin dolor.
Por si alguien siente curiosidad investigue y les dejo las referencias a las historias antes mencionadas.
El diente roto (cuento) de Pedro Emilio Coll
Un cuento que pueden encontrar en la red, inclusive en YouTube con una duración de 5 o 6 minutos.
Desde el jardín (Being There) de Jerzy Kosinski
Novela llevada al cine y también conocida como: Bienvenido Mr. Chance.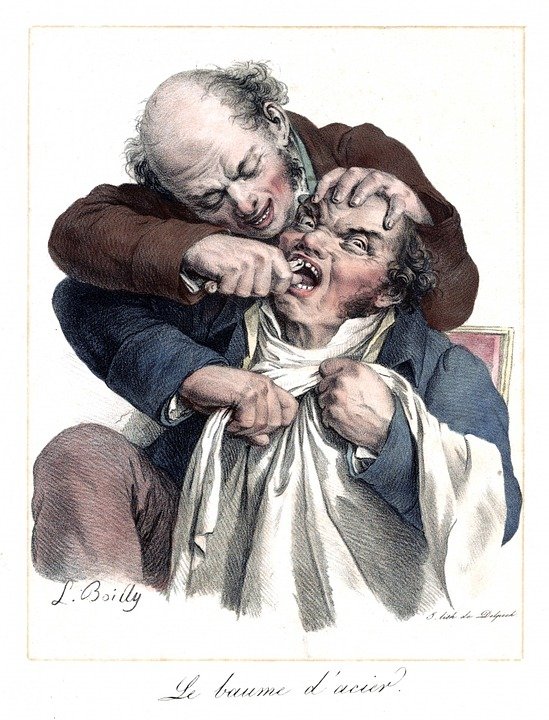 Fuente
The loose tooth
A loose tooth made a story character famous for being a thinker who was slow to respond when asked and a gardener with a certain mental handicap reached a position as a counselor because all his answers were related to the plants and life of the garden that he tended and cared for. habit all his life.
He spoke of plants, their flowers and leaves, even their roots, but his interlocutors took him as a kind of parable full of symbolism and wisdom.
Two stories that are confused in my memory for the many years that have passed since I read them and/or saw them represented on television. I remember reading The Gardener, because I remember a rather lurid scene that I am sure, very sure, did not appear on the small screen.
And what are these comments about?
Well, the truth is always ahead, because today I went to the dentist to have a loose tooth extracted that caused me great discomfort on Sunday and without going so far last Friday I was advising someone to go to the dentist without fail, to don't suffer on the weekend. In my case, the extraction was inevitable, because I suffer from periodontal disease, which they say has no known cause or treatment, so the pieces loosen one by one and sometimes two by two until they all fall off. Most went away without pain and I thought the cause was smoking, but according to the Doctor no. The causes are unknown and in this case, I don't know if because it was a fang, the constant dancing ended up causing intense pain and discomfort that took away my appetite, but for fear of pain I didn't dare to pull it out myself.
I preferred the pain of the puncture in the gum and the disbursement of the corresponding fees and now, in a good mood, I was able to tell you about the experience that it is possible to repeat, since I still have two left and you never know if they will come out with or without pain.
In case anyone is curious, investigate and I leave you the references to the aforementioned stories.
The broken tooth (story) by Pedro Emilio Coll
A story that can be found on the net, including on YouTube with a duration of 5 or 6 minutes.
From the Garden (Being There) by Jerzy Kosinski
Novel made into a movie and also known as: Welcome Mr. Chance.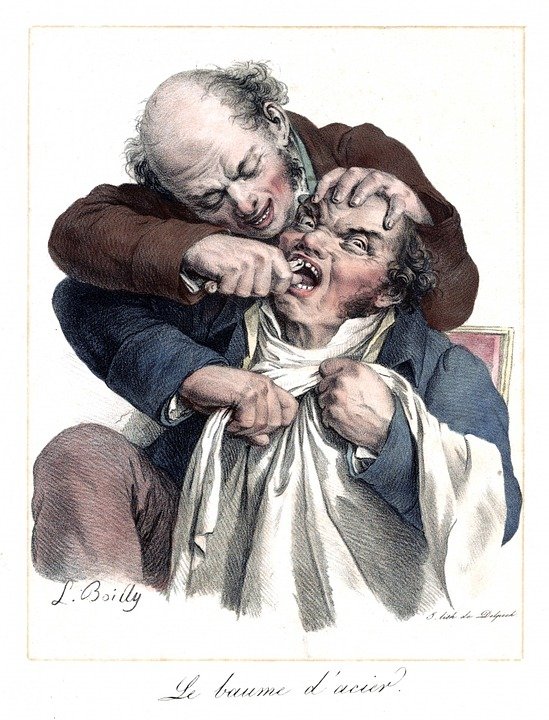 Source
---
---