Noviembre de ensayos de música / November music rehearsals

Hola mis queridos amigos de hive en esta oportunidad compartiré un poco de las tardes de música en los ensayos de la Orquesta Sinfónica Núcleo Cumaná. Todas las tardes de lunes a viernes se reúnen en el Liceo Sucre de Cumaná para ensayar las diferentes piezas que tocaran en algún concierto próximo.
Hello my dear friends from hive, this time I will share a little of the music evenings in the rehearsals of the Núcleo Cumaná Symphony Orchestra. Every afternoon from Monday to Friday they meet at the Liceo Sucre in Cumaná to rehearse the different pieces that they will play at an upcoming concert.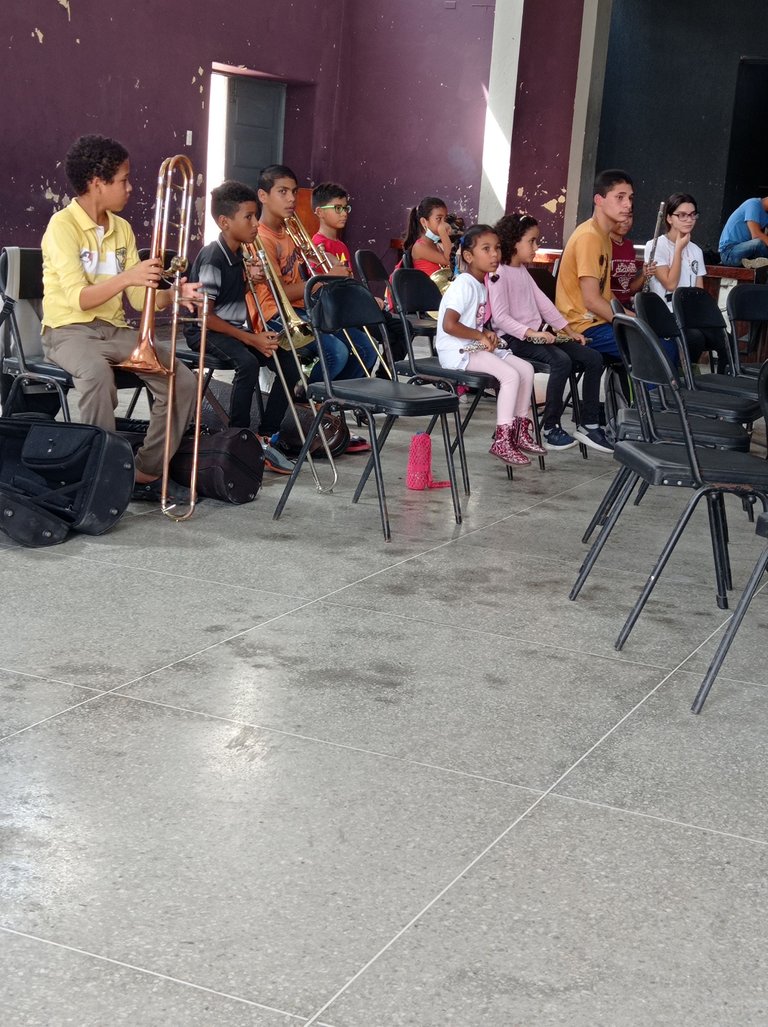 Estos ensayos suelen llamarse ensayos grupales o ensayos de fila. En los ensayos grupales se reúnen todos los instrumentos violín, viola, chellos, trombones, flautas, trompetas, cornos además de integrarse el ensamble de percusión.
These trials are often called group trials or row trials. In the group rehearsals, all the instruments, violin, viola, cellos, trombones, flutes, trumpets, horns, and the percussion ensemble are integrated.

Todas las tardes se reúnen con la misión de ir mejorando con el uso del instrumento e ir avanzando cada día más. Para este mes de noviembre un grupo de integrantes de la orquesta en edades comprendidas de 14 a 21 años que pertenecen a la Orquesta Sinfónica juvenil, tuvieron un intensivo para prepararse para presentar una audición para pertenecer a la Orquesta Sinfónica Regional del estado Sucre.
Every afternoon they meet with the mission of improving with the use of the instrument and advancing more each day. For this month of November, a group of members of the orchestra between the ages of 14 and 21 who belong to the Youth Symphony Orchestra, had an intensive to prepare to present an audition to belong to the Sucre State Regional Symphony Orchestra.

Los chicos debían viajar a la ciudad de Carúpano, pero por motivos de las fuertes lluvias la evaluación debió realizarse en Cumaná, estado Sucre. Aun a la fecha no les han dado resultados de esta audición ya que les informaron a los chicos que habrá varias pruebas para formar parte de dicha Orquesta Regional. Sin embargo los chicos siguen allí en pie de lucha buscando ocupar un lugar.
The boys had to travel to the city of Carúpano, but due to the heavy rains the evaluation had to be carried out in Cumaná, Sucre state. Even to date they have not given results of this audition since they informed the boys that there will be several tests to be part of said Regional Orchestra. However, the boys are still there fighting, looking to occupy a place.

Los chicos se reúnen junto a su profesor de cátedra, en este caso se encuentra el profesor de corno y trompeta con sus chicos, enseñándole las diferentes técnicas para manejar dicho instrumentos. Además de explicarle las escalas musicales.
The boys meet with their class teacher, in this case the horn and trumpet teacher is with his boys, teaching him the different techniques to handle said instruments. In addition to explaining the musical scales.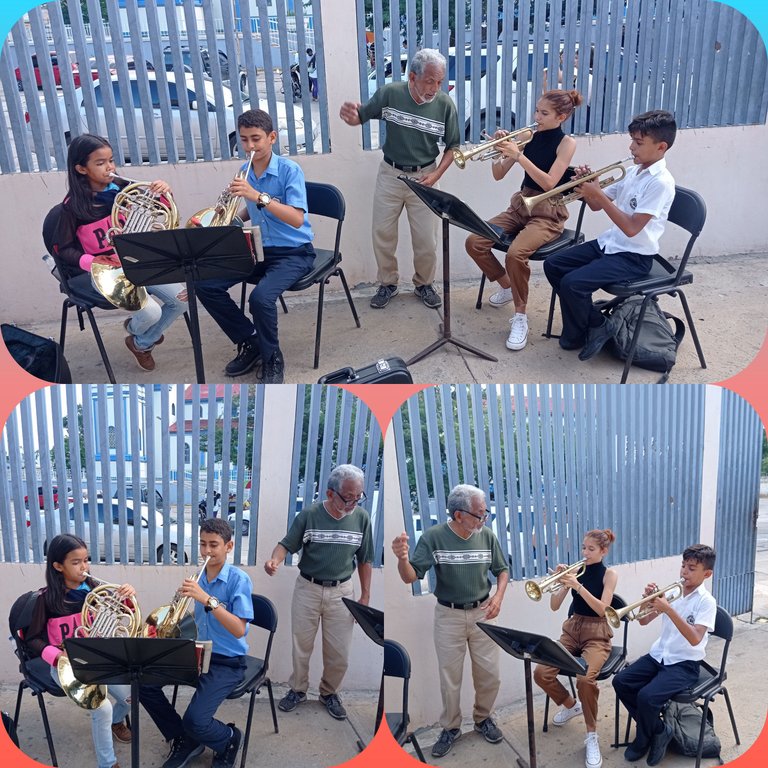 Aquí el profe de trombón junto a su grupo de trombonistas, también explicándole los diferentes tipos de escalas y poniéndolas en práctica.
Here the trombone teacher with his group of trombonists, also explaining the different types of scales and putting them into practice.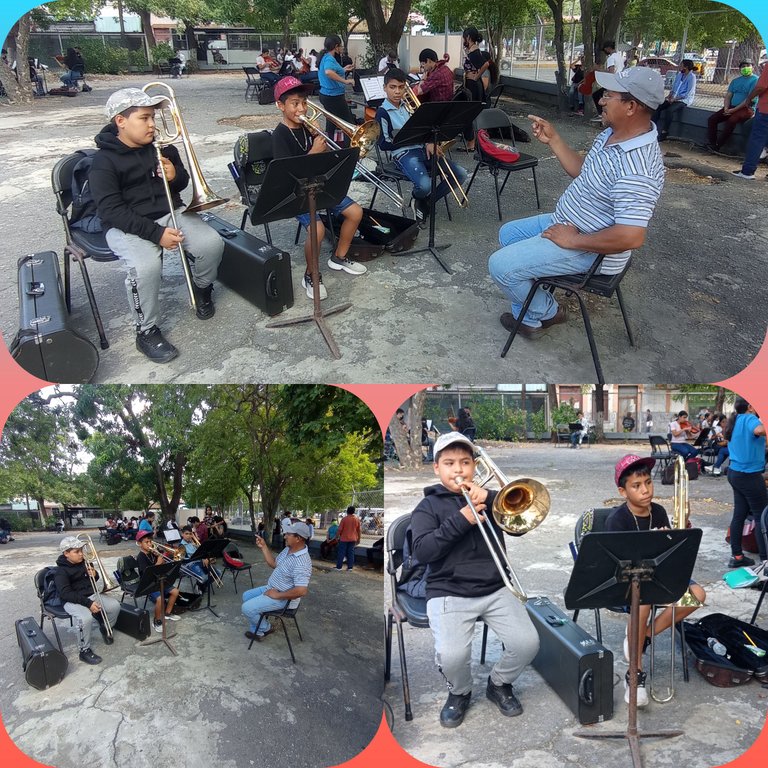 Y por aquí tenemos a las violas y violines también en sus tardes de ensayo junto a su profesora (Viola) y profesor (Violín).
And here we have the violas and violins also in their rehearsal afternoons with their teacher (Viola) and teacher (Violin)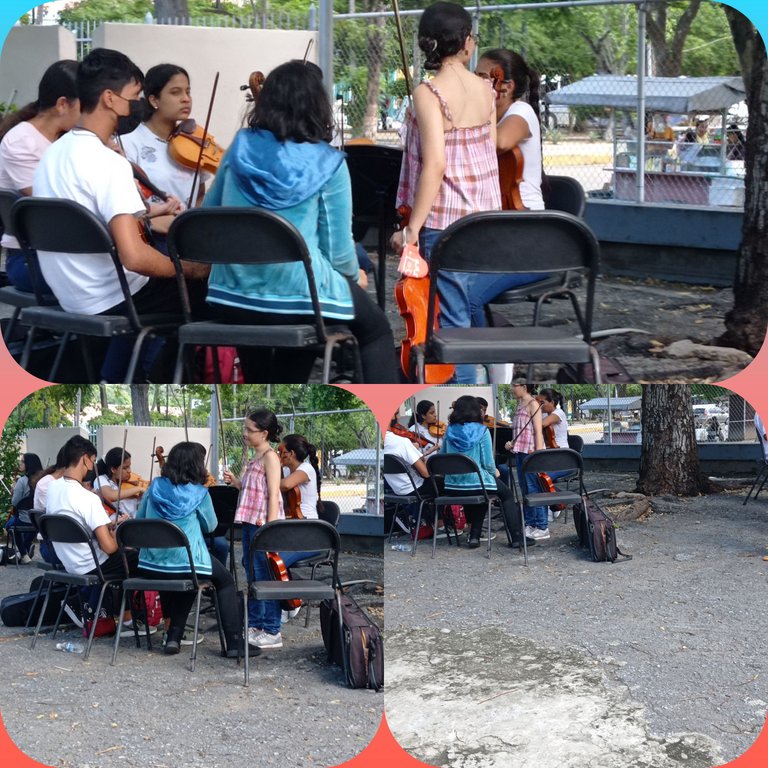 Espero que pronto estos chicos puedan tener su propio espacio donde puedan ver sus clases musicales. Ya que ese espacio es prestado, porque la Orquesta no tiene una sede sino que deben estar brincando de aquí y de allá para poder ensayar. Esperemos que pronto se les haga realidad el acondicionamiento de una sede, es justo y necesario para estos niños y jóvenes que lo han dado todo por la música, solo les queda espera por las promesas que les han realizado.
I hope that soon these guys can have their own space where they can see their music classes. Since that space is borrowed, because the Orchestra does not have a venue but they must be jumping from here and there to be able to rehearse. Let's hope that the conditioning of a venue will soon become a reality, it is fair and necessary for these children and young people who have given everything for music, they only have to wait for the promises they have

Mis músicos / My musicians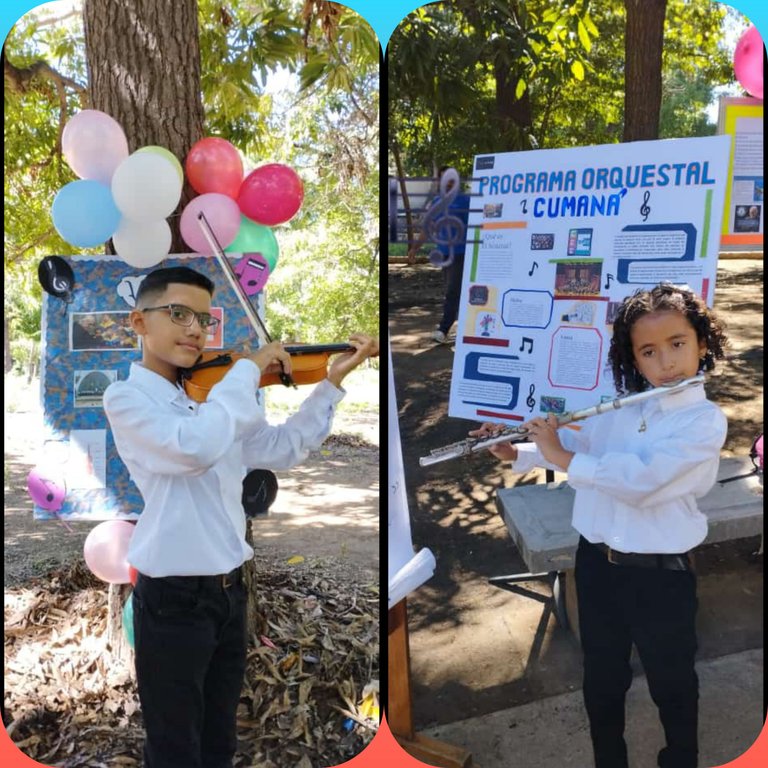 ---
---