#HiveTestimony / Mi experiencia en Hive, luego de un trauma con Steemit / My experience on Hive after a trauma on Steemit, Following the Testimonial Initiative [Esp-Engl]
Saludos, comunidad hiveana 😄
En esta publicación compartiré un poco de mi experiencia como usuario de la #hive, siguiendo la iniciativa de @theycallmedan #HiveTestimony y @clivemartin, porque realmente me parece importante saber qué sucede, compartir las experiencias, incluso las más traumáticas. O las menos agradables, para no ser tan dramático.
Saludos, Hivean community
In this publication I will share a bit of my experience as a #hive user, following the initiative of @theycallmedan #HiveTestimony and @clivemartin [link], because I really think it is important to know what is going on, to share the experiences, even the most traumatic ones. Or the less pleasant ones, not to be so dramatic.
Como muchos usuarios, yo también comencé en Steemit, y lo hice por recomendación de un gran amigo, quien por cierto falleció este año @yomismosoy, al parecer fue a causa de un infarto. Él era profesor, además de actor y escritor; pero lo más importante es que él era además una excelente persona, muy presto a colaborar, a ayudar. No quiero que esto suene a una apología, un panegírico, es la simple verdad, él era, como decimos en Venezuela, tremendo pana. Yo al principio lo ignoré con el tema de Steemit, no me lo creía, me parecía algo de ciencia ficción, y debo decir que soy fanático de ese género. Hasta que al fin me animé, entonces mi amigo me explicó muchas de las facetas que tenía la plataforma, desde lo más básico hasta cosas que aún no entiendo, me advirtió sobre el uso correcto de las etiquetas, etc. Trabajábamos juntos en una editorial, ambos éramos lectores, así que para mí era estimulante escribir, y que además te pagaran algo por eso, impresionante.
Like many users, I also started at Steemit, and I did it on the recommendation of a great friend, who by the way passed away this year @yomismosoy, apparently because of a heart attack. He was a teacher, as well as an actor and a writer; but the most important thing is that he was also an excellent person, very willing to collaborate, to help. I do not want this to sound like an apology, a panegyric, it is the simple truth, he was, as we say in Venezuela, great "pana". At first I ignored him with the Steemit theme, I did not believe it, it seemed to me something of science fiction, and I must say that I am a fan of that genre. Until I finally got my courage up, then my friend explained to me many of the facets of the platform, from the most basic to things I still don't understand, he warned me about the correct use of labels, etc. We worked together in a publishing house, we were both readers, so for me it was stimulating to write, and to be paid something for it, impressive.
En fin, no es de mi amigo de quien quería hablar, sino de lo que me pasó en #steemit y cómo volví, pero a "#Hive". Empecé bien, con bastante apoyo, descubrí el laboratorio de música venezolana que lleva @juanmanuellopez1 y también vi el trabajo de @gaborockstar, y me pareció muy bueno lo que hacían; como yo acababa de empezar con los estudios musicales me animé a compartir mi experiencia y conocimientos en ese ámbito, aunque también publicaba sobre libros y fotografía.
Anyway, it's not my friend I wanted to talk about, but what happened to me in #steemit and how I got back, but to "#Hive". I started well, with a lot of support, I discovered the Venezuelan music lab that carries @juanmanuellopez1 and I also saw the work of @gaborockstar, and I thought it was very good what they were doing; as I had just started with music studies I was encouraged to share my experience and knowledge in that field, although I also published about books and photography.
Por qué abandoné la plataforma Steemit / Why I left the Steemit platform
Un día cualquiera, cuando estaba leyendo una publicación sobre los cambios que iban a ocurrir en Steemit, me di cuenta de que había un usuario haciendo comentarios de odio a otras personas. Recuerdo que una señora explicaba sobre la importancia de que el autor conservara un peso mayor en las ganancias que los curadores, por la propiedad intelectual. Como editor de libros se del tema de los derechos patrimoniales y morales, por ende me pareció muy acertado su comentario, y veo que alguien le responde y resulta que era ese usuario abusivo, él la llamó estúpida, no solo a ella sino a varias personas que comentaban sobre el tema con mucha propiedad y respeto, pero este usuario abusivo seguía en su empeño. Yo, muy ingenuo pensé, ni siquiera comentar, sino hacer uso de el botón "downvote", y allí empezó mi pesadilla. Le dió downvote a mis últimas publicaciones sobre flauta dulce. Tuve que ponerme a investigarlo, me di cuenta de que el usuario tenía varias cuentas en su poder y un poder de voto enorme dentro de la plataforma, su cuenta más activa tenía publicaciones muy breves, memes robados de facebook, cosas con muy poco contenido y nada de calidad, entonces hice otra cosa peor, usar la opción "flag" o denunciar una de sus publicaciones que era claramente un plagio, allí se puso peor la cosa. Me mandó un comentario de amenaza en mi ultima publicación sobre flauta dulce, me decía que me retractara y que iba a lamentar lo que hice, o sea, darle downvotw. De hecho mis publicaciones se hicieron invisibles, mientras que las de él duraron muy poco con el flag, casi a la hora se liberó de la sanción y siguió haciendo de las suyas.
One day, when I was reading a post about the changes that were going to happen in Steemit, I noticed that there was a user making hateful comments to other people. I remember a lady explaining about the importance of the author keeping a higher weight in the profits than the curators, because of the intellectual property. As a book publisher, I know about the issue of economic and moral rights, so I thought her comment was very accurate, and I see that someone answered her and it turns out that it was that abusive user, he called her stupid, not only her but several people who commented on the subject with much property and respect, but this abusive user continued in his efforts. I, very naive thought, not even comment, but use the "downvote" button, and there began my nightmare. He gave downvote to my latest recorder publications. I had to investigate it, I realized that the user had several accounts in his power and a huge voting power within the platform, his most active account had very short posts, stolen facebook memes, things with very little content and no quality, then I did something else worse, using the "flag" option or report one of his posts that was clearly a plagiarism, there it got worse. He sent me a threatening comment on my last recorder post, telling me to take it back and that he was going to regret what I did, that is, give him downvotw. In fact my publications became invisible, while his lasted very little with the scourge, almost on the hour he got rid of the sanction and continued to make his own.
Pedí ayuda a usuarios con experiencia y trataron de hacer todo lo posible por ayudarme pero no lograron absolutamente nada, y en los "discords" nadie sabía misteriosamente en qué lista negra estaba metido, oficialmente no estaba en ninguna, pero mis publicaciones apenas las hacía quedaban invisibles, me había ganado un enemigo poderoso y mafioso. Borré lo que pude para cuidar mi propiedad intelectual, por si esa persona quería apropiarse de mi cuenta. Y me salí. De hecho eso fue lo que me recomendaron en los discords, que me diera de baja voluntaria y desapareciera por un buen tiempo.
I asked for help from experienced users and they tried to do everything possible to help me but they achieved absolutely nothing, and in the "discords" no one mysteriously knew what blacklist I was on, officially I was on none, but my posts were barely invisible, I had earned a powerful and mafia-like enemy. I deleted what I could to protect my intellectual property, in case that person wanted to take over my account. And I got out. In fact, that's what they recommended to me in the discords, that I should voluntarily leave and disappear for a long time.
Luego vino la ruptura dentro de Steemit y la creación de Hive // Then came the break within Steemit and the creation of Hive
Yo realmente, la viví en la distancia, solo la vi de lejos, no estaba ya activo y ni entendí bien que era lo que pasaba, hasta que me puse a leer sobre ello simplemente por curiosidad. Esa experiencia me mostró cosas importantes sobre el verdadero funcionamiento de estas plataformas. Uno debe ser muy precavido con la información que comparte cómo la comparte. Incluso sin decir nada ni hacer nada malo yo sufrí las consecuencias del manejo de estas redes, y queriendo hacer el bien me perjudiqué. Entendí que la ruptura se hizo por algo justo y correcto, por eso me pareció que estaba bien, pero aún no me animaba a regresar.
I really lived it in the distance, I only saw it from afar, it was no longer active and I didn't really understand what was going on, until I started reading about it simply out of curiosity. That experience showed me important things about how these platforms really work. One must be very careful about how one shares information. Even without saying anything or doing anything wrong, I suffered the consequences of operating these networks, and wanting to do good, I hurt myself. I understood that the breakup was made for something fair and right, so I felt it was right, but I was still not encouraged to return.
Mi regreso, pero a Hive / My return, but to Hive
Un antiguo conocido de steemit con quien había conservado contacto me escribió por el correo electrónico animándome a volver, me explicó los cambios. Ese "pana", como decimos acá, es el joven creador @daniel2001 . Vi cómo había crecido en la plataforma, y me gustó bastante lo que estaba haciendo porque tenemos gustos afines en materia musical, me habló de la aplicación para el teléfono (@esteem, o @ecency), cosa que me motivó poque tengo problemas para usar computadora.
An old acquaintance of steemit's with whom I had kept contact wrote to me by email encouraging me to return, explaining the changes. That "corduroy", as we say here, is the young creator @daniel2001 . I saw how he had grown up on the platform, and I quite liked what he was doing because we have similar tastes in music matters. He told me about the application for the phone (@esteem, or @ecency), which motivated me because I have problems using a computer.
Mi "nueva" experiencia en Hive
Asi que volví este año, tuve que crear una nueva cuenta, volver a empezar desde cero, pero no me importó. Me gusta escribir, me gusta compartir lo que se, o lo poco que sé. noté que ya estaba un poco familiarizado con el funcionamiento, los discords, y las reglas; pero igual pedí apoyo a las personas acá mencionadas. Simplemente tuve que recordar muchas de las cosas con las que ya estaba familiarizado y aprender los nuevos nombres. Esta vez he preguntado más, es steemit no lo hacía, aquí sí me he apoyado más en los curadores, me han ayudado bastante. Recuerdo lo que me pasó y por eso no voy a repetir la experiencia, no puedo evitar que haya odio y que haya gente irrespetuosa, o que se quiere aprovechar de la plataforma para hacer memes y ganar dinero; más aún si tienen dinero, porque si compran tokens y entran ya son más poderosos que los que empiezan desde cero porque no tienen plata. Aprendí también que estos espacios son más aptos para gente que sabe de programación, no son cómodos para los usuarios finales, y que por eso no son una red social en sentido estricto, hay gente que se confunde con esa idea, es decir, est no es una red social como se maneja twitter, facebook o instagram. Esas son más para enterarse de lo que hacen los amigos, para unirse a grupos de aprendizaje, compartir en tiempo real, o para que los bots de los gobiernos pongan a la gente a pelear, en cambio acá el problema de la monetización, que también es su encanto, es lo que limita la interacción real, intenté subir un video a 3speak y no pude, me imagino que hacen falta servidores, también tuve siempre muchos problemas para subir videos en dtube. Por otra parte creo que uno está más desprotegido ante el abuso, como me sucedió a mí, porque te pueden bloquear tu cuenta usuarios azarosos pero con poder, si les caes mal.
My "new" experience in Hive
So I came back this year, I had to create a new account, start over from scratch, but I didn't care. I like to write, I like to share what I know, or what little I know. I noticed that I was already a little familiar with the platform operation, with the discords, and the "rules"; But I still asked the people mentioned here for support. I just had to remember many of the things that I was already familiar with and learn the new names. This time I have asked more, in steemit I did not do it, instead here I have relied more on the curators, they have helped me a lot. I remember what happened to me and that is why I am not going to repeat the experience, I cannot avoid having hatred and disrespectful people, or who want to take advantage of the platform to make memes and earn money; even more so if they have money, because if they buy tokens and enter to the platform, they are already more powerful than those that start from zero because one do not have money. I also learned that these spaces are more suitable for people who know about programming, this places are not comfortable for final users (because of the interface), and that is why these are not a social network in the strict sense. There are people who get confused with that idea, that is, these are not social networks like twitter, facebook or instagram. Those are more to find out what friends are doing, to join learning groups, get a partner, being stalked by creey people, or catfished; or to share in real time, even for government bots to put people to fight; instead, here the problem of monetization, which also It is its charm, it is what limits the real interaction, I tried to upload a video to 3speak and I couldn't, I imagine that servers are needed, I also always had many problems uploading videos to dtube. On the other hand, I think that one is more unprotected against abuse, because the open information on blogs for outsiders, or, as happened to me, because your account can be blocked by random but powerful users, if they don't like you.
Algo que no me gusta es ver a gente que publica ideas sin fundamento, sin lecturas previas que le den racionalidad a su publicación y que ganan mucho dinero,también veo que ganan mucho quienes escriben sobre la misma plataforma, como pasaba en steemit, es decir vuelven los blogs una extensión de hive hablando sobre sí misma, en lugar de encontrar una maravillosa enciclopedia alimentada por los conocimientos de miles de personas, abierta a la crítica constructiva y respetuosa. Todavía no veo eso. Me preocupa ver publicaciones donde la gente da ideas sus fascistas, machistas o moralistas que fortalecen un "statu quo" que tiene al planeta tal como está y ganan dinero haciéndolo. Pero si tienen poder es difícil defenderse de ellos por acá. Aunque, toda red social tiene sus riesgos, todas tienen sus pro y sus contras, el espionaje que hacen por aquellas que ya conocemos igual nos lo hacen por estas. En fin, no quiero polemizar, ya con lo que me pasó vi que por acá no se puede hacer nada para regular eso. Incluso el tema de la privacidad lo veo más delicado por acá. Creo que como usuarios debemos ser conscientes siempre de que sin importar la red que usemos, siempre quedamos expuestos. depende de nosotros decidir qué mostra rde nosotros y qué no, porque todo queda acá.
Something that I do not like is watching people who publish ideas without documental foundation, without previous readings that give rationality to their publication and who earn a lot of money; I also see that those who write about the platform itself and they earn a lot, as happened in steemit, that is, Blogs that are making an extension of hive talking about itself, instead of finding a wonderful encyclopedia fed by the knowledge of thousands of people, open to constructive and respectful criticism. I still don't see that. It worries me to see publications where people give their fascist, macho or moralist ideas that strengthen a "status quo" that has the planet as it is, and they make money doing it. But if they have power, it is difficult to defend against them here. Although, every social network has its risks, they all have their pros and cons, the espionage they do for those we already know they do for them. Anyway, I do not want to argue, with what happened to me I saw that here nothing can be done to regulate that. Even the issue of privacy is more delicate here. I believe that as users we must always be aware that regardless of the network we use, we are always exposed. It is up to us to decide what to show us and what not, because everything is here and is open.
Sin embargo, sigo emocionado, Hive es un lugar donde puedo igual leer sobre temas que me interesan, puedo escuchar a músicos de muchos lugares, puedo compartir mis ideas, y fantásticamente monetizar haciéndolo. Debo decir que me ha ayudado bastante, la situación que vivimos en mi país no es fácil, así que estas cosas lo ayudan a uno a mantenerse intelectualmente activo, creativo y dinámico. Me gusta mucho las mejoras que he encontrado. Hay mucha gente tratando de construir aquí un ligar mejor. Creo que esto va por buen camino y sí creo que en el futuro se desarrollará muchísimo más, quizás no como lo esperamos pero este tipo de plataforma cambiará nuestra manera de usar Internet y de usar las redes sociales, soy más amigo de Hive que de otras.
Espero que les haya sido grata la lectura de mi experiencia,espero poder seguir leyendo las de ustedes, hay muchas que me han gustado, pero por falta de power no puedo apoyarlos como se merecen. Poco a poco iremos creciendo. Adiós, o hasta el próximo post.
However, I'm still excited, Hive is a place where I can still read about topics that interest me, I can listen to musicians from many different places, I can also share my ideas, and I can fantastically monetize doing it. I must say that it has helped me a lot, the situation that we live in my country is not easy, so these things help one to stay intellectually active, creative and dynamic. I really like the improvements I have found here. There are people trying to build here a better place to be. I think this is on the right track and I do believe that in the future it will develop much more, perhaps not as we expect it but this type of platform will change our way of using the Internet and using social networks, I am more friends with Hive than others .
I hope you have enjoyed reading my experience, I hope to continue reading yours, there are many that I have liked, but due to lack of power I cannot support you as you deserve. Little by little we will grow. Goodbye, or until the next post.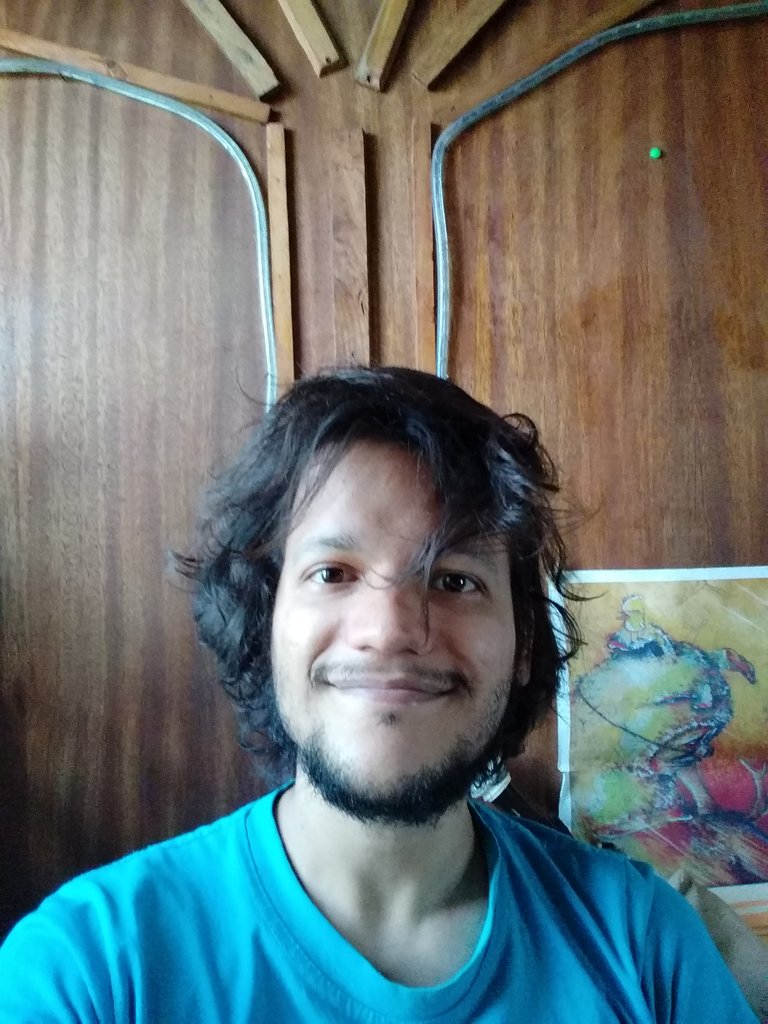 *Foto tomada con mi celular / Sefie taken with my cellphone
---
Thanks to @stateofthedapps and @hiveangelists
---
---