REVIEWS VIDEO: Eat Pray Love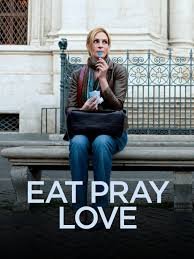 Following the person he loves, he finds himself who has become similar and chooses a year-long journey to find himself. This is the story of Liz, the main character who lost herself and was hurt by love because she couldn't keep her ego.
Liz finds sweet laziness in Italy. At the restaurant she went to for pizza, Sophie said she couldn't eat pizza because she had gained weight. Liz says the important thing is to admit to yourself. If you have a big belly, understand and let others know that you don't have to hide your happiness to look beautiful.
"I'm just going to eat. I don't want to be fat either, but when I eat, I just want to eat without feeling guilty. Let's eat pizza today, watch a football game, and tomorrow we both go out and buy some big jeans."
She tried to meditate and pray in India, but Liz was thinking too much. I chose to travel for a year, but I couldn't help but think about reality. Living without thinking is more difficult. My thoughts are so complex that I cannot have a peaceful mind. While thinking about what to pray for, Richard approached.
"Don't even try, just give up. Give it all up and sit down. Then you will get the answer. Why hold on to the past? When I want to see you, I want to see you as much as I want. greedy girl. Love will come again."
Shaman Ketu, whom he met on a previous trip to Bali, told Liz 'life is balanced'. Spend the morning starting with meditation and the afternoon lazing around. Then he met Felipe. Liz who lived a balanced life as Ketou said, was afraid that her life would be ruined by Felipe. keto said:
"Sometimes, breaking the balance because love is a process of living a balanced life."
Liz goes on a boat trip with Felipe.
and alone
'This is my natural law. When you have the courage to leave everything comfortable and familiar, whether it's your home or your emotional core, external or internal, as you embark on a journey to seek the truth, consider everything you encounter on the road as a process of enlightenment. , If you can have the will to learn from everyone you meet, and above all, if you are prepared to forgive yourself for being hard to admit, the truth will be revealed to you.'
---
If you watch a movie that focuses on Liz's emotional changes, you can see how she achieves a 'healing'. movie talks If you let go of it without clinging to it, and wait without trying too hard, a balanced life and love will come.
We can't go on a healing journey from year to year like Leeds. You have to live in your own place. 'Accept life. don't lose yourself. I live a balanced life.'
---
That is life. When life shakes, hold it, stand up and accept the love that comes. When love comes, you love, and when heartache comes, you live through the pain. This is the life of eating, praying, and loving.
---
---