Introducing HiveDesk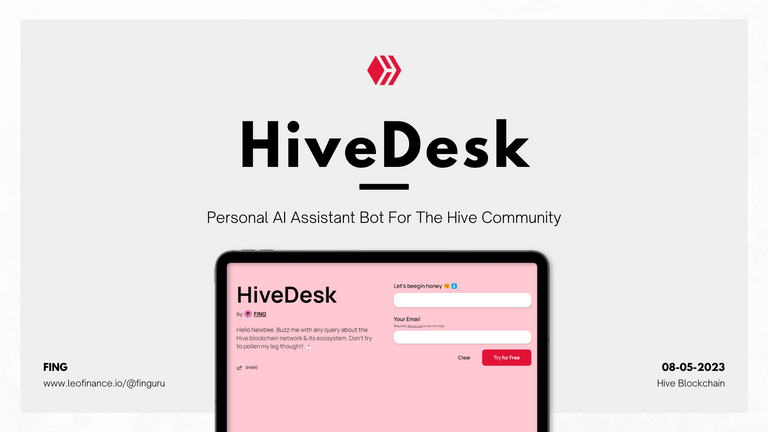 The Problem
Noobees on Hive must be tired of sifting through countless blogs and resources to find the information they need about the Hive ecosystem. I was in a similar situation when I started my journey almost 2 years ago. Now we have different communities & projects operating their own funnels and support systems to help current and potential hive users. Even though things are much better now, there's always a scope for improvement. Always!
So, I thought creating HiveGPT would be a great idea. After all, we are living in the age of AI. xD I even saw some interest on Twitter by other Hive stakeholders on this idea which motivated me to look for the solution even more.
I wanted to build something that could easily engage newbies and potential users of Hive with the platform and solve their queries without human intervention. Something that could resolve 80% of queries or at least provide pointers in the right direction.
But...
I couldn't code
I couldn't hire a dev
I still can't. 😂 In December last year, I went into the AI & No code rabbit hole. Since then I have been on the lookout for tools that can help me as a solopreneur and a hobbyist. Thank my luck, I found one that was perfect to turn my HiveGPT dream into reality.
The Solution
HiveDesk
HiveDesk is your personal AI assistant who knows (almost) everything about Hive and the general stuff related to blockchain technology & crypto. With so much information available online about the Hive blockchain, it can be overwhelming to know where to start. HiveDesk simplifies this process by providing a centralized hub of information that is easily accessible and user-friendly. Special thanks to @acidyo for suggesting the name on Twitter.
Try Hivedesk 🔗 https://app.brancher.ai/83c7c3c7-35da-4783-bce0-dc4726a02409
*Don't forget to read the "How To Use" section before trying.
How Does It Work?
Using a no-code tool called Brancher AI, I made this app in about 5 minutes. Yes, you read it right, the whole process of creating and launching the app was done in 5 minutes without writing a single line of code. xD Then I spent the rest of the night testing out different prompts and formats. Any average Joe can do it.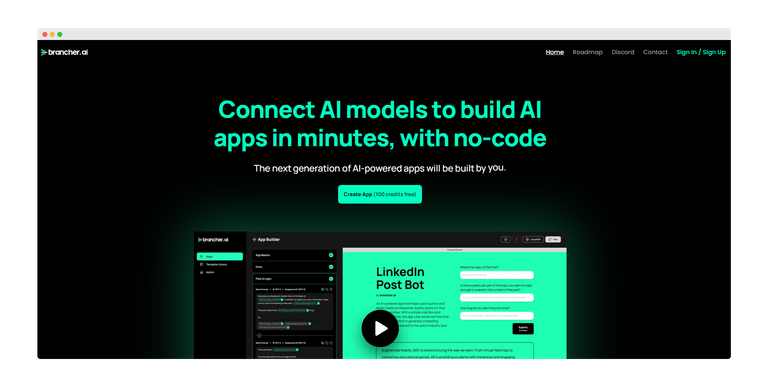 It will intentionally try to respond in a simple language that everyone can understand. Right now it runs on GPT 3.5 model by Open AI. I am still testing its limits so please bear with me.
How To Use
You only get free 100 credits when you give away your email id to Brancher. For each response, 1 credit will be consumed and I think that's more than enough to get your queries resolved. You can buy more credits if you continue using it after or use another email id on a VPN. I will see how we can make this completely free or have more free credits per account.
Simply visit the app page, provide keywords or ask a question in the text box and provide your email id as shown in the screen below: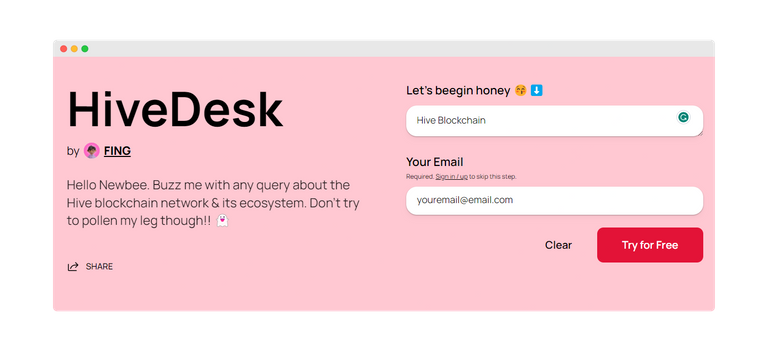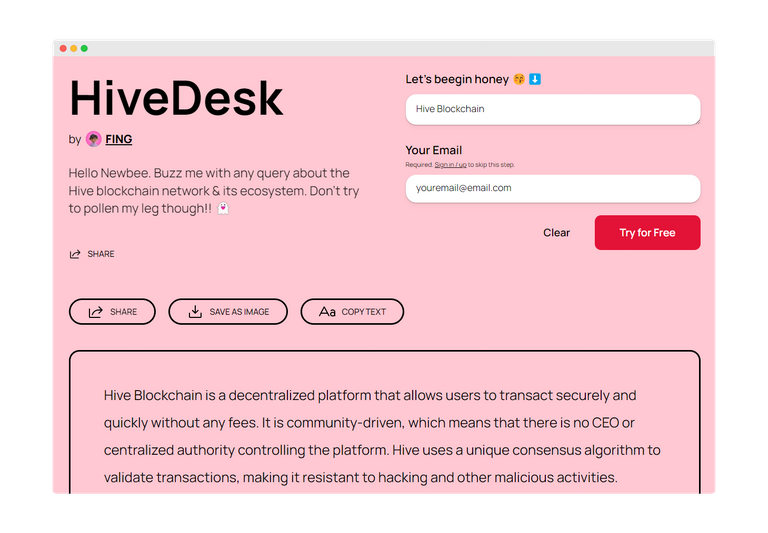 HiveDesk can do the following for you:
Explain keywords specific to Hive
Answer basic questions about Hive & Web3 in general.
Provide resources like links, blog posts, and articles about Hive
Summarize concepts, articles, and blogs
Translate text
Provide multilingual support
Content ideation and creation
Give feedback
Projects & communities can use it to provide support to their users and free themselves from the same repetitive questions again and again. Onboarders can use it to provide assistance to their onboardees on autopilot. Endless possibilities!
Future Plans
While I test out what else is achievable with this, you can also help me by playing with it the tool yourself and sharing your findings on the community - The Mindful AI. Please note that it may not provide you with the right response every time. Once GPT-4 integration and internet browsing capabilities are launched, we will get more quality responses. So all in due time.
HiveDesk (read Nocode & AI) opens the gate for use cases that we as a community can explore together and I will talk about them in a separate blog. But the point is, no amount of AI bots is enough for a complex ecosystem like ours. My objective is not to create the best AI support bot on Hive but to show everyone what's possible.
That's why, I will also publish a tutorial on how I did everything from scratch and how you can do it too to build your own bots within a few minutes. So follow me here or on Twitter to stay updated. Links in the footer.
Next steps:
Provide users to select personas, tones & other formats.
Fine-tune the flow and base prompt for GPT 3.5 which is customized for Hive.
Maybe add images tailored for each response created by Stable Diffusion.
Custom branding but it costs $10/m, will see.
Support Me
We don't need to invest thousands of dollars in creating tools that are now possible to deploy with a click of a button. You can basically start for free. I will continue to explore AI & No code technologies to build solutions specifically for the Hive ecosystem. Until then, please enjoy HiveDesk, and don't forget to:
Share your valuable feedback
Share this blog with your frens
Send upvotes & tips if you like my work
Buy me berries 🍓🍓🍓

LFG!
---
Follow: https://leofinance.io/@finguru
Twitter: https://twitter.com/finguru6 & https://twitter.com/DocumentingHive
Discord: finguru#4062
---
For infotainment purposes only.
---
---