Polygon PROs & CONs
Polygon (previously Matic) is the solution to Ethereum's Scalability and User Experience issues. It was founded by Jaynti Kanani, Sandeep Nailwal, and Anurag Arjun in 2017 as an Ethereum Layer 2 Solution. Polygon chain runs on top of the main Ethereum Blockchain and utilizes its security feature.
Under the new scope, Polygon aims to become Ethereum's 'Internet of Blockchain' by proving protocol & a framework for building and connecting Ethereum-compatible blockchain networks. In simple words, it's becoming a scaling solution aggregator where anyone can easily create their own Layer 2 blockchain with customizations as per business requirements. If you want to read more about Polygon in detail, please check out this basic guide by @cryopto guides - What is Polygon (MATIC) crypto? - Polygon Guide.
In this blog, we are going to look at some of the major PROs and CONs of Polygon. In the end, I will try to answer whether one should invest in Polygon in 2021 or not. Let's get started!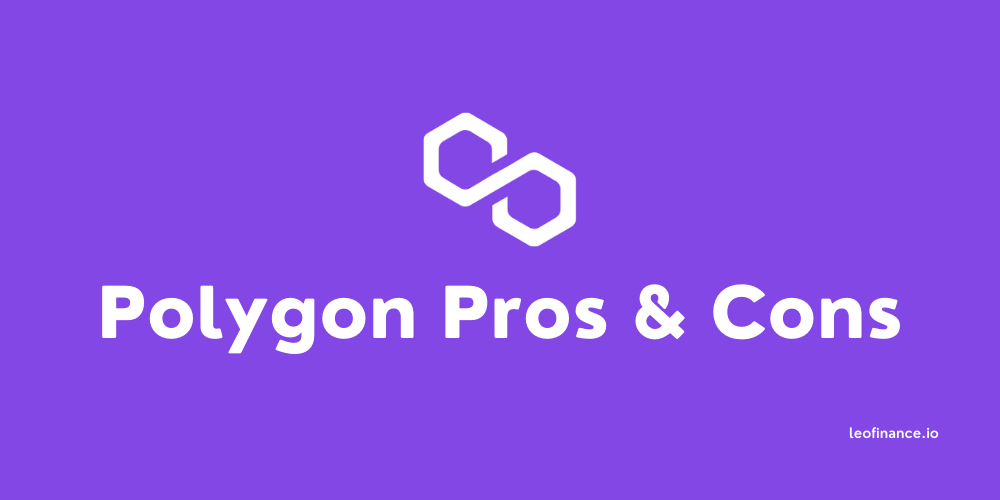 ---
PROs
Scaling Framework: There are so many projects out there like Polkadot, Cosmos, etc. which are mitigating scaling issues of Ethereum. None of them provides a solution to create those scaling blockchains and the ability to connect them. Polygon has a framework that can be used by developers to create their own scaling solutions. This unique feature provides flexibility and interoperability and avoids developmental challenges.
Decentralization: Polygon is decentralized unlike Binance Smart Chain (BSC) and still providing much lower and higher speed. This is why so many Ethereum based apps and others are flocking towards polygon as a better alternative.
Ethereum's Network Effect: Ethereum's community is huge since there are so many people involved in its ecosystem all over the world. Polygon, as a decentralized execution platform, provides a simple and quick transition to the Dapps that are already built on Ethereum. Devs can now have the best of Ethereum and create their own sovereign blockchain connected to the network.
Quick Adoption: DeFi giants like Aave, PolyMarket, SushiSwap, and Curve have quickly adopted Polygon Network and the list is growing. Polygon's cheaper GAS fees & faster block time have driven increased adoption by a number of major projects.
Security: Layer 2 solution by Polygon relies on Ethereum for security. Through its framework it provides "security as a service" and an alternative to create independent Networks which can choose their own protocols.
Developer Friendly: Polygon is made for the developers, by the developers. Developers behind Polygon have solid credentials in software development. They are fully committed to the Ethereum's ecosystem and hence create a solution that could quickly onboard the current Ethereum's Dev Community.
Endorsements: Polygon has been praised many time by Vitalik Buterin, Founder of Ethereum. Recently they have been added to the Mark Cuban Companies portolio. Polygon also recived funds and support from Binance Launchpad program. Overall the reputation of Polygon is increasing due to several endorsements that came along the way.
---
CONs
Ethereum Dependent: Ethereum is the epicenter of Polygon's ecosystem as the settlement layer hence there is a full reliant on it. It makes sense because Ethereum is setting out to become one of the base layer of Web 3.0 and in long term it is going to dominate the crypto and Blockchain space. But one cannot ignore the dependency.
Under Development: Right now, Polygon provides Matic Plasma and Matic POS Chains as their two scaling solutions. Other than that, Polygon Framweork is available through SDK which provides developers enough documentation to get started. Other scaling solutions like zk Rollups, Optimistic Rollups, Validum Chains, Sidechains, Enterprise Chains are under developmental stage. We don't know when they are going to be live.
Matic Plasma Chains: Matic plasma chains are not versatile and can be used for limited options. POS Chains are more famous because it provides flexibilty and great user experience as compared to Matic Plasma.
Matic's Token Demand: Right now Matic is required to become a validator, for governance and for paying transaction fees. Most probably rollups solutions will not use Matic at all. Transactions fees are already so cheap hence, you don't need many Matic Tokens to transact many times.
Competition: Other scaling solutions like Polkadot, Solana, Optimism, Cosmos etc. are gaining momentum slowly. They are using Ethereum or other blockchains to provide a better user experience overall. Over time we might see better solutions coming up and developer's might move there.
Ethereum 2.0: Ethereum 2.0 solution is expected to complete by early 2022 which will take Etherem from Proof of Work consesus to Proof of Stake. It will scale the network and most probably solve the high gas fees and network congestion to some extent. This might reduce the popularity of Polygon and its usage over time.
---
It's an initiative by @forexbrokr to drive organic traffic to the leofinance.io domain through long-form, SEO-optimized posts featuring high-volume keywords. This project aims to eventually have a leofinance.io based crypto guide for every single coin or decentralized project in existence through user-generated content. Go and check out both the Hive guide and Bitcoin guide that they already published with contributions from the community members.
Participate & Earn Leo Tokens
You can earn crypto (LEO) by contributing to the latest guides about crypto. Learn more: https://leofinance.io/@forexbrokr/introducing-leofinance-crypto-guides
---

https://leofinance.io/@finguru

https://twitter.com/finguru6

finguru#4062
---

Not financial advice. For infotainment purposes only.
Posted Using LeoFinance Beta
---
---