Terra Fiasco Is An Expensive Crypto Tuition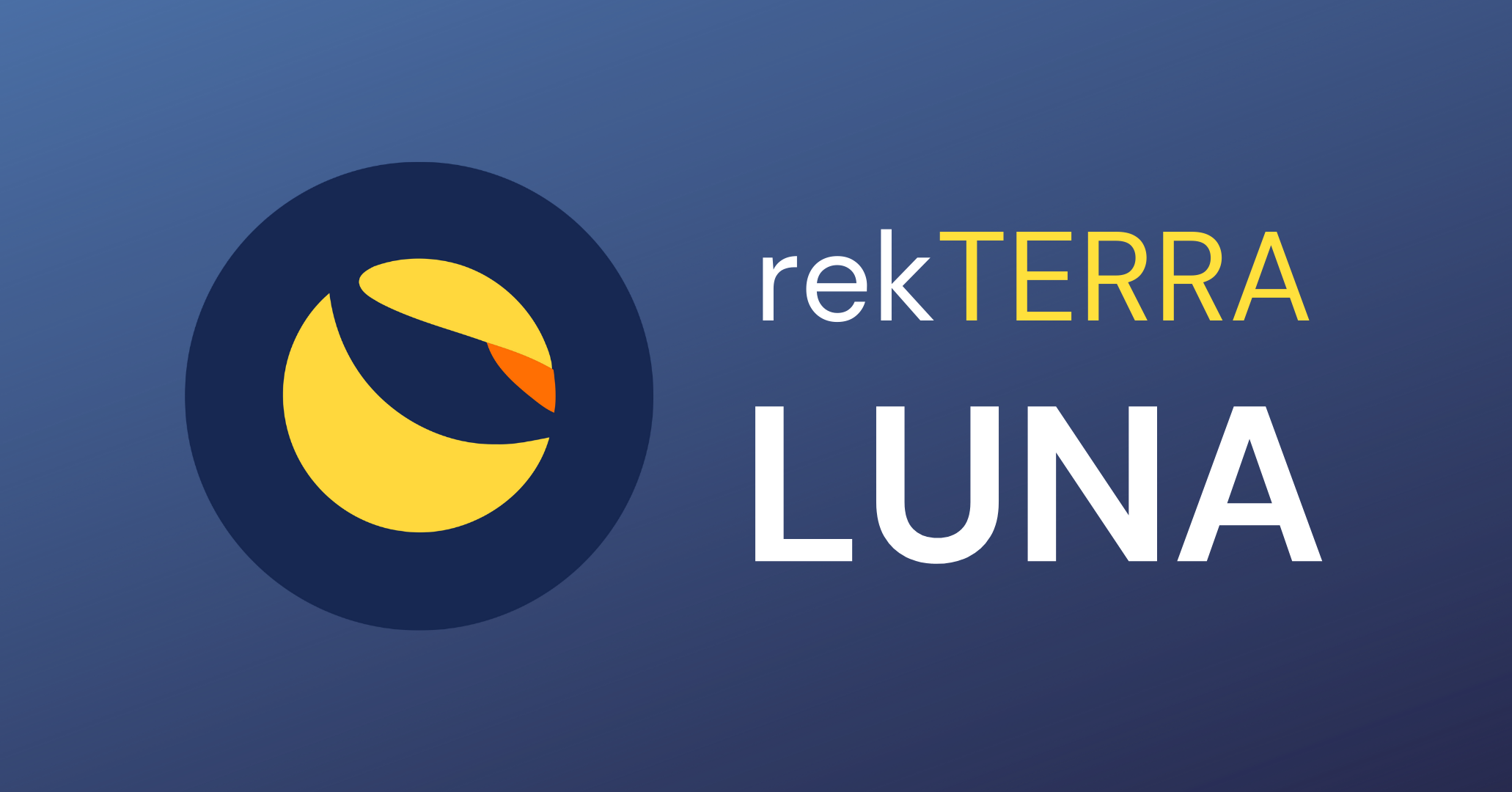 ---
Almost Got Rekt 🙃
Planned a 3-day vacation long ago but didn't realize such crazy shit would happen while I was gone. I am back in my senses from the holiday hangover, it's now business as usual. I consider myself one of the luckiest bastards in crypto. A few days ago, I sold almost all of my LUNA to invest in the COSMOS ecosystem when I enquired @jk6276 about how to do it. Although my ATOMs are worth a lot less now due to the market crash but they didn't go to dust like LUNA. Some of my profits were kept in UST in the hope to avoid market volatility and have leverage during the dip. It is obviously now going to zero. I am not selling whatever's left because there's no fucking point. I found the coin at a point when the price was only 2-3 dollars per coin. Moreover, as soon as my investment goes 2x or 3x, I take out the amount I invested which is what I did LUNA but a bit late. It went 10x in no time so I went greedy af. Let's say if I invested $1000 to get 20 coins, I would sell 10 coins when the price of 20 coins reaches $2000. I did something similar when the price went 10x instead of 2x and all the way up to $100, I sold quite a lot to park my profits. LUNA didn't make me rich or burn me but it gave me enough to set up my long-term crypto portfolio. Most importantly, it gave me a shit ton of learnings for life. I didn't exit because I saw the clear-cut flaw in the system, but because I wanted to use that money for another investment. That's why I feel that I was lucky enough to escape at the right time. Good Riddance!
On the other hand, I am really not happy with myself because even when I started having my doubts after LFG (Luna Foundation Guard) decided to buy BTC as collateral for an algorithmic stablecoin, the luna influencers clouded my judgment. I believed them that LFG would save the day when the time comes. Fortunately, I did not have much LUNA left to face that dreadful situation. When the time came, it tanked! 99% of us didn't take any action even when several critiques have been made against UST Pegging Mechanism & Do Kwon's ability to handle this shit. I have personally made enough profit in LUNA but I could have made a lot more if this shitshow didn't happen. Not feeling much terrible but feeling extremely sorry for my fellow LUNATics, some of them actually lost their life savings and even homes because of this long coming death spiral. Denial is your biggest enemy in this game. This year I am going to do my best to learn and understand the fundamentals of tokenomics. Will focus on optimizing my portfolio allocation based on facts and data and not out of excitement over some YT videos. Doubling down on my research efforts before and after investing in a coin is a must now.
Single Point of Failure
Do Kwon, Founder of Terraform Labs always talked about creating decentralized money but in reality, Terra was centralized af. Most of the initial supply of LUNA was distributed among TerraForm Labs, employees, and a few early investors. It's also called ninja mine or pre-mine. The Hive community knows what it is. This gave power to the hands of a few people and groups. Moreover, they only have 130 validators which makes it even more centralized. Luna Foundation Guard aka LFG (not Let's Fucking Go), a non-profit organization registered in Singapore, and they are responsible for the development, marketing and sustainability of Terra (LUNA) ecosystem. Do being the biggest influencer on the platform leading Terraform Labs & LFG was the single point of failure. That's what happens in a centralized system. Everyone was banking on him to take action and solve the issues as the custodian of the reserves but his efforts (if made any) didn't go down well for LUNA & UST prices. Almost everyone suffered including him because of the long-coming death spiral. @edicted did a great breakdown on the topic and explained what exactly happened with LUNA. Mostly because there were no safeguards in place to avoid the spiral. Clearly, the BTC reserves were not enough. That's why $HBD as a long standing algorithmic stablecoin has several defenses that avoid infinite death spirals. Check out the post by @taskmaster4450 where he explained them in detail. Also checkout the post by @dalz on how the debt ratio on Hive is calculated and how it helps the blockchain to keep the economy healthy even during the extreme market crashes such as the current one.
Terrasco Was An Expensive Tuition
Terra Fiasco, also known as the Terrasco will go down in the history books of crypto for sure. No matter what happened, we cannot deny the fact that Terra has created a kickass community of builders. Most of them might move on to other projects and I am sure they will do pretty well. WBE 3 is a sea of opportunities and we are only getting started. I hope the community moves on either to create a community-owned network or try other things that could suit them but they don't have to be stuck in the aftermath of this fiasco. It's great learning for all of us involved and even Do. For some people including me, an expensive one even though I am not at an overall loss. But I consider it as a loss of opportunity because I had devoted my precious time apart from the investment like many others. The great thing about this fiasco was that no crypto course would have taught the shit I discovered because of it. Spend money on 'doing' and you can 'learn' in the process they said.🙃 Don't put your life savings though even when you are absolutely sure. That's a rookie move when it comes to crypto investments.
What did you learn from this fiasco? Did you get rekt? If yes, what's your next plan to rebuild? Comment below!
---

https://leofinance.io/@finguru

https://twitter.com/finguru6

finguru#4062
---

Not financial advice. For infotainment purposes only.
Posted Using LeoFinance Beta
---
---