What Is Polygon Nightfall & Why Does It Matter?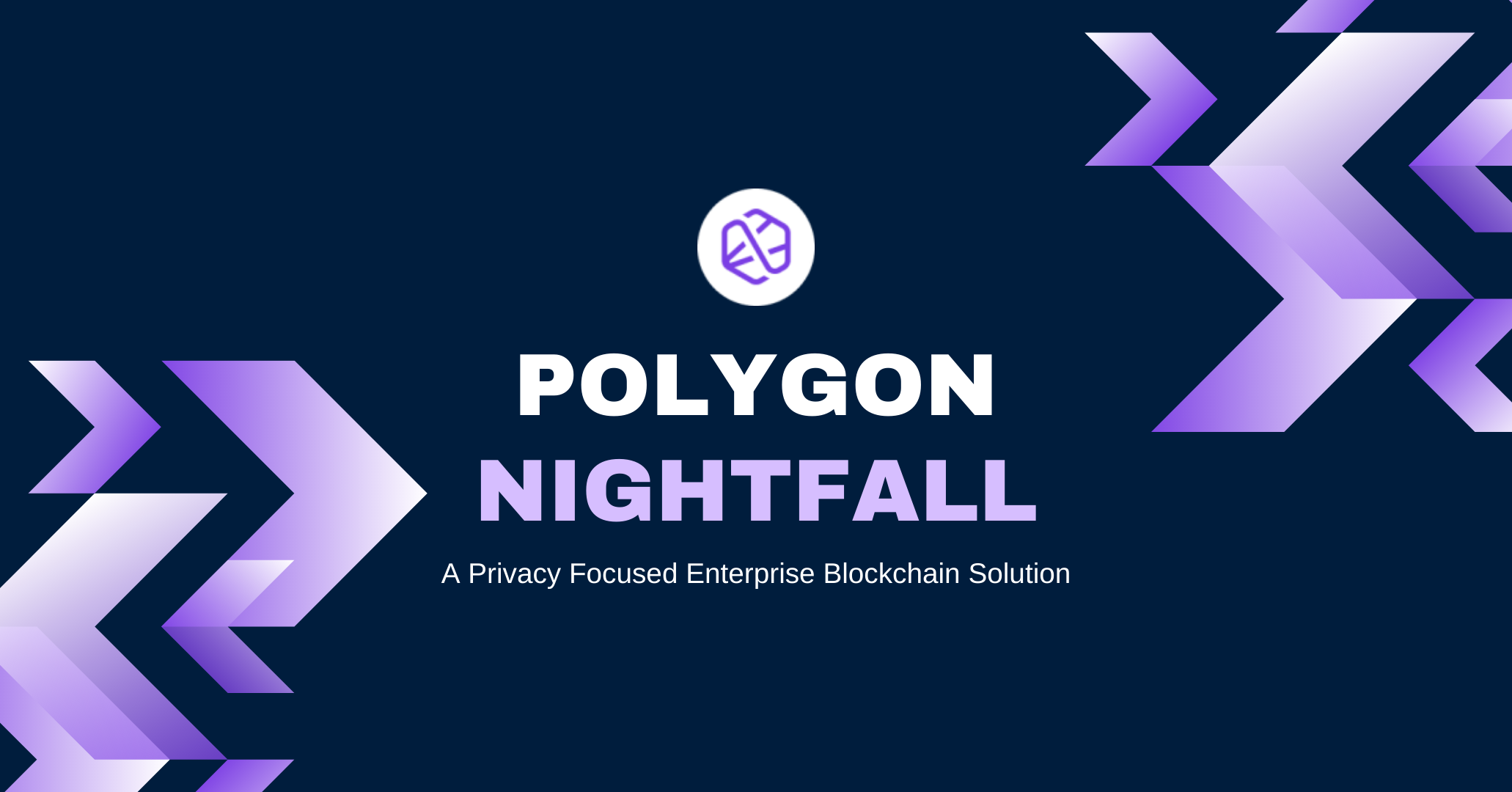 ---
Blockchain Technology is transforming the different industries across the planet. The trillion $$ question is - How it can help Enterprises solve complex in a secure and cost-effective manner? Big corps & even the small startups deal with a huge amount of data every day. It is generated internally or taken from external sources. That is why Enterprise needs for a private & secure blockchain are rising. Because a degree of trust is established without the need for any intermediary. Right now, most solutions are centralized and without privacy protection. Public Blockchains are not suitable since all transactions are visible to irrelevant parties. Businesses will not allow their transactional data to get out in the open. There's a huge scalability and optimization issue as well. Project Nightfall By Polygon aims to solve these problems using a hybrid ZK - Optimistic rollup technology.
Polygon is at it once again, slowly and gradually building the future of WEB3. In this blog, we are going to briefly examine Project Nightfall & its features. In the end, we will discuss why it matters to the Enterprise Solution market.
What Is Project Nightfall?
Nightfall is Polygon's first blockchain solution for enterprises, enabling them to do their complex day-to-day functions with ease. As mentioned in the introduction of this blog, it uses a hybrid ZK - Optimistic rollup to provide the following features to enterprises:
Security: Security of Ethereum as a settlement layer
Efficiency: Fast transactions & low fees
Privacy: No third-party access to transactions and data
The Polygon team has launched Nightfall Beta Mainnet on 17th May which will be tested in collaboration with one of the 'big four' accounting firms - Ernst & Young (EY). Both of them have joined hands to research & create permissioned, private industry blockchains for enterprises. Currently, EY has two flagship blockchain-related services:
EY OpsChain
EY Blockchain Analyzer
Both of them are now connected to Polygon Nightfall and current users can access them by connecting to Polygon Network.
Polygon's To Disrupt Supply Chain & Other Industries
Sandeep Naliwal, Polygon's CEO aims to provide a radical change to the $50 Trillion global supply-chain industry. It is at the core of any business out there making it one of the major use cases of Nightfall. OpsChain from EY helps other companies track & manage their supply chain. It will allow them to create NFTs representing real-life assets. They will be traceable on-chain and can be verified within the inventory. Using Nightfall will be faster and cheaper than legacy solutions. At the same time, privacy of sensitive data will be preserved. Apart from this, there are several use cases in Finance, Healthcare, Transport, Education, Agriculture etc. Polygon's team is also thinking of collaborating NFT marketplaces to create and trade private NFT assets.
Better data means better business decisions. Moreover, blockchain in association with ZK & Optimistic rollup technologies provide decentralization, accountability, immutability, scalability, security, ease of use, and privacy. A verstatile solution like Nightfall matters because it would definitely empower all kinds of enterprises & business verticals to transform the way they work. What do you guys think? Comment below!
---

https://leofinance.io/@finguru

https://twitter.com/finguru6

finguru#4062
---

Not financial advice. For infotainment purposes only.
Posted Using LeoFinance Beta
---
---