A manic, magic Monday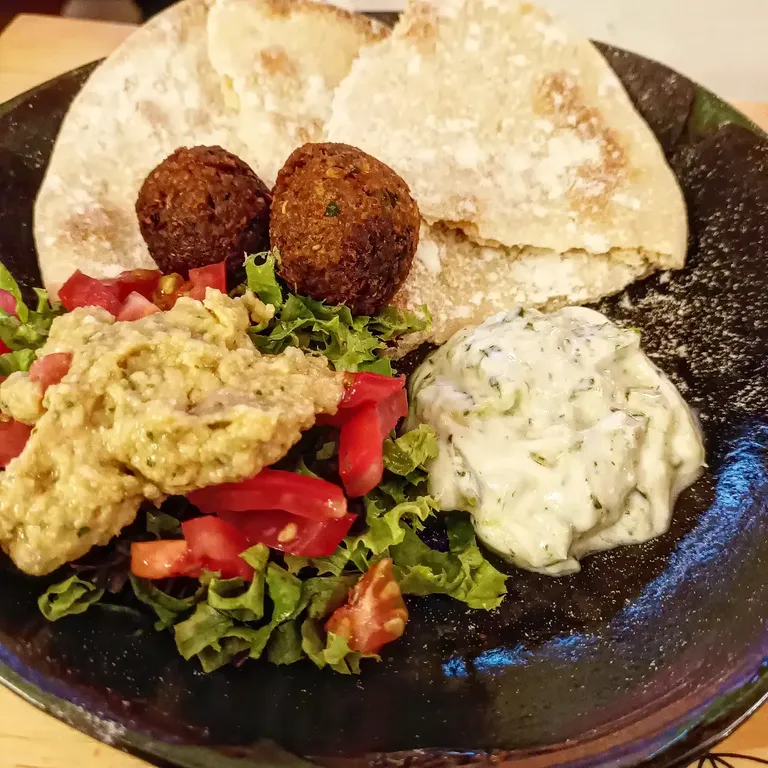 Meatfree Monday falafel and pita. The falafel were a gift from my market pal, Trish. My plan had been to stash them for a future Monday when I didn't have a plan. That happened more quickly because we ate what I had planned for Monday on Sunday.
(If that makes sense...🤦🏼‍♀️🤷🏼‍♀️🤣).
With it I used up the last of the disastrous pita dough that doesn't puff which is why there is one pocket and one deconstructed falafel pita supper. All finished off with shredded lettuce and chopped tomato as well as Trish's tzatziki and my classic hummus.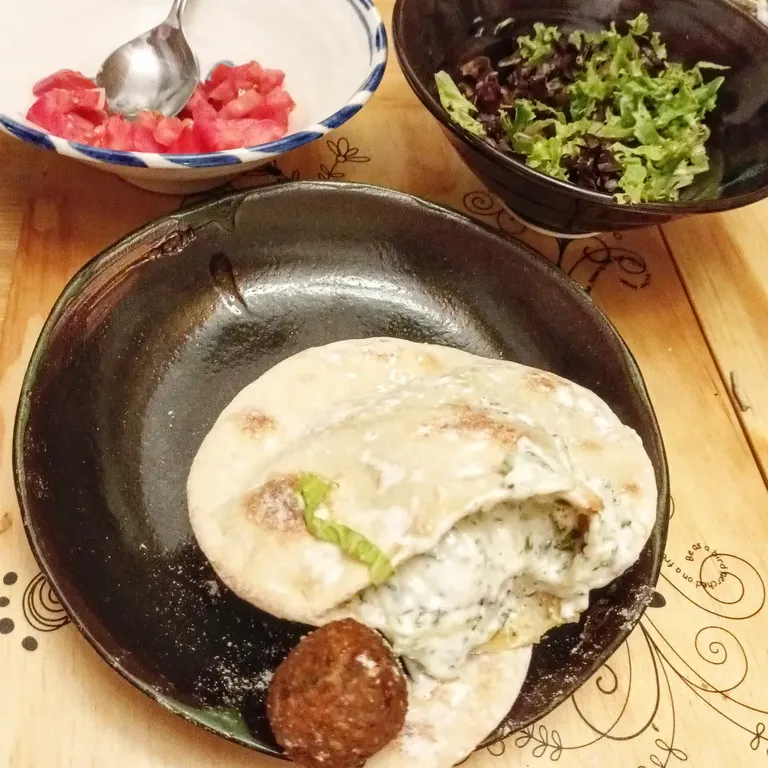 A good end to another proper (but good) Monday.
Let me explain:
I was approached about two weeks ago about some work and it was all very promising. Needless to say, the devil is always in the detail, and there has been a quite a bit of detail to sort out. In the sorting out, having already compromised on one issue, I took a decision to stick to my guns.
It entailed proposing a compromise to the client while still retaining an important "win" (I don't like that word) for me. I'd decided that if they didn't meet me half way on this, I'd be walking away.
They did. Meet me half way. I couldn't be more delighted. It's a great project, good pay, and the work is until mid-January (yes, I'm going to be working hard, but that doesn't scare me), and with prospects for more.
So while it was another proper Monday, it was a very good one.
Post script: I am trying to participate in @traciyork's November #HiveBloPoMo. I emphasise trying because the last two months have been exactly that - trying. There have been times that I've just been too exhausted and uninspired to post, let alone write something profound. That shouldn't stop you - or anyone. Read about how to participate here.
I've made it to day 22!
Until next time, be well
Fiona
The Sandbag House
McGregor, South Africa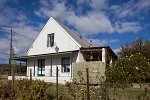 Photo: Selma
Post script
If this post might seem familiar, it's because I'm doing two things:
re-vamping old recipes. As I do this, I am adding them in a file format that you can download and print. If you download recipes, buy me a coffee. Or better yet, a glass of wine....?
and "re-capturing" nearly two years' worth of posts.
I blog to the Hive blockchain using a number of decentralised appplications.
From Wordpress, I use the Exxp Wordpress plugin. If this rocks your socks, click here or on on the image below to sign up.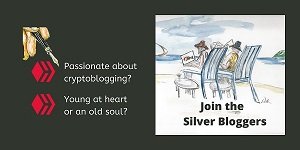 Original artwork: @artywink
lastly, graphics are created using partly my own photographs, images available freely available on @hive.blog and Canva.
---
---