Manic Monday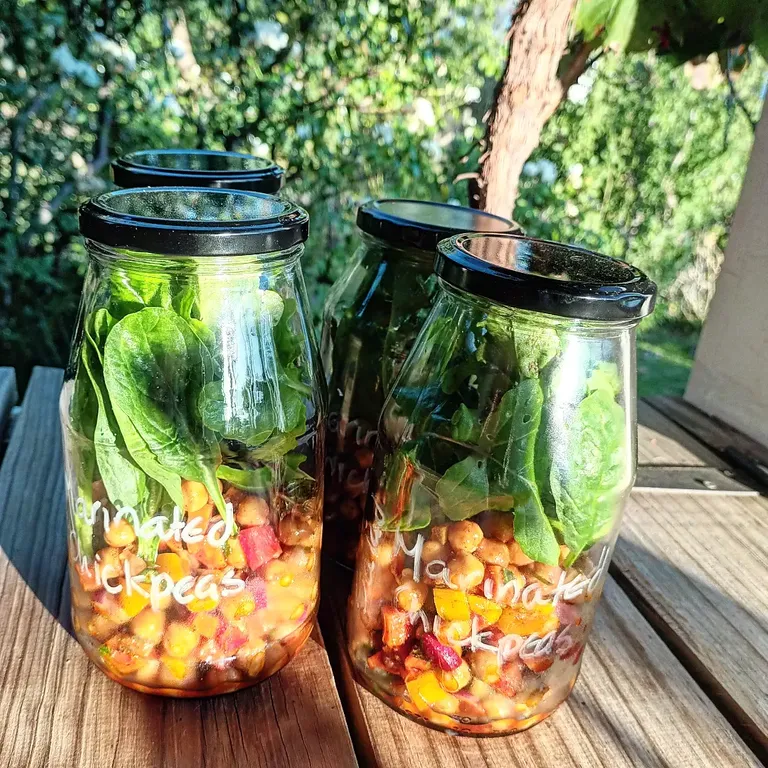 Last night's meat free Monday supper is as close as I get to convenience foods. Just about. Not having to actually cook last night, really suited me.
As usual, most of it came out of jars.
These were Saturday's #inthejar market special: Moroccan marinated chickpeas. I had both saved some, but brought two home. It was a dismal market on a day that became even more dismal. When we got home, and The Husband went to unlock the shed, the door didn't need much unlocking and wouldn't open to its full extent. The door had been jimmied and the two returned power tools were gone. Along with a couple more odds and sods. Let's just say that I was less than impressed when he admitted that he'd put the tools back on the same shelf, back where they could be seen from the window. Especially. A lesson he taught me - a gazillion years ago - after an attempted burglary in Cape Town: make sure what's valuable is not visible. Sigh...
Then there was more
For a week or so, there had been a slow drip from the geyser outlet into the garden. I didn't pay attention other than to think
It's boiling over.
I mean that literally because we have a solar system and when the temperatures reach what they do, here, that's entirely feasible.
But
On Saturday, that drip had turned into a heavy drizzle. The Husband reckoned he'd had a look a couple of days earlier, and reached the same conclusion as I.
But
He looked again.
And
Sure enough, even to the lay person's eye, it needs replacing. Sigh...with an Ffff...
So
We had our friend (really) the plumber in at 7.15 am yesterday to give a quote. During his inspection, he tells us - the short version - that the poor installation has contributed to the corrosion. That workmanship had been done by the bank's insurer's appointed contractor.
Then
I submit his quote and report - using the bank's online system. My plumber's report and quote ignored, they appoint a contractor. I'm confused and call him. During the conversation, two three things things:
He's in Swellendam, the other side of the mountain.
Luckily he asks about the system - retrofit solar - that's not his wheelhouse.
The brand of geyser (date of manufacture on the plate - 2018) that's gone and was installed in 2019 stopped production in 2016. WTF???
He'll advise the bank
And then
Plumber B's been appointed and they call.
< We've worked at your place before - 2019.
WTF???
Not only did they do what now turns out to be a (s)crappy installation, and put in a geyser that...ahem...scroll back... but they're not just over the mountain, but they're way down beside the seaside. A two-plus hour drive to get here. And I remember last time:
Day 1: arrive with geyser; wrong one. Depart.
Day 2: return with current geyser. The one that's Fubar.
I tell her I don't want a rinse and repeat. I also say,
my plumber said there was a problem with the installation
why aren't they using the most popular geyser
I'm not paying a bean until the job's done and the geyser's working
She takes umbrage, but says her team will arrive at 11 tomorrow.
Not earlier?
No, it's a long way to drive. Like that's my problem. Well, if they have to work under a corrugated iron roof and solar heating pipes in 40°C heat, that's not my problem.
But that's not all
My patent unhappiness is reported to her principal. He calls. Threatens not to do the job: I must pay up front. I can have the geyser I want, but he doesn't won't guarantee it. Or provide after sales service.
WTF???
Talk about presumptions because you're talking to a woman corporate bullying because he's contracted to a bank.... Still, I'm not rolling over -
This is my third geyser through the same bank, and now the second you're supplying. Why should I have any confidence?
Or words to that effect. Use our service, with the geyser the bank approves and we will come back and honour the guarantee on our workmanship and the geyser warranty.
You have my word.
In the end
I hope so. I have to acquiesce. It's easier. We also get hot water before we don't (the old geyser still works, even though it's dribbling), and at least I've spoken to people and not a bot. And real people will should arrive tomorrow. If they don't I'll speak to a people and speak to a bot who will speak to the people who will speak to me. And fix the geyser.
I hope it doesn't get to that.
rant over - for the moment
Back to supper and my jars
I am often asked how long the salads last #inthejar, and as you see, three days later, the leaves were still bright and crisp. I know, from experience, that the salad would have kept at least another couple more.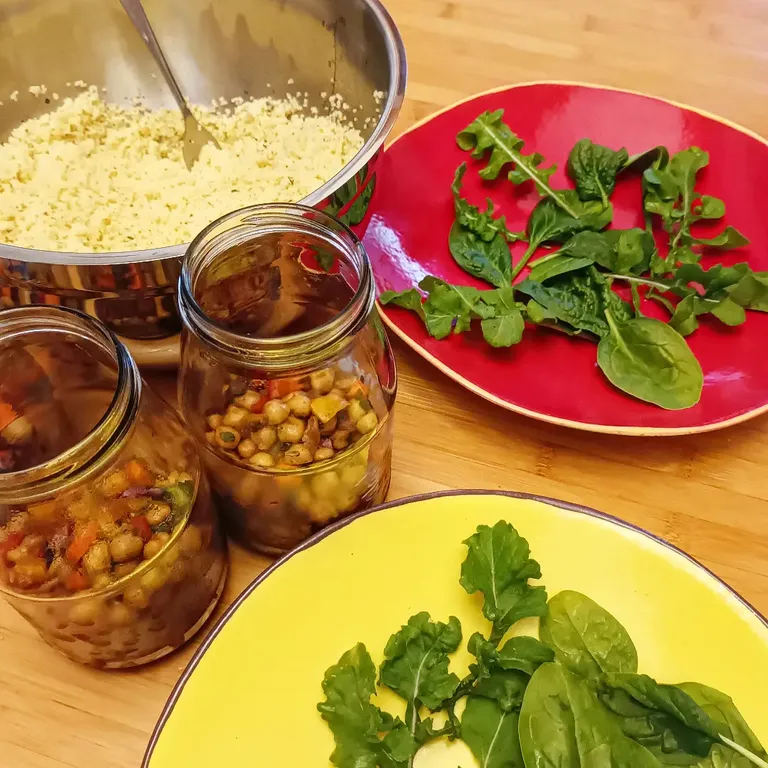 Back to last night. I decided to serve the marinated chickpeas with couscous. Some time ago, my market pal, P, gave me a new product to test. This was my first opportunity to try her Green Stock. I added a couple of teaspoons to the couscous before adding the boiling water.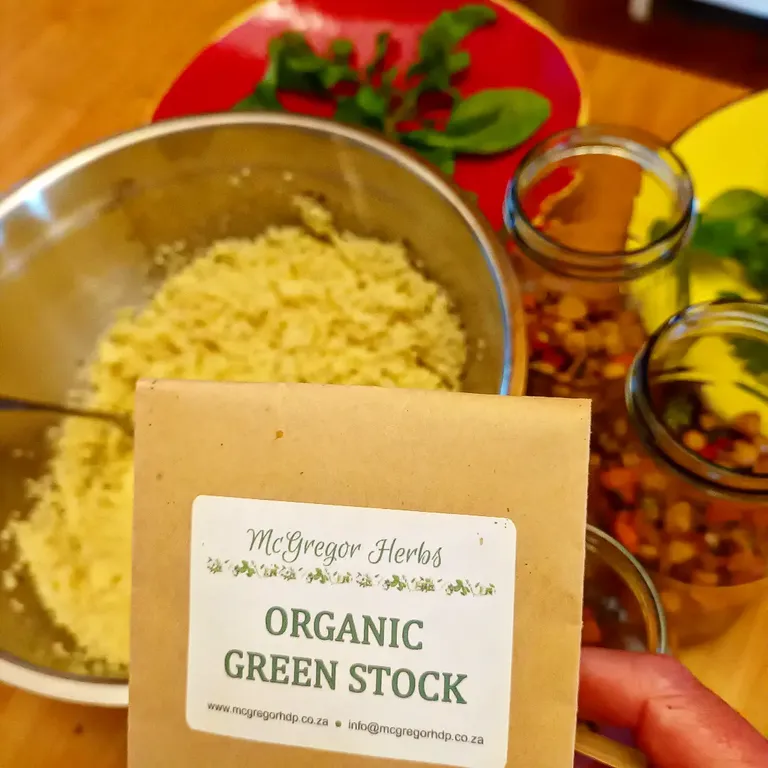 What a great addition! To the range, and yes, to the couscous. I shall be doing more experimenting as the weather cools, and as I cook dishes that call for stock.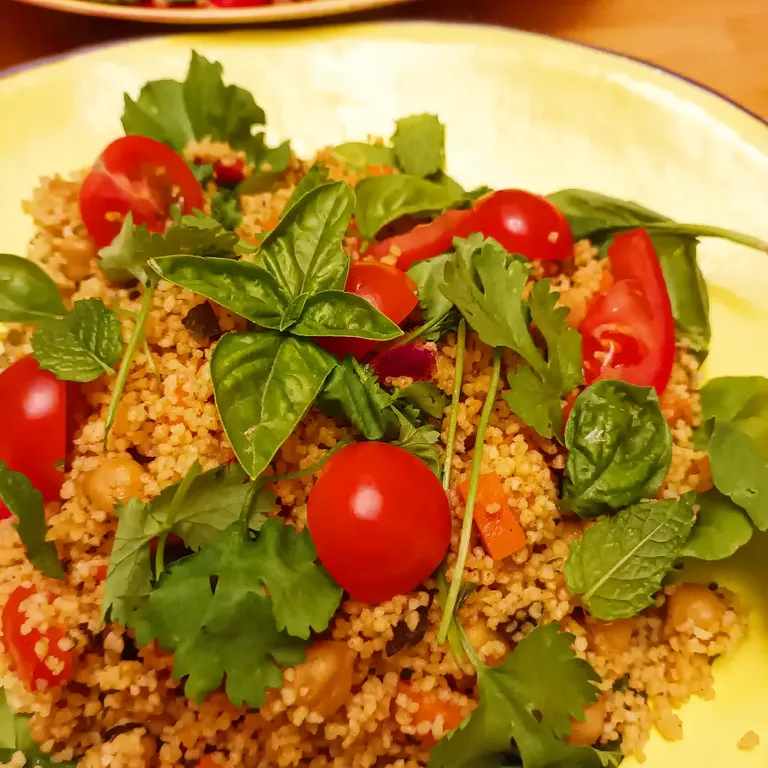 That last night's supper ended up being totally delicious and especially easy, was a good end to the first day of what is already a busy week.
Until next time, be well
Fiona
The Sandbag House
McGregor, South Africa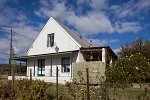 Photo: Selma
Post script
If this post might seem familiar, it's because I'm doing two things:
re-vamping old recipes. As I do this, I am adding them in a file format that you can download and print. If you download recipes, buy me a coffee. Or better yet, a glass of wine....?
and "re-capturing" nearly two years' worth of posts.
I blog to the Hive blockchain using a number of decentralised appplications.
From Wordpress, I use the Exxp Wordpress plugin. If this rocks your socks, click here or on on the image below to sign up.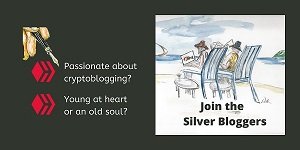 Original artwork: @artywink
lastly, graphics are created using partly my own photographs, images available freely available on @hive.blog and Canva.
---
---