My Brawl Report #1 - #HivePizza #BrawlReport - 08/31/21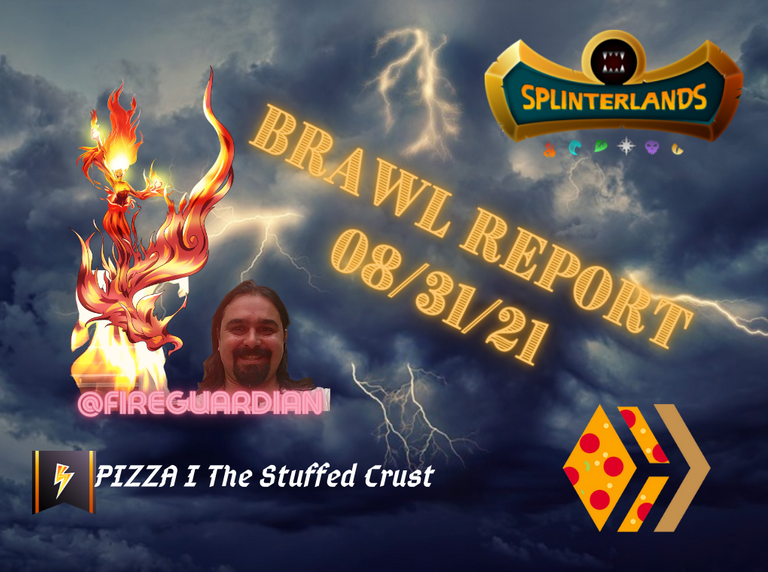 Hello everybody! This is my first (of hopeful many) Brawl Reports from the PIZZA I guild! This is an initiative by @kennysgaminglife for us to talk about the last brawl, share some insights (or dumb ideias) about our battles and make all of this a great fun learning experience! This was by far my est brawl yet, so I'm really happy to start my report with it!
Yes! From my 8 battles, I actually won 7!!!

This gave me second place inside the guild, something that also never happened before!

The last brawls we were always on top 3, most of the time ending on the 3rd place, but this time was different: We stayed in first for almost all brawl, but Mountain Gods entered all their battles on the last hour and passed us. But we still were able to get the second place, and with that a total of 1,108 merits!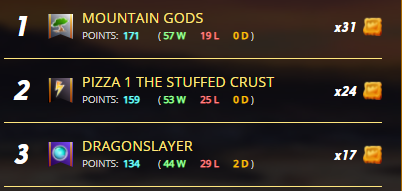 So, let's check out my battles!

Battle 1 - Win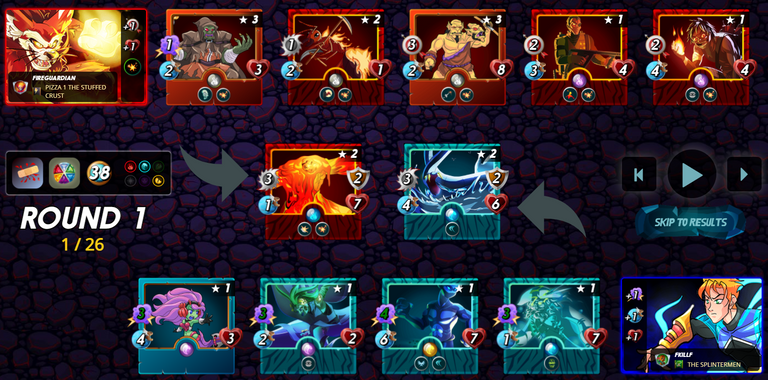 Click on the image to see the battle
Well... Yodin am I right? Although I went against Valnamor, the power of water was not enough to put out my fire!!! Near the end I missed 8 attacks against the Phantom of the Abyss (a whole round plus the others) that made me worry a bit, but then my Pyromaniac did the job. The rule sets of healed out and taking sides didn't make any difference in my opinion (or maybe if it wasn't healed out, I could have gone against the Sea Monster instead of Serpent of Eld)

Battle 2 - Win
Click on the image to see the battle
Since we had the silenced summoners rule set, the best choice was to use Kiara Lightbringer since she doesn't give any bonus and also use just a little mana. I really love Silvershield Assassin, I always use this card when it's the light splinter. And I also have this strategy of setting the Feral Spirit in front of the Silvershield Knight, so if my tank is killed, I still have a few more rounds of my Assassin with bonus attack. Also, in my opinion, you should never put the Sand Worm in the end of the line, so you can have it attack more times in the battle.

Battle 3 - Win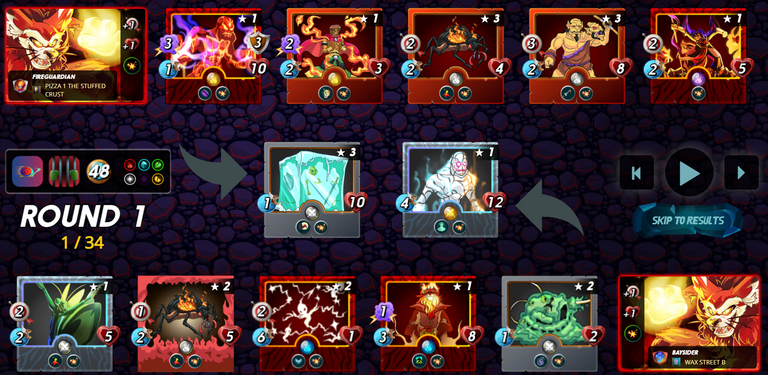 Click on the image to see the battle
At some point I was bound to encounter another Yodin right? Se here we were, fire against fire, two neutral cards as tanks and a lot of collateral damage. But it was a very easy battle since my cards were stronger and I had a lot more life then the opponent. One thing I would do different if I were the opponent was to not use the Creeping Ooze since the rule set Reverse Speed gave me a good advantage over him.

Battle 4 - Win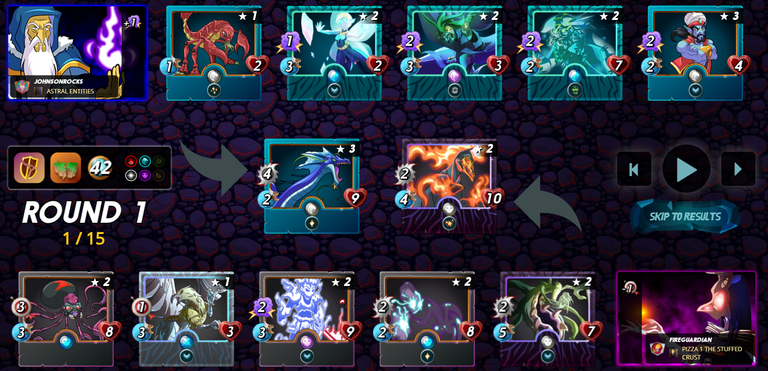 Click on the image to see the battle
When I saw that the opponent went with Alric Stormbringer I thought "Damn, I should have gone with Owster Rotwell, but at least I have more flying units than him". And that was what saved me, since the rule set Earthquake takes away 2 life points each round. And I was luck to kill that Crustacean King right in the beginning of the fight. I think it was a fair and good battle, wouldn't change anything about it.

Battle 5 - Loss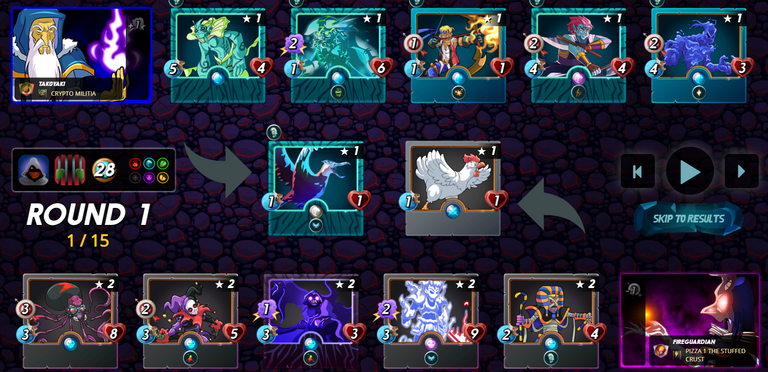 Click on the image to see the battle
We can't win them all right? I thought that getting two sacrifice cards as my tank would do the trick (and my opponent thought the same thing), but that damn Axemaster just cleared my strategy and did so much damage that in the end there was no cards left to help my Octopider to finish the job. Maybe if I changed the position of the Octopider with the Twisted Jester I could have won, or if I also sacrificed my Death Elemental to give my Phantom Soldier a few more rounds, but now we will never know...

Battles 6 & 7 - Opponent Fled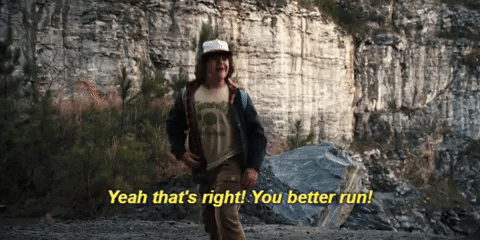 Battle 8 - Win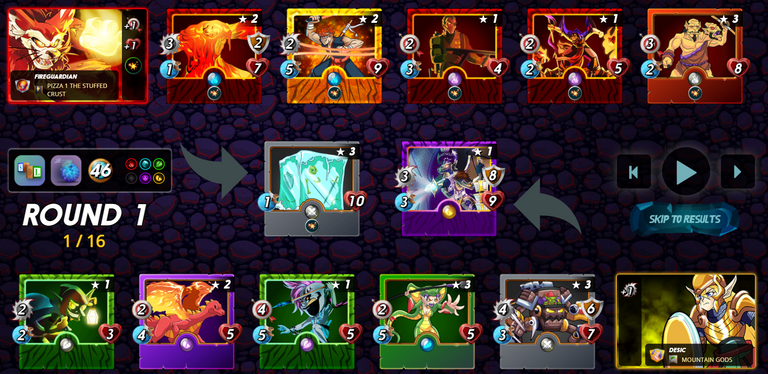 Click on the image to see the battle
This battle was more luck than strategy in my opinion, probably because my opponent maybe forgot about the Back to Basics rule set, so his last card didn't do him any good and that Robo-Dragon Knight didn't have so much power. It was a close call, but Yodin always do the trick! The only thing I need to remember next time is to switch the last two cards so if they get to the front of the line, with more health I can attack more with the other ranged.

Final thoughts
This was by far my best brawl yet, much thanks to @hivetrending for delegating Yodin to me, and also for some good high mana battles. I want to think that I'm getting good at this game, but reality is that I still have a lot to learn, and most of it was sheer luck. At the same time I'm super happy that I could win all these battles to help the @hive.pizza guild to win second place! They are the best buds anyone can ask for!
As for me, I really need to get me some cards so I don't rent so much, since they are all getting expensive and sometimes people just cancel my rental the day before the brawl. I know that I get the scrow back, but it's really annoying.

This is the ideia of the awesome @kennysgaminglife, so I pass the mic to him:
Starting with the brawl that just ended, I've invited/asked members of the #HivePizza guild to publish a #BrawlReport, breaking down their highs & lows, where they need help, questions they have, strategies they love, and so on. The idea is to help us all reflect a bit, learn a bit, share a bit, earn a bit, and connect a bit :-)
Any other guilds interested in publishing a #BrawlReport, either as individuals, or one for the whole guild, I'm happy to send some curation love your way!
You can check his Brawl Report by clicking here! I'm sure you'll enjoy it and also learn a lot!

And if you read all of this and have no clue what Splinterlands is, it's an awesome game with a lot of strategy, beautiful art and tons of fun! They are developing many new features (the Brawl, for exemple, just got an upgrade of barracks and new cards!) You should really join now and don't miss the fun!!!
Thanks for reading until here!
Keep posting and keep shining!


---
---