My Brawl Report #2 - #HivePizza #BrawlReport - 09/05/2021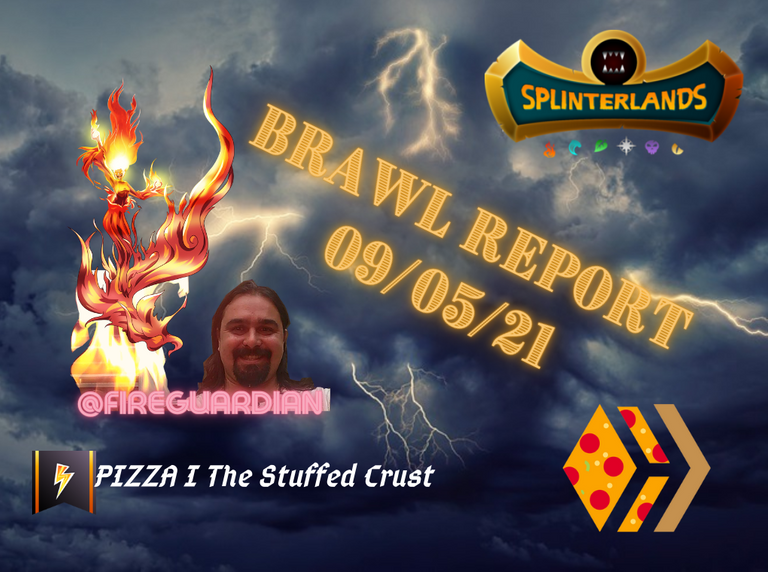 Hello everybody! Here is another Brawl Report from the PIZZA 1 guild! This is an initiative by @kennysgaminglife for us to talk about the last brawl, share some insights (or dumb ideias) about our battles and make all of this a great fun learning experience! This was my first gold foil brawl, meaning that I only had 1 battle. Luckily I won, but there is a funny story behind it... hehehe

Because I only had 1 battle, I didn't get many points and end up in the last place inside the guild score. But that's fine since the whole point of this is to beat the other guilds!

And beat the other guilds is what we did!!! Yes, we got first place!!! And by A LOT OF points ahead! The awesome people from the PIZZA guild just crushed in winning!!!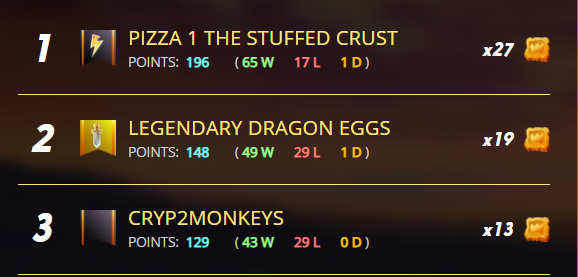 So, let's check out my battle!

Battle 1 - Win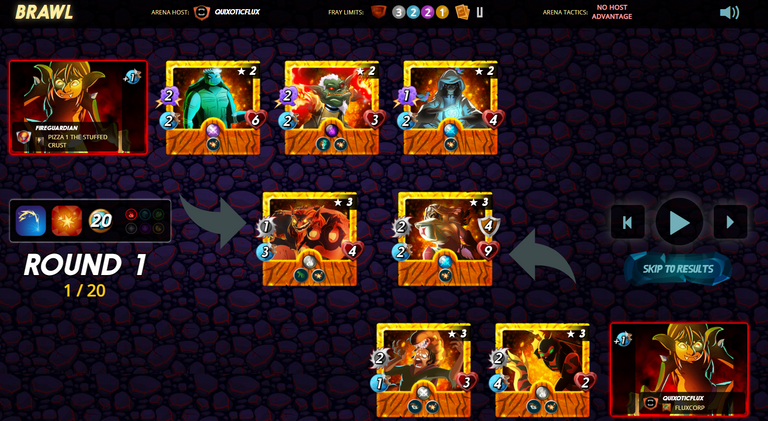 Click on the image to see the battle
Yes, this was a risky battle to use that many mages in a weak magic rule set, but when you are in all gold you gotta work with what you have... And this time payed off!!! I had a lucky miss from the opponent that settled the match, giving me the win!
But something really funny happened during this fight: The moment I started the battle, for some reason, I didn't have any cards to play! The first thing I thought was that It had a bug, so I refreshed. Nothing changed, so the next thing I had to do was to look it someone undelegated my summoner. And to my surprise, the summoner was there! But then I noticed a little detail that almost cost me the battle...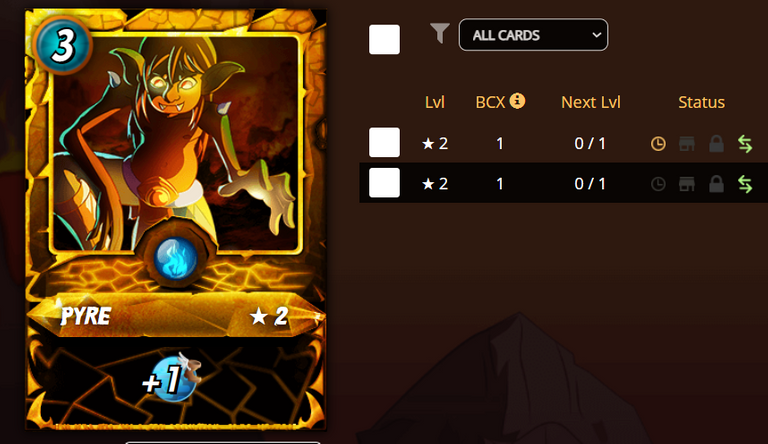 Can you all see it? That #$%#@&# clock there telling me "Oh no boyo, you're not playing with this one today..." How could I not see that before the rental??? Rookie mistake is going to make me loose the only battle I had??? Oh no sir, I just jumped into the market, rented the first Pyre I could see, warped to the brawl and made my team with 10 seconds to go... And it was a win!!! So lesson to be learned here:
ALWAYS CHECK THAT CLOCK BEFORE RENTALS!!!
I was lucky to have a good internet to allow me to do all these moves and still get in time to make my team, but maybe next time I won't be as much...

Well, I also want to take advantage of this report to show you all my first Brawl Cards! After this Brawl I got enough Merit to buy my first pack and these are the ones that I got! 2 rares to make me happy and 2 neutrals that can be a game changer depending on the brawl I get!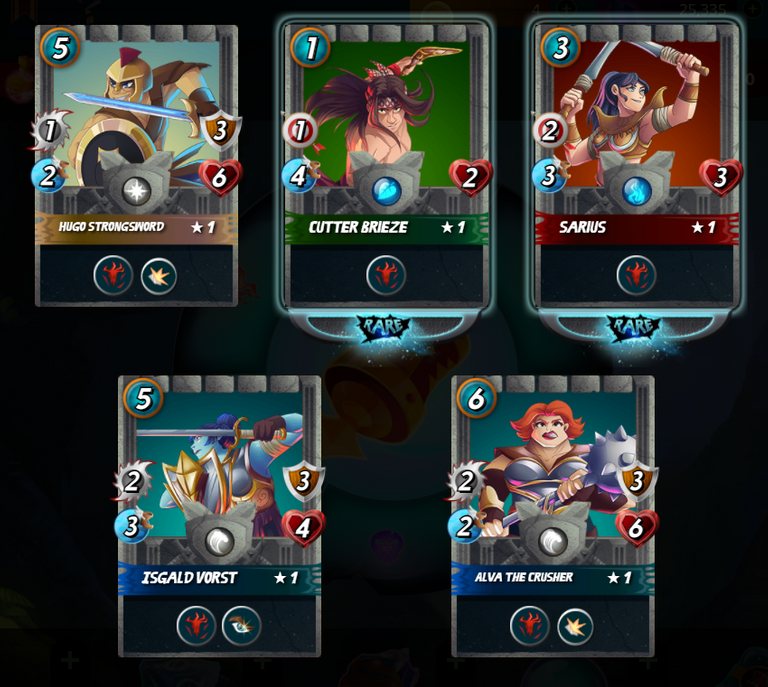 Final thoughts
HIVE PIZZA IS THE BEST PLACE TO BE!!!
I couldn't ask for a more friendly and funny community, where everybody cares about personal growth and financial too! We just got 1st place because we all helped each other, we root for each other and we got each other's back! And now with Pizza 2 guild on the roll, the family just gets bigger and merrier!
As for me, it was a surprise to get into this all gold fray and do well. I didn't spend as much DEC as I thought I would and in the end it payed out. Let's see if next brawl I'll keep this position or if I'll go for a different one. Be sure to read the next report!

This is the ideia of the awesome @kennysgaminglife, so I pass the mic to him:
Starting with the brawl that just ended, I've invited/asked members of the #HivePizza guild to publish a #BrawlReport, breaking down their highs & lows, where they need help, questions they have, strategies they love, and so on. The idea is to help us all reflect a bit, learn a bit, share a bit, earn a bit, and connect a bit :-)
Any other guilds interested in publishing a #BrawlReport, either as individuals, or one for the whole guild, I'm happy to send some curation love your way!
You can check @cooperclub's Brawl Report by clicking here and @shauner's Brawl Report from the Pizza 2 Guild clicking here! I'm sure you'll enjoy it and also learn a lot!

And if you read all of this and have no clue what Splinterlands is, it's an awesome game with a lot of strategy, beautiful art and tons of fun! They are developing many new features (the Brawl, for exemple, just got an upgrade of barracks and new cards!) You should really join now and don't miss the fun!!!
Thanks for reading until here!
Keep posting and keep shining!


---
---