[ENG-ESP] ANNE HATHAWAY PORTRAIT WITH COLORED PENCILS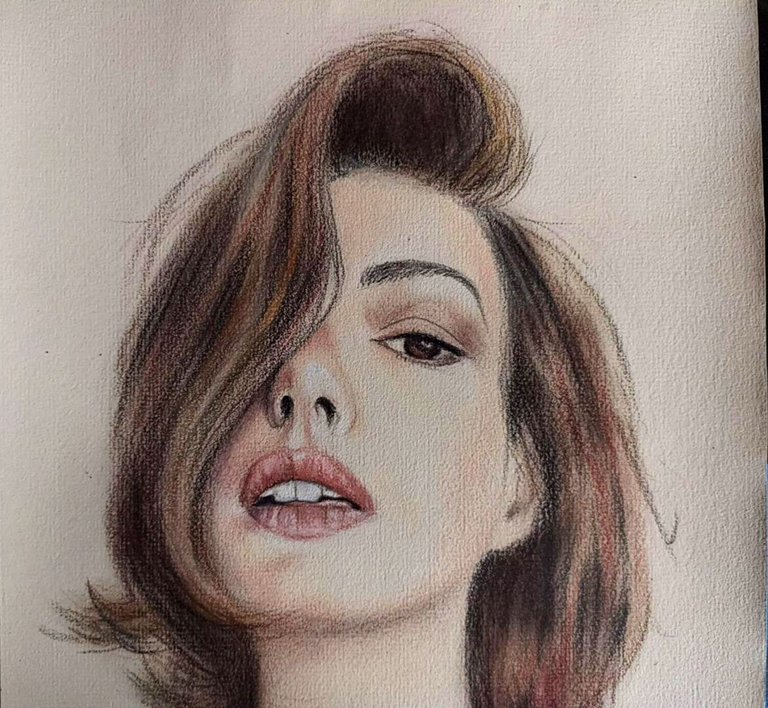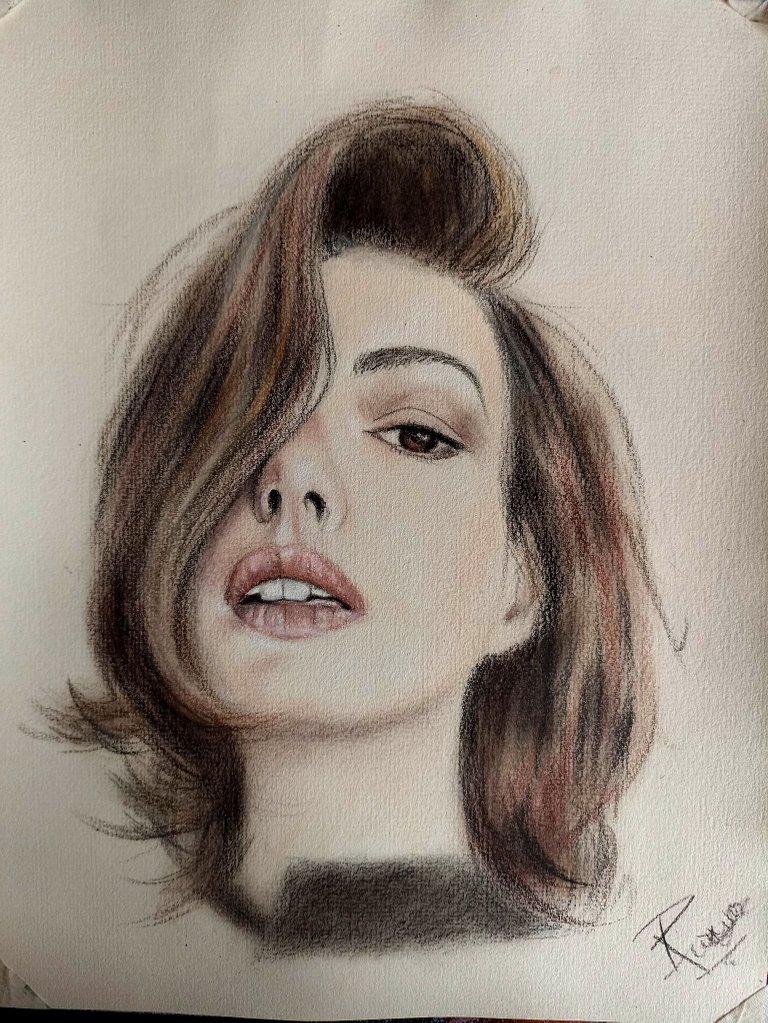 Hello friends, I hope you are very well, today I want to show you a portrait that I did with colored pencils of the beautiful actress Anne Hathaway, who has played great characters in great movies, such as "Interstellar", "Les Miserables" and others, I think that her great forte is in the drama, she really is great apart from beautiful, I consider her my crush just like Gal Gadot hehehe. I made this portrait with prismacolor premier colored pencils on Fabriano paper, I hope you like it.
Hola amigos espero que se encuentren muy bien, hoy quiero mostrarles un retrato que hice con lápices de colores de la hermosa actriz Anne Hathaway, quien ha hecho buenísimos personajes en grandes películas, como "Interstellar", "Los Miserables" y otras más, creo que su gran fuerte está en el drama, realmente es grandiosa a parte de hermosa, la considero mi crush al igual que Gal Gadot jejeje. Hice este retrato con lápices de colores prismacolor premier en papel Fabriano, espero les guste.

PROCESS
The first step was to make a sketch of the face which is half covered by her hair, so I drew only a part, using a 3H pencil that has a very hard tip and therefore the line is very clear, important to erase later the lines. I did the sketch following a model that I always use for faces, where I make a main circle that I then divide each part of the face into sections, such as eyes, nose and mouth.
El primero paso fue realizar un boceto del rostro el cual tiene la mitad cubierto por su cabello, así que dibuje solo una parte, utilizando un lápiz 3H que tiene una punta muy dura y por lo tanto el trazo es muy claro, importante para luego borrar las líneas. El boceto lo hice siguien un modelo que siempre utilizo para rostros, donde hago un círculo prínpipalque luego voy dividiendo en secciones de cada parte del rostro, como ojos, nariz y boca.

The second step is to start painting, but only first layers, for this I use these special faber castell colors for painting skin, since they have 3 different pastel shades that can be mixed very well. So I'm painting the whole face, leaving the eye for later, so I'm concentrating only on the skin of the face and then I'm shaping the entire area of ​​the nose. Then I am emphasizing the lips and the entire area of ​​the mouth, here I am darkening the tones a bit, and playing with the mixture between them.
El segundo paso es comenzar a pintar, pero solo primeras capas, para esto utilizo estos colores faber castell especiales para pintar piel, ya que tienen 3 tonos diferentes pastel que pueden mezclarse muy bien. Así que voy pintando todo el rostro dejando el ojo para despues, así que me voy concentrando solo en la piel del rostro y luego voy moldeando toda la zona de la nariz. Despues voy poniendo énfasis en los labios y toda la zona de la boca, aquí voy oscurenciendo un poco los tonos, y jugando con la mezcla entre ellos.

Then I started using the prismacolor colors that are denser to mix, so I painted the lips until trying to shape the color, in the same way leaving the teeth unpainted and then adding white color. To blend them together I blended them with a very soft brush, this technique never fails to make the most of colored pencils. Then I started to paint the eye with a first color base to which I will add others later.
Seguidamente comencé a utilizar los colores prismacolor que son más densos para mezclar, así fi pintando los labios hasta tratar de darle forma al color, de igual forma dejando los dientes sin pintar para luuego echarle color blanco. Para mezclarlos entre ellos los difuminé con un pincel muy suave, esta técnica nunca falla para aprovechar al máximo los lápices de colores. Después comencé a pintar el ojo con una primera base de color a la que después le agregaré otras.

Now I continue to give my face more volume by mixing all the colors that help me achieve a better skin tone. In the same way I am outlining the eye including the internal part of the retina, the cornea, the eyelashes and so I go up to make the eyebrows, I do the latter with quick and short strokes, to better emulate the physiognomy of the eyebrows.
Ahora continúo dándole más volumen al rostro mezclando todos los colores que me ayudén a conseguir un mejor tono de piel. De la misma forma voy delineando el ojo incluyendo la aprte interna en la retina, la cornea, las pestañas y así voy subiendo hasta hacer las cejas, estas últimas las hago con trazos rápidos y cortos, para emular mejor la fisionomía de las cejas.

Finally I paint all the hair, I outline it first with light colors and then I go darker to make shadows at the same time that I add more tones such as brown, brick brown, ocher and dark brown. Then, with a slightly larger brush, I blur the entire area that I painted using mineral oil, this helps the colors to mix, giving another result and also being able to continue adding more colors.
Por último pinto todo el cabello, lo delineo primero con colores claros y luego voy oscureciendo para hacerles sombras al mismo tiempo que voy agregando mas tonos como café, color café ladrillo, ocre y café oscuro. Después con un pincel un poco más grande difumino toda la zona que pinte utilizando aceite mineral, esto ayuda a que se mezclen los colores dando otro resultado y tambien poder seguir agregando mas colores.

FINAL WORK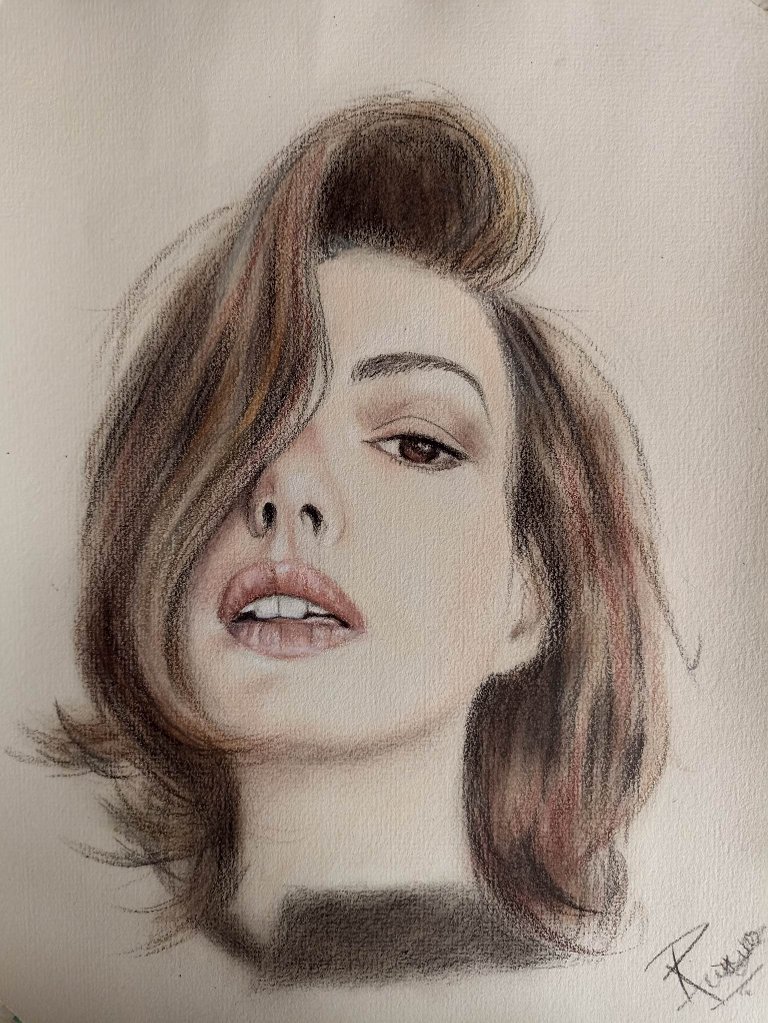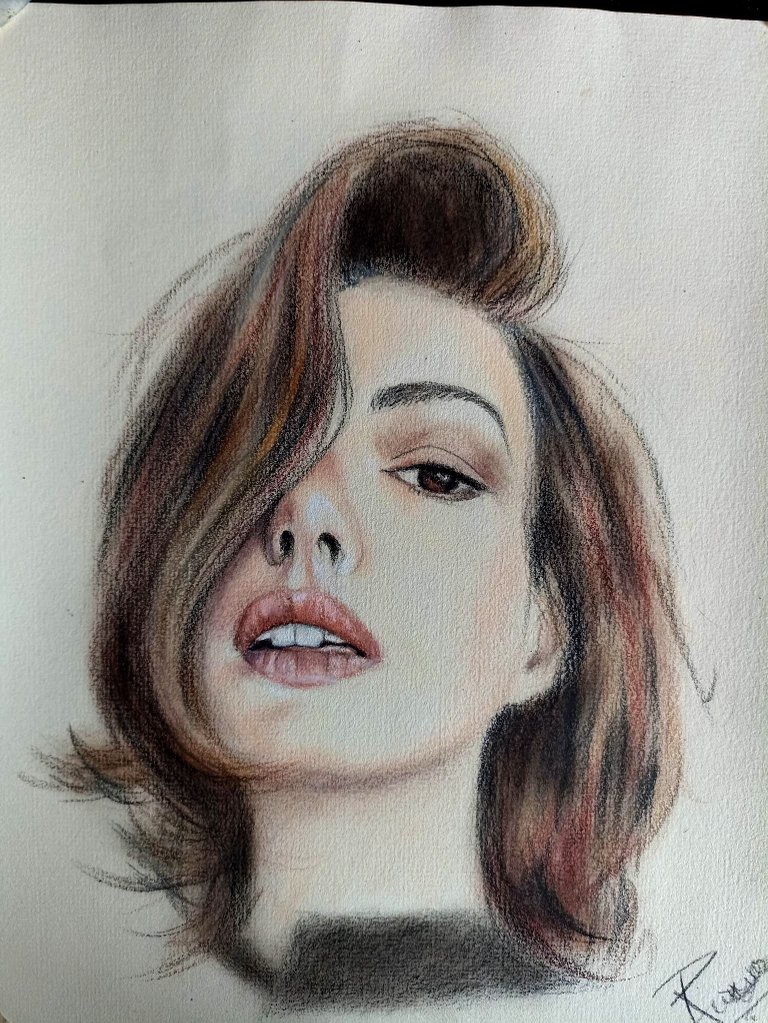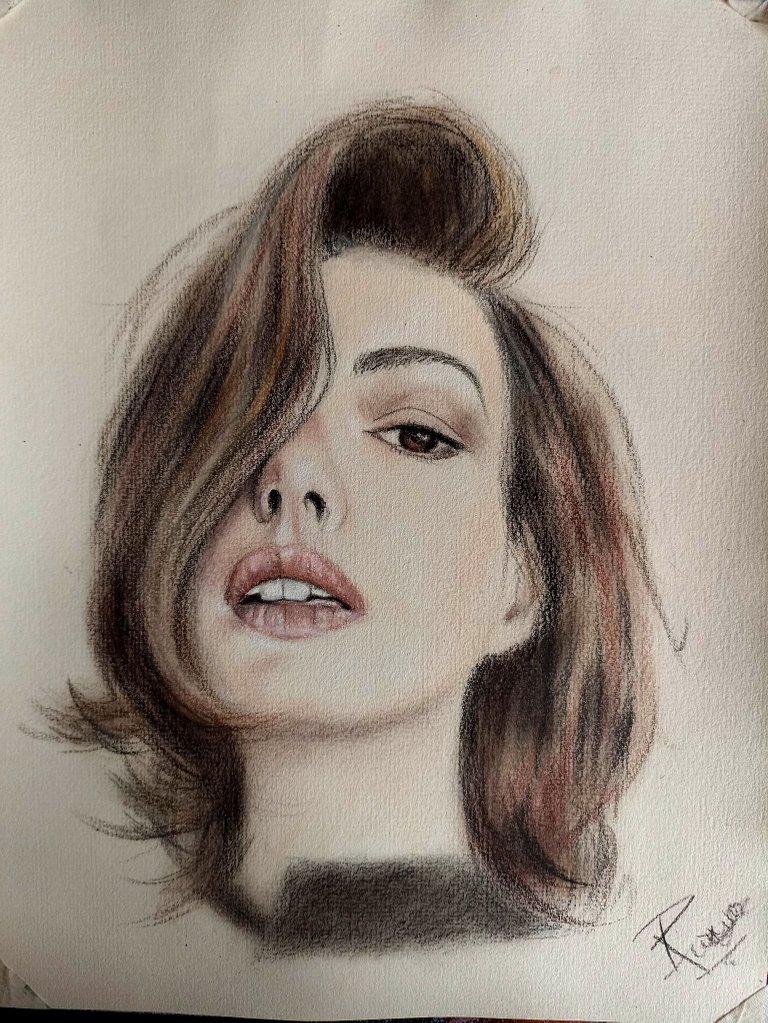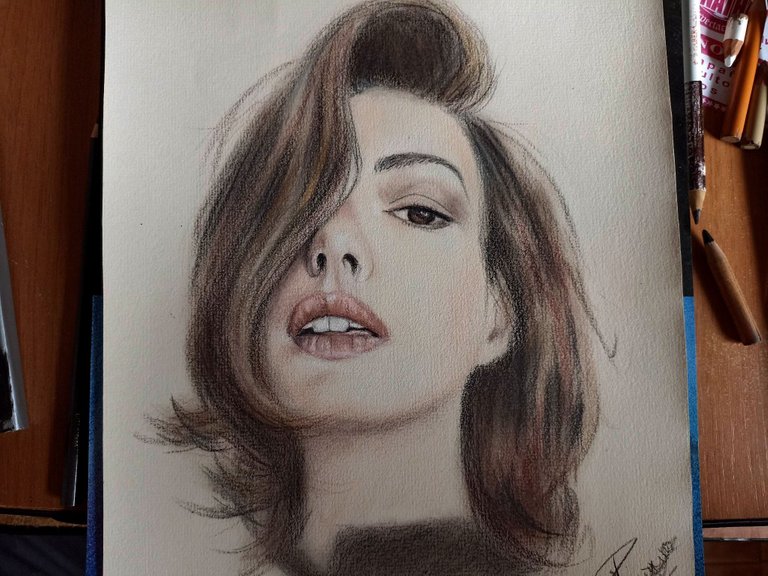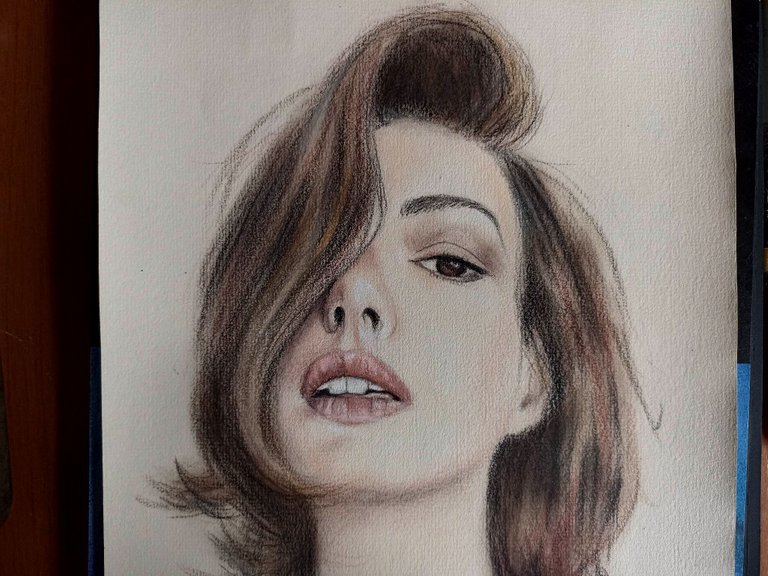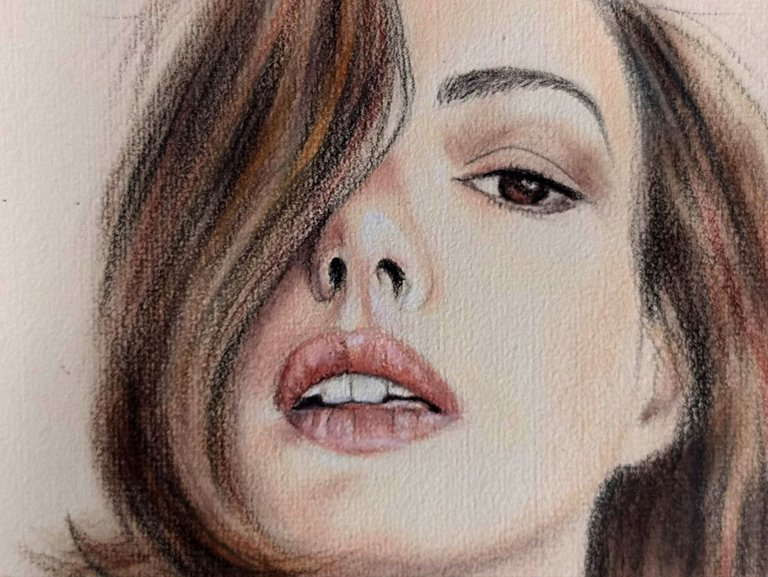 And so the portrait of the beautiful princess of Genovia was finished, hehe, surely many will also remember that film, and the truth is that it is great to draw someone who has been leaving traces in the world of cinema with her performances for so many years. Let's not forget that she was also Catwoman, so Miss Anne Hathaway is an actress who has been very present and will continue to be for many more years. I hope you liked the drawing, I had a lot of fun doing it and now I share it with you. I say goodbye see you soon, greetings!
Y así quedó finalizado el retrato de la hermosa princesa de Genovia, jeje, seguro muchos también recordarán esa película, y la verdad que es genial dibujar a alguien que tiene tantos años dejando huellas en el mundo del cine con sus interpretaciones. No olvidemos que también fue Catwoman, así que la señorita Anne Hathaway es una actriz que ha estado muy presente y lo seguirá estando por muchos años más. Espero que el dibujo haya sido de su agrado, me divertí mucho haciéndolo y ahora lo comparto con ustedes. Me despido hasta pronto, saludos!
---
---