[ENG-ESP] CHESTER BENNINGTON DRAWING PORTRAIT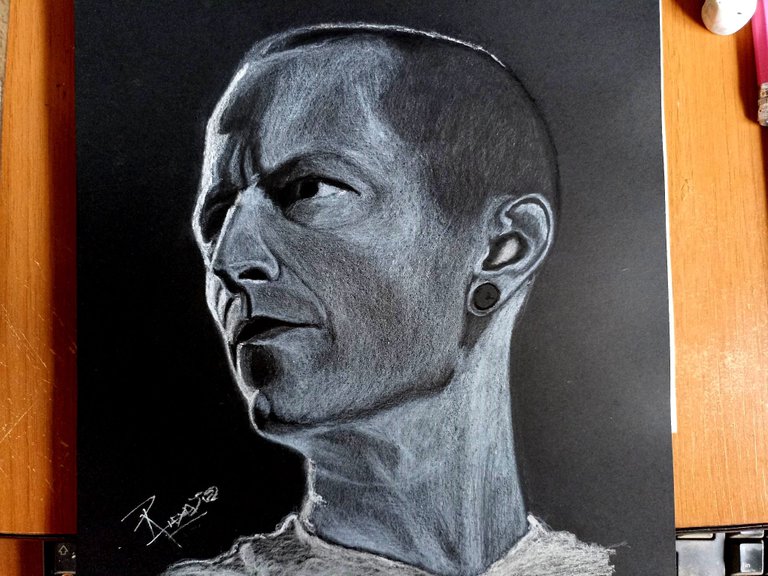 Hello dear friends, I hope you are very well, and today, Tuesday, I want to share with you a drawing I made of the late singer of the rock band Linkin Park, Chester Bennington, who died a few years ago after committing suicide. I consider him possibly one of the great voices that the rock movement gave in recent years, he was never able to overcome his problems with depression, together with the abuse of prohibited substances that caused his life to end chaotically. However, we can continue to enjoy their musical legacy, which in my opinion is one of the best, Linkin Park has been a legendary band that fused rap with metal creating a striking and unique new style. Then I leave you with the process of my drawing.
Hola queridos amigos, espero que se encuentren muy bien, ya hoy día martes quiero compartir con ustedes un dibujo que hice del fallecido cantante de la banda de rock Linkin Park, Chester Bennington, quien murió hace algunos años luego de haberse suicidad. Lo considero posiblemente una de las grandes voces que dio el movimiento del rock en los últimos años, nunca pudo superar sus problemas de depresión, junto con el abuso de sustancias prohibidas hicieron que terminara de forma caótica su vida. Sin embargo, podemos seguir disfrutando de su legado musical, que a mi parecer es unos de los mejores, Linkin Park ha sido una banda legendaria, que fusionó el rap con el metal creando un nuevo estilo llamativo e inigualable. A continuación los dejo con el proceso de mi dibujo.

PROCESS
With a few geometric figures I made the sketch for Chester Bennington's face, I did a digital test to have a little more effectiveness in terms of the proportions of the face, helping me with the simple Windows Paint program. After having everything defined, I did nothing more than turn it onto the paper, using these simple lines which I later began to define using only the white color.
Con pocas figuras geométricas hice el boceto para el rostro de Chester Bennington, hice una prueba en forma digital para tener un poco más de efectividad en cuanto a las proporciones del rostro, ayudándonme con el simple programa de Paint de Windows. Luego de tener todo definido no hice más que volcarlo hacia el papel, utilizando estas lineas simples las cuales después comencé a definirlo utilizando únicamente el color blanco.

Then with the clear and defined sketch I begin to shape it, without forgetting to erase the lines that I was making to guide me, I start with the nose, which I always take as the center and starting point for face drawings, because it is like letting a drop fall in a cup with water, you can see the shock wave, in the same way I like this beginning to then go to the sides in expansion. For the lines of the left profile of the face and the nose I use charcoal pastel, the rest of the drawing is done with white prismacolor wax pencil.
Luego con el boceto claor y definido comienzo a darle forma, sin olvidar borrar las líneas que iba haciendo para guiarme, comienzo con la nariz, que siempre tomo como centro y punto de partida para los dibujos de rostro, porque es como dejar caer una gota en una taza con agua, de puede ver la onda expansiva, de la misma forma me gusta este comienzo para luego ir hacia los lados en expansión. Para las lineas del perfil izquierdo del rostro y la nariz utilizo el color pastel de carboncillo, el resto del dibujo lo realizo con lápiz blanco de cera prismacolor.

As I like to work in layers, this time you can see how I gradually fill in the inside of the face, starting from the nose in a circular way towards the other areas, here I do not settle on the paper but I do it smooth and even way, as if you were gently stroking the paper. That is how I do the first layer, this with the purpose of making the shadows and light reflections better.
Como me gusta trabajar por capas, en esta oportunidad pueden observar como voy rellenando poco a poco el interior del rostro, comenzando desde la parte de la nariz en forma circular hacia las otras zonas, aquí no me afinco sobre el papel sino que lo hago de manera suave y uniforme, como si estuviera acariciando suavemente el papel. De esa forma es que hago la primera capa, esto con el propósito de hacer de una mejor forma las sombras y también los reflejos de luz.

The second layer is a little stronger and with the intention of giving shape and relief to the parts of the face such as the cheeks, the lips, the eyelids. This is achieved by putting a lot of pressure on the line in those parts where it should be highlighted, thus achieving a contrast between the lines of expression.
La segunda capa es un poco más fuerte y con la intención de darle forma y relieve a las partes del rostro como las mejillas, los labios, los párpados de los ojos. Esto se logra haciendo bastante presión en el trazo en aquellas partes donde se debe resaltar, así se consigue un contraste entre las líneas de expresión.

To finish I added a third layer of white, in this part I better defined all the lines of expression, I helped the darkness of the shadow that is in the eyes using a black color to give it more intensity, I also drew the part of the neck including part of his men his flannel. As for the hair, as in this image Cheter was shaved, what I did was apply the white color of wax in a very soft way and making small lines of black color, and in the upper part of the zabe I made a line of white color so that It will work as a reflection of light and under it black color to make the round effect of your head. In this way I finished the drawing.
Para finalizar agregué una tercera capa de color blanco, en esta parte definí mejor todas las líneas de expresión, ayudé a la oscuridad de la sombra que estan en los ojos utilizando un color negro para darle más intensidad, también dibujé la parte del cuello incluyendo parte de sus hombre su franela. en cuando al cabello, como en esta imagen Cheter salía rapado lo que hice fue aplicar el color blanco de cera de manera muy suave y haciendo pequeñas líneas de color negro, y en la parte superior de la zabe hice una línea de color blanco para que funcionara como reflejo de luz y debajo de ella color negro para hacer el efecto redondo de su cabeza. De esta manera di por finalizado el dibujo.

FINAL WORK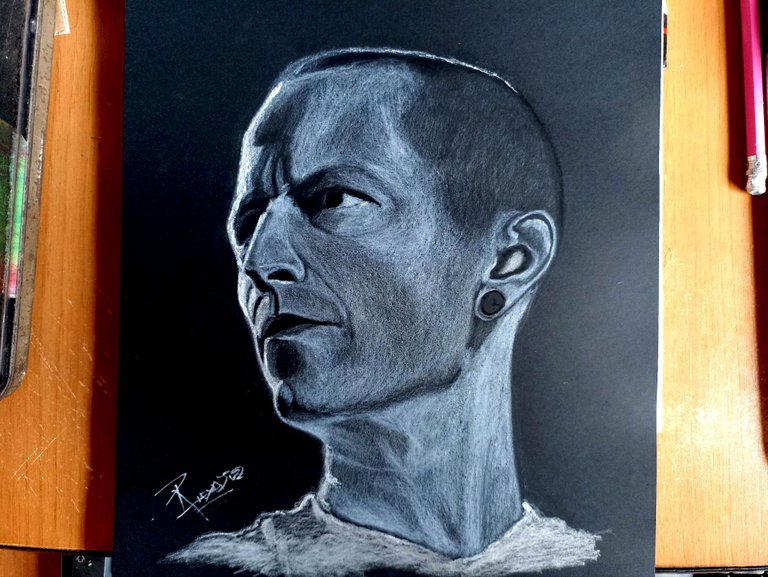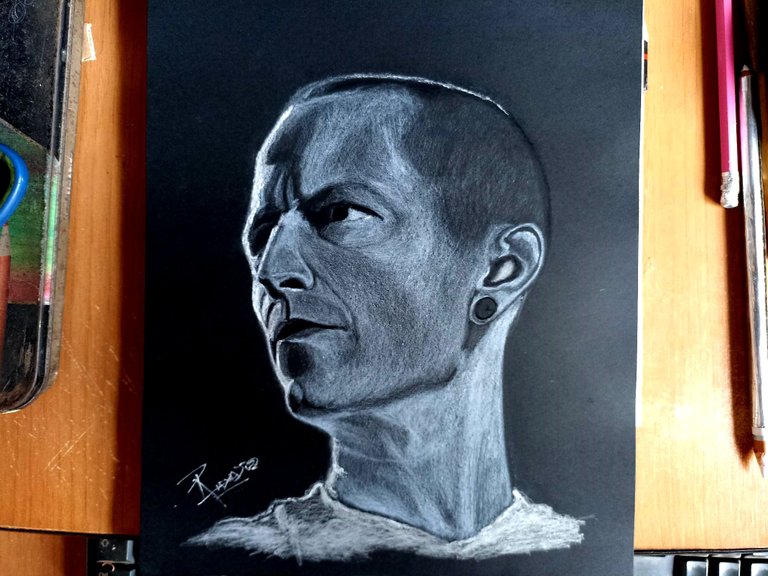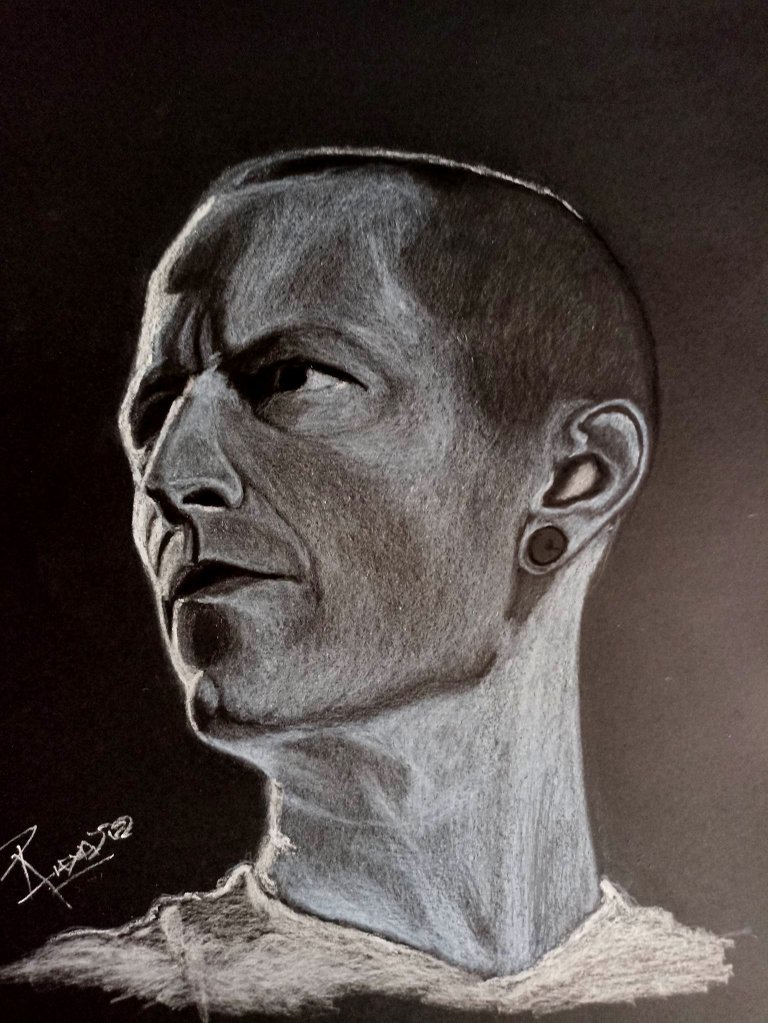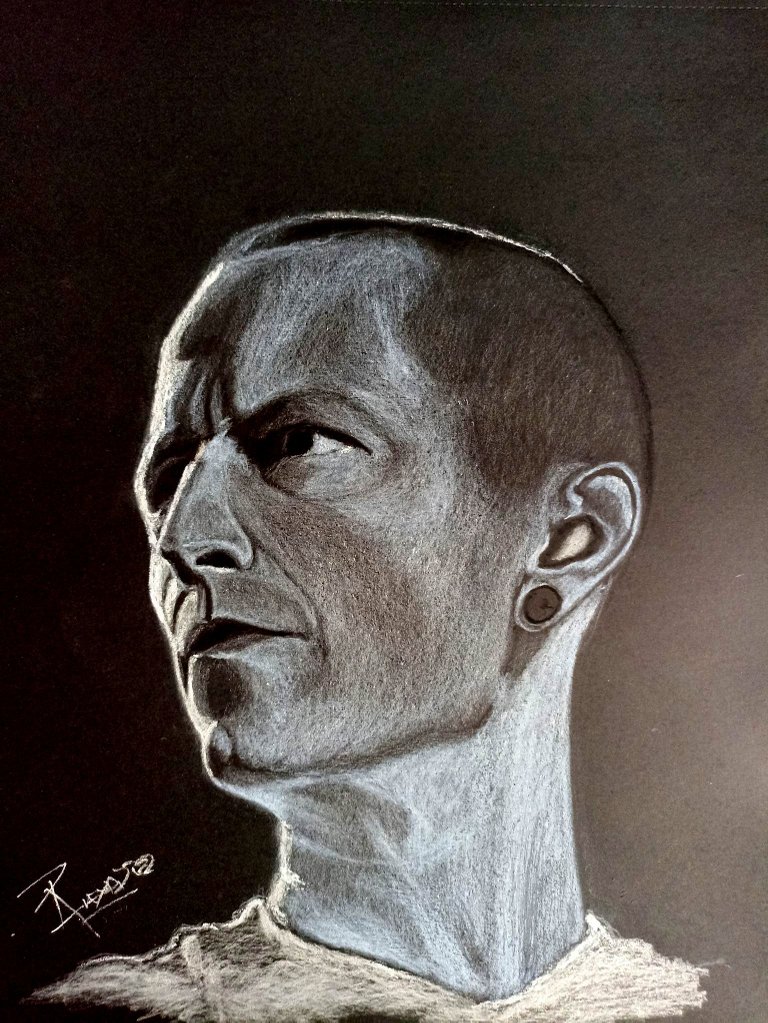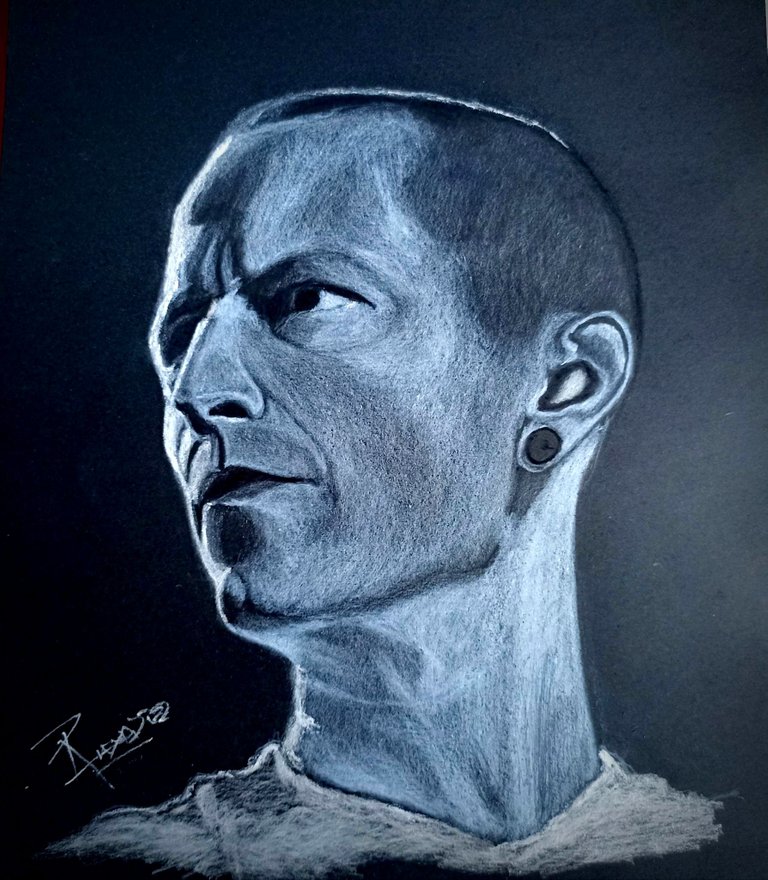 Without further ado, this is how the portrait of this great rock vocalist, who marked an entire era, was completed. Linkin Park along with Korn and Limp Bizkit were the creators of the Nu Metal genre, highly criticized in their days but finally accepted and today enjoys the respect of rock lovers. One of my favorite Linkin Park songs is Krawling from their first album, there Chester Bennington showed that he could go from heaven to hell with just one scream. This has been all for today, I hope you liked it, do not forget to comment if you liked the drawing, I say goodbye until a new opportunity.
Sin más nada que agregar, así quedó finalizado el retrato de este gran vocalista de rock, que marcó toda una época. Linkin Park junto a Korn y Limp Bizkit fueron los creadores del género Nu Metal, muy criticado en sus días pero finalmente aceptado y hoy goza del respeto de los amantes del rock. Una de mis canciones favoritas de Linkin Park es Krawling de su primer disco, ahi Chester Bennington demostró que podía ir al cielo hasta el infierno con un solo grito. Este ha sido todo por hoy, espero que les haya gustado, no olviden comentar si les gustó el dibujo, yo me despido hasta una nueva oportunidad.
---
---