[ENG-ESP] Drawing a female silhouette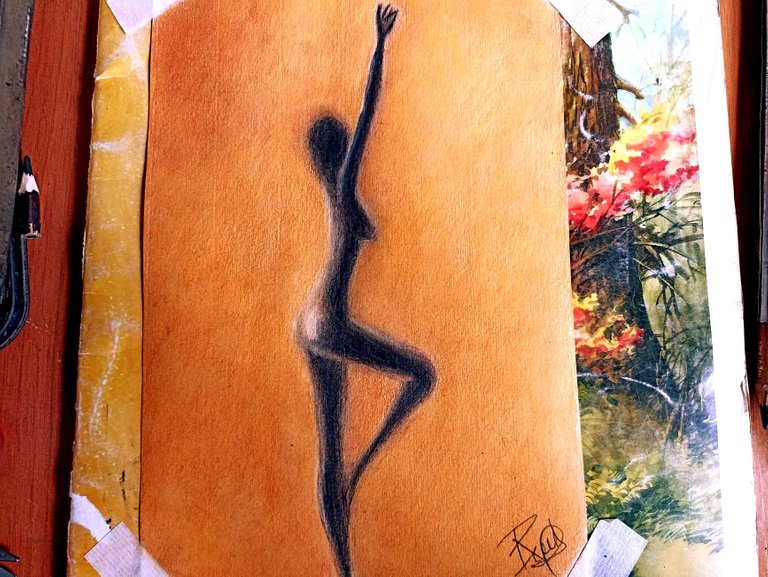 Hello friends, I hope you are very well. Today I want to show a new drawing I made to try two types of colors, one of them is the ones I always use, wax crayons and also some watercolor crayons, instead of mixing them with water I did it with oil. The theme of the drawing is a female silhouette that can be seen behind the glass of a bathroom, the yellow background represents the color of light and I tried to make the silhouette blurry due to the effect of hot water. I like this type of figures because instead of faithfully representing an image, they suggest and insinuate and I like that atmosphere within the mind, when something comes to mind, our brain always works harder to decipher. Hope you like.
Hola amigos, espero que se encuentren muy bien. Hoy quiero mostrar un nuevo dibujo que hice para probar dos tipos de colores, uno de ellos son los que siempre uso, los creyones de cera y también unos creyones acuarelables, en lugar de mezclarlos con agua lo hice con aceite. El tema del dibujo es una silueta femenina que se ve derás del vidrio de un baño, el fondo amarillo representa el color de la luz y la silueta traté de hacerla borrosa por efecto del agua caliente. Me gusta este tipo de figuras porque en lugar de representar fielmente una imagen, sugieren e insinúan y me gusta esa atmósfera dentro de la mente, cuando nos surgieren algo siempre nuestro cerebro trabaja más para descifrar. Espero que les guste.

PROCESS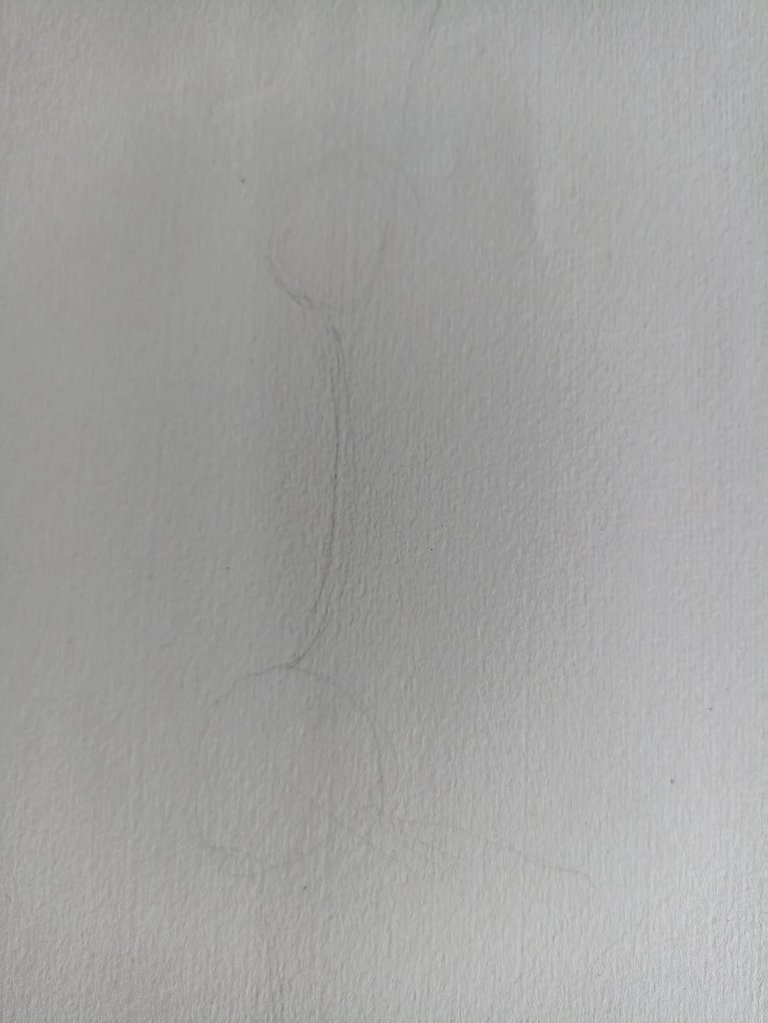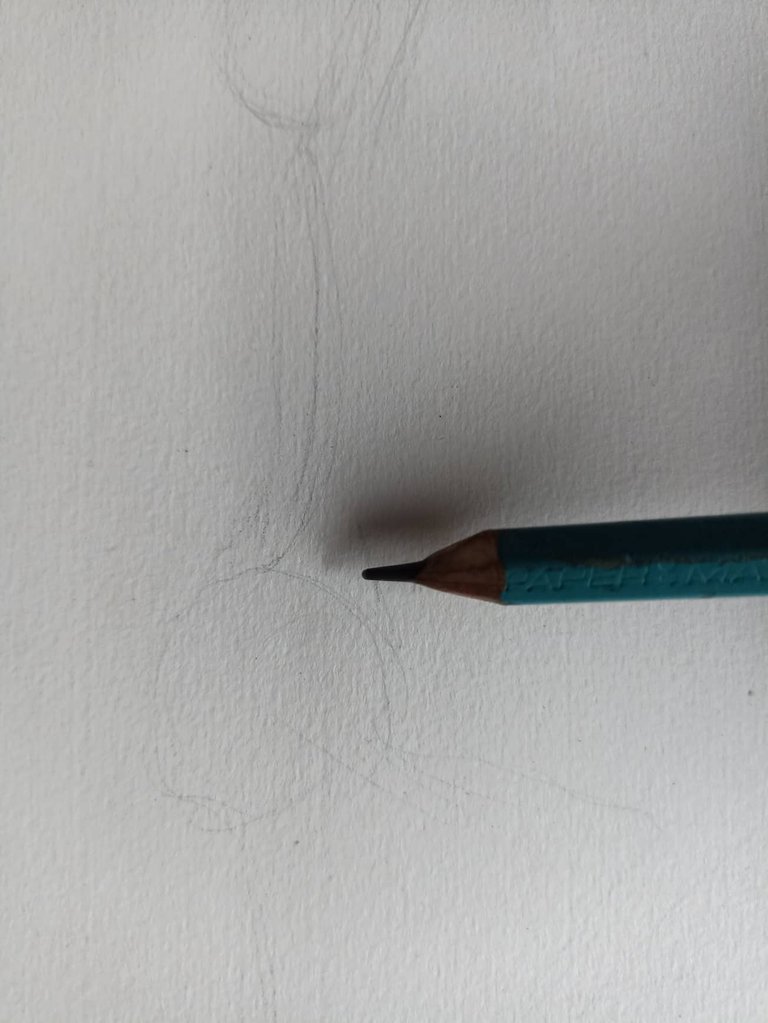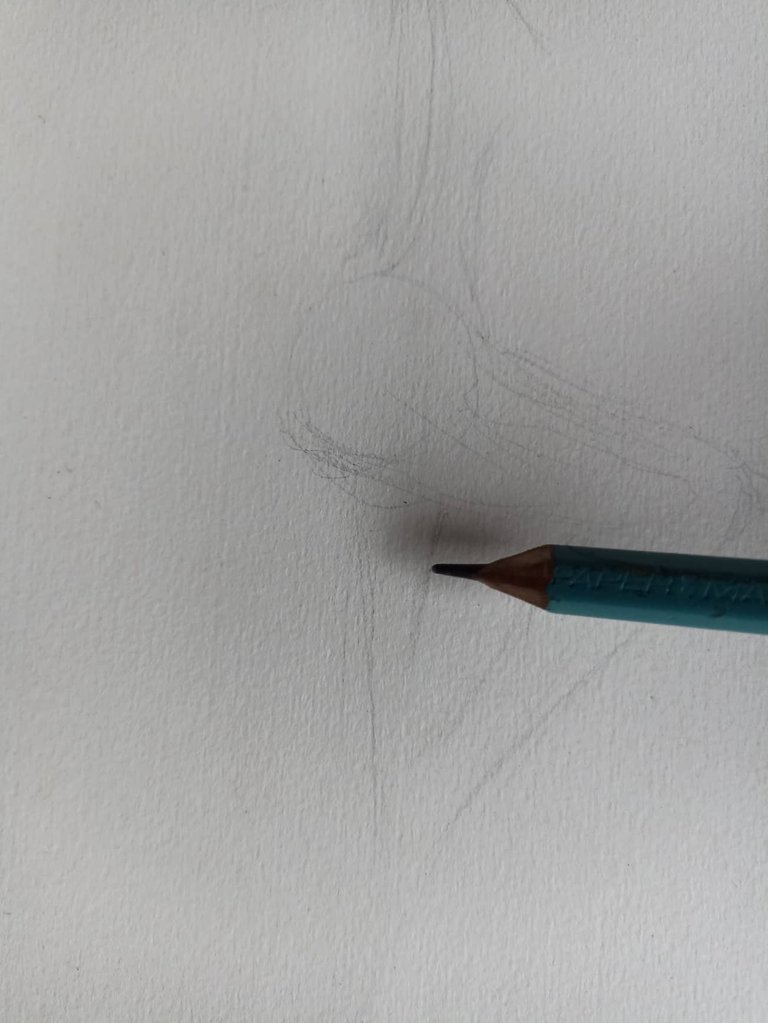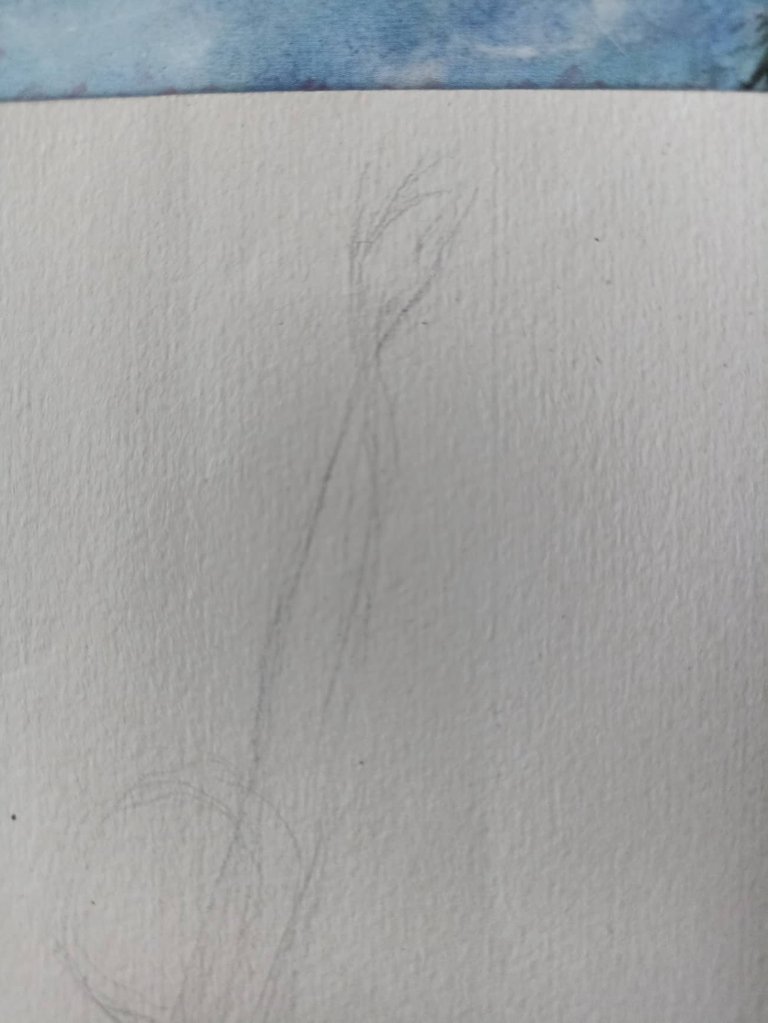 For the drawing I cut the paper in a rectangular shape to give the feeling of that bathroom door and the glass, I made the silhouette with a very simple sketch, one hand raised and one leg resting on the other, and taking good care of the female figure. Although it is a somewhat minimalist drawing, it is not so easy to give it that blurred shape in shadow without losing the shape of the body, you have to be patient to do it and take good care of the line, that's why with the guide lines so that the sketch is well drawn.
Para el dibujo corté el papel en forma rectangular para dar la sensación de esa puerta del baño y el vidrio, hice la silueta con un boceto muy simple, una mano levantada y y una pierna apoyada en la otra, y cuidando bien la figura femenina. Aunque es un dibujo algo minimalista no es tan facil darle esa forma difuminada en sombra sin perder la forma del cuerpo, hay que tener paciencia para hacerlo y cuidar muy bien el trazo, por eso con las líneas guías para que el boceto vaya quedando bien trazado.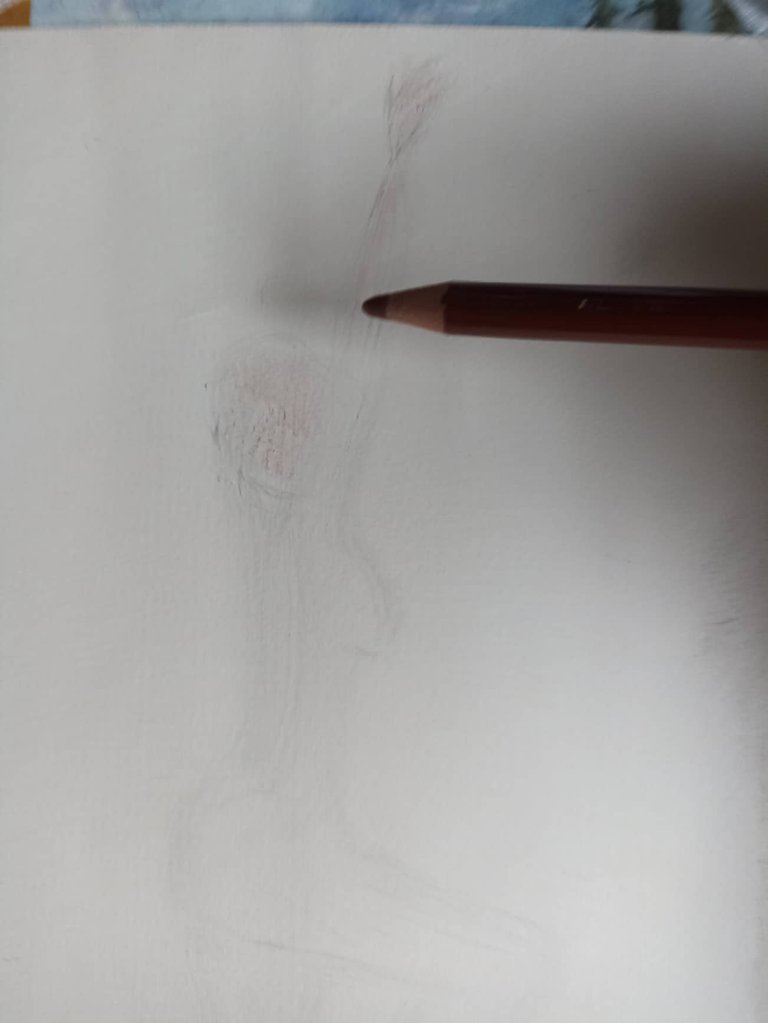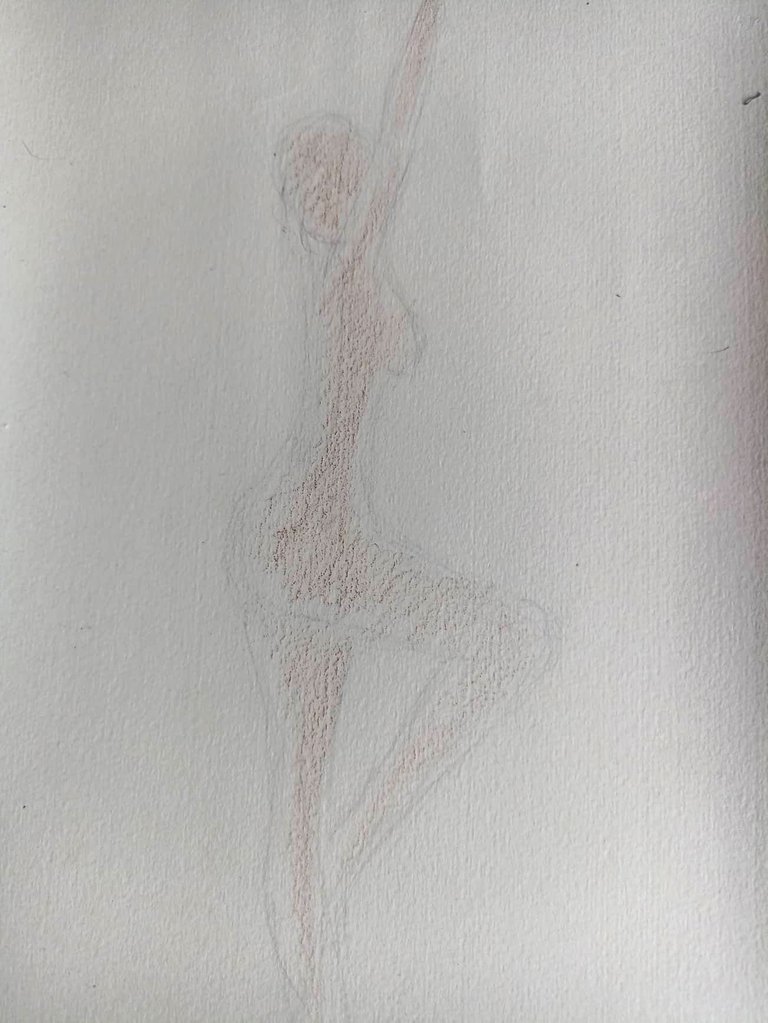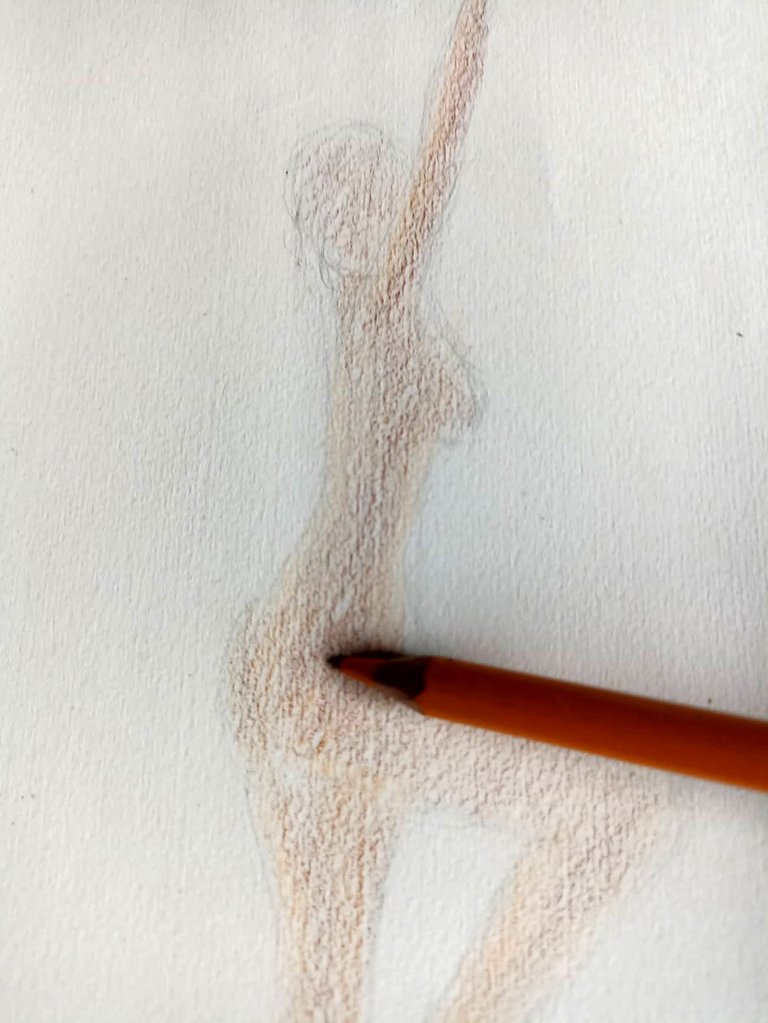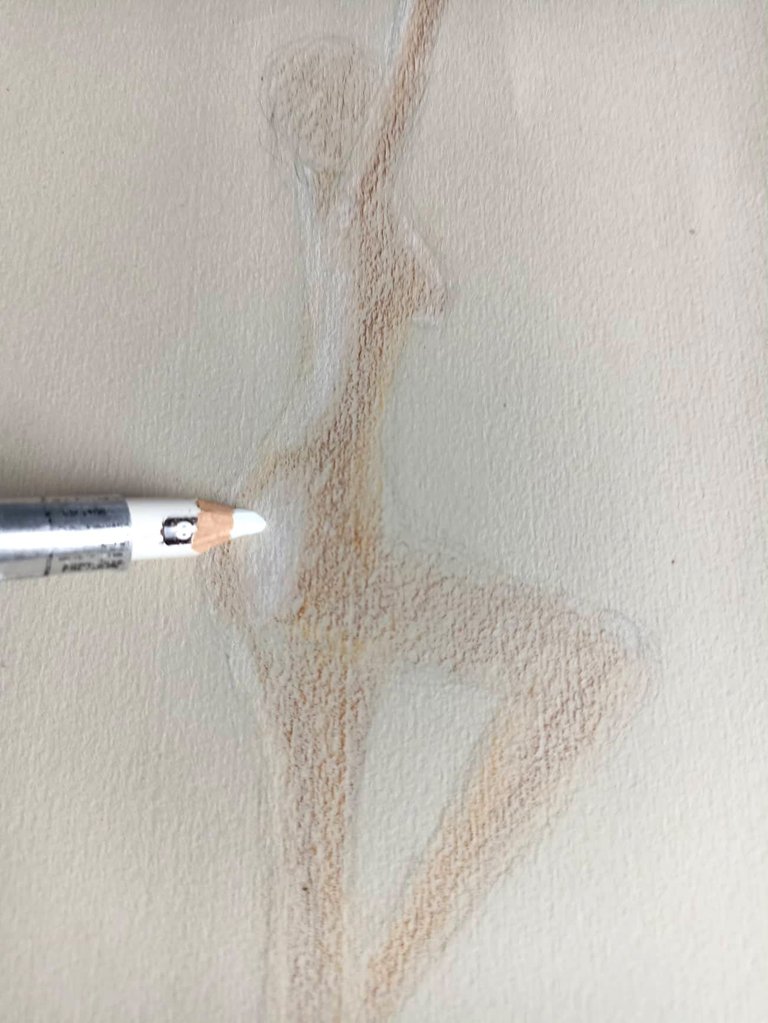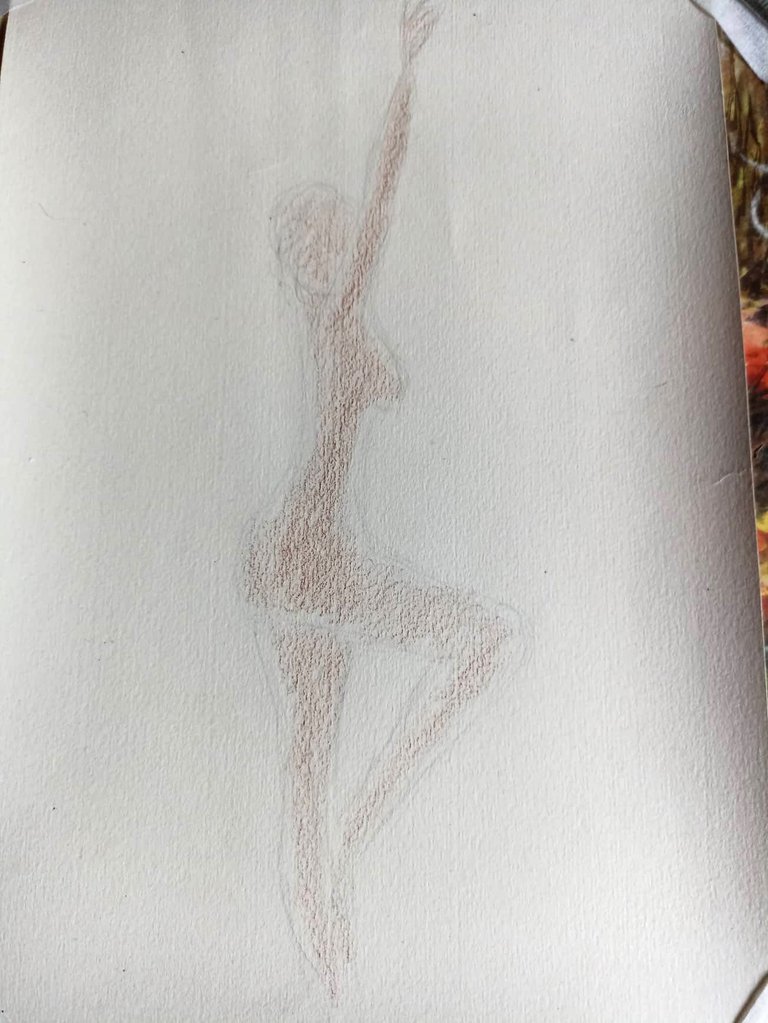 The next step is to start painting the inside of the female body, for which I use a light brown color, making very soft strokes, almost imperceptible, as if I were caressing the paper. I do this in this way to make the most of the paper and use more color tones, in the same way I lighten the silhouette with a yellow ocher color, this color will work as the reflection of light on the body. In the same way, I paint the edges with white so that the reflections of light can be seen better, so with this first base of colors I establish the tone of the body.
El siguiente paso es comenzar a pintar el interior del cuerpo femenino para el cual utilizo un color café claro haciendo trazos muy suaves, casi imperceptibles, como si acariciara el papel. Esto lo hago de esta forma para aprovechar al máximo el papel y utilizar más tonos de colores, de la misma forma voy aclarando la silueta con un color amarillo ocre, este color funcionará como el reflejo de la luz sobre el cuerpo. De la misma forma con color blanco pinto los bordes para que los reflejos de luz se vean mejor, así con esta primera base de colores es que establezco el tono del cuerpo.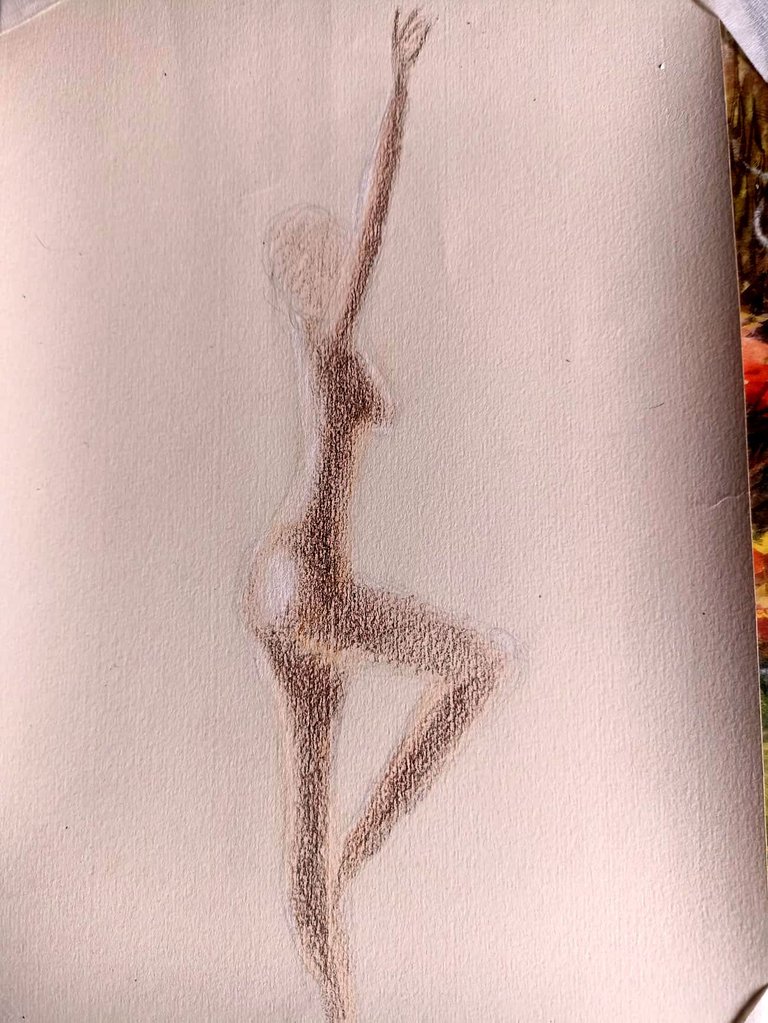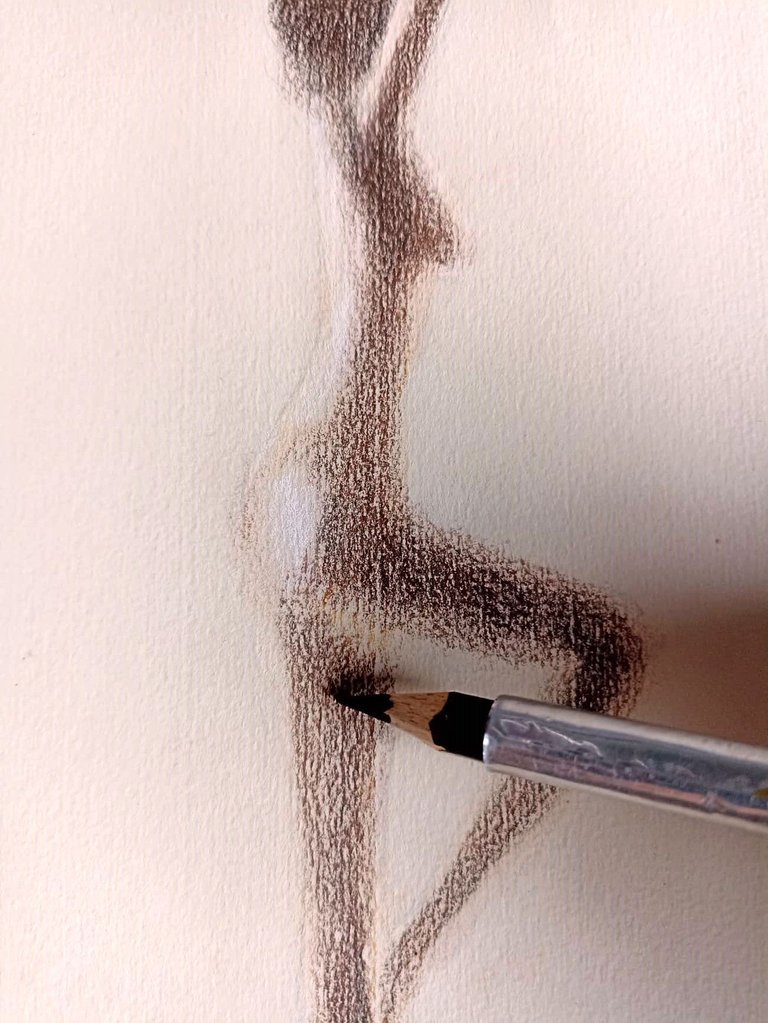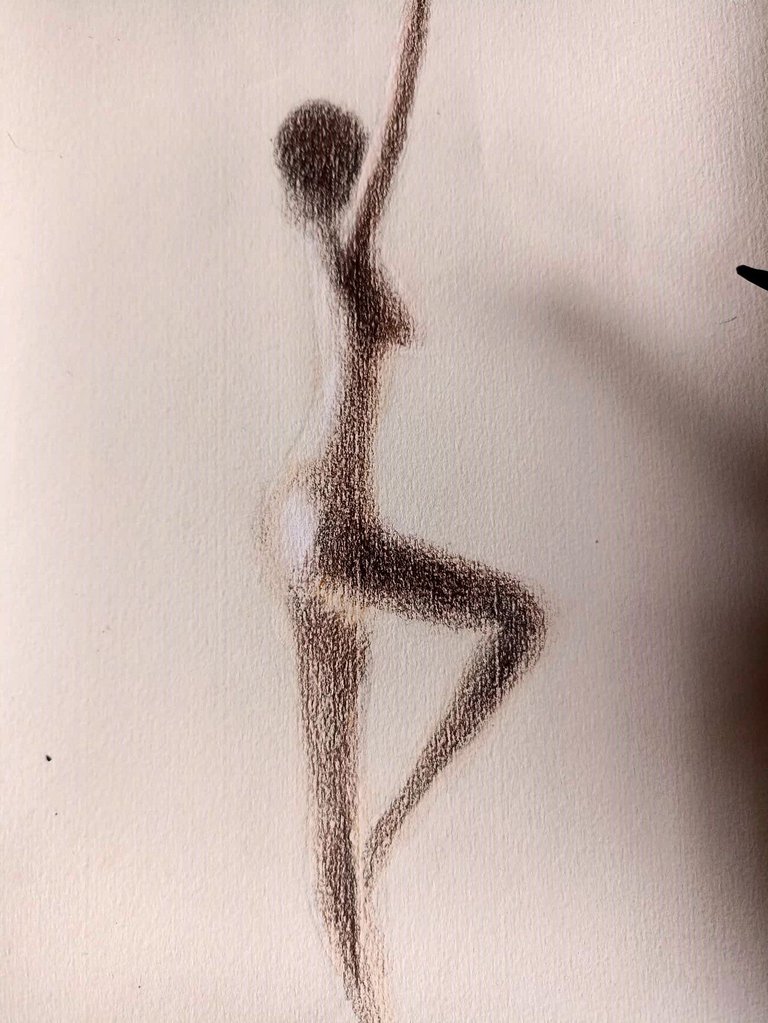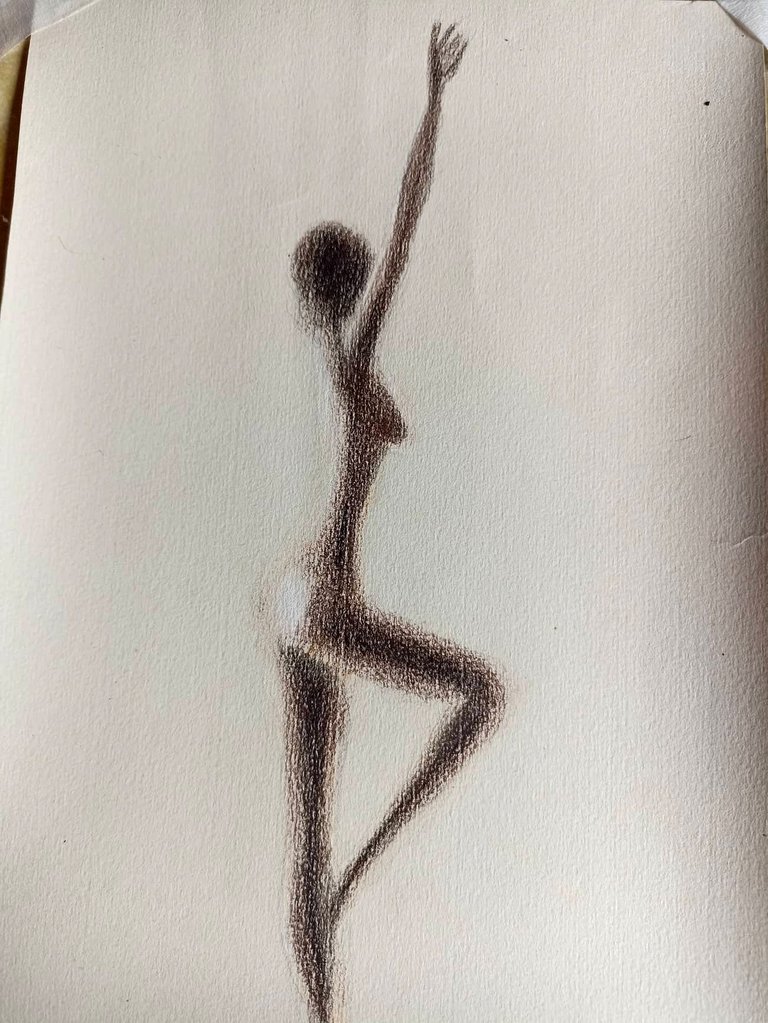 The next step is to apply a second and even a third layer of colors that we had already used. The art of drawing this silhouette consists of being very delicate when making the strokes, it is as if it were authentic feminine skin, which deserves the most tender touch. Not only the silhouette of the female body but also the background, so carefully using dark colors, we suggest the presence of shadow.
El siguiente paso es aplicar una segunda y hasta una tercera capa de colores que ya habíamos utilizado. El arte de dibujar esta silueta consiste en ser muy delicado para hacer los trazos, es como si se tratara de auténtica piel femenina, que merece el más tierno tacto. No solo la silueta del cuerpo femenino sino también el fondo, por eso utilizando con cuidado los colores oscuros, sugerimos la presencia de la sombra.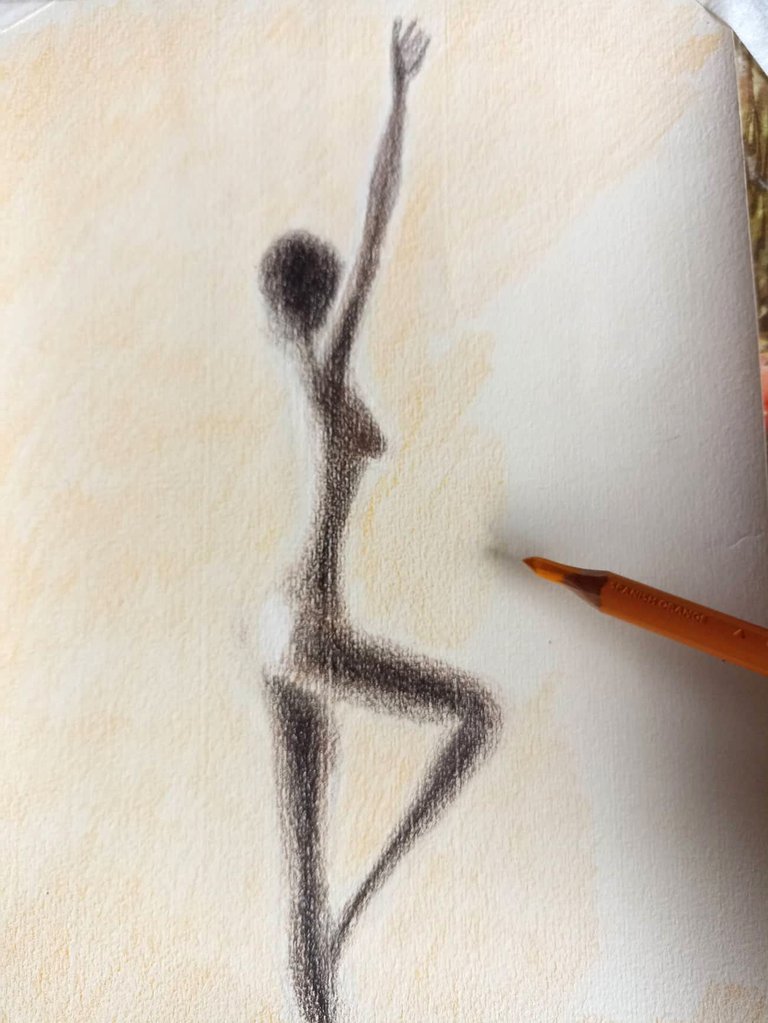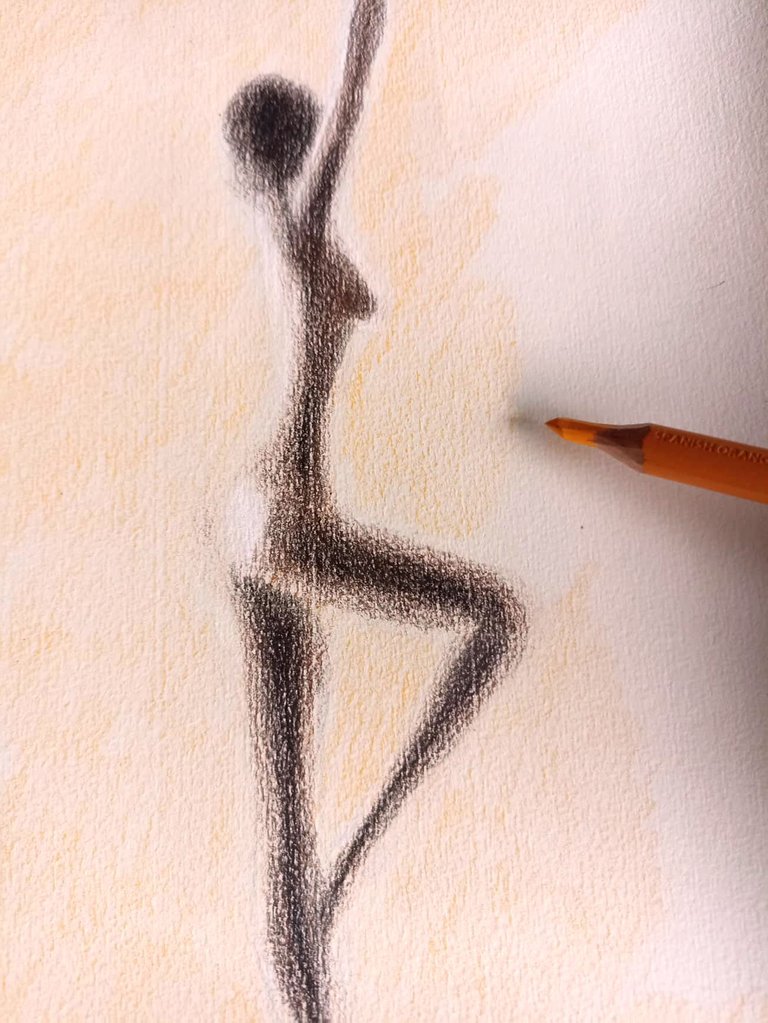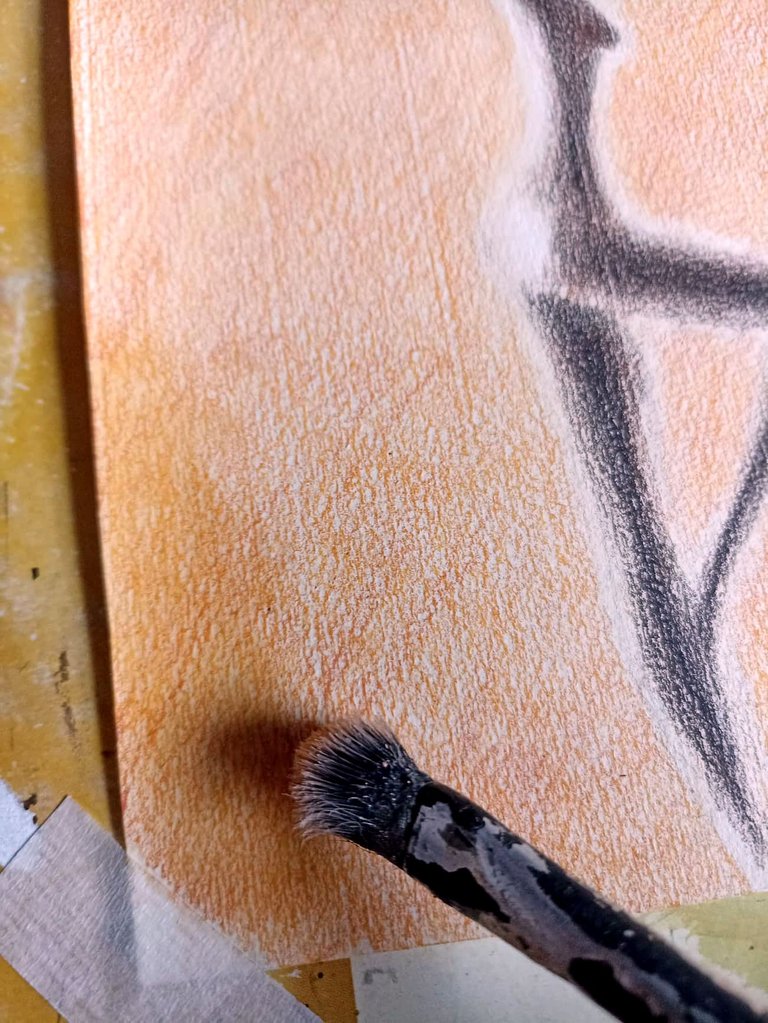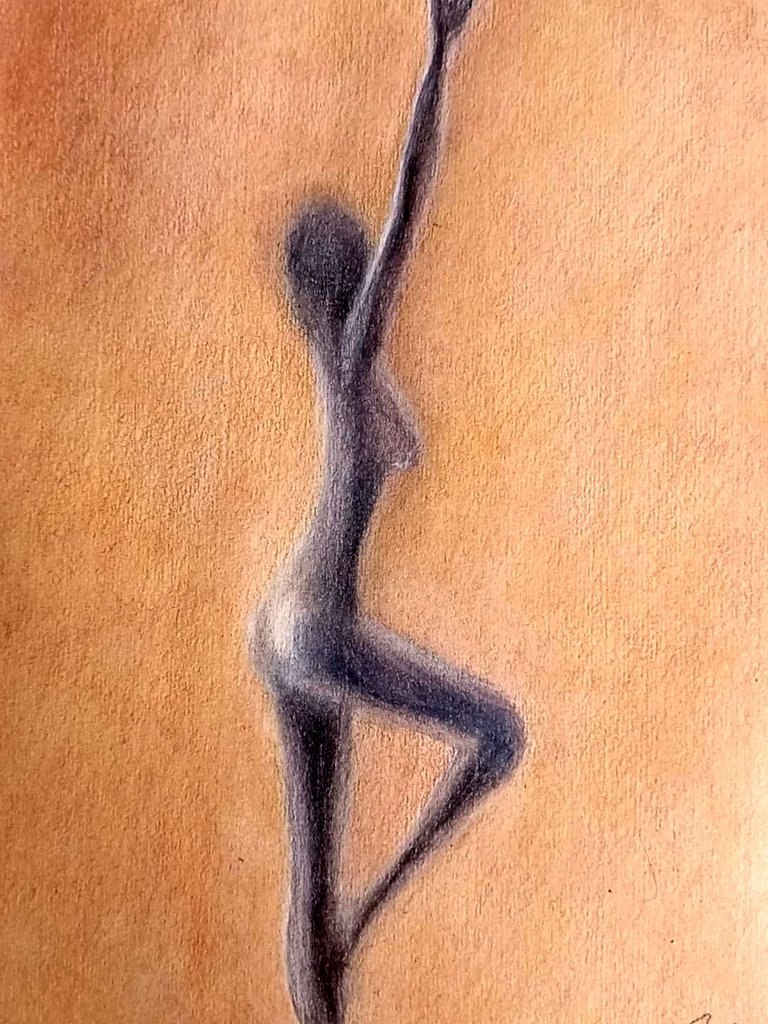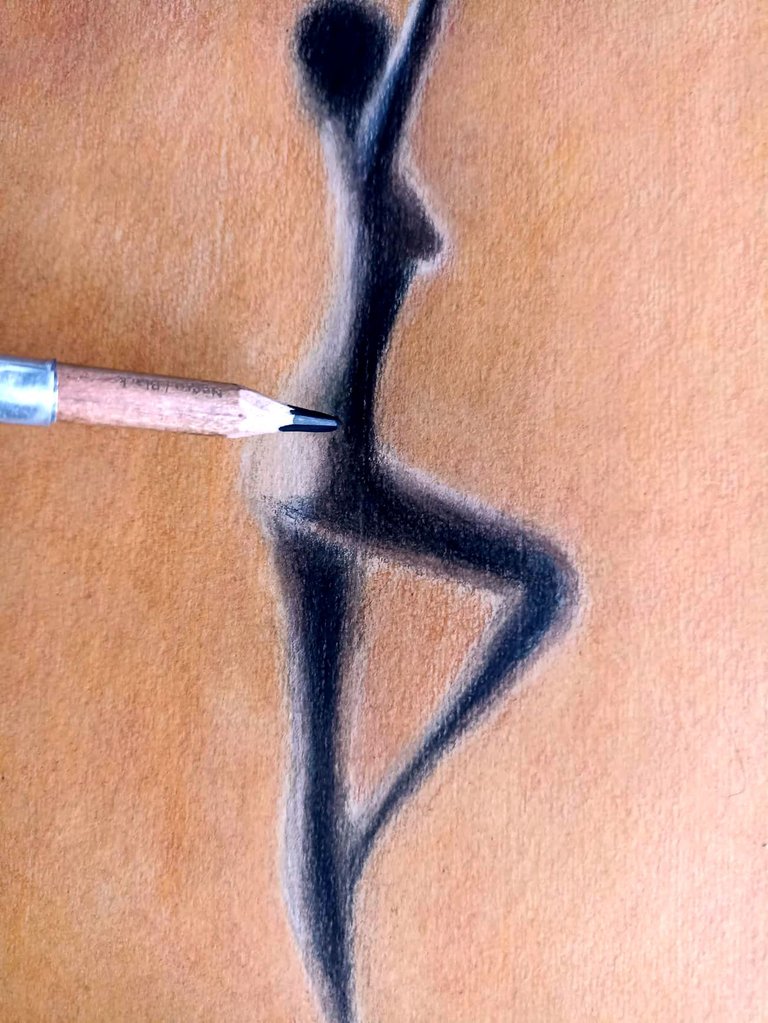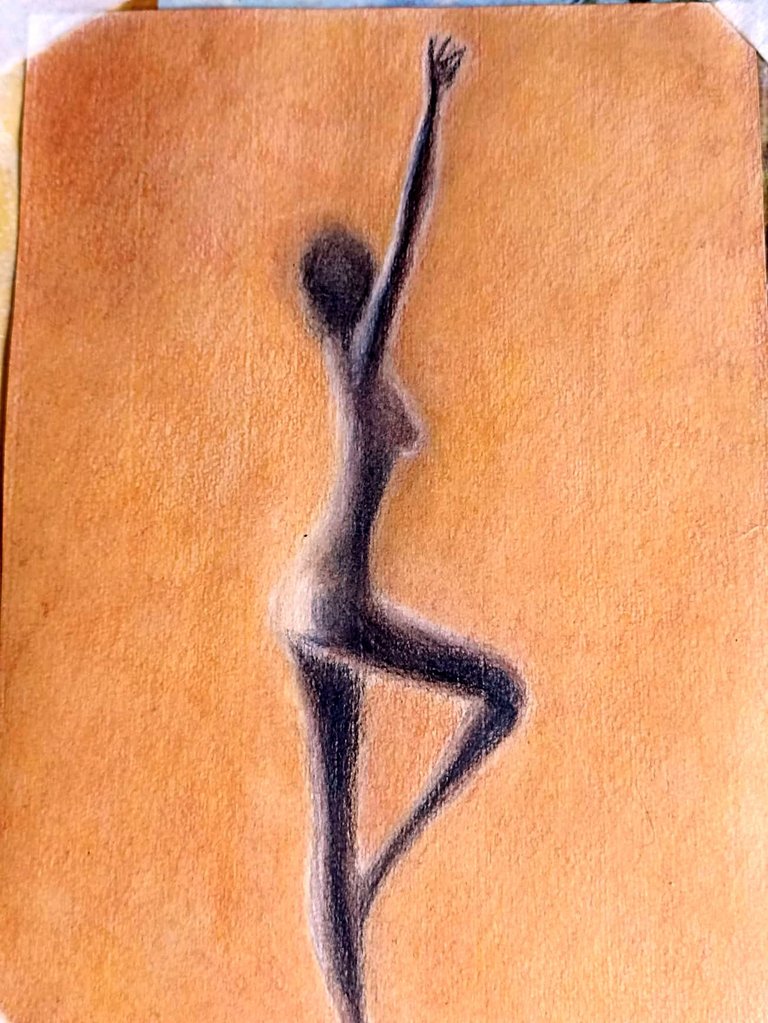 Then I begin with the background, which is the glass of the bathroom door, which separates our eyes from the reality of the female body and only insinuates its presence. So I use the light yellow color and then I degrade the color towards the darkest using the ocher yellow color that works as a transition between the light brown and the yellow, making this mixture of colors and when I have it ready I use the soft brush to blur the entire area of ​​the glass and thus be able to make that light effect. Then we reinforce the color of the shadow of the body, finally I applied a layer of transparent varnish to give more shine and protection to the color, in this way it is finished.
Despues comienzo con el fondo que es el vidrio de la puerta del baño, que separa a nuestros ojos con la realidad del cuerpo femenino y solo nos insinúan su presencia. Así que utilizo el color amarillo claro y después voy degradando el color hacia lo más oscuro utilizando el color amarillo ocre que funciona como una transición entre el café claro y el amarillo, haciendo esta mezcla de colore sy al tenerla lista utilizo el pincel suave para difuminar toda la zona del vidrio y así poder hacer ese efecto de luz. Luego reforzamos el color de la sombra del cuerpo, por último apliqué una capa de barniz transparente para darle mas brillo y protección al color, de esta manera queda finalizado.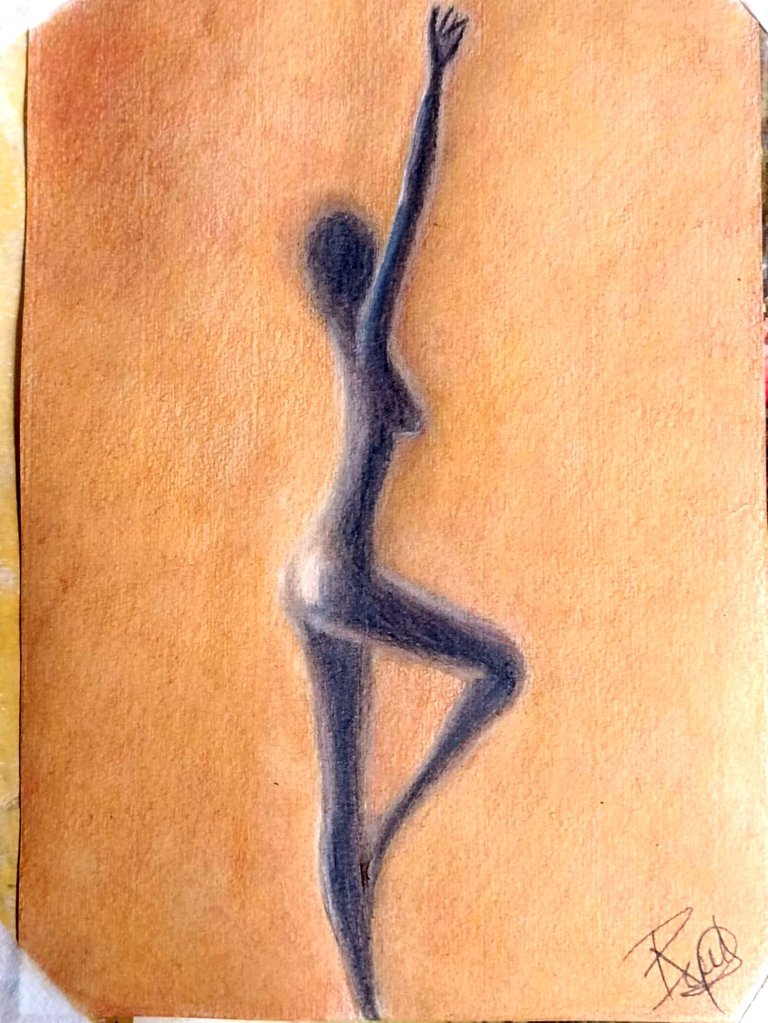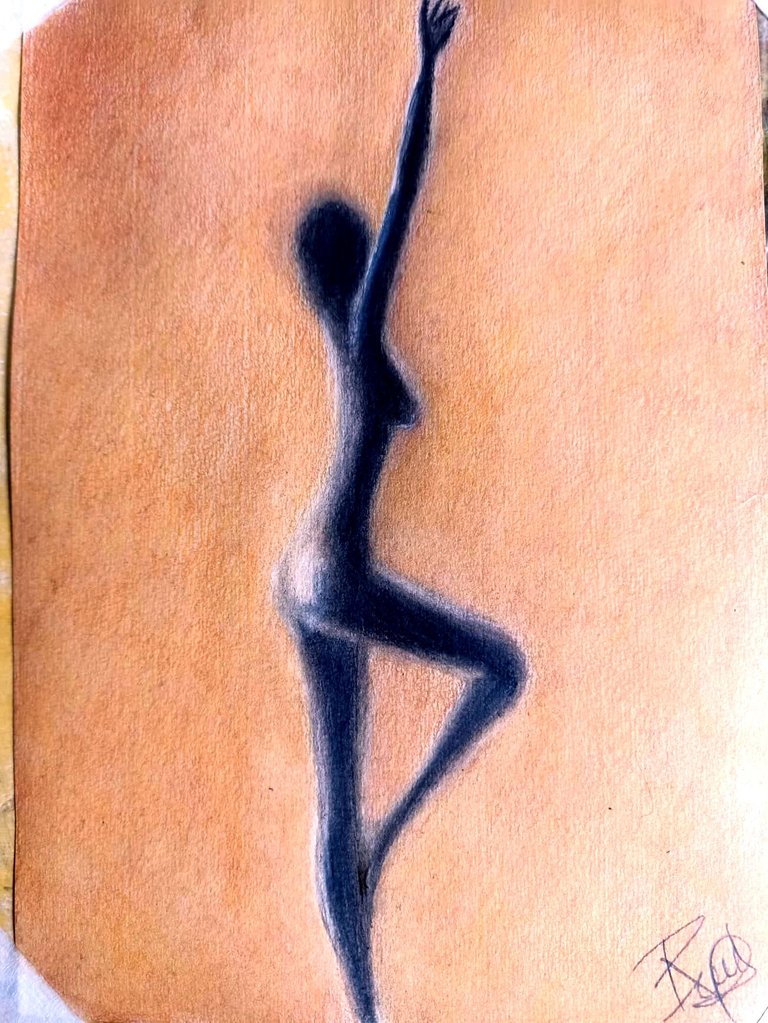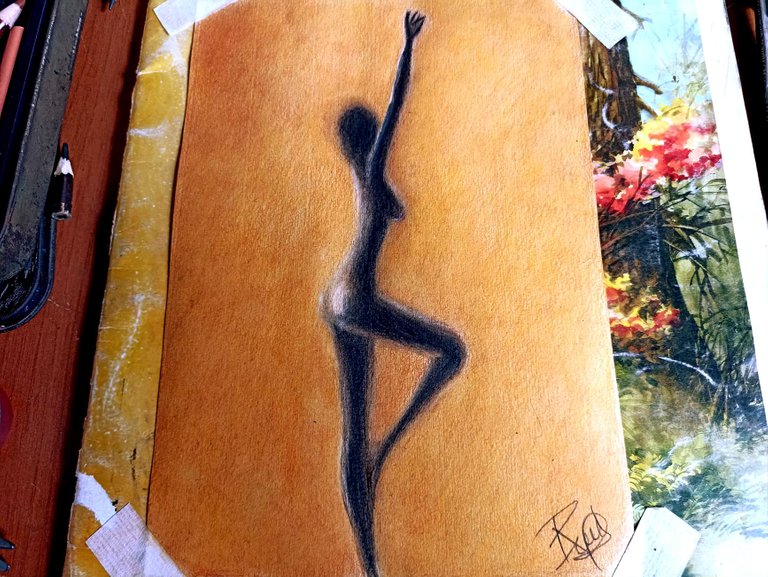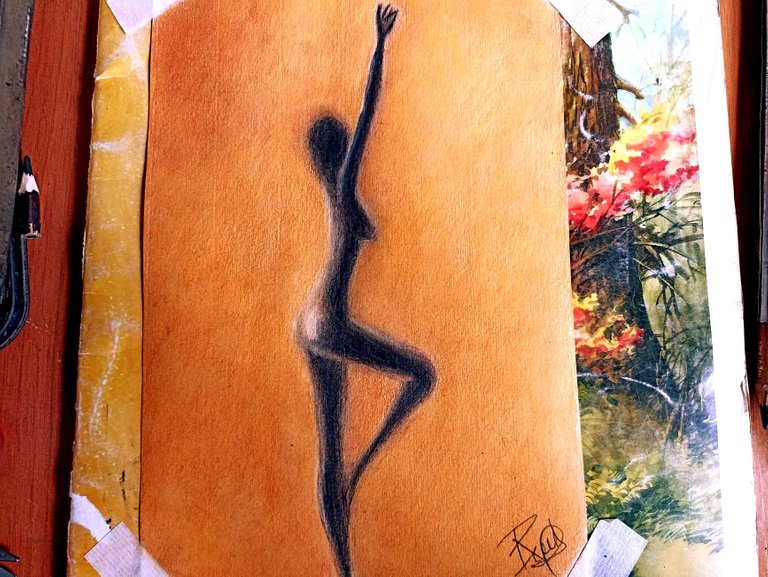 Now I'm trying to move away a little more from realism and try to draw more suggestive forms, I think that this helps my mind more and conveys things better. Since I want to become a more professional painter, I want to acquire new forms to draw and different processes to communicate new ideas. This is what I try to do with this little drawing, suggest and insinuate, as if it were a metaphor that hides a hidden meaning. I hope you liked it, do not forget to comment your opinion, I like to learn from your comments and it motivates me to continue. I say goodbye soon.
Ahora estoy tratando de alejarme un poco más del realismo y tratar de dibujar formas más sugerentes, creo que estoy ayuda más a mi mente y transmite mejor las cosas. Como deseo convertirme en pintor más profesional deseo adquirir nuevas formas que dibujar y procesos diferentes para comunicar nuevas ideas. Es lo que trato de hacer con este pequeño dibujo, sugerir e insinuar, como si se tratara de una metáfora que esconde un significado oculto. Espero que les haya gustado, no olviden comentar su opinión, me gusta aprender de sus comentarios y mo motiva a continuar. Me despido hasta pronto.
---
---