[ENG-ESP] DRAWING MY LITTLE KITTY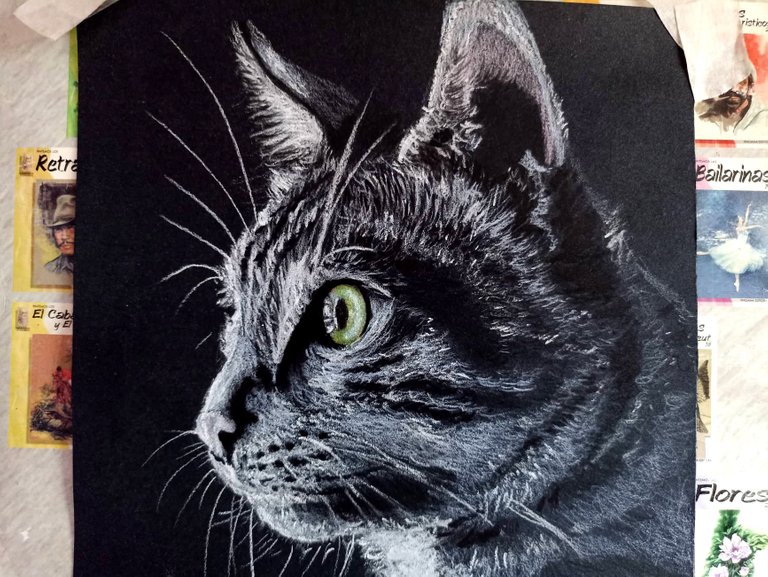 Hello dear friends, I hope you are very well, today is Friday and to end the week I wanted to draw a picture of my dear cat, her name is Lali and she is very beautiful, I never get tired of admiring her and taking pictures of her. I decided to make a portrait on black paper highlighting the color of her eyes that are beautiful, I hope you like it.
Hola queridos amigos, espero que se encuentren muy bien, ya hoy es viernes y para finalizar la semana quise hacer un dibujo de mi querida gata, se llama Lali y es muy hermosa, no me canso de admirarla y tomarle fotografías. Decidí hacerle un retrato en papel negro resaltando el color de sus ojos que son hermosos, espero que les guste.

PROCESS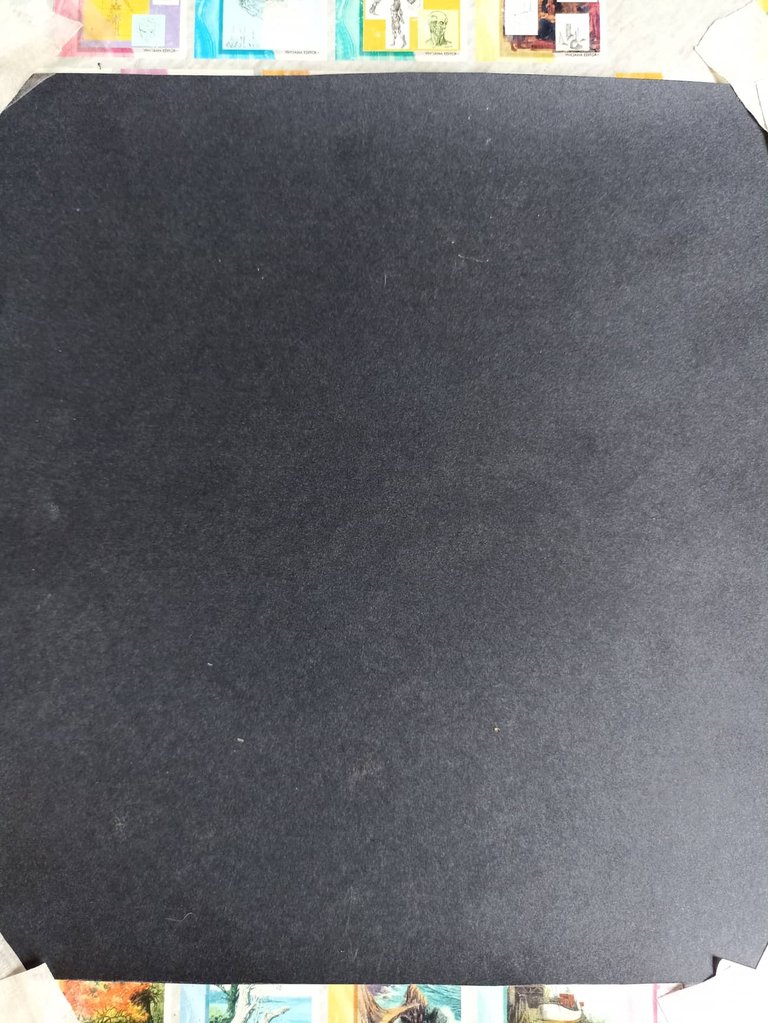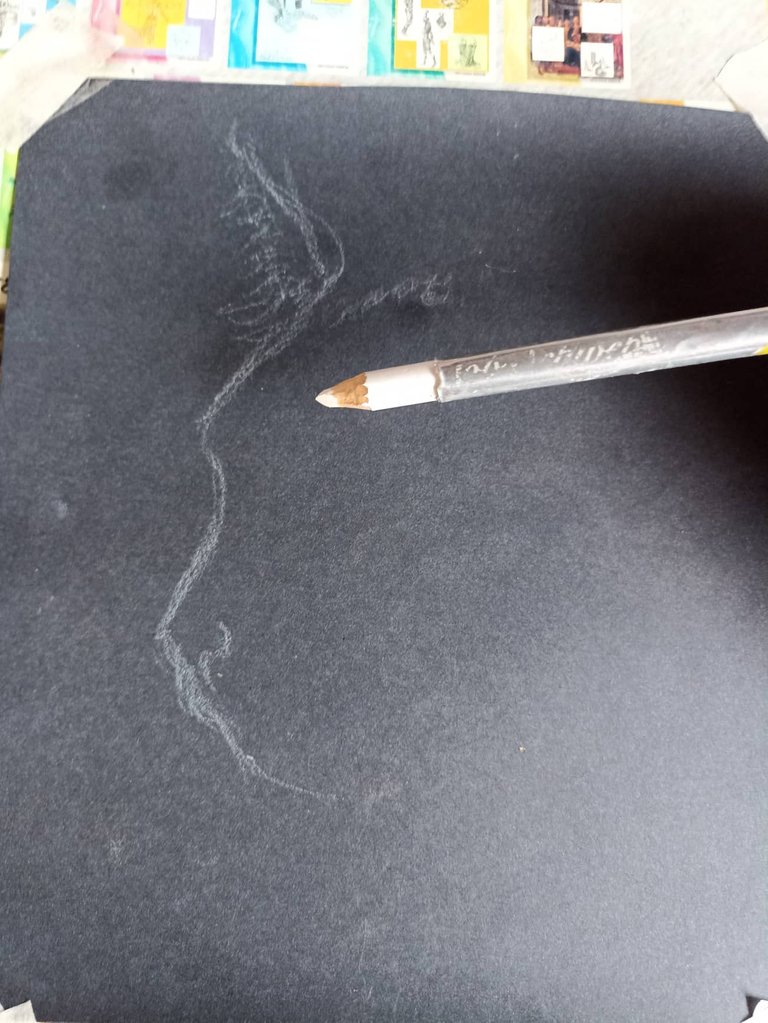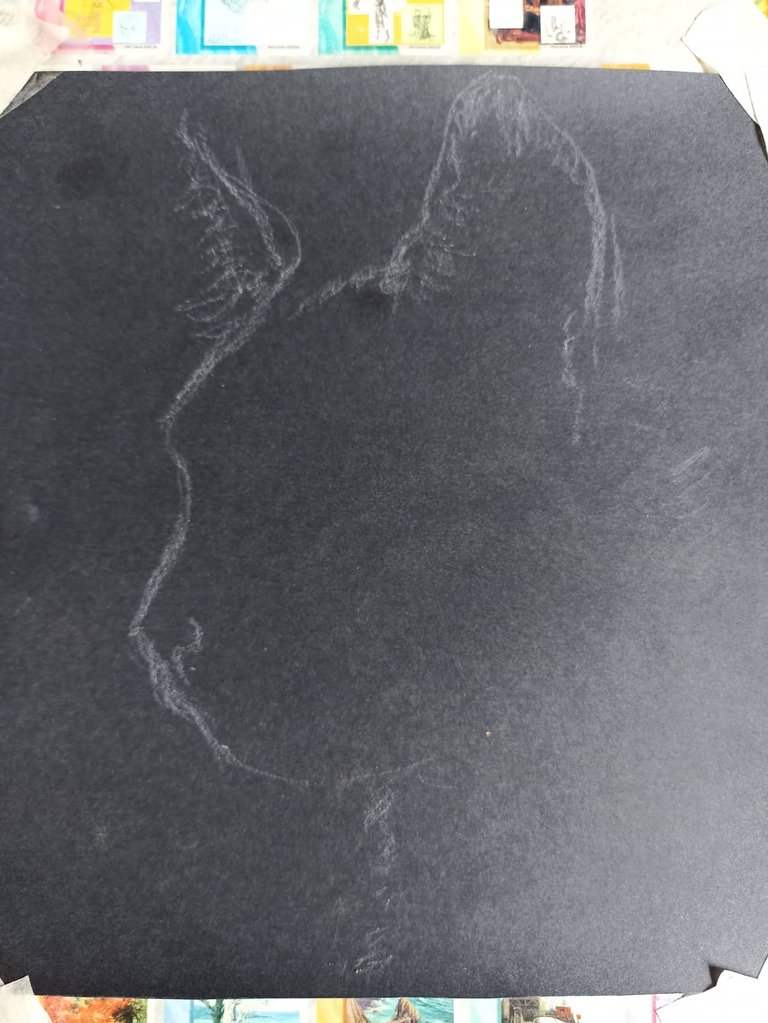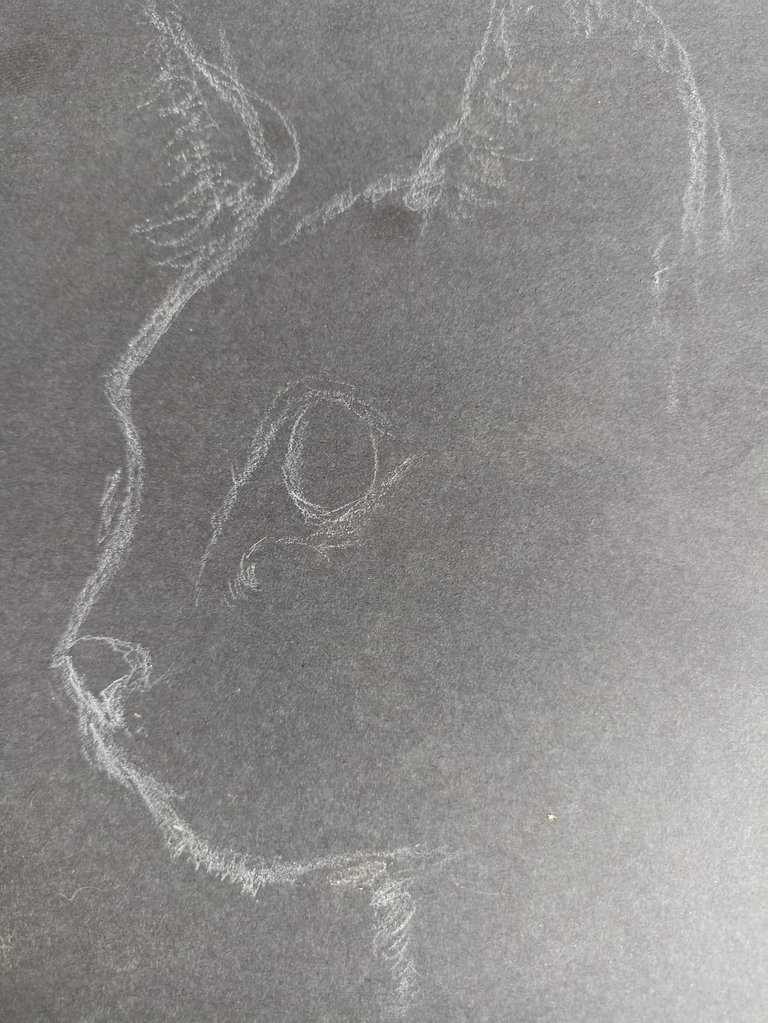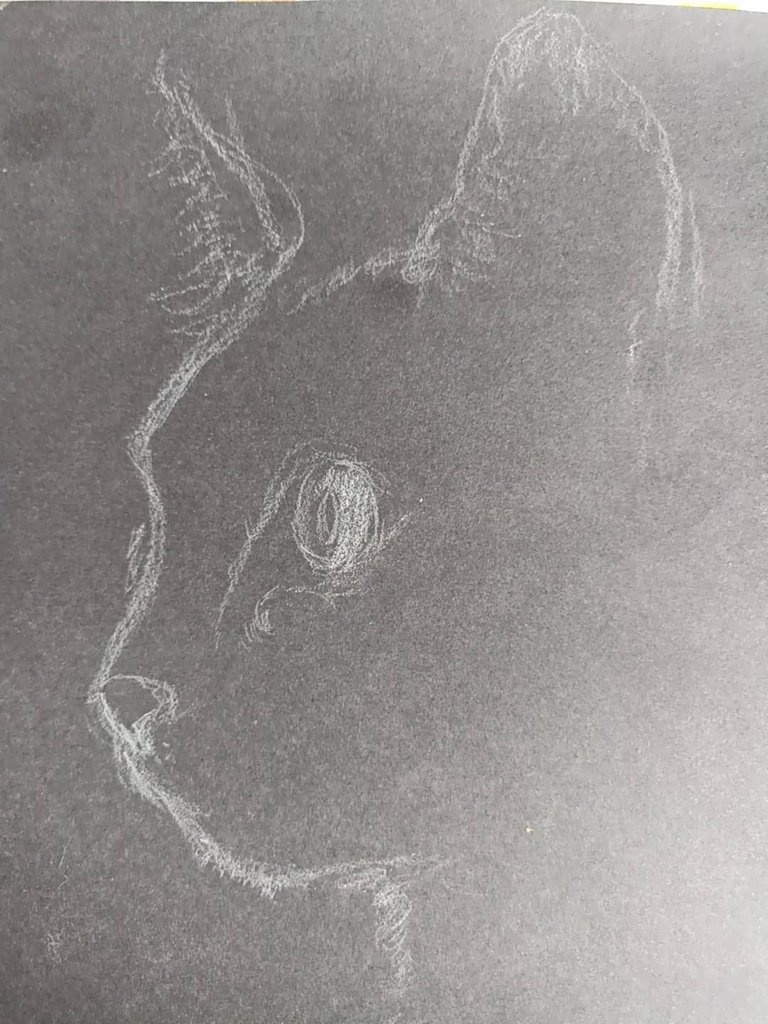 Today my cat was sleeping all day, so it was difficult to find her in a good pose to draw her, so using a series of photos I took last week I built an angle that I liked, so I started drawing her like this profile looking to the left with its very bright eye. I started to make the sketch of his caram his ears and also his eye. For this I used white prismacolor crayon.
Hoy mi gata se la pasó durmiendo todo el día, así que fue dificil encontrarla en una buena pose para dibujarla, así que utilizando una serie de fotos que tomé la semana pasada construí un ángulo que me gustara, así que la comencé a dibujar así de perfil mirando hacia la izquierda con su ojo bien brillante. Comencé a hacer el boceto de su caram sus orejas y también su ojo. Para esto utilicé color blanco de creyón prismacolor.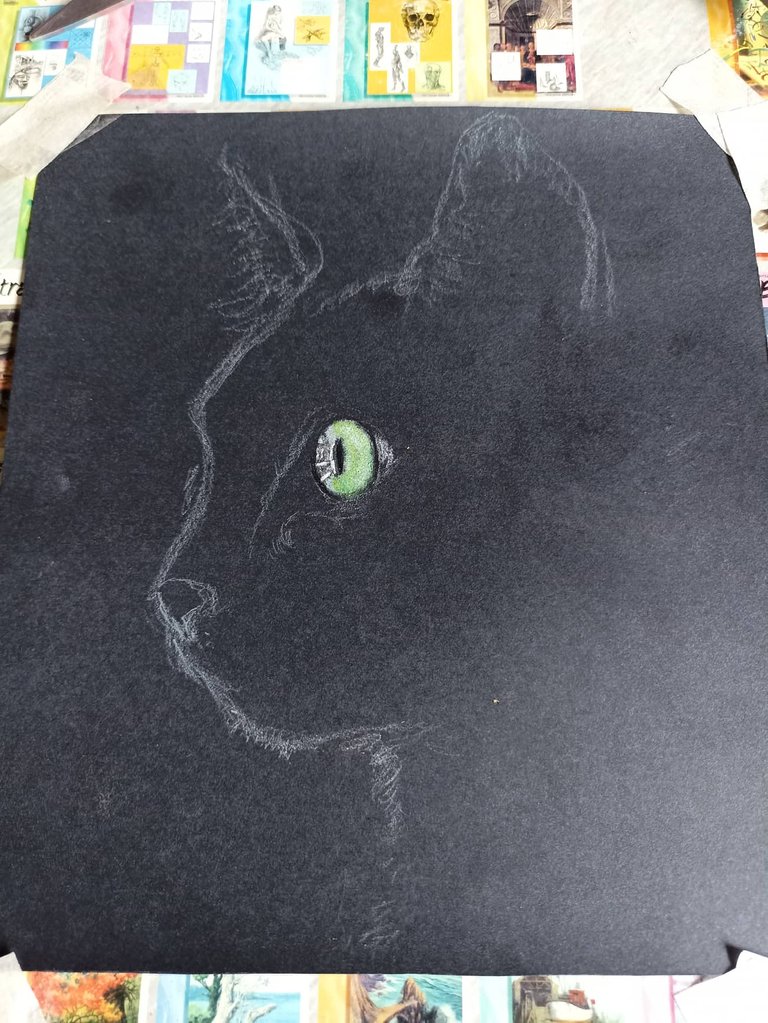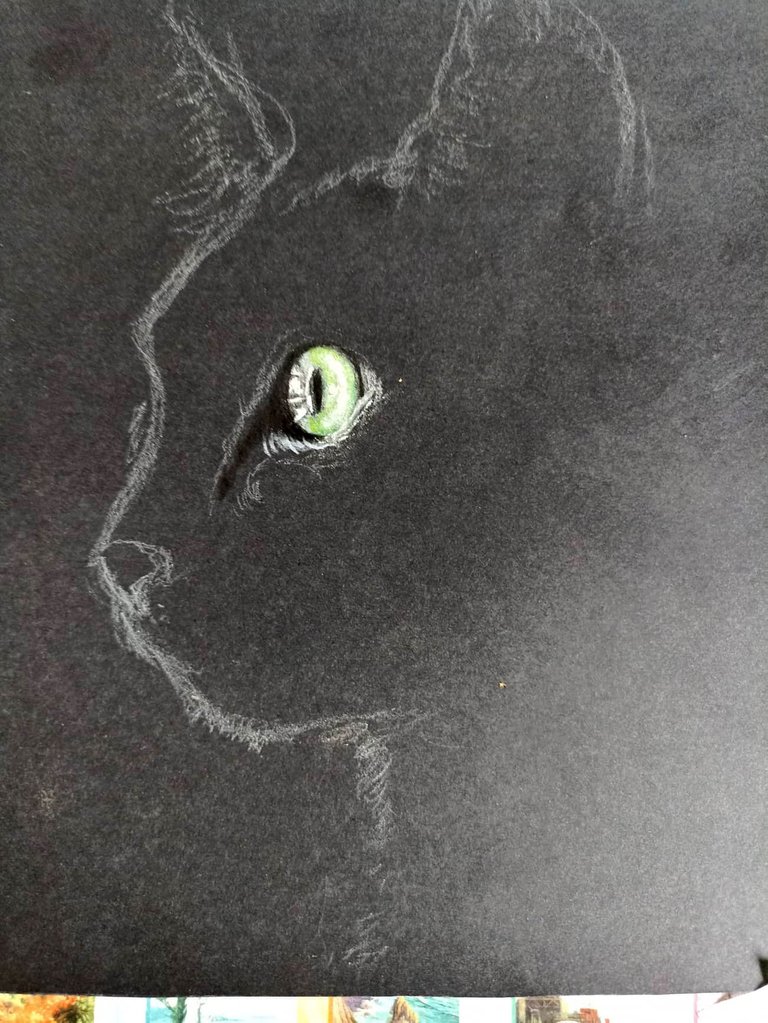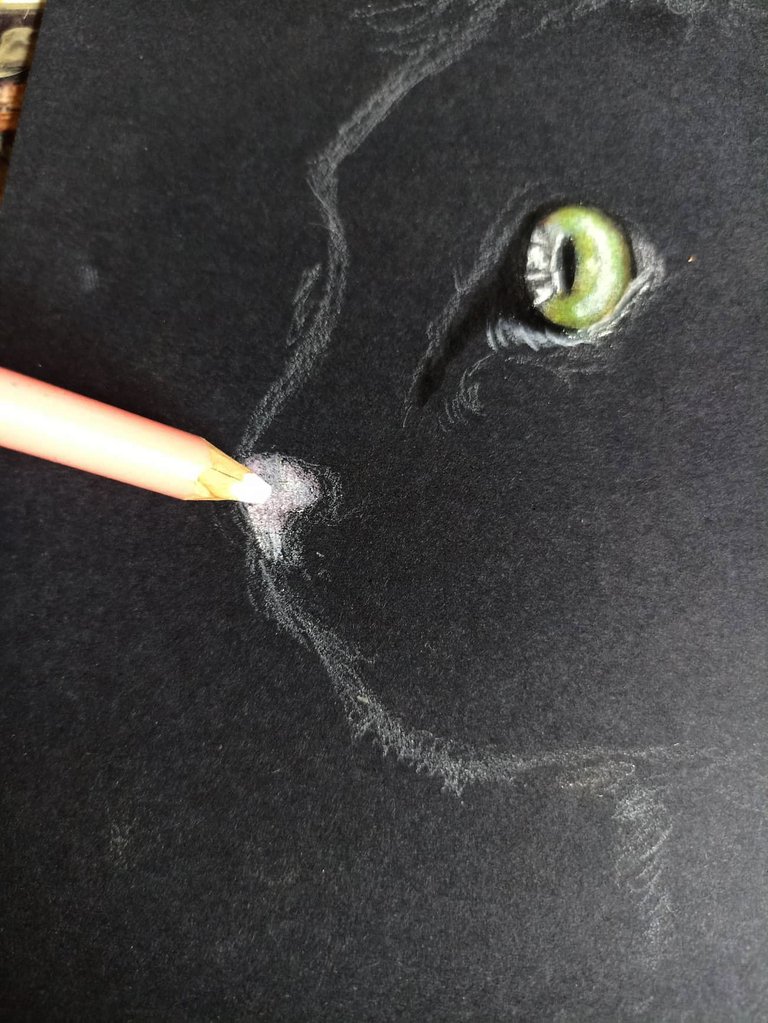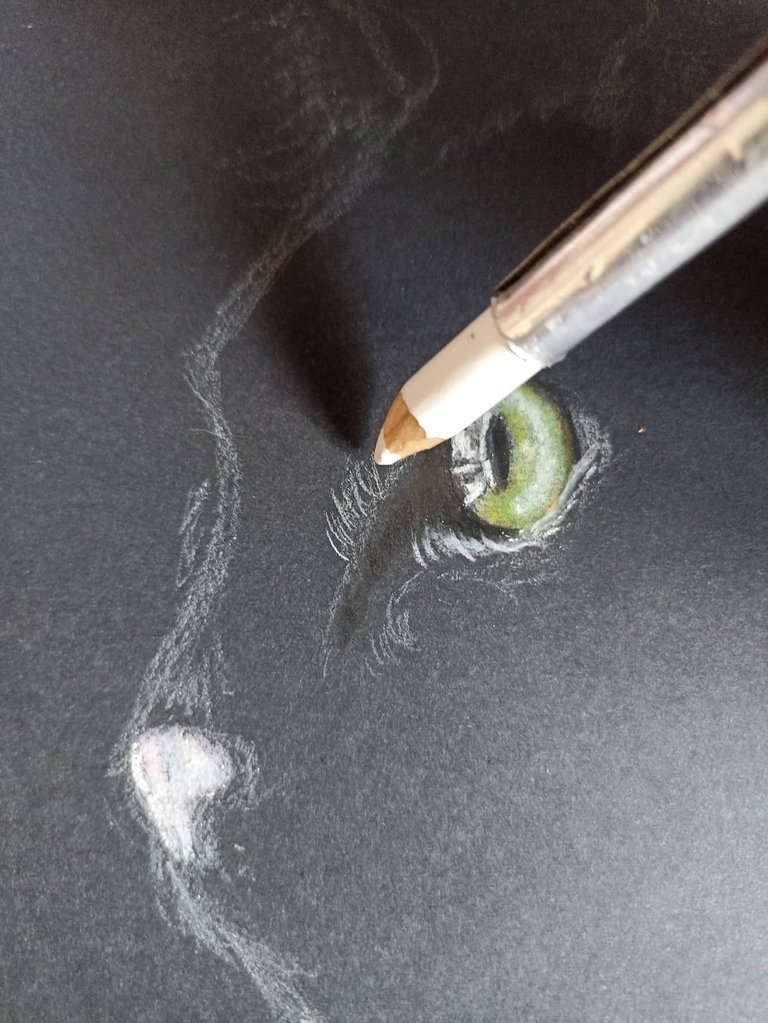 After going through the process of making the initial sketch I began to go inside the face starting with the eye, the colors used to paint the eye and give it life was to use a turquoise green mixed with an apple green, then I joined both with a pastel clear something yellowish. Draw the retina with black color, also the entire edge of the iris I put black color and for the most illuminated parts I used white pastel chalk which is a more intense white similar to acrylic paint. I painted the part of the eye a dark tone since in that area there is no light, and then with white color I made the fur of the face and also the nose.
Luego de pasar por el proceso de hacer el boceto incial comencé a ir al interior del rostro comenzando por el ojo, los colores utilizados para pintarl ojo y darle vida fue usar un verde turquesa mezclado con un verde manzana, luego ambos los uní con un pastel claro algo amarillento. Dibuje la retina con color negro, tambien todo el borde del iris puse color negro y para las partes más iluminadas utilicé tiza pastel blanca que es un blanco más intenso similar a la pintura acrílica. Pinté la parte del ojo un tono oscuro ya que en esa zona no hay luz, y despues con color blanco fui haciendo el pelaje del rostro y tambien la nariz.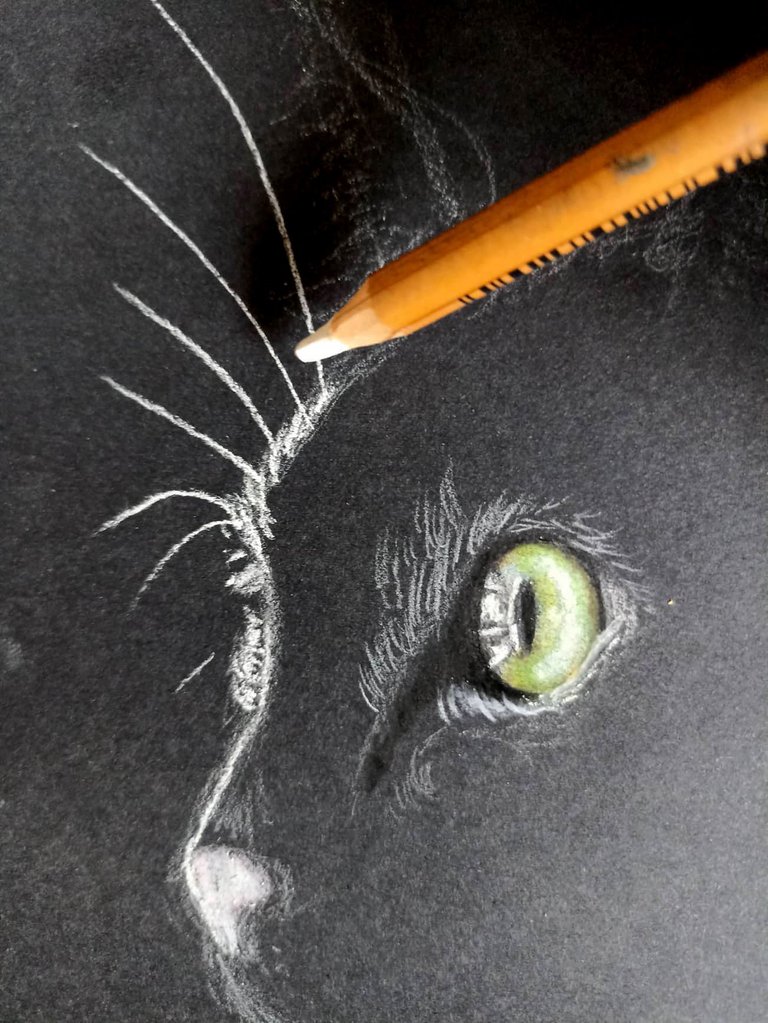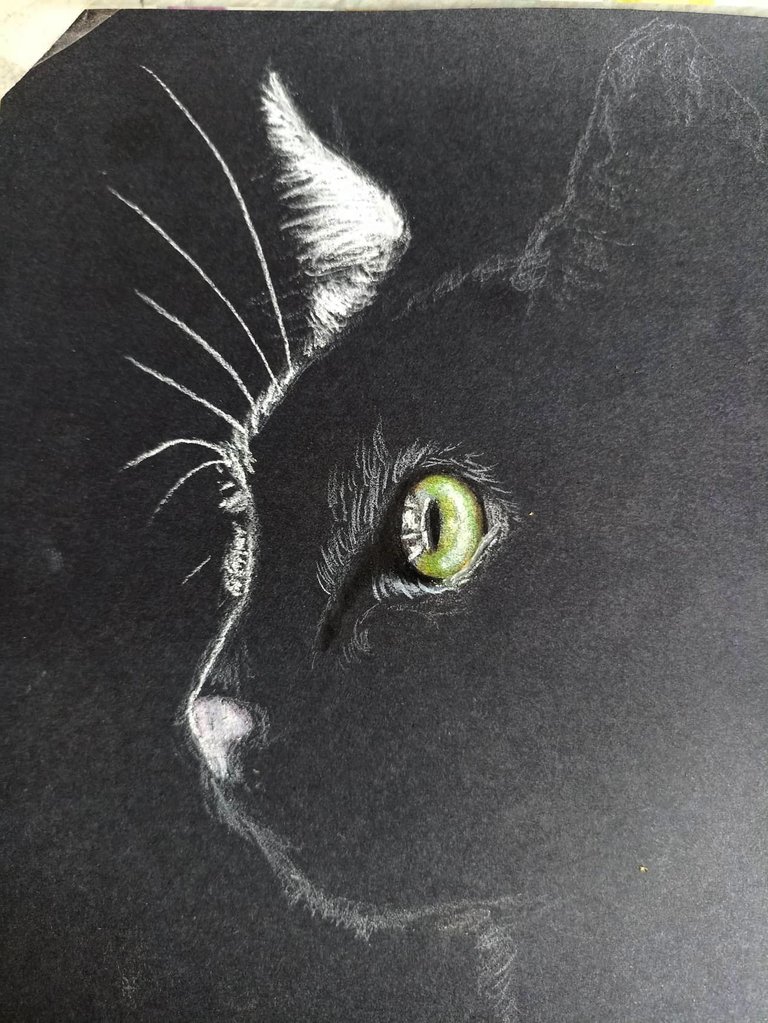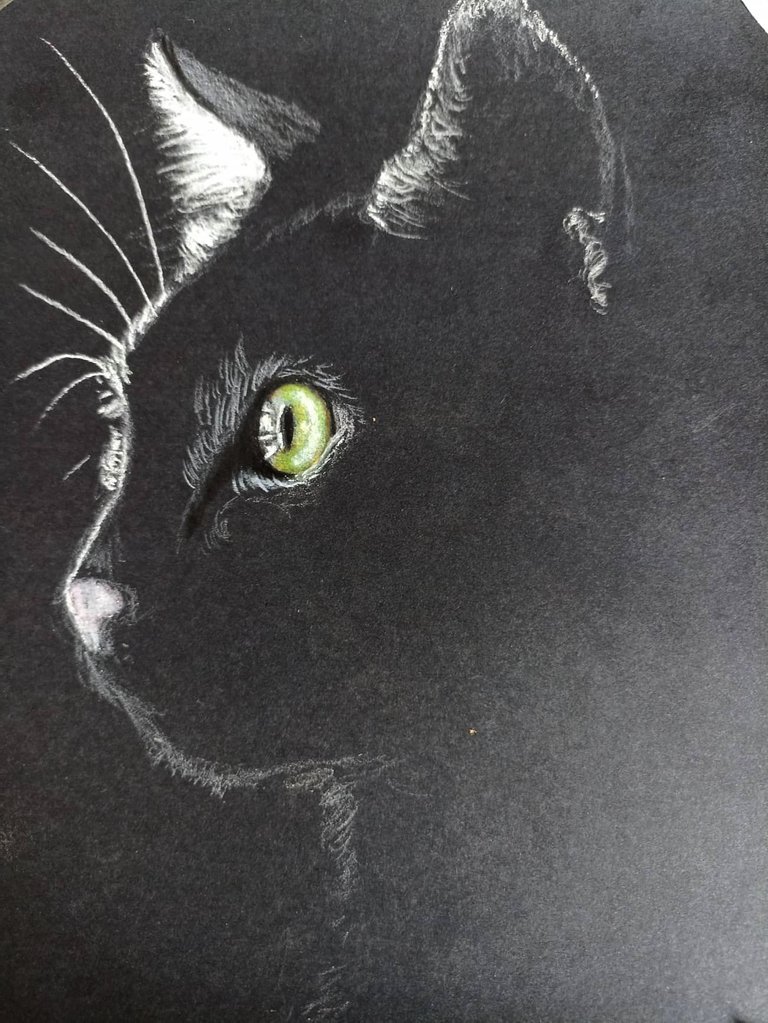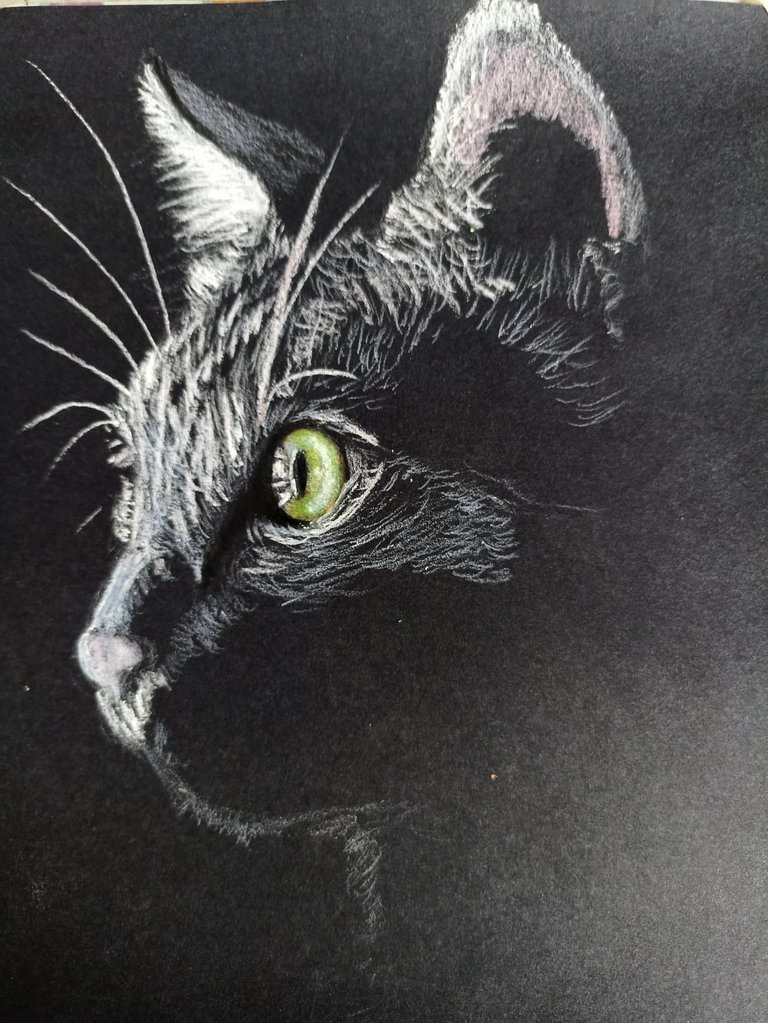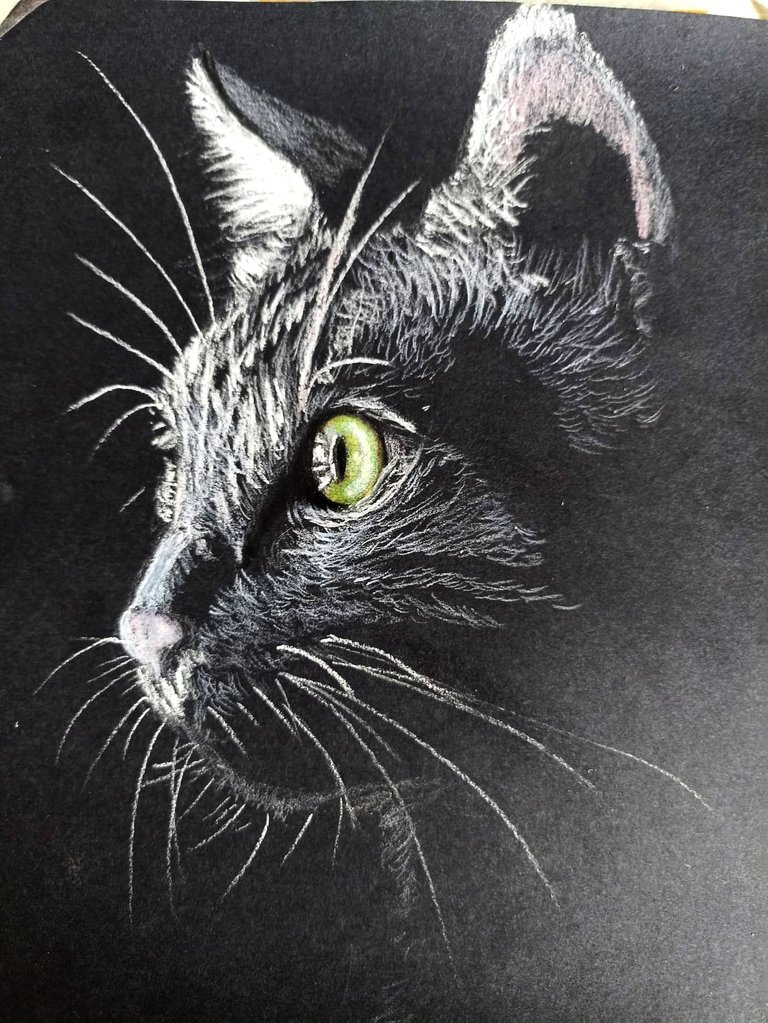 Now I change color and instead of using the white prismacolor crayon I use white charcoal, as you know I use this for more intense tones, in this case the color of the hair highlighted by the light of the lighting. In this way I start with the edges where the light is more intense and from there towards the inside of the face. You can clearly see the line of the strokes that are fast so that it is very realistic. With this same color I make my kitten's whiskers and also the hairs of the eyes that are huge.
Ahora cambio de color y en lugar de utilizar el creyón blanco prismacolor utilizo carboncillo de color blanco, como ustedes saben este lo utilizo para tonos más intensos en este caso el color de los cabellos resaltados por la luz de la iluminación. De esta manera comienzo con los bordes por donde la luz es mas intensa y de ahí hacia el interior del rostro. Se puede apreciar claramente la línea de los trazos que son rápidos para que quede muy realista. Con este mismo color hago los bigotes de mi gatita y también los pelos de los ojos que son enormes.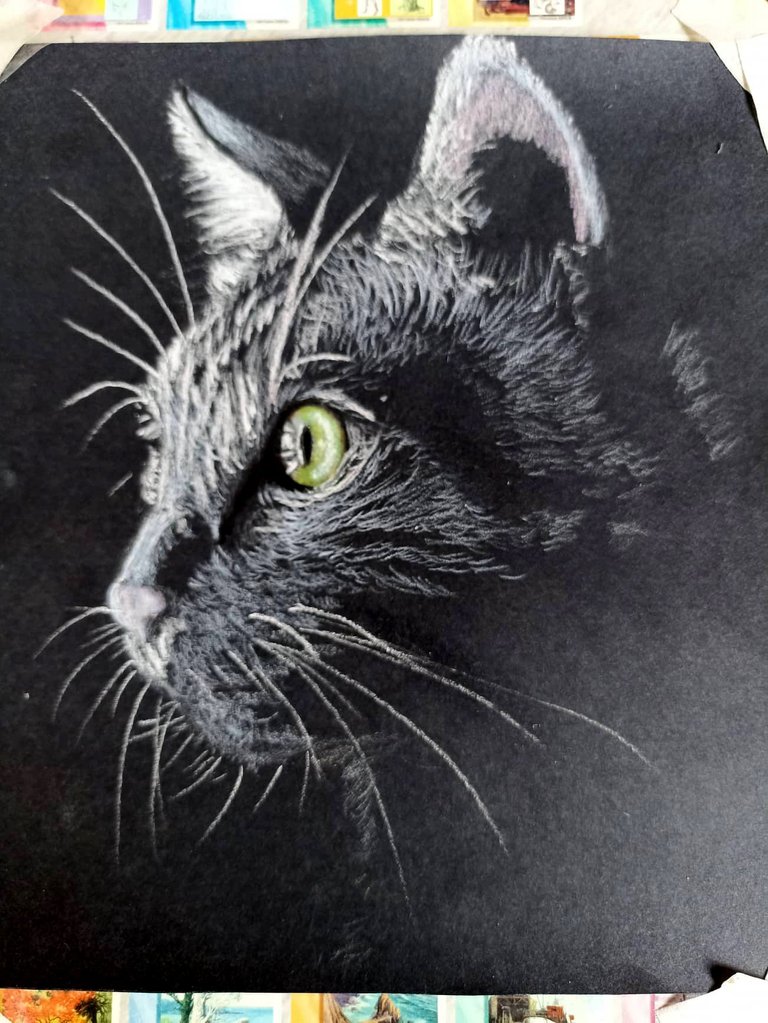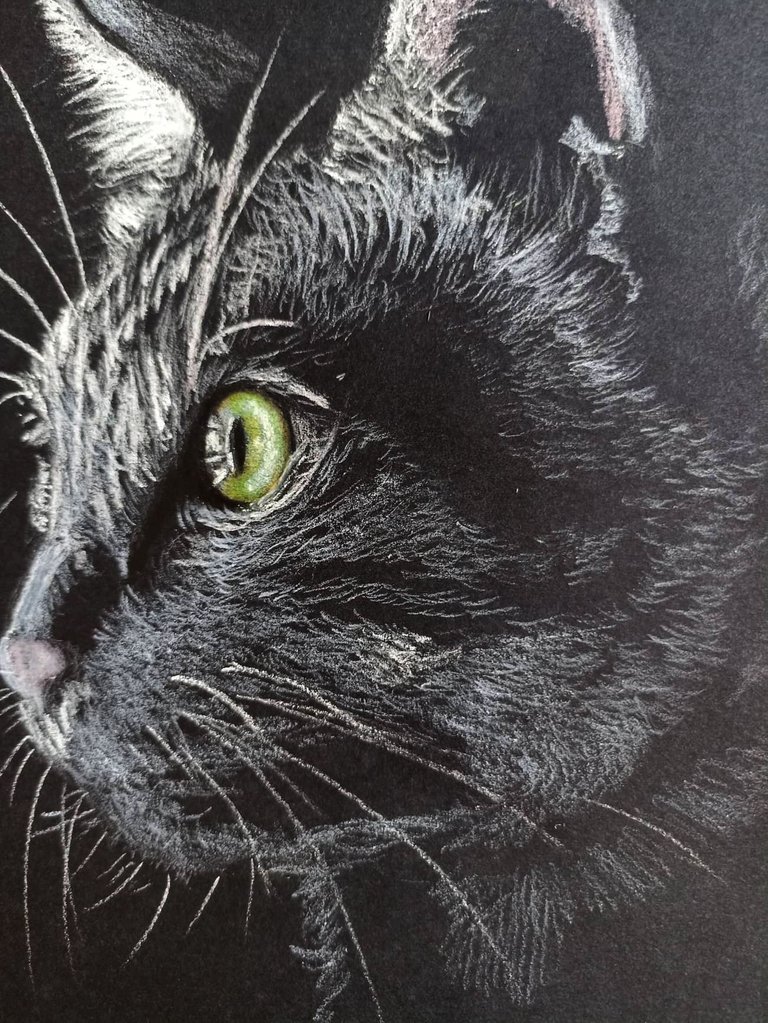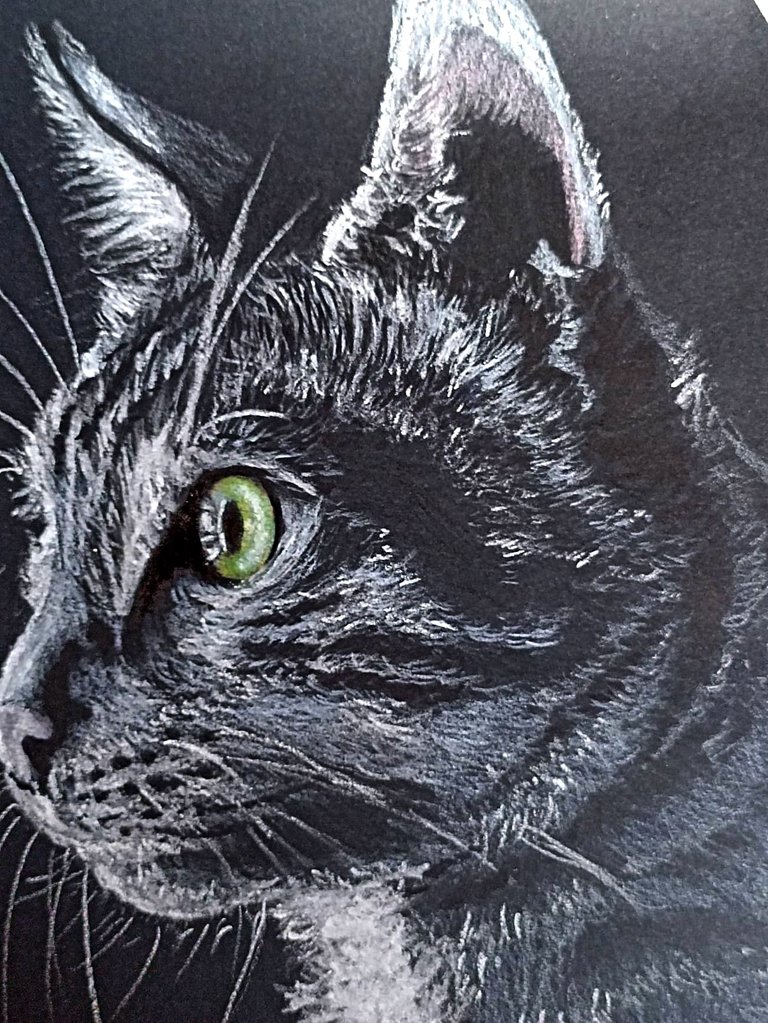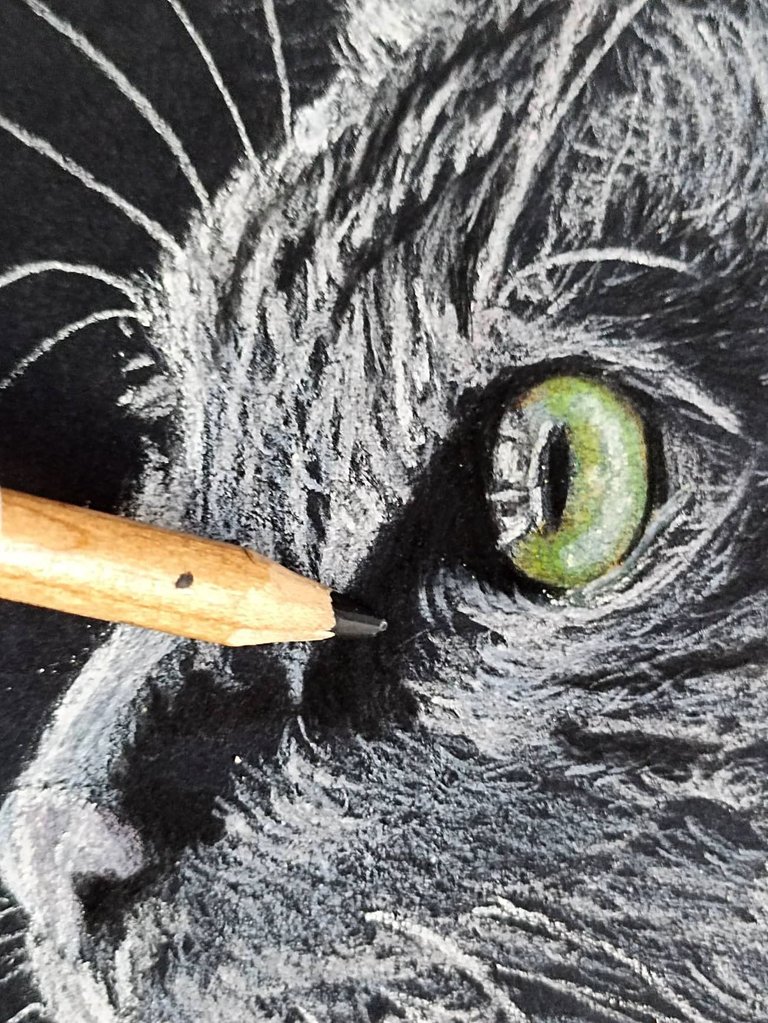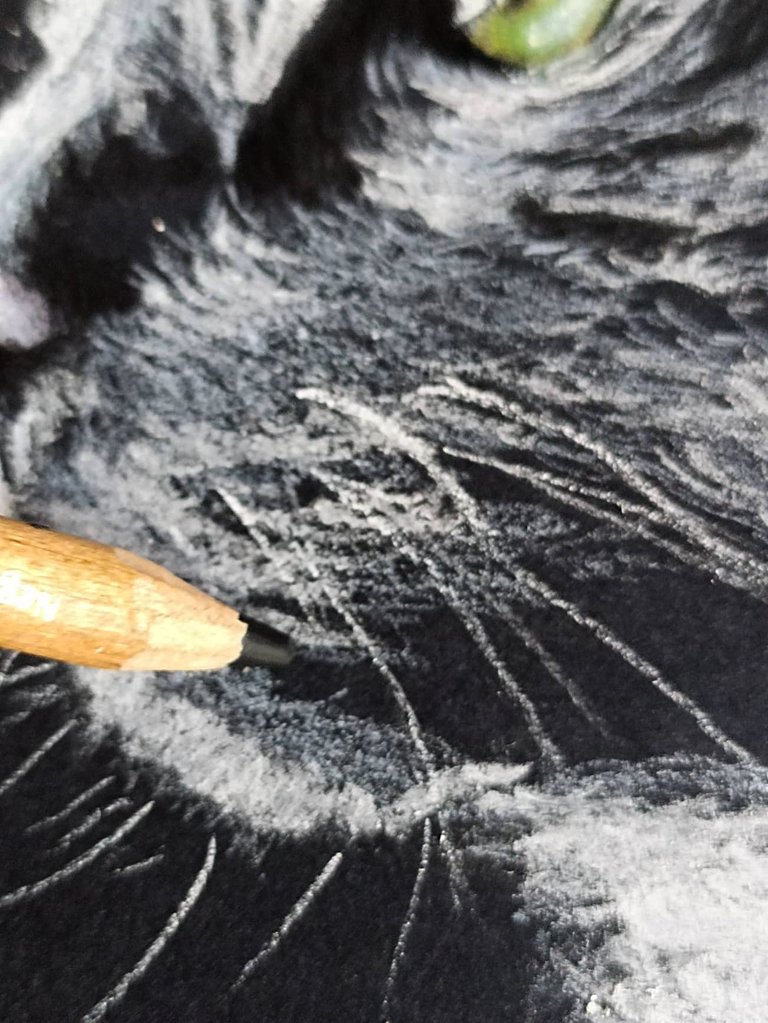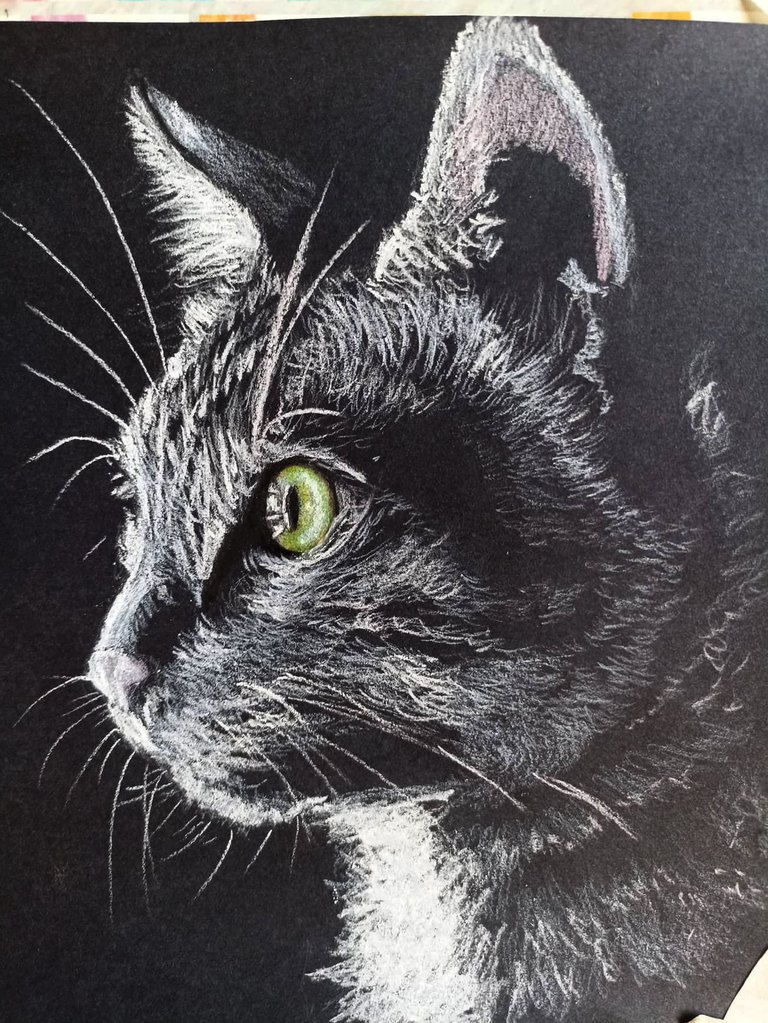 Then, to continue painting my kitten's fur, I make an exchange between normal crayon and white charcoal, I do this because as the light fades, the hair becomes less intense, only the ends acquire more intensity of color, so with the Prismacolor white crayon I make the strokes very soft. Then, to give the drawing the final touch, I help the shadows with black color, which, being on black cardboard, darkens in a better way and helps the drawing have a better photographic appearance.
Luego para seguir pintando el pelaje de mi gatita hago un intercambio entre creyón normal y el carboncillo blanco, esto lo hago porque mientras se aleja la luz el pelo se va viendo menos intenso, solamente las puntas adquieren más intensidad de color, así que con el creyón blanco prismacolor hago los trazos muy suaves. Luego para darle el toque final al dibujo ayudo a las sombras con color negro, que al estar en una cartulina de color negro se oscurece de una mejor manera y ayuda a que el dibujo tenga una mejor apariencia fotográfica.

FINAL WORK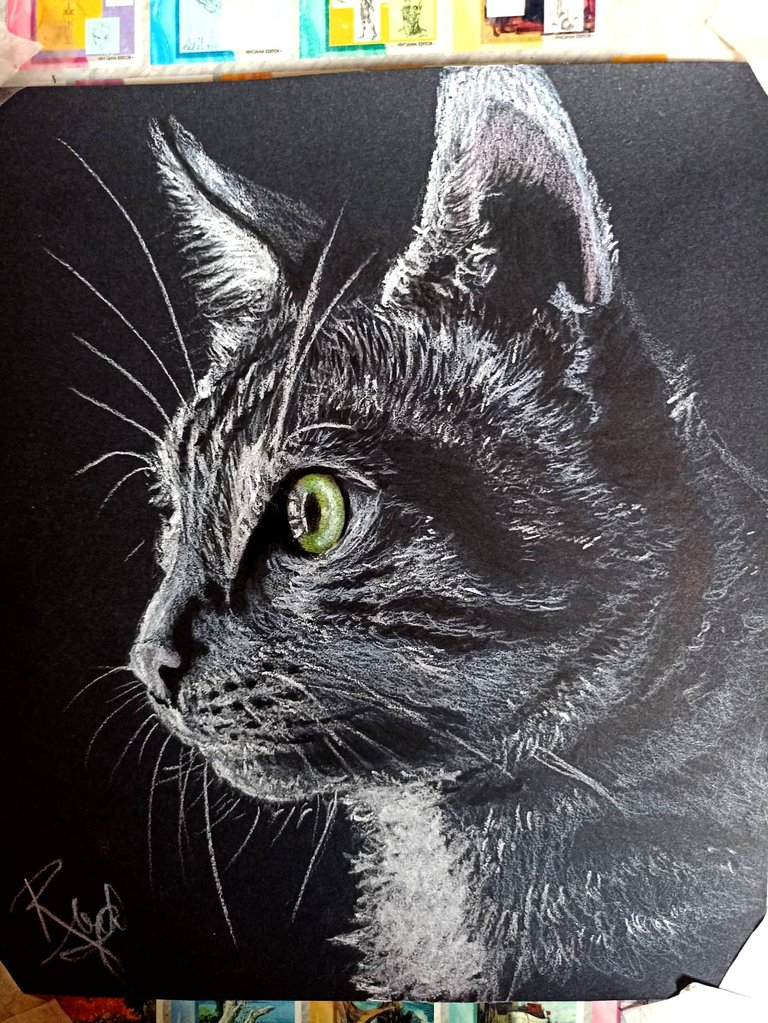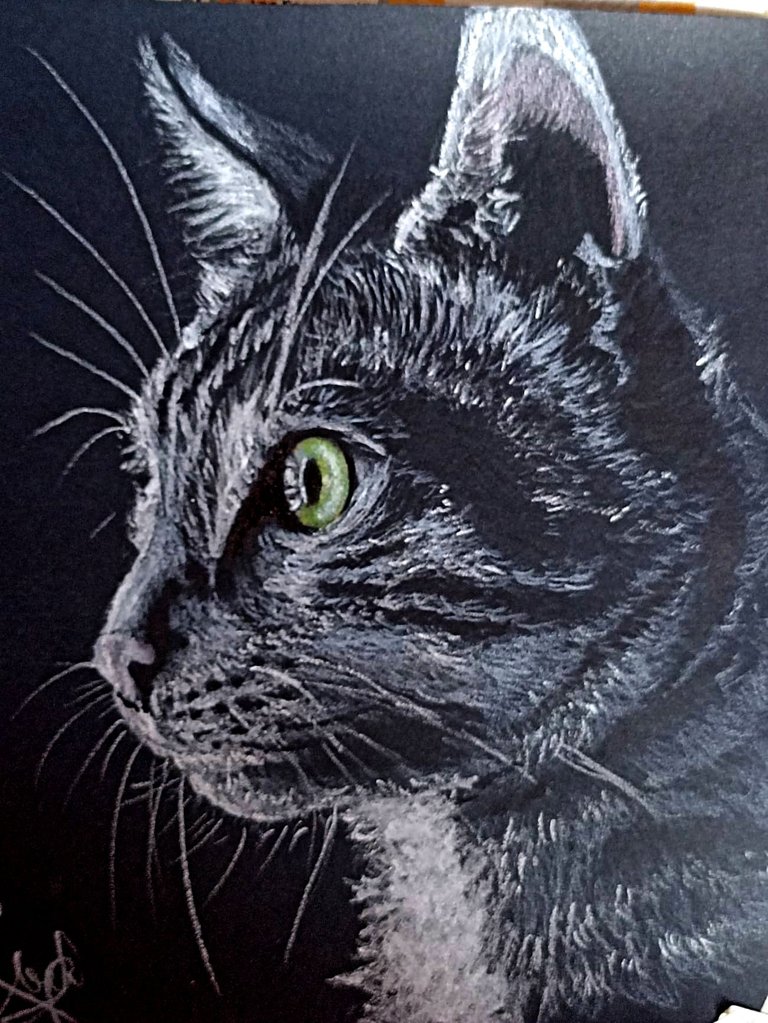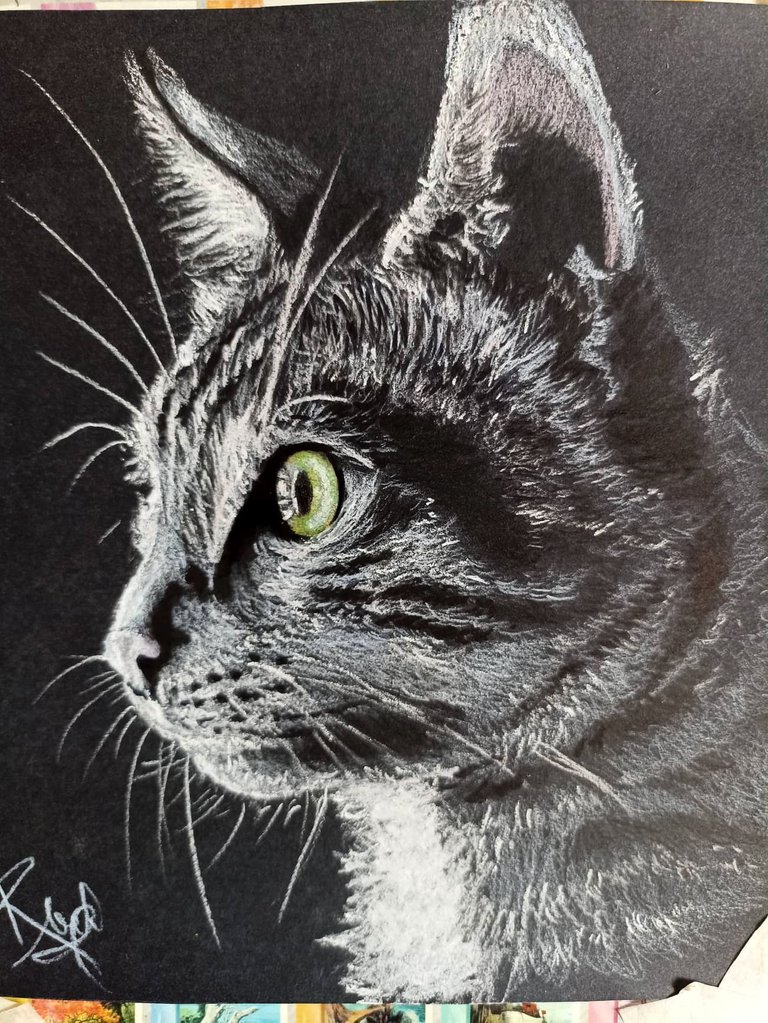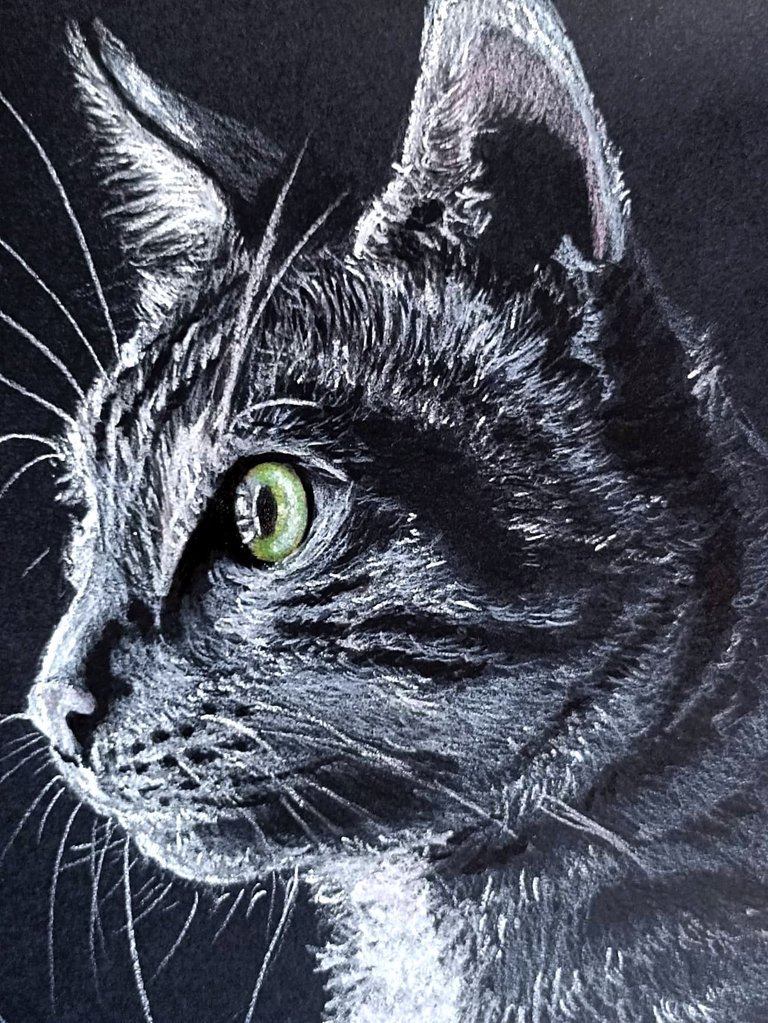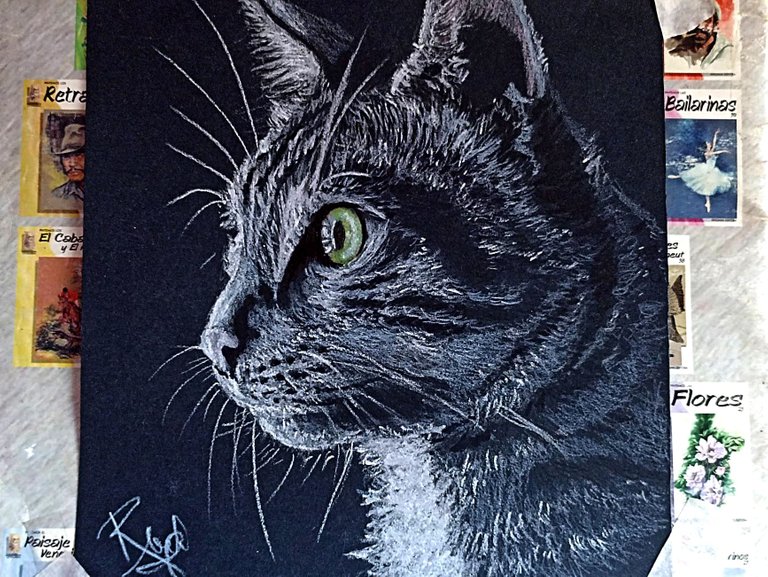 After finishing the drawing, I proceeded to observe it for a long time, this to find details to improve and also to review the colors so that my kitten's fur would look better and look more realistic, like a true portrait.. That's how it turned out finished this portrait, I hope you liked it, I think I'm very good at drawing animals, I also love my little cat, and there is not a minute of the day when I don't have her close, she is a great companion. I say goodbye to you for now, do not forget to comment and leave your opinion, for me it is very important to know. Have a good weekend, until a new opportunity.
Despues de dar por terminado el dibujo procedí a observarlo un buen rato, esto para encontrar detalles que mejorar y también para un repaso con los colores para que el pelaje de mi gatita quedara mejor y luciera más realista, como un verdadero retratro.. Así quedó finalizado este retrato, espero que les haya gustado, creo que se me da muy bien el dibujar animales, ademas adoro mucho a mi pequeña gata, y no hay minutos del día en el que no la tenga cerca, es una gran compañera. Me despido de ustedes por ahora, no olviden comentar y dejar su opinión, para mi es muy importante saberlo. Que tengan un buen fin de semana, hasta una nueva oportunidad.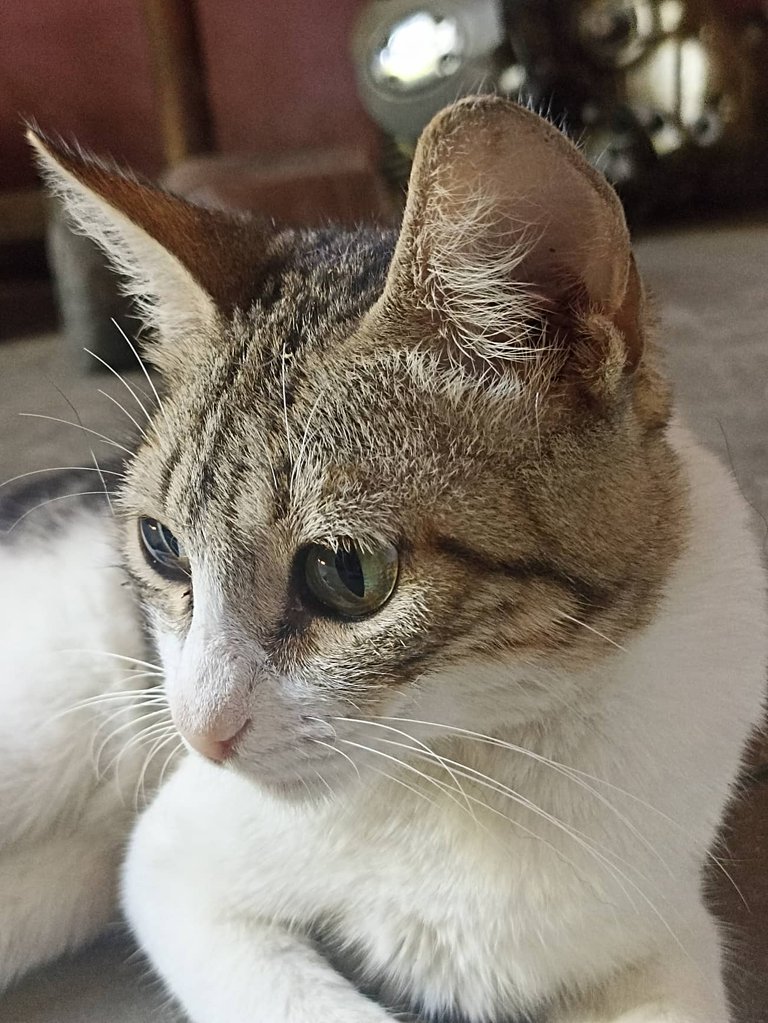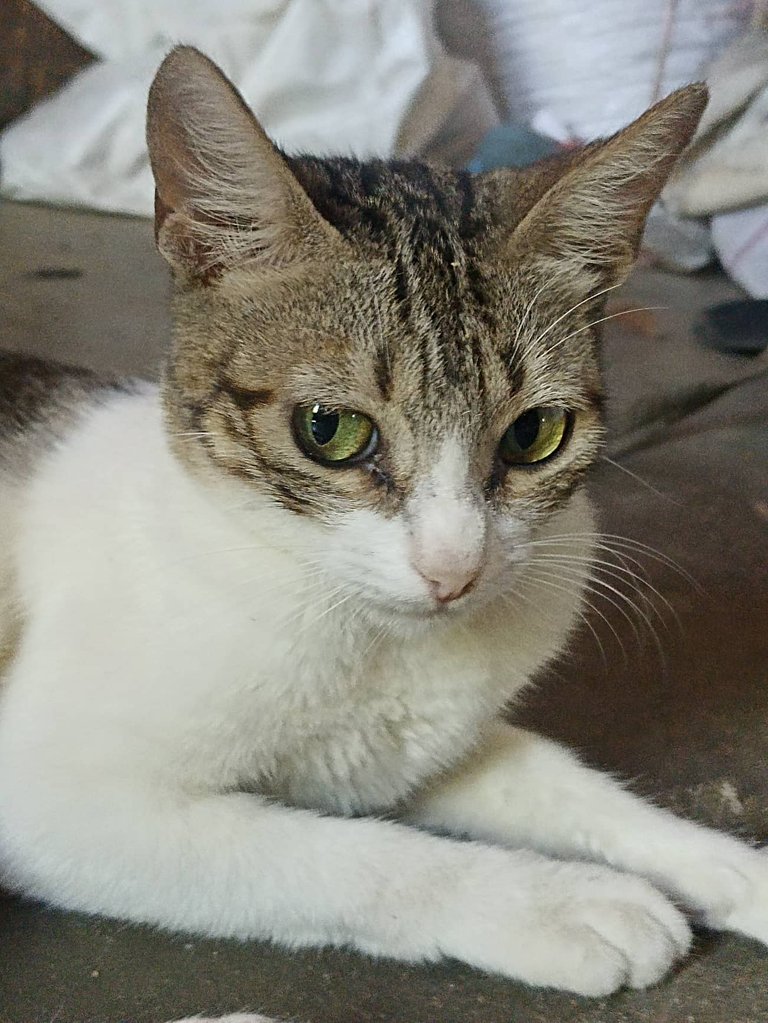 Greetings from my kitten to you.
---
---