[ENG-ESP] JOKER (HEATH LEDGER) DRAWING WITH COLORED PENCILS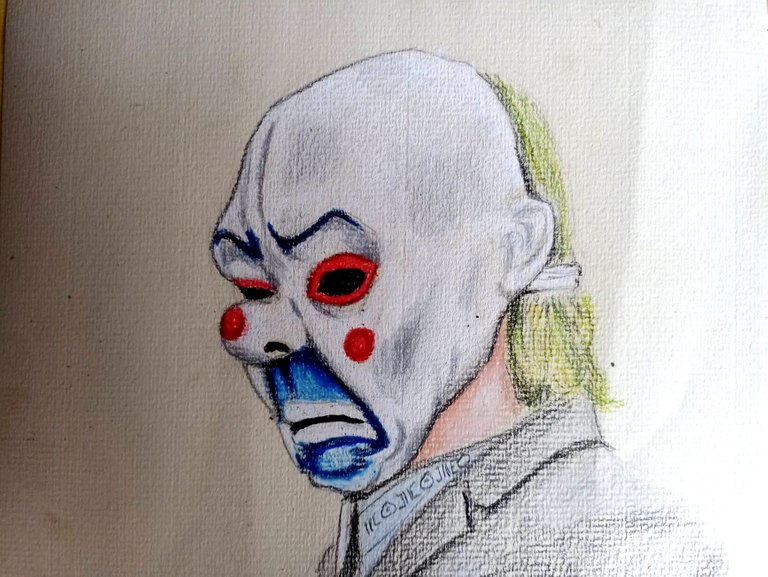 Hello friends, I hope you are very well, today I want to share an illustration of Heath Ledger's Joker that appeared in Batman The Dark Knight Returns. For many he is considered the best Joker, and without a doubt his performance was something great, he showed us a totally different character than the one we are used to. I made this illustration with prismacolor colored pencils, I hope you like it..
Hola que tal amigos, espero que se encuentren muy bien, hoy quiero compartir una ilustración del Joker de Heath Ledger que apareció en Batman El Caballero de la Noche Regresa. Para muchos es considerado el mejor Joker, y sin duda su actuación fue algo grandioso, nos mostró a un personaje totalmente distinto al que estanamos acostumbrados. Esta ilustración la hice con lápices de colores prismacolor espero que les guste.

PROCESS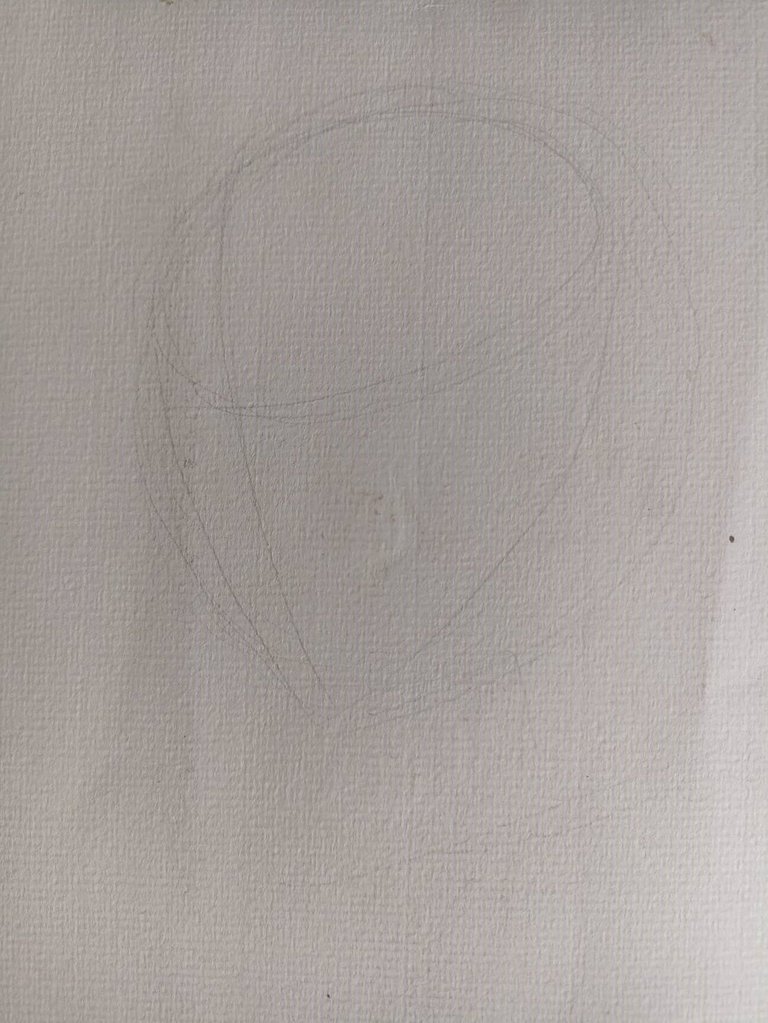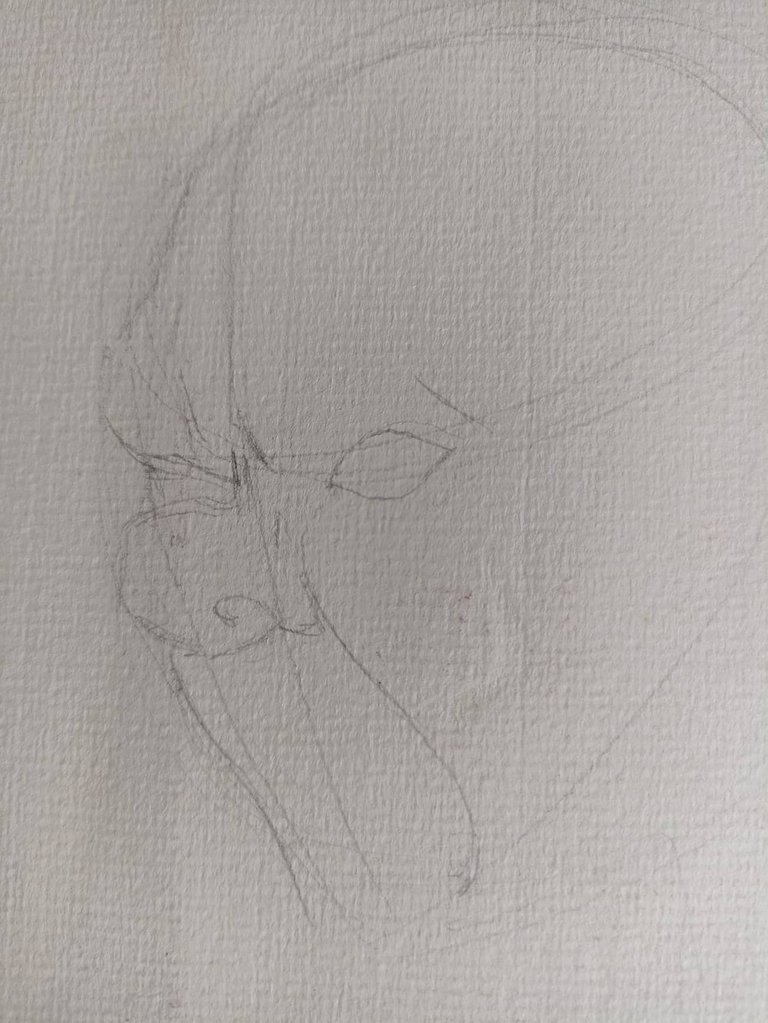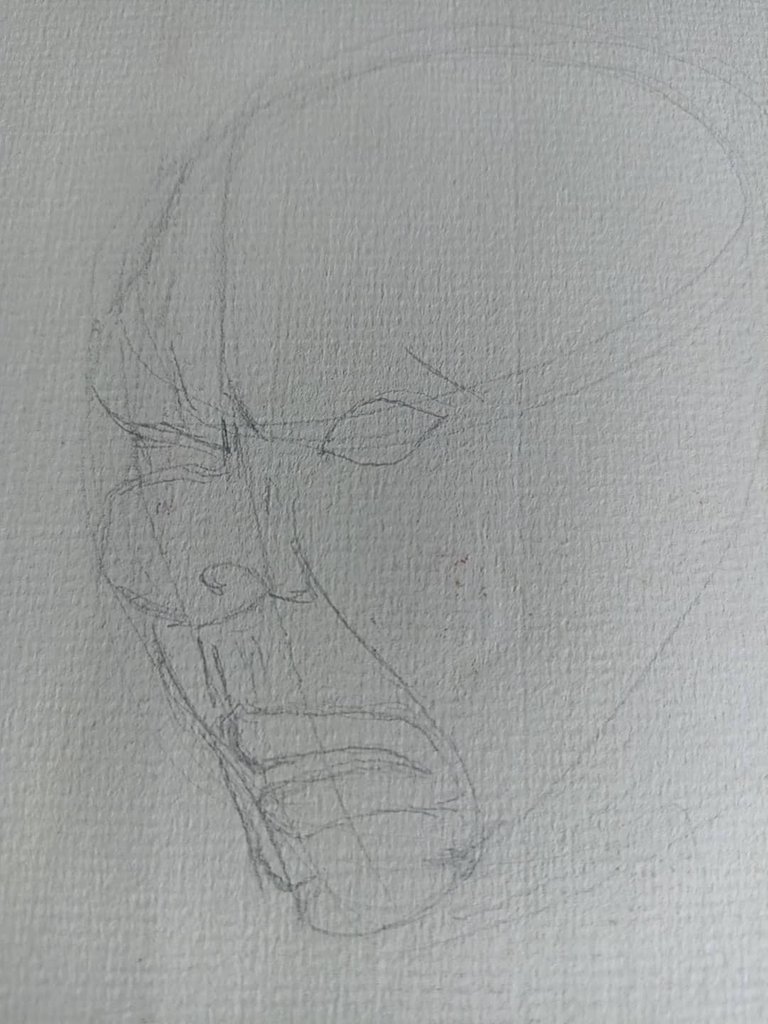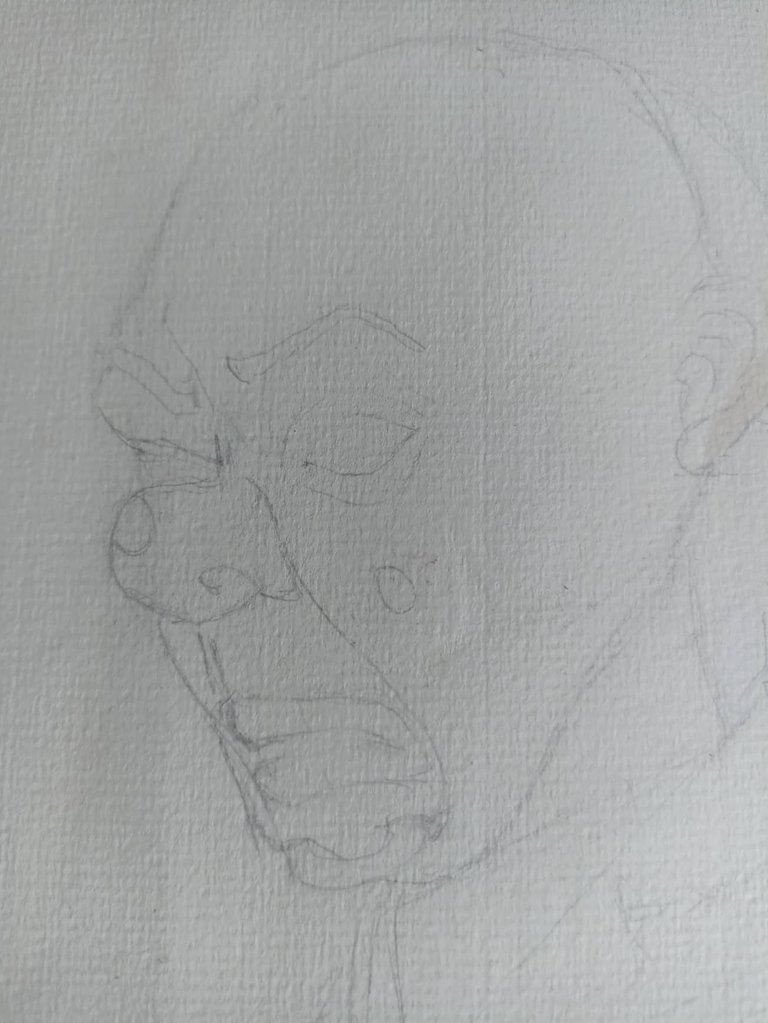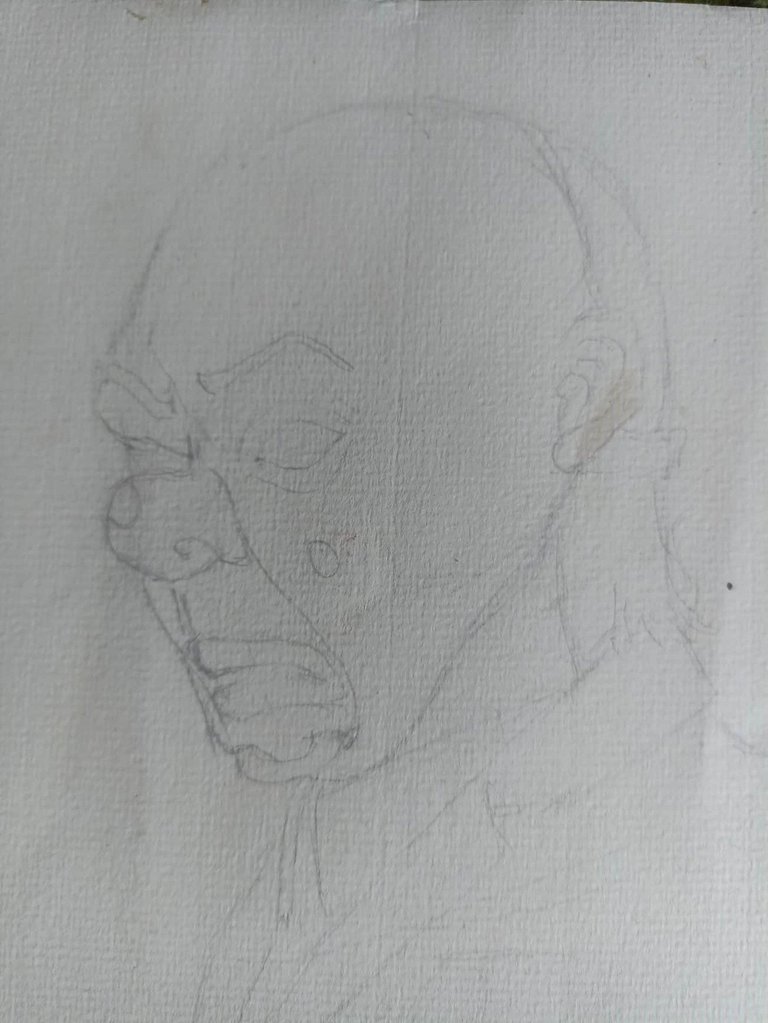 The first step was to make the sketch which I did using the method that I always use for caricatures and drawing the human form, which consists of geometric figures such as circles and lines. This time I made the head as an oval with one of its most pronounced parts, then I made lines that crossed the oval to make the face in 3/4 perspective, after doing so I put each part of the Joker's mask that here is a clown that he uses at the beginning of the film.
El primer paos fue hacer el boceto el cual lo hice utilizando el método que siempre uso para las caricaturas y el dibujo de forma humana, el cual consiste en figuras geométricas como círiculos y líneas. En esta oportunidad hice la cabeza como un óvalo con una de sus partes más pronunciadas, luego hice líneas que atravesaran el óvalo para hacer el rostro en la perspectiva 3/4, luego de hacerlo fui metiendo cada parte de la máscara del Joker que aquí es un payaso que utiliza al inicio de la película.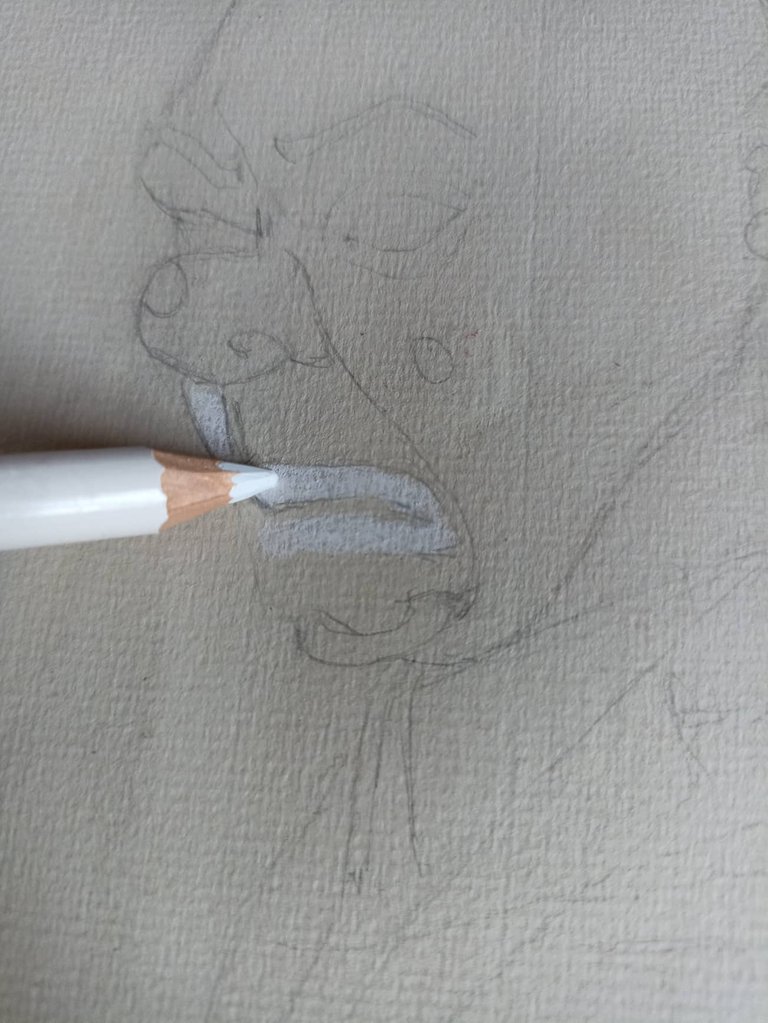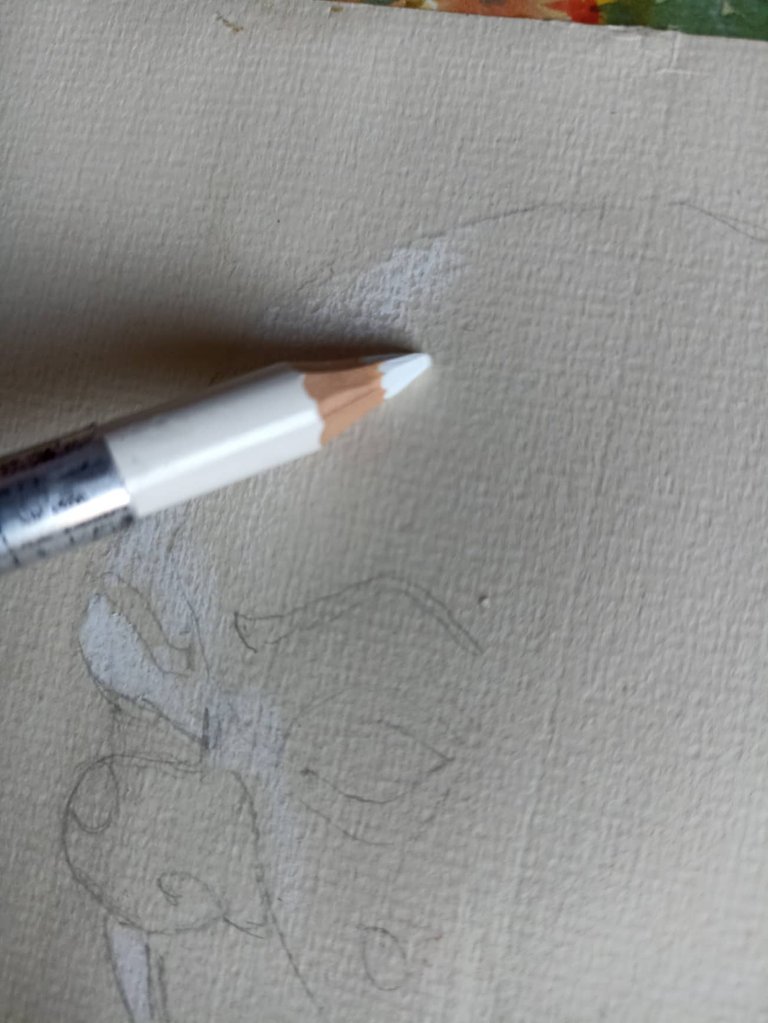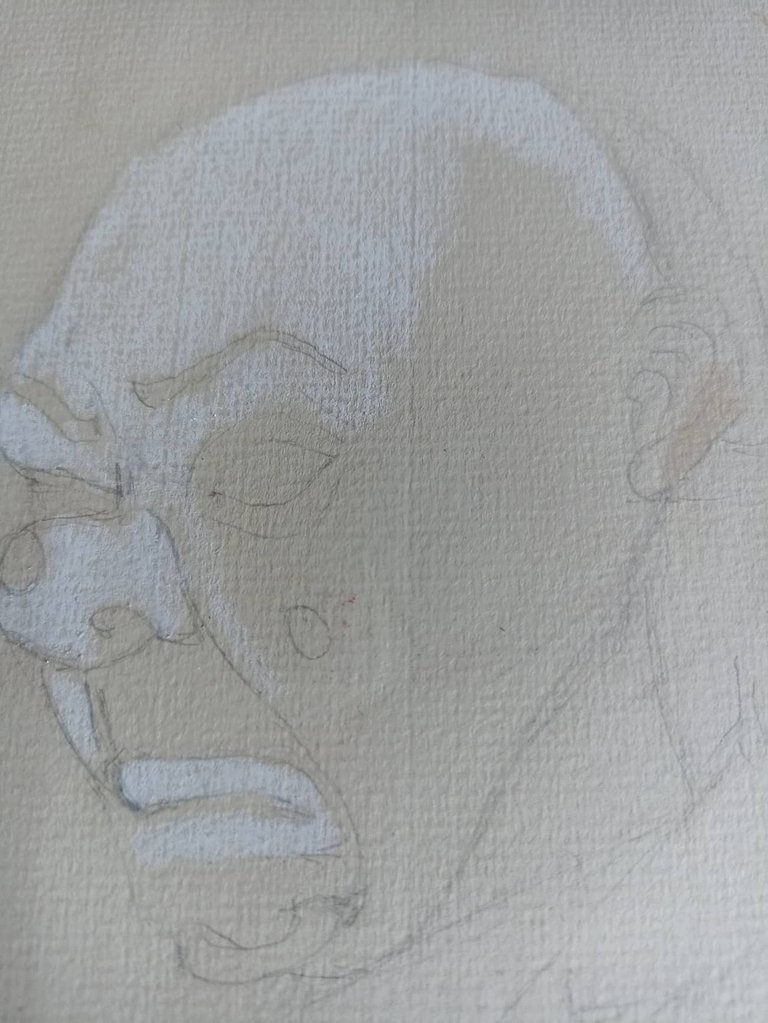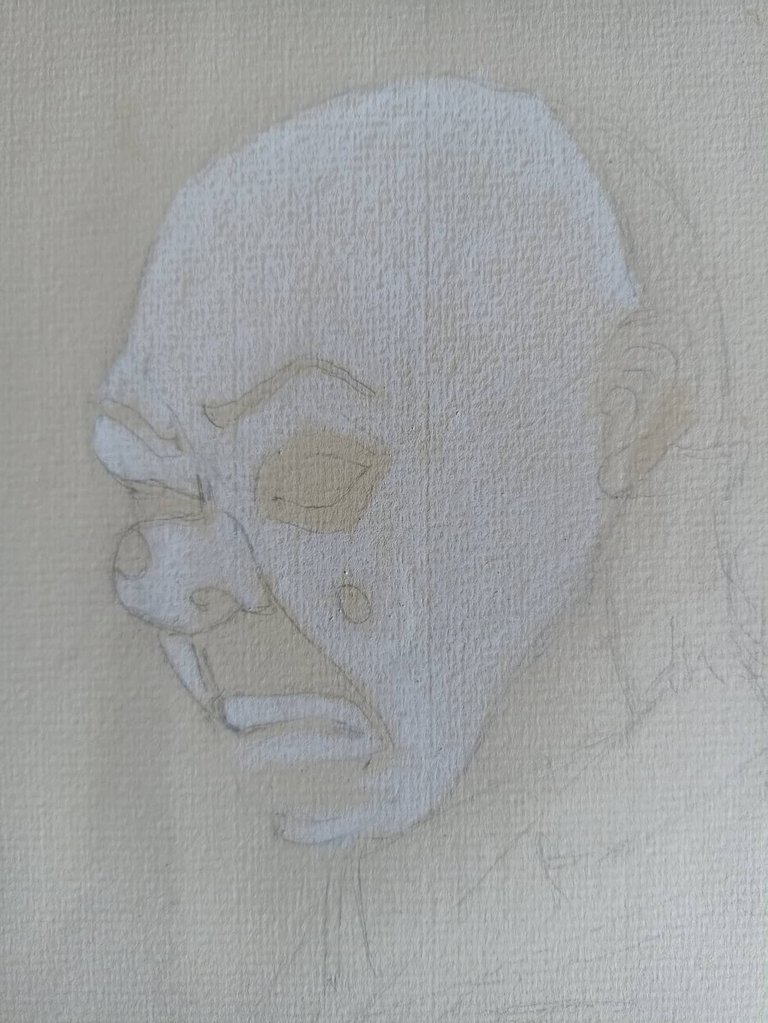 After finishing the sketch and having it well detailed, I began to paint it with white wax pencil, here I did not use other types of white colors since it is a mask and the tone of it is somewhat pale, so for that I only painted with dorma uniform with the same white color the entire area of ​​the clown mask.
Despues de terminar el boceto y tenerlo bien detallado lo comencé a pintar con lápiz blanco de cera, aquí no utilicé otros tipos de colores blancos ya que es una máscara y el tono de la misma es algo pálido, así que para eso solo pinte de dorma uniforme con el mismo color blanco toda la zona de la máscara de payaso.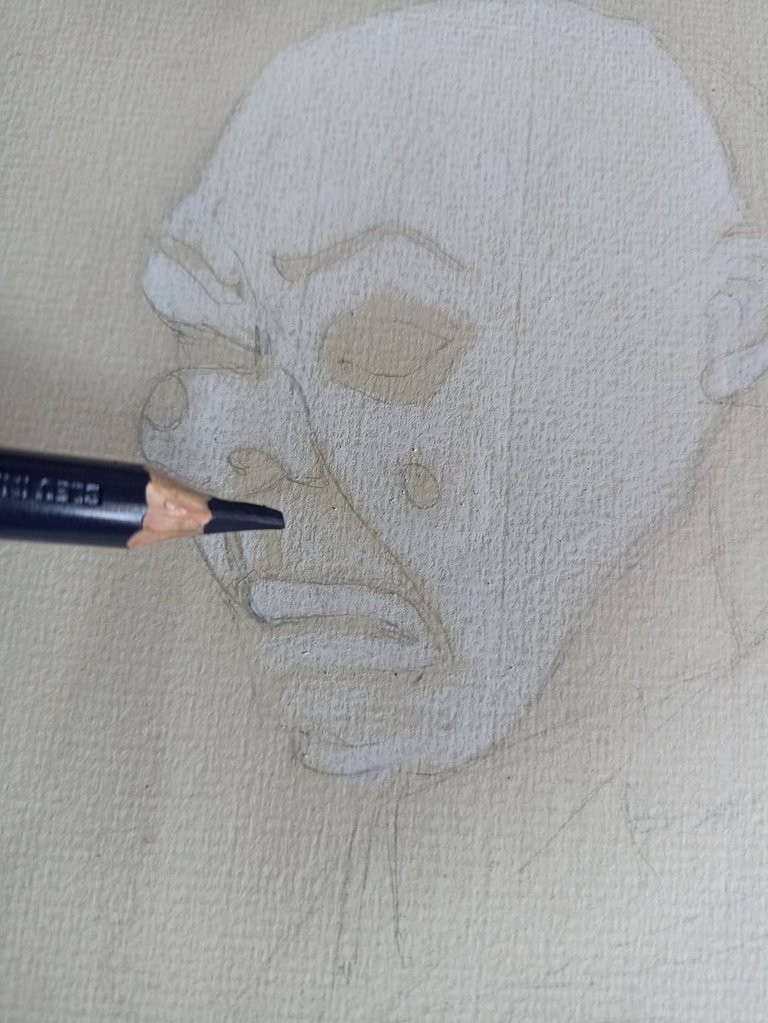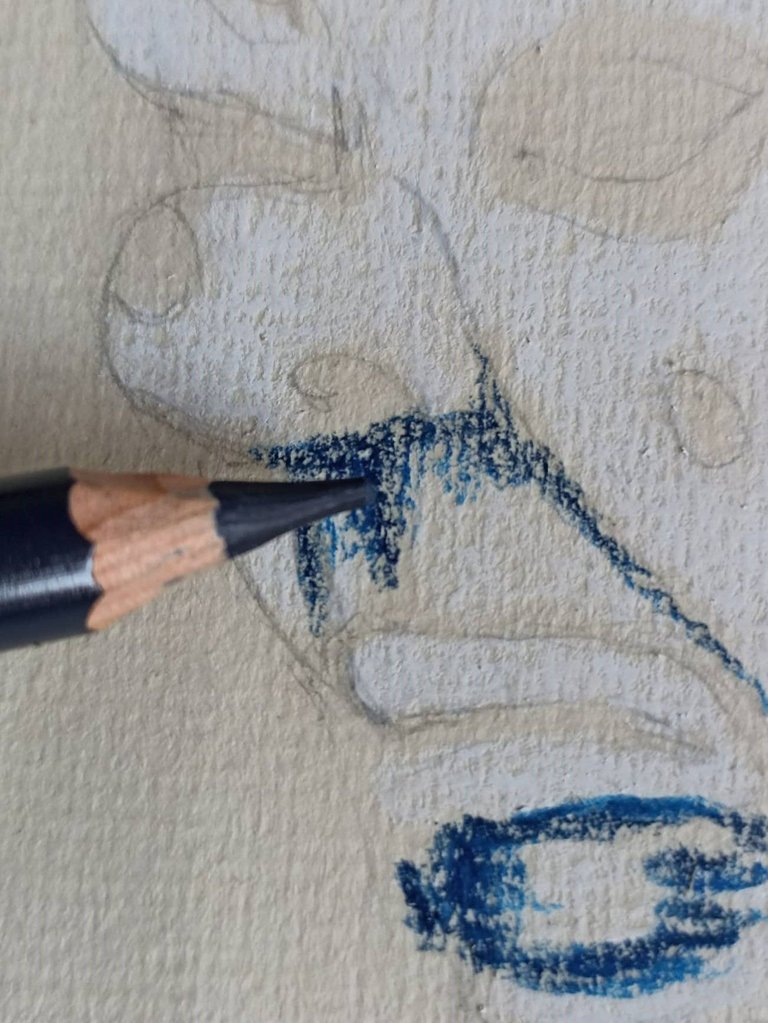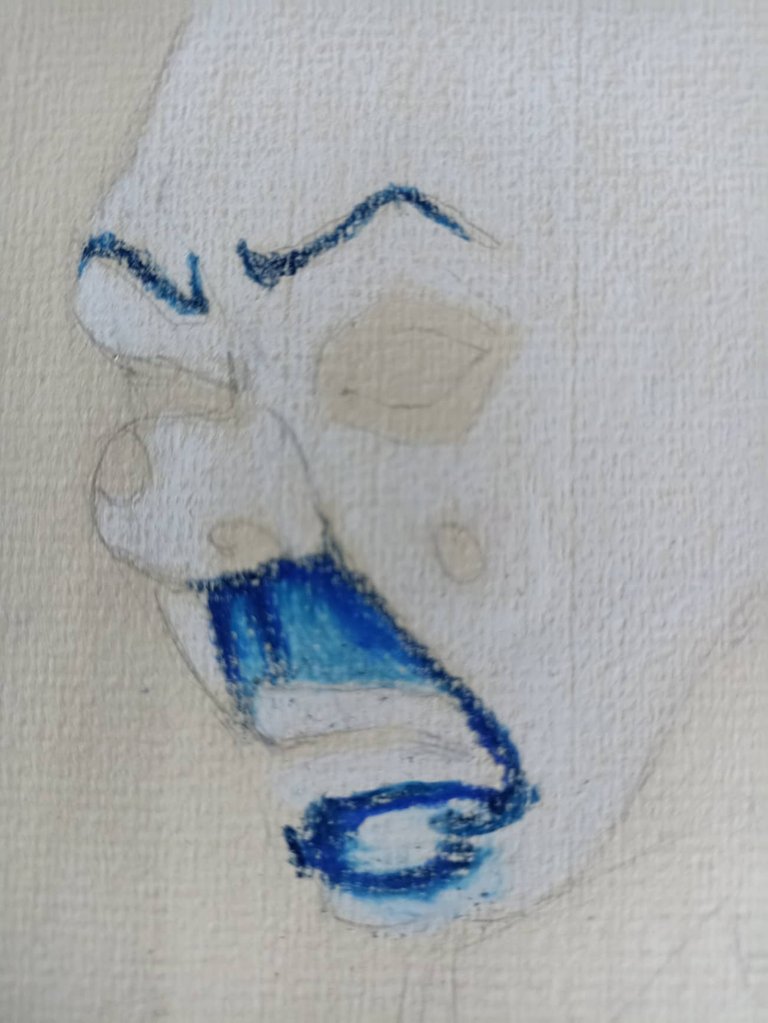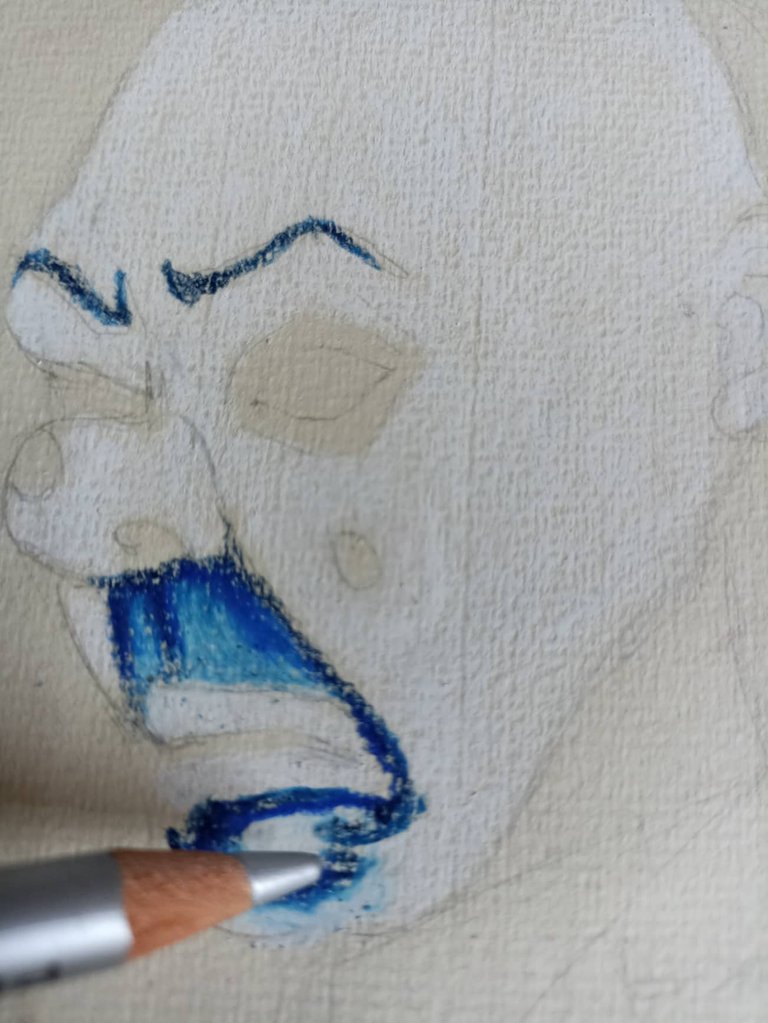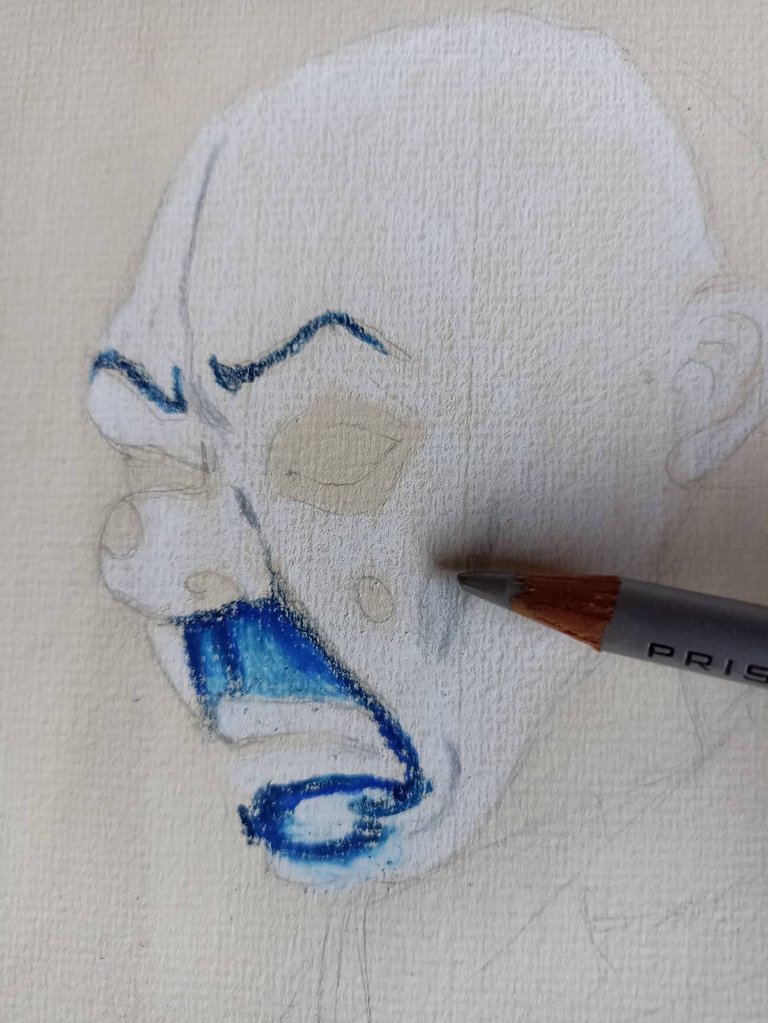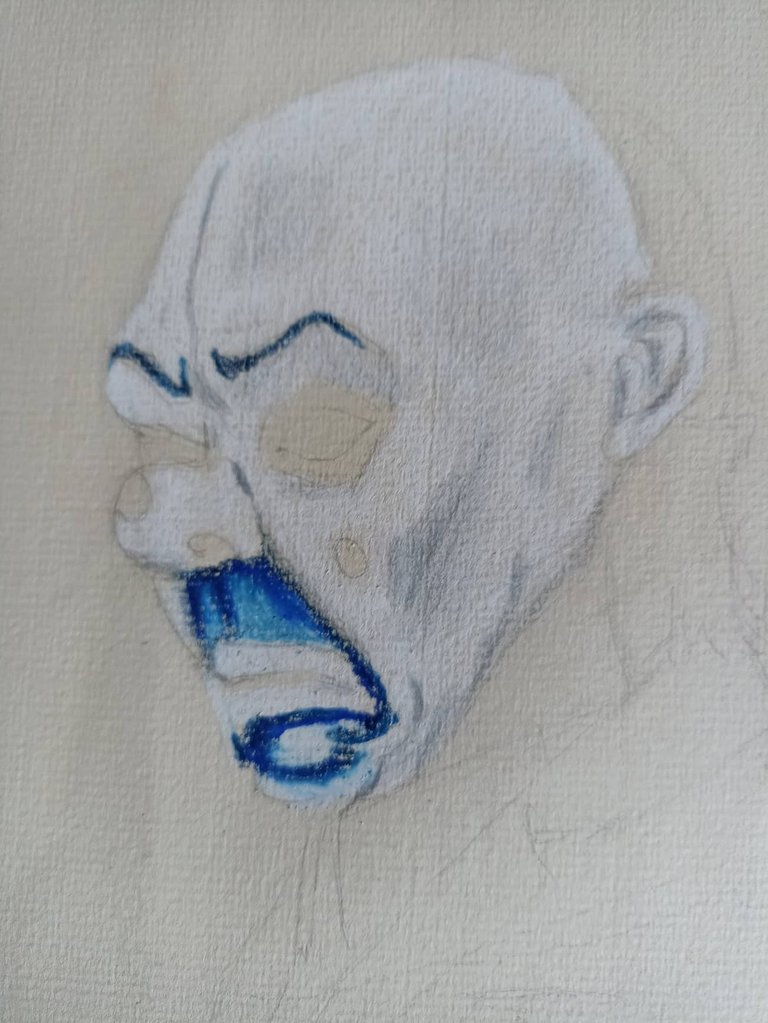 The next step was to decorate the clown mask, which as I mentioned before has a worn and pale color, to make these effects I used a metallic light gray color that worked very well to give the necessary relief to the mask, as well as painted the makeup of the part of the mouth using the dark blue pencil.
El siguiente paso fue decorar la máscara de payaso, que como mencioné anteriormente tiene un color desgastado y pálido, para hacerle estos efectos utilicé un color gris claro metalizado que funcionó muy bien para darle el relieve necesario a la máscara, así como también pinté el maquillaje de la parte de la boca utilizando el lápiz de color azul oscuro.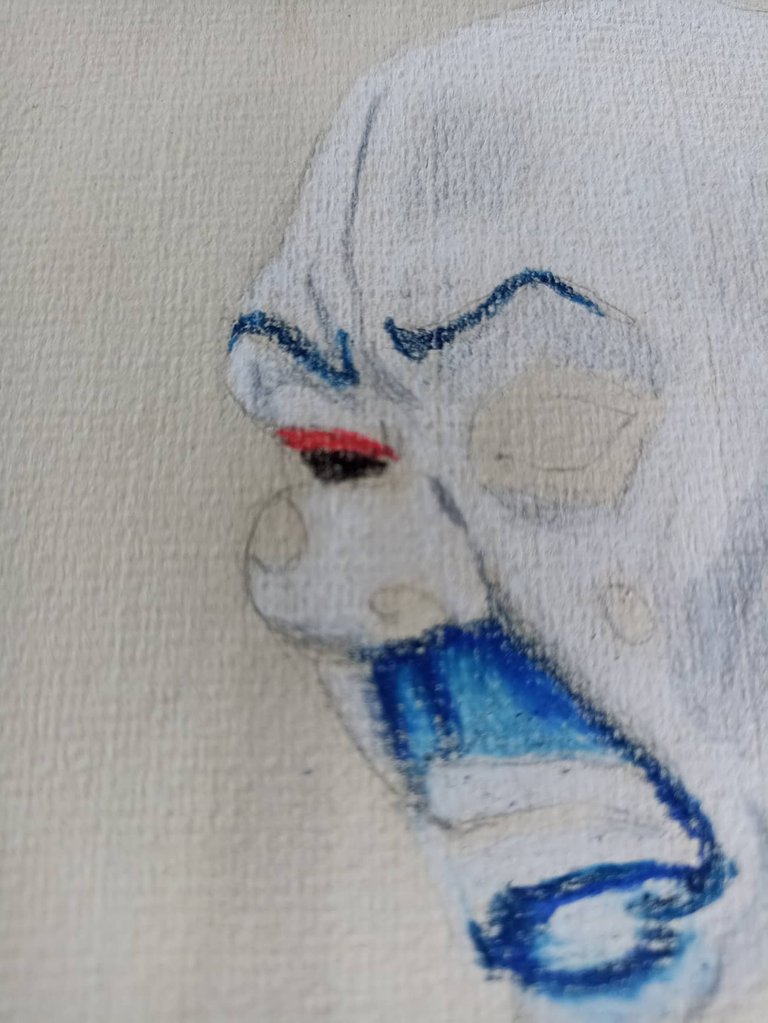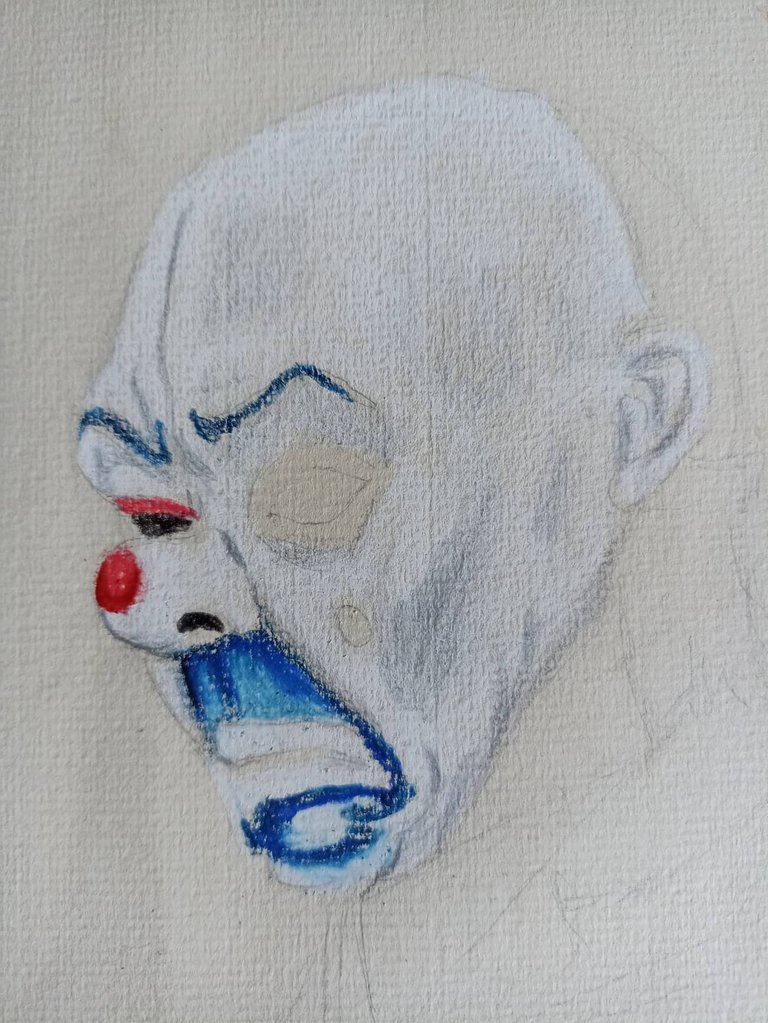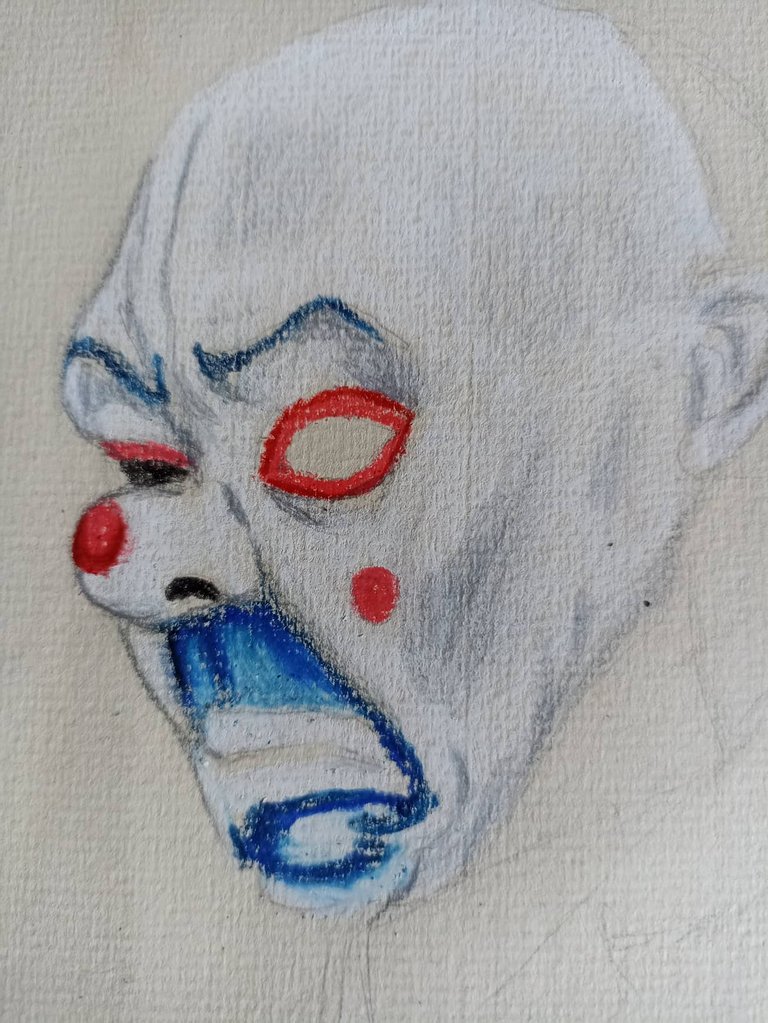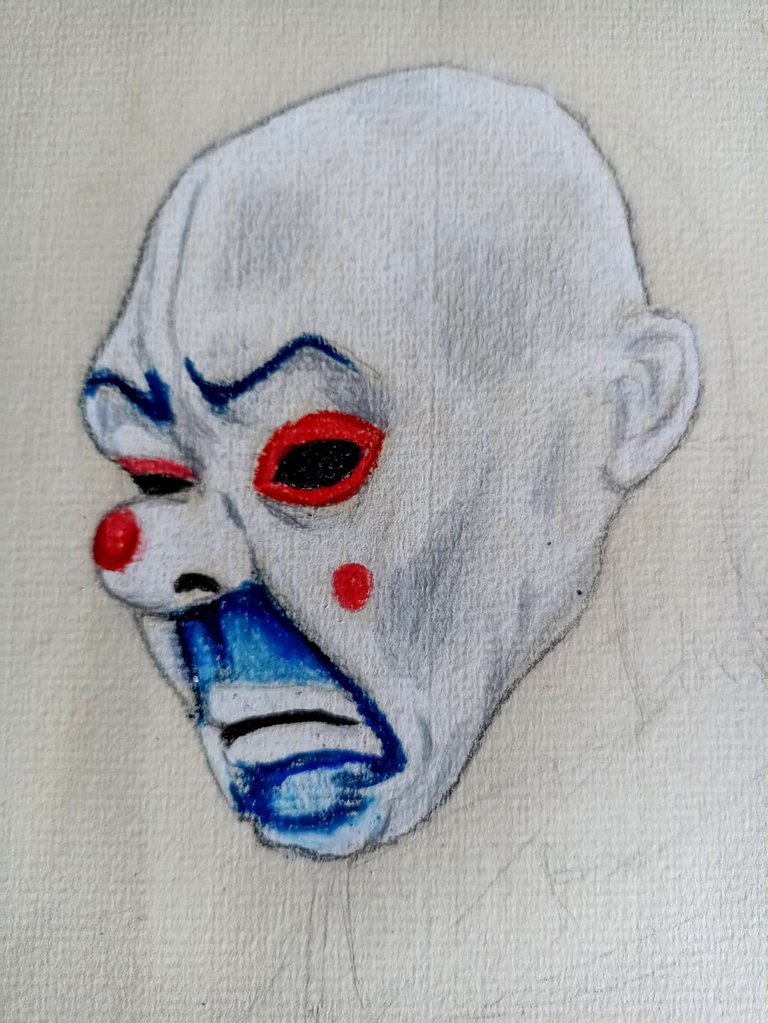 To finish with the mask I did the last details of the makeup, I always liked this mask when I saw it for the first time, since it does not show any emotion, on the contrary I think it is a clown mask with a serious look, it does not look threatening or deranged, on the contrary, it gives a feeling that you can't know what he's thinking and it's just what this Joker will always do, be unpredictable for everyone, especially Batman.
Para finalizar con la máscara hice los últimos detalles del maquillaje, esta máscara siempre me gustó cuando la vi por primera vez, ya que no muestra ninguna emoción, al contrario pienso que es una máscara de payaso con una mirada seria, no se ve amenazadora ni desquiciada, al contrario, da una sensación de que no se puede saber lo que está pensando y es justo lo que este Joker siempre hacer, ser impredecible para todos, especialmente para Batman.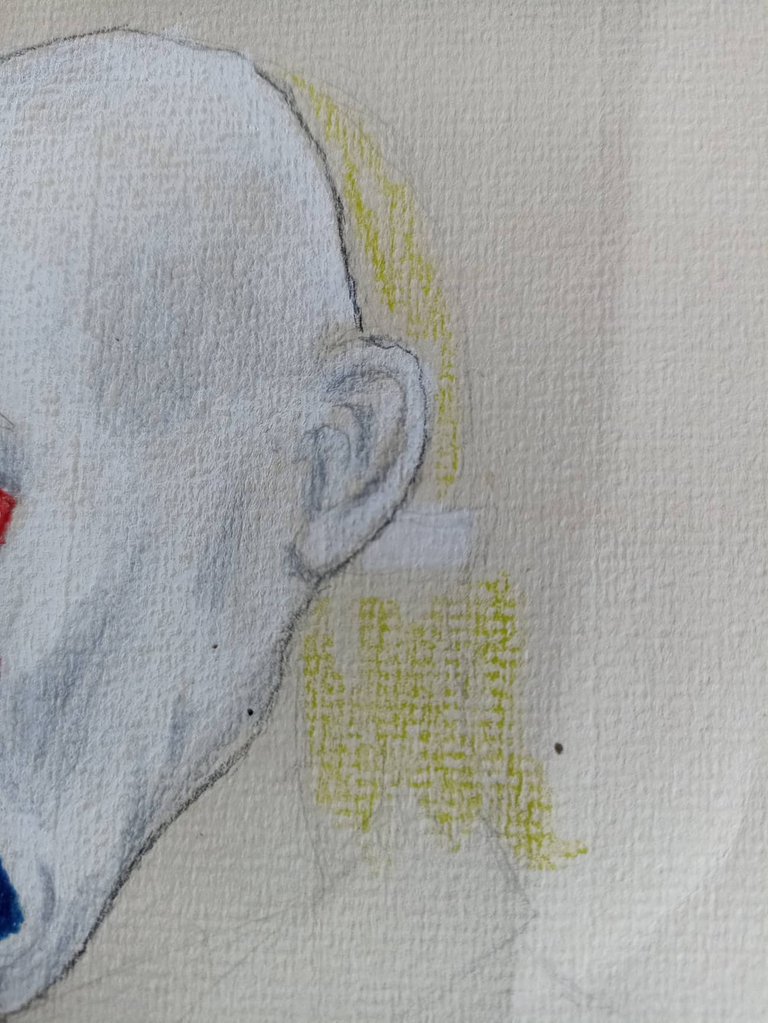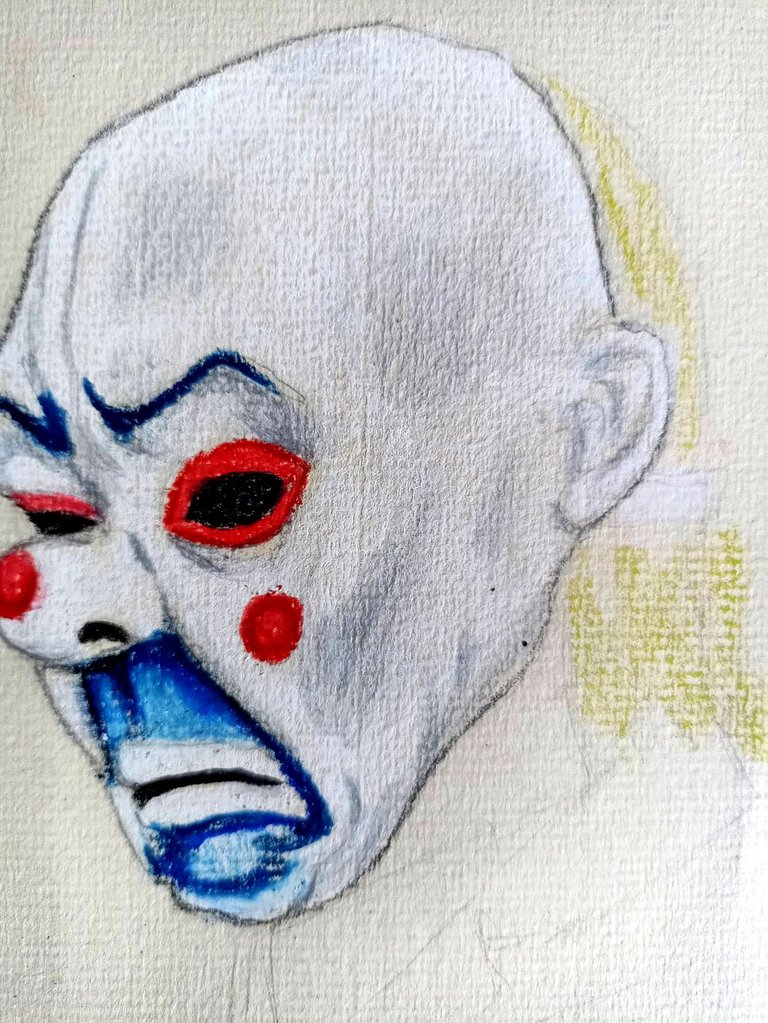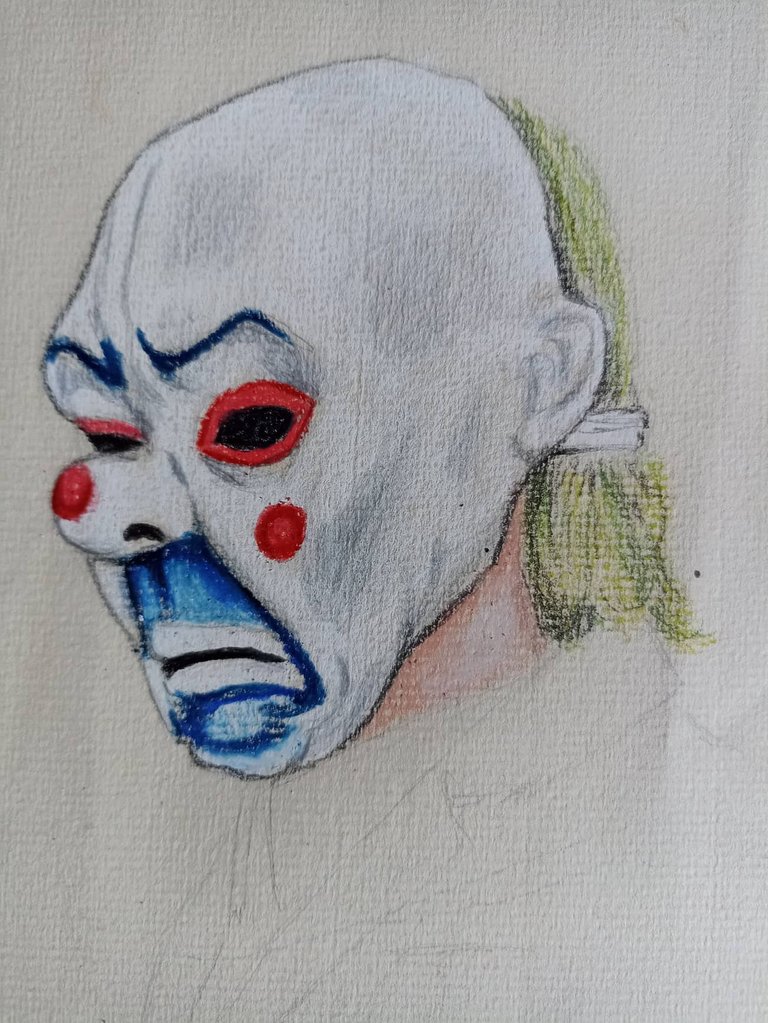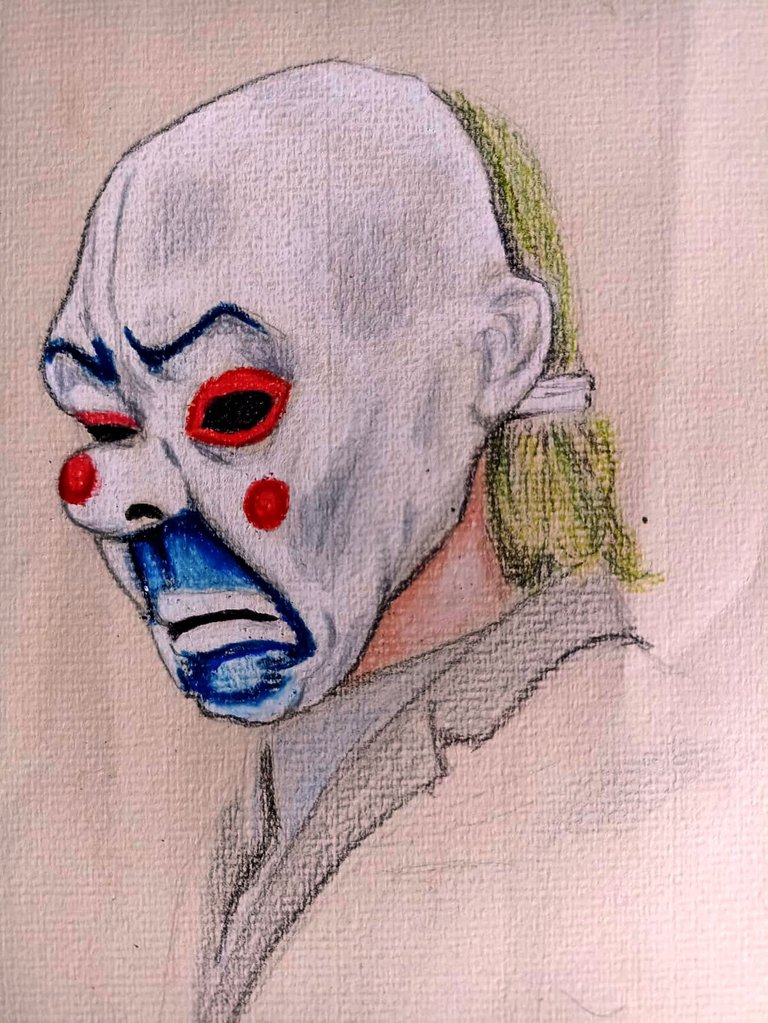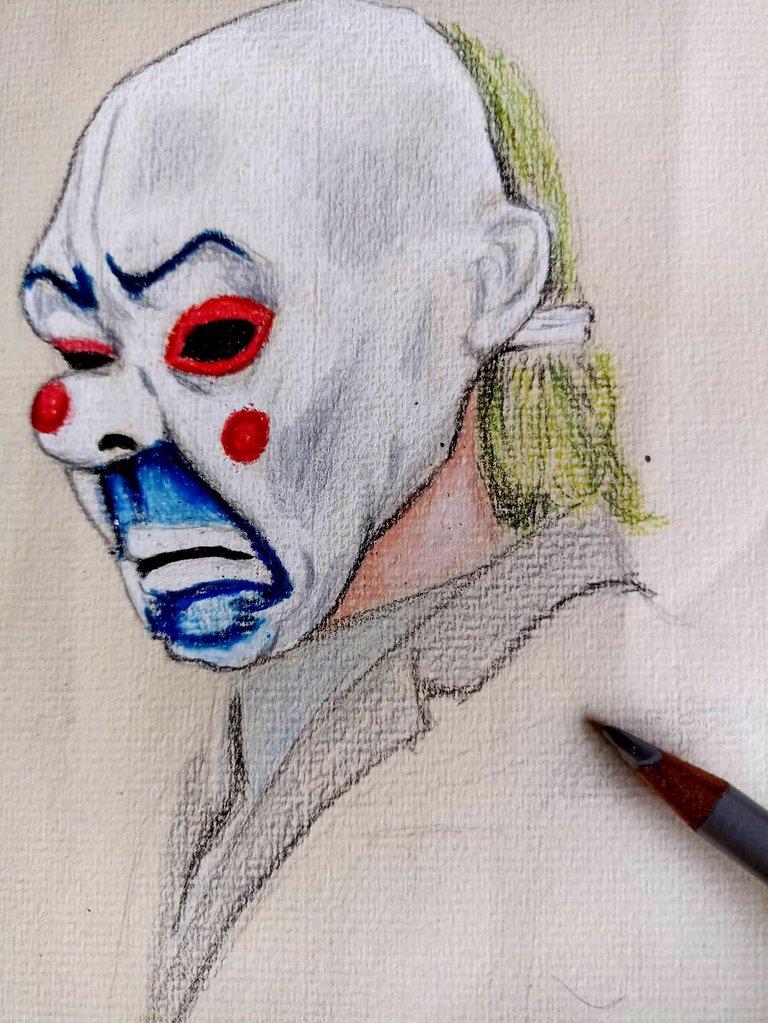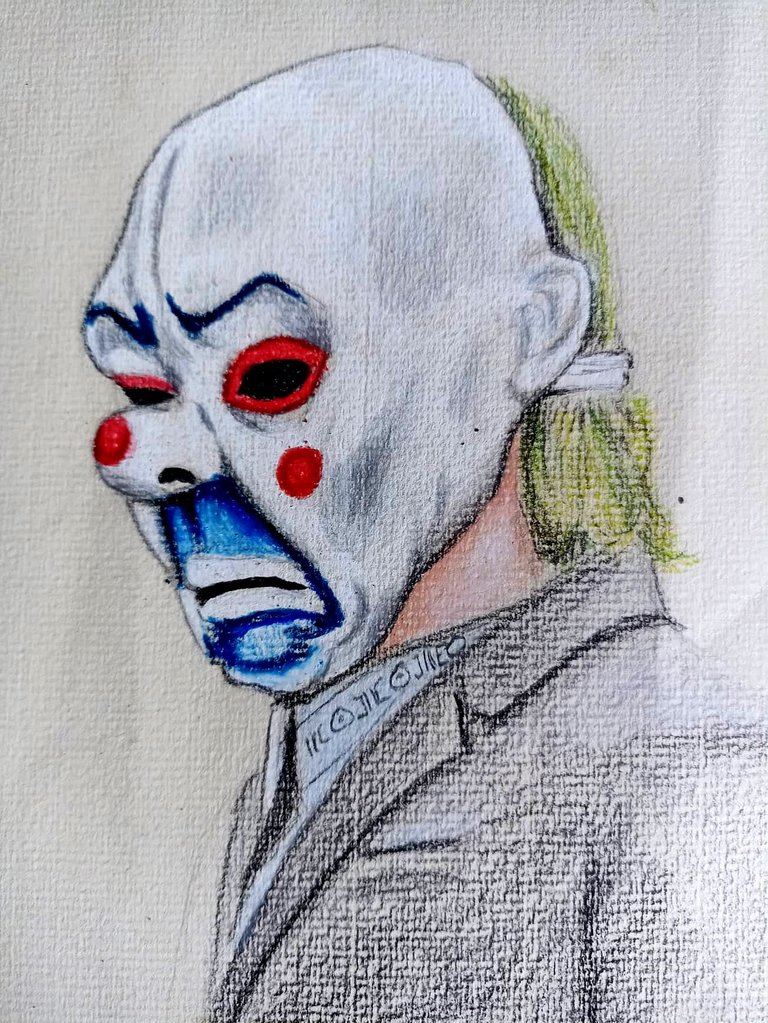 After having finished with all the mask I started to do the rest of the drawing that included the hair, where I used 3 different types of green color to give it a good overall look, so I also painted the visible part of the neck with realistic skin color, and also I painted the Joker suit, which at the time of the bank robbery was a gray suit. In this way the Joker fanart was finished.
Después de haber finalizado con toda la máscara comencé a hacer el resto del dibujo que incluía el cabello, donde utilicé 3 tipos diferentes de color verde para darle un buen todo, así también pinté la parte visible del cuello con color de piel realista, y también pinté el traje del Joker, que en el momento del atraco en el banco era un traje de color gris. De esta manera quedó finalizado el fanart del Joker.

FINAL WORK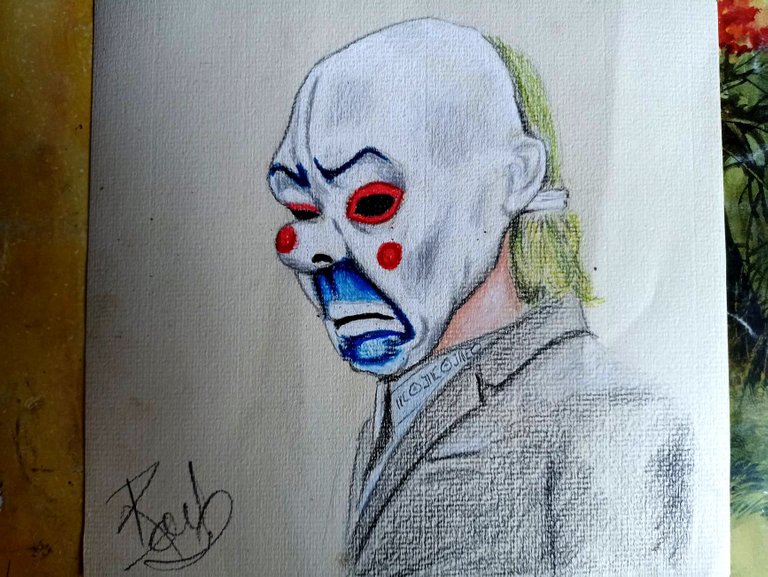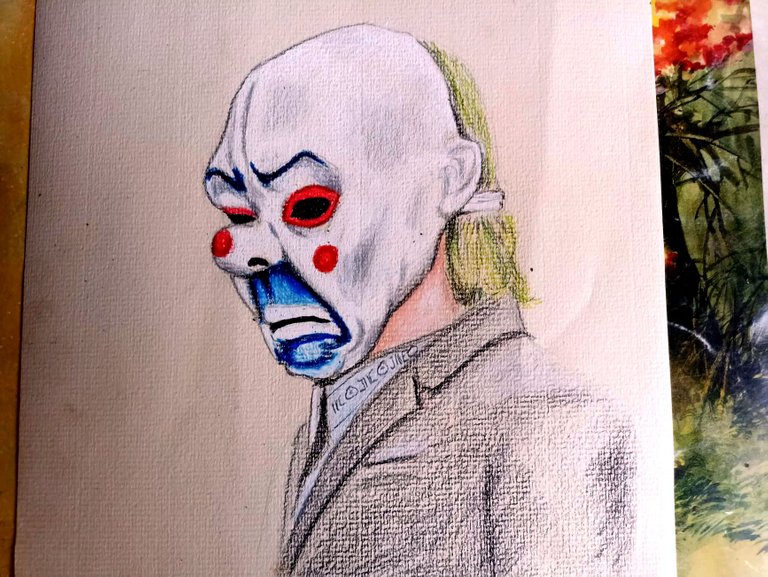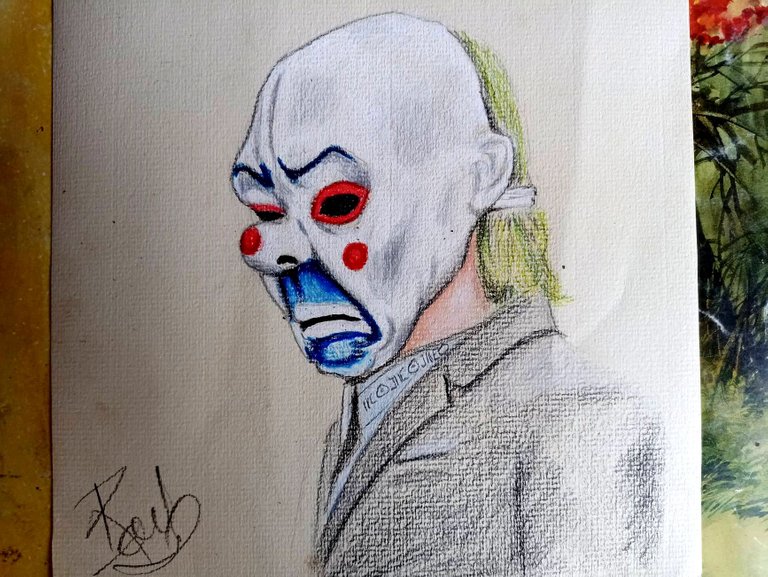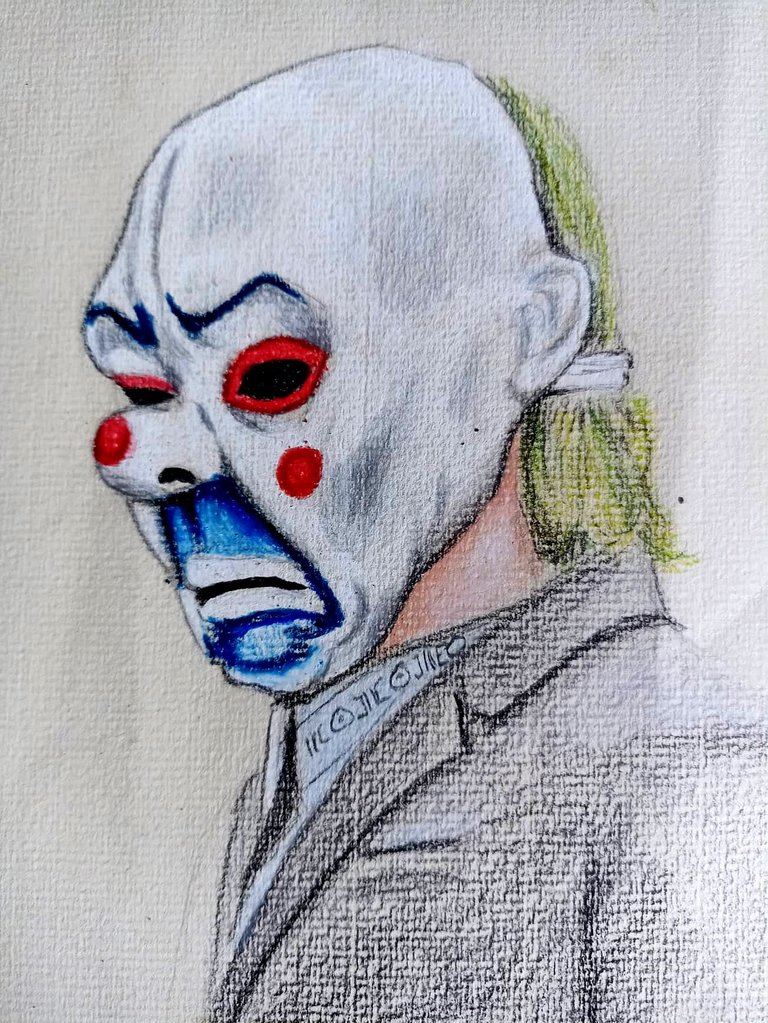 This is how this illustration is finished, I really liked the result since I took the Joker as an aspect at the beginning of the movie where it was not known who the hell he was and we witnessed a very elaborate plan. In my opinion that film is one of the best that has been made at the level of superheroes for the plot and realism. I hope you liked this fanart, don't forget to comment what you think and it would also be interesting to know who is the best Joker for you, I say goodbye see you soon.
Así ha quedado finalizada esta ilustración, me gustó mucho el resultado ya que tomé como un aspecto el Joker al inicio de la película donde no se sabía quien diablos era y fuimos testigos de un plan muy elaborado. A mi parecer esa película es una de las mejores que se ha hecho a nivel de super heroes por la trama y el realismo. Espero que les haya gustado este fanart, no olvides comentar que te ha parecido y también sería interesante saber quién es para ti el mejor Joker, me despido hasta pronto.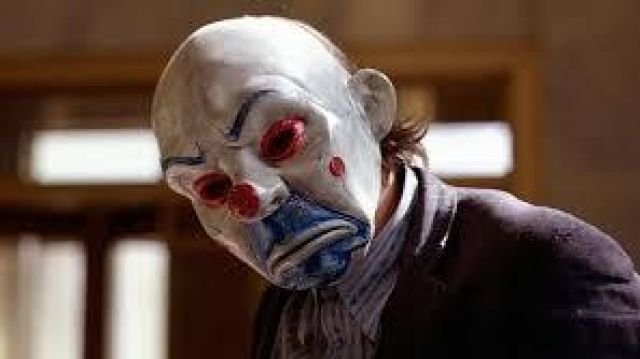 Image
Why so serious?
---
---