[ENG-ESP] PAINTING STILL LIFE WITH ACRYLIC PAINT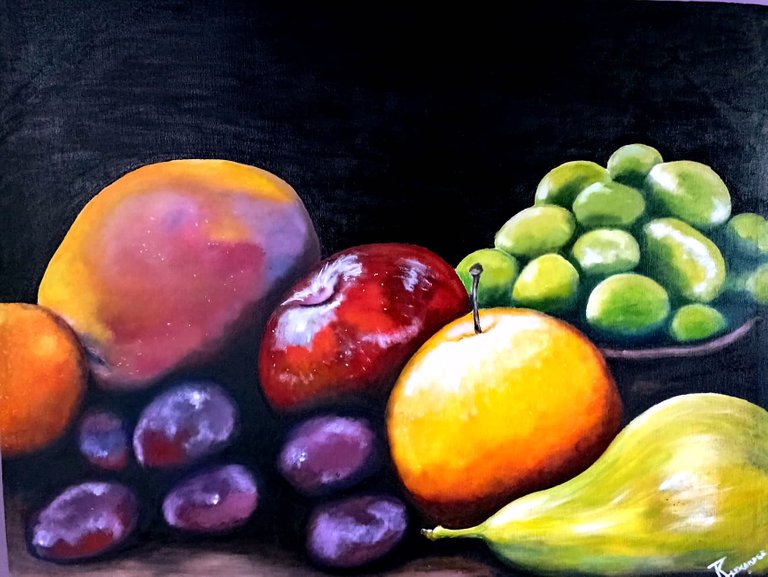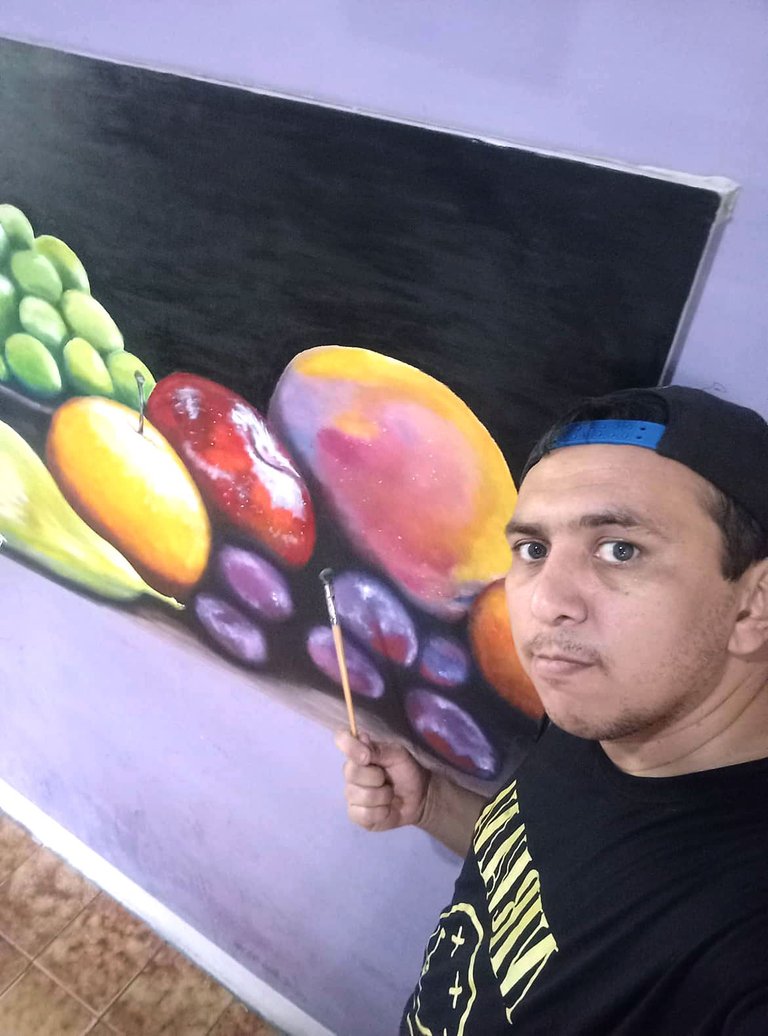 Hello friends, I hope you are very well, today I want to share with you a painting that I have been working on this week, it is a Still Life with some fruits that we usually incorporate into our food. I was working on this painting for 3 days since I was doing other things, and in my moments of freedom I was ready to continue, it was hard work but very rewarding at the end. It is made with acrylic paints, I was going to do it in oil but some shades were missing, the canvas measures 75cm x 95cm. Hope you like.
Hola amigos espero que se encuentren muy bien, hoy quiero compartir con ustedes una pintura en la que etsuve trabajando esta semana, se trata de una Naturaleza Muerta con algunas frutas que solemos incormporar en nuestros alimentos. Este cuadro lo estuve trabajando por 3 días ya que estuve haciendo otras cosas, y en mis momentos de libertad me disponía a continuar, fue un trabajo arduo pero muy gratificante al finalizar. Está realizado con pinturas acrílicas, iba a realizarlo en óleo pero me faltaban algunos tonos, el lienzo mide 75cm x 95cm. Espero que les guste.

PROCESS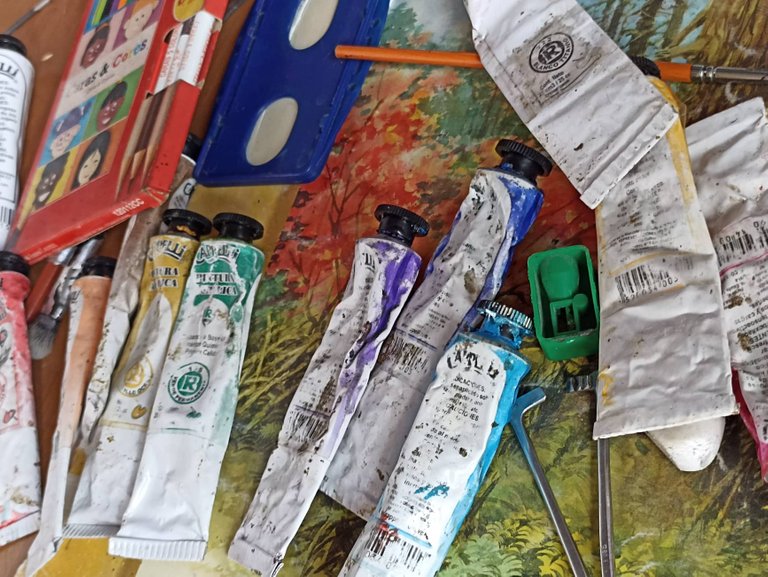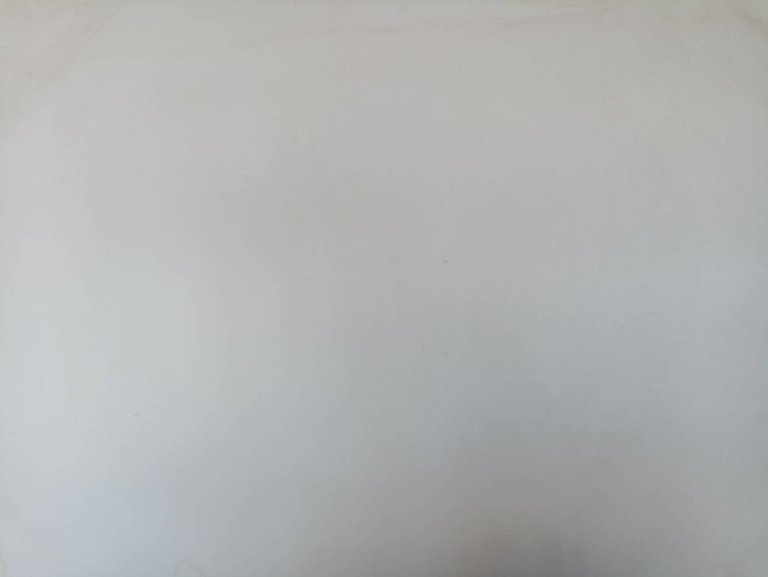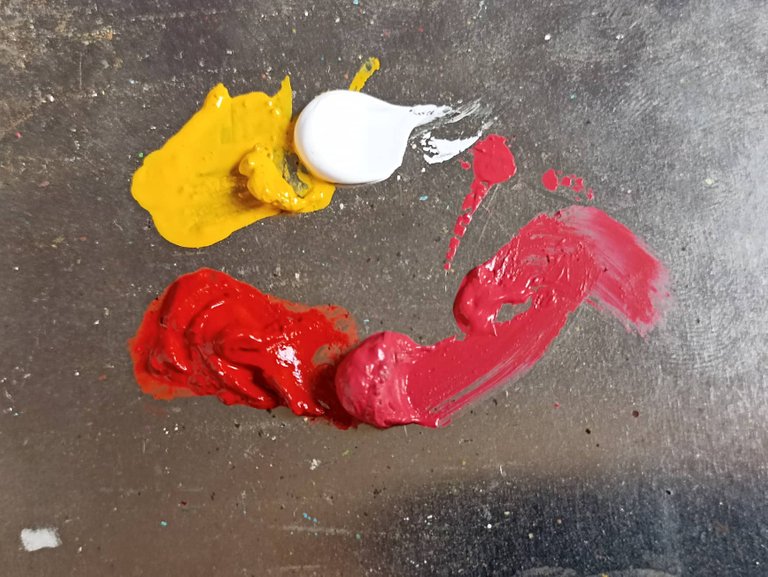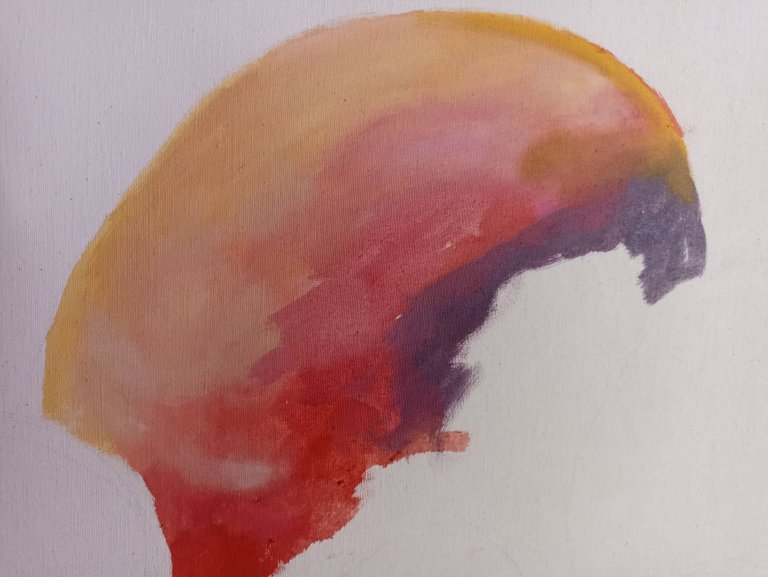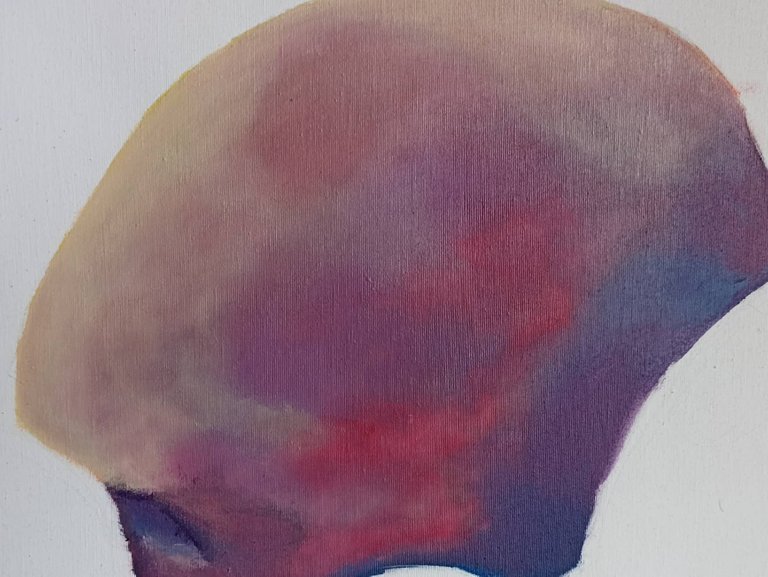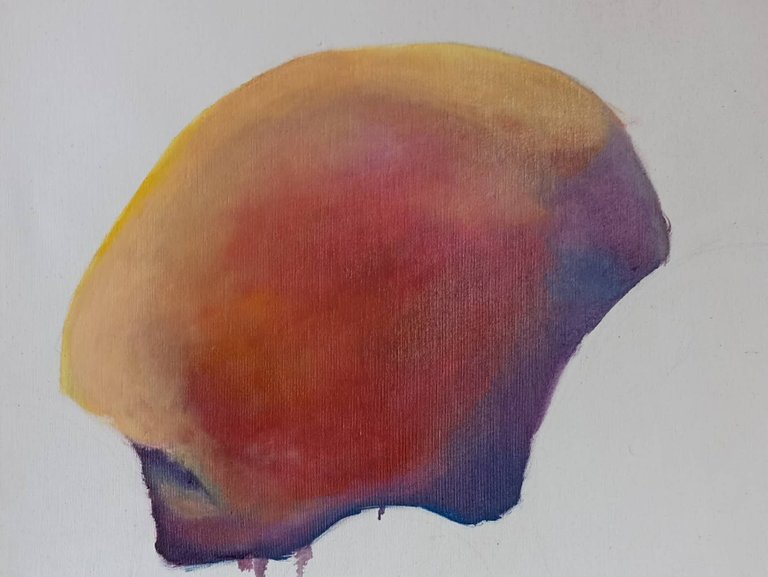 The first thing I did was take out my old paints and my old brushes, although the latter were more worn hehehe, since I have spent more time drawing with crayons than painting on canvas, so I lost some brushes in the process. I prepared the canvas myself by pouring white paint on the canvas so that when the paint dries it adheres better, I did this because the canvas was not bought but a long time ago I built it myself. Using my imagination I made some simple fruits, such as grapes, pears and apples, I started painting a knob, with a mixture of Cadmium Yellow, Vermilion Red, Magenta and White, from this combination I was getting the colorful texture of the mango, I incorporated this fruit as a souvenir from the darkest days of my country Venezuela, where the mango saved many people from starvation. I used stiff bristle brushes for the first few times and then a very soft brush to blend and blend the colors.
Lo primero que hice fue sacar mis viejas pinturas y mis viejos pinceles, aunque estos últimos estaban más gastados jejeje, ya que he paso más tiempo dibujando con creyones que pintando en lienzo, así que perdí algunos pinceles en el proceso. Prepará el lienzo yo mismo echandole pintura blanca en la tela para que al secar la pintura se adhiera mejor, esto lo hice por el el lienzo no fue comprado sino que hace mucho tiempo yo mismo lo construí. Utilizando la imaginación hice algunas frutas sencillas, como uvas, peras y manzanas, comencé pintando un mando, con una mezcla de Amarillo cadmio, Rojo Bermellon, Magenta y Blanco, de esta combinación fui sacando la textura colorida del mango, incorporé está fruta como recuerdo de los días más oscuros de mi país Venezuela, donde el mango salvó a mucha gente de morir de hambre. Utilicé pinceles de cerda dura para las primeras capaz y luego una brocha muy suave para difuminar y mezclar los colores.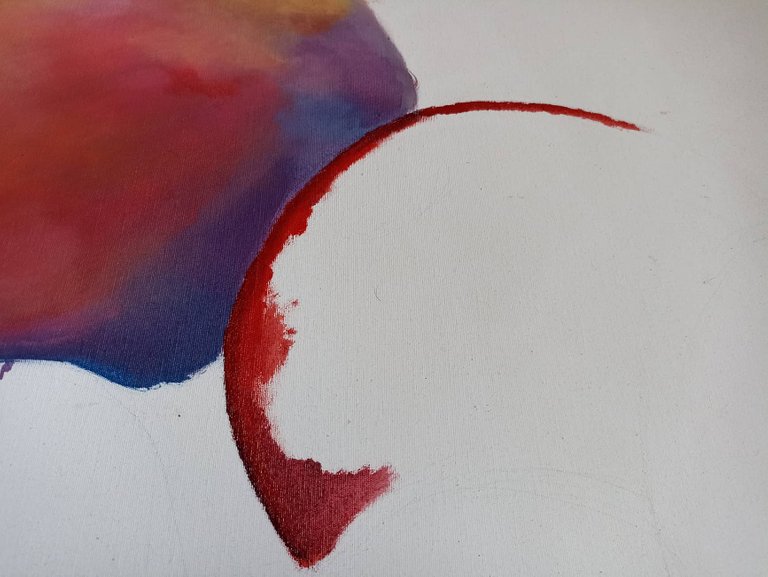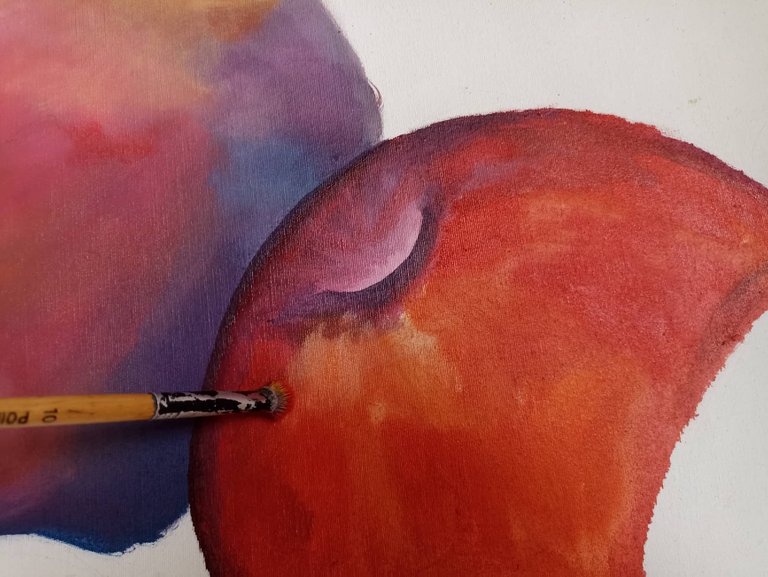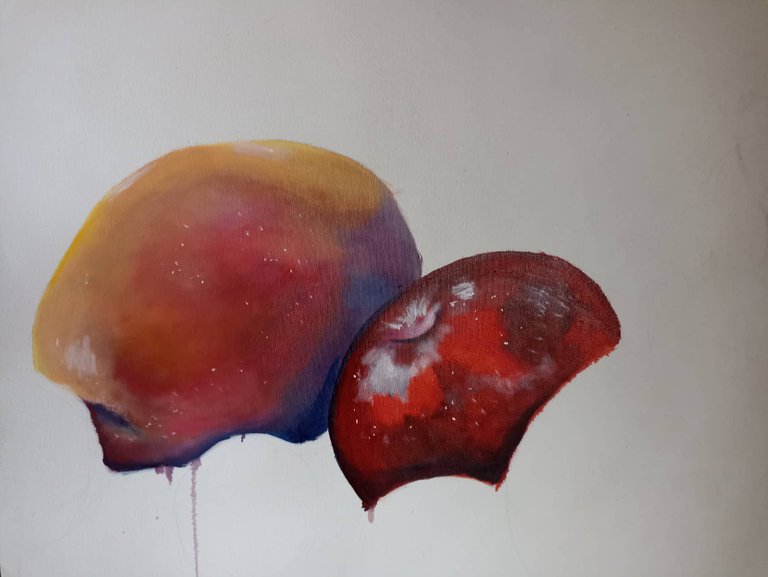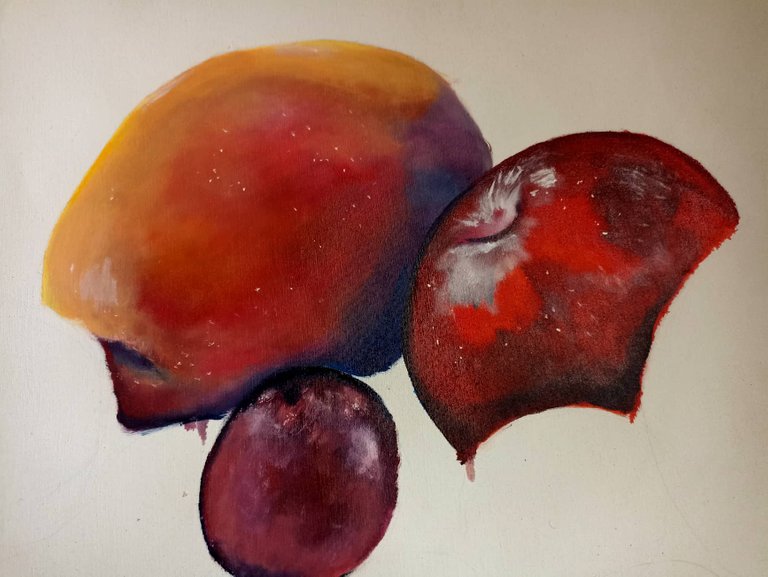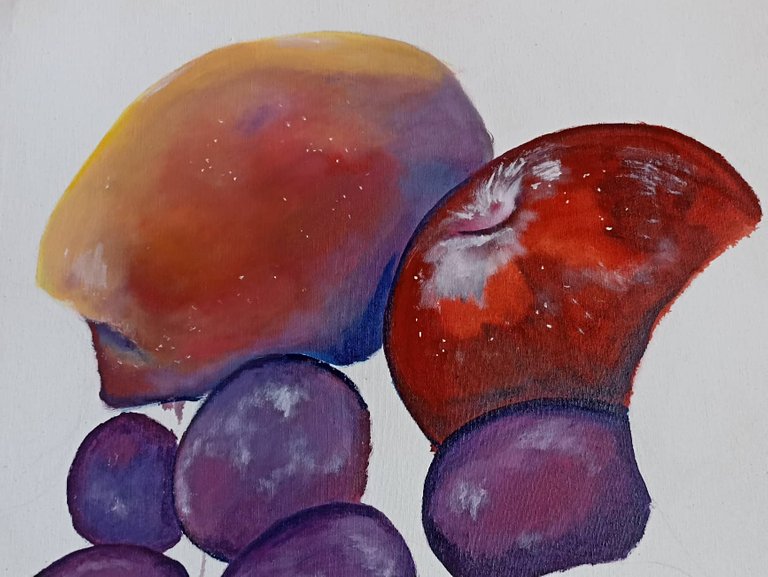 The next step was to paint the apple and the grapes, to make this step in one I used a single color mixture that only varied a little when I painted the grapes. In the morning I used Cadmium Yellow, Vermilion Red and Magenta, for the first layer I used these three colors, making a gradient from the lightest to the darkest, in this last point I added ultramarine blue so that the shadow would be in tune with the colors where it is more illuminated. In the case of the grapes I added pure purple, and I played with the brushstrokes to give it that appearance that grapes have when they are ripe.
El paso siguiente fue pinta la manzana y las uvas, para hacer este paso en uno solo utilicé una sola mezcla de colores que solo varió un poco cuando pinte las uvas. En mancana utilicé Amarillo Cadmio, rojo bermellon y Magenta, para la primera capa utilicé esto tres colores, haciendo una degradación desde lo más claro hasta lo más oscuro, en este último punto agregué azul ultramar para que la sombra quedara a tono con los colores donde está mas iluminado. En el caso de las uvas agregue purpura puro, y jugué con las pinceladas para darle esa apariencia que poseen las uvas cuando están maduras.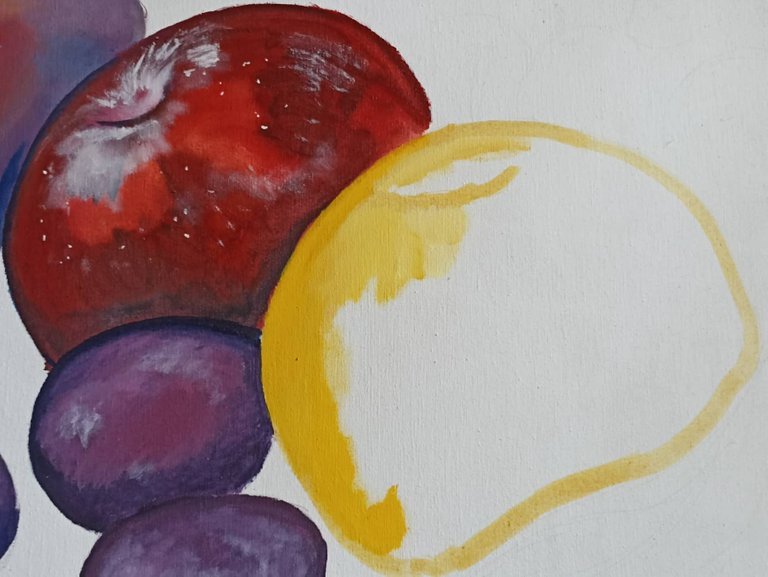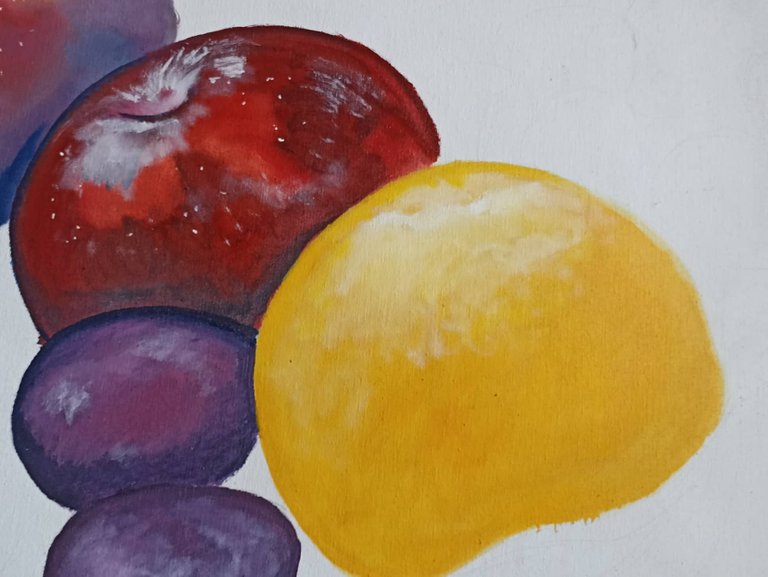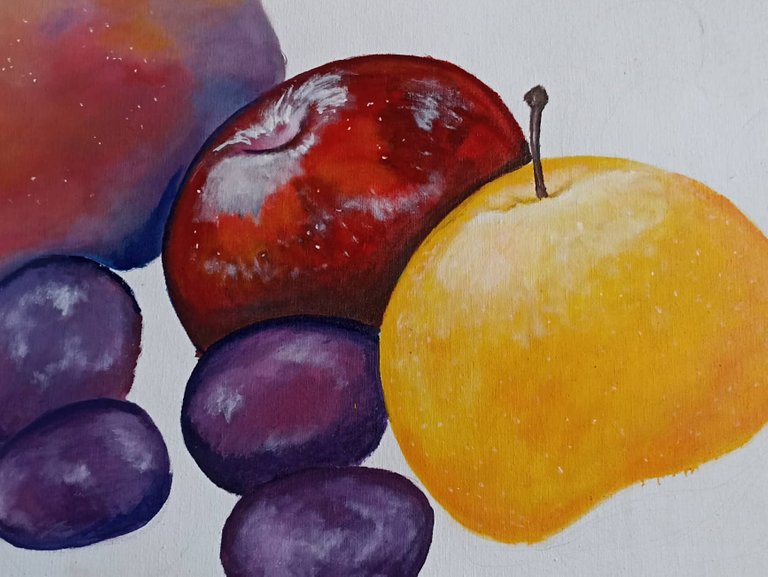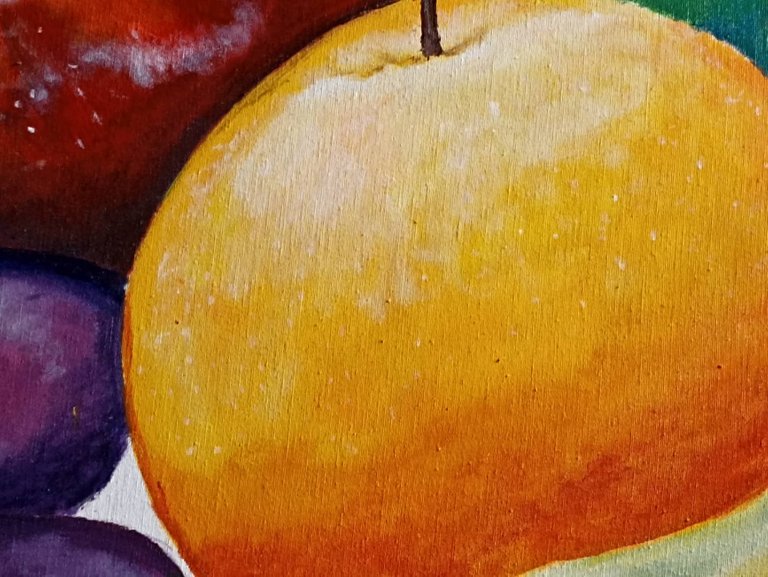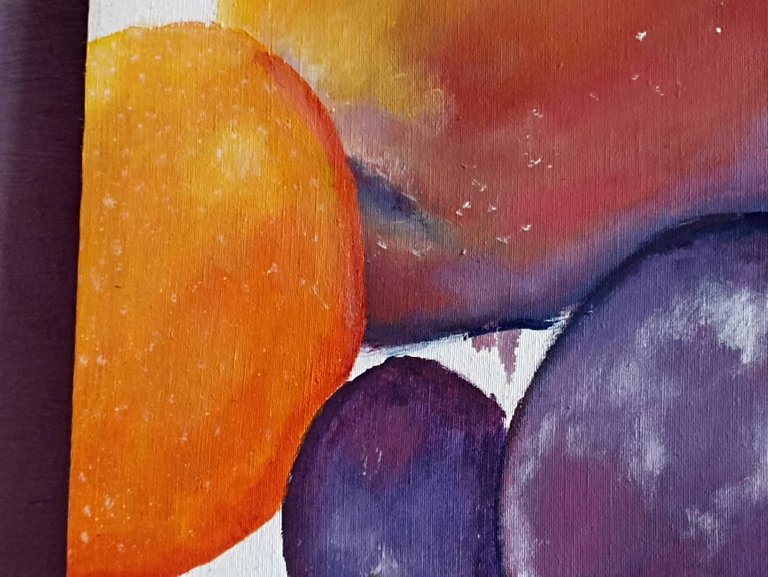 Then I continue with the following fruits using the same color bases, in this case Pale Yellow, Cadmium Yellow, White and Orange. I paint a delicious pomegranate and a tangerine on the left side, the tangerine has the variation to which I put a little vermilion red color to make that shading, I have to be very aware of where the light comes from to make the degradation of The shadows are as good as possible, to be able to do it I always use the softest brush of all.
Despues continúo con las frutas siguientes utilizando la misma bases de colores, en este caso Amarillo Pálido, Amarillo Cadmio, Blanco y Naranja. Pinto una deliciosa granada y una mandarína en el costado izquierdo, la variación la tiene la mandarina a la cual le pongo un poco de color rojo bermellon para hacer ese sombreado, tengo que estar muy al pendiente de donde viene la luz para hacer la degradación de las sombra slo mejor posible, para poder hacerlo siempre utilizo la brocha más suave de todas.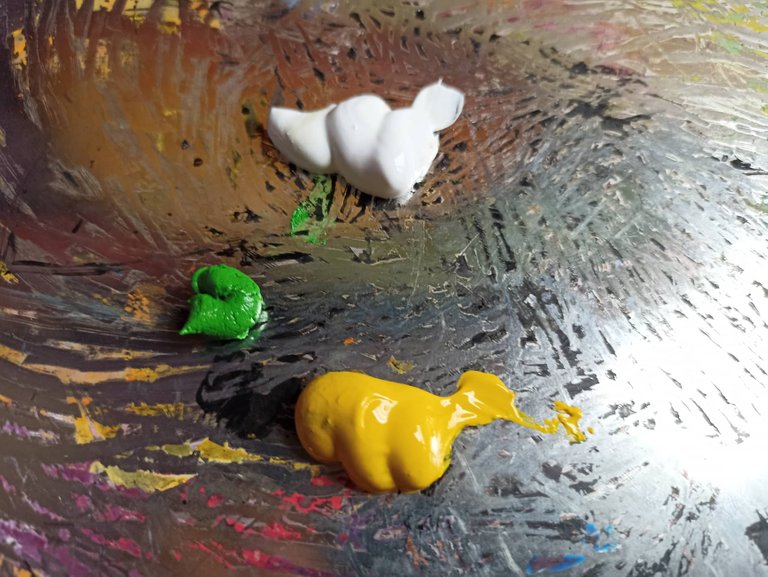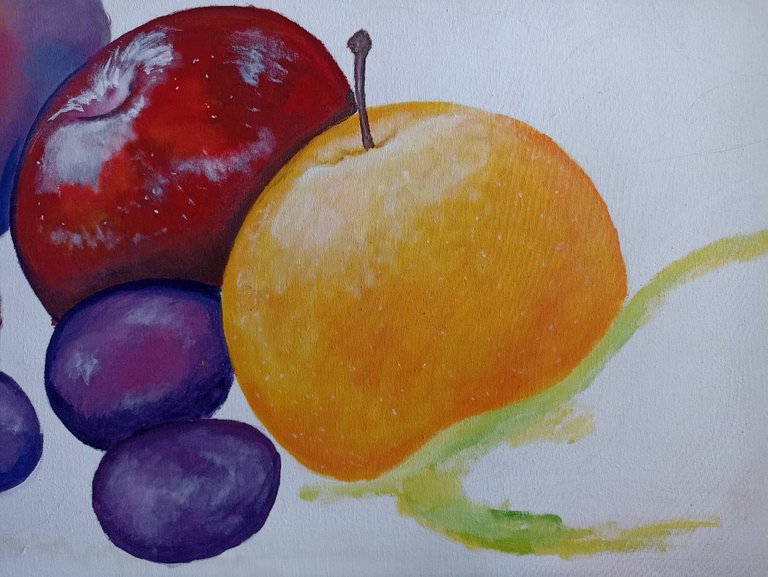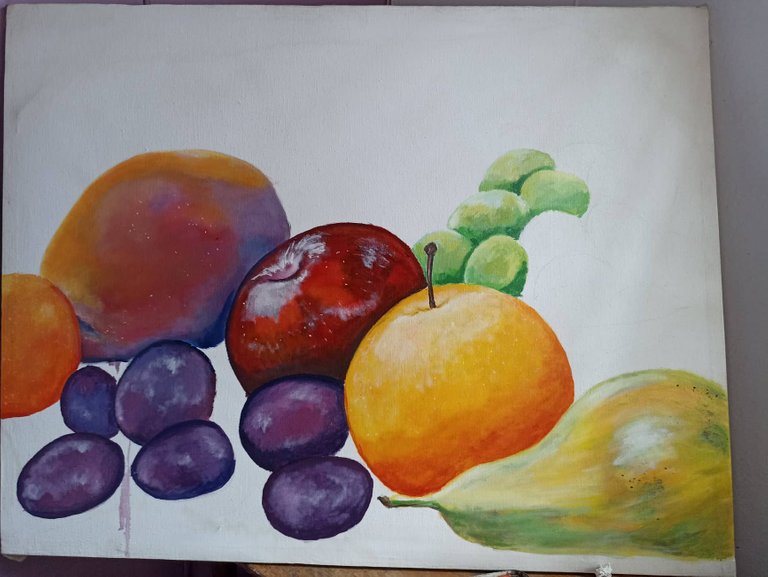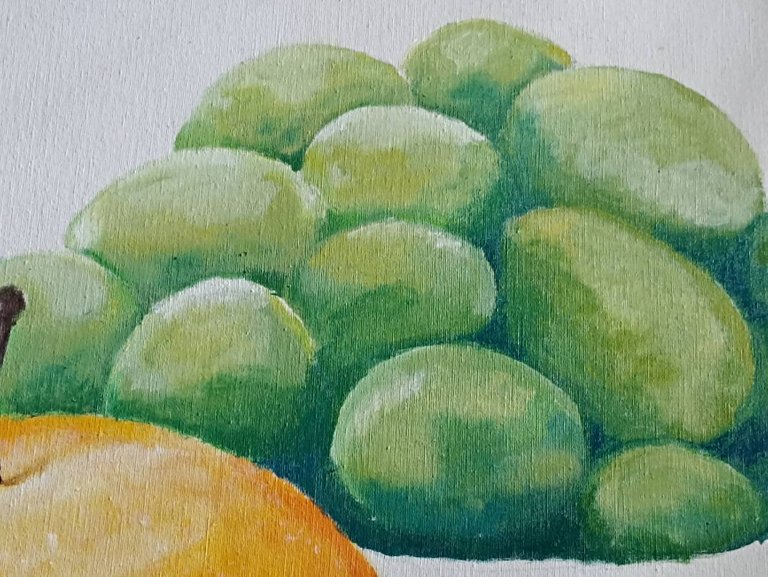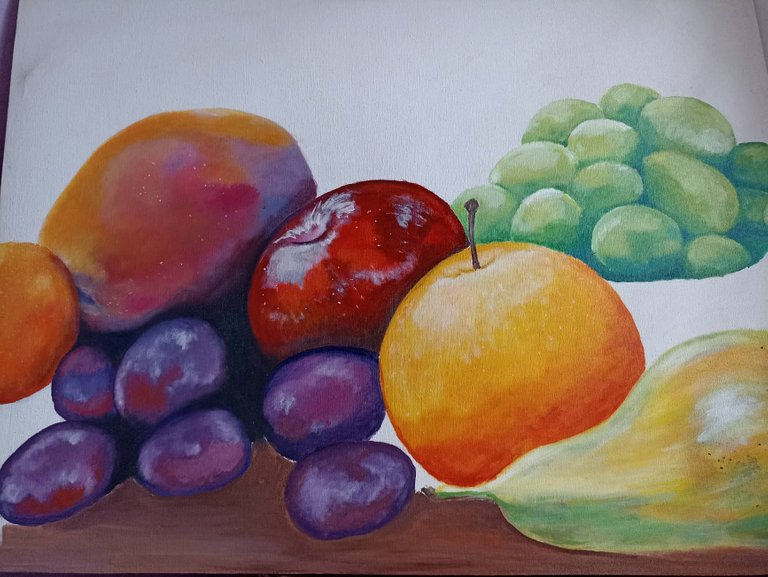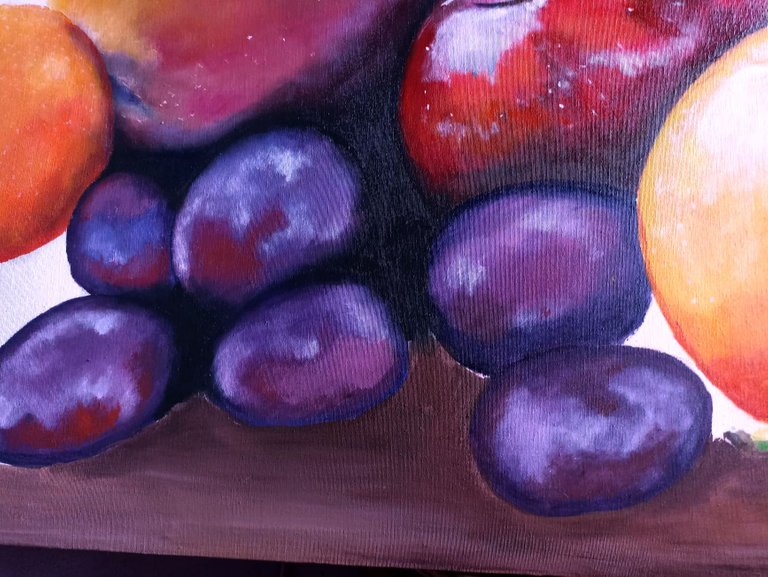 To finish with the fruits, it was the turn of the pear and the grapes that are green, I used the same mixture of colors for both, white, light green and pale yellow. I mixed the colors little by little according to the area of ​​the fruit, in the case of the pear it was a bit uniform but I highlighted the yellow in those parts where there were more light reflections, without forgetting to darken the shadow parts. In the case of the grapes it was something similar with the difference that the part where the light reflections are, I made it white, degrading it to a mixture between yellow and green. The blurring is important to preserve this part of the light, ending with the fruits I also began to paint the surface, which in this case is a wooden table, here I used combinations of ocher yellow, brown and also white, and the brushstrokes in a horizontal but fast, to achieve that appearance of wood.
Para finalizar con las frutas le tocó el turno a la pera y a las uvas que estan verdes, usé para ambos la misma mezcla de colores, blanco, verde verde claro y amarillo pálido. Mezcle los colores poco a poco seguna la zona de la fruta, en el caso de la pera fue un poco uniformes pero resalté el amarillo en aquellas partes donde había más reflejos de luz, sin olvidar oscurecer las partes de la sombra. n el caso de las uvas fue algo parecido con la diferencia que la parte donde estan los reflejos de luz lo hice de blanco degradando a una mezcla entre amarillo y verde. El difuminado es importante para conservar esta parte de la luz, finalizando con las frutas comencé a pinatr tambien la superficie, que en este caso es una mesa de madera, aquí usé combinaciones de amarillo ocre, cafe y también blanco, y las pinceladas de forma horizontal pero rápidas, para alcanzar esa apariencia de madera.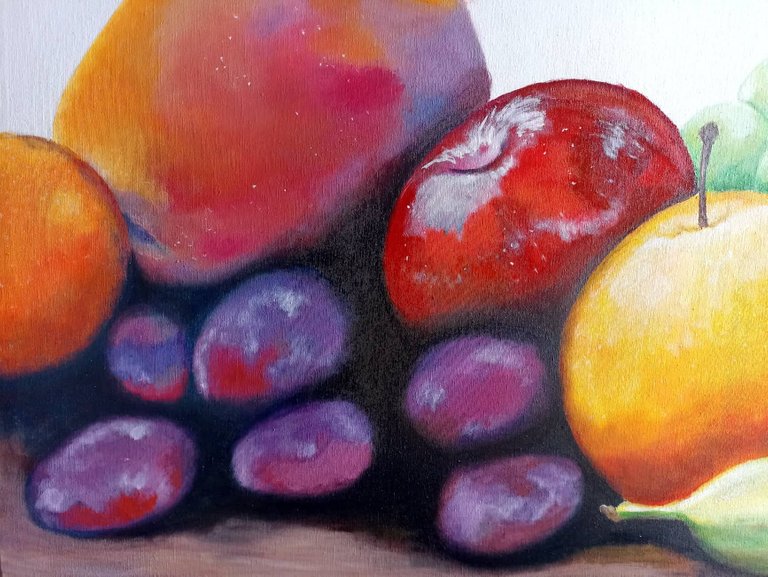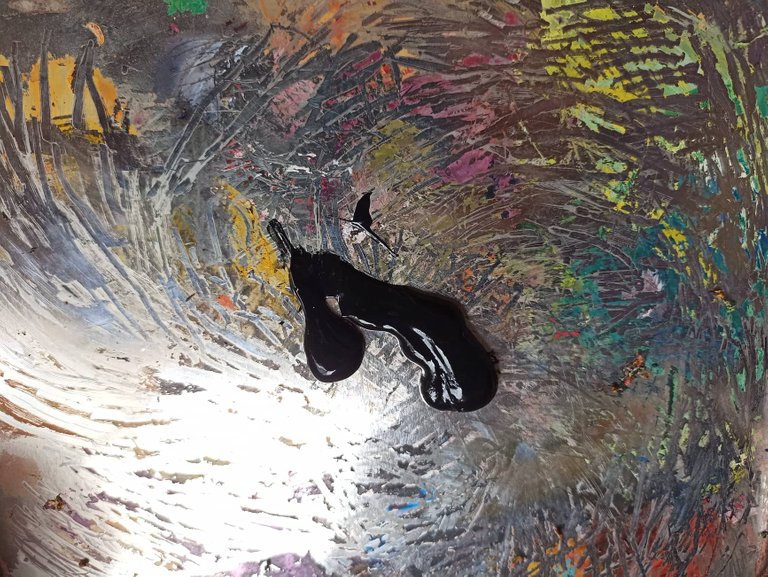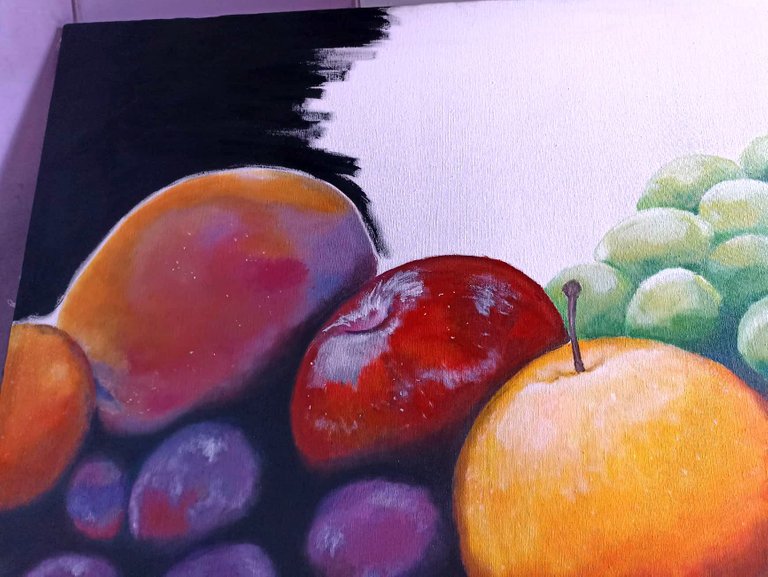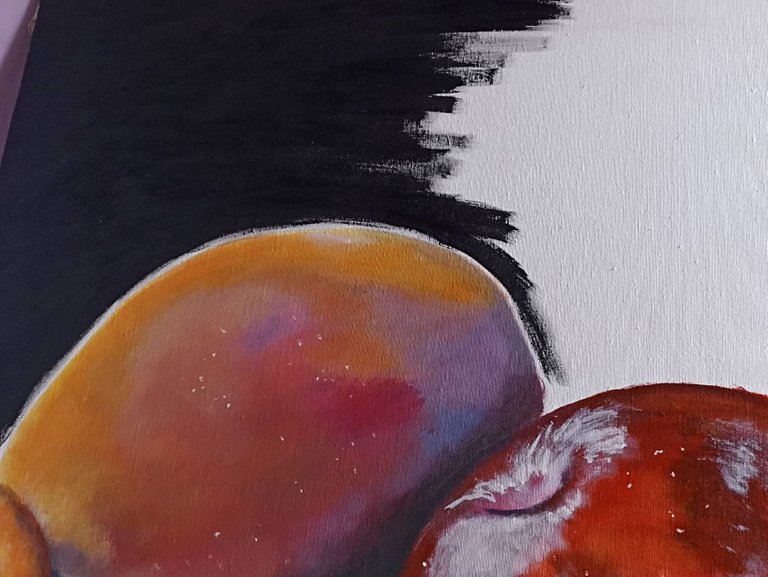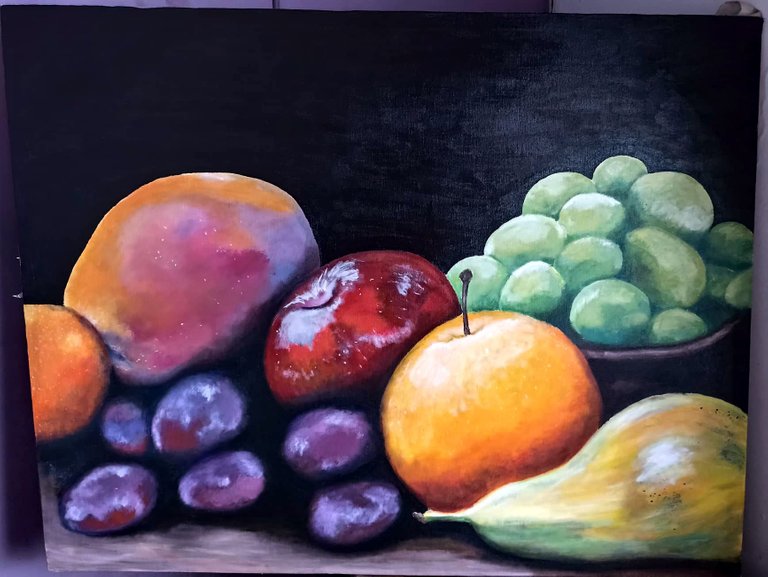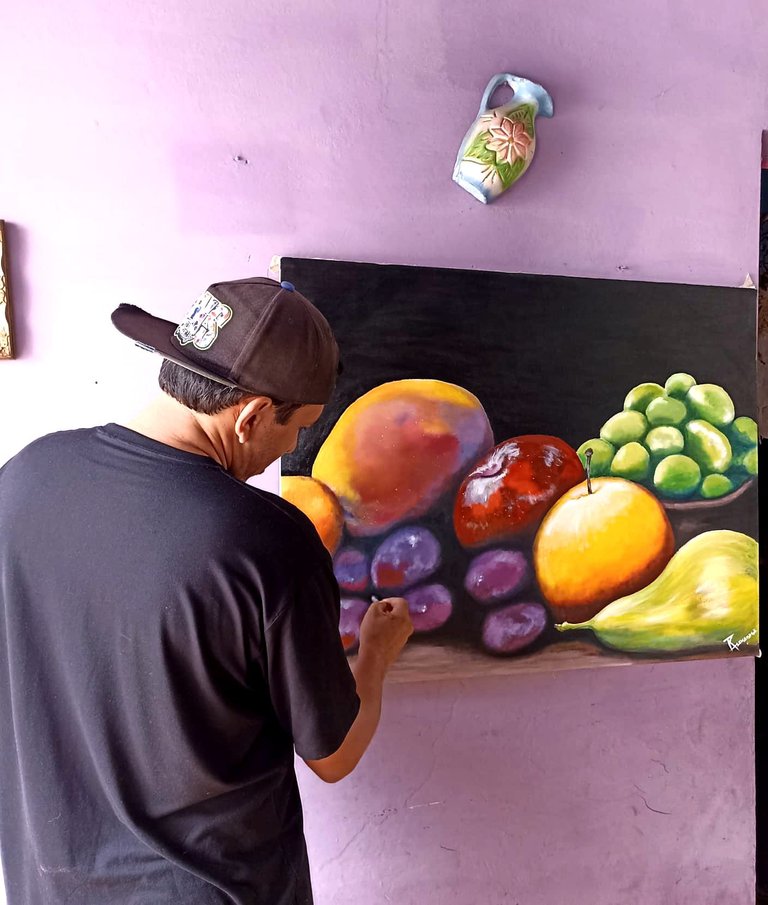 Now it's time to paint the background, which will be black, I wanted to make this still life like one of those baroque paintings hehehe, so I put that dark tone in the background, but first I made the shadows that exist between each fruit, using the darker colors of each fruit mixed with some black color, and with the soft brush I made the blur for all the shadows. Then I painted all the part that was in white with black color, here it took me longer than usual because I didn't have a bigger brush, finally I reinforced the details better and that's how this painting was finished.
Ahora toca pintar el fondo, que será de color negro, quise hacer este bodegón como una de esas pinturas del barroco jejeje, así que puse ese tono oscuro al fondo, pero antes hice las sombras que existen entra cada fruta, utilizando los colores más oscuros de cada fruta mezclados con algo de color negro, y con el pincel suave hice el difuminado para todas las sombras. Después pinté toda la parte que estaba en blanco con color negro, aquí tardé más de lo normal porque no tenía una brocha más grande, por último reforcé mejor los detalles y así quedó finalizado este cuadro.

FINAL WORK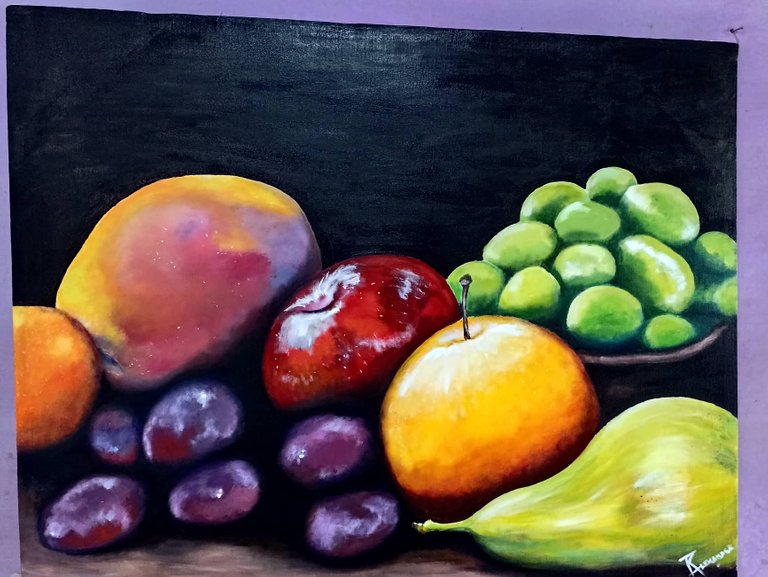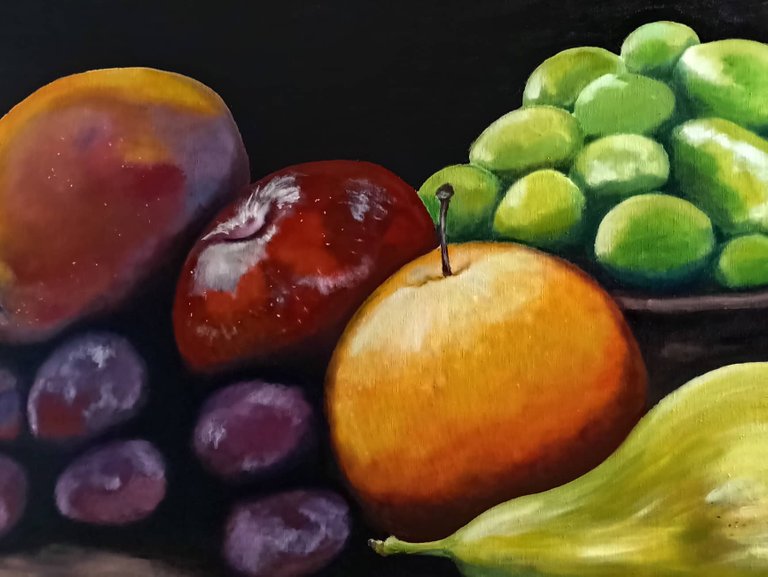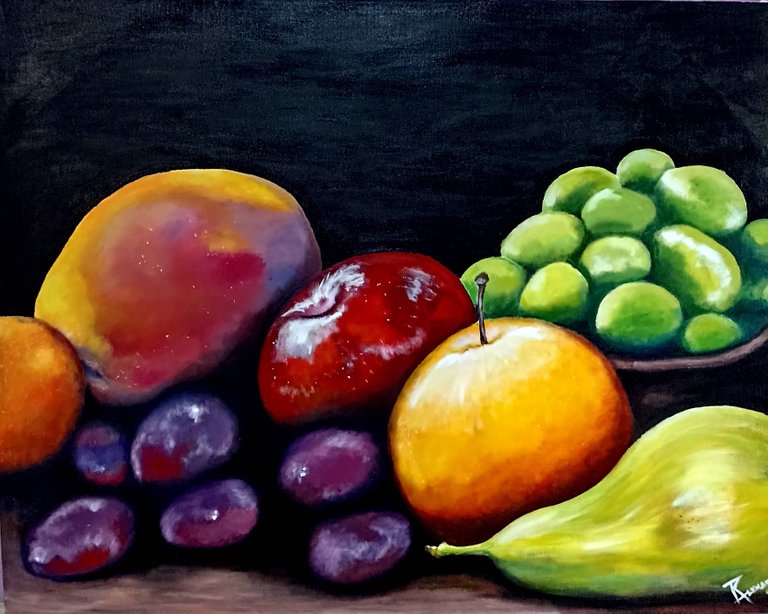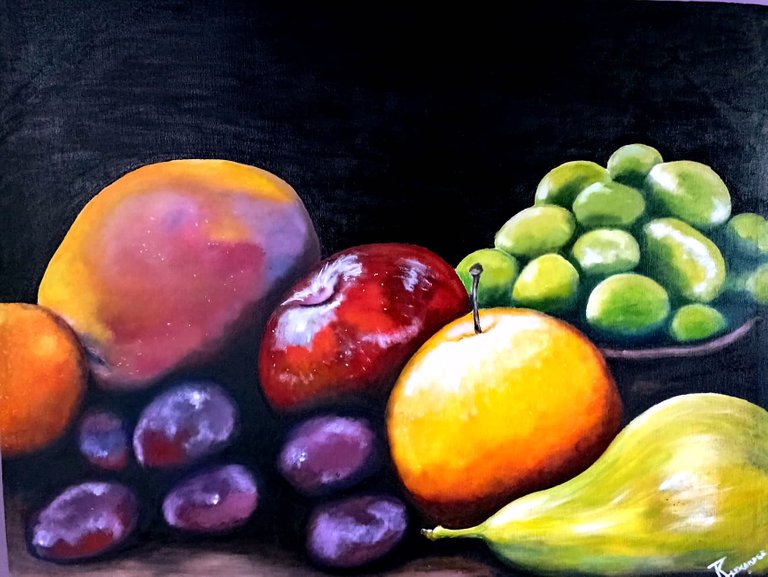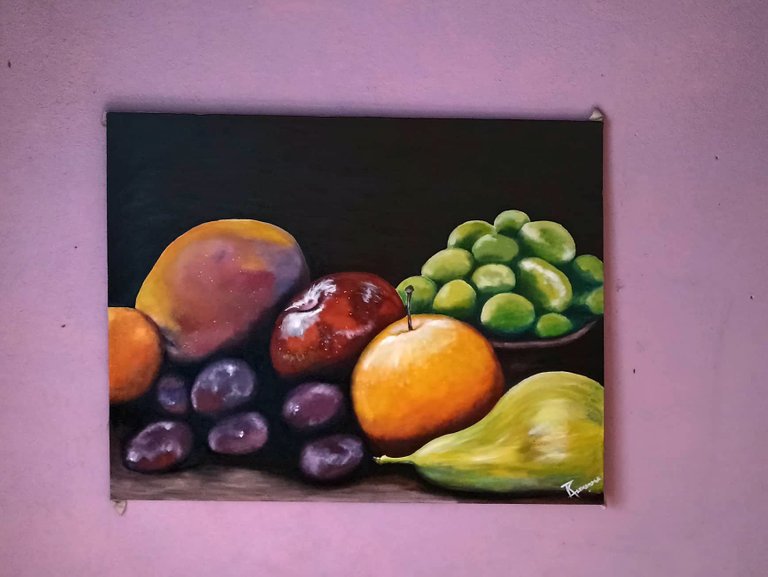 After doing some details I finished the painting, I still need to put a frame that goes according to the theme and it will be even more beautiful. I had a long time without making a painting since I almost always made them when they were asked for, but this time I have done it for myself and to share a little of my technique with the community, I do it with the interest of sharing and to the time to continue learning, and there is no other way than to always practice and see how the best do it. I hope you liked it, I say goodbye until another opportunity, do not forget to comment what you think, your opinion is important and valuable. See you soon.
Despúes de hacer algunos detalles di por finalizado el cuadro, aún falta colocarle un marco que vaya acorde al tema y quedará aún más hermoso. Tenía mucho tiempo sin hacer un cuadro ya que casi siempre los hacía cuando me los pedían por encargo, pero esta vez lo he hecho para mi mismo y para compartir un poco de mi técnica con la comunidad, lo hago con el interés de compartir y a la vez seguir aprendiendo, y no hya otra forma que practicar siempre y ver como lo hacen los mejores. Espero que les haya gustado, me despido hasta una nueva oportunidad, no dejen de comentar que les ha parecido, su opinión es importante y valiosa. Hasta pronto.

Data sheet:
Acrylic on canvas.

still life

75cm x 95cm
Ficha técnica:

Acrílico sobre tela.

Bodegón

75cm x 95cm
---
---