[ENG-ESP] [SUPERBIKE] MotoGP Valentino Rossi with Soda Cans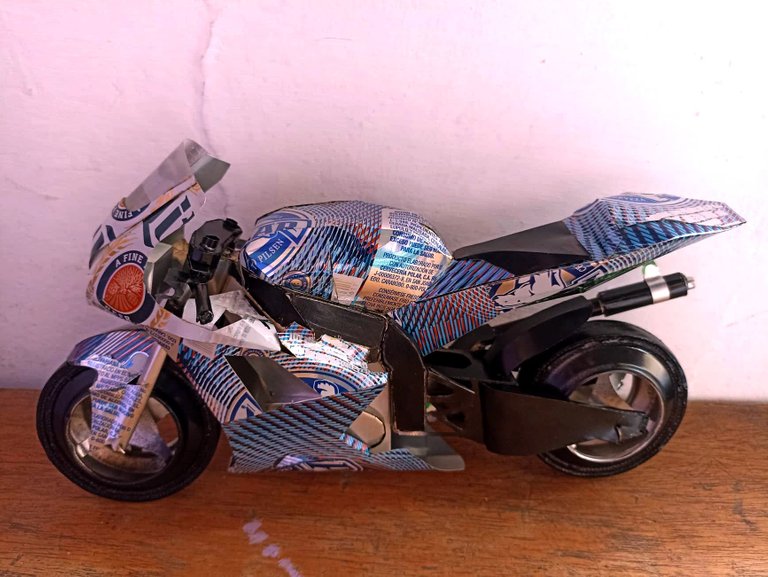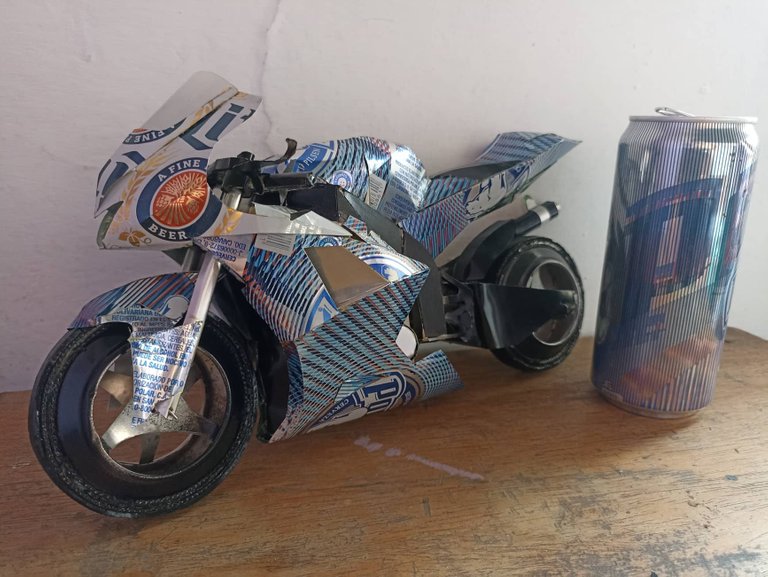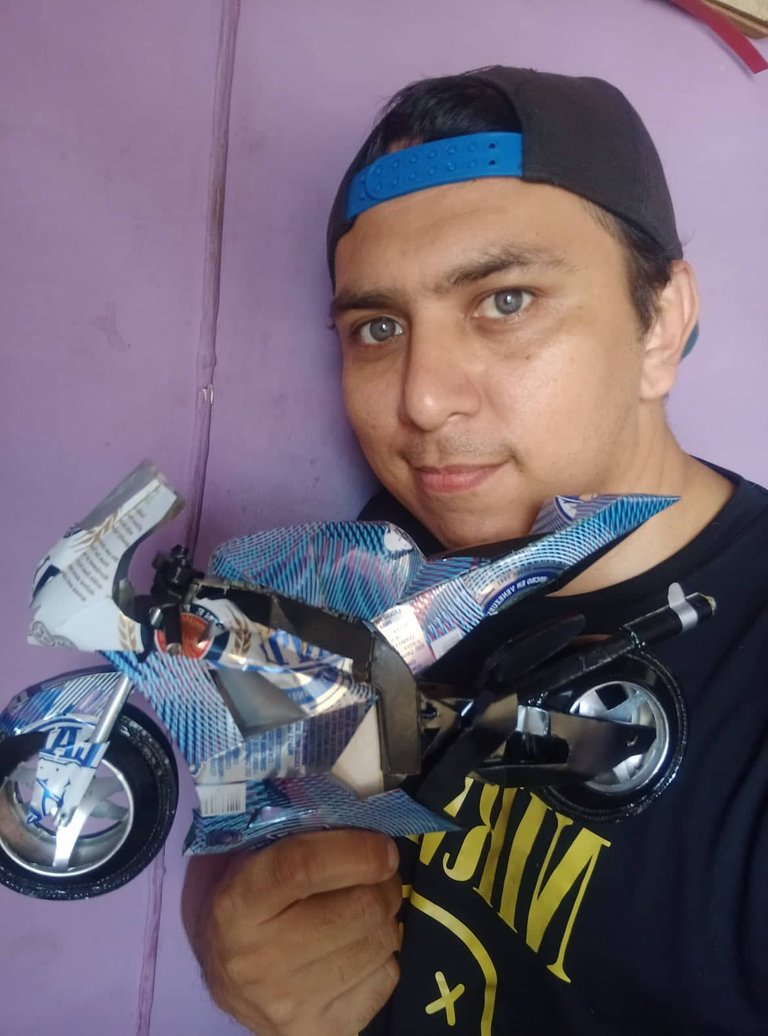 Hello friends, I had not published for so long, I think the last time I went so long without doing it was in 2020 in the midst of a pandemic, I was a bit busy moving, however I had enough time to work on my mind and my skills. That is why this opportunity I want to show you how I made a yamaha GP motorcycle, one of the models used by the great Valentino Rossi, the motorcycle is made based on papercraft templates, however they were not complete, so I completed the missing parts using templates of other similar models, as always the material was soda cans, I hope you like how it turned out.
Hola amigos, tenía tanto tiempo sin publicar, creo que la última vez que pasé tanto tiempo sin hacerlo fue en 2020 en plena pandemia, estuve un poco ocupado haciendo una mudanza, sin embargo saqué tiempo suficiente para trabajar en mi mente y mis habilidades. Es por eso que esta oportunidad quiero mostrarles como hice una motocicleta GP yamaha, de los modelo que utilizó el gran Valentino Rossi, la moto está hecha base de plantillas papercraft, sin embargo no estaban completas, así que las partes que faltaban las completé usando plantillas de otros modelos parecidos, como siempre el material fue latas de refresco, espero que les guste como quedó.

PROCESS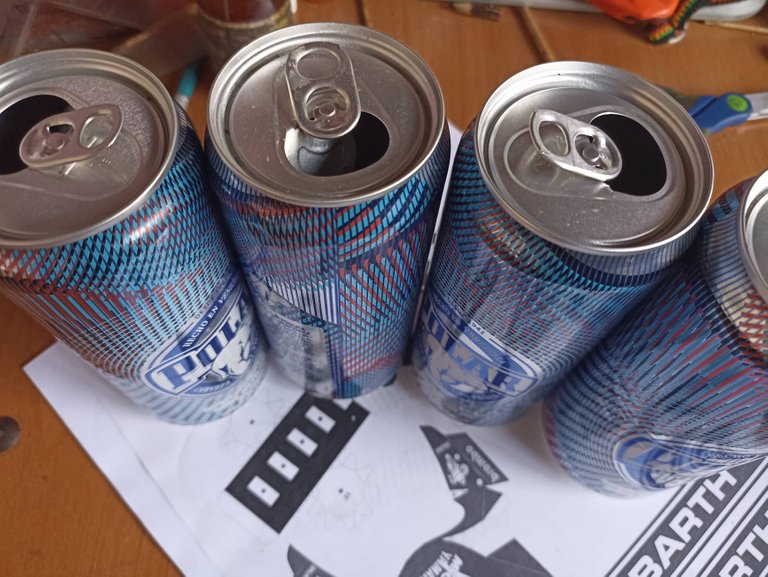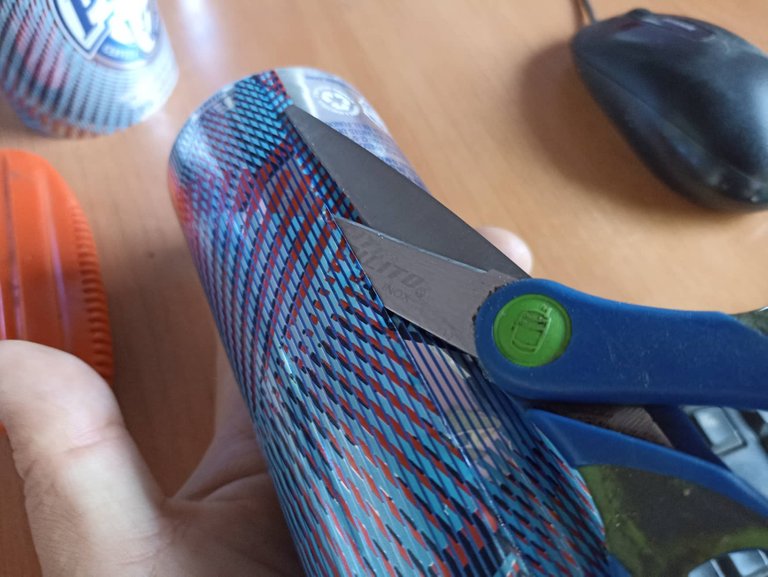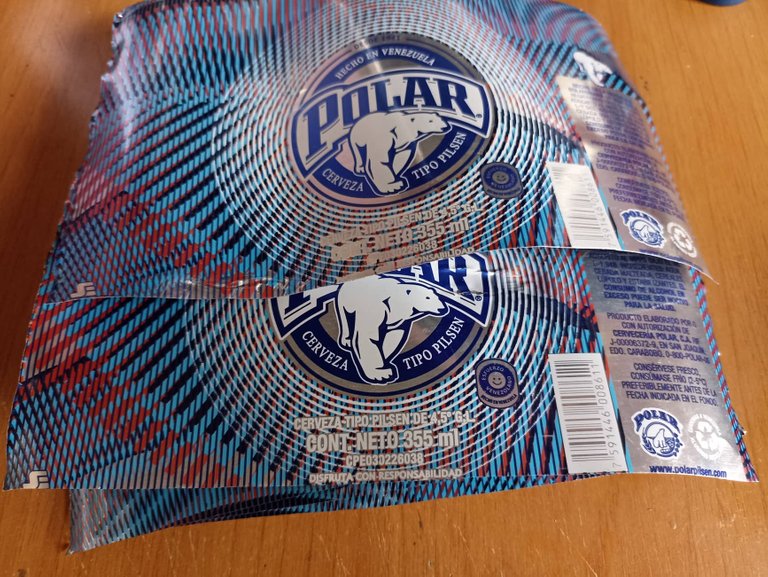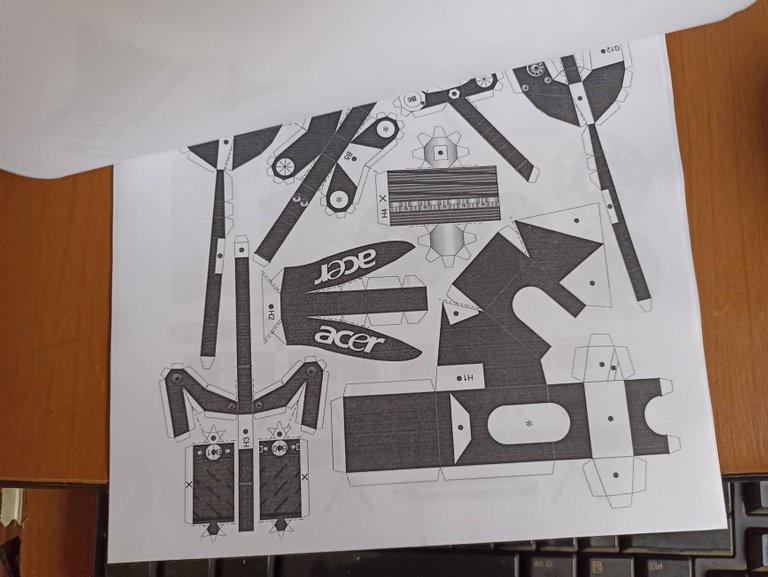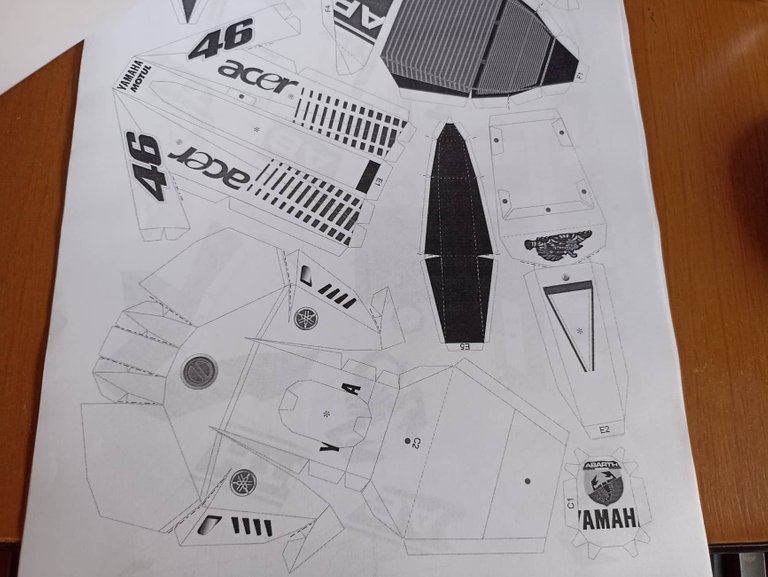 For this job I used 8 soda cans in total, as you can see the templates I printed on normal letter paper, cut them out and then glued them on top of the can to get the patterns, the rest is to fold very carefully and gluing all the parts together like a puzzle.
Para este trabajo utilicé 8 latas de refresco en total, como pueden observar las plantillas las imprimí en papel normal de hoja de carta, las recorté y luego las pegué encima de la lata para así sacar los patrones, el resto es ir doblando con mucho cuidado y pegando todas las partes como un rompecabezas.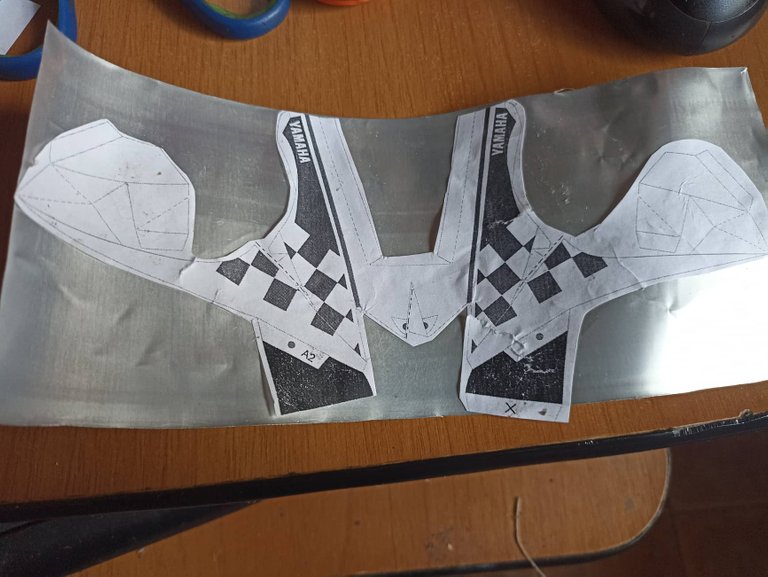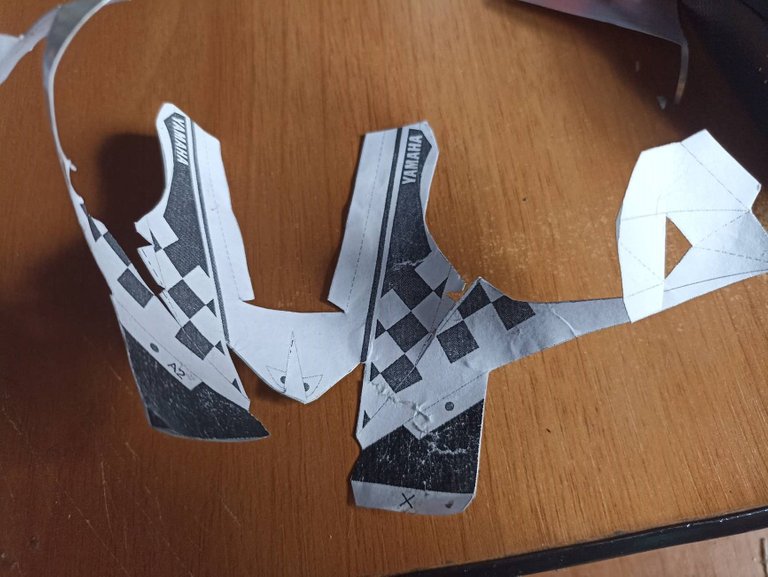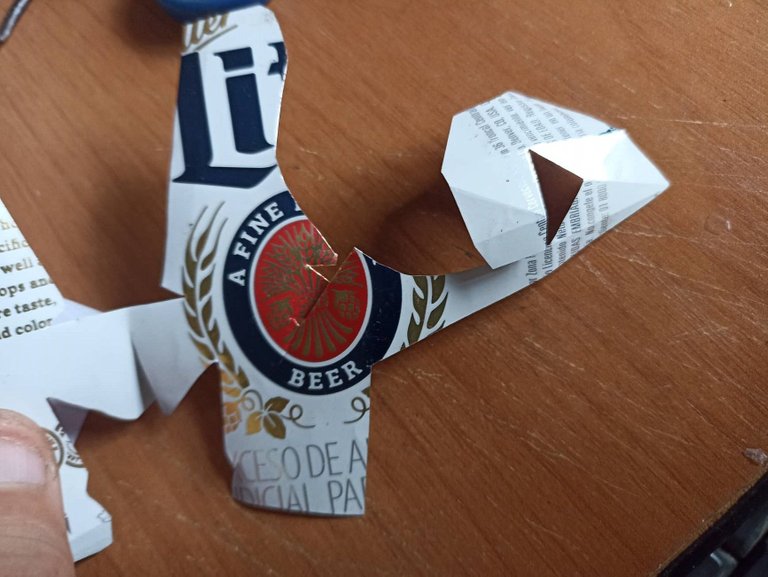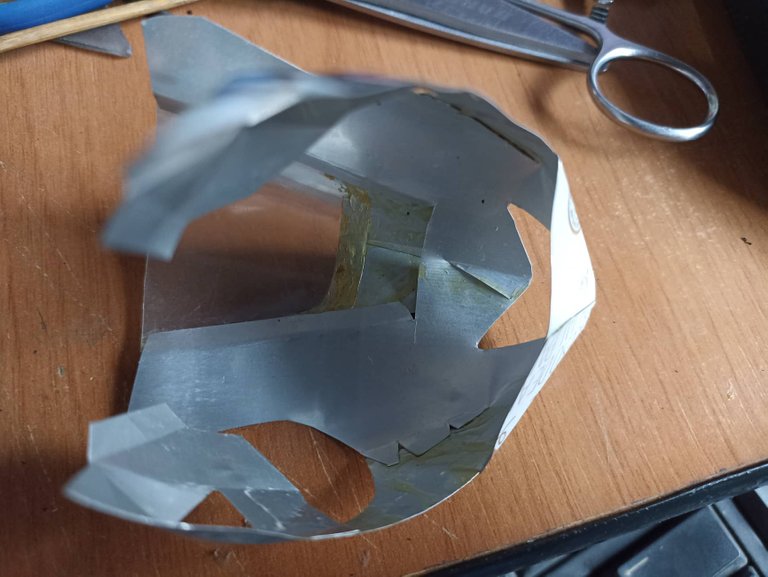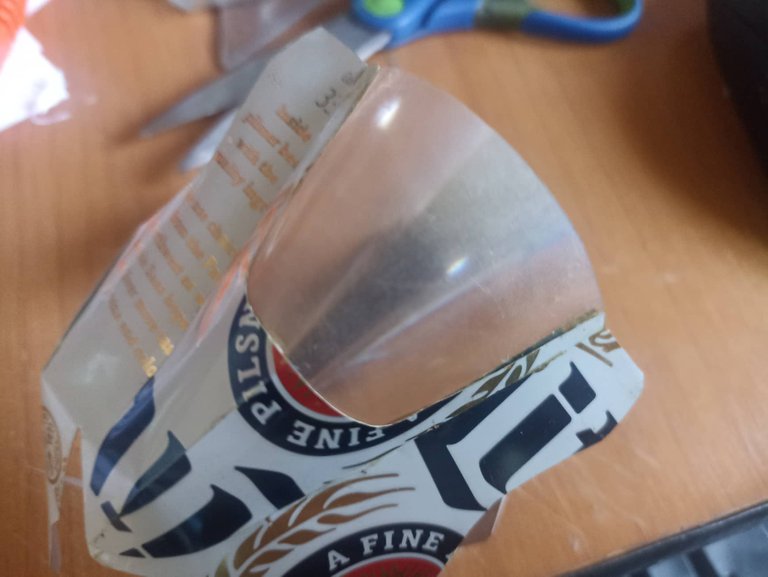 As they are incomplete templates, they do not have instructions to assemble them, but it is easy to notice the shape of the pieces, in this way you can start wherever you want, I started making each piece separately and in the end I joined them all. First I started with the front part, where it has the lighting headlamp and the windshield that serves to cut the resistance of the wind.
Al ser unas plantillas incompletas no tienen instrucciones para armarlas, pero es facil notar la forma de las piezas, de esta manera puede comenzarse por donde uno quiera, yo comencé a hacer cada pieza por separado y al final las uní todos. Primero comencé con la parte frontal, donde lleva el faro de iluminación y el parabrisas que sirve para cortar la resistencia del viento.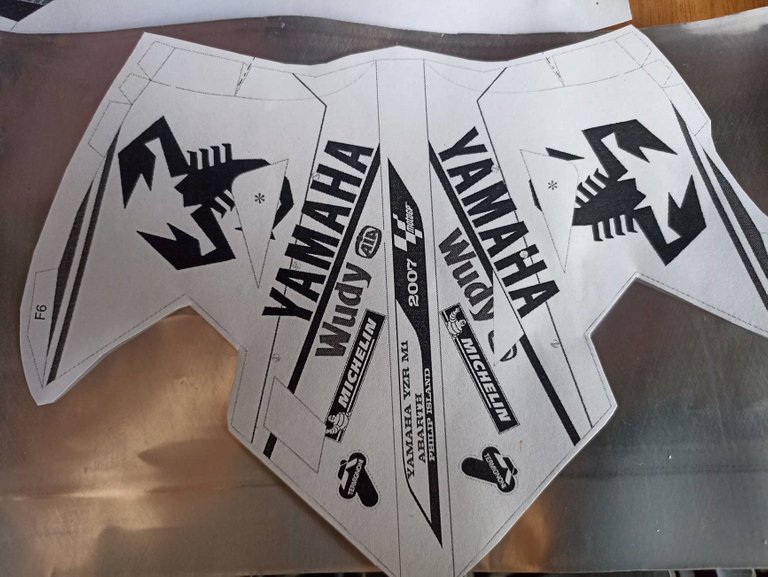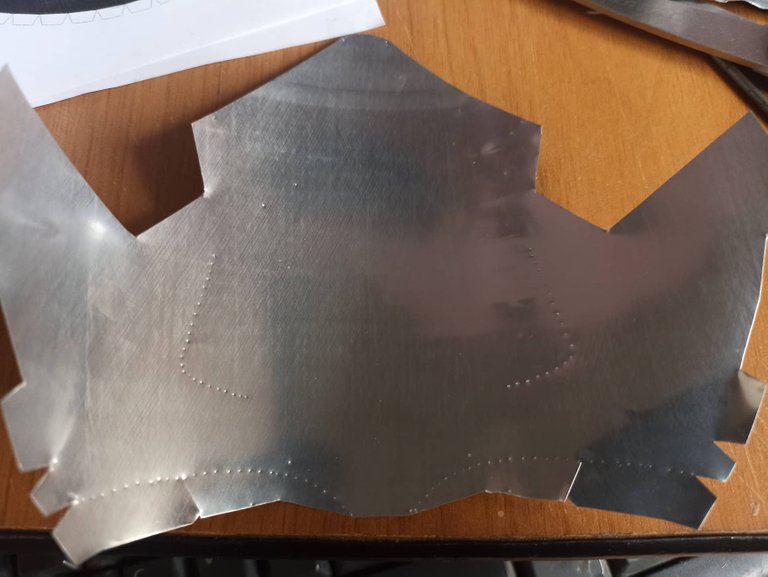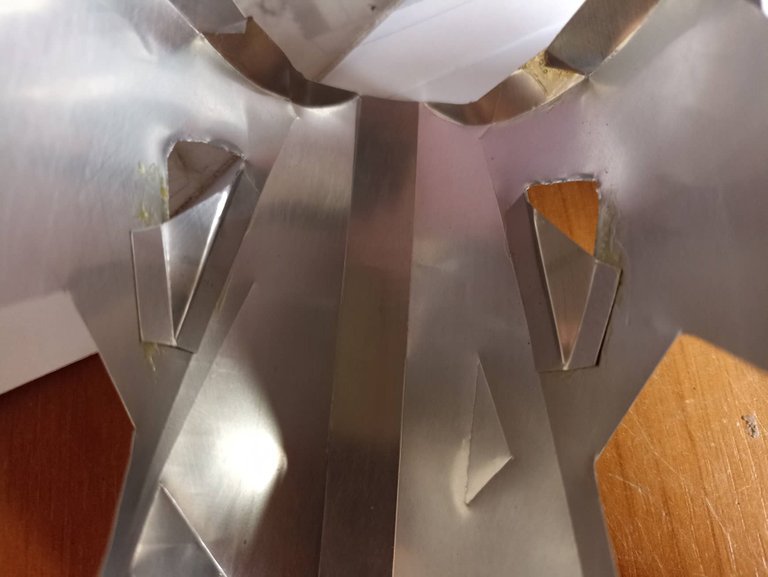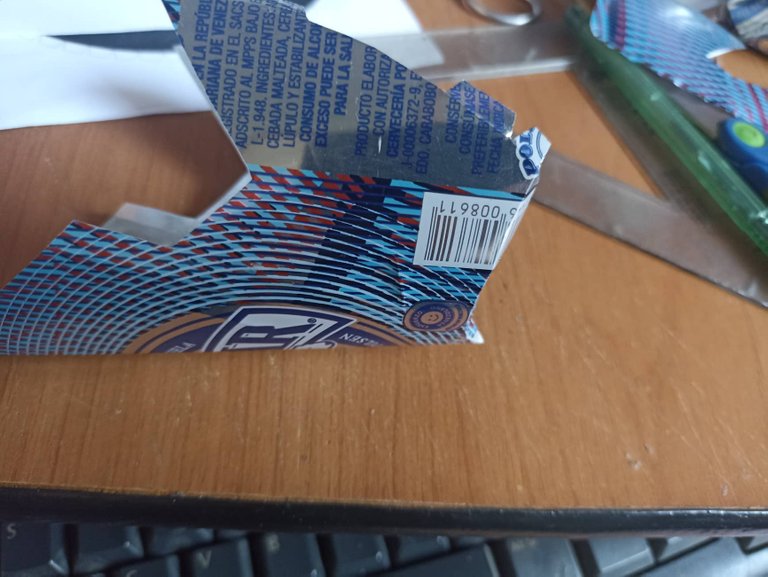 The second corresponding piece is the protective covers of the engine, these covers are made to help in the aerodynamics of the motorcycle and also to better take the curves of the tracks, it has internal triangular-shaped cuts through which the air currents circulate, eliminating the resistance sel wind and cooling the motor. I cut it out of the soda can and then with a piece I was bending it to mold.
La segunda pieza correspondiente es las tapas protectoras del motor, estas tapas vienen hechas para ayudar en la aerodinámica de la moticicleta y tambien para tomar mejor las curvas de las pistas, tiene unos cortes internos en forma triangular por donde circulan las corrientes de aire eliminando la resistencia sel viento y enfriando el motor. La recorte de la lata de refresco y luego con una pienza la fui doblando para moldear.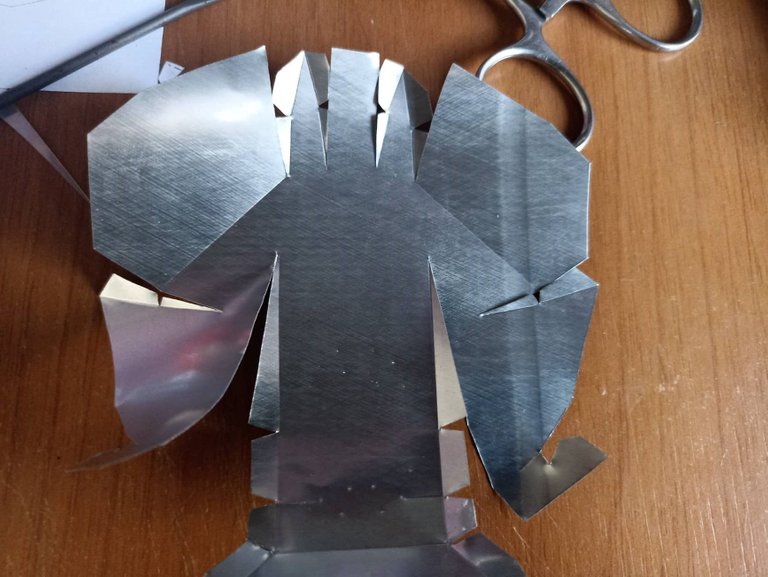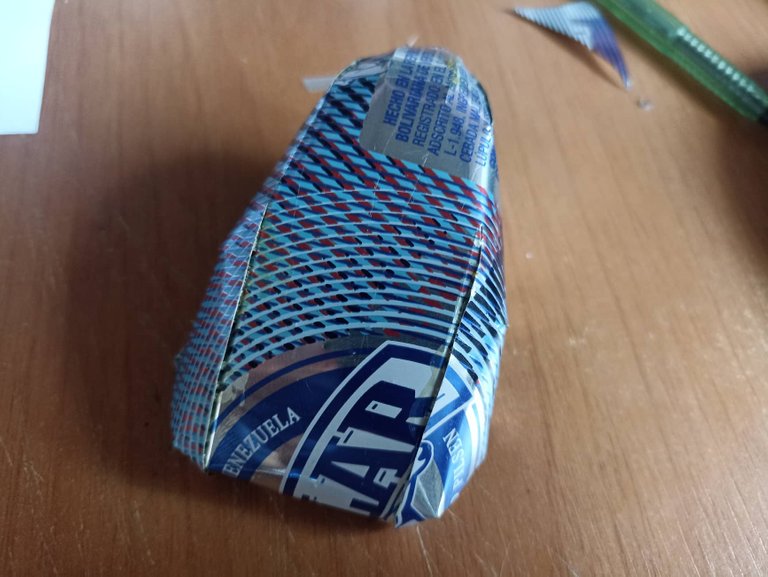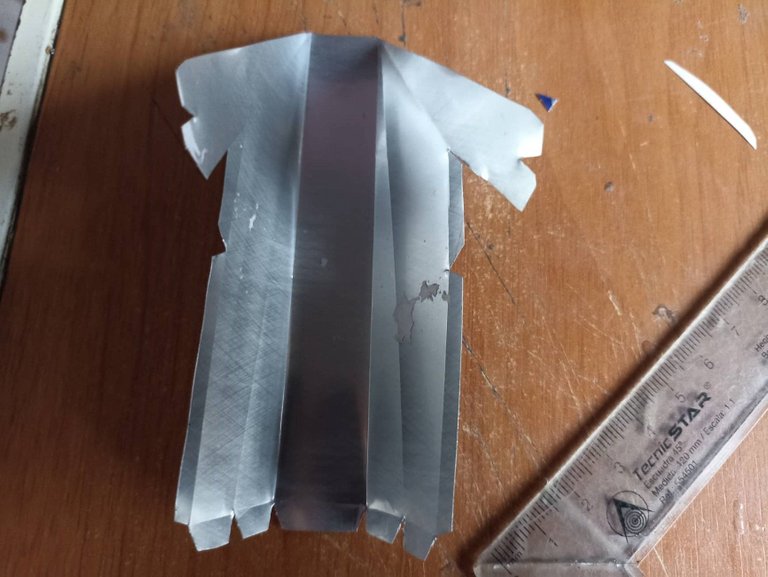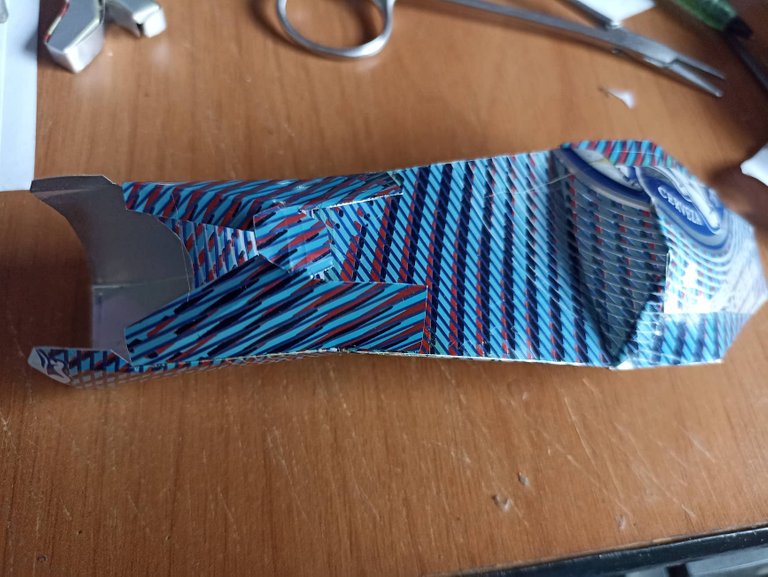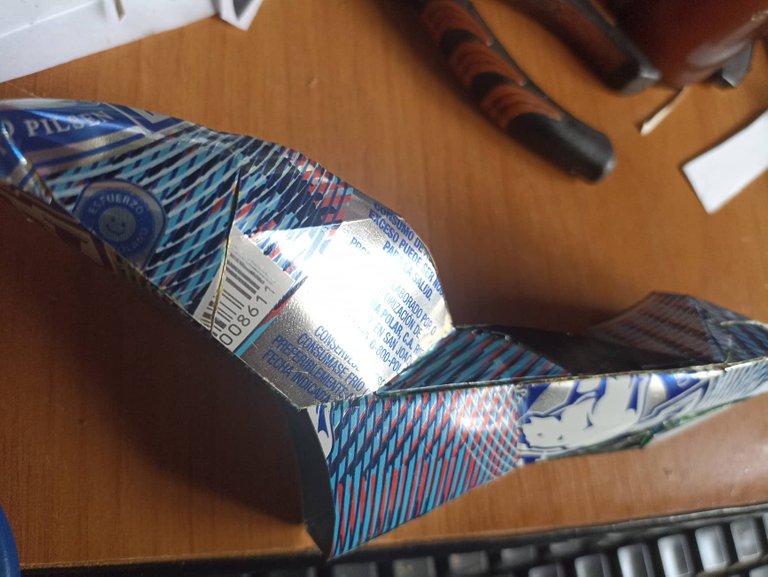 After that I made the gas tank and the seat, I had a hard time making the gas tank, I had two failed attempts before I was able to do it, the way to fold the cans was a bit confusing, then on the third try it came out since an image had formed in my mind that clearly fit perfectly. Then I made the seat that I just had to fold 4 times in 4 tabs. To get ahead I took both pieces and put them together to save time.
Después de eso hice el tanque para la gasolina y el asiento, me costó mucho hacer el tanque de la gasolina, tuve dos intentos fallidos antes de poder lograrlo, la forma para doblar las latas era un pococ confusa, luego en el tercer intento si salió ya que se había formado una imagen en mi mente que claramente calzó a la perfección. Despues hice el asiento queno tenía más que doblar 4 veces en 4 pestañas. Para adelantar tomé ambas piezas y las uní para ahorrar tiempo.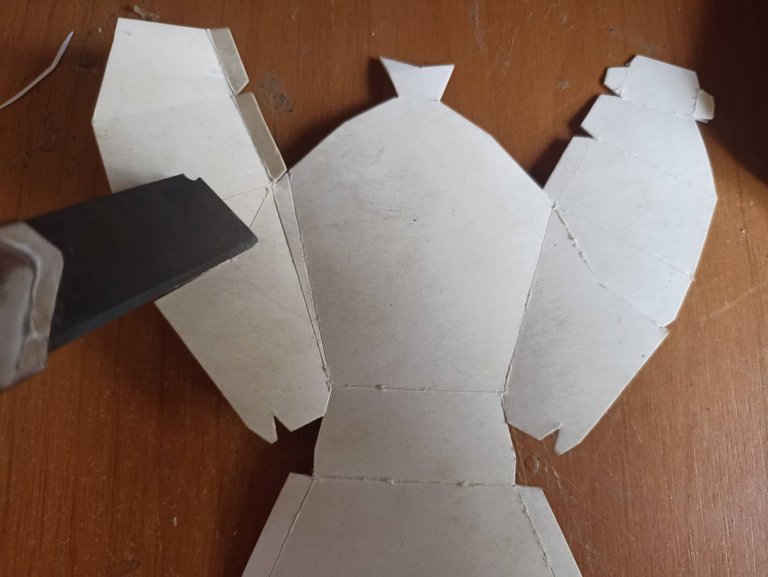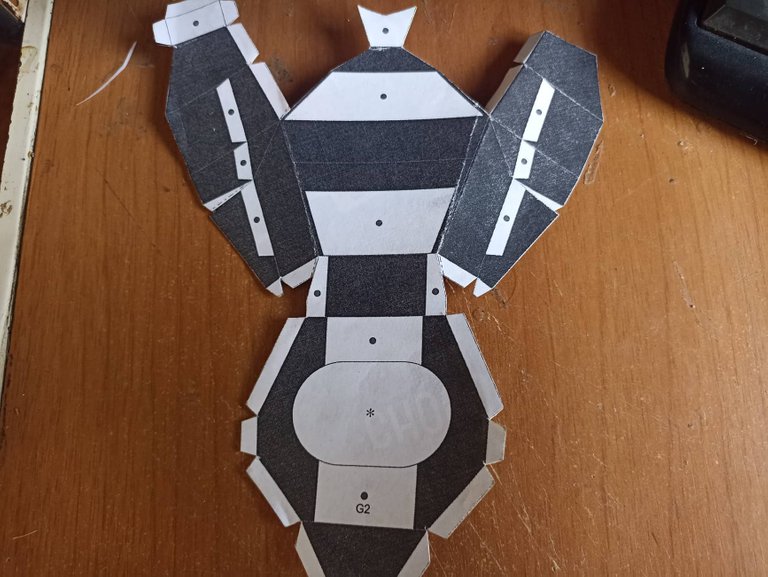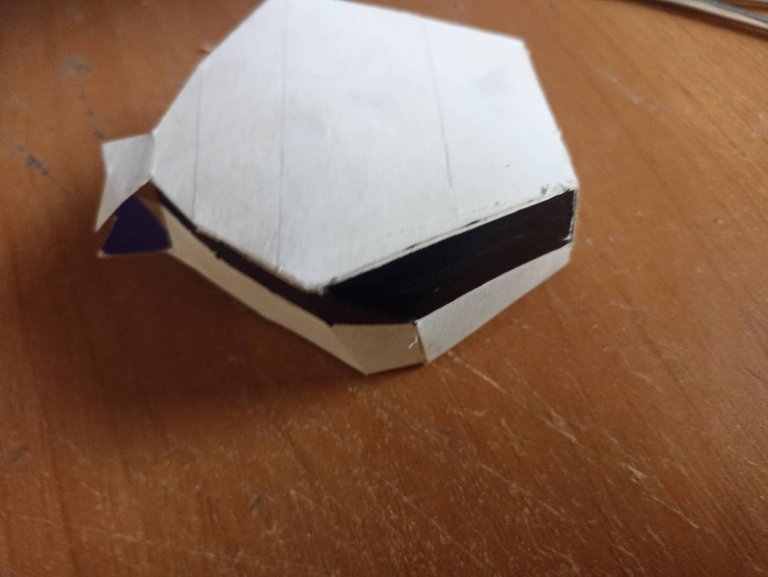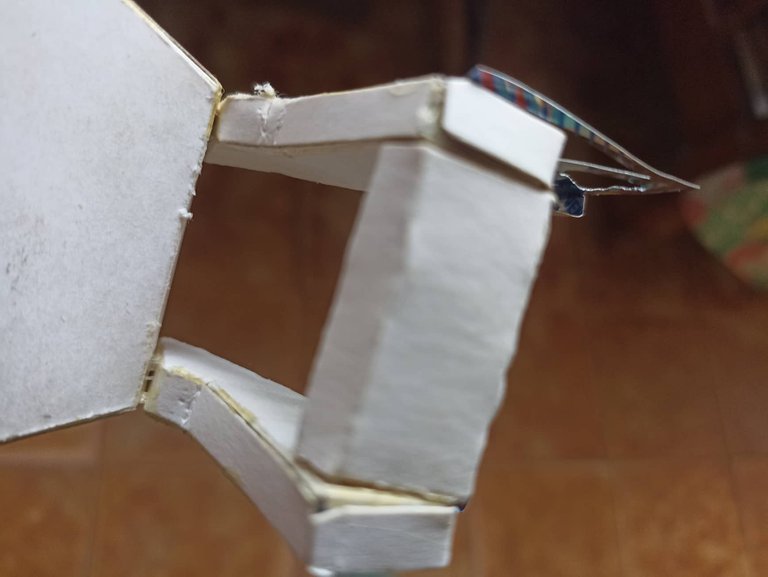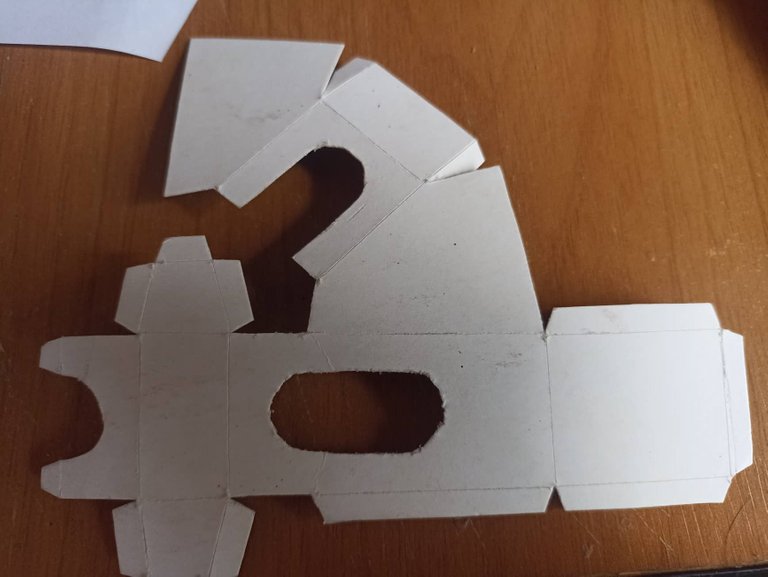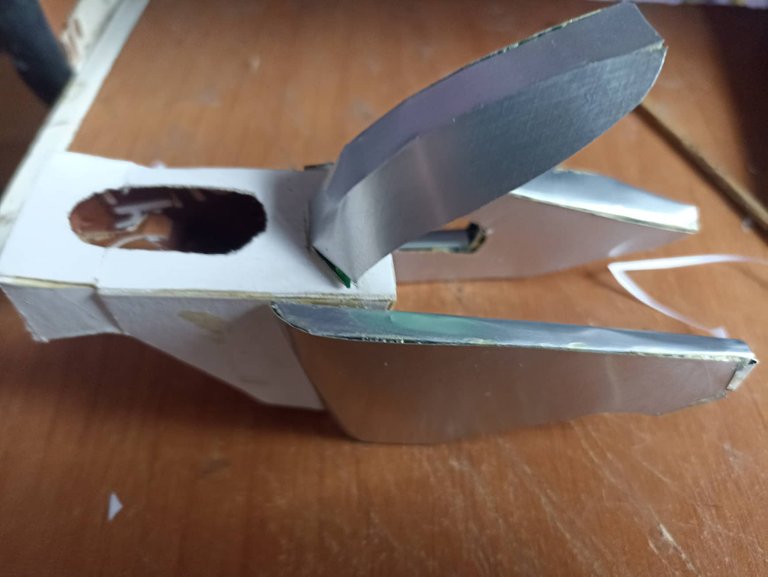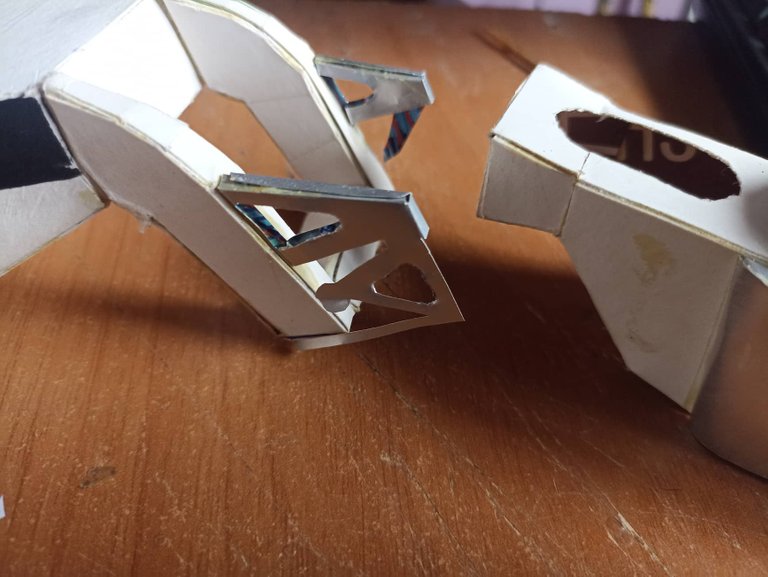 After finishing what I consider to be the first part of the bike, I started with the second part that includes the frame that holds all the pieces. So I started making the part that holds the gas tank and the engine, this template was very big so I used cardboard instead of a soda can, I used cardboard from a candy box to make it, I made the cuts and then the I was hitting Then I did the rest that includes some clamps that communicate with the rear of the bike where the exhaust pipe and the rear wheel axle go.
Luego de terminar con lo que considero fue la primera parte de la moto comencpe con la segunda parte que incluye el marco que sostiene todas las pienzas. Así que comencé haciendo la parte que sostiene el tanque de gasolina y el motor, esta plantilla era muy grande por lo que utilicé cartulina en lugar de lata de refresco, utilicé una cartulina de una caja de dulces para hacerla, hice los cortes y luiego la fui pegando. Seguidamente hice el resto que incluye unas abrazaderas que se comunican con la parte trasera de la moto donde va el tubo de escape y el eje de la rueda trasera.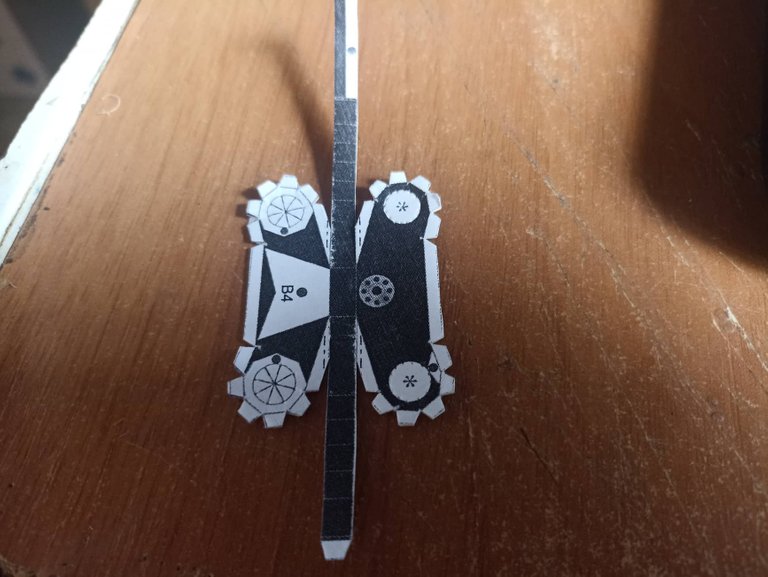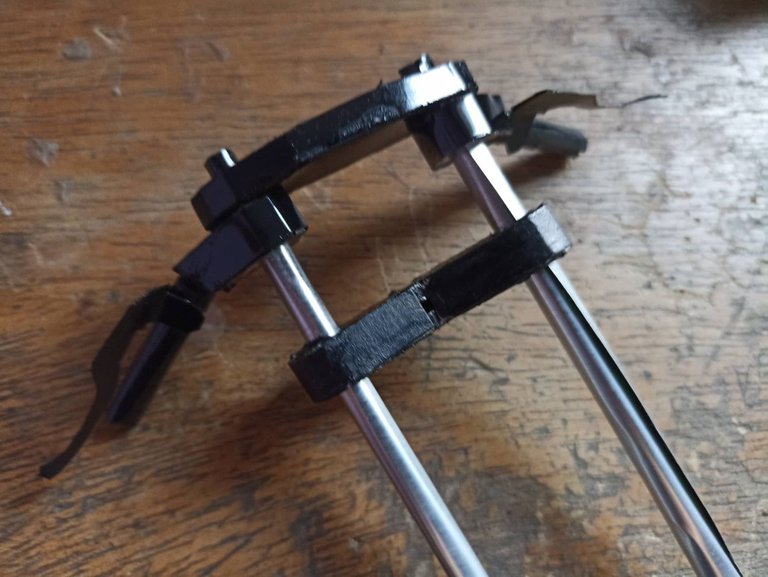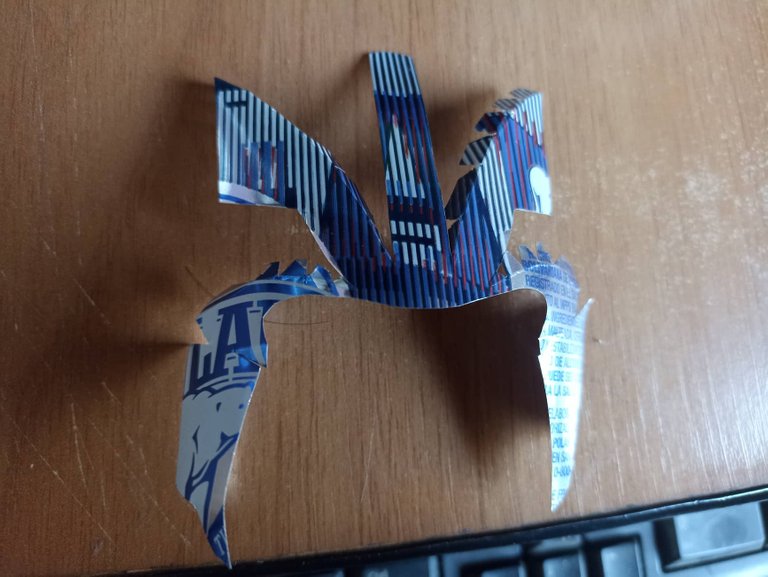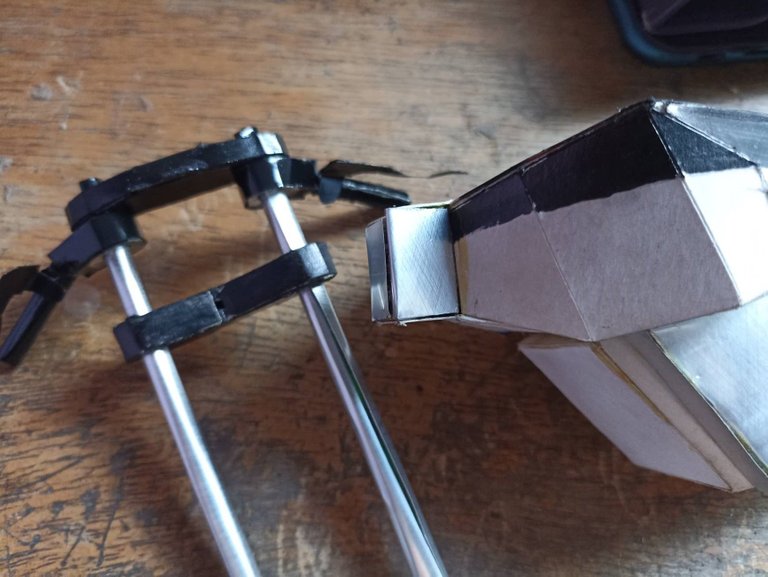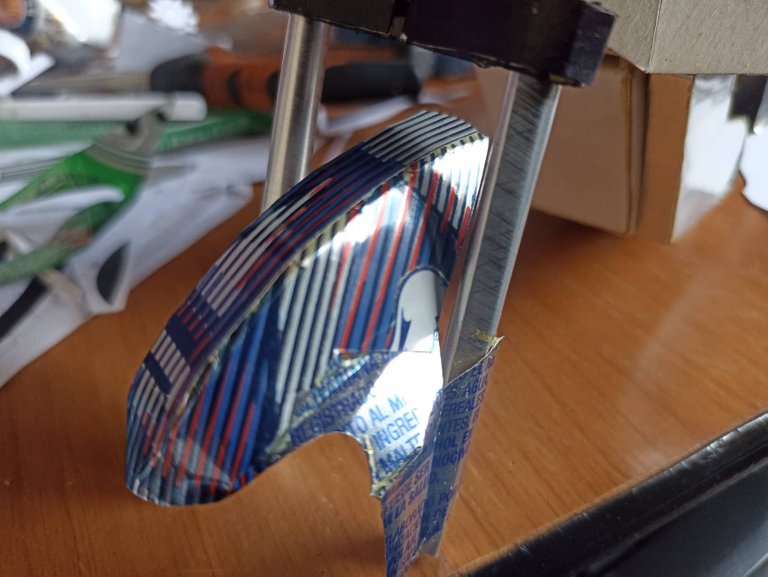 After making the frame, it was the turn of the motorcycle's steering, I used two tubes made from soda cans for the steering and took the template that joins both tubes. I made the control of the brakes with my imagination and also the acceleration, then I made the front fender to then have everything ready and start joining the parts.
Después de hacer el marco le toco el turno a la dirección de la motocicleta, utilicé dos tubos hechos lata de refresco para la dirección y tome la plantilla que une ambos tubos. El mando de los frenos se los hice con mi imaginación y tambien la aceleración, luego hice el guardafango delantero para luego tener todo listo y comenzar a unir las partes.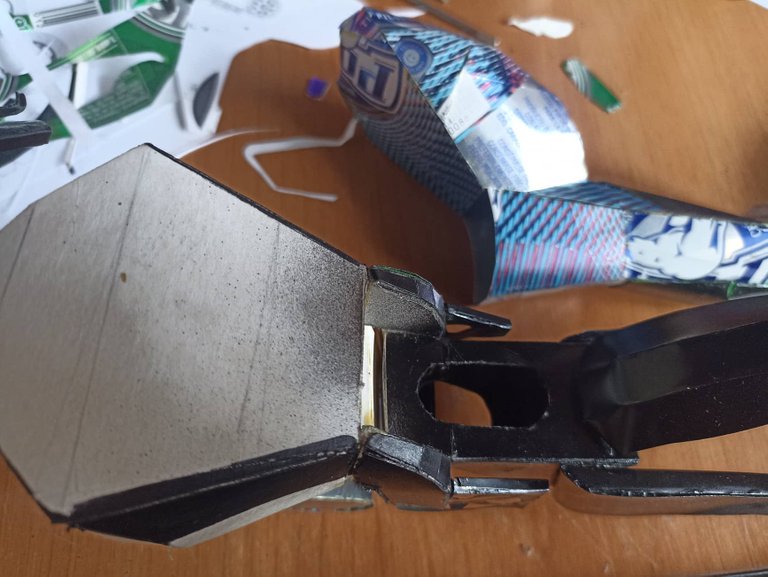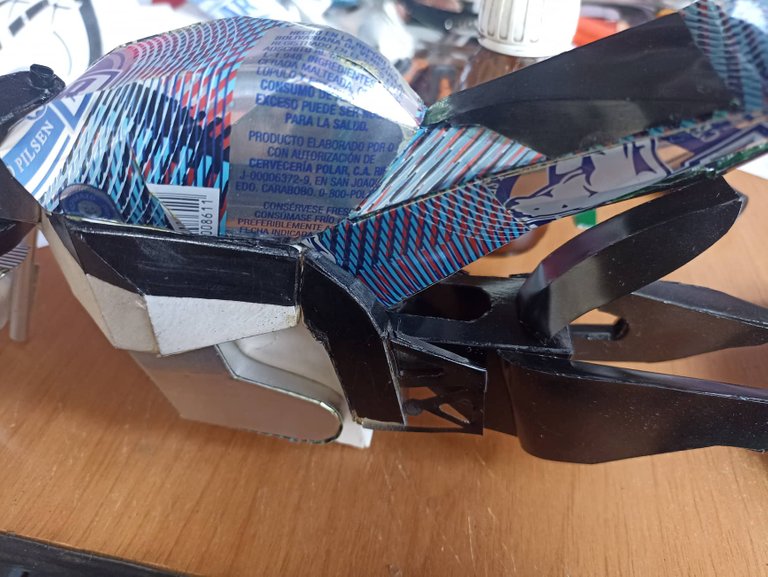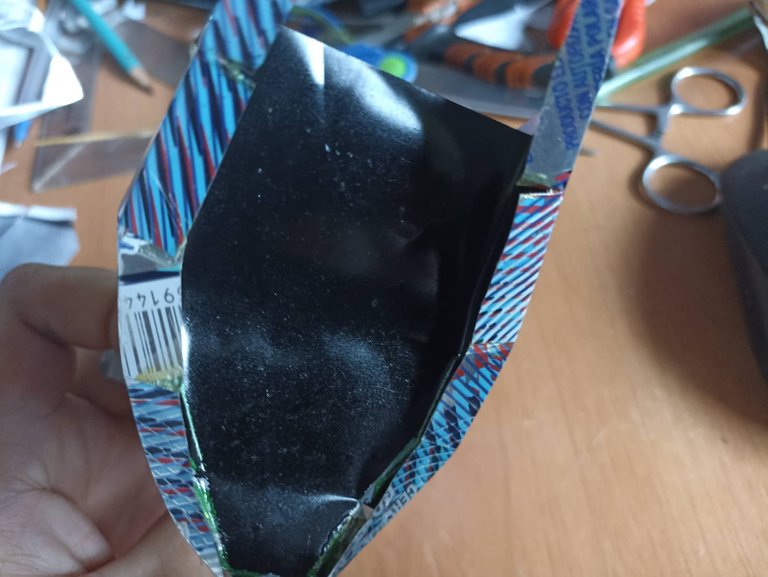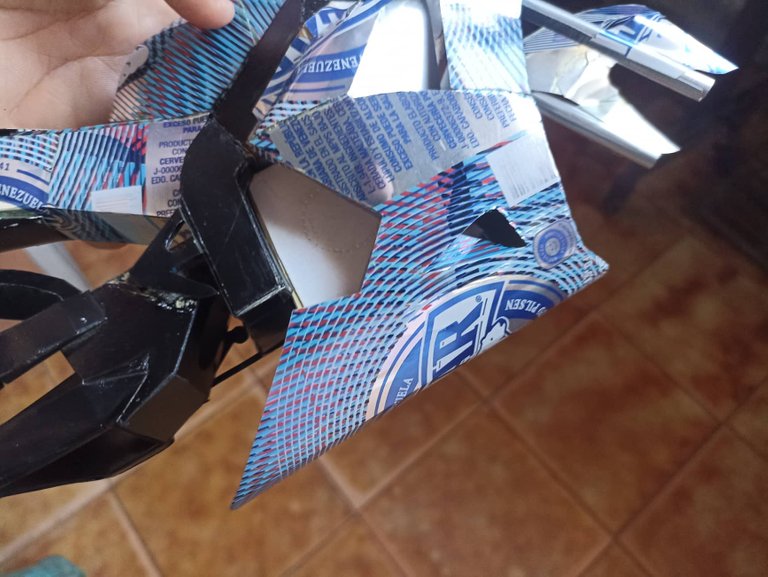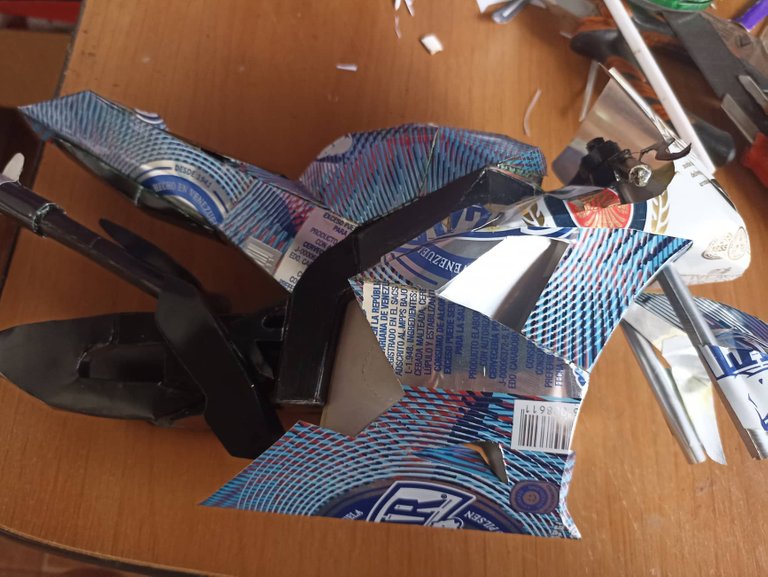 Once I have finished most of the pieces, I start with the assembly of the entire bike. The first pieces to install are the gasoline tank and the seat, then at the bottom, the protector, before putting it in place I glue a black painted soda can that it has on that part, which is a kind of grille, when doing so then I place the entire piece on the motorcycle, finally I place the piece that goes on the steering wheel and the direction that the windshield has. Just need to add the wheels.
Una vez ya he terminado la mayoria de las piezas comienzo con el ensamblaje de toda la moto. Las primeras piezas en colocar es el tanque de la gazolina y el asiento, luego en la parte de abajo, el protector, antes de ponerlo en su sitio pego una lata de soda pintada color negro que lleva en esa parte, que es una especie de rejilla, al hacerlo entonces coloco toda la pieza entera en la moto, por último coloco la pieza que va en el volante y la dirección que tiene el parabrisas. Solo falta añadir las ruedas.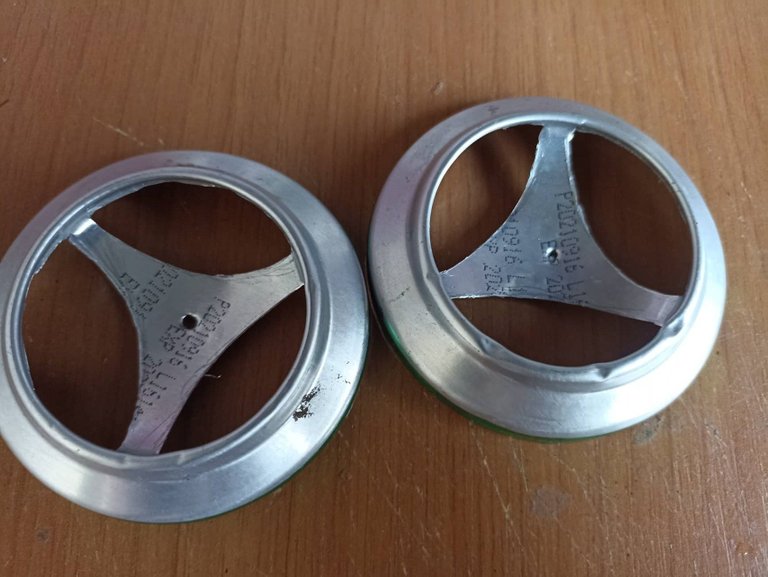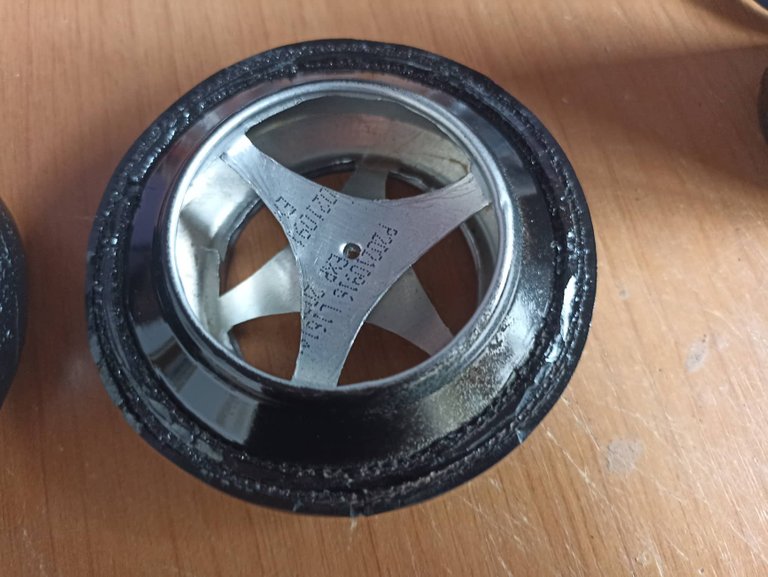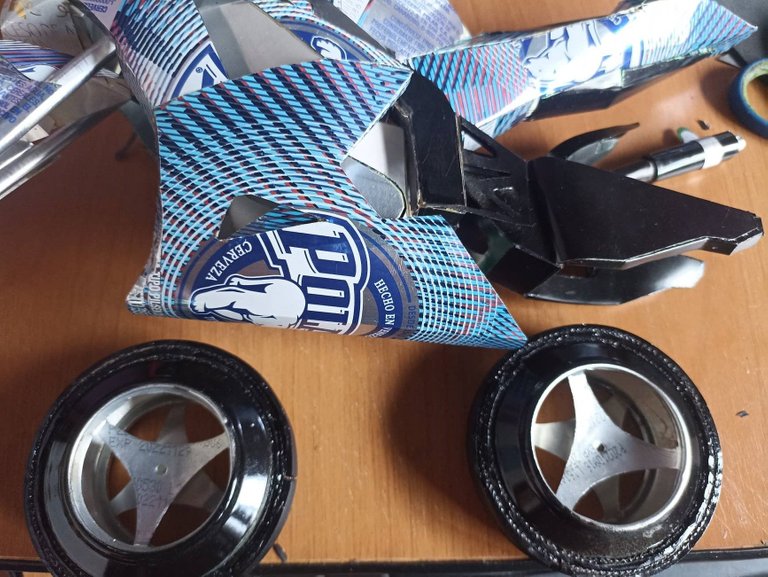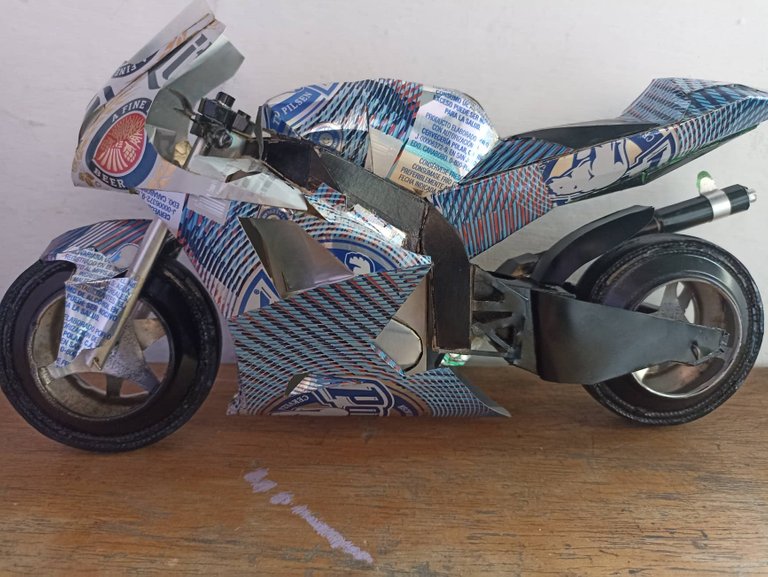 As a final job I made the wheels, using for this the base of the cans, I took 4 bases in total and joined them together to get the two wheels. To decorate the wheels I made those cuts inside so that it would look according to the design of the motorcycle, finally I painted them black with shiny black spray and that is how the project was finished.
Como trabajo final hice las ruedas, utilizando para esto la base de las latas, tome 4 bases en total y las uni entre ellas para sacar las dos ruedas. Para decorar las ruedas hice esos cortes en el interior para que se viera acorde al diseño de la motocicleta, por último las pinte de color negro con spray negro brillante y asi quedó finalizado el proyecto.

FINAL WORK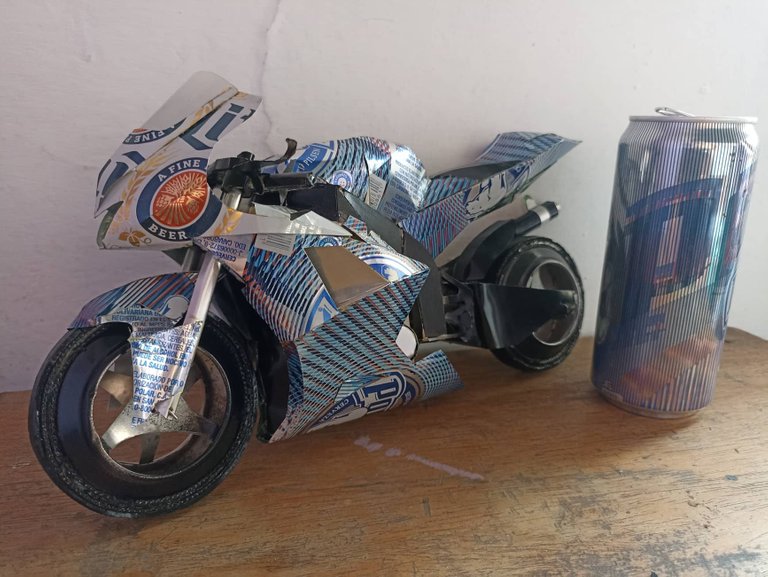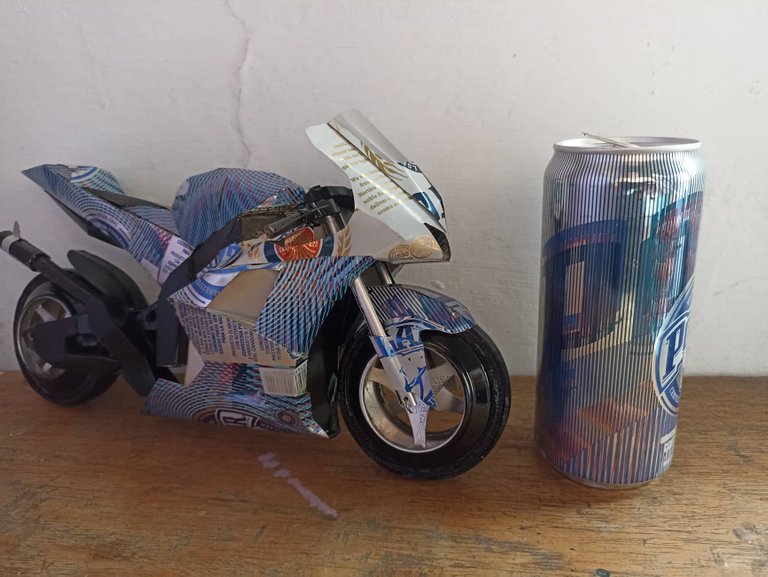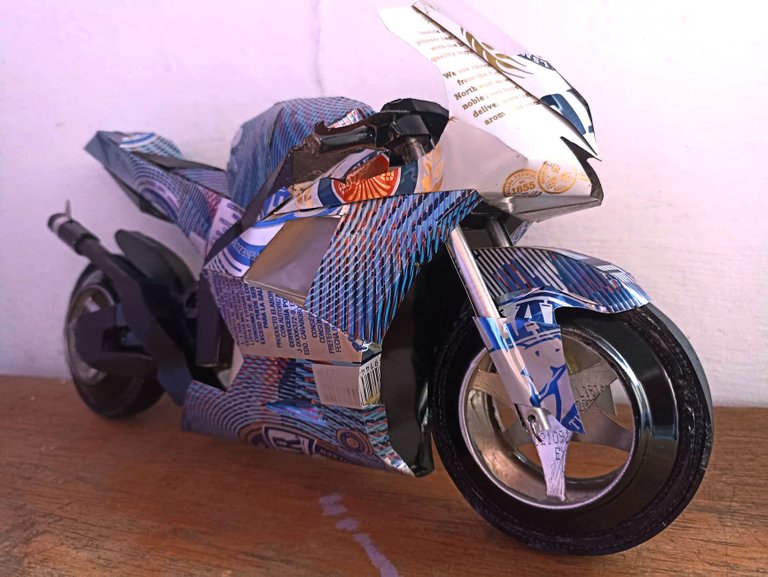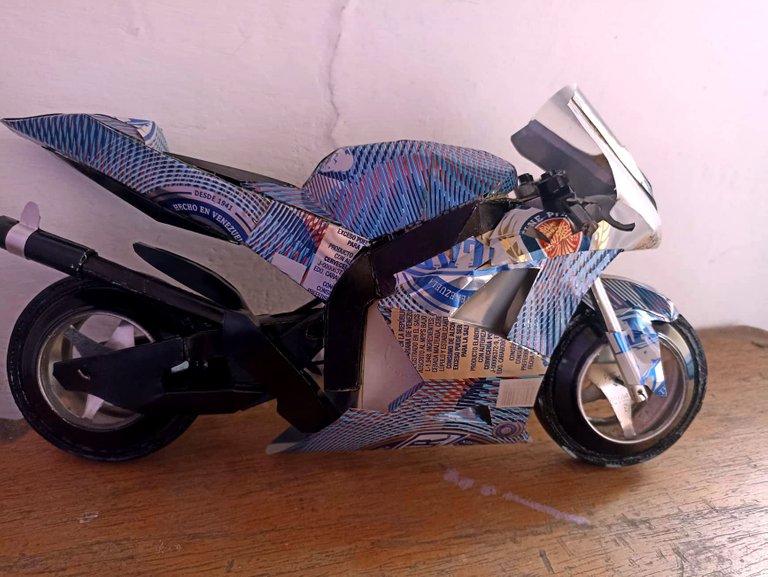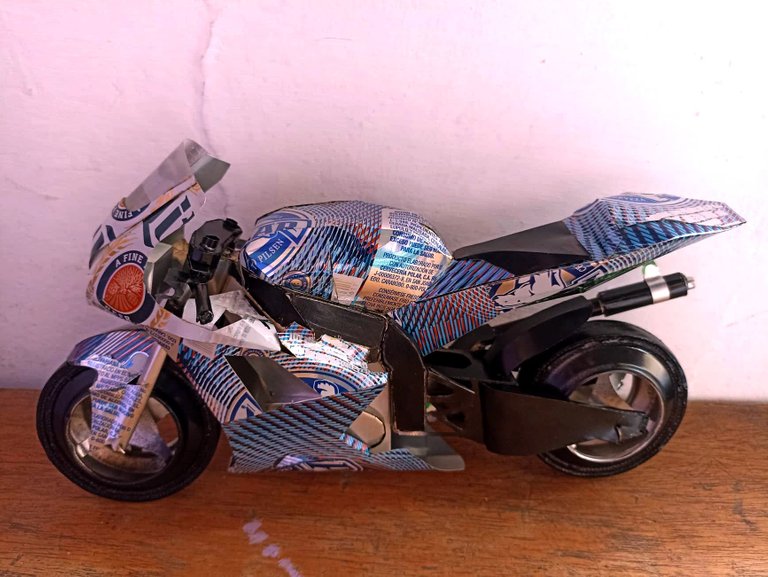 This is how this scale model of a Yamaha GP Valentino Rossi motorcycle looks like, I am a big fan of GP racing and machines in general, I am passionate about engineering that is why I am attracted to these models, I hope to share a formula 1 with you, as you are also impressive machines. I say goodbye until a new opportunity, soon I will be more active with in previous days sharing and enjoying the publications of my colleagues. I say goodbye until a new opportunity.
Así es como se ve este modelo a escala de una moto Yamaha GP Valentino Rossi, soy muy fan de las carreras GP y de las máquinas en general, me apasiona la ingeniería es por eso que me siento atraído hacia estos modelos, espero pronto compartir un fórmula 1 con ustedes, ya que también son máquinas impresionantes. Me despido hasta una nueva oportunidad, pronto estaré más activo con en días anteriores compartiendo y disfrutando de las publicaciones de mis compañeros. Me despido hasta una nueva oportunidad.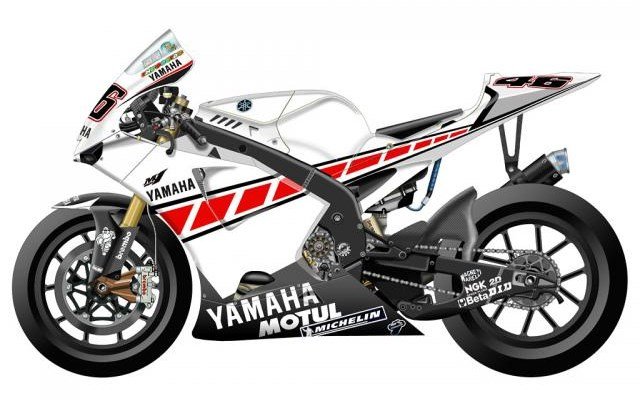 Image
---
---