[ENG-ESP] THOMAS SHELBY OF PEAKY BLINDERS DRAWING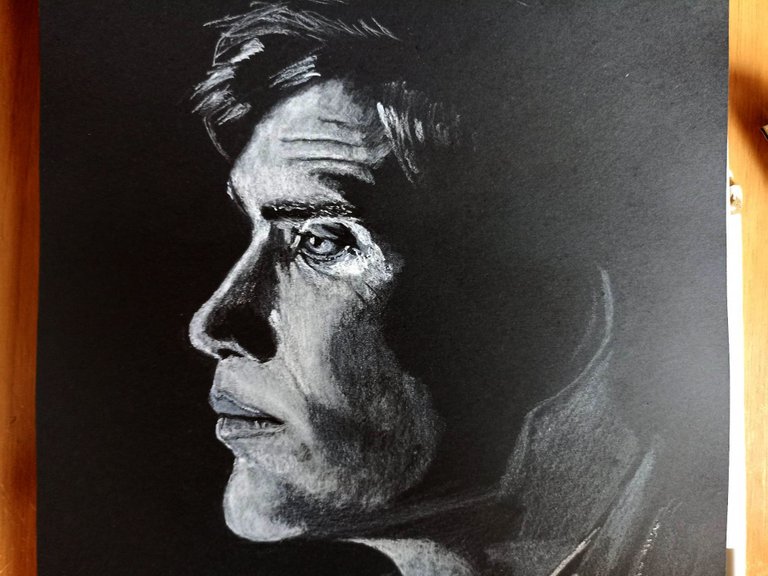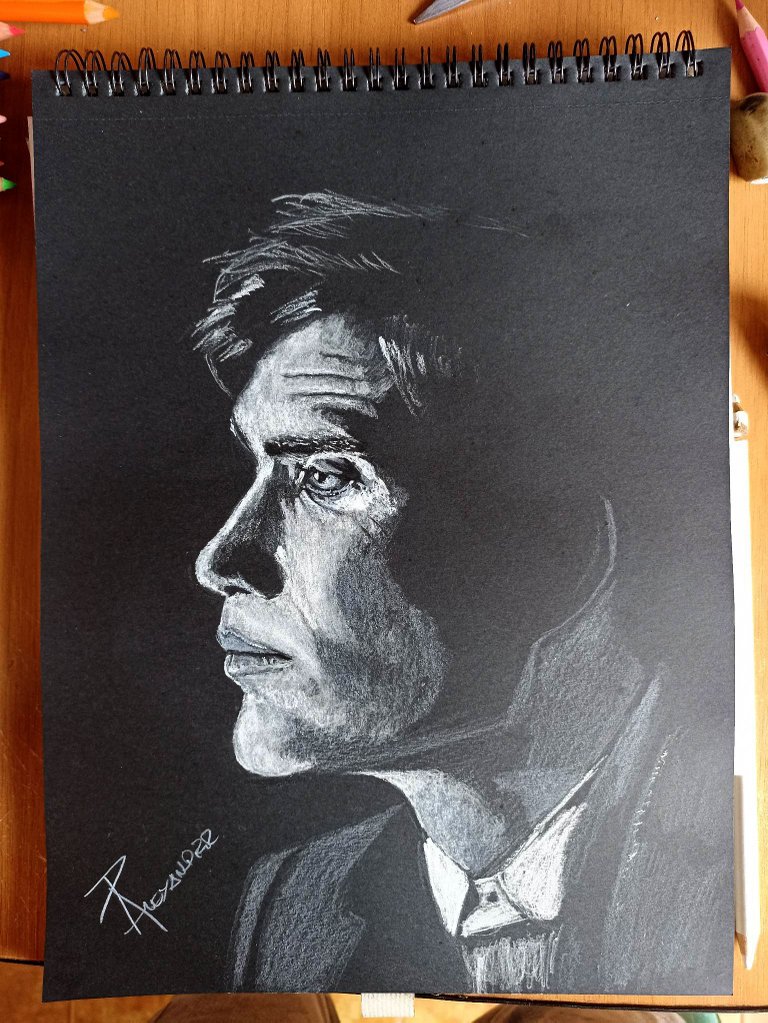 Hello dear friends, I hope you are very well, today I want to share with the community a drawing I made of Thomas Shelby from the great TV series called Peaky Blinders, perhaps many have seen this programming, I have been very impressed by the personality of the protagonist The actor Cillian Murphy has done this character in a masterful way with a lot of presence and charisma, just like the rest of the actors do each character very well. I have made this drawing on black cardboard and with white pencils, I hope you like it.
Hola queridos amigos, espero que se encuentren muy bien, hoy quiero compartir con la comunidad un dibujo que hice de Thomas Shelby de la gran serie de tv llamada Peaky Blinders, tal vez muchos habrán visto esta programación, yo he quedado muy impresionado por la personalidad del protagonista. El actor Cillian Murphy tiene hace este personaje de una manera magistral con mucha presencia y carisma, al igual que el resto de actores hacn muy bien cada personaje. Este dibujo lo he realizado en cartulina de color negro y con lápices de color blanco, espero que les guste.

PROCESS
I did Thomas Shelby's face like this in profile, using a white prismacolor wax color in its school version, these colors are very good, not as good as the first ones, but it has very beautiful tones that when combined well you get good results. I'll also be using white charcoal which is great for photography-style black and white portraits and pastel chalk as well.
El rostro de Thomas Shelby lo hice así de perfil, utilizando un color blanco de cera prismacolor en su versión escolar, estos colores son muy buenos, no tanto como los premier, pero posee tonos muy hermosos que combinándolos bien se obtiene buenos resultados. Cambien usaré color blanco de carboncillo que es genial para retratos en blanco y negro estilo fotografía y también tiza pastel.

After having made the first part that consisted of the sketch of the face like this in profile, I begin to shape the interior starting with the eye, I outline it with a black color to be able to differentiate the shadows of the eye from the background of the cardboard. I also use the pastel chalk to make the eye look really bright without forgetting to add more details like the eyebrows, at the same time I start to paint the skin of the face with the white color of wax.
Después de haber hecho la primera parte que consistía en el boceto del rostro así de perfil comienzo a darle forma al interior comenzando con el ojo, lo delineo con un color negro para poder diferenciar las sombras del ojo del fondo de la cartulina. También utilizo la tiza pastel para hacer que el ojo se vea bien brillante sin olvidar agregar más detalles como las cejas, al mismo tiempo comienzo a pintar la piel del rostro con el color blanco de cera.

Immediately I begin to paint all the skin of the face as you can see, taking good care to preserve the shadows and the relief of the face, the important thing is to try to make it as realistic as possible. In the parts where there is more light, I make the strokes stronger, and thus I soften the color journey towards the parts where there are shadows. This counts as the first layer of color.
Seguidamente comienzo a pintar toda la piel del rostro como pueden observar, cuidando muy bien conservar las sombras y el relieve del rostro, lo importante es tratar de hacerlo lo más realista que se pueda. En las partes donde hay más luz los trazos los hago más fuertes, y así voy suavizando el viaje del color hacia las partes donde hay sombras. Este cuenta como la primera capa de color.

Once the previous step is finished, I take the white carbon pencil that has a stronger intensity than the normal white wax color, I make the strokes in the previous way, putting more emphasis on the light reflections that are present on the face I start with the nose and from there I expand the line to the entire face.
Una vez terminado el paso anterior, tomo el lápiz de carbon blanco que tiene una intensidad más fuerte que el color blanco de cera normal, voy haciendo los trazos de la forma anterior, poniendo más énfasis en los reflejos de luz que estan presentes en el rostro, comienzo por la naríz y de ahí voy expandiendo el trazo a todo el rostro.

Little by little I am painting the face following the same pattern in the line, fast but strong so that the white color covers the entire surface very well, in total with this charcoal white color I made 2 layers to give life to the portrait. I also painted the neck area and part of the suit that Thomas Shelby wears.
Poco a poco voy pintando el rostro siguiendo el mismo patrón en el trazo, rápidos pero fuertes para que el color blanco cubra muy bien toda la superficie, en total con este color blanco de carbón hice 2 capas para poder darle vida al retrato. Pinté tambien la zona del cuello y parte del traje que usa Thomas Shelby.

To finish the portrait I also painted part of the hair, only some parts with light reflections so that it can be noticed, so I also corrected aspects that looked a bit disoriented, I gave them a better shape, like the nose and also the chin. With the pastel chalk I made all the light details that I needed and thus the portrait of Thomas Shelby was finished.
Para finalizar el retrato también pinte parte del cabello, solamente algunas partes con reflejos de luz para que pueda notarse, así tambien fui corrigiendo aspectos que se veían un poco desorientados, les di mejor forma, como en la nariz y tambien en la barbilla. Con la tiza pastel hice todos los detalles de luz que me faltaron y así quedó finalizado el retrato de Thomas Shelby.

FINAL WORK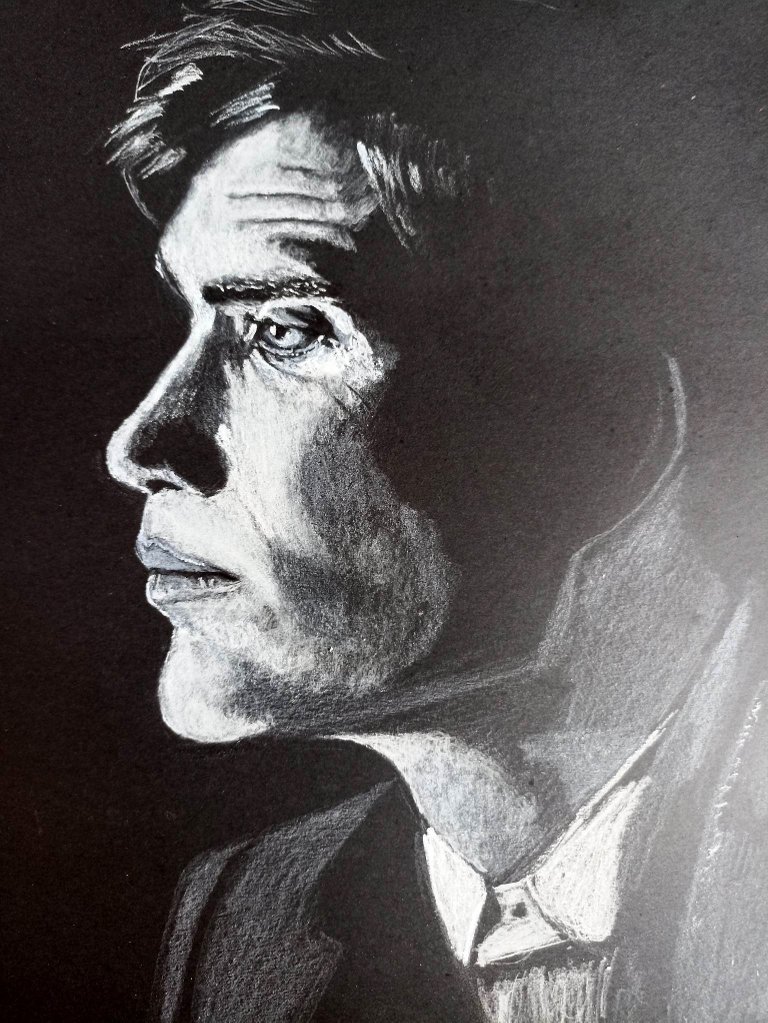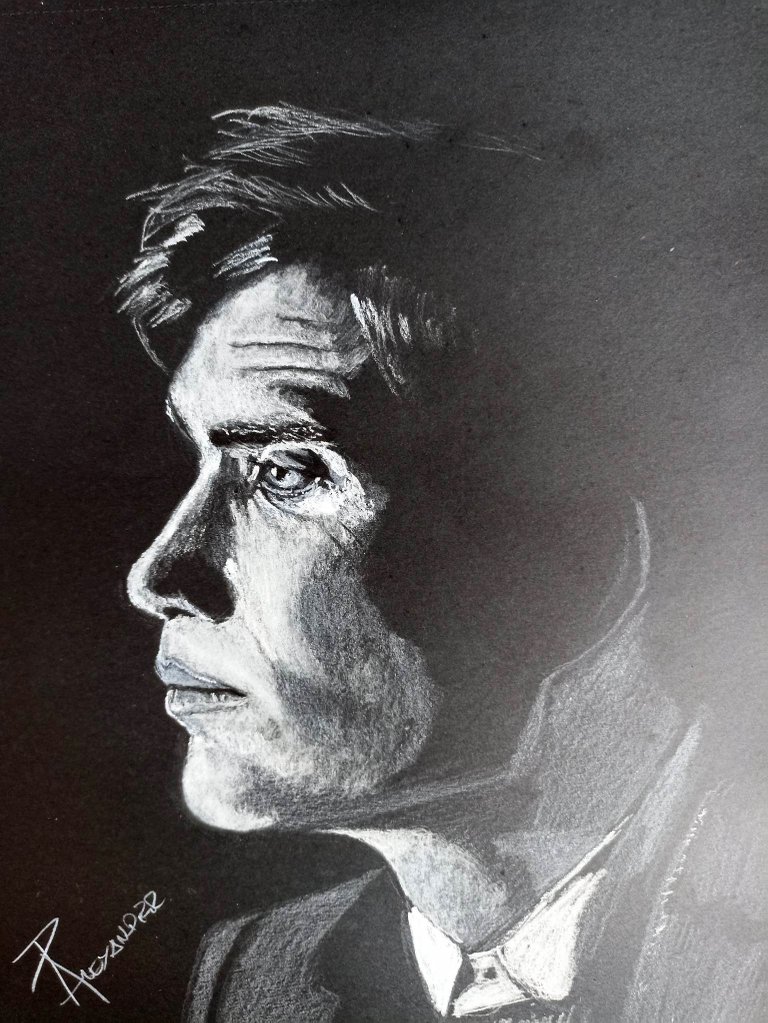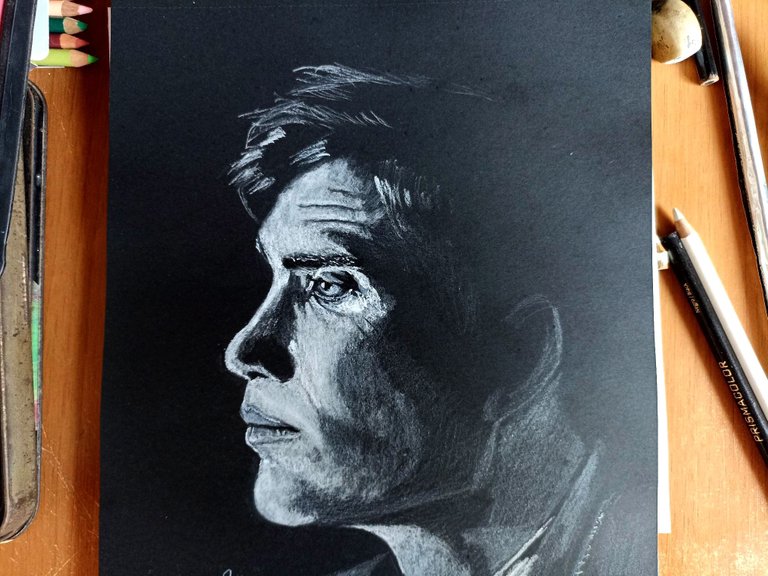 As you can see, this is how the portrait of Thomas Shelby was finished on black cardboard, using a small range of white tones, I am very satisfied with the drawing. This really is a very good series, I recommend it, few series attract me like this, it has everything, counting on the performance of these great actors who participate. I hope you liked how it turned out, don't forget to comment, your opinions are important to me. See you soon.
Como pueden observar así quedó finalizado el retrato de Thomas Shelby en cartulina negra, utilizando una pequeña gama de tonos de color blanco, he quedado muy conforme con el dibujo . Esta realmente es una serie muy buena, se las recomiendo, pocas series me atraen como esta, tiene de todo, contando con la actuación de estos grandes actores que participan. Espero que les haya gustado como quedó, no olviden comentar, sus opiniones son importantes para mi. Hasta pronto.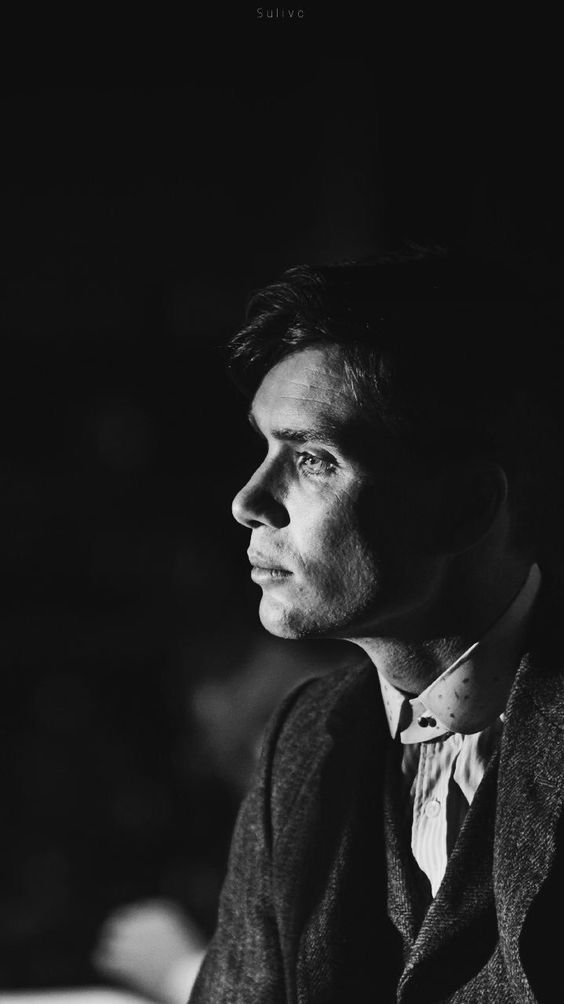 Reference
---
---