[ENG-ESP] VECNA (STRANGER THINGS) DRAWING WITH COLORED PENCILS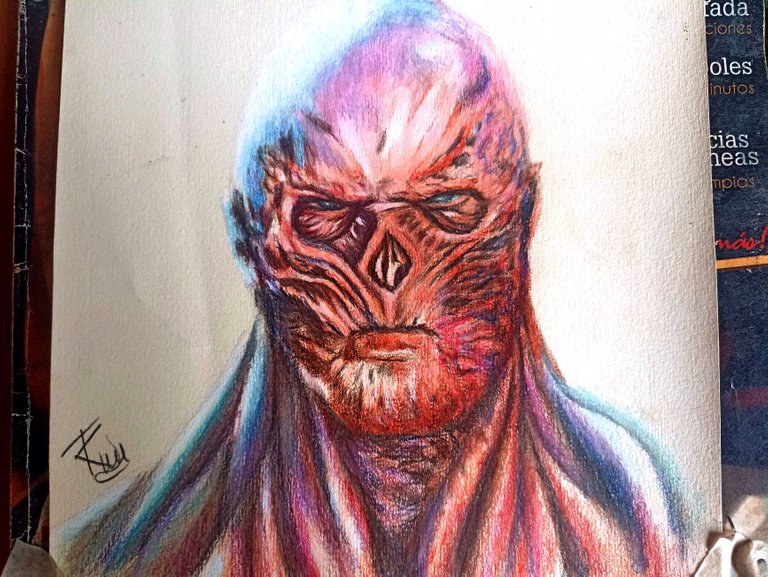 Hello dear friends, today Monday starting the week I want to show you my last drawing, last time I drew a classic villain, Leatherfacem today has someone new, it is Vecna ​​the monster that came out in the last season of the series Stranger Things . This monster is very powerful and is part of the new villains, I like his design and his powers, although I find him similar to previous popular culture monsters. I hope you like this drawing.
Hola queridos amigos, hoy lunes comenzando la semana quiero mostrarles mi último dibujo, la vez pasada dibujé a un villano clásico, a Leatherfacem hoy le toca a alguien nuevo, se trata de Vecna el monstruo que salió en la última temporada de la serie Stranger Things. Este monstruo es muy poderoso y forma parte de los nuevos villanos, me gusta su diseño y sus poderes, aunque lo encuentro parecido a monstruos de la cultura popular anteriores. Espero que les guste este dibujo.

PROCESS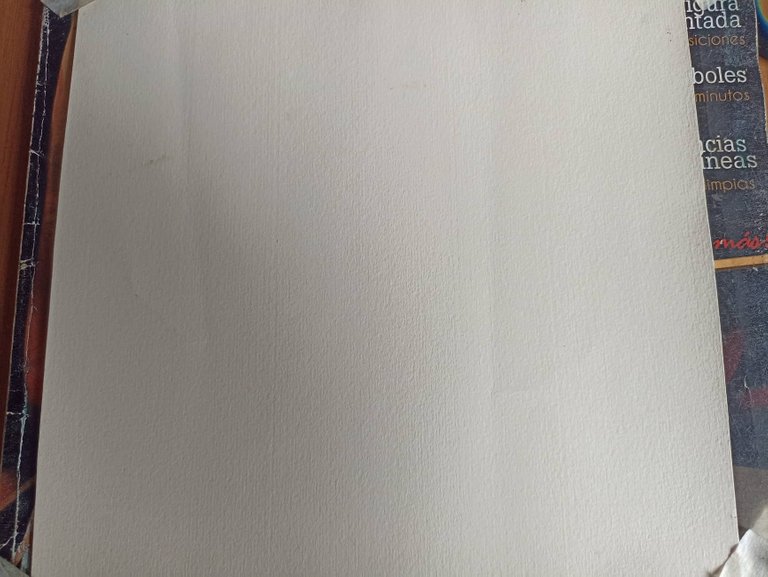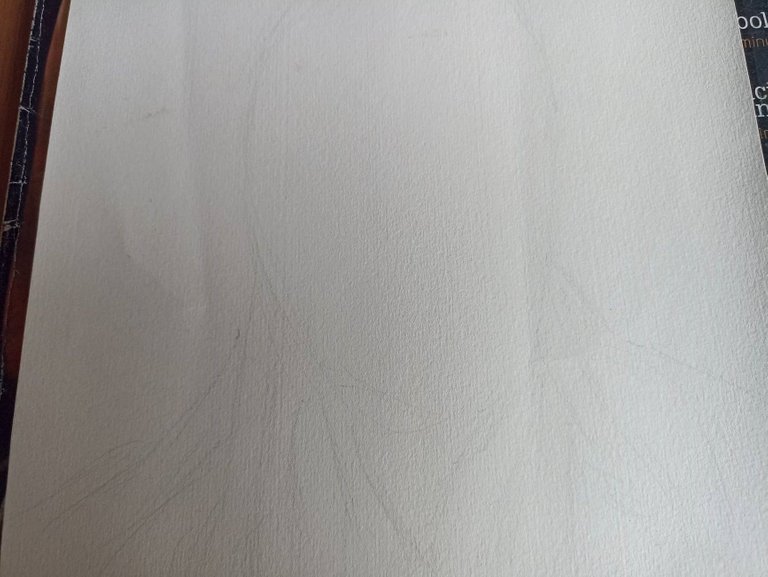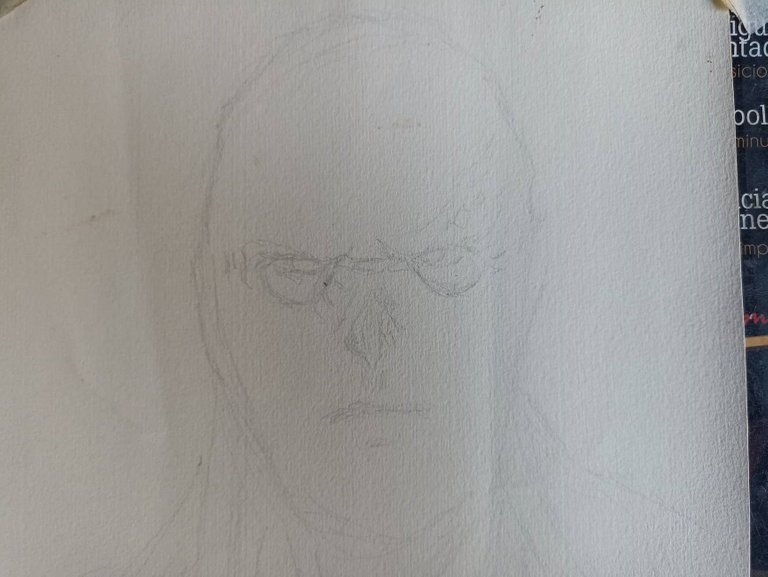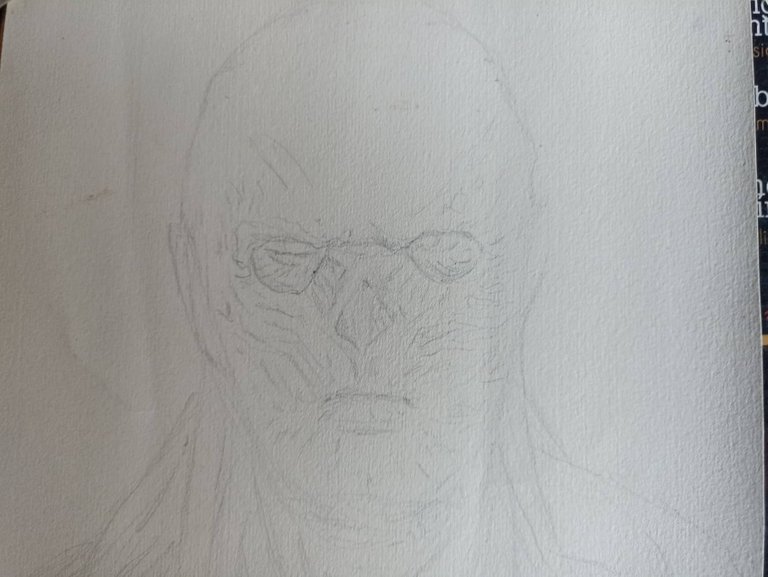 As I always recommend Fabriano paper for these drawings, its surface is the best for wax color. We make a sketch of the drawing guided by the image, when I was making the first lines it was where I realized that I had seen this design before, although with its clear modifications, at the end I will put an image to see who can tell who it is.
Como siempre recomiendo para estos dibujos el papel Fabriano, su superficie es la mejor para el color de cera. Hacemos un boceto del dibujo guiandonos de la imagen, cuando estaba haciendo las primeras líneas fue donde me di cuenta que este diseño lo había visto antes, aunque con sus claras modificaciones, al final pondré una imagen a ver quien puede decir de quien se trata.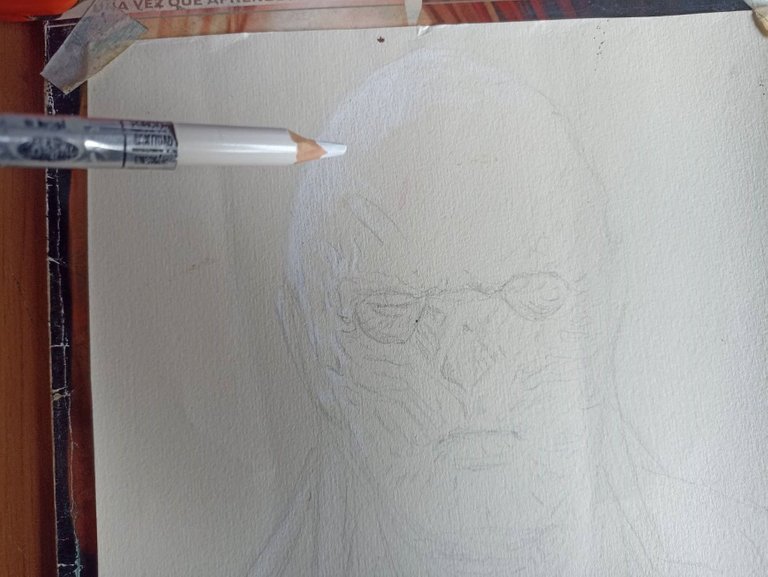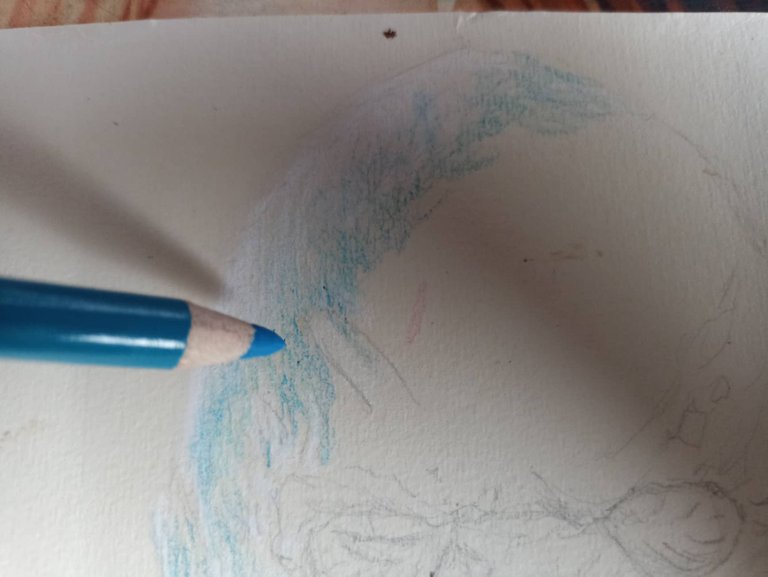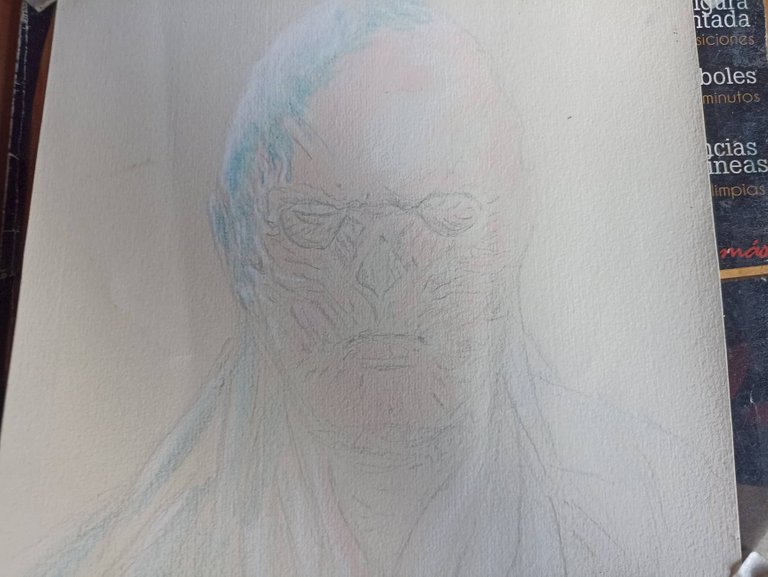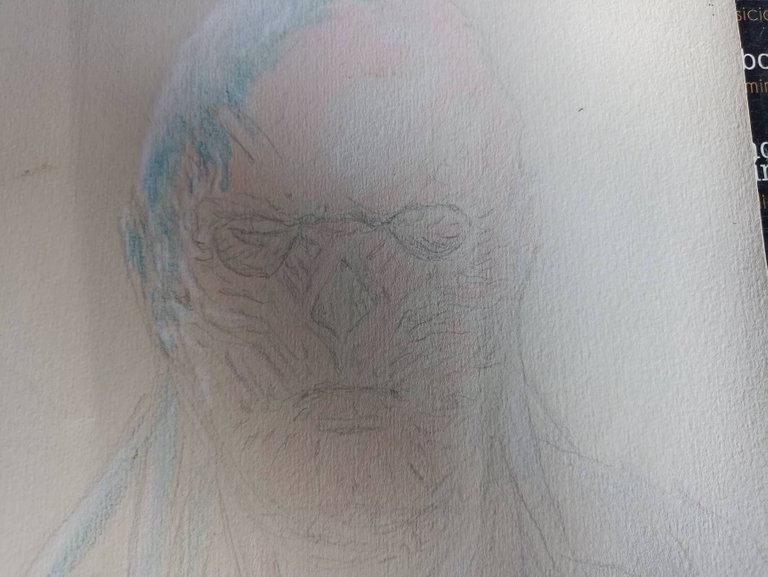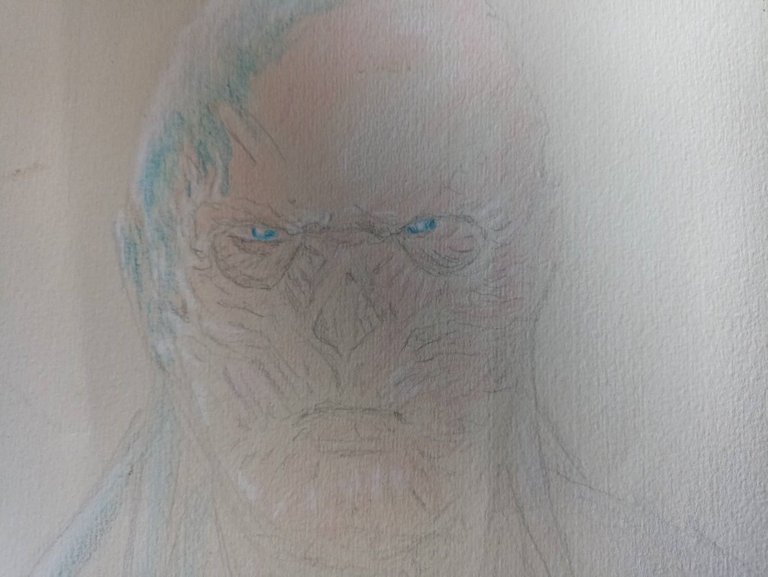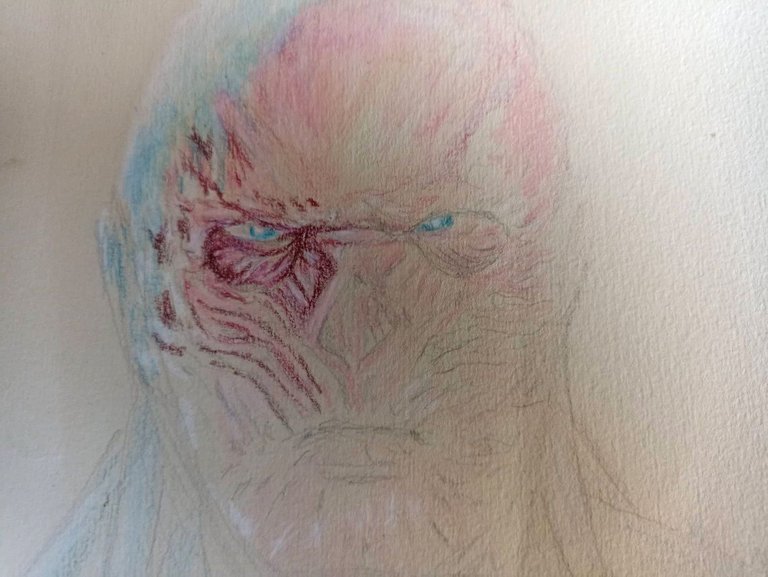 Once the sketch is made, the drawing will be painted from the lightest and most illuminated to the darkest, so we start on one side of the head where light reflections reach the monster with white, once we start the entire part of the face with soft light pastel color, this will be the base since the monster has all the hair as if it were burned just like Freddy Krueger. After this we draw the eyes in blue, and so we start with the shadows in the eye sockets, I never use black directly but I go darkening by scale and in the end I use black, that's why the color I use here for the shadows is skin pores is terracotta red.
Una vez hecho el boceto el dibujo lo pintaremos desde lo más claro e iluminado hasta lo más oscuro, así que comenzamos por un lado de la cabeza por donde le llega reflejos de luz al monstruo con color blanco, una vez comenzamos a toda la parte del rostro con color paestel claro suave, esta será la base ya que el monstruo tiene toda la peil como si estuviera quemada así como Freddy Krueger. Despues de esto dibujamos los ojos de color azul, y así comenzamos con las sombras en las cuencas de los ojos, nunca utilizo negro directamente sino que voy oscureciendo por escala y al final utilizo negro, por eso el color que utilizo aquí para las sombra sy poros de la piel es rojo terracota.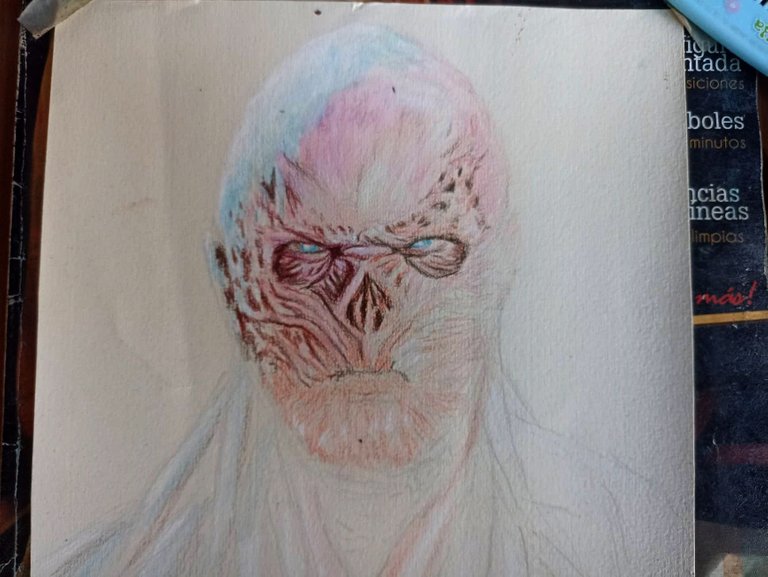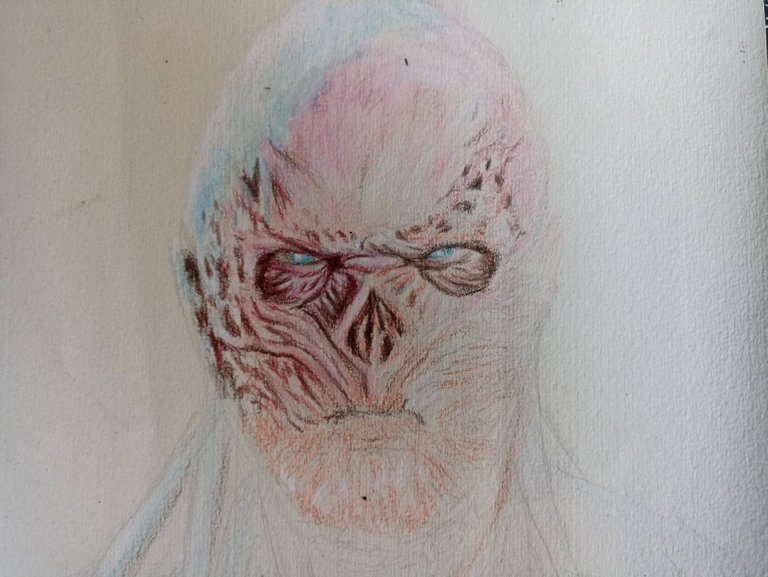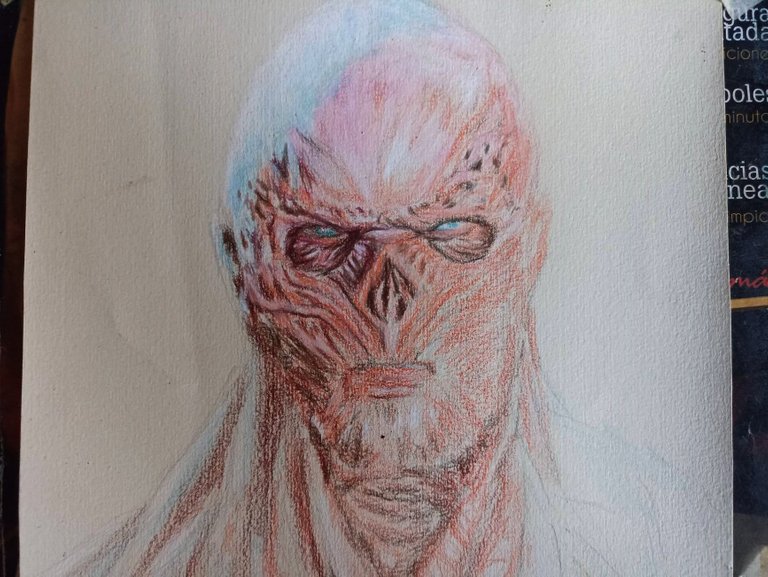 Next we begin the process of making all the pores of the damaged skin of this monster, so using the range of brown and red colors we make all these parts. You also have to remember that the reflection of light within the place where it is located makes it look blue in some parts, for example in the light reflection of the head and also in the large joints that protrude from its neck. In the same way we are doing the inside of the face so that it takes on that appearance of burn.
Seguidamente comenzamos el porceso de hacer todos los poros de la piel dañada de este monstruo, así que utilizando la gamas de colores marrones y rojos hacemos todas estas partes. Tambien hay que recordar que el reflejo de luz dentro del lugar donde se encuentra hace que en algunas partes se vea azul, por ejemplo en el reflejo claro de la cabeza y tambien en las grandes articulaciones que sobresalen de su cuello. De la misma forma vamos haciendo al interior del rostro para que vaya tomando esa apariencia de quemadura.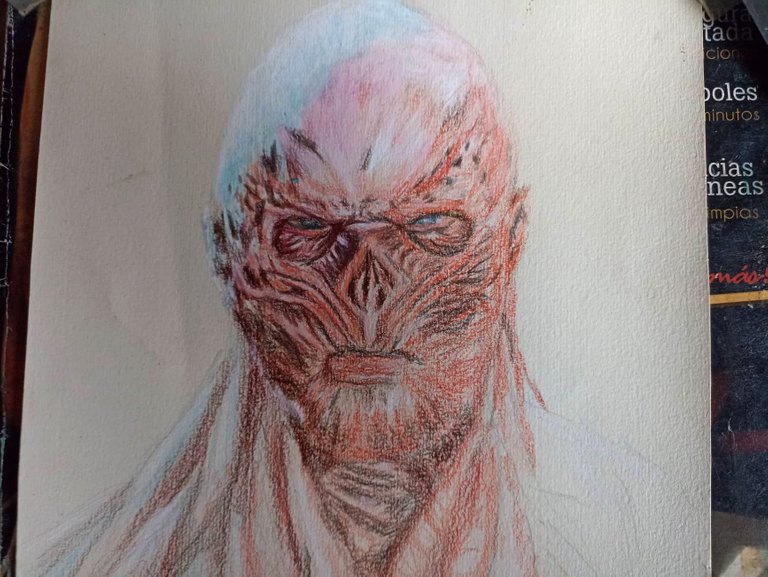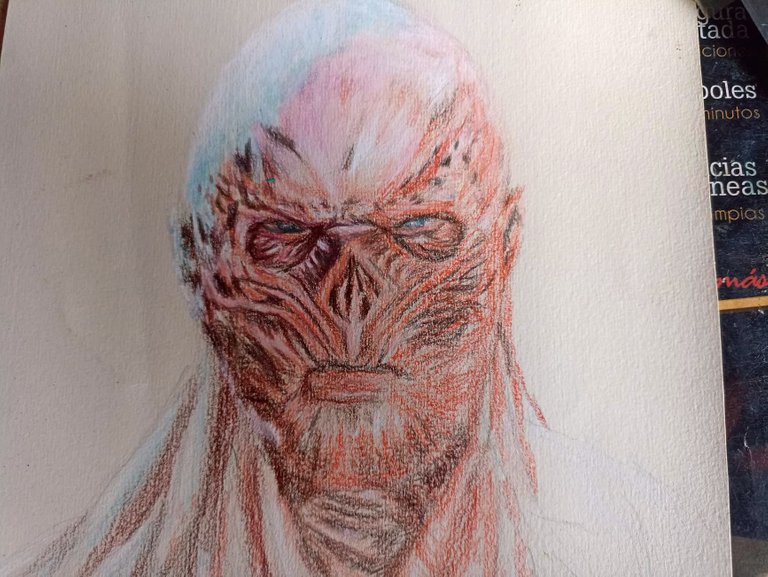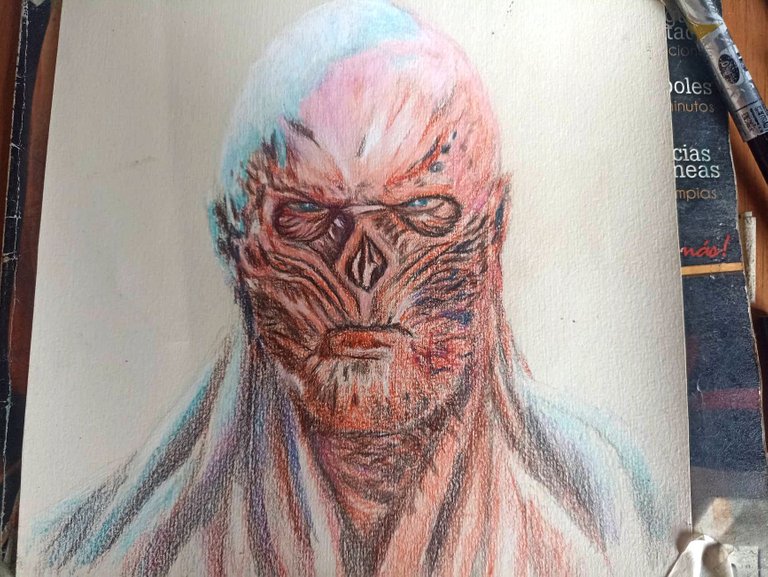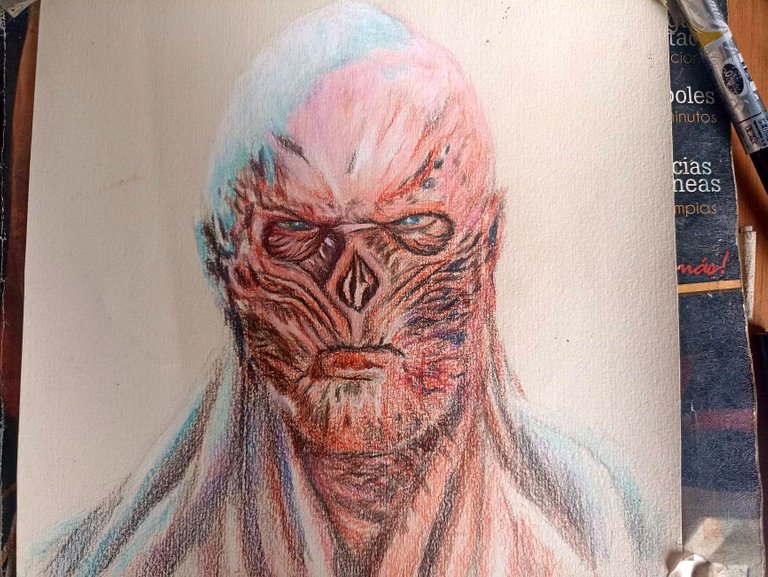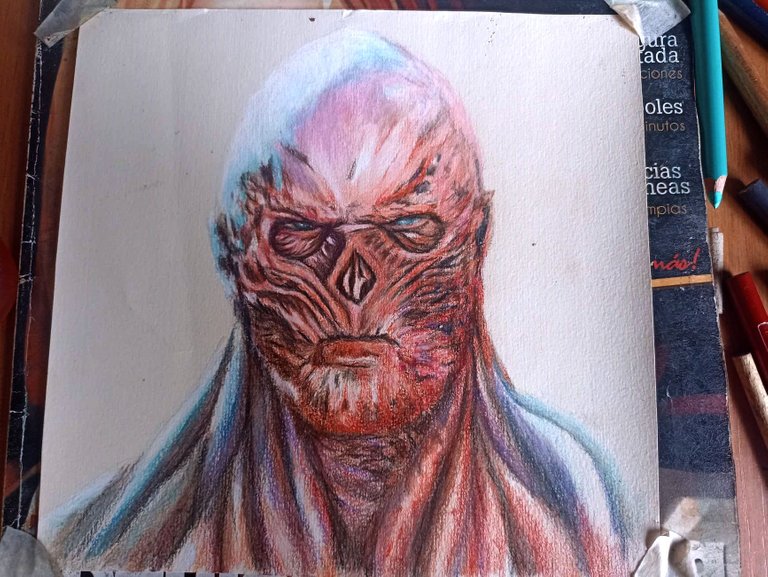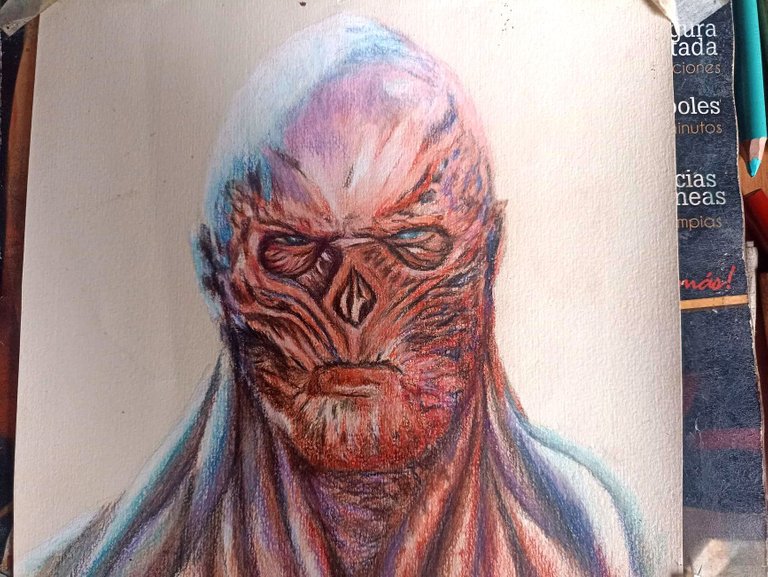 After doing all this process we start it once again using the same colors in the same order with which we started, we can do it twice more, this helps us to appreciate the volume of the drawing better thanks to the constant application of the colors and the mix between them. Then, as usual, with a fine brush we blur the colors to achieve a better finish, after this blurring we make two more layers of colors and thus we will have finished the drawing.
Despues de hacer todo este proceso lo comenzamos una vez más utilizando los mismos colores en el mismo orden con el que comenzamos, podemos hacerlo unas dos veces más, esto nos ayuda a que el volumen del dibujo se aprecie mejor gracias a la aplicación constante de los colores y la mezcla entre ellos. Después, como es costumbre, con un pincel fino difuminamos los colores para lograr un mejro acabado, despues de este difuminado hacemos dos capas de colores más y así habremos finalizado el dibujo.

FINAL WORK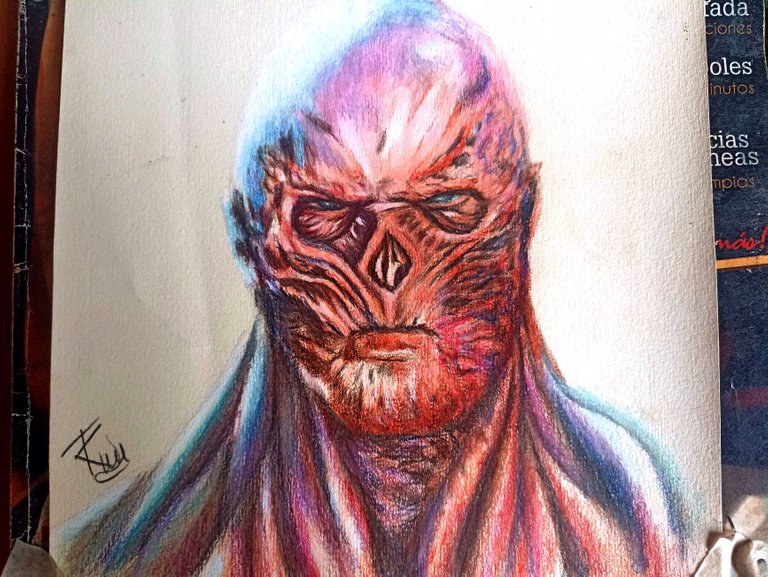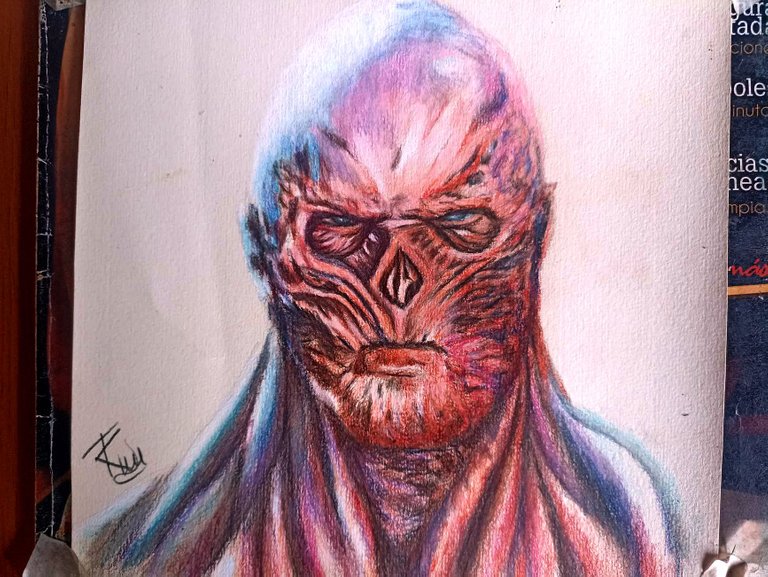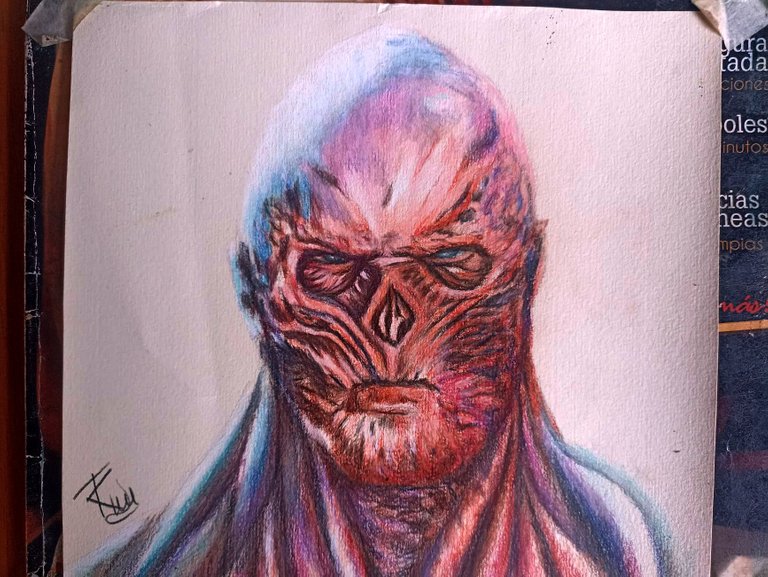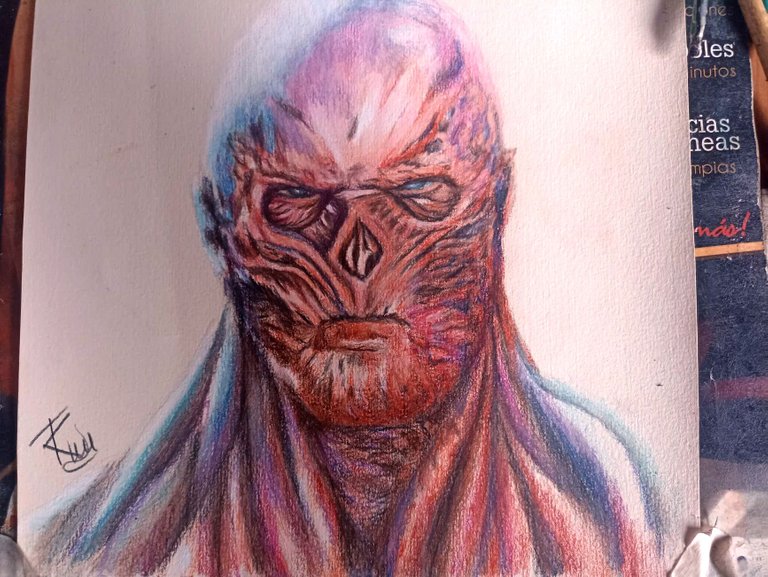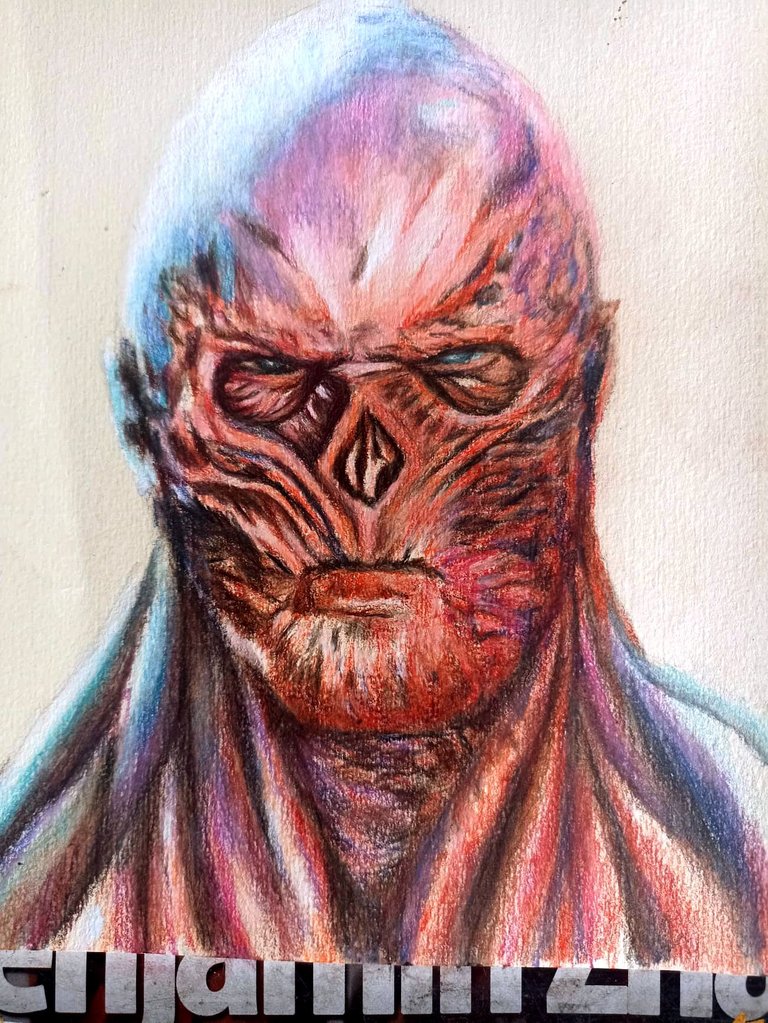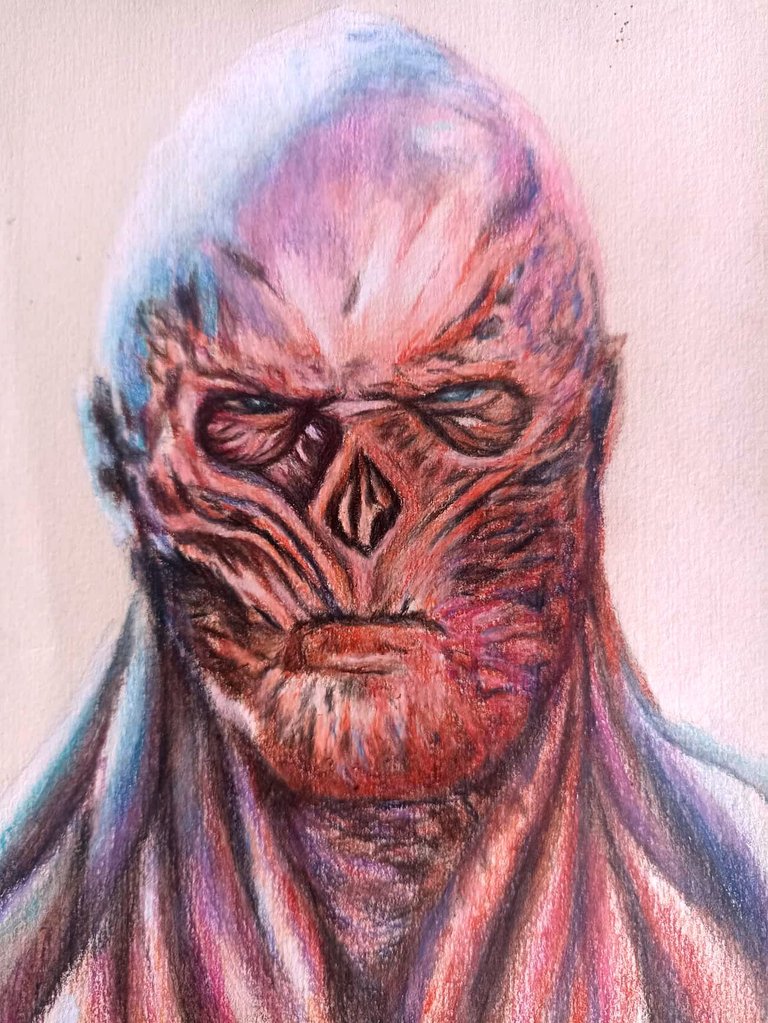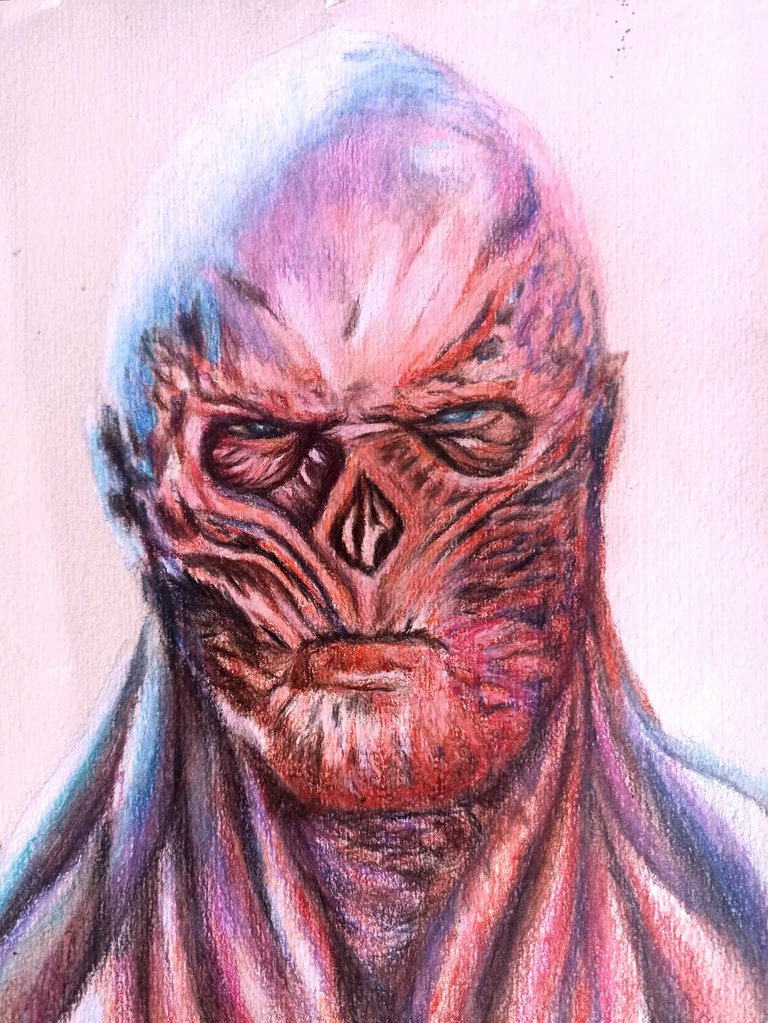 For this drawing I used 6 layers of colors, I felt that it was missing more but I reached the limit of the paper in terms of paper adherence, however I think it looks very good, the illuminated parts and reflections with acrylic paint would have been better than just the white color, but it will be another time. This has been my contribution today, I hope you liked it, at the end I will leave the reference image, and also the image of the monster from which I think they took the inspiration to make Vecna, we will see if you can guess it.. I say goodbye see you soon , do not stop commenting what you think and if you have seen the series Stranger Things. See you soon.
Para este dibujo utilicé 6 capas de colores, sentía que le faltaba más pero llegué al límite del papel en cuanto a la adherencia del papel, sin embargo creo que se ve muy bien, las partes iluminadas y reflejos con pintura acrílica habría quedado mejor que solo el color blanco, pero ya será en otra oportunidad. Este ha sido mi aporte de hoy, espero que les haya gustado, al final dejaré la imagen de referencia, y también la imagen del monstruo del que creo tomaron la inspiración para hacer a Vecna, veremos si lo pueden adivinar.. Me despido hasta pronto, no dejen de comentar que les ha parecido y si han visto la serie Stranger Things. Hasta pronto.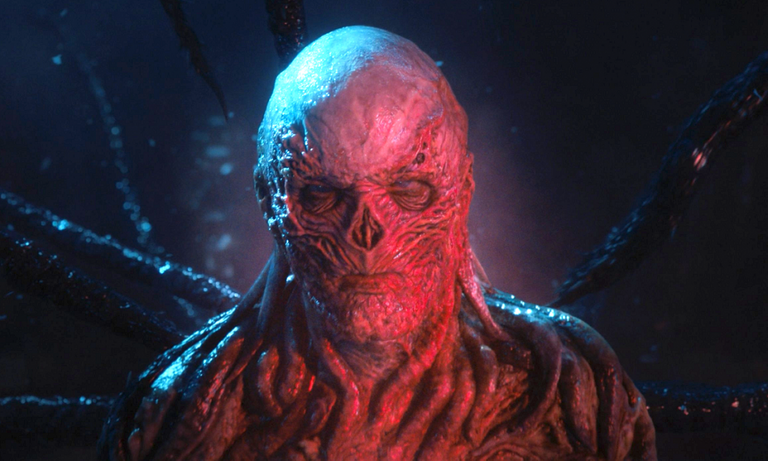 Reference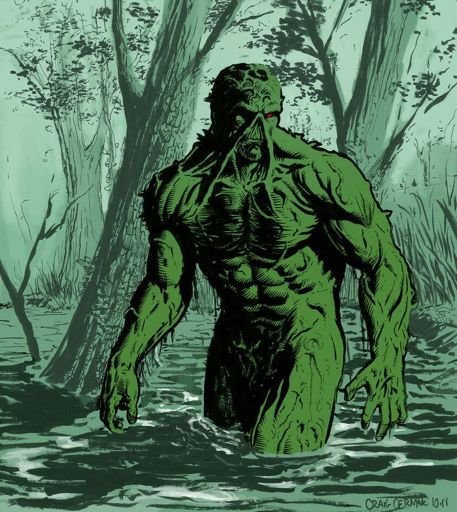 IMAGE
Who?
---
---