[ENG-ESP] WOLF UNDER THE FULL MOON - DRAWING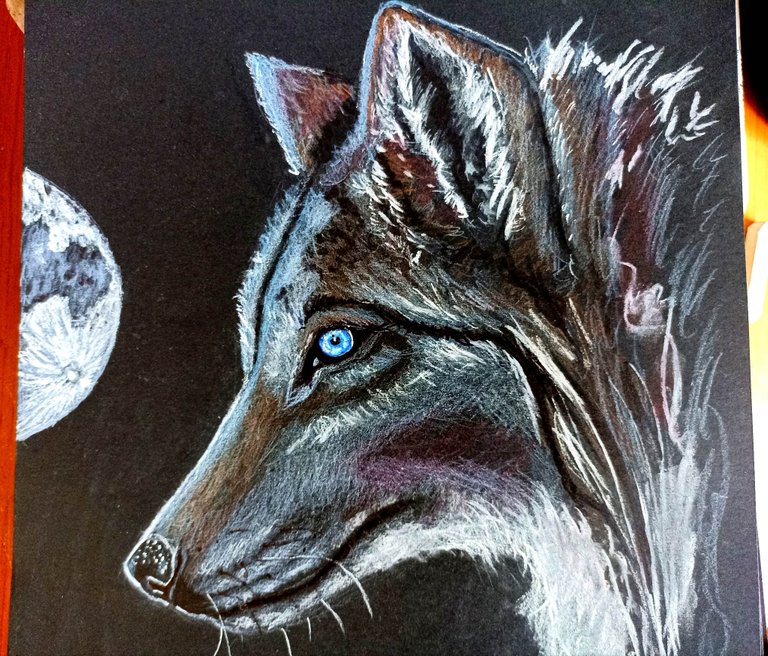 Hello dear friends, I hope you have a good start to the week wherever you are, in this new opportunity I want to share with you my latest drawing, it is about the design for a tattoo, I am not a tattoo artist but they asked me to make a lubo for a person who wants to tattoo it on the shoulder, so I made this wolf using the black cardboard as a background and with white colors and other tones. Hope you like.
Hola queridos amigos, espero que tengan un buen inicio de semana donde quiera que se encuentren, en esta nueva oportunidad quiero compartir con ustedes mi último dibujo, se trata del diseño para un tatuaje, no soy tatuador pero me pidieron que hiciera un lubo para una persona que quiere tatuarselo en el hombro, así que hice este lobo utilizando la cartulina de color negro como fondo y con colores blancos y otros tonos. Espero que les guste.

PROCESS
It started a bit difficult, because although wolves belong to the canine family, they have many things that differentiate them from dogs, such as their longer muzzle, I had trouble doing it since the shape of the dog is more present in my mind. a dog so I had to erase several times and start again until I found a reasonable resemblance, from there I continued drawing the shape of the wolf, we can also help each other with sketches to be more exact and then gradually erase the lines that help us to guide us through the drawing.
Comienzo un poco dificil, ya que si bien los lobos pertenecen a la familia de los caninos tienen muchas cosas que lo diferencian de los perros como por ejemplo su hocico más alargado, tuve problemas para hacerlo ya que en mi mente está mas presente la forma de un perro así que tuve que borrar varias veces y comenzar de nuevo hasta que encontré un parecido razonable, de ahí continue dibujando la forma del lobo, tambien podemos ayudarnos con bocetos para ser más exactos y luego ir borrando poco a poco las líneas que nos ayudan a guiarnos a través del dibujo.

Contrary to previous drawings, in this one I have started directly with the white carbon pencil, since for the black background I want to use it as if it were the night, so I want to highlight the edges so that it looks illuminated by the light of the moon. So I make the whole figure of the wolf including also that eye that will be well illuminated by the moon as well.
Al contrario de dibujos anteriores en este he comenzado directamente con el lápiz de carbon blanco, ya que para el fondo negro quiero utilizarlo como si fuera la noche, de manera que quiero resaltar los bordes para que se vea iluminado por la luz de la luna. Así que hago toda la figura del lobo incluyendo también ese ojo que estará bien iluminado por la luna también.

The next step is to add other colors, this will not be a white wolf in its entirety but I will add other tones, such as light brown and brick color that with the moonlight the tips will look a bit blue, I adore do these kinds of combinations. Also with the black color I am making those delineations that the wolves have on their faces and that serves to better locate their parts, such as the entire area that circulates around the eyes, as well as the dark parts of their ears and part of the neck.
El paso siguiente es agregar otros colores, este no será un lobo blanco en su totalidad sino que le podré otros tonos, como por ejemplo café claro y color ladrillo que con la luz de la luna las puntas se veran un poco de color azul, adoro hacer esta clase de combinaciones. Tambien con el color negro voy haciendo esas delineaciones que los lobos tienen en el rostro y que sirve para ubicar mejor sus partes, como por ejemplo toda el área que circula por los ojos, así mismo las partes oscuras de sus orejas y parte del cuello.

Then I paint the inside of the face, here I don't use charcoal white but I use wax colors to make all the fur, combining light and dark colors, I leave the dark tones for reddish colors that contrast with the gray and light blue. The fur on the neck, which is usually a long mane, I paint with the most intense white colour, as well as the entire area of ​​the ears.
Despues pinto el interior del rostro, aquí no utilizo el color blanco carboncillo sino que uso los colores de cera pra hacer todo el pelaje, combinando entre colores claros y oscuros, los tonos oscuros los dejo para colores asi rojizos y que hagan contraste con el gris y el azul claro. El pelaje del cuello, que suele ser una gran melena lo pinto con el clor blanco más intenso al igual que toda la zona de las orejas.

To finish I give the final touches to the wolf's face, reviewing every detail, in the dark parts I use a black marker to make all those areas of a more intense black color that can be differentiated from the background color, especially where the eyes go and also the ears. As a final complement I add the moon, not completely, but a part, which appears at the edge of the sheet, and is what gives the light reflections to the wolf. In this way it has been finished.
Para finalizar doy los toques finales al rostro del lobo, repasando cada detalle, en las partes oscuras utilizo un marcador de color negro para hacer todas esas zonas de un color negro mas intenso que pueda diferenciarse del color del fondo, en especial donde van los ojos y también las orejas. Como complemento final agrego la luna, no por completo, sino una parte, que aparezca en el límite de la hoja, y sea lo que de los reflejos de luz al lobo. De esta manera ha quedado finalizado.

FINAL WORK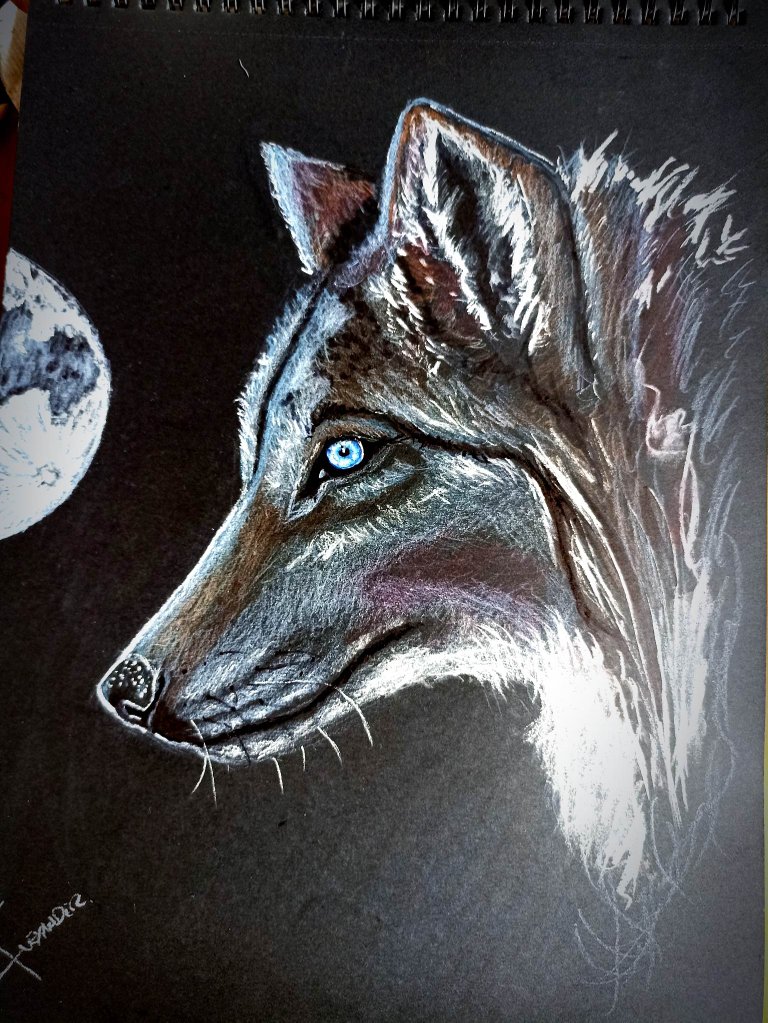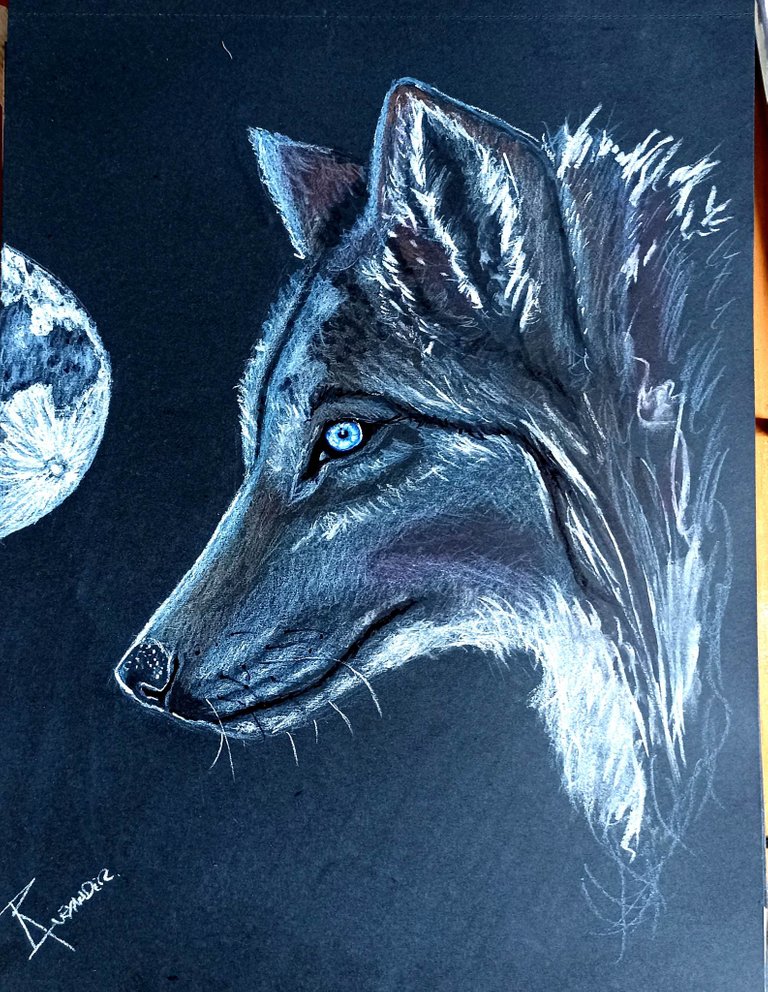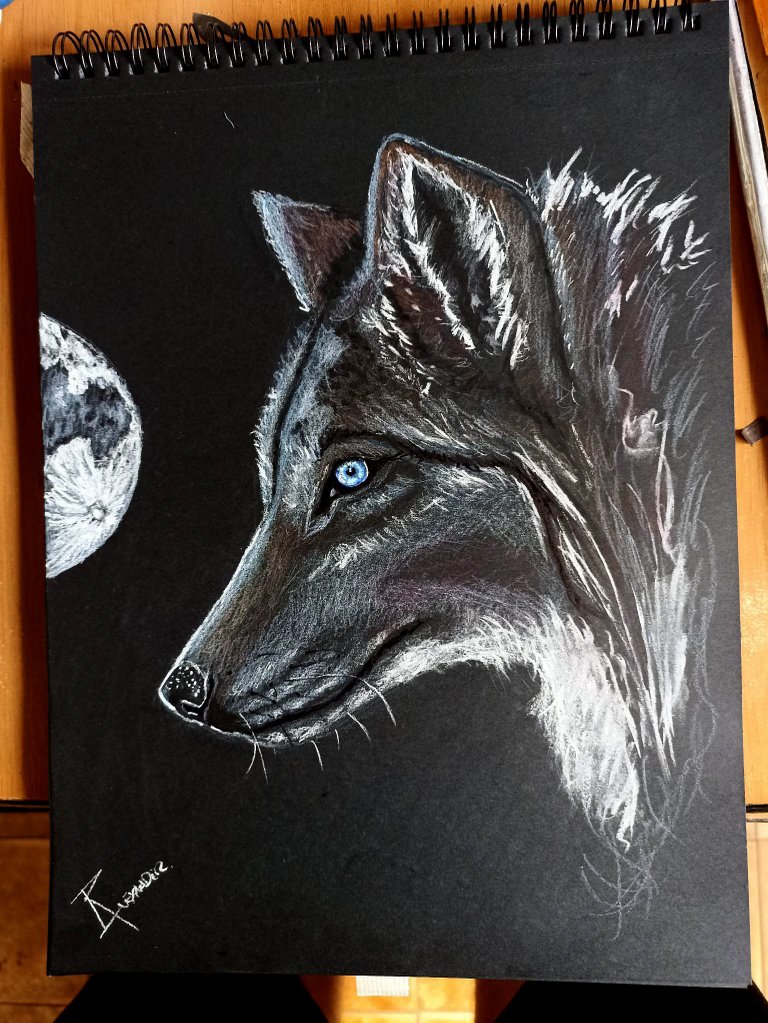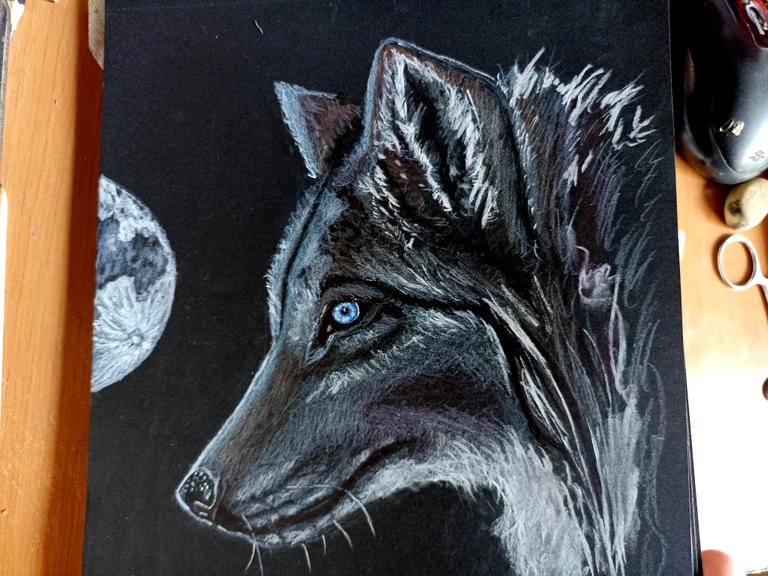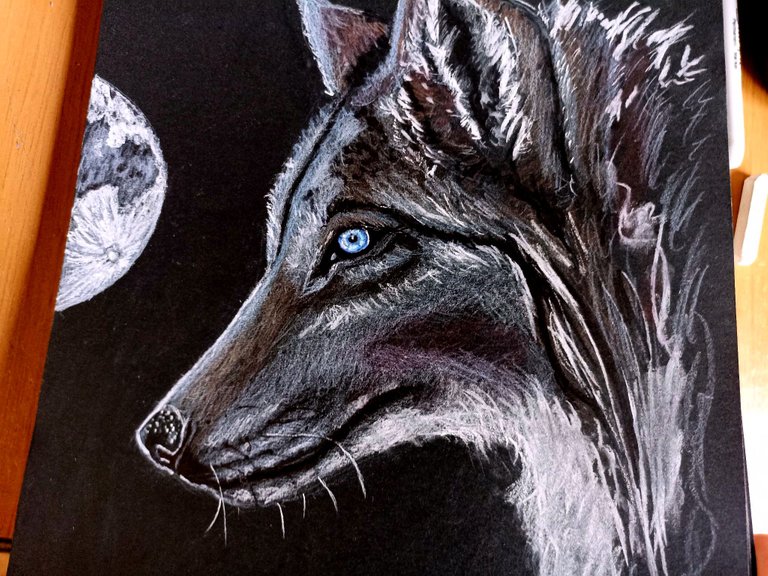 This is how the drawing of the wolf under the full moon was finished, the wolf has always been an interesting animal, revered and respected by many cultures. The Romans held wolves in high esteem, since the legend of their foundation said that Romulus and Remus were suckled by a she-wolf when they were babies, so they used it in shields and emblems along with the eagle. So also the Nordic and oriental cultures, the wolf represents the nobility, the strength and the most primitive instincts. I hope you liked how this drawing turned out, for my part I say goodbye until a new opportunity to share something new with the community. See you soon!
Así quedó finalizado el dibujo del lobo bajo la luna llena, el lobo siempre ha sido un animal interesante, venerado y respetado por muchas culturas. Los romanos tenían en alta estima a los lobos, ya que la leyenda de su fundación decía que Rómulo y Remo fueron amamantados por una loba cuando eran unos bebes, así que lo utulizaron en escudos y emblemas junto con el águila. Así también las culturas nórdicas y orientales, el lobo representa la nobleza, la fuerza y los instintos más primitivos. Espero que les haya gustado como quedó este dibujo, por mi parte me despido hasta una nueva oportunidad de compartir algo nuevo con la comunidad. Hasta pronto!
---
---