The Wedding Day of My Boyfriend's Sister and Me as an instant Photographer😊😊😊
Hello Everyone☺☺☺
Hope all is good and safe😘😘😘
Today is the wedding day of my boyfriend's sister. And the wedding start at 8 in the morning. So my boyfriend @jearo101 told me last night that he will get us with my sister @leehon today at around 6 in the morning. So I wake up 5:30AM to prepare our breakfast. While I'm preparing it my sister took a bath already so that later on, it's my turn to took a bath.
We wait until it 6AM, but my boyfriend haven't arrived yet. We're already ready. It's quarter to 7AM as he arrived. And so we move quickly, because the travel going to there place is almost half an hour.
As we arrived at there home. Everyone is busy. The girlfriend of my boyfriend's brother is the one who put make up on his nieces as well as to his sister ate @shikika . And I helped his two nieces dress as they wear it. Then after that picture-picture before going to the church.
As we (me, my sister,my boyfriend, his brother and the girlfriend's of my boyfriend's brother) arrived on the church, we went first to the reception venue to put the giveaways of the newlyweds so that the waiter can arranged it. After that we went to the church. All of them are not yet ready.
To make it short, after 15-30 minutes I think the wedding march music started. I make myself ready because I'm one of the photographer be like today. Ate @shikika asked me to be a photographer using her phone. That is why I don't have that much photos at my own phone. And after the wedding ceremony I got the chance to have a photo together with my boyfriend.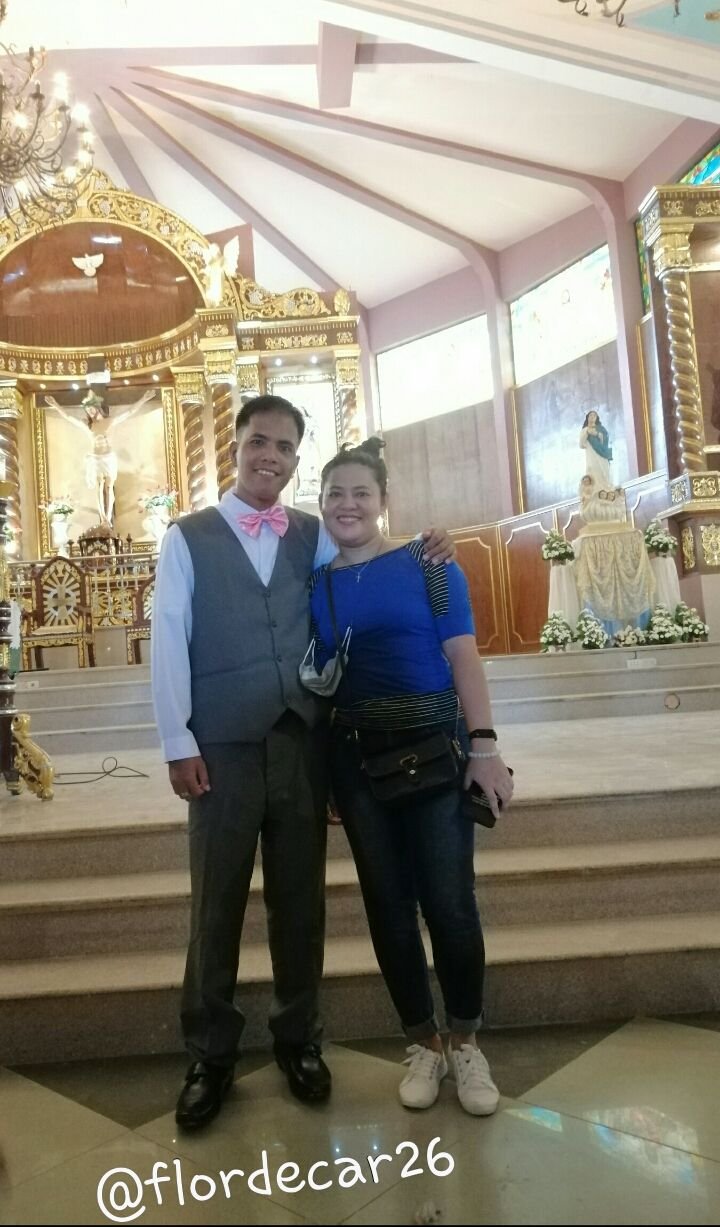 Then at the reception hall, after all the busy buzzy thing the lunch,the traditions of every wedding on what the newlyweds will do and everyone are already relax seating on there tables while drinking and have some chitchats, I asked my sister to have a photo on the backdrop. The one who took it was my boyfriend.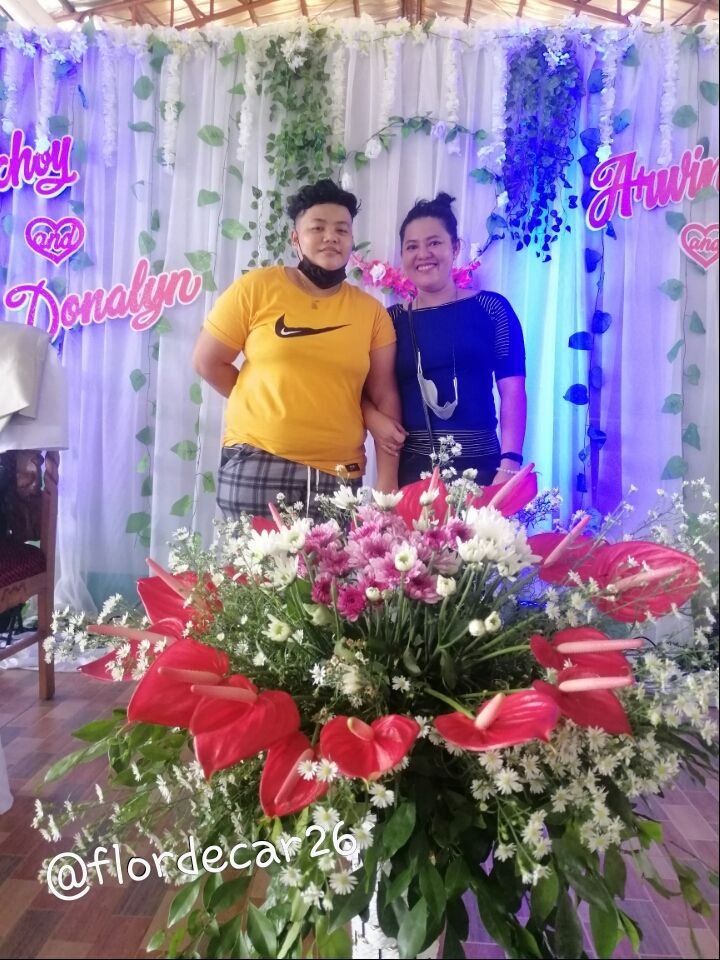 After that we went back to our table. The party is still going on. I feel the tiredness as well as my sister. So I told my boyfriend at 3PM were going home. And his friend which is the professional photographer for that event will come along with us because he still have an appointment.
So that's it. At 3pm we went home. And gladly the bride is there and I give my thanks to her. And told her that were already going home. And she replied us thank you too. All in all the occassion was a successful. All of us really enjoyed. And we will never forget this moment too that we witness the love of the three lovely couples.💖💖💖
---
---
That's all for now everyone. Keep safe always. God Bless and Thank you for your unending support to my blog always☺☺😘
---
truly yours,
---
---